23rd February 1916 35th Battalion AIF and embarked from Sydney on board HMAT A24 "Benalla" with the Machine Gun Section 35th Battalion AIF and disembarked at Plymouth, England on the 9th July 1916 where the Battalion was entrained to the 9th Training Battalion at the Durrungton Army Camp at Larkhill.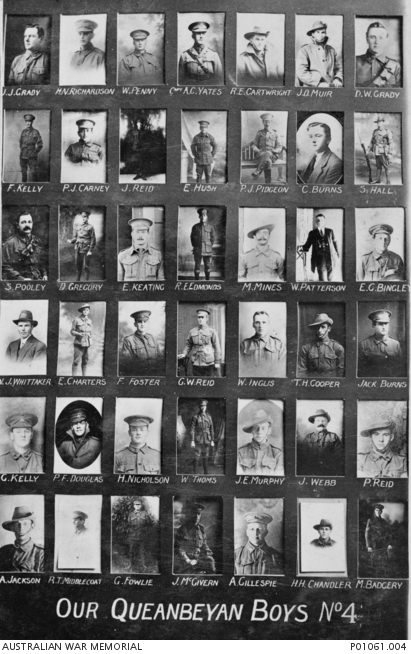 Postcard entitled "Our Queanbeyan Boys No. 4", bearing individual portraits of the following soldiers from the Queanbeyan district who served in the First World War. From left to right, top row: 2817 Private (Pte) James Grady; 29344 Driver Hugh Norman Richardson; 2217 Pte William Benson Percy Penny (killed in action in France on 17 April 1918); Captain Albert Edward Yates (killed in action in France on 8 August 1918); 1400 Driver Reginald Edward Cartwright; 1326 Pte John Douglas Muir; 2984 Pte David William Grady. Second row: F Kelly; 4271 Patrick John Carney; J Reid; 7171 Ernest Roy Hush; 17568 Percival Joseph Pidgeon; 1616 Pte Charles Francis Burn (killed in action in Belgium on 19 October 1917); 5708 Sydney Thomas Hall. Third row: 10636 Driver Philip Sidney Pooley; 2515 Pte David Thomas Gregory; 2265 Corporal Ernest Henry Keating; 2898 Pte Reginald Earl Edmonds; M Mines (possibly 2450 Pte Joseph Mines, died of wounds in France on 21/8/18); 9419 Gunner William Patterson; 2898 Pte Ewan Gordon Bingley. Fourth row: 6390 Pte William John Whittaker; 1102 Pte Ernest Allen Charters; F Foster; 2192 Pte George William Reid; 686 Pte William Inglis (killed in action in France on 20 July 1916) 5351 Pte Thomas Harman Cooper (died of wounds in France 29 May 1917); 1884 Pte John William (Jack) Burn. Fifth row: G Kelly; P F Douglas; 2452 Pte Henry Herbert Nicholson; 2745 Pte Walter Thoms; 1418 Pte Joseph Edward Murphy; 2257 Pte John Webb (killed in action in France on 2 April 1917); 2982 Pte Peter Laurance Reid. Sixth (bottom) row: A Jackson; 5588 Sapper Roy Twynam Middlecoat; 4539 Pte George Fowlie (died of disease in the UK on 25 Feb 1917); J McGivern; 2902 Pte Archibald Robert Gillespie; H H Chandler; 13 Pte Malcolm Fox Badgery .
On the 25th December 1916 Alexander was promoted to Captain, vice: Captain: Horace Parker BROWN who was seconded to the 9th Light Trench Mortor Battery.
Captain Albert Edward Yates – Obituary from Queanbeyan Age 23rd August 1918 located at: http://trove.nla.gov.au/ndp/del/article/31644665 "The Late Captain E. A. Yates. On Tuesday morning news was received by wire of the death of Captain A. E. Yates, who was killed in action on the 8th August. The late Captain Yates was very well. known in the Queanbeyan district, having been employed on the Instructional Staff of the Royal Military College, Duntroon, for about four years prior to receiving his appointment with the Australian Imperial Force; and the news of his death was received with very great regret, not only by his friends at Duntroon but also by his many friends in the Queanbeyan district who knew him for what a fine man he was. Captain Albert Edward Yates was born in Lancashire, England, and prior to his coming to Australia served for many years in the Loyal North Lancashire Regiment. He first became connected with the Australian Military Forces in August, 1910, when he was appointed to the Permanent Instructional Staff with the rank of Staff Sergeant Major Instructor. In May 1912, he was specially selected for an appointment on the Instructional Staff of the Royal Military College, Duntroon, a position which he held up to the time of his appointment to the Australian Imperial Force. His work at the College consisted chiefly of instructing the Staff-Cadets in Infantry Drill, Signaling, Machine Gun and Musketry, and all those who are in a position to do so speak in the very highest terms of the manner in which he carried out his duties. With regard to his work with the A.I.F., the late Captain Yates has a record he may well be proud of. Joining up with the rank of 2nd Lieutenant in February, 1916, he was posted to the 35th Infantry Battalion. He was appointed as Machine Gun Officer to this Battalion, and during the period of training in Australia also carried out the duties of Adjutant for some time. On 1st May, 1916, he was promoted to the rank of Lieutenant, and left Australia on the same date for service abroad. In August, 1916, he was appointed to the position of Adjutant of the 86th Battalion, a position he held until his death and on the 25th December (Christmas Day), 1916, he was promoted to the rank of Captain. He was specially mentioned in Sir Douglas Haig's Dispatch of 9th April, 1917, for 'distinguished services rendered. The latest reports to hand show that, at a Course of Instruction held in France in June last in connection with the use of Gas Measures, the late Captain Yates topped the list both in the theoretical and practical examinations. Apart from the military side of the late Captain Yates' life, he was also well and favorably known in civil life and the world of sport. He was a very keen all-round cricketer, and took a very prominent part in the doings of the Duntroon Cricket Club. As a tennis player he was well known in the district for his grit and determination, and was a member of the Sergeants' Mess Tennis Four when that club secured the premiership of the Federal Lawn Tennis Association in 1916. As a mile runner, he was probably the best in the district, having won all the mile races in which he competed. In many other ways, too, he always took a leading part in all matters connected with amusement and sport, and his many sporting friends will indeed be sorry to hear of his untimely death. In Vl, the late Captain. Yates was '- one -of he bent"-a soldier and a man-and his many good qualities will live long in the memory of those who knew him, and one and all will much regret that such a promising career should have been cut so short. To his widow and children we extend our sincerest sympathy, for they who knew him so intimately will naturally miss him more than words can express; but, in their great sorrow they will be comforted by knowing that the late Captain Yates died fighting for his King and Country and in the great cause of Freedom, for no man can secure a greater honor than he that of a wooden cross on the field of battle."
8th August 1918.
Report of the Operation Conducted by the Battalion This Day. Headquarters 34th Battalion AIF. 8-8-18
ASSEMBLY. The Assembly March passed without incident and there were no casualties. The Battalion was in position for the assault at 3:25 am.
BARRARGE. The barrarge opened at 4:20am and was accurately placed. The enemy immediately fired single and double Red and Golden Rain Light Signals. The enemy's reply to our barrarge was very ineffective but his Machine Gun fire was considerable during the early stages of the advance, but caused very few casualties.
LOCATIONS. Battalion Headquarters was located at P.16.c.1.7 before Zero, after Zero a temporary Headquarters was established at the Quarry at P.16.b.2.8 pending the report and the capture of ACCROCHE WOOD, from the two flank Companies.
THE ADVANCE. Owing to the dense fog observation was impossible and the tanks appeared to have great difficulty in keeping in touch with the direction. Runners were sent forward at 4:45 am to get in touch with the assault parties and at 5:15 am they brought back word from Captain: Albert Edward YATES 35th Battalion that his Company was through the Wood. Battalion Headquarters then moved forward through the wood towards CERISY VALLEY.About 150 stragglers of all Battalions including 3 Lewis Gun Teams were collected during the advance and formed into a Company.
Owing to the density of the fog and the obscurity of the forward position forward I depolyed the Company and took them forward as far as GAILLY Line arriving there at 5:45 am. We later met a detachment of prisoners and were told by the escort that CERISY VALLEY was partically mopped up and most of the Units were moving forward to their objective. I than ordered all men of the 33rd and 35th Battalions togo forward to join their respective Units, and organised two posts with the men of the 34th Battalion, placing one in the enemy trench at P.24.b.3.3 (approx) and the other at P.18.d.0.7 (approx).
This latter post shortly afterwards established liaison with the 11th Brigade. The remainder of the Battalion assisted the 33rd and 35th Battalions in capturing and consolidating the GREEN Line. They were released from the GREEN Line between 9:45 am and 10:15 am and proceeded then to consolidate the GAILLY and RESERVE Lines as shown on map forwarded.
BOOTY. Owing to the conditions existing it was impossible to estimate the number of prisioners captured by the Battalion as prisoners from the 3 Battalions were grouped to reduce the number of men required for escort. So far no estimate has been made of the number of Trench Mortars and Machine guns etc, captured in the area. Salvage operations are in progress and as soon as they are completeda detailed report will be forwarded. In the CERISY VALLEY one 21 cm and eight 7.7 cm guns were captured together with large quantities of ammunition.
Comanding Officer 34th Battalion AIF.
Informant: Lieutenant: Francis Joseph De VERE. Adjt. "Captain: Albert Edward YATES. was Killed in Action by an enemy bullet whilst leading his Company in the Hamel engagement on 8th August last. He was buried by Chaplain 3rd Class: John Edward Norman OSBORN. C.E. attached to this Battalion at P.16.c.1.6. Sheet 62D near Hamel and a cross erected over his grave by the members of the Battalion.
For C.O 35th Battalion AIF.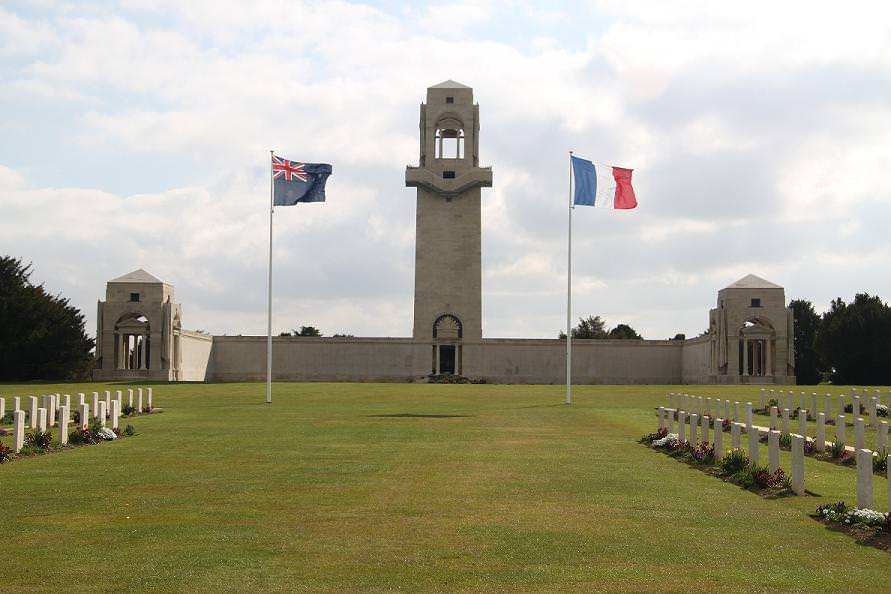 VILLERS-BRETONNEUX WAR MEMORIAL
Villers-Bretonneux Military Cemetery, Villers-Bretonneux, Picardie, France
Family Information
Albert was a married 29 year old Soldier from the Royal Military College at Duntroon, N.S.W where he was a member of the Instructional Staff. He and his wife lived at 11 Sutherland Street, Paddington, N.S.W.
Military Records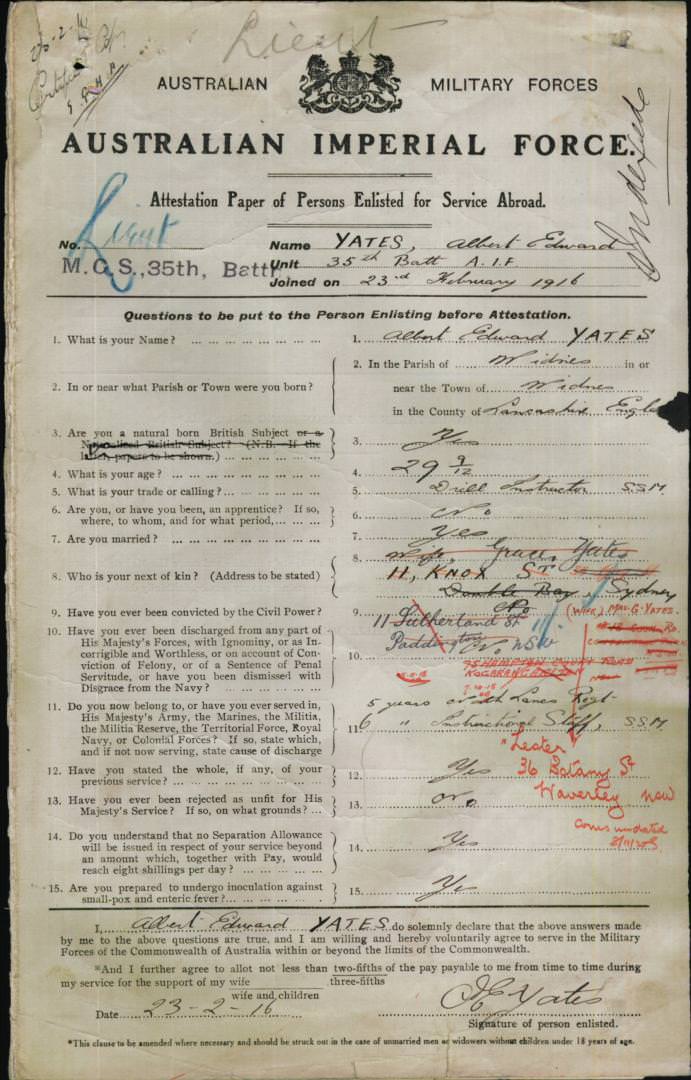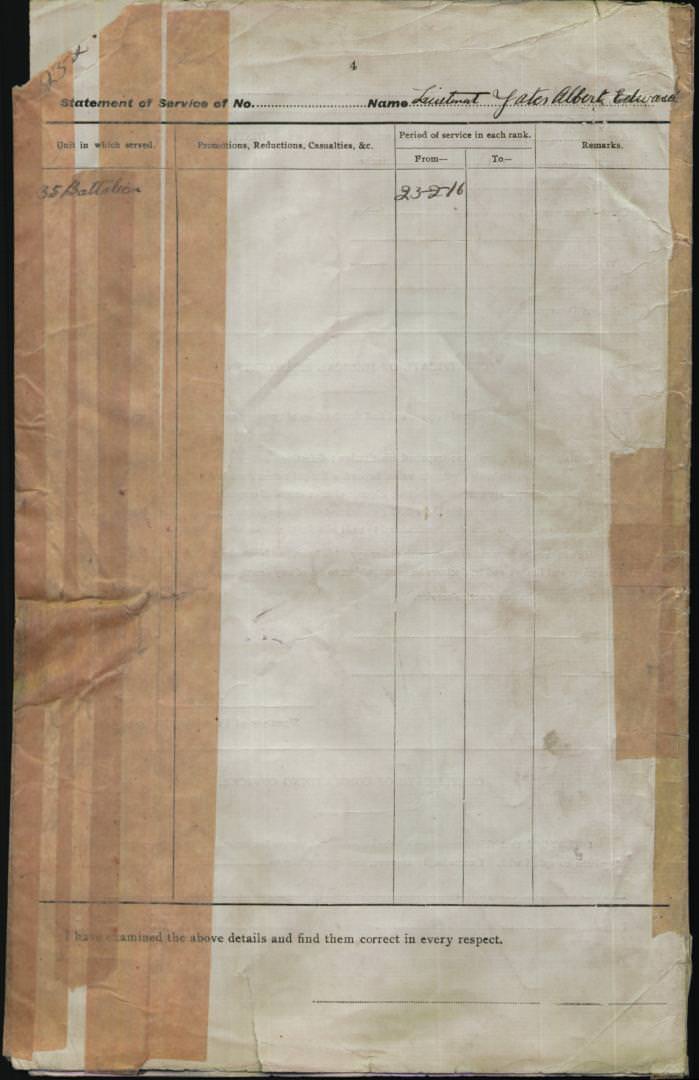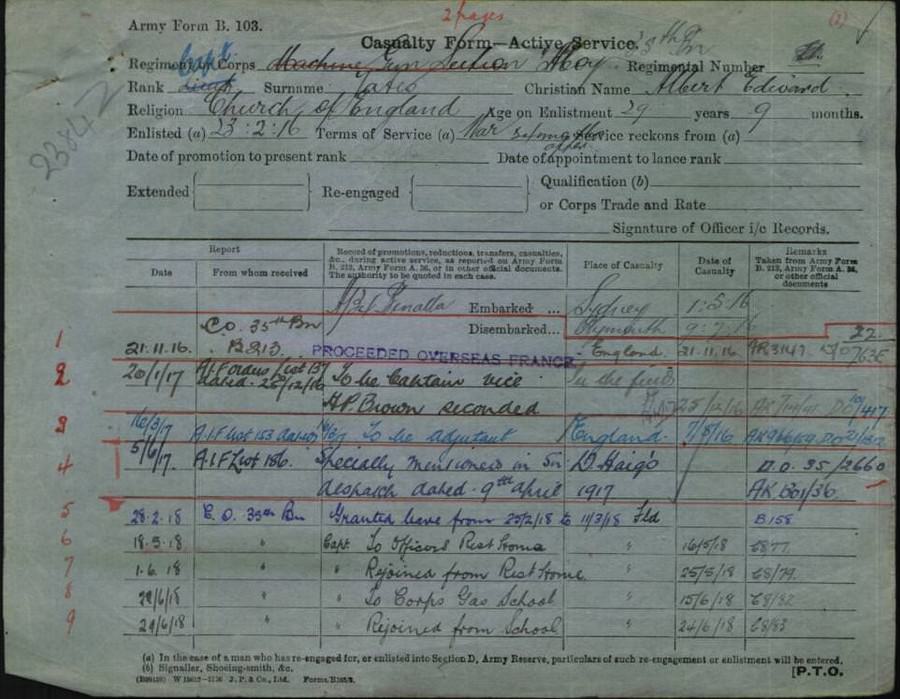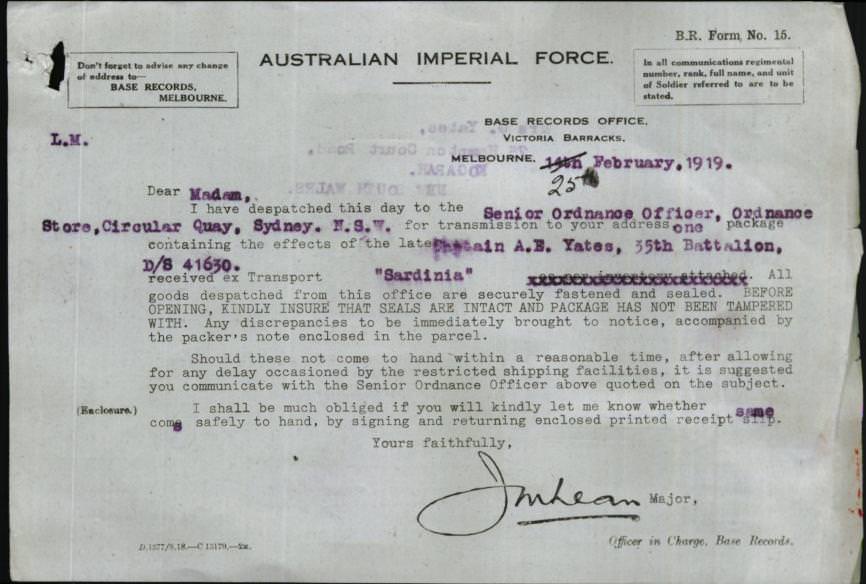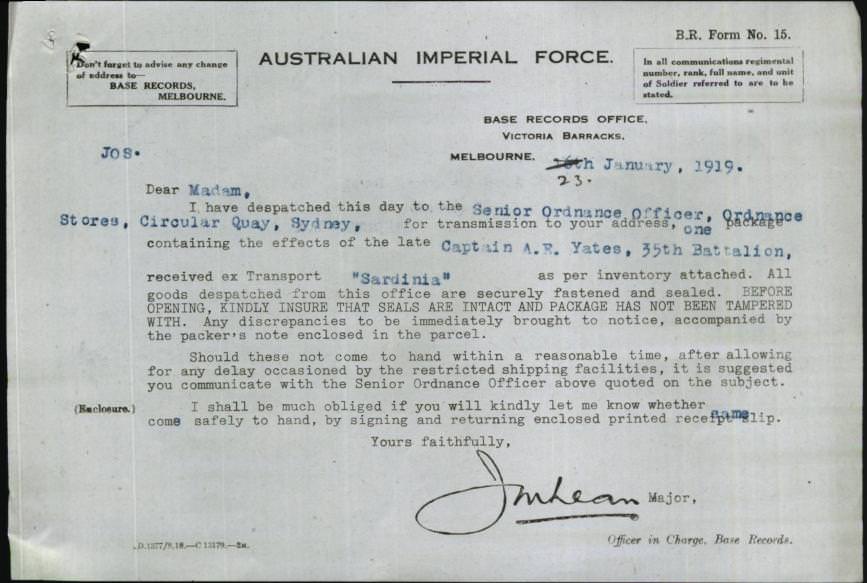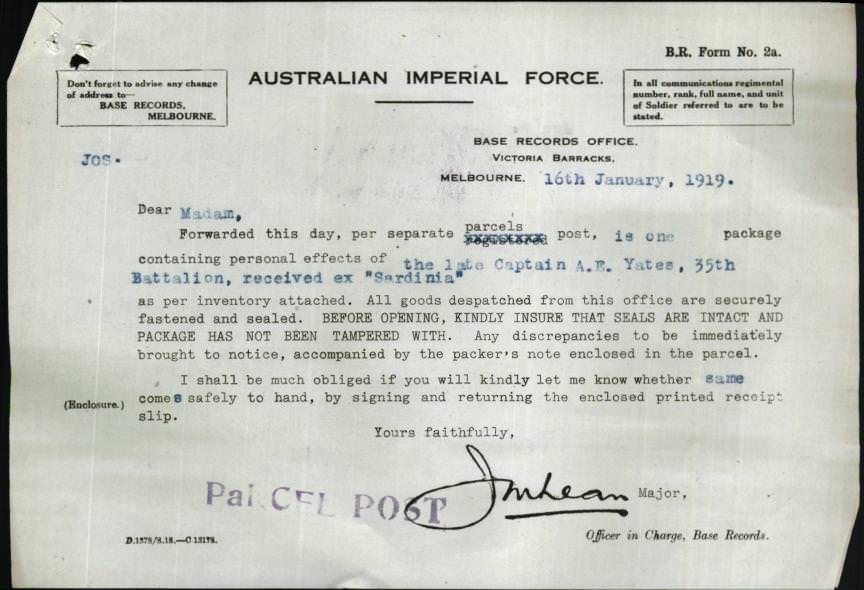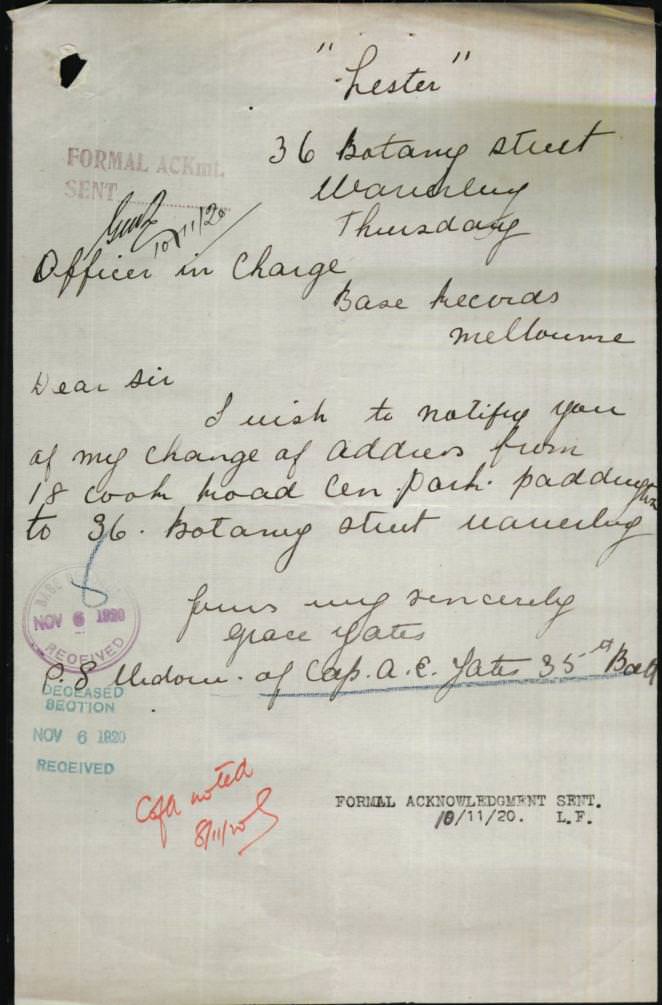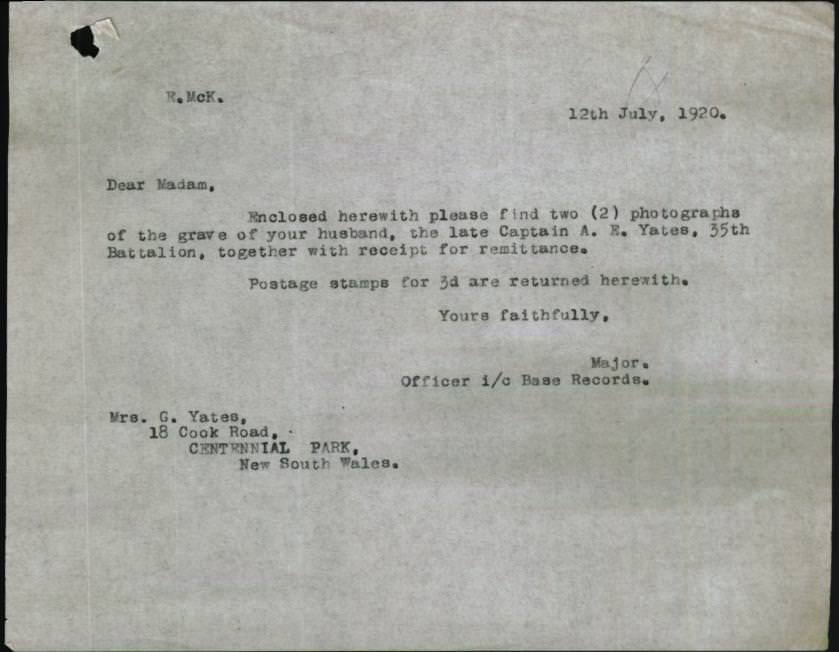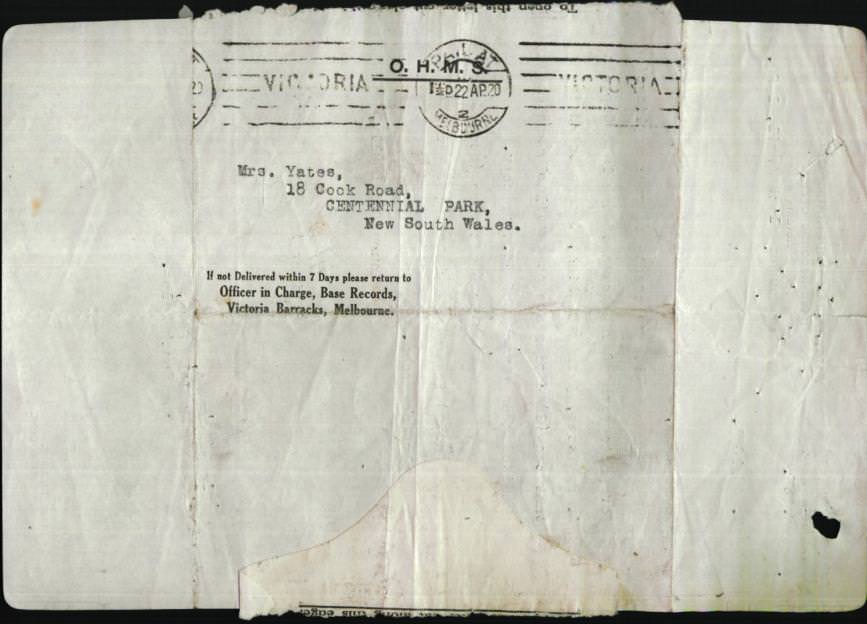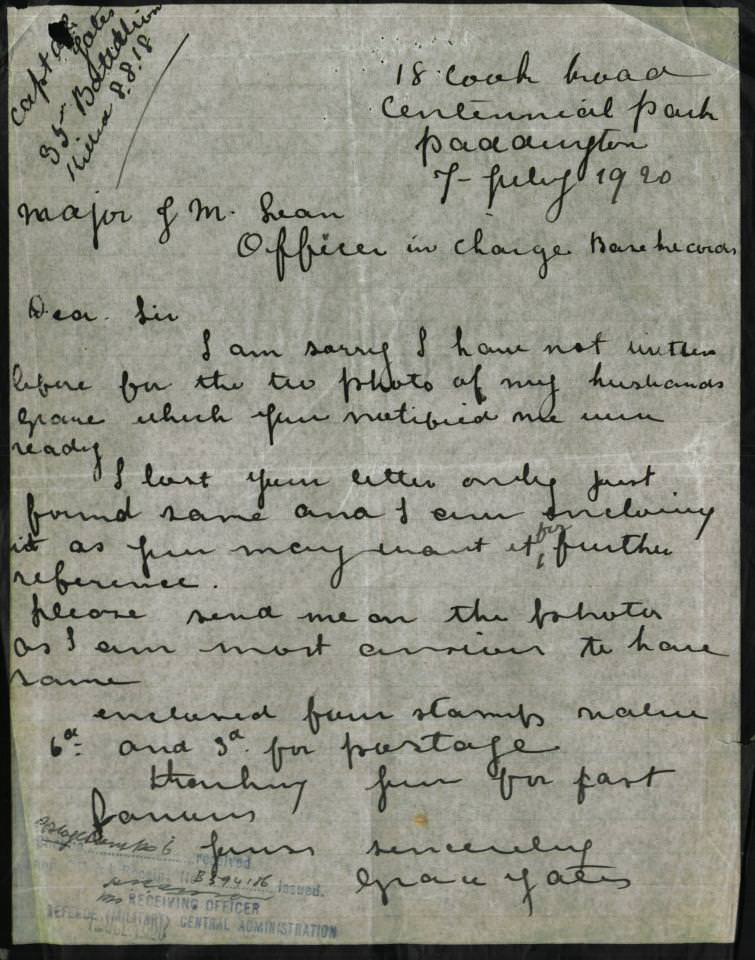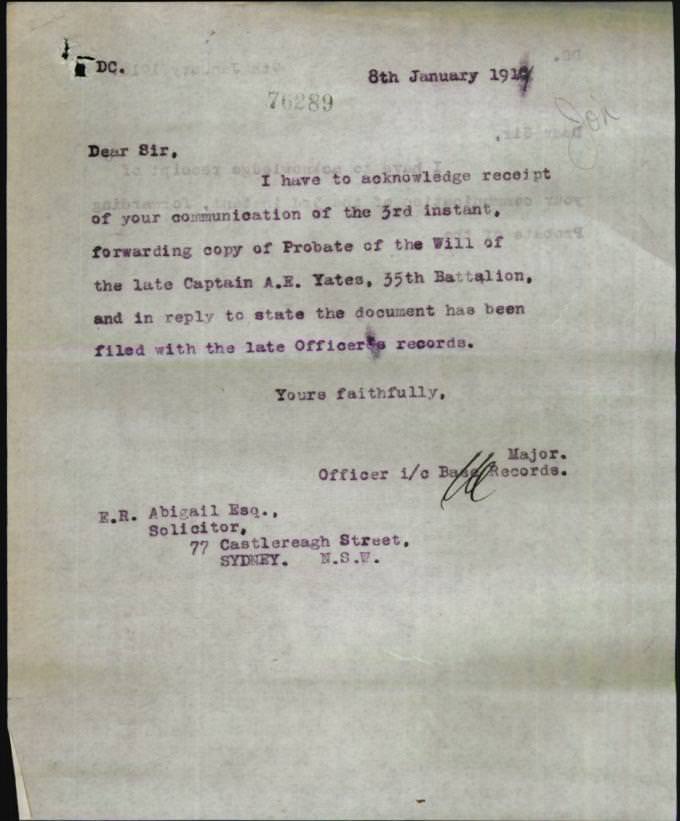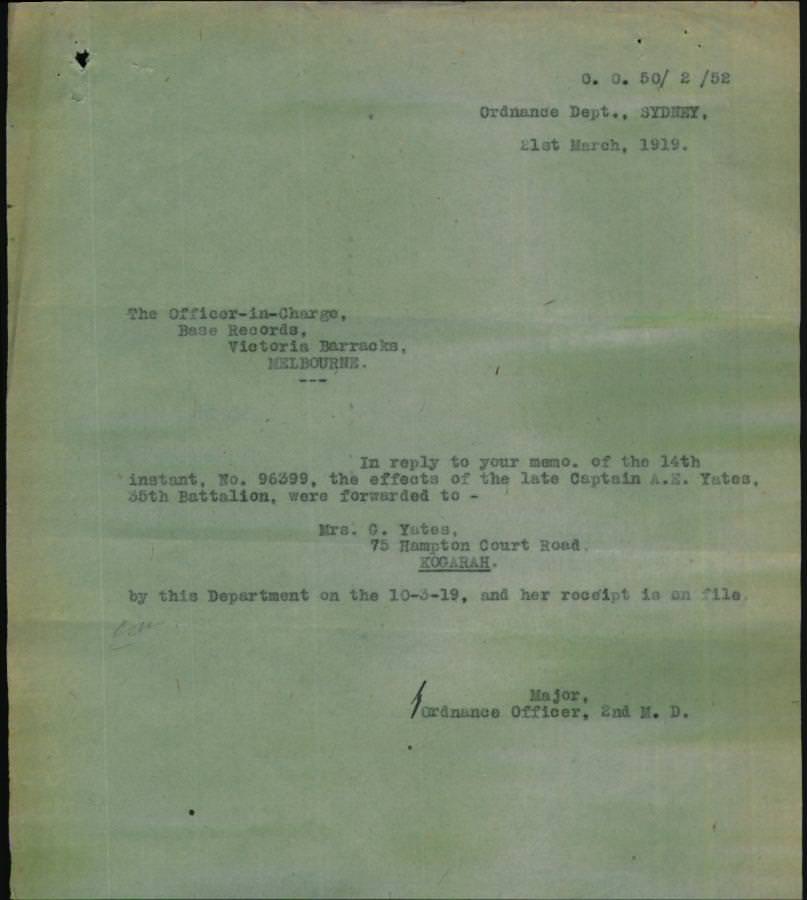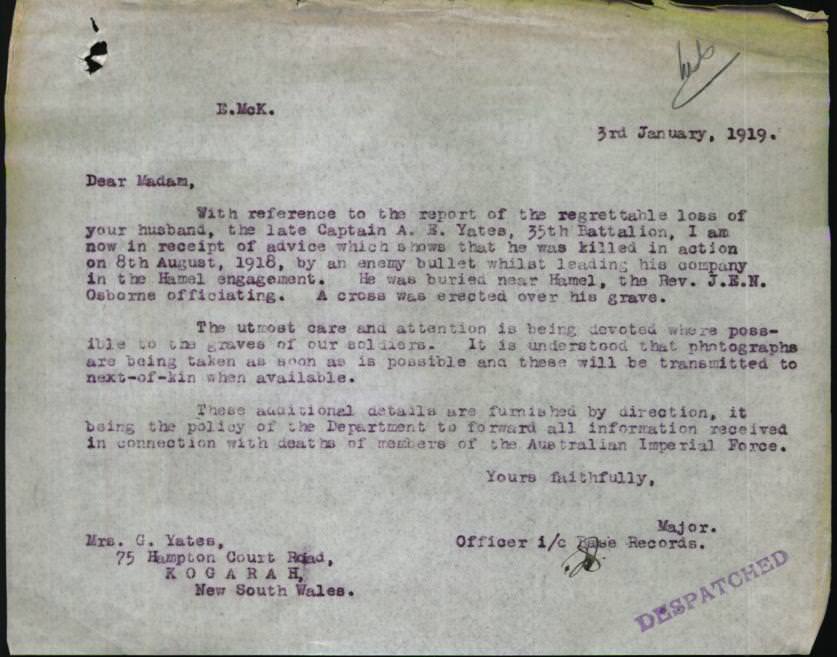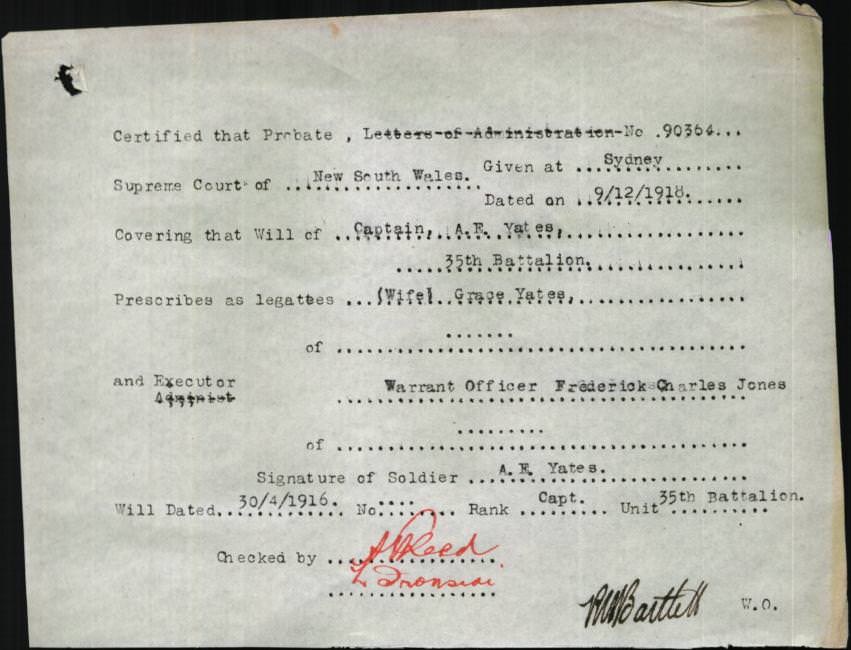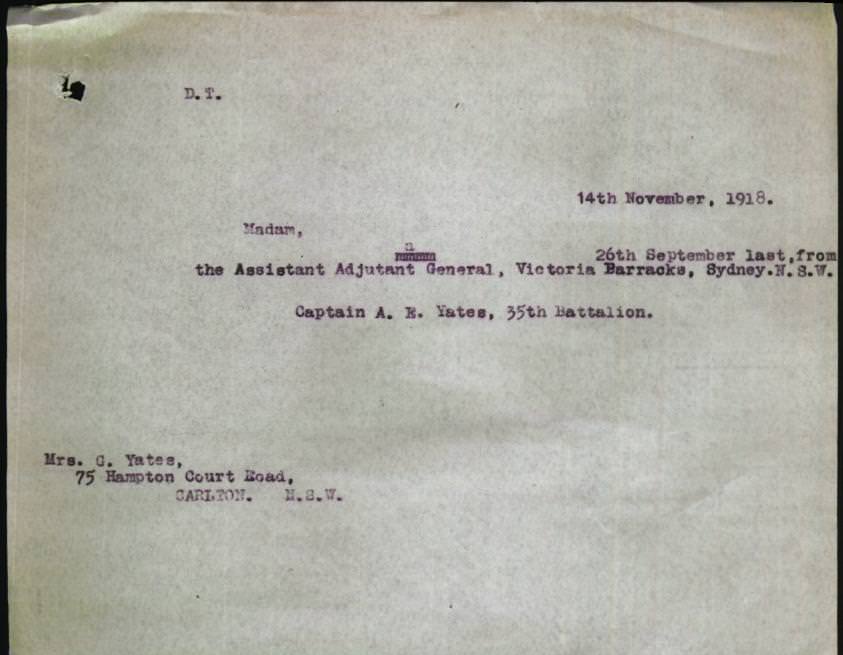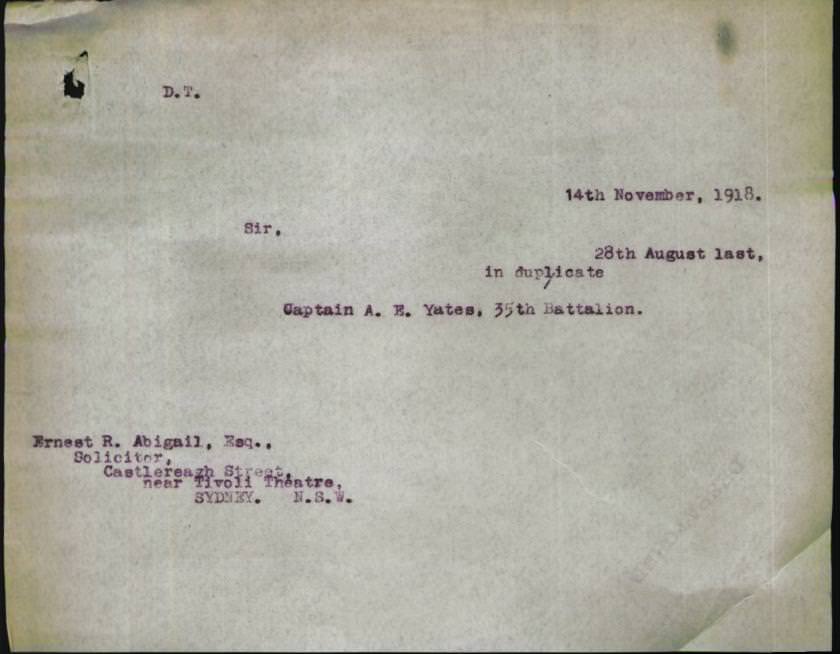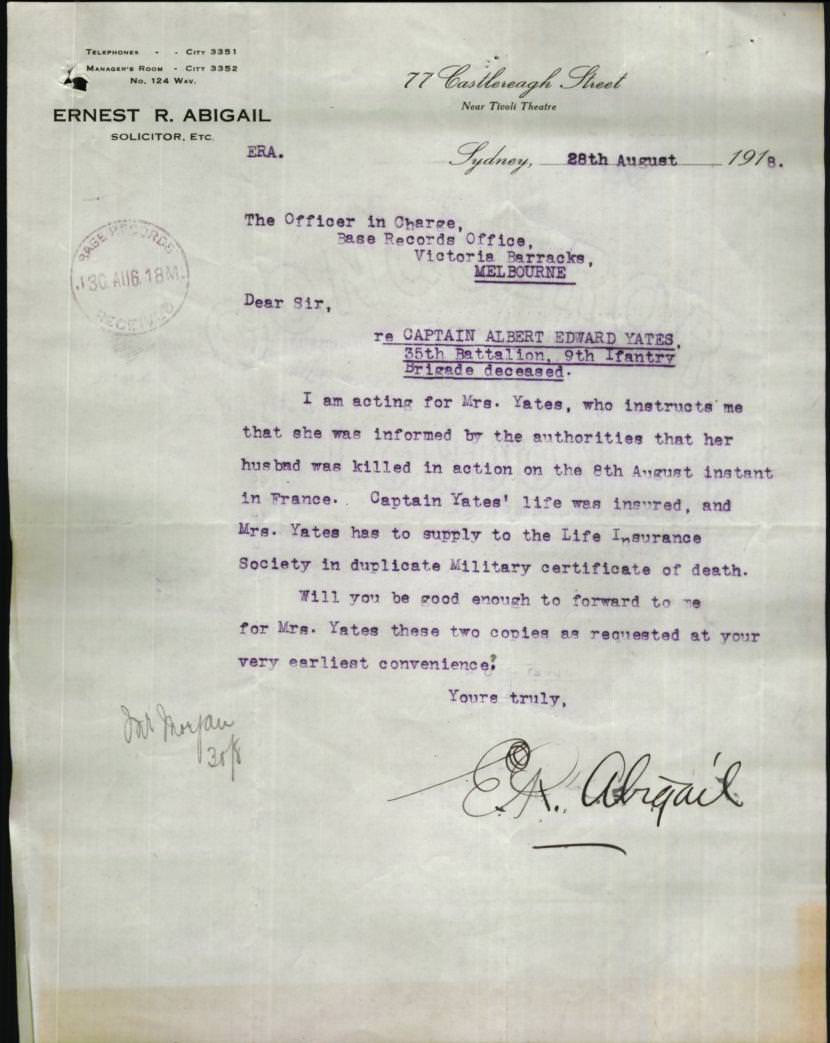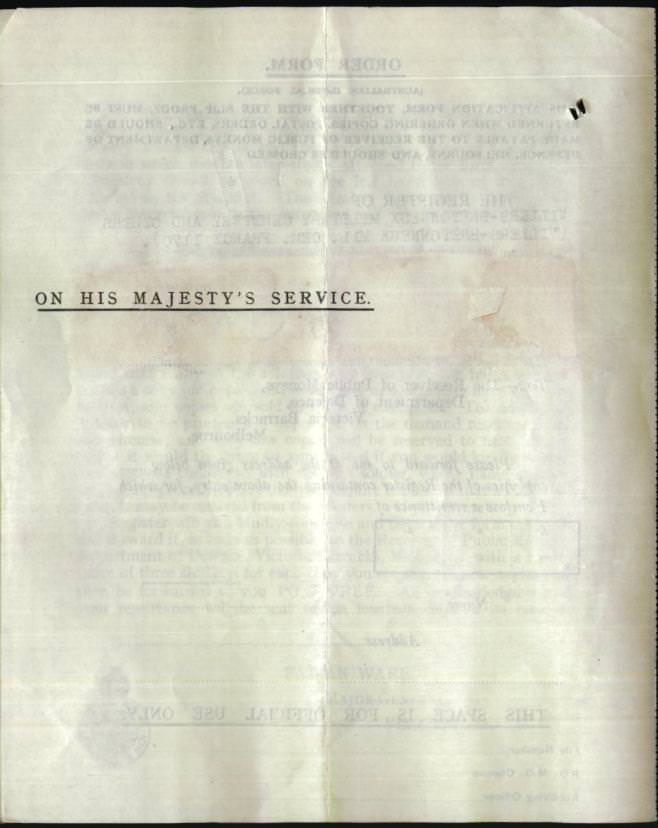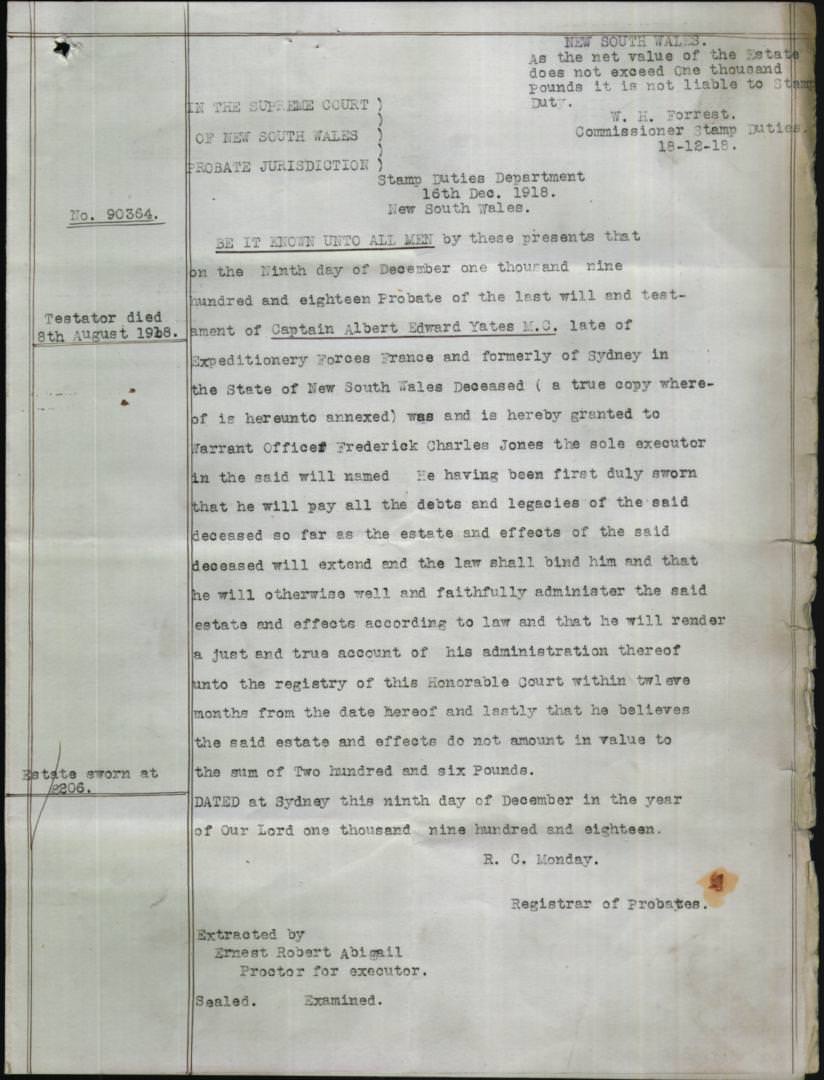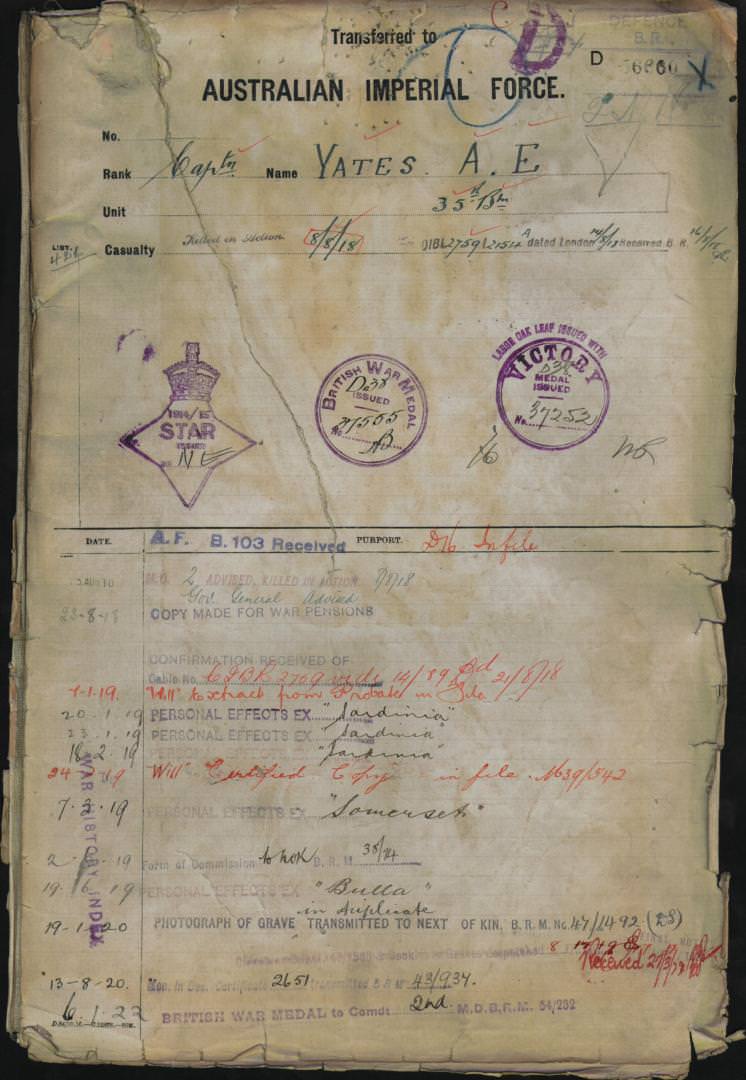 © Commonwealth of Australia (National Archives of Australia)
Under Construction; 18/08/2014-15/06/2017.
Web Counter
---