36th Battalion war Diary.
22nd November 1916.
Larkhill. Troops entrained at Amesbury Station in three trains. 1st Train 7:47am Compliment-Officers 11 and 327 others, 19 horses, 8 hand carts, 3 4 wheeled wagons and 9 bycicles. Lieutenant Colonel: James William Albert SIMPSON. Officer Commanding. A Company Lieutenant: ARNOLD. B Company Lieutenant: 3 Harry WOODHAMS. C Company Lieutenant: James Michael JULEFF.
2nd Train 9:15am-Compliment-Officers 11 and 327 others. 20 horses, 2 two wheeled, 5 four wheeled vehicles. Major: Archibald Clifford BLACKLOW. Officer Commanding. A Company Lieutenant: Richard Henry DOYLE.
3rd Train 11:am- Compliment-Officers 10, 326 other ranks, 20 horses, 2 two wheeled, 5 four wheeled vehicles. Major: Archibald Leeson PRINCE. Officer Commanding. B Company Lieutenant: 1376 William James GORDON.
22nd November 1916
Embarked "Caesarea" 24 Officers, 811 others. Embarked "African Prince" 8 Officers 168 others, 59 horses, 15 four wheeled vehicles, 12 two wheeled vehicles and 9 bicycles. Total 32 Officers, others 979 left Southampton 6:00pm. 1 Officer 75 others detailed as sentries and boat guard. 1 Sergeant, 1 Corporal and 20 detailed as Firing Party. 5 Sanitary Police and 10 men as Sanitary Party.
23rd November 1916.
Arrived at La Havre 1:40am. Disembarked 7:25am. Marched via town to No:1 Rest Camp arrived 11:40 am. Remained at Rest Camp, Le Harve, till 6:30am 24th November 1916.
24th November 1916.
36th Battalion, less 8 Officers 250 Other Ranks marched via town to point 3 Railway Station, Le Harve at 8:00am. Entrainied and left Le Harve at 10:30am. Proceeded via Montcrolier Buchy, Abbeville 6:10am. 10 hours late via Boulogne Calais and Bailleul. Arrived at Bailleul at 4:25pm 25th November 1916.
25th November 1916.
Detrained at Bailleul marched to billets at Merris district. Arrived at billets 10:45pm. Quartered in 12 billets. Headquarters at Hameur Farm.
26th November 1916.
4 Officers 100 men "A" Company arrived at Merris at 8:30am. Remainder of Battalion arrived at Merris 4:00pm. Hostile aircraft shelled overhead 2:15pm.
27th November 1916.
8 N.C.O's detailed to attend Gas School for 4 days. All Officers instructed in Box Respirator by Divisional Gas Officer. General: GODLEY and MONASH visited billets at Hameur Farm at 2:30pm. Captain: John Martin HAWKEY. and 1 N.C.O. per Company visited forward billets at Armentiers.
28th November 1916.
Battalion left for Armentieres in 16 Motor Lorries. Whole Battalion reported in billets at Armentieres at 5:30pm. Headquarters established at 6:00pm Rue De Strasburg.
29th November 1916.
Whole Battalion still in billets-supply Working Parties Only.
30th November 1916.
Visited the front line on left sector of defences at Armentiers.
Corporal: 1069 Thomas Fraser BRUCE was promoted to the rank of Sergeant on the 13th February 1917 when Sergeant: 1276 Lionel Ernest Osborne WILSHIRE received his Commission as 2nd Lieutenant.
No: 15 Platoon Commander D Company.
Family Information
Lionel was a single 30 year old Clerk upon enlistment. His sister Gladys was his next of kin. Lionel's parents Osborne and Mary Wilshire were married in Melbourne, Victoria? and had at least 5 children. Lionel's mother Mary L Wilshire died in 1904 at Deniliquin, N.S.W. Death Cert:9102/1904. and his father Osborne Wilshire died in 1912 at Deniliquin, N.S.W. Death Cert:5566/1912.
The Sydney Morning Herald; Saturday 16th June 1917.
Lieutenant Lionel Ernest Osborne Wilkshire, eldest son of the late Mr Osborne Wilshire, of Denilliquin, and nephew of Mr E.H. Wilshire of the Public Service Board, has been killed in France. He left Australia in the middle of last year as a Sergeant, and afterwards promoted to a Lieutenant. A brother is at the front, and another is about to leave for the front.
Military Records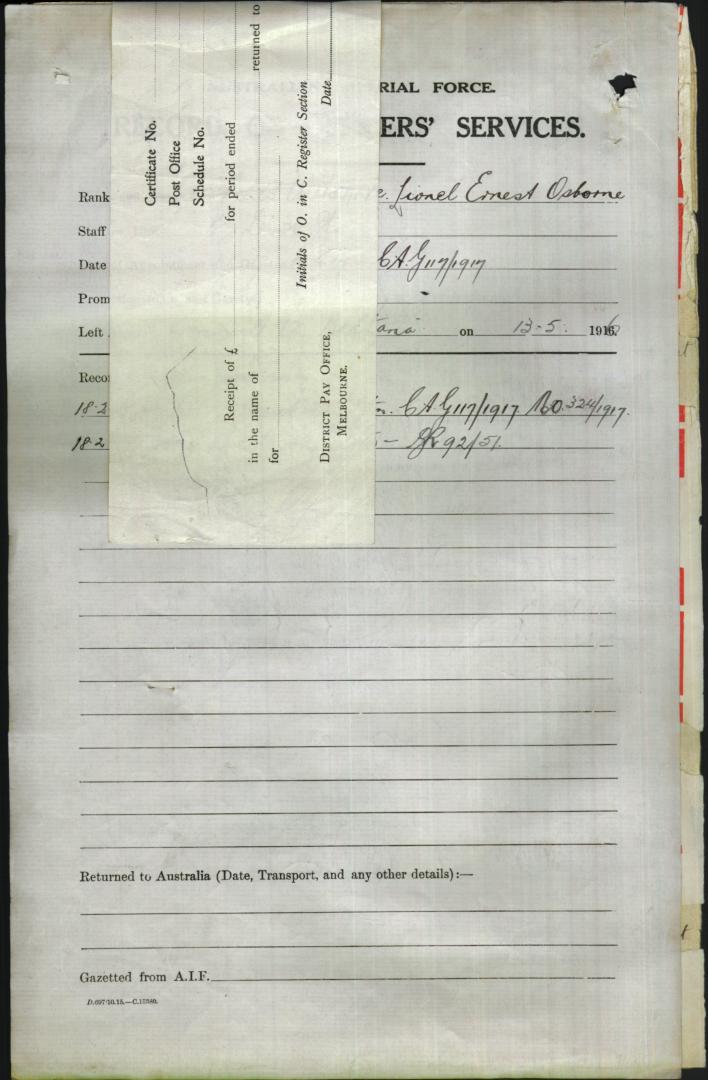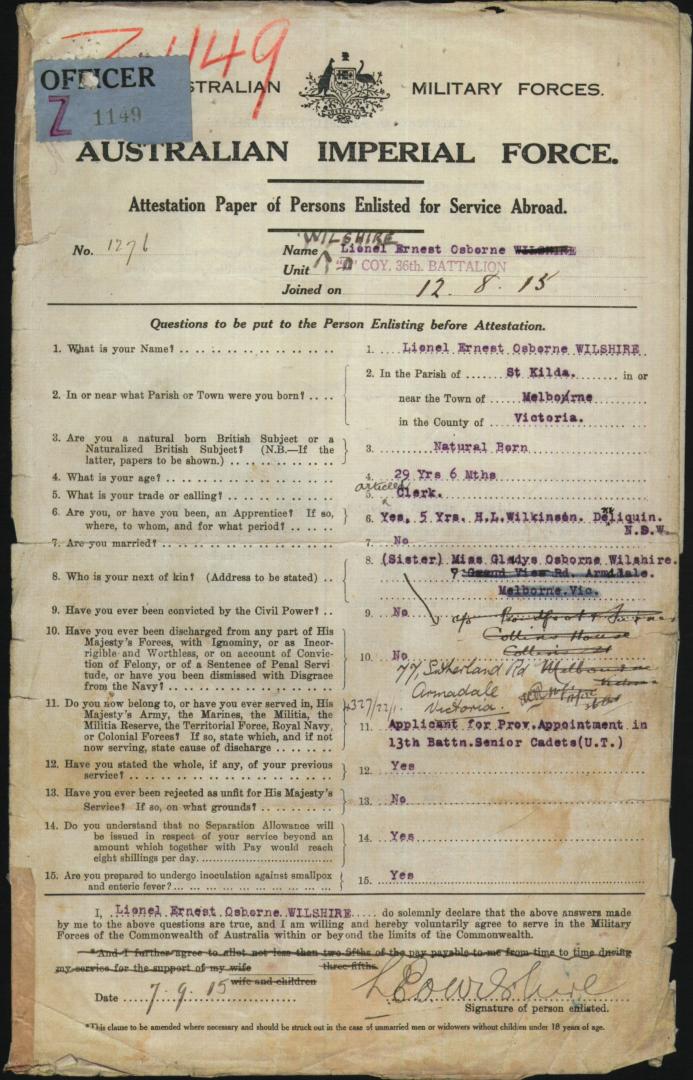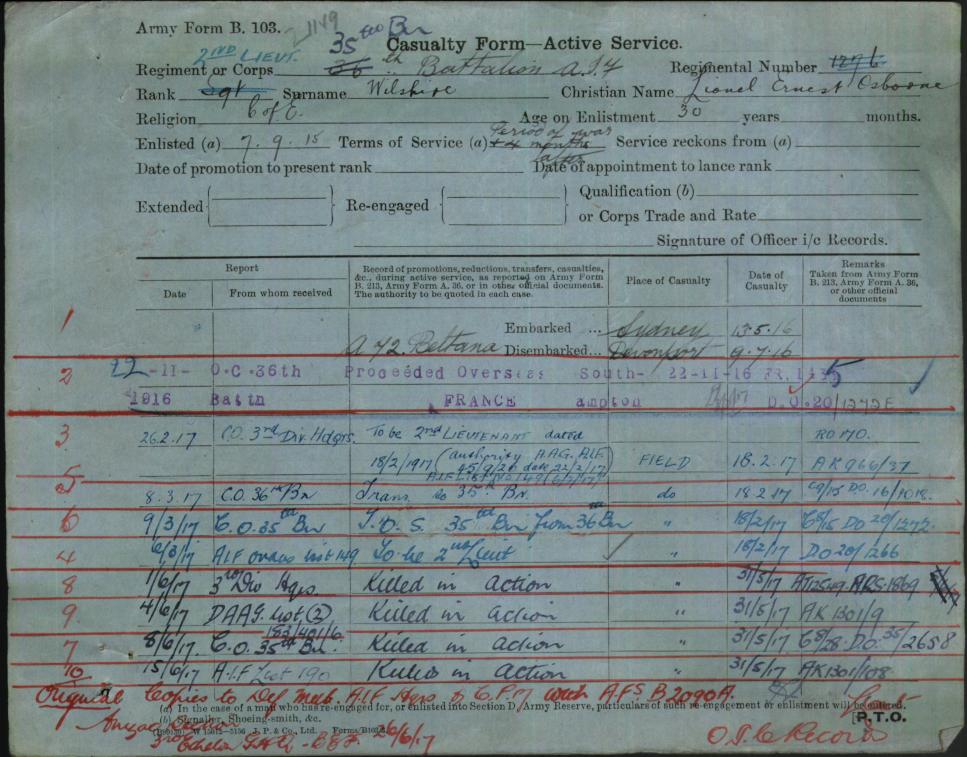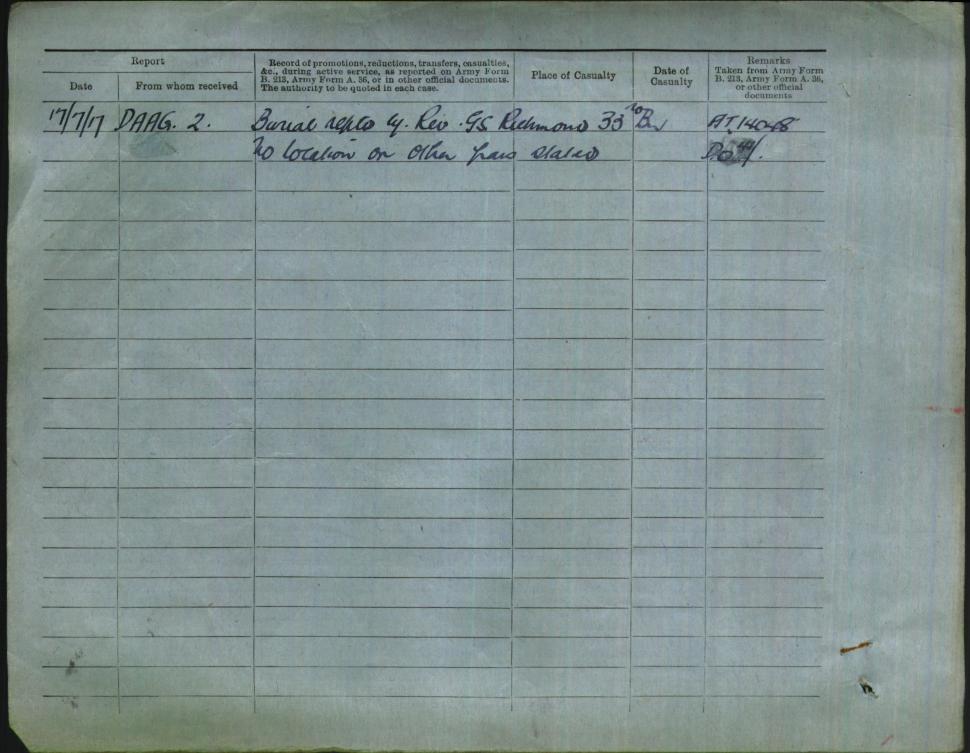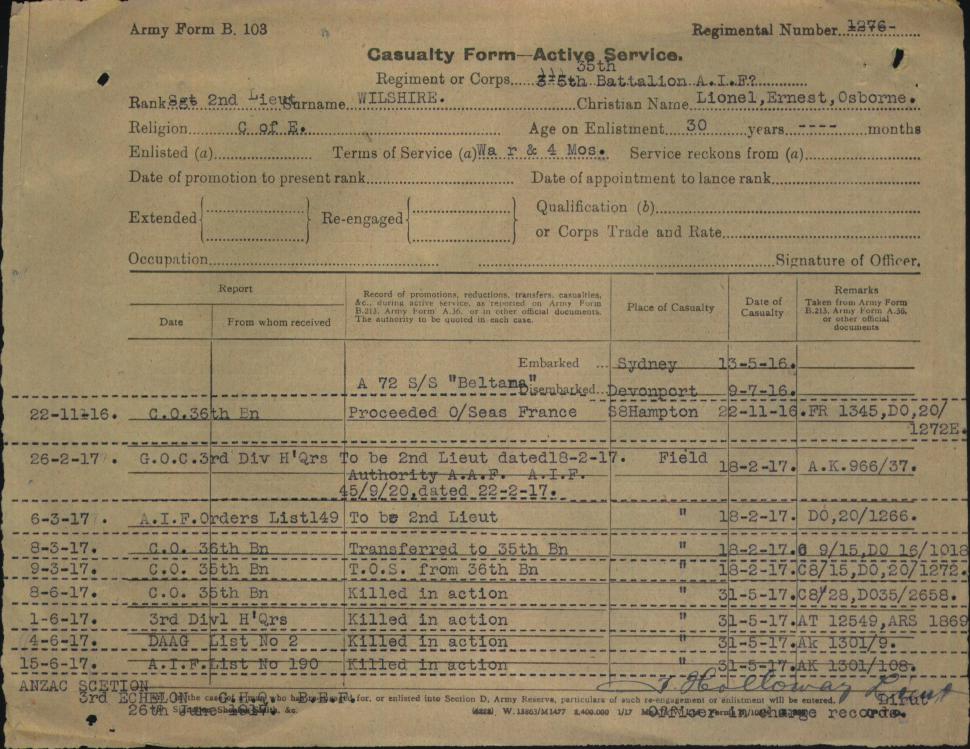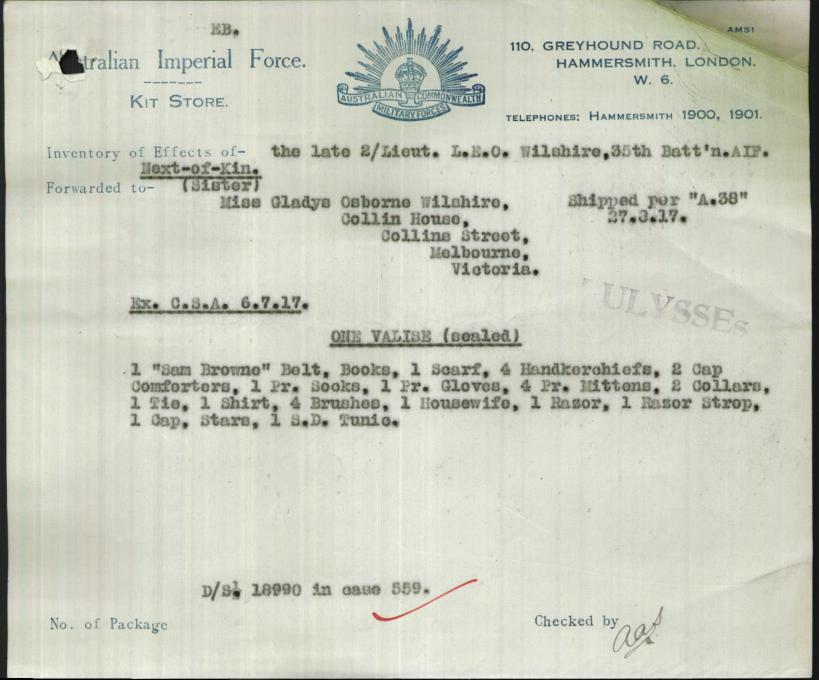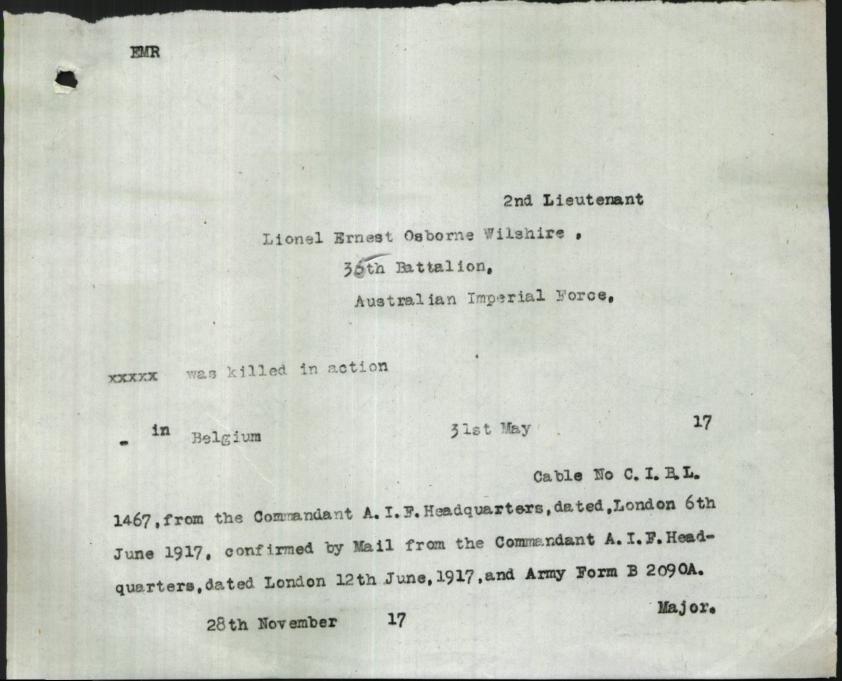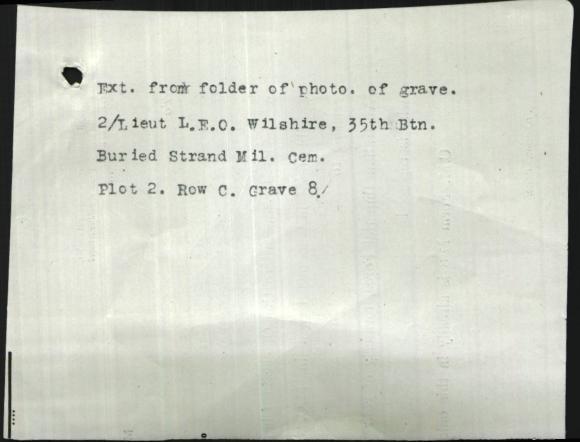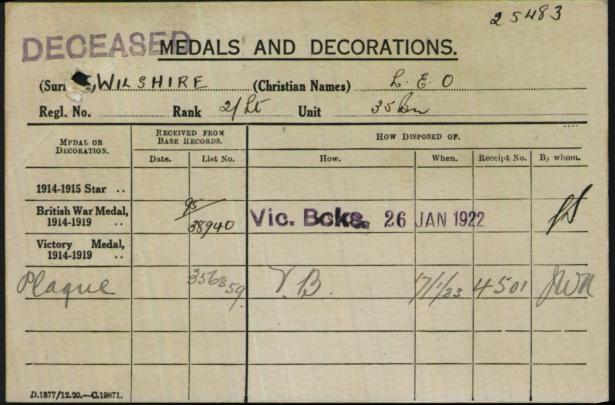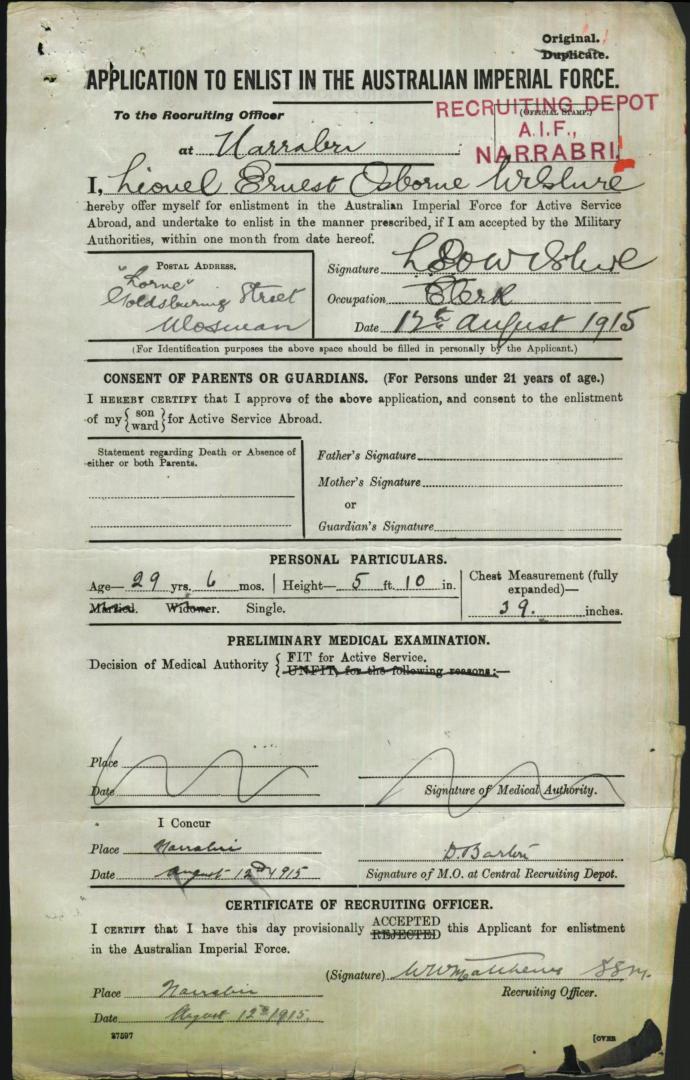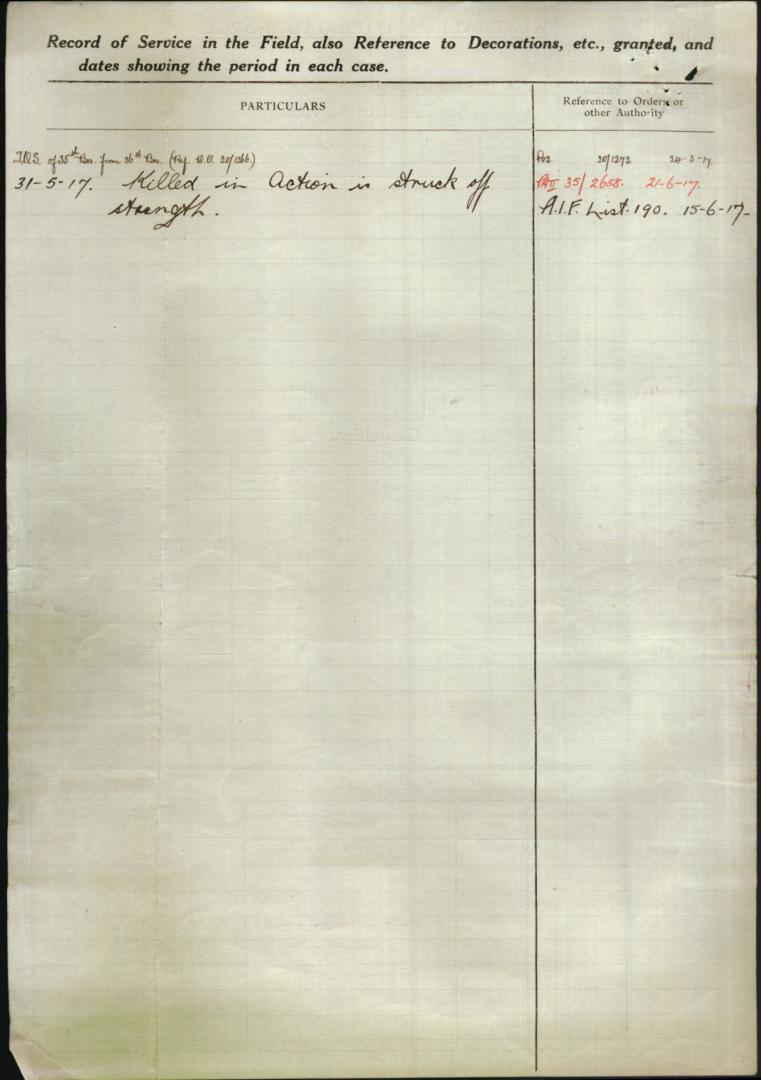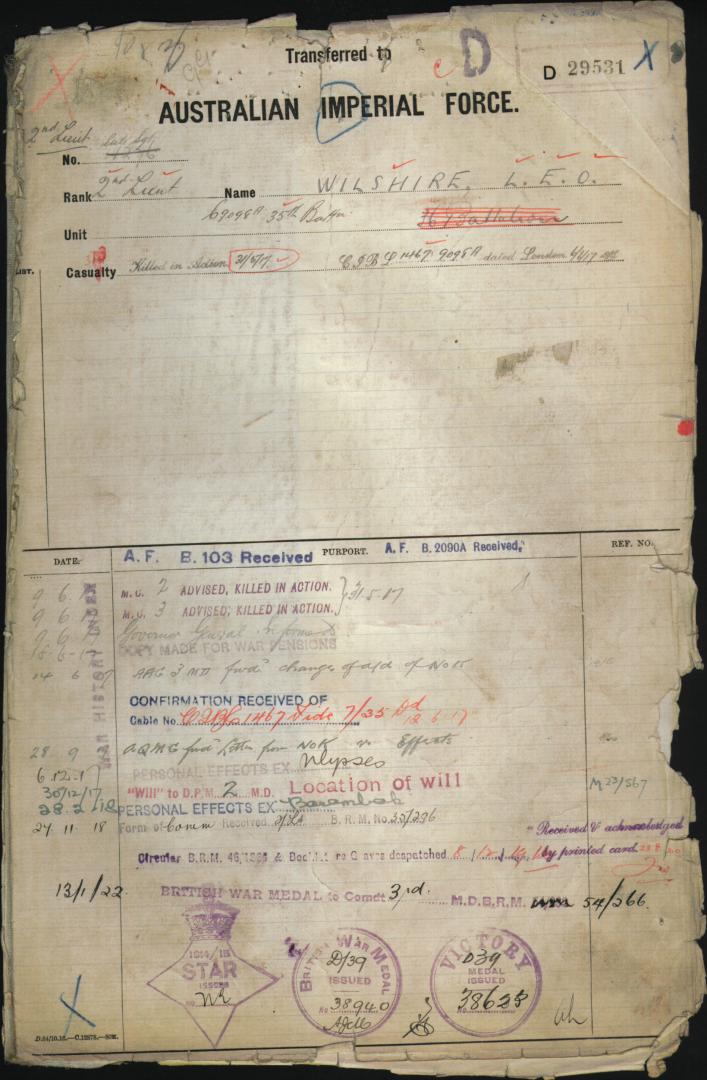 (Australian National Archives)
Under Construction; 21/07/2013.
---
Web Counter
---