Robert Wight enlisted on the 31st August 1915 at Enoggera, Queensland with the 23rd Company Australian Army Service Corps. Robert was promoted to Sergeant on the 19th of April and Orderly Room Sergant on the 1st of May, embarked from Sydney on board HMAT A34 "Persia" on the 30th May 1916 and disembarked at Plymouth, England on the 25th of July 1916. After four months of training Robert proceeded overseas for France on the 22nd of November 1916.
Shortly after being sent into the lines Robert was treated by the 11th Field Ambulance for Scabies which was was effecting thousands of troops in the trenches. By the end of 1917 Robert was promoted to 2nd Lieutenant on the 1st of November and Wounded in Action 1st Occassion at BOULOGUE on the 6th of March 1918 where he received a Gun-Shot Wound to the Abdomin and was evacuated to the Casualty Clearing Station. Robert was transfered to the 34th Battalion after attending Officer Training whilst in England.
(Lieutenant Robert WIGHT in center of photo circ 1916-18)
7th March 1918.
Reccommended for the MILITARY CROSS
2nd Lieutenant: Robert WIGHT. 34th Battalion AIF.For the most gallant service on the night of 3rd/4th March 1918 during raid on enemy trenches in vicinity of WARNETON. This Officer' task led him to the furtherset limits of the raid, and he displayed great personal courage in leading his party till eventually wounded.
30th July 1918.
Informant; Private: 2280 Eric Lionel BUTTERWORTH. I knew Private: 3119 Sydney SMITH and was within a few yards of hil at Villers-Bretonneux when he was hit by one of our own shells fallind short and he was wounded. He died on the stretcher as he was being carried to the dressing station on April 4th 1918, not March as stated in reports. It was the last time when we were going forward to recapture some trenches lost by another Battalion during the day. SMITH was buried in a cemetery near to villers-Bretonneux. He was Lieutenant: 10480 Robert WIGHT'S Orderly.
Napsbury War Hospital, St Albans, England.
3rd August 1918.
Informant; Sergeant: 1957 Joseph BROADBENT On March 4th 1918 at Villers-Bretonneux while defending the line Private: 3119 Sydney SMITH was killed. He was servant to Lieutenant:10480 Robert WIGHT 34th Battalion C Company AIF. Informant thinks the above Officer could give further particulars.
15th August 1918.
Informant; Lieutenant: 10480 Robert WIGHT Re the late Private: 3119 Sydney SMITH He was about 20 years of age, dark hair, 5' 9" and sturdily built. He was killed about midnight on the night fo the 4-5/4/1918 by shell fire. His body was placed in the aerodrome at Villers-Bretonneux by our company stretcher bearers, one since killed, the other in hospital wounded. He was buried outside the aerodrome at Villers-Bretonneux by our Battalion Pioneers. The grave is not in a registered Cemetery but wheather a Cross still marks the grave I cannot say, as untill the recent battle the aerodrome was the scene of bitter fighting. If ever I have the opportunity I will visit the spot and give you further information. He was my Bateman, and a good brave lad. I feel sure the grave will be registered and probably his parents will be able to get a photo of it on application to the G.R. Authorities. France.
18th August 1918.
Weather threatening but clearing, following project bombardment on our right, heavy bombardment followed. C.O. called on left headquarters. Our planes brought down enemy plane in flames but it dropped behing BRAY. C.O. visited posts. 3 O/Rs Killed 1 Officer Lieutenant: 10480 Robert WIGHT and 6 O/Rs wounded.
(34th Battalion War Diary)
In fact Robert was not Killed in Action but Wounded in Action; 2nd Occassion where he received a Gun-Shot Wound to the Mouth and was evacuated to the Casualty Clearing Station. After returning to England Richard married on the 18th March 1919 and was granted indefinate leave from the 28th of March until the 1st of August awaiting Family Ship and returned to Australia on the 30th October 1919.
Family Information
Robert was a single 28 year old Upholsterer upon enlistment. After World War 1, Robert lived at the Grovenor Hotel, Brisbane Queensland.
FUNERAL NOTICE; Brisbane Courier, Queensland. 25th February 1929.
WIGHT The Friends of Mr Robert Wight, of 4QG Brisbane, are invited to attend the funeral of his late beloved Wife Letty, to move from the Funeral Parlour, Whickham Street, Broadway. This Monday afternoon at 3:30 o'clock, to Toowong Cemetery. Motor service.
K.M. SMITH, Funeral Director.
FUNERAL NOTICE; Brisbane Courier, Queensland. 5th March 1929.
THE LATE MRS. ROBERT WIGHT.
The many friends of Mr Robert Wight , markets officer, 4QG, will regret to learn that his wife passed away on Sunday, February 24. The funeral took place at the Toowong Cemetery. Many friends paid their last tribute of respect to the late Mrs Wight, and the cortege was a long and representative one. Beautiful floral tributes were received from "Daddy and Andre," Queensland Radio Service..4QG, Council of Agricultute, G.W. Barter, staff Queensland Producers Agency, Queensland Radio News, Mrs Barclay, Ruth and Edna, Mr and Mrs W M Kennariey, Arthur and Maud, Eileen M'Lennan, Roy and Grace, Mr and Mrs D O'Connor, M Flanagan, Harden Family, Harry Humphrey, Mother, The Sandgate Children, Dorie and Arthur, Mrs Fox and Family, Mrs Marsh, Ruby and Chris, Lot and Abe, Leah and Will, Mrs Beardmore, Mr and Mrs H P Littler, Maude and Charlie Tweedale, Nell and Herb Bytheway, Mr and Mrs Braidwood and Family, Bert and Lil Barclay, Mr Park, State Produce Agency, The Rev. Canon Garland performed the service at the graveside
DEATH NOTICE; Brisbane Courier, Queensland. 16th February 1942.
DEATH OF STATE RADIO PIONEER.
Mr Robert Wight, 50 who died at Mooloonaba on Saturday was one of the first announcers when Queensland Radio Service (afterwards taken over by A.B.C) were established. Known throughout Queensland as "Market Reports" he specialised in rural affairs and market movements, initiating the country mans session and other rural services. At the time of his death he was Acting Manager in Queensland for the Australian Broadcasting Commission, having been appointed on the enlistment of Mr A N (Huck) Finlay in the Air Force. For many years previously he had been talks editor and programme manager. Mr Ewart Chapple, Sydney who was Acting Manager while Mr Wight was on holiday, will continue in that capacity. Mr Wight was born in Scotland, went with his parents to New Zealand at an early age and thence came to Sydney 32 years ago. In 1912 he came to Queensland and engaged in farming. He enlisted in the A.I.F in 1915 and served in Egypt and France. He was badly wounded and was promoted to Captain. Returning in 1919 he engaged in Farming in the Fassifern District and became prominent in public affairs. He was foundation member of the Queensland Producer's Association, and one of the first organisers in the Council of Agriculture. He has left a daughter. Mrs Wight died 13 years ago.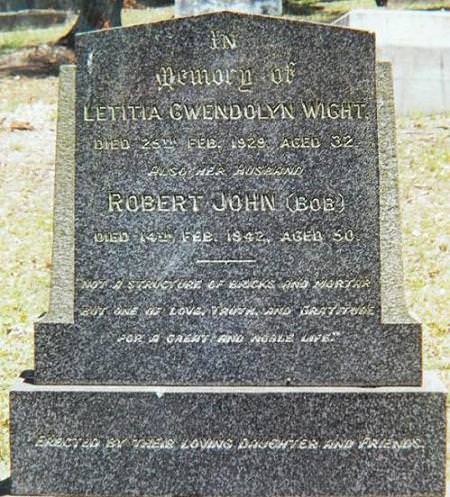 Toowong Cemetery, Letty Wight and Robert Wight.
Toowong Cemetery (Brisbane General Cemetery) Brisbane, Queensland, Australia. 304 Birdwood Terrace Toowong, 4066 QLD phone: 07-340 32587
This cemetery was originally called Brisbane General and includes burials from Milton aka Paddington. It was established in 1866 and formally opened in 1875, and it is Queensland's largest cemetery.
(Family Photos, Courtesy Robert Gilbert Wolfeboro, New Hampshire, U.S.A. 2013)
Military Records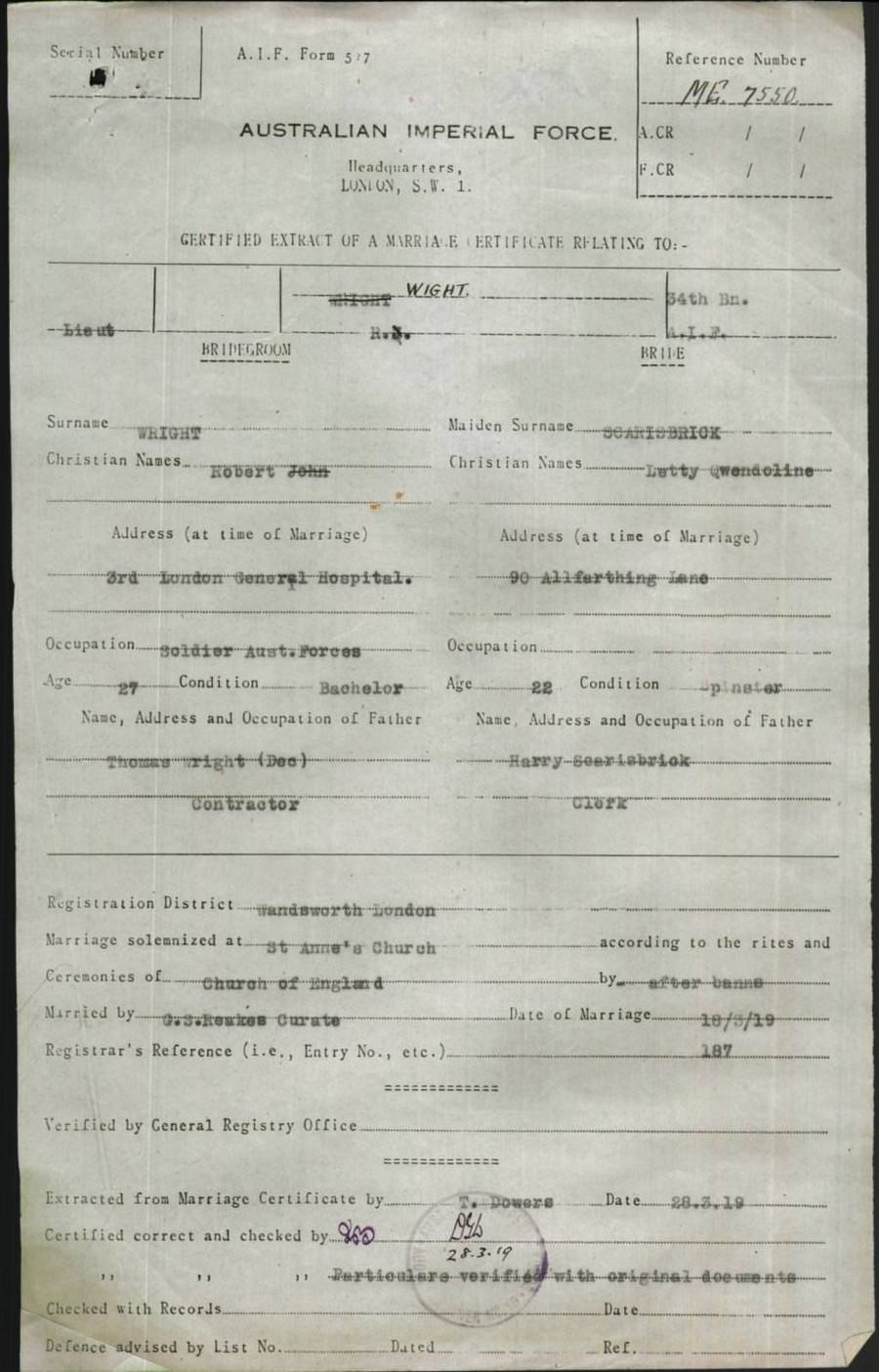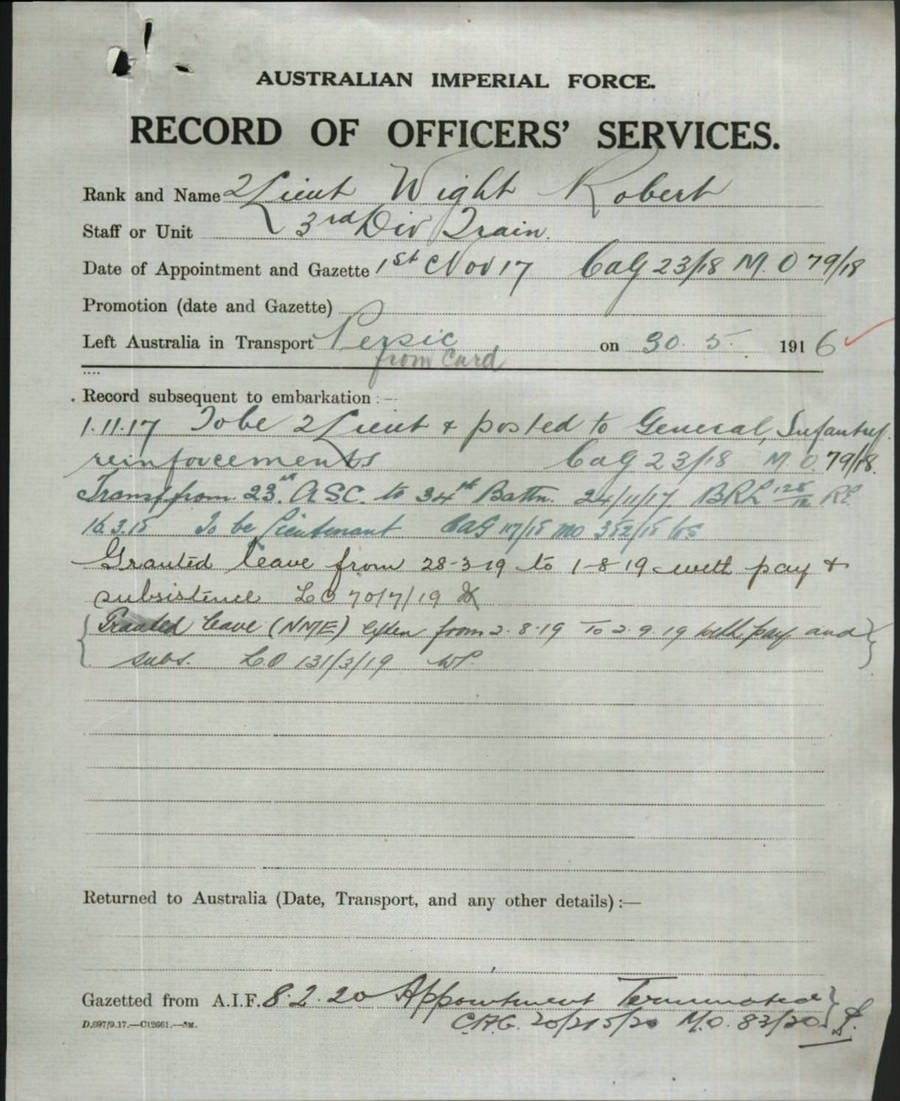 (Australian National Archives)
Under Construction 29/01/2010-30/01/2011.
---
Web Counter
---