MAIN MENU 35th BATTALION PAGE.
---

35th BATTALION A.I.F.
Lieutenant: 242 Leslie James WEST. D.C.M.
---
Born: 1890. Kempsey, New South Wales, Australia. Birth Cert:17600/1890.
Married: 1911. Newcastle, New South Wales, Australia. Marriage Cert:2348/1911.
Wife: Clara Blanche West. nee: Smith.
Died: 4th of April 1918. Killed in Action Villers-Bretonneux, France.
---
Father: Gilbert Gill West. (18..-1944) Died at Merewether, N.S.W. Death Cert:25785/1944.

Mother: Adelaide Emily West. nee: Sutton. (18..-1943) Died at Merewether, N.S.W. Death Cert:28697/1943.
---
INFORMATION
Leslie James West enlisted with A Company 35 Battalion on the 17th of January 1916 with the rank of Corporal, and embarked from Sydney on board HMAT A24 "Benalla" on the 1st May 1916 and disembarked at Plymouth, England on the 9th July 1916. The 35th Battalion were marched in to the 9th Training Battalion at the Durrington Army Camp at Larkhill where they settled down to hard training, which included Route Marching, Trench Digging, Bomb Practice, Musketry and General Camp Routine. Whilst at Larkhill Leslie was promoted to Sergeant on the 1st of September 1916 before the Battalion proceeded overseas for France on the 21st of November via Southampton.

On the 7th of April 1917 Leslie was promoted to Temporary Company Sergeant Major when Company Sergeant Major: 1810 Albert Ernest GARRATTY was struck off and evacuated to Hospital and later to Company Sergeant Major (Warrant Officer II) on the 20th of April 1917.

7th June 1917.

THE BATTLE OF MESSINES

The 3rd Australian Divisions first major offencive was at Messines Ridge on the 7th June 1917. The Australian 3rd Division was a part of the II Anzac Corps which was allotted to the first assault. The 25th New Zealand, 3rd Australian Division with the 4th Australian Division in reserve. The 4th Division were battle hardened troops who had fought many major battles.The 3rd Australian Division were having problems getting to the "jump off" point. The day before the 9th and 10th Infantry Brigades were bombarded by German Gas-Shells around Hill 63 and Plugstreet Wood. Many of the Aussies were not wearing gas masks, but dispite this they pressed on even though they received 500 casulties.

They made it to the "jump off" point but only just with some of the men from the 9th and 10th going straight over the top without stopping. The mines went up and the attack commenced behind a protective barrage. The II Anzac Corps were attacking on the right with their objective being the southern shoulder of the ridge which included Messines, the Dover and St Yves areas as far south to the east of Plugstreet Wood.

Major General Sir John MONASH's 3rd Division had to contend with a tricky 3 mile approach out of Plugstreet Wood and after the German gas attack, but they were not detered. The 9th Infantry Brigade under Brigadier General: Alexander JOBSON and the 10th Infantry Brigade under Brigadier General W R NICHOLL had just made the jumping off point but some of the men did not stop, going straight into the assault from the approach march.

Their objective lay between St Yves and the Douve. The mines at Trench 127 and Trench 12 at Factory Farm were laid to aid this task. The explosions erupted a few seconds before zero hour and created craters of 200 feet in diameter, completely obliterating the German defence line as the 9th and 10th Infantry Brigades went over the top. The mine crates forced the 9th and 10th Brigades to veer to the left and right which caused some confusion with the main assault. It is testimony to the quality of training that every man knew the ground, tasks and objectives so well.

Private: 1804 John CARROLL 33rd Battalion, rushed the enemy's trench and bayoneted four of the German occupants. He then noticed a comrade in difficulties and went to his assistance, killing another German. He then attacked single handed a German Machine Gun Team, killing all three of them and capturing the gun. He later rescued two of his comraded who had been buried alive by German Shell Fire, and in spite of heavy shelling and machine gun fire he dug them out alive and saved them from certain death. John was awarded the Victoria Cross.

The German foward zone was completely engulfed and taken by the main assault. The two supporting battalions of each brigade then passed the leading battalion to continue the advance. The men were constantly re-supplied and the ridge was taken. There were many German prisoners taken during the offencive. The 3rd Division was well ahead with the 9th Infantry Brigade pushing on beyond Grey Farm, and on the right the 10th Infantry Brigade were veering left towards Septieme Barn north of Douve.

The German resistance was heavy but was generally brushed aside by tanks and artillery before the infantry had to become too involved.The 4th Bavarian Divisions Artillery had made little impact, but as the day wore on the 3rd Division and later the 4th Australian Division received many casulties from German artillery. (70% of all casulties during WW1 were from artillery).

By 9:00am nearly 6 hours after the assault began the Germans were in dissaray, but there was a major problem as the Australians received less casulties as anticipated and when ordered to dig into the ridge they had so many men, that some could not find shelter. the 35th battalion were dug in around Seaforth Farm.

The second phase of the operation was to take the Oosttaverne Line. The 3rd Australian Division would now be in reserve with the 4th Division attacking. The 9th Infantry Brigade (33-34-35-36Bn) were near Thatched Cottage facing Warneton. The river Lys was to their right and the Plugstreet Wood was now behind them.

Once their objectives were taken the troops consolidated. A barrarge to stop and counter attack was shortnened and caught three battalions which had to retire. By 9:00pm this part of the Oosttaverne Line was abandonded. At 10:45pm General Godley ordered the 3rd and 4th Divisions to retake it. This they did by the early hours of the 8th of June.

The Battle for Messines Ridge during May-June 1917 saw 35 officers and 1,631 other ranks loose their lives.
9th Infantry Brigade Casulties.
| | | |
| --- | --- | --- |
| 33rd Battalion. AIF | 8 Officers | 382 Other ranks |
| 34th Battalion. AIF | 10 Officers | 378 Other ranks |
| 35th Battalion. AIF | 5 Officers | 431 Other ranks |
| 36th Battalion. AIF | 9 Officers | 421 Other ranks |
| 9th Machine Gun Company. AIF | 2 Officer | 17 Other ranks |
| 9th Light Trench Mortor Battery. | 1 Officer | 2 Other ranks |
FIELD DRESSING STATION, MESSINES 7th June 1917.
DISTINGUISHED CONDUCT MEDAL
Company Sergeant Major: WEST. 35th Battalion AIF. At ST YVES during the offensive of the 7th/12th June 1917 this N.C.O. did very fine work in charge of carrying parties. He himself continues carrying after 36 hours continuous work, and all his parties has become casualties. He persisted in his work until the Companies he was carrying were supplied with water, and after a short spell, took up the work again and continued until the end. He was several times nearly blown up by shells bursting close to him.
London Gazette: 25th August 1917, page 8848, position 9.
Commonwealth Gazette: 20th December 1917, page 3387, position 8.
28th July 1917.
"During enemy attack at Messines on night of 28th/29th July 1917, shewed and conspicuous gallantry and leadership. At the opening of the enemy's barrage, 2nd Lieut WEST was in the act of sending up the S.O.S., when it was blown from his hands by enemy shell fire, almost immediately after he was again struck by shell fire, his pistol being smashed in the holster, but notwithstanding he was severely shaken and received several minor wounds, he carried on throughout the night, doing splendid work under most trying conditions. 2/Lt WEST recently received the D.C.M."
30th March 1918
2:00am, Arrived at Cachy and billetted in Aerodrome. 9:00am, assembled for counter-attack and remained in formation till 5:00pm then returned to billetts. 10:00pm, received instruction to move into the line.
(35th Battalion Diary)
4th April 1918.
North of the railway cutting Sayers company of the 35th Battalion advanced with equal success. The Germans immediatly ahead of it numbered not more than 100. As the company approached some of them ran. Lieutenant: Thomas Edward THOMPSON was wounded by a German at fifteen yards range.
(BEAN; History of World War 1 Vol V page 345) Charles Edwin Woodrow BEAN
4th-5th April 1918
The First VILLERS-BRETONNEUX
The Strength of the 9th Infantry Brigade was about 2,250 but their casulties during the 2 days of fighting numbered 30 Officers and 635 men either killed in action or missing.
9th Infantry Brigade Casulties.4th-5th April 1918
| | | |
| --- | --- | --- |
| 33rd Battalion. AIF | 3 Officers | 82 Other ranks |
| 34th Battalion. AIF | 5 Officers | 120 Other ranks |
| 35th Battalion. AIF | 9 Officers | 282 Other ranks (including 44 missing) |
| 36th Battalion. AIF | 12 Officers | 133 Other ranks (including 1 missing) |
| 9th Machine Gun Company. AIF | 1 Officer | 18 Other ranks (including 4 missing) |
4th April 1918.
"Lieutenant WEST was shot through the head at about 7.15 a.m. on 4.4.18 during the attack on Villers-Bretonneux. He died almost immediately. His body was carried back as far as the N.W. corner of a small Military Cemetery which lies about 700 yards north of the railway line and 3/4 of a mile west of MARCELCAVE where it was left to make way on the stretcher for a wounded man. This ground was subsequently in enemy hands for about 4 1/2 months."
Leslie was Killed in Action 4th April 1918 and is remembered with honour and is commemerated in perpetuity by the Commonweath War Graves Commission at the Villers-Bretonneux Memorial.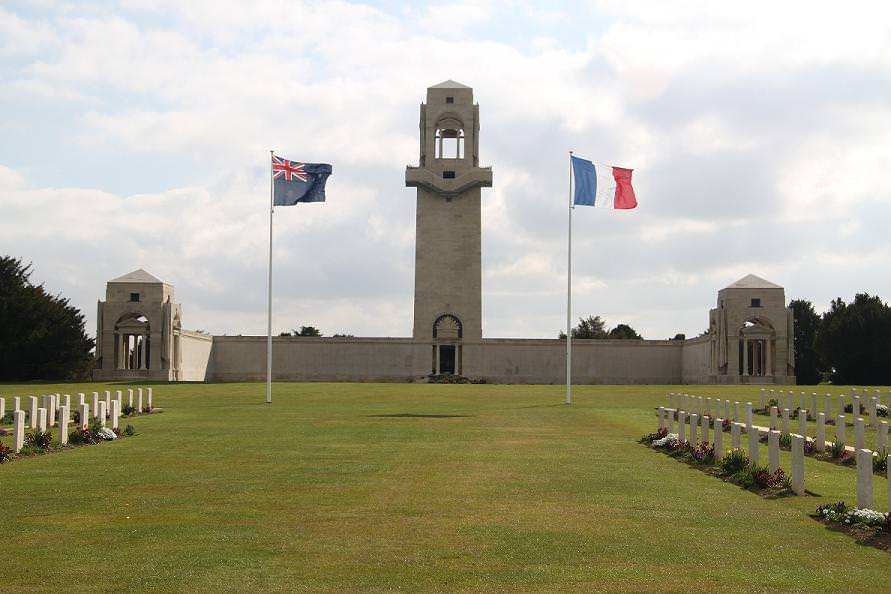 VILLERS-BRETONNEUX WAR MEMORIAL

Family Information
Leslie was a married 28 year old Storekeeper from Ridge Street, Merewether, N.S.W. upon enlistment. His parents Gilbert and Adelaide West were married in 1886 at Hamilton, N.S.W. Marriage Cert:6773/1886 and had eight children. Elsie M West born 1887 at Newcastle, N.S.W. Birth Cert:30248/1887. Nellie Macleay West at Kempsey, N.S.W. Birth Cert:26673/1888. Leslie James West born 1890 at Kempsey, N.S.W. Birth Cert:17600/1890 and died 4th April 1918 Villers Bretonneux, France. Gertrude M West born 1892 at Kempsey, N.S.W. Birth Cert:18206/1892. Herbert W West born 1893 at Kempsey, N.S.W. Birth Cert:18499/1893. Gilbert West born 1895 at Kempsey, N.S.W. Birth Cert:23371/1895 and died 1901 at Wickham, N.S.W. Death Cert:16032/1901. Roy West born 1897 at Sydney, N.S.W. Birth Cert:18522/1897. Arthur West born 1899 at Sydney, N.S.W. Birth Cert:27396/1899.
Brother in Law. Private: 1398 Edgar Albert SMITH 35th Battalion AIF. Killed in Action
Military Records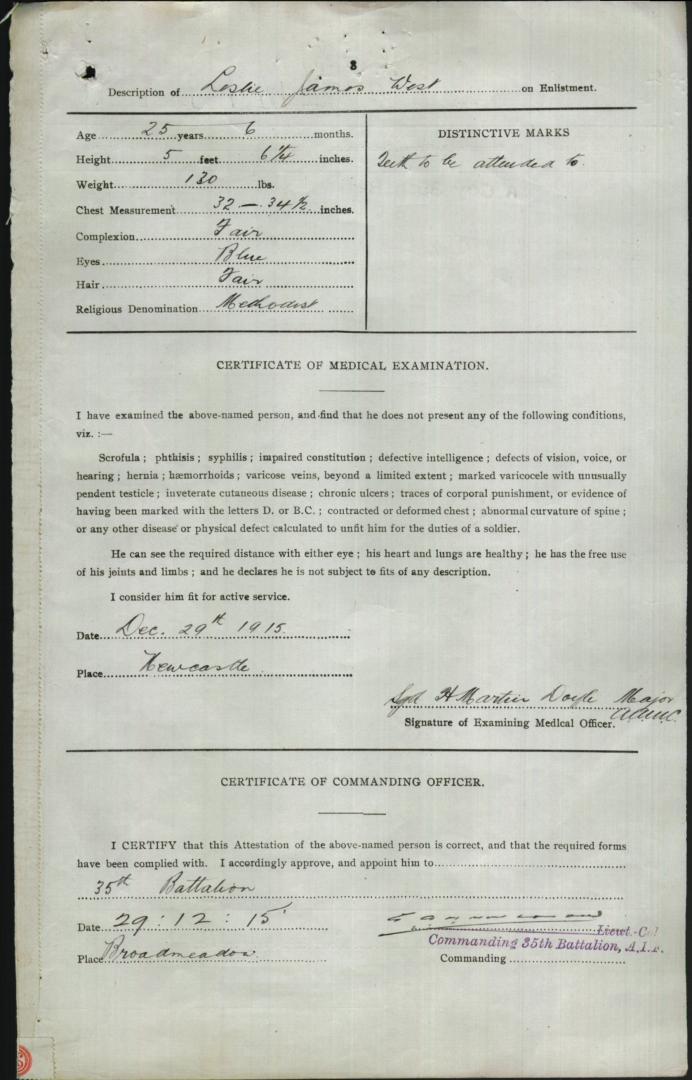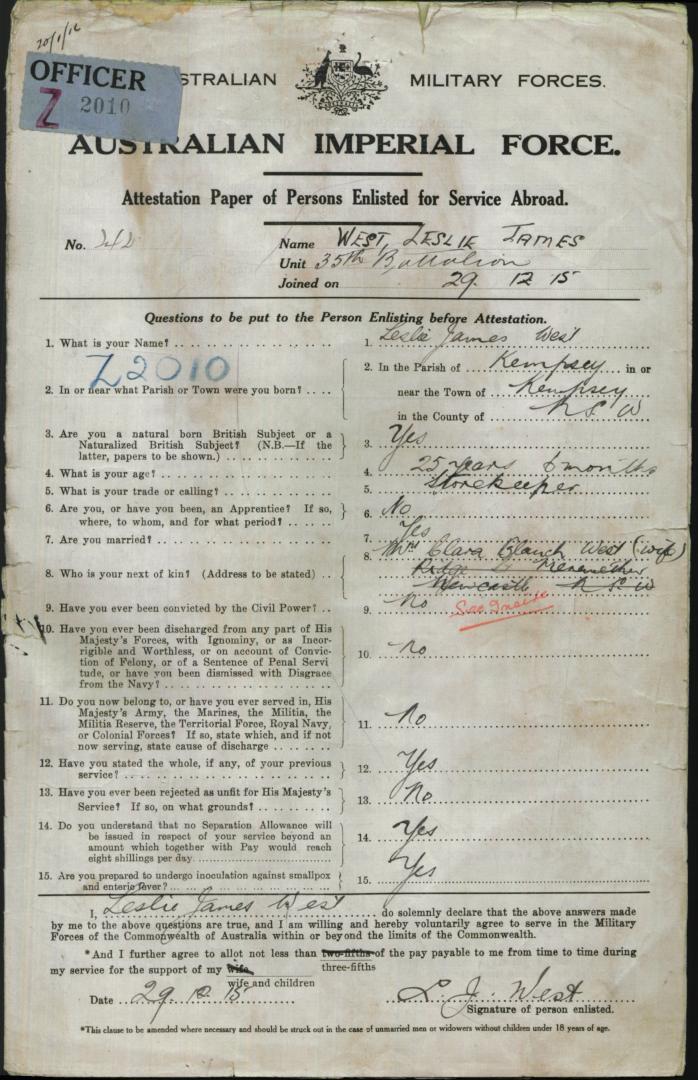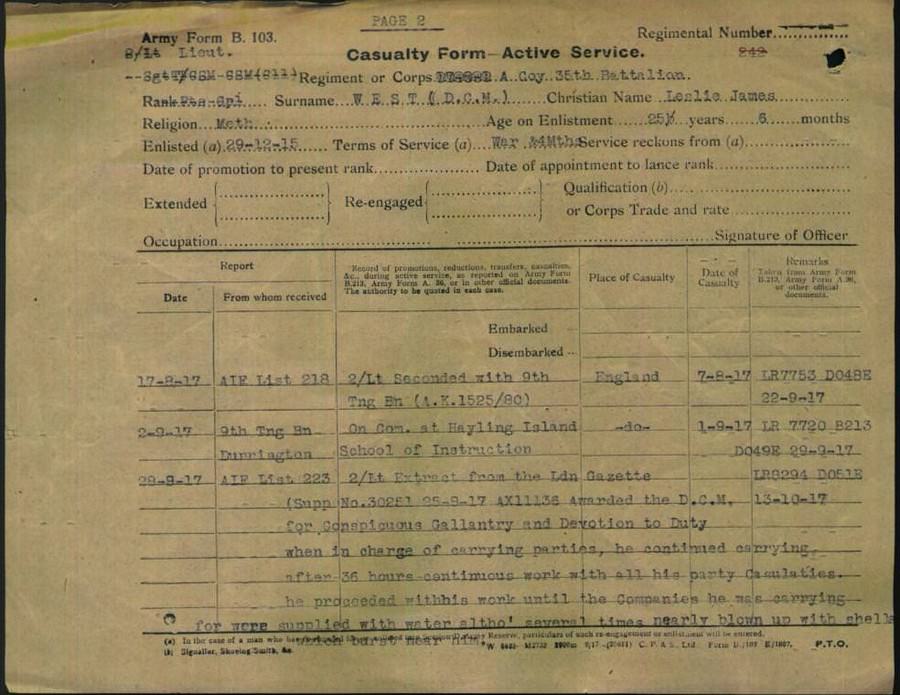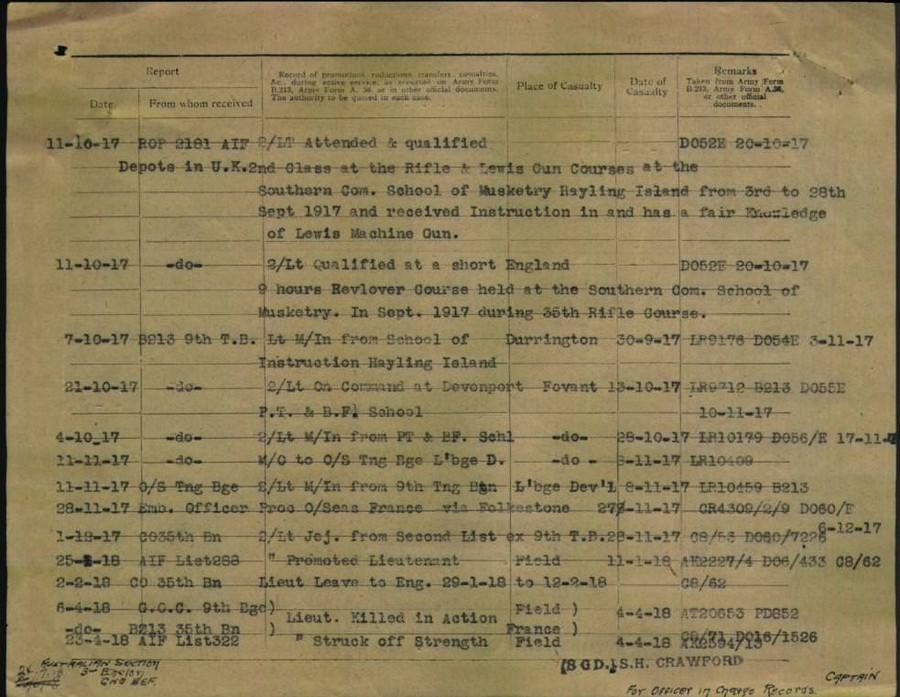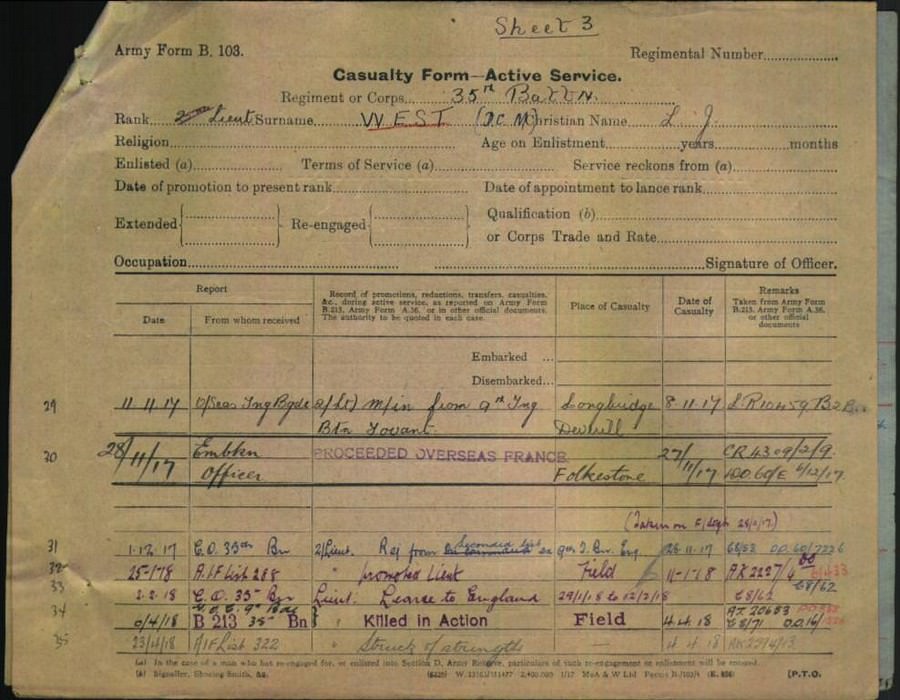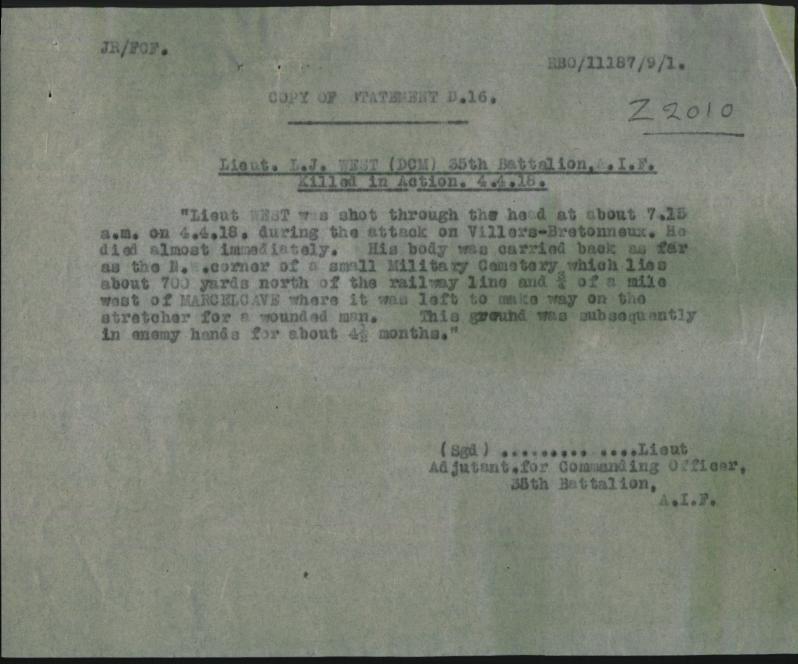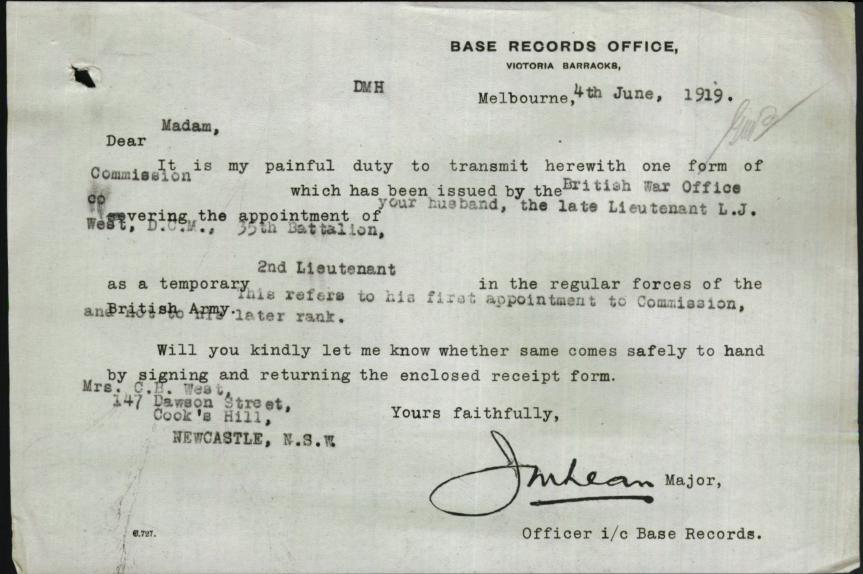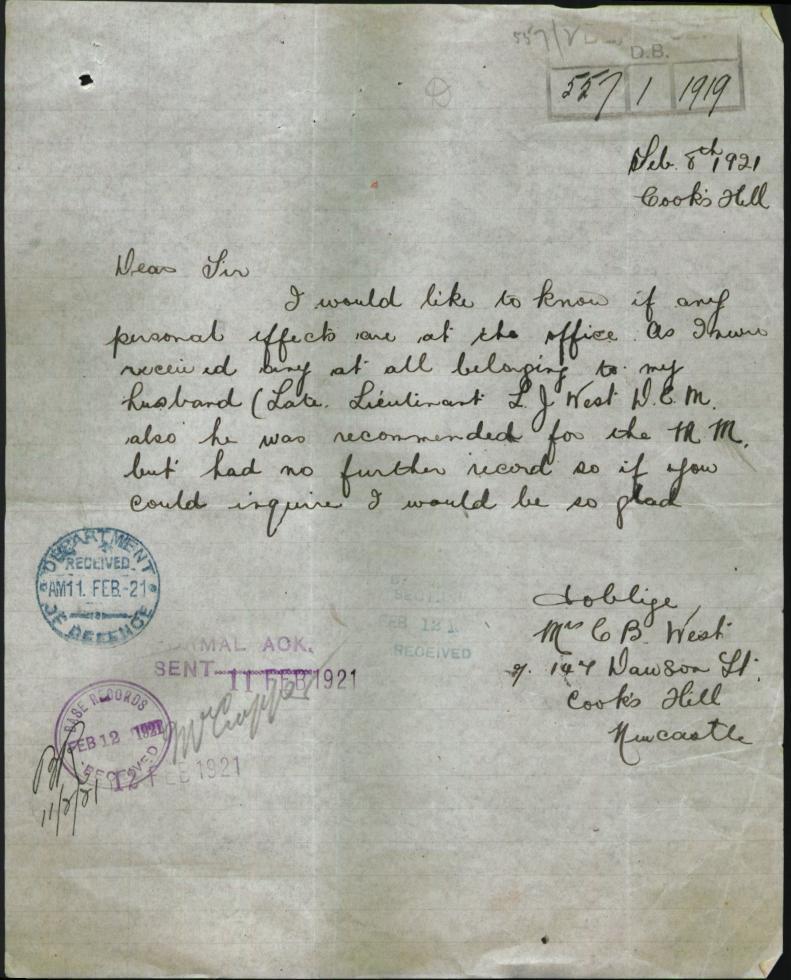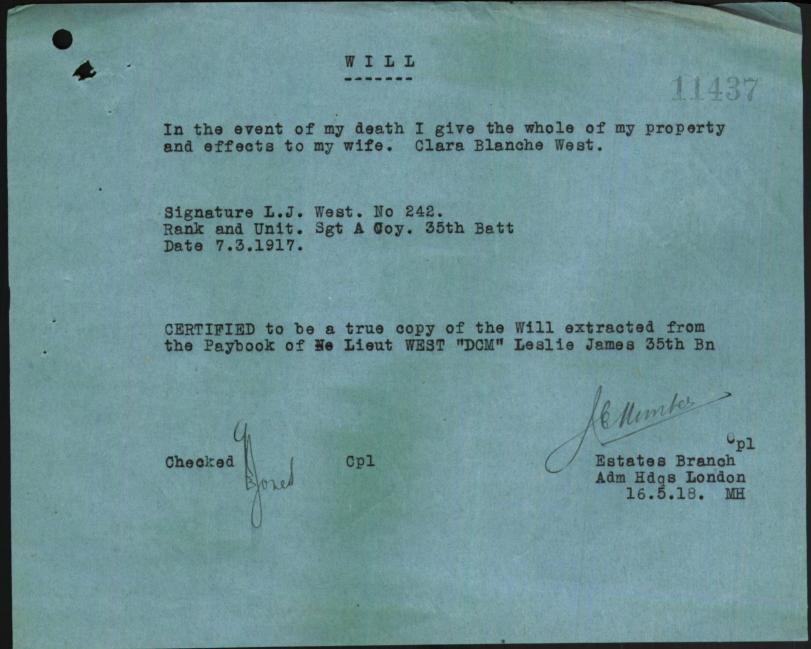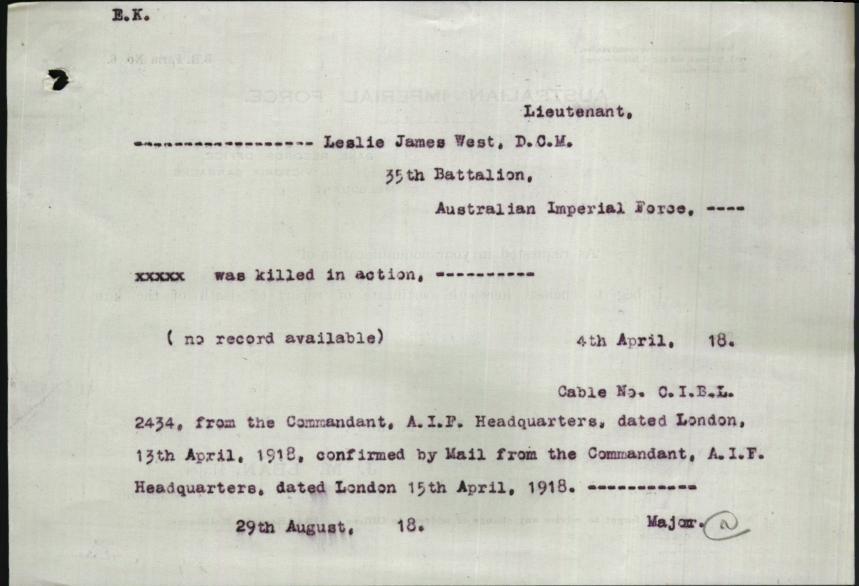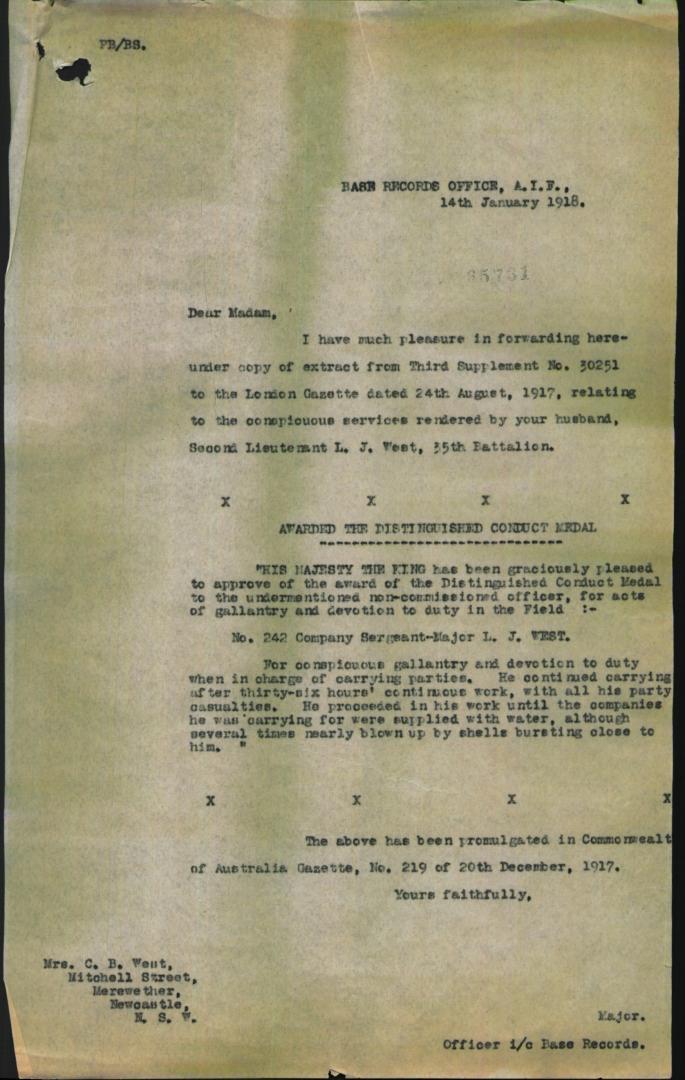 © Commonwealth of Australia (National Archives of Australia)
Under Construction; 07/09/2007-05/10/2016.
---
Web Counter
---