David Wemyss enlist into the AIF on the 13.12.1915 and was enlisted to A Company 35th Battalion when the Battalion was raised in January 1916. David was an original member of the 35th Battalion and embarked onboard HMAT A24 "Benalla" from Sydney on the 1st May 1916. David disembarked at Southampton England on the 9th July 1916 and was transfered to the 14th Training Battalion to reinforce the 56th Battalion on the 22nd of september. He embarked for France on the 8th of October but was treated for a severe case of Boils and was returned to Rouen for treatment before being evacuated back to England onboard the Hospital Ship "St David" on the 4th November 1916.
He remained at the Military Hospital in Edmondton until the 31st January 1917 where he was marched to the No 1 Command Depot. It was from here that David was granted leave from the 5th March until the 20th of March. Upon returningfrom furlo he was taken on by the 61st Battalion on the 23rd of March and proceeded overseas again for France. David remained in France for the next 6 months before returning to England on the 18th of April 1918 onboard the "St Andrew" where he received treatment and time for convalescing.
A few months of rest saw David returned to France on the 3rd of August 1918. On the 18th August 1918. Weather threatening but clearing, following project bombardment on our right, heavy bombardment followed. C.O. called on left headquarters. Our planes brought down enemy plane in flames but it dropped behing BRAY. C.O. visited posts. 3 O/Rs Killed 1 Officer Lieutenant: 10480 Robert WIGHT and 6 O/Rs wounded.
(34th Battalion War Diary)
It was during this action that David was Wounded in Action receiving a Gun Shot Wound to the Right Arm and Face. David was treated by the Australian Field Ambulance before being transfered to the Casualty Clearing Station for evacuation from the line. David was evacuated back to England for treatment and was invalid back to Australia on the 21st of December 1918, and discharded from the AIF on the 20th April 1919.
---
WWI Solid 9ct Gold Australian Return Service Medal Pte D Wemyss Weston Public 1919 9.0 grams. This Stunning WWI Solid 9ct Gold Australian Return Service Medal awarded to Pte D Wemyss by Weston Public On His Return From Active Service 1919 and weighing 9.0 grams (exactly) is in perfect condition. The solid 9ct medal has exquisite detail in the front image and flashed 18ct gold highlights. The original 9ct gold circular ring is also present.This is a wonderful piece from a tremendous estate sale in Malvern, Melbourne. Measures: 3.2 cm wide and 4.2 cm high (excluding moveable ring). Weight: 9 grams.

Gold fob presented to PTE D WEMYSS. WESTON PUBLIC was placed on Auction in March 2013 from a dealer in Melbourne and sold to a private collector. I was unable to secure for the collection.

Family Information
---
David was a married 39 year old Coal Miner from Station Street, Weston, N.S.W upon enlistment. His parents William and Jane Wemyss were married in Scotland before they Immigrated to Australia with there family. They eventually settled in Minmi, a coal mining town west of Newcastle.

Minmi was an important coal mining centre in the second half of the nineteenth century, particularly under the ownership and management of J & A Brown. Minmi's mines were connected by a private railway line across the Hexham Swamp to J & A Brown's loading facilities on the Hunter River at Hexham. J & A Brown's engineering workshops were also located at Hexham. Before white settlement the Pambalong aborigines had occupied the Minmi area for thousands of years. By 1893 there was no trace of the tribe in the district. 1900s - Minmi's population at its height with 6,000 residents. David Wemyss and Loveday Roberts were married at Minmi in 1900 Marriage Cert: 1858/1900 and they had 2 children. Hilda A Wemyss born 1901 at Minmi, N.S.W. Birth Cert:5089/1901 and Eupemia Jane Wemyss born 1902 at Minmi, N.S.W> Birth Cert: 23738/1902.

David moved his family from Minmi to Weston to work at the Hebburn No: 1 Colliery in the early 1900's. It was here that David was injured after a stone fall which saw him taken to Kurri Kurri Hospital.

Sydney Morning Herald. Friday 3rd January 1908.

Miner Injured Kurri Kurri, Thursday. David Wemyss, aged 30 a miner at Hebburn Colliery, sustained severe injuries, a broken colorbone and lacerated back through a fall of stone. He was taken to the local hospital. (Kurri Kurri)
Hebburn Colliery Shaft where David was injured 1908.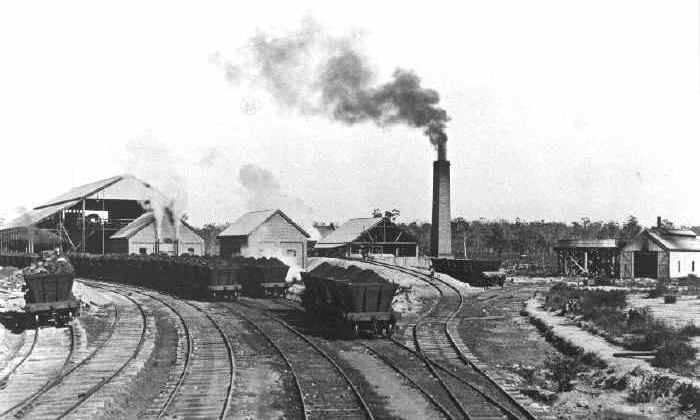 Hebburn No: 1 Colliery
Sydney Morning Herald. Wednesday 22 June 1921.
In Divorce. David Wemyss V Loveday Anne Wemyss. On finding of His Honor Justice Hamilton at the Newcastle District Court.
Sydney Morning Herald. Thursday 9 February 1922.
Decree Absolute Were pronounced and the marriage disolved in the following suit. David Wemyss V Loveday Ann Wemyss.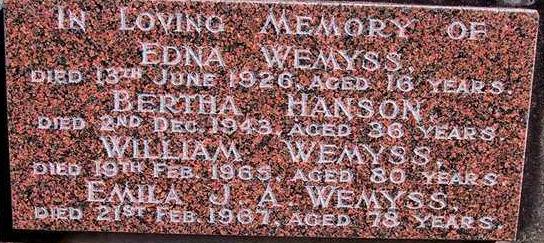 West Wallsend Cemetery
David Wemyss born 1876 Leslie, Fifeshire Scotland and married Lovedale Anne Roberts 1900 at Minmi, N.S.W. Marriage Cert:7858/1900 and died 1951 at Cessnock, N.S.W. Death Cert:6316/1951. William Wemyss born 1885 Leslie, Fifeshire Scotland and married Emily Jane Partridge 1904 at Minmi, N.S.W. Marriage Cert:6903/1904 and died 1965 at West Wallsend, N.S.W. Death Cert: 13111/1965. Alexander J Wemyss born 1888 at Minmi, N.S.W. Birth Cert: 27360/1888 and died 1891 at Minmi, N.S.W. Death Cert:9410/1891. Sarah J A Wemyss born 1905 at Minmi, N.S.W. Birth Cert: 14996/1905. Bertha Wemyss born 1909 at Minmi, N.S.W. Birth Cert:16313/1909 and died 1932 at Wallsend, N.S.W. Edna M Wemyss born 1910 at Minmi, N.S.W. Birth Cert:28753/1910. Vera Wemyss born 1912 at Minmi, N.S.W. Birth Cert:45570/1912.
Military Records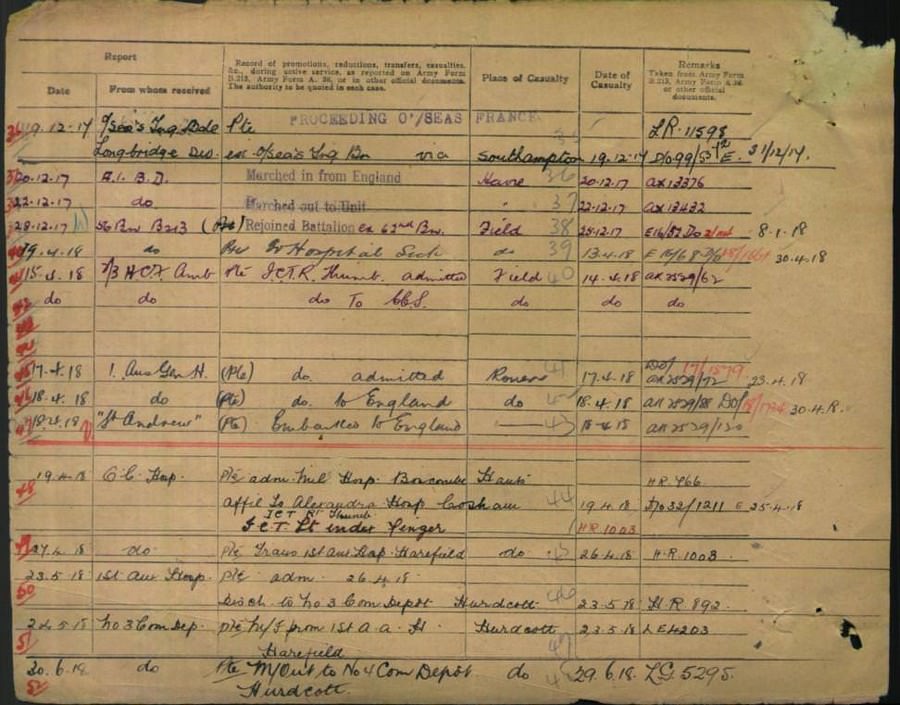 Under Construction; 07/03/2013-17/12/2013.
Web Counter
---