Bertram Lawrence Watson enlisted at West Maitland with the rank of Private and embarked from Sydney for England onboard HMAT A24 "Benalla" on the 1st May 1916 with A Company 35th Battalion and disembarked at Plymouth england on the 9th July 1916. Bertam marked in with the 36th Battalion to the 9th Training Battalion at the Durrington Army Camp at Lark Hill. Whilst at Lark hill he was Charged with being A.W.O.L from 24/10/16 until 26/10/16 and received an Award Total Fine 6 Days Pay.
The 35th Battion proceeded overseas for France via Southampton on the 21st November 1916 and was promoted to Temporary Corporal on the 23rd June but a moth later reported to Hospital and reverted back on evacuation on the 28th July 1917. Bertram rejoined his unit again on the 30th July from Hospital and was promoted to Corporal on the 5th August after Corporal: 114 Samuel James HANNA reverted back to the ranks. Bertram was granted leave to Paris from the 4th to the 14th of October and was promoted to Lance Sergeant when Lieutenant: Percy Muir DUN was promoted.
On the 26th October 1917 Bertram was promoted to Sergeant because Sergeant: 135 Walter John LONGWORTH had Died of Wounds on the 12th October at Passchendaele and was struck off strength. Bertram was admitted to Hospital suffering from Plurisy on the 15th January 1918 and was evacuated to Wisques. Bert was awarded to Military Medal on the 4th February 1918.
4th February 1918.
MILITARY MEDAL
Commonwealth of Australia Gazette: 27 June 1918 Page 1394, position 89.
London Gazette: 4 February 1918 Page 1620, position 31.
Bert was discharged to duty on the 4th February and rejoined his unit on the 7th. Bert was granted leave in England from the 19th February until the 2nd March. After rejoing his unit in France, Bert was promoted to Temporary Company sergeant Major (Warrant Officer 2) on the 26th June 1918 but reverted back on the 5th August and was Wounded in Action 22nd August 1918 suffering a Gun Shot wound to his Right Leg and was treated in the field by the 10th Australian Field Ambulance before being evacuated to the 41st Casualty clearing Station before being transfered to the 6th General Hospital at Rouen. Bert embarked for England onboard the Hospital Ship "Panama" on the 25th of August.
Her Majesty's Hospital Ship "Panama"
On the 27th August 1918 Bert was admitted to the Beaufort Military Hospital at Bristol until the 14th October when he was transfered to the 3rd Auxillary Hospital at Dartford. Bert was discharged to duty on the 16th October but was re admitted at Weymouth suffering from Scarlet Fever and after he was discharged Bert embarged from England on route to Australia onboard the HMAT A14 "Euripides" on the 3rd March 1919 and disembarked in Australia on the 25th of April and was discharged from the AIF on the 10th June 1919.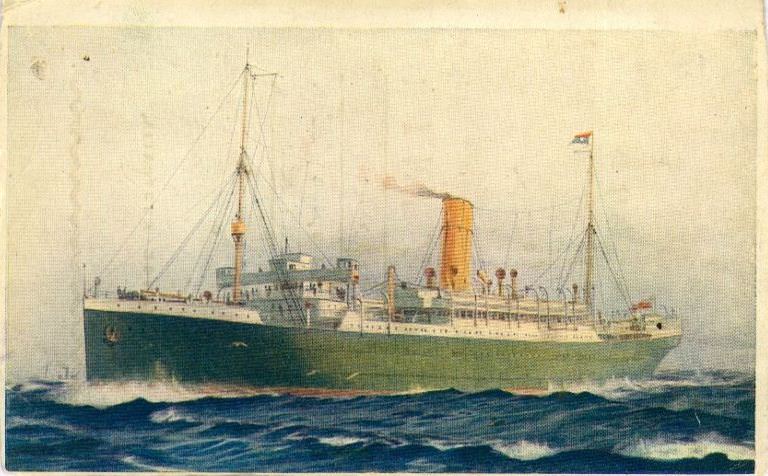 H.M.A.T A14 "Euripides"
Family Information
Bertram was a single 26 year old Butter Maker from Eundera Gunnedah, N.S.W upon enlistment. His mother Annie lived opposite the Butter Factory at Bundaberg, Queensland. Bertram ans Hanna Watson had 5 children. Frederick, Vernon, Bertram Francis, Kevin, Roland Malcolm.
Grandson; Mark Watson, N.S.W.
Military Records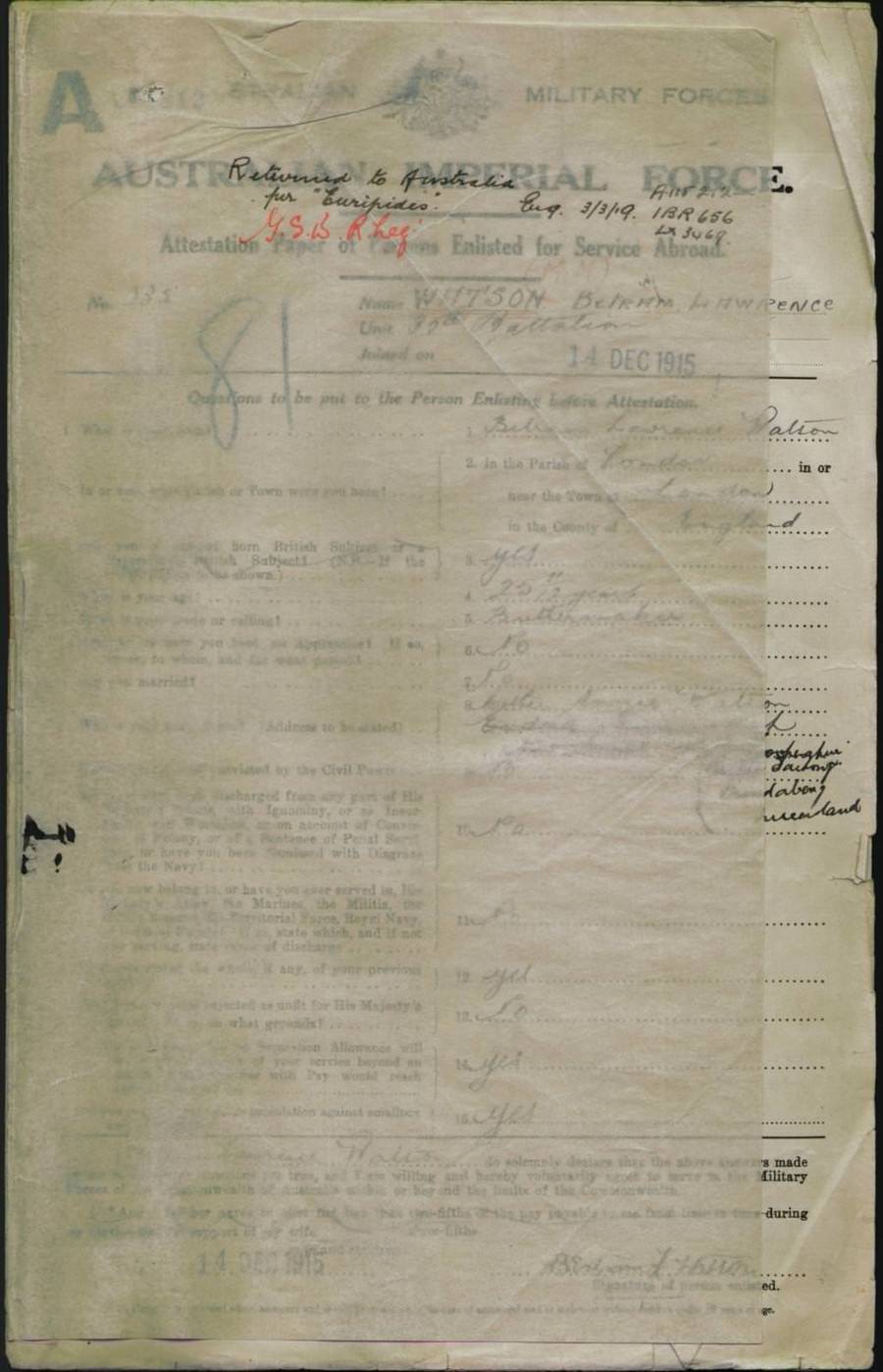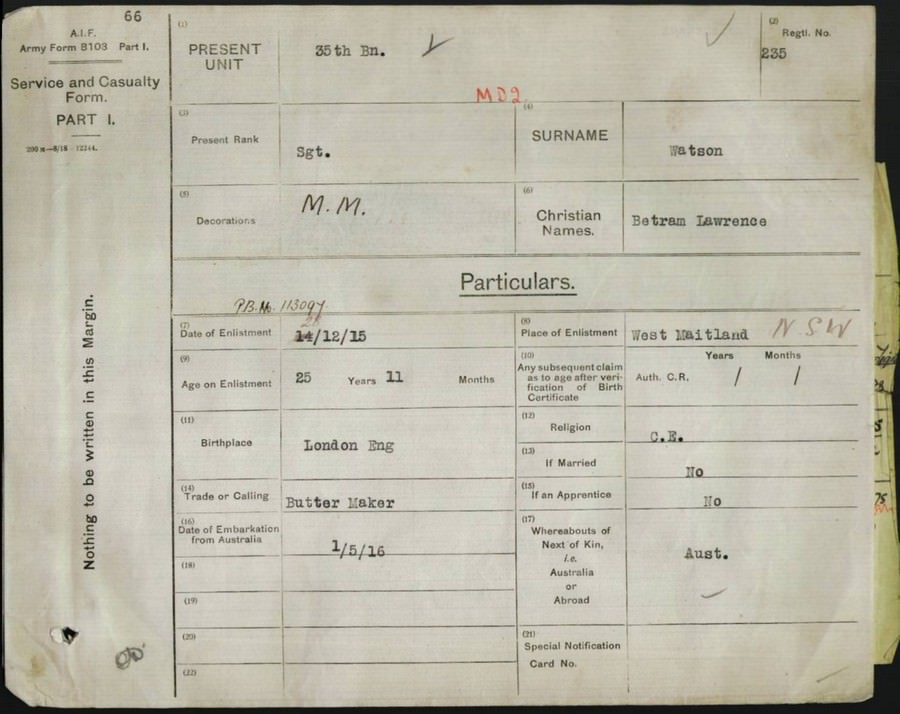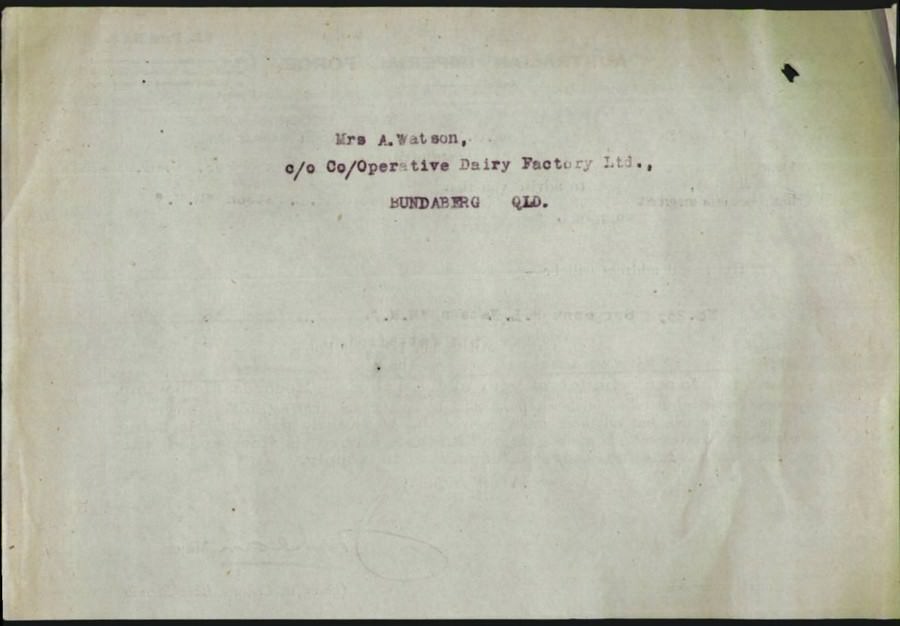 © Commonwealth of Australia (National Archives of Australia)
Under Construction; 09/03/2014-18/05/2015.
Web Counter
---