Return to MENU Return to 35th Battalion Page
---
53rd BATTALION. 35th BATTALION A.I.F.
Private: 3168 Hendrikus Van DIEST. (Dutch)
---
Born: 1878. Haarlem Holand.
---
Father:
---
INFORMATION
Hendrikus Van Diest enlisted with the 10th Reinforcements, 53rd Battalion AIF on the 18th July 1917 at Grenfell and embarked from Sydney onboard HMAT A28 "Miltiades" on the 2nd August 1917 and disembarked at Glasgow on the 2nd October 1917. Hendrikus was later marched with the 53rd Battalion to C odford England where here Hendrikus was charged on the 3rd January with beingAbsent With Out Leave from 9:00am on the 2/1/18 till 5:00pm 2/1/18 and Neglecting to Obey an Order Given by a N.C.O. Award forfiet i Days Pay Major: P ECKERSLEY

On the 12th February 1918 proceeded overseas with the Reinforcements of the 53rd Battalion and was Taken on in Strength from the 10th Reinforcements to the 35th Battalion AIF on the 19th February 1918. Hendrikus proceeded into the line and commenced training for the Brigades push at Villers-Bretonneux.

4th-5th April 1918

The First VILLERS-BRETONNEUX

The Strength of the 9th Infantry Brigade was about 2,250 but their casulties during the 2 days of fighting numbered 30 Officers and 635 men either killed in action or missing.

9th Infantry Brigade Casulties.4th-5th April 1918
| | | |
| --- | --- | --- |
| 33rd Battalion. AIF | 3 Officers | 82 Other ranks |
| 34th Battalion. AIF | 5 Officers | 120 Other ranks |
| 35th Battalion. AIF | 9 Officers | 282 Other ranks (including 44 missing) |
| 36th Battalion. AIF | 12 Officers | 133 Other ranks (including 1 missing) |
| 9th Machine Gun Company. AIF | 1 Officer | 18 Other ranks (including 4 missing) |
Hendrikus was Wounded in Action on the 4th April at Villers Bretonneux and was evacuated to England where he had his Right Foot Amputated 16th April 1918 at the 1st Southern General Hospital. Hendrikus received a Severe Gun Shot Wound to his Right Foot
Men recovering in hospitals all around the country contributed to the frontal and their individual pieces of embroidery were sent to the Royal School of Needlework at their headquarters in Kensington to be stitched onto the frontal as a whole. Hendrikus was one of the men who work on this project.
Hendrikus was 1 of the 133 names of men from the UK, Canada, Australia and South Africa, who worked to create an elaborate altar frontal, used for many years after the War at the High Altar.
Sergeant: 2090 Frederick John KINGSBURY.
Hendrikus returned to Australia on the 2nd February 1919.
Family Information
Hendrikus was a single 39 year old Labourer in the c/o A A Mensies, Brundah Siding via Grenfell, New South Wales. His sister Idet Van Diest was his next of kin who lived at Hulan Holland. Hendrikus repatriated back to the Netherlands after World War 1. Served with the Holland Army for 7 years.
Military Records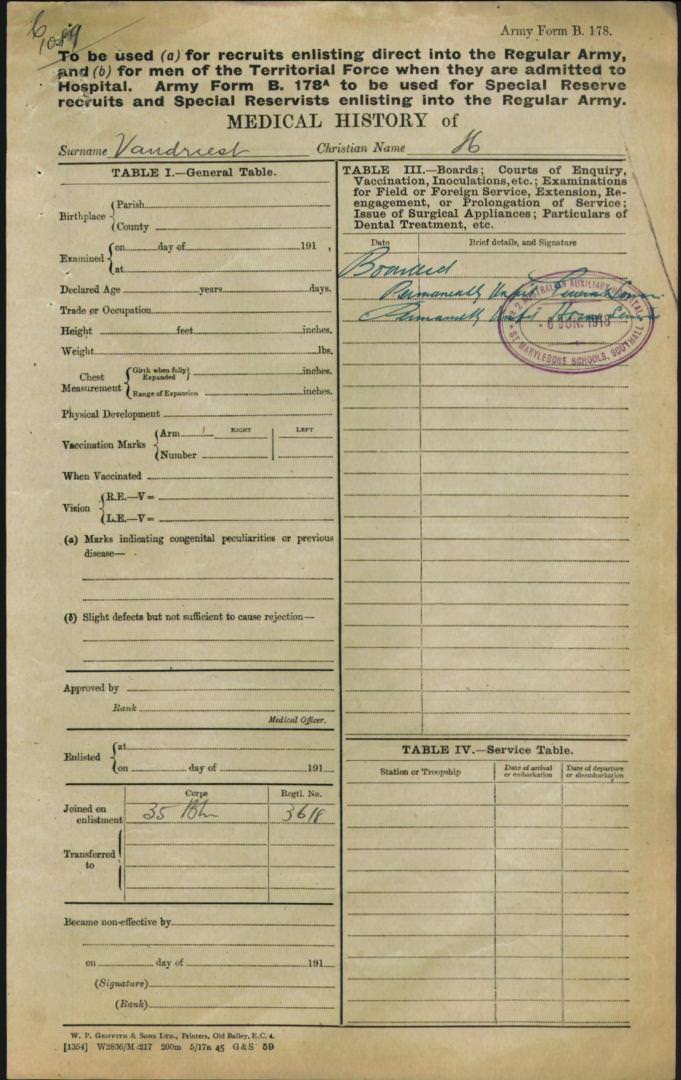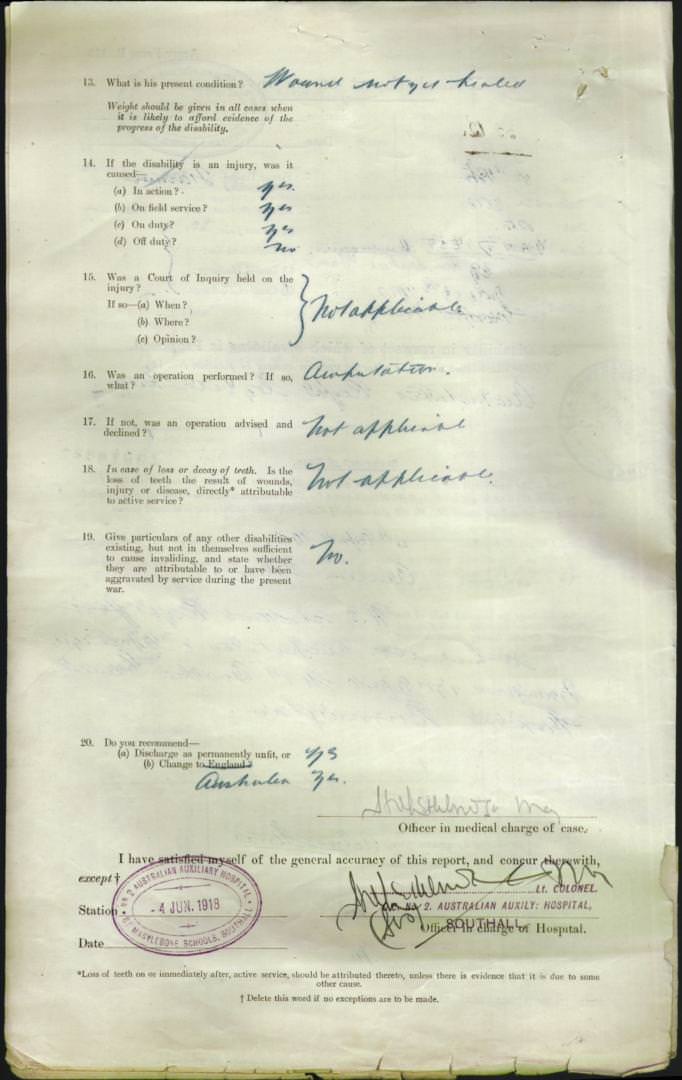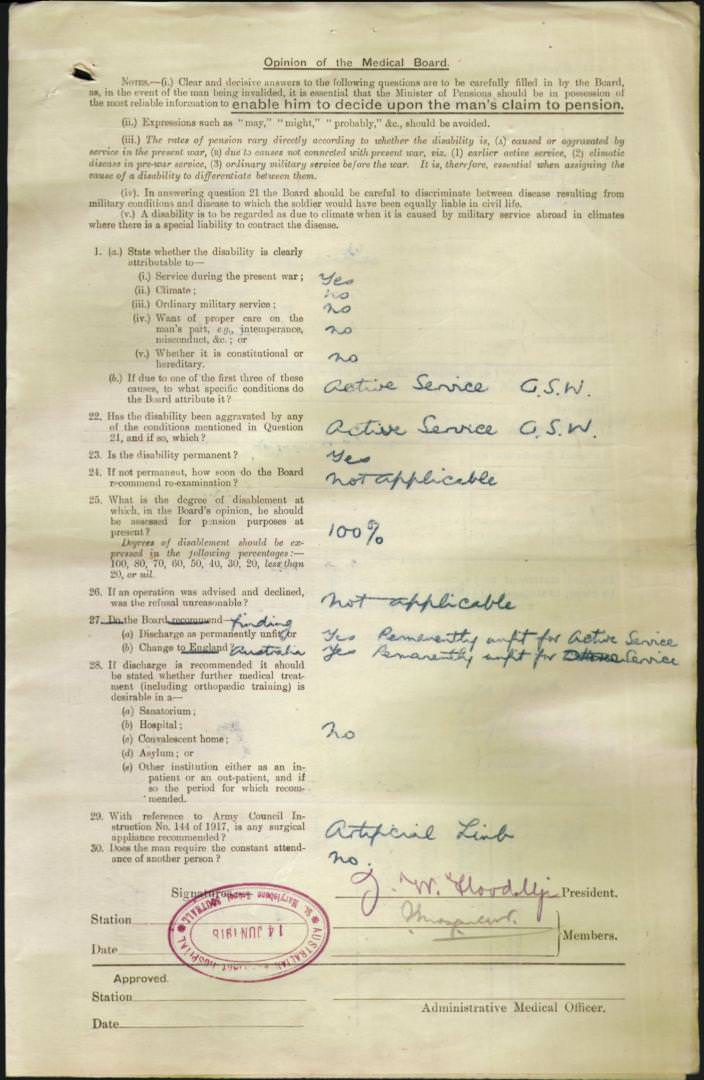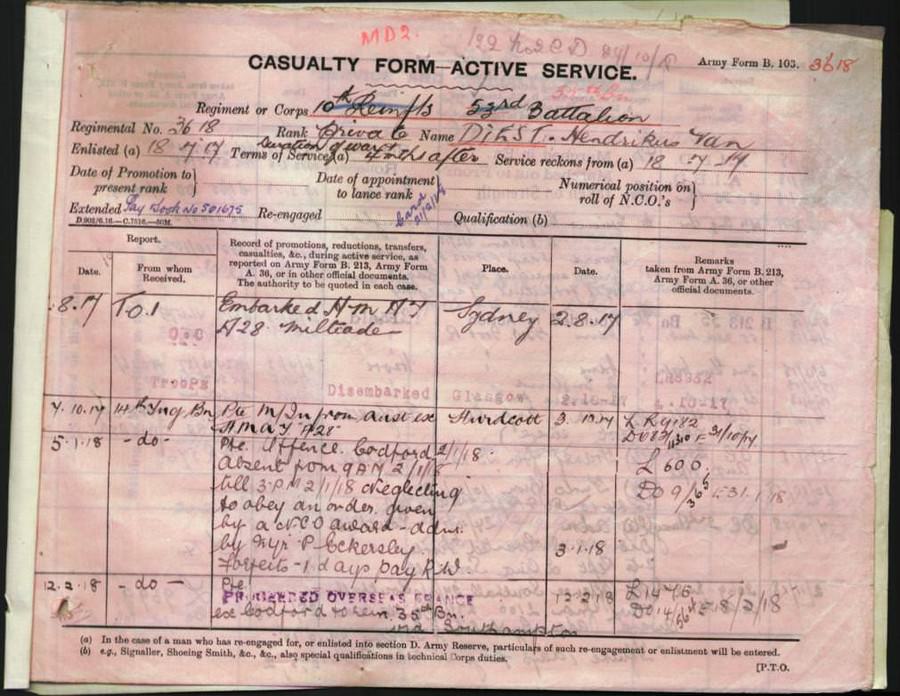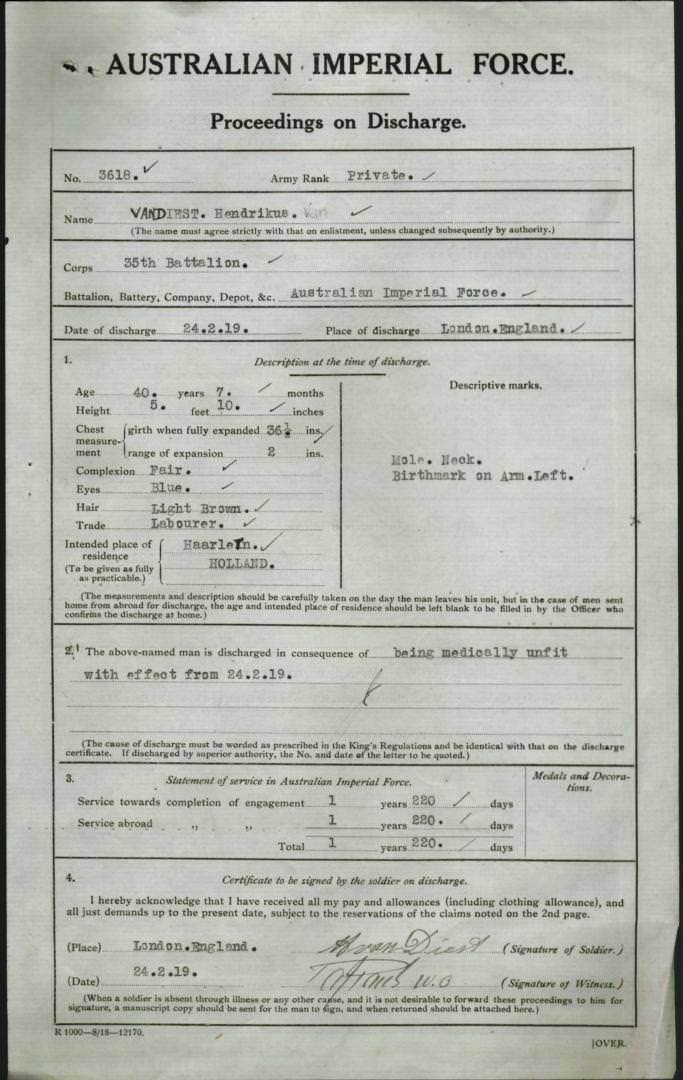 (Australian National Archives)
Under Construction; 18/06/2014
---
Web Counter
---