Edward Allen Turnbull enlisted with B Company 33rd Battalion AIF on the 4th of January 1916 at Armidale, NSW with the rank of Corporal and was an original member of the Battalion.
Edward embarked for France from Southampton on the 21st of November 1916 and taken on strength in the field and was promoted to Sergeant on the 9th of December 1916 after Sergeant Bailie was Killed in Action. Edward was sent to hospital on the 30th of April 1917 where he remained for 3 months.
BEdward returned to his battalion and was Promoted to 2nd Lieutenant on the 22nd of August 1917. He was posted to D Company at Passchendaele and served at Road Wood as Lieutenant. After an extensive period in action Edward was granted leave in Paris on the 24th of June 1918 and after he re joined the battalion was Promoted to Lieutenent on the 2nd of August 1918. He returned to the 33rd and went into action at St Quentin on the 30-31st of August 1918.
Edward was placed In Command of D Company at Road Wood after his commander had been shot. Placed on record for valuable Service and Devotion on August 31st 1918.
From the southward side Lieutenant. 559 Edward Allen TURNBULL. and Lieutenant: William Alexander McLEAN. M.C. of the 33rd, the latter greartly helped by the leaders of the 10th Brigade Sergeant 1007 E E Walters. DCM, 39th Battalion and Corporal 5024 A V Grinton. DCM, 38th Battalion, worked up and presently rushed the guns, the German Battery Commander fighting to the last with his revolver. He was shot by Lieutenant. 559 Edward Allen TURNBULL.
During this action Private 726 George CARTWRIGHT V.C. stood up and from the shoulder fired at the troublesome German gunner and then walking forward shot him and the two men who took his place. He bombed the german post, took the gun and captured 9 Germans and took them prisoner.(He was awarded the Victoria Cross)
(BEAN; History of World War 1 Vol VI page 819)&nbsp: Charles Edwin Woodrow BEAN
Lieutenant: 1470 Leslie Roy BELL was in command of a Platoon on the right of our attack. He displayed great courage and sound leadershipespecially during the capture of ROAD WOOD. When temporarily held up by a Machine-Gun, Lieutenant BELL with three men rushed to post, killed two men and captured the gun and the remainder of the crew. On clearing the wood he again rushed and captured a Machine-Gun and its crew.
The enemy made a stand in the trench system east of the Wood; leading his bombers this Officer succeeded in clearing the trenches, inflicting casulties and taking several prisoners. While thus engaged he came under heavy artillery fire from a battery of 77mm guns firing over open sights. Seeing Lieutenant: 1205 William Alexander McLEAN's. platoon rushing towards these guns he gave covering fire with his Lewis-Gun and led a party forward and helped in the capture of the Battery. This Officer did especially good work in consolidation and reorganisationn and success. Throughout the night Lieutenant BELL displayed courage, determination and initiative of the highest order and set and admirable example to his men.
24 September 1918.
ST RADEGONDE Fine day. Working hours having been increased from three to four - the Battalion went for a two hour route march on the completion of the platoon tactics laid down in the syllabus of training. In the afternoon a cricket match was played between Headquarters and "B" Company, the former winning. "B" Company ent in first, and after losing the first 4 wickets for 1 run knocked up 54 runs. Sergeant: McMLEAN (30 Not Out) and Company Quartermaster Sergeant: 504 Hubert George McCROSSIN. (11) being the chief scorer. Headquarters then batted making 72. Corporal: 1432 William John FINNEY. M.M. (20), Lieutenant: 916 Robert Cecil KING. (12) and Private: SHERWOOD. (11) being the principal contributors. Headquarters also defeated "A" Coy at Football by 14 to nil, and "B" Company defeated "D" Company by 11 - 6.
25th September 1918.
Fine day but very windy. In the morning the Adjutant, Signal and Intelligence Officer attended a lecture at Brigade Headquarters, on playfair code - the lecture being given by the Brigade Signals Officer. Training was carried out as per syllabus. A.C.O's Conference was held at Brigade Headquarters at MONT St QUENTIN at 8:30 p.m. when instructions were issued as per Battalion Operation Order No:109A.
27th September 1918.
Fine day. Preliminary Instructions were issued for the Battalion to move to CAPRONCOPSE and a billeting party under Lieutenant: 559 Edward Allen TURNBULL left on bicycles for the new area at 9:00 a.m. All day was spent in getting things packed up and ready for the move. At 7:30 p.m. the Battalionpassed the starting pointat L.26.d.8.7. Lieutenant: 559 Edward Allen TURNBULL met the Battalion at 8:15 p.m. and guided it to the new Battalion area at CAPRON COPSE -E.17.a.8.6. which was reached at 12:30 a.m. German Bombing Planes were overhead at work but no bombs wer dropped sufficiently close to cause casualties. Ony 5 shelters were available per company and the men had to make themselves as comfortable as possible in the COPSE which was chiefly composed of low scrubby bushes and barbed wire. On arrival an issue of Rum was served out and the tired men were very soon asleep.
28 September 1918.
CAPRON COPSE Cold showery day. The Commanding Officer and adjutant attended a Brigade Conference at E.12.c.7.5. at 11:00 a.m, but very little new information could be gained. It was learned however that the 27th AMERICAN Division had lost the ground they had gained the previous day and that the jumping off line for the comming operation was now in enemy hands. A Company Commanders conference was held at 3:00 p.m, after which the Company Commanders made a reconnaissance of the approach route for the following day, going as far as LEMPIRE ROAD. At 10:00 p.m. a large German Bomping Plane came over and was very soon caught by our search lights. Finding it could not get out of the rays it dropped it's Bombs and made for home, closely chased by one of our fighters. Private: 2271 Oliver ANDREWS "C" Coy was wounded in the hip by a falling machine gun bullet.
29 September 1918.
CAPRON COPSE & DOLEFUL POST Fine day. The barrarge opened at 5:40 a.m. for the AMERICAN hop over. The Battalion was astir early and had breakfast at 7:00 a.m. The Approach march was commenced at 7:15 a.m. and operations were carried out as per c.o's Report on operations - September 29th - October 2nd 1918.
30 September 1918.
BENJAMIN POST & TRENCH SYSTEM Showery day. Operations were carried out as per C.O's Report on operations 29th September - 2nd October 1918. Duplicate Report, messages and maps in connection with this operation will be included in the October Diary.
(33rd Battalion War Diary)
Edward was granted extended leave after he returned to England from the 2nd of June 1919 to the 5th of August 1919 where he worked at Laycock and Sons, 181 Sunbridge Road, Bradford. Edward was sent to the 1st Australian General Hospital on the 23rd of August 1919. Edward returned to Australia on board HMAT A68 "Anchisses" on the 28th of September 1919.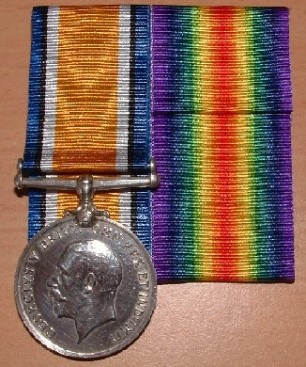 Edward's British War Medal: 44648. Lt E A TURNBULL AIF, was acquired from Phillip Murphy (Queensland) in June 2006 and is now in the collection. This medal is the first officer to the 33rd Battalion in the Harrower Collection. Mentioned in the Official History of World War 1, Vol VI page 819-20. 33rd Battalion War Diary.
(Edwards E; Never a Backward Step)
B Company Sergeant's 1916. TURNBULL, Top Right
Company Quartermaster Sergeant: 504 Hubert Geaoge McCROSSIN. (Front far right)
Company Quatermaster Sergeant: 506 Herbert Caldwell McLEAN. B Company. (Front)
WORLD WAR 2
ROYAL AUSTRALIAN ARMY. ROYAL AUSTRALIAN NAVY
Lieutenant: Edward Allen TURNBULL.