William Augustus Treay enlisted on the 20th November 1915 with A Company 35th Battalion AIF and was an original member of the Battalion. William left Sydney on board HMAT A24 "Benalla" on the 1st of May 1916 and disembarked at Plymouth england on the 9th July 1917. The 35th Battalion entrained during the afternoon for Amesbury, arriving at midnight and marching to hutments at No: 1 Durrington Camp at Larkhill. The 35th Battalion left Larkhill on the 21st November and entrained at Amesbury for Southampton, embarking on the S.S "Arundel". The transport section left by S.S. "Princess Victoria". The Battalion arrived at Le Harve, France on the 22nd November 1916. Disembarkation commenced at 8:00am and the Battalion marched to No;1 camp on the Hill.
William was treated by the 9th Australian Field Ambulance in the field for a Septic Left Foot on the 12th June 1917 and evacuated to Boulogne where he was invalided to England on board the Hospital Ship "St Patrick" on the 14th June 1917.
Hospital Ship "St Patrick"
william was discharged from Hospital and reported to No:2 Command Depot before proceeding overseas for France on the 15th November 1917 and rejoined his unit on the 22nd November. William reported to Hospital on a number of occassions before he was reported as AWL and was tried for Desertion
DAILY ORDERS. 33/5027. 14th August 1918.
Field General Court Martial, held in the field. 220 Pte TREAY W.A. 35th Bn.
CHARGE DESERTING H.M.S. in that he absented himself without leave from 9:00p.m 20.05.1918 and remained absent until reporting back to his company 2:45p.m 11.07.1918 during which time his company was occupying the Front Line Trenches at Villers Brettoneux.
FINDING NOT Guilty of DESERTION but Guilty of A.W.L.
SENTENCE 6 Months Hard Labour.
William was marched in to No:7 Military Prison at Vendroux, France to serve his sentence on the 7th September 1918 and was released on the 30th December and marched out to his unit on the 14th January 1919. The remainder of his sentence was served at the Base Depot before he proceeded overseas for England on the 19th May 1919 and he was marched in at Codford the nesxt day. William returned to Australia on the 3rd of July 1919 on board the "Prinz Herbertus".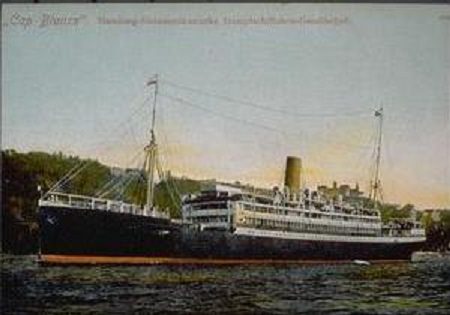 Prinz Herbertus. 1919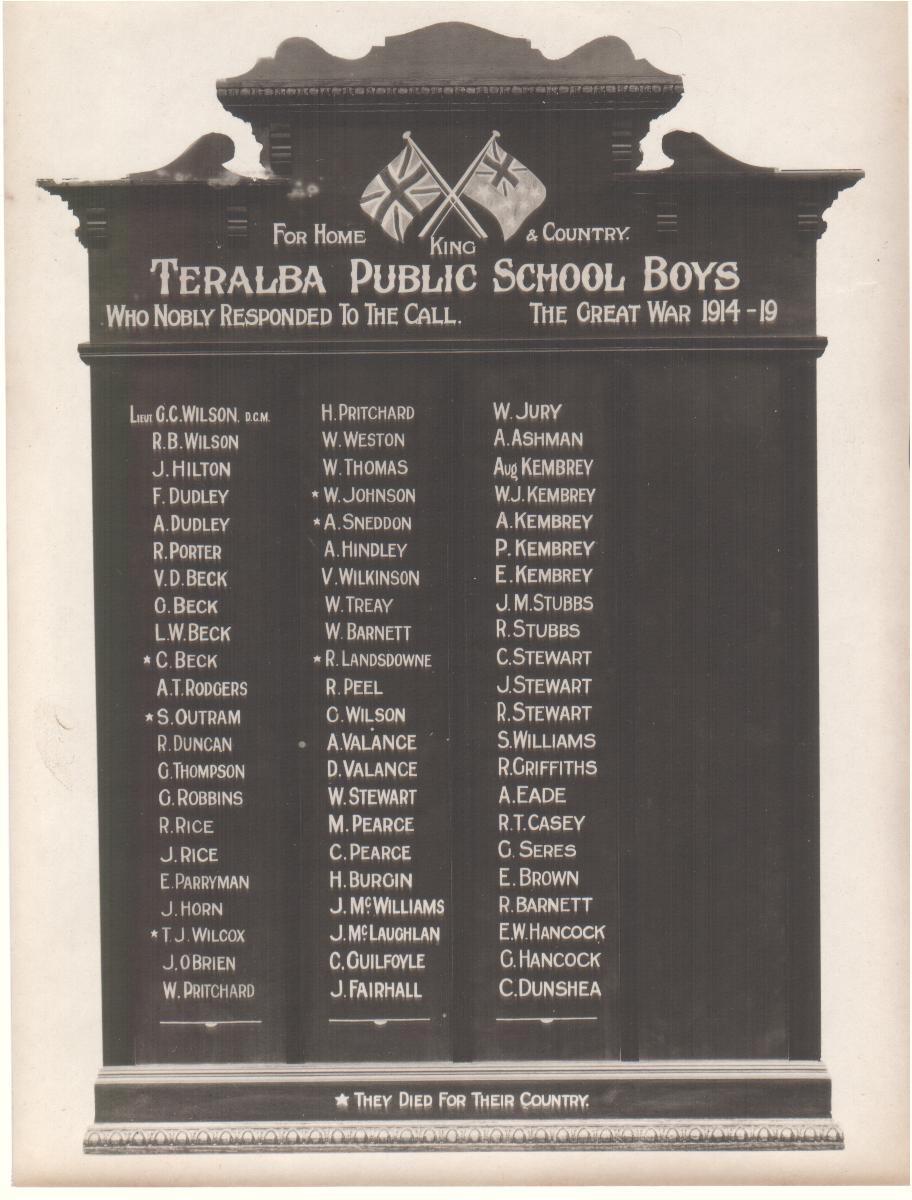 TERALBA BOYS PUBLIC SCHOOL
Private: 118 John HORN. (A Company) Wheeler, Teralba. N.S.W. (A Company) 35th Battalion AIF.
Sergeant: 166 John Patrick O'BRIEN. (A Company) 35th Battalion AIF. Coal Miner, Terlaba, N.S.W.
Corporal: 1434 Vincent Brown WILKINSON. M.M. 34th Battalion AIF.
William's British War Medal:42550 to PTE. 220 W.A.TREAY 35BN. AIF was acquired in 2003 and is now in the Harrower Collection.
Family Information
William was a 29 year old single, labourer from Teralba upon enlistment. He was a volunteer Fireman with the Teralba Fire Brigade.
N.S.W. Birth Records No Record of Birth: William Augustus Treay?
Military records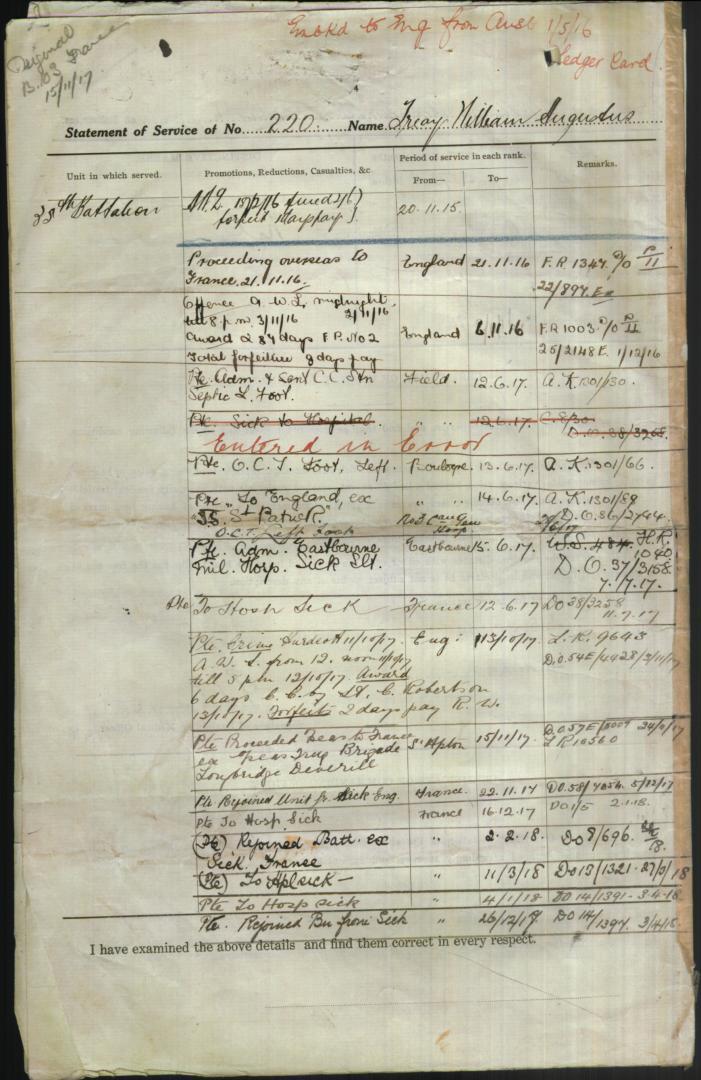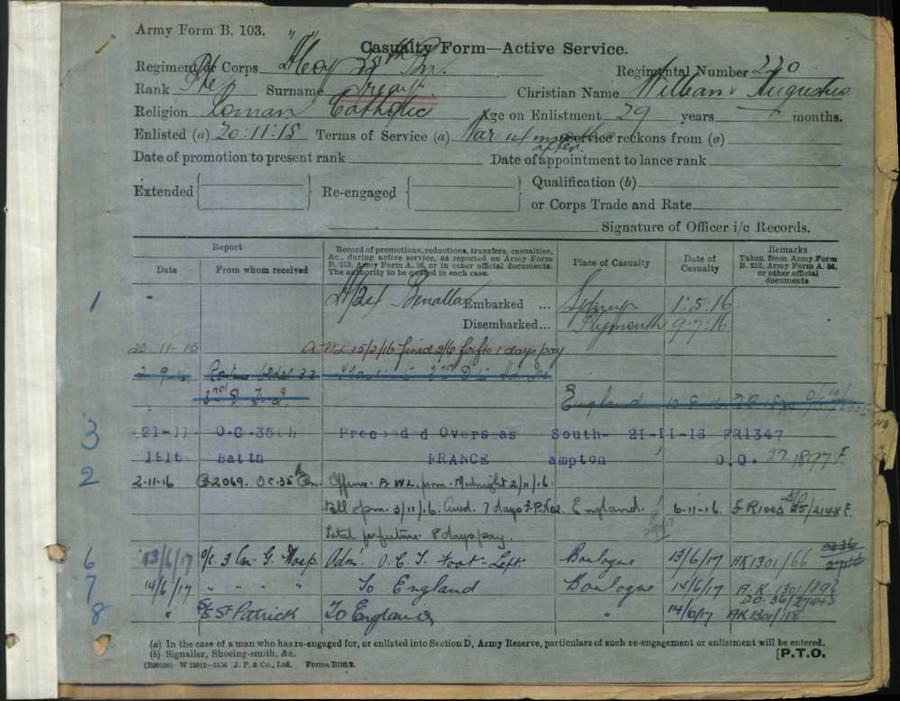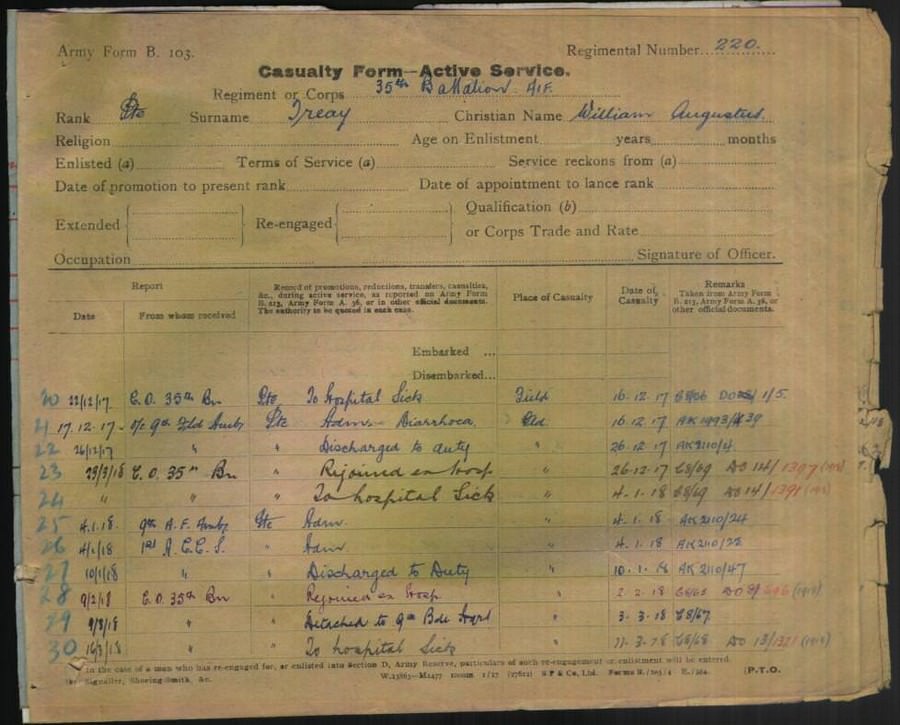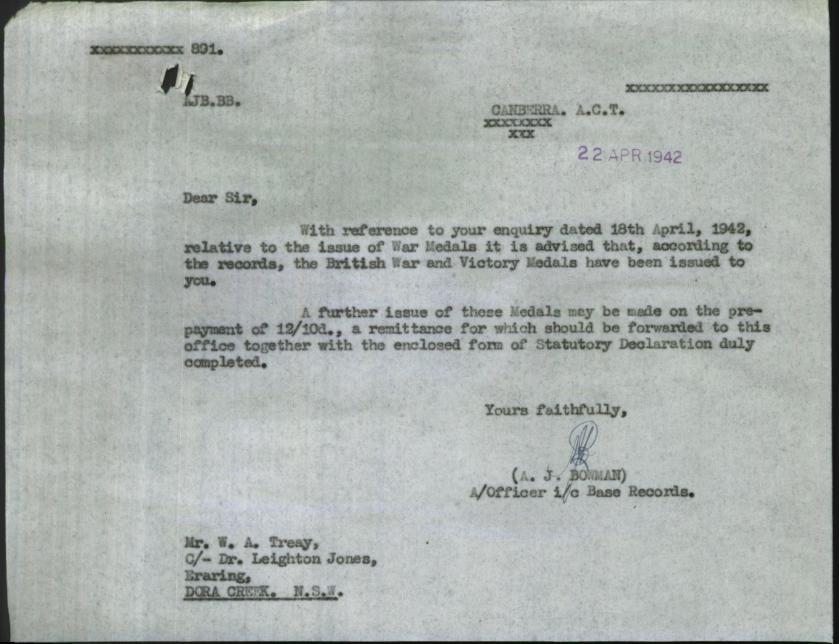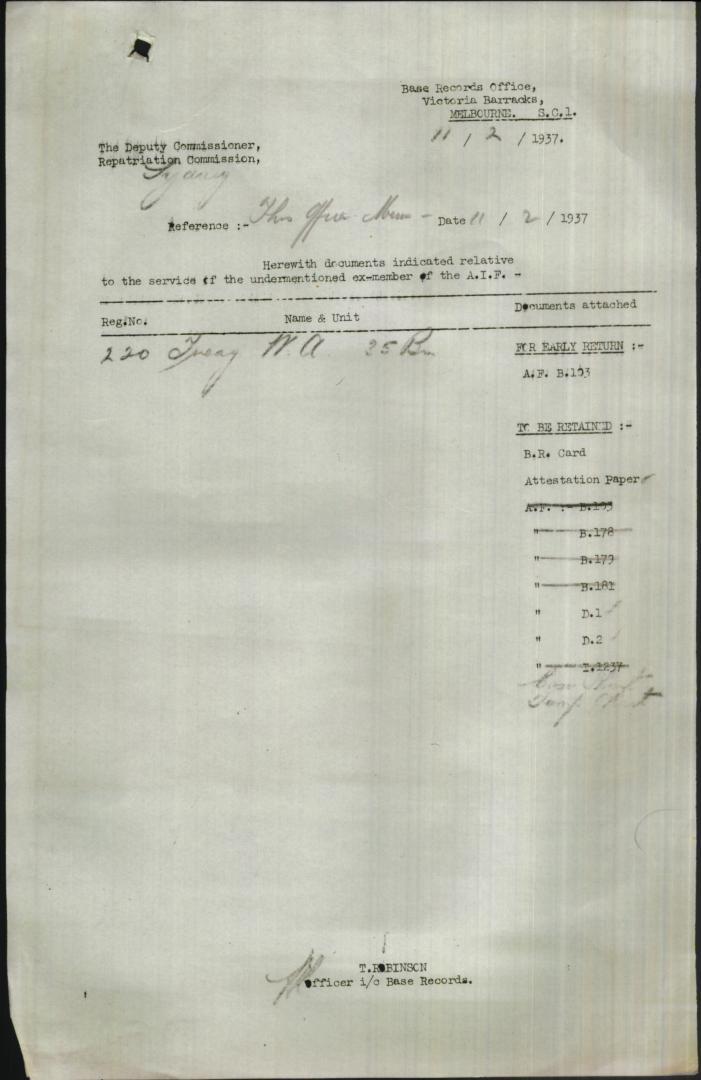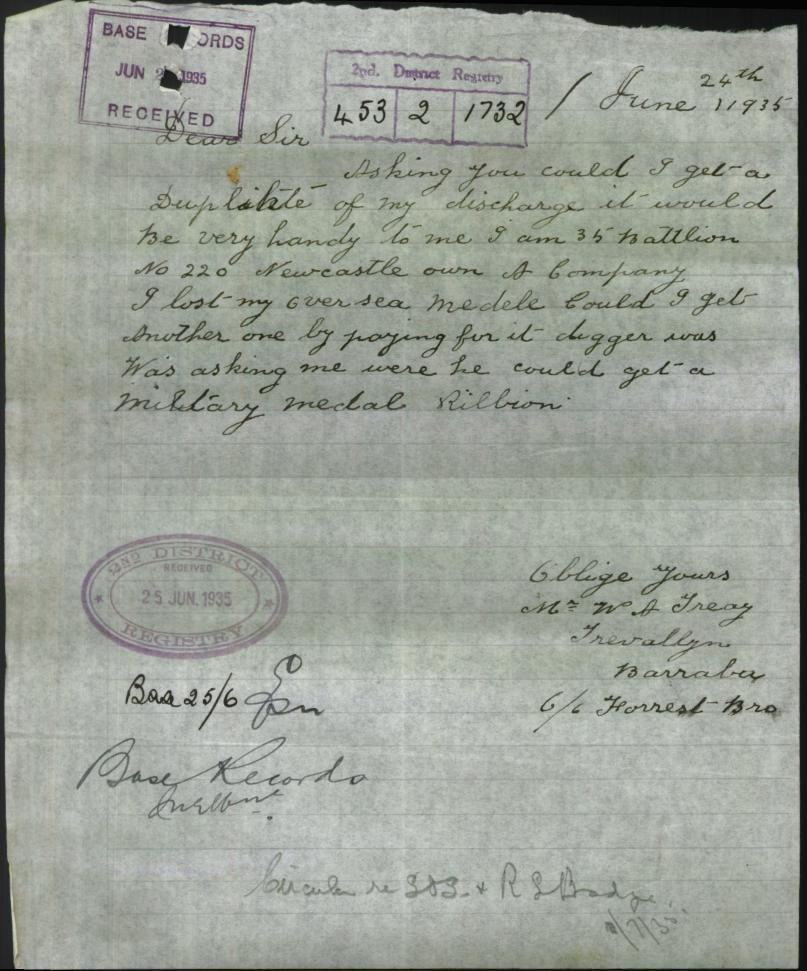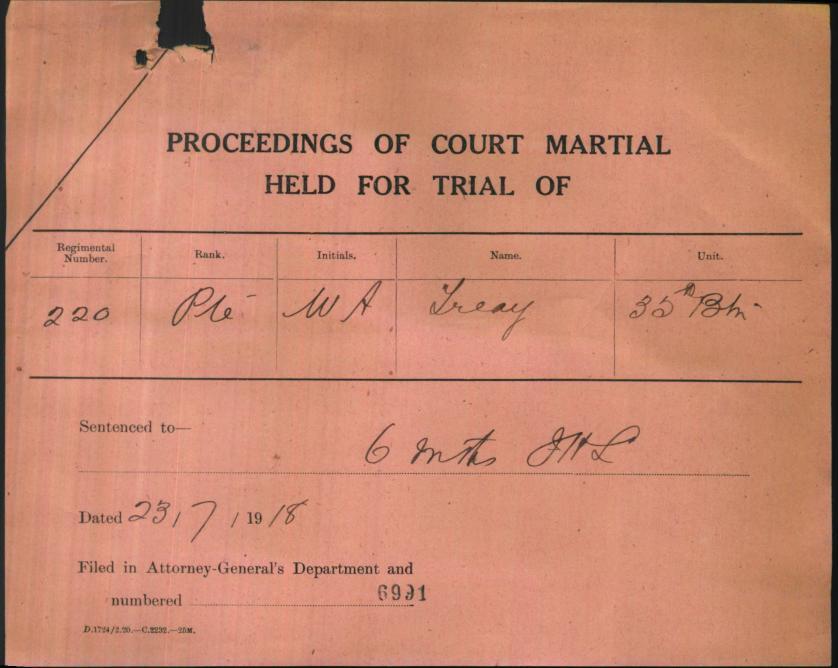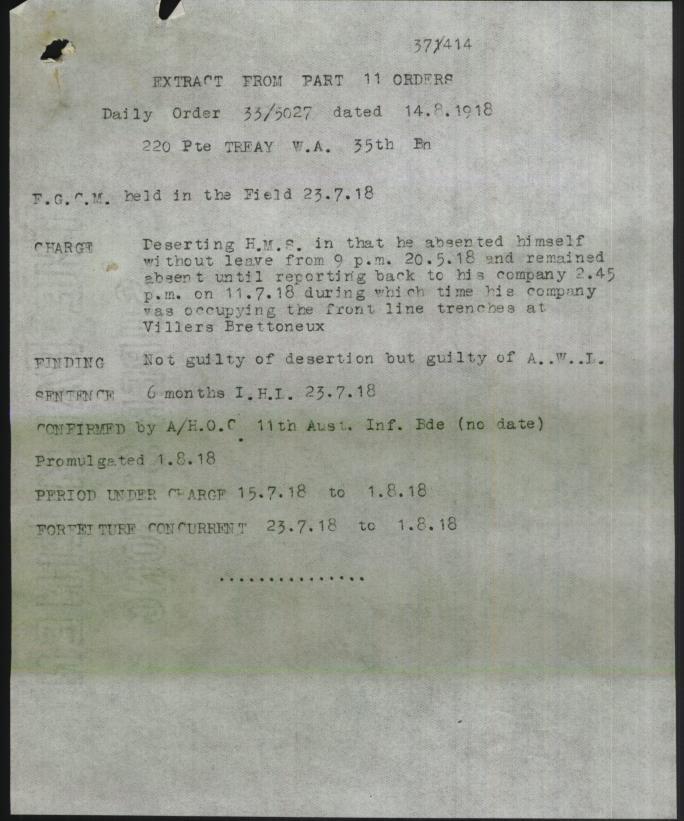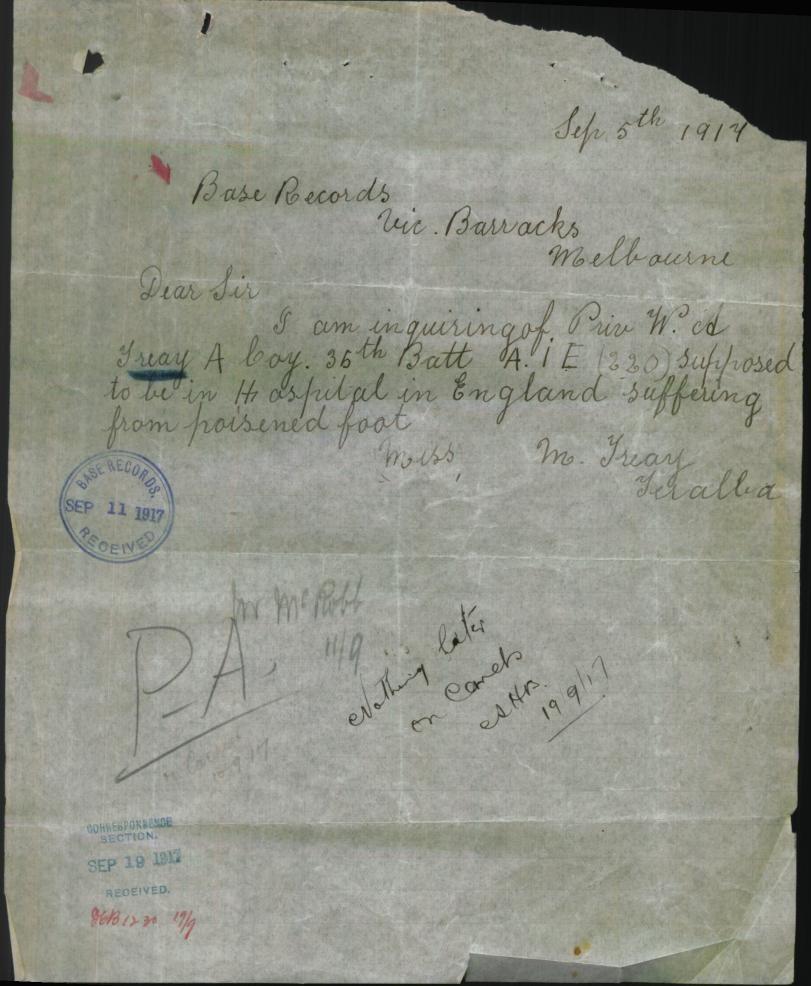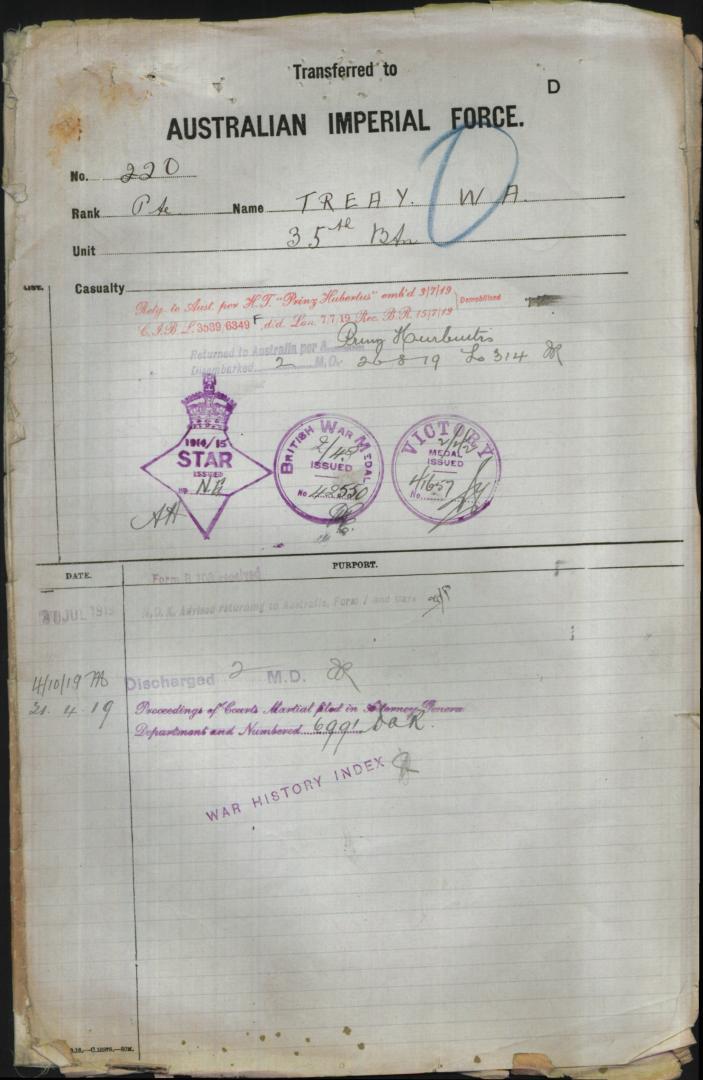 Under Construction; 06/07/2007-17/08/2014.
---
Web Counter
---