Copy of Notes by Pte Neil R. Sutherland No. 2405 4th Reinfs. 35th Battalion 9th Brigade A.I.F. Enlisted 17th April 1916. Joined camp at West Maitland 1st May 1916. Transferred to Broadmeadow Depot Camp 5th May 1916. Inoculated 9th, 16th and 23rd May. Transferred to Rutherford training camp 4th July 1916. Joined 4th Reinfs 35th Battn. Officers Lieuts. Finlayson & Judd - vaccinated 3 times at Rutherford camp. Final leave 25th September to 29th September 1916. Orders received re embarkation and kit bags despatched 14th October. Left Rutherford camp at 10am 16th October and had final inspection at Moore Park on afternoon of same day. Embarked 17th October 1916 at 6am on P & O Coy's S.S. Borda No. A30. Departed Sydney at midday 17th October and had fair weather arriving at Melbourne 1pm 19th Oct.1916. Leave granted at night and very enjoyable time spent. Victorian troops taken aboard on 20th - Cyclists, Artillery, Munition makers and also three nurses. Departed Port Melbourne 2pm 20/10/1916. From 20/10/16 to 26/10/16 rough weather - crossing Bight - Lost wristlet watch 24/10/16 - In hospital from 30th Oct. to 2nd Nov. - influenza.
Arrived at Durban 9th Nov. 1916. Leave granted and all had a happy time at this port. Departed from Durban 10th Nov. 1916. Passed "Birkenhead" monument 13th Nov. 1916. Arrived Table Bay 8.30pm 13th Nov. Arrived at Jettys Capetown 5am 14 Nov 1916. "Crook" time at this port - no leave granted - route marched. Departed 5.30am 16/11/16. Crossed Equator line 6am 24/11/16. Very calm & warm. Ordered to Sierra Leone 2pm 26/11/16. Arrived 6pm 26/11/16. Entered Freetown Bay 27th very picturesque scenery. Leave granted 28th Nov - taken ashore in boats & barges. Freetown - quaint town, very few whites, nearly all natives, this part of Africa known as a "white mans grave", terrible heat and terrible fevers in this part. "General and sympathetic Undertaker" an Adv. Other transports in Bay during our stay - Ulysses, Ascaneus, Port Melbourne, Wilouchra and Tofua also cruisers, Swiftine, Donegal, King Alfred, Highflyer & Auxiliary cruiser Ophir.
Whilst entering Freetown Bay on 28th Nov. transport Port Lincoln ran aground. Previous to arriving here this boat lost a propeller blade. Floated off 30/11/16. The boat was not able to take her troops to England on account of disablement so 450 of them were put on A30. We also took 50 bluejackets on our boat from HMS King Alfred (flagship of No.9 North Atlantic Cruiser Squadron - Admiral Fremantle). These men returning on leave after being on African Station over two years. Departed Sierra Leone 4/12/16. Ordered to return Sierra Leone 1am 8/12/16. Arrived 2pm 11/12/16 - raiders. All vessels had been recalled - HMS Kent arrived 13/12/16. The troopships Ascaneus, Ulysses, Port Melbourne, Wilouchra and Tofua departed 14/12/16 convoyed by Auxiliary cruiser. Two French warships departed 14/12/16. Men volunteered to coal Borda (Admiralty officer Portsea No. 243). Our unit shift from 6 to 9pm 15/12/16 (64). - myself working on landing of Borda. Transports Benalla, Afric, Port Nicholson, Brunilla, Argyleshire and Marathon arrived between 15/12/16 and 19/12/16. Mock funeral 19/12/16 (rabbit). Transports - Brunilla, Argyleshire, Benalla, Afric and Port Nicholson departed 20/12/16.
Very heavy wind and rain storm at night of 20/12/16. Food beginning to get short and bad - native yams & rice to eat. 25/12/16 Xmas Day - very hot. Still at Sierra Leone Breakfast:- curry & rice. Dinner:- Mutton, native spuds and peas. "Anzac" or "Anchor" pudding Tea:- Cold beef - sour pickles. At 10.30am 26th (Boxing Day) we departed from the "Gates of Hades" (Sierra Leone) convoyed with Marathon, Durham Castle & City of Sparta by HMS Kent.
On 29th Dec. 1916 HMS Kent picked up Afric, Benalla, Armidale, Port Nicholson and Argyleshire from Dacca - convoyed as follows. I - Kent Durham Castle, I - Armidale, I - Afric, I - Marathon, I - Argyleshire, I - Port Nicholson, I - City of Sparta, I - Borda, I - Benalla.
Saturday 30th started wearing lifebelts. 1st January - at sea, stew, mutton & bread, bread & butter 2nd Jan - Tapioca (soap) 4th Jan Neutral boat fired on by Kent YMCA Sec C. Bavin; Chaplain Rev. Griffiths; Colonel O.C. troops Col. Hutchison; Commander Capt. Millington Jan. 7 Convoy broke, all made for England independently escorted by destroyers from 5pm. English manned - very rough arrived Plymouth around 4am 9/1/17 (3 months journey) Disembarked and entrained between 1 & 2pm 9/1/17. Arrived Parkhouse Camp 11pm 9/1/17. Had leave from 26/1/17 to 30/1/17 - Birmingham. Transferred from Parkhouse to Larkhill 5/2/17. Joined 9th Training batt. 24/2/17 - Seen "Village Smithys" at Figheldean Review Sir Newton Moore 13/3/17 (15 - 20,000 troops) Left Larkhill 11pm 19/3/17 arrived Folkestone 7am 20/3/17. Departed Folkestone 10am 20/3/17 arrived Boulogne 11.30 am 20/3/17 - in camp Boulogne over night.
George Curran on same draft. Left Boulogne & arrived at Base Etaples 21/3/17. Leave to Etaples 28/3/17 - Training at Bullring. Left Etaples for front line Sunday 8/4/17 (Easter) arrived Steenwerck and marched to Armentieres 2am 9/4/17 (first sight of war). Left Armentieres and marched to Bailleu (10 miles) entrained for St. Omer and marched to village 4 miles and billeted in stables overnight. Marched next day to village Haut Loquin 14 miles (fullpack) trained on hills 5 miles from here for advance. Returned to line. Started Haut Loquin 25/4/17 marched to Arquis via St. Omer. Billeted in barn 26/4/17 marched to Sovereign via Hazebrouck 27/4/17 marched to rest camp Steenwerck. 28/4/17 Gas sent over by British. 29/4/17 Left Steenwerck 5am for trenches arrived at 9am - posted station redoubt La Bizet sector.
30/4/17 Artillery strafe 4am to 5.30am Stand-to in case of Fritz attack 9.30am Aerial fight 1-1 Fritz brought down in flames. 1/5/17 Fritz plane brought down 2/5/17 Still great aerial activity. went to front line 5/5/17 under heavy strafe 8.10pm to 10.20pm 7/5/17 activity on front all night 12/5/17 (20)Pont-de-Dieppe 20/5/17 Close support billets Ploegsteert Wood 25/5/17 Edgar Smith killed R.E. Ploegsteert buried near main road also Geo. Williams (died wounds) 29/5/17 Went to front line great activity - many casualties 2/6/17 Relieved by 11th Brigade billeted in Dieppe 4/6/17 about 3am Gas (shells) 6/6/17 Left billets 9.30pm for assembly trench. On way up gas mask worn through woods. 7/6/17 Mines exploded 10 secs before 3.10am. Over the bags at 3.10am 600 us. Hell let loose - great battle No.3 & 4th Div take Messines 6pm - out of action - debility (blown up by shell) Sent to clearing station thence on train at Bailleu to Etaples.
Admitted to No.7 Canadian Gen. Hospital ward 34. 8/6/17 Discharged from Hospital and sent to No.6 Convalescent Camp for treatment D A H. 29/6/17 transferred to No.5 Con. Depot Cayeux. 4/8/17 Transferred from Cayeux to No. 11 depot Buchy 9/8/17 Left Buchy & arrived Bax 4/10/17 Left Bax for line via Rouen 11/10/17 Arrived D.R.S.Morbecter? 13/10/17 Departed & arrived at Battalion 22/10/17 Near Lumbres. Left for trenches 9/11/17 Arrived at Delou & departed 12/11/17 arriving at Pont-de-Nieppe and taking over trenches in Le Tougpiet 14/11/17 8 days in - 8 days in billets & same again. Promoted to rank of Cpl then L/Sgt during this time. After having a few days spell returned to trenches Square Farm on 19/12/17.
Xmas in trenches. Beautiful scene at night snow falling heavily. Houplines until 1st Jan 1918, thence to Merris. Left Merris end of Jan for Kortysyp Camp near Neuve Eglise. Had Blighty leave from 5th to 19th February - Brum & Ilford - Three air raids whilst at latter place 16, 17, 18. Left Kortysyp 23rd Feb and went to Catacombs Hill 63 & Ploegsteert Wood. Left here and went back to Henneveaux near Boulogne for spell. March 21st Hun advance. March 22nd left Henneveaux for Watou near Poperinghe arriving 23rd Left 24th and went to Steenwerck near Hazebrouck. From here to a place 16 kilos from Doullens. Bus journey to Vaux on river Somme. From Vaux march to line at Warfusee & Marcelcave. Coy. relaxed on night of 3rd. Fritz attacked Bat. heavily and advance on Villers- Bretonneux on 4th April. Great counter attack by our Coy. on evening of 4th - succeeded in driving Hun back 1000 yds, Minto, Mick and Warren killed.
Relieved by 2nd Div. on morning of 6th. Aerodrome & Villiers-Bretonneux. Took ill with trench fever on 8th arrived at No.5 Rouen (via Amiens) on 12th. Left Rouen 19th arrived Blighty & Norfolk War Hospital near Norwich on 20/4/18. Left Norwich & arrived Harefield rail 2/5/18. Arrived No.3 Hurdcott 4/5/18. Furlough on 9th/5/18 - 23/5/18 London & Birmingham. Left Hurdcott and went to O.J.B. Warminster on 8/6/18. 5 days leave from 24 - 29th June. Left England on 3rd July for France. Folkestone - Boulogne - Havre. Rejoined unit 14/7/18 in line near Vaux, Somme August 8th Accroche Wood.
Met Jimmy. Relieved Yanks 19th via Etingham. Hopped at Bray 22nd. Curlu 28th Hindenburg Line 28th Sept Jimmy killed 18/9/18 with 3rd Batt Havricourt Spell at Marellesart. Arrived at Feuquieres on 9/12/18. Xmas here - Grand time Beaucamp - New Year 3/1/19 Jim Daley's funeral. Corporal: 1108 James Patrick DALEY (Committed Suicide)
Dear Billy and Vera,
Still going strong on the "rough" side of the globe. What price this photo. I had it taken in Birmingham. I look as if I have had a "big time" or have been disappointed by a lady friend. That is not the case I was just as happy as usual only the camera made me look nice with a sad expression. Well people things are lively here just at present but it all points toward the end. It may come this year it may come next. Will, do you remember Frank De Vere of Newcastle. He is a Lieut. here and wishes to be remembered to you. I often see "Doctor" (late of Brewery) kicking around this part.
Au Revoir & Best Wishes
Yours Neil
ps. "Happy". I just had a letter from one of my "Blighty" girls (Mums' the word Bill)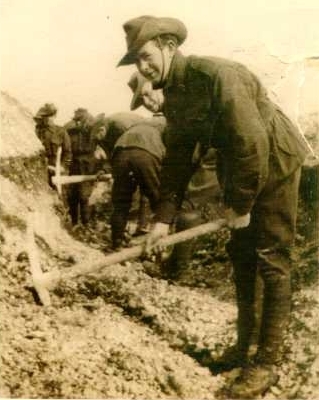 Neil in the Trenches, 1916. "Militia Uniform" Circa 1912-1913.
18/02/1916 Postcard from Larks Hill to his mother.
Battalion Ruby, 3/11/1918 Transport Section beat D Company 18-Nil. 4/11/1918 H.Q Coy beat D Coy 1-Nil. 12/11/1918 A Coy beat D Coy 6-3. 21/11/1918 C Coy drew 3 all with D Coy. Transport Section beat H.Q. Coy 11-3 to win the Battalion Championship at MERELESSART Nov 1918.
25.11.18. Kindest regards from your "Little" Brother Neil. 'D' Company 35th Bn Rugby Football team France. Just Players. Rough but honest.
Postcard from Neil Robert Sutherland (L/Sgt No. 2405 35th Battalion 1st AIF) to his brother William Alexander Sutherland. Photograph for postcard taken on 25 November 1918 (11 days after the armistice). The photo is of the 'D' company rugby team. Neil is in the front row, far left.
Family Information
Robert was a 19 year old Clerk from 90 Laman Street, Cookshill, Newcastle, N.S.W. upon enlistment. His parents William and Annie Sutherland were married in 1887 at Newcastle, N.S.W. Marriage Cert:6313/1887 and had 6 children, 3 boys and 3 girls. Emma S Sullivan born 1888 at Newcastle, N.S.W Birth Cert:30850/1888. Nellie Maud Sutherland born 1890 at Newcastle, N.S.W. Birth Cert:24137/1890 and died in 1970 at Newcastle, N.S.W. Death Cert:80129/1970. William Alexander Sutherland born 1893 at Wallsend, N.S.W. Birth Cert:36403/1893. Edith M Sutherland born 1895 at Newcastle, N.S.W. Birth Cert:15146/1895. Neil Robert Sutherland born 1897 at Newcastle, N.S.W. Birth Cert:14725/1897 and died in 1953 at Newcastle, N.S.W. Death Cert: 12458/1953. Allan John Sutherland born 1898 at Newcastle, N.S.W. Birth Cert: 32950/1898 and died in 1964 at Newcastle, N.S.W. Death Cert:18383/1964.
School photograph circa 1901. Neil Robert Sutherland in in the second row, third from left.
Photo of Neil Robert Sutherland, with his brothers, William (centre), Alan (right). Circa 1905. William was a sapper in the 1st Field Company of Engineers at the Gallipoli Landing. He survived and was demobbed due to illness (Rheumatic fever). Sapper: 40 William Alexander SUTHERLAND.
(Contacted by the Grandson of Neil Sutherland, John Maughan of Wollongong, N.S.W. on the 23/09/2004 who supplied family photos and information)
Military Records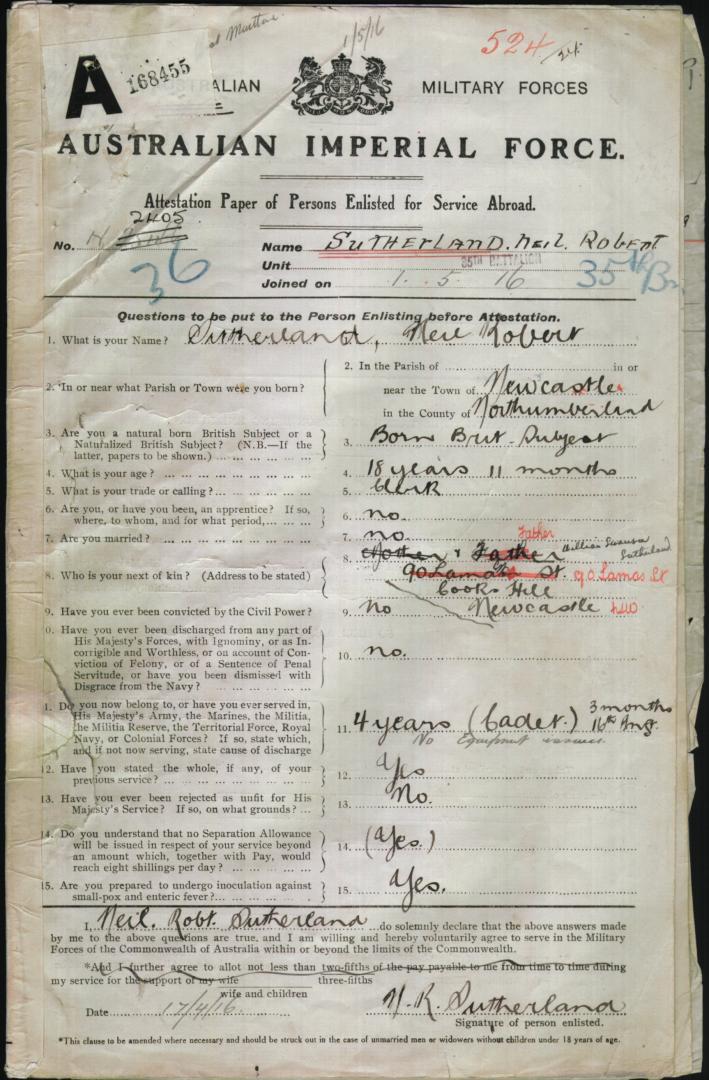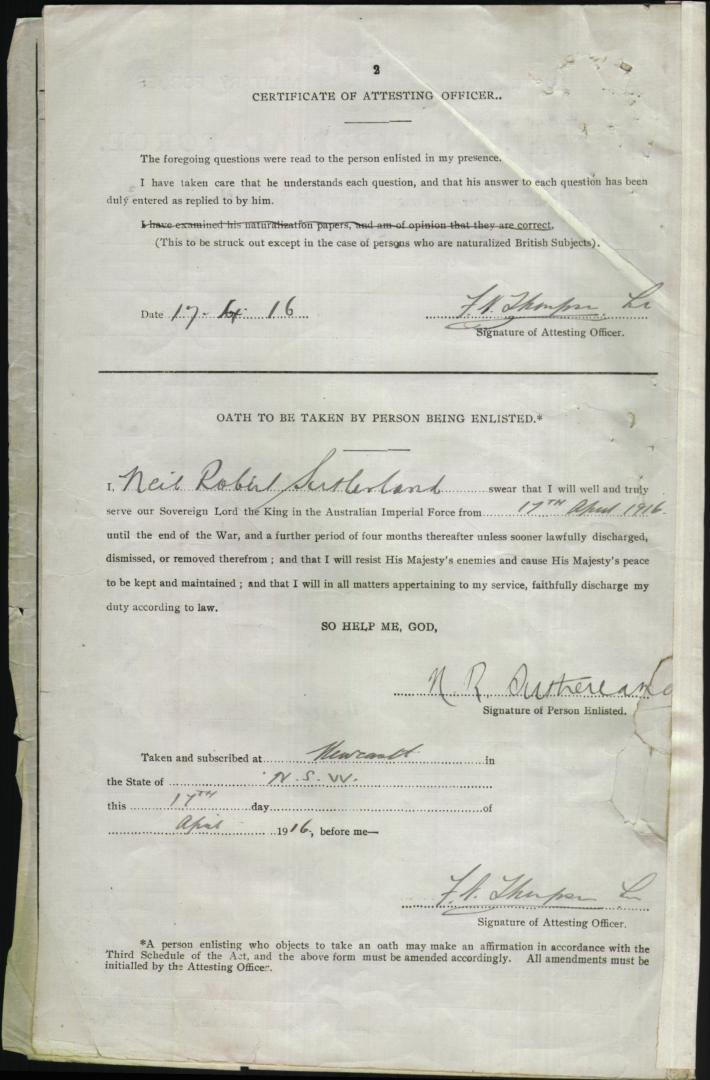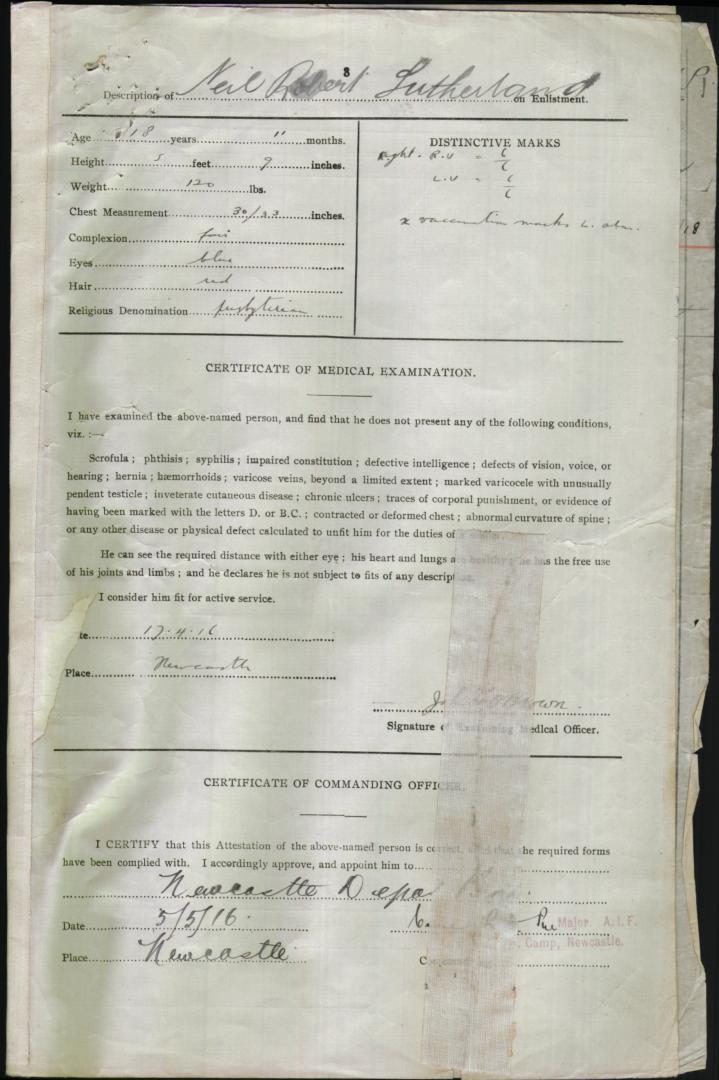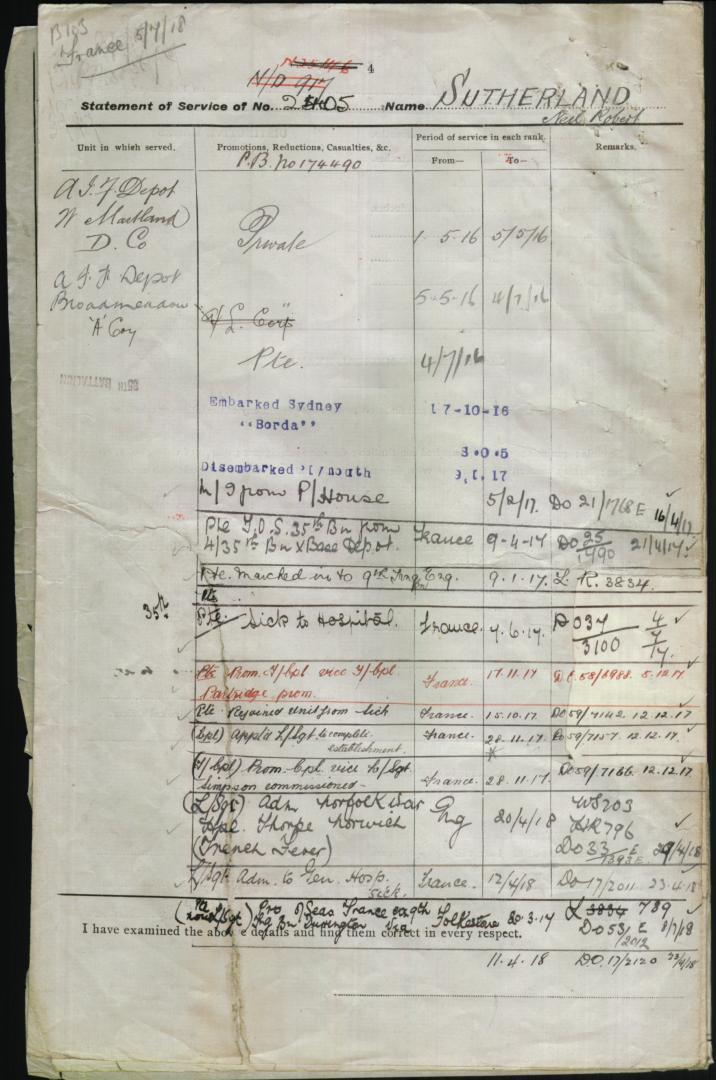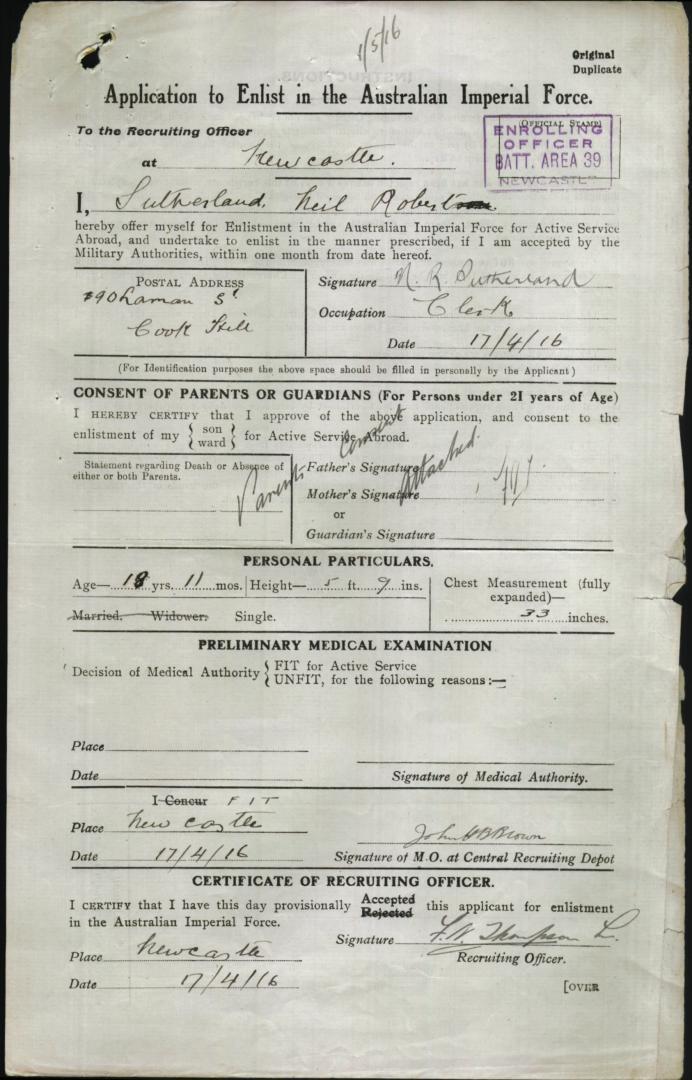 Under Construction; 24/09/2008-05/07/2014.
---
Web Counter
---