On 7 August 1914, the passenger vessel Grantala, owned by the Adelaide Steamship Company, was requisitioned by the Naval Board. It was renamed Hospital Ship No. VIII, and conversion commenced alongside Garden Island in Sydney. Frederick Sturch enlisted with the Australian Expeditionary Force on the 15th August 1914 at Garden Island and served onboard the Hospital Ship "Grantala" and was one of the original volunteers and was recruited as a Sick Bay Steward with the service number 4478.
The Sick Berth staff were selected largely from the Ambulance Brigade in Sydney. All volunteers, many of them were tram drivers in civilian life. They were managed by an Inspector of an Ambulance Brigade Division and a Navy Chief Sick Berth Steward. Meanwhile, the Admiralty, apparently not recognising that the RAN had assumed responsibility for the provision of Hospital Ship No. VIII, had dispatched a party of 30 Royal Navy Sick Berth staff, including four nursing officers. They arrived in Sydney well after Grantala had sailed, and returned to England on various troopships.
HOSPITAL SHIP No:8 "GRANTALA"
Grantala was converted in the remarkably quick time of 3 weeks. The passenger saloons were cleared of tables, fitted with iron cots and made into wards. The doors of cabins were removed and each cabin fitted for two patients. Two cabins were padded for holding patients with mental illness. As the ship was to be used in tropical areas, some of the upper decks were fitted with iron cots and screens to make open-air wards. Such wards were particularly suited for nursing patients with tuberculosis, a disease that thrived in the close living conditions of warships at the time.
Recruiting had already been initiated for an expeditionary force of 20 000 men (the First Australian Imperial Force), and on 9 August, it was announced that a second force, vaguely destined "for the tropics", was to be mobilised at once. The Australian Naval and Military Expeditionary Force sailed from Sydney on 19 August - just 8 days after the first man had been enlisted.
After Grantala's arrival, Horsfall reported to Admiral Patey on board Australia, who immediately asked him why Grantala had not arrived the previous afternoon, as requested by signal. Horsfall knew nothing of this request, but discovered when he returned on board that Grantala had indeed received such a request a day or so before. However, the message had been in code and the wireless operator, a civilian, was unable to decipher it. 9 Had the Expeditionary Force sustained heavy casualties on the previous day, Grantala's delay in arrival may have proved disastrous.
An hour after Grantala's arrival, the ship received its first patients. They included two sailors with gunshot wounds received in the previous day's action. Sister Kirkcaldie described the initial number of patients as being relatively small - between 20 and 30 - mainly suffering from gunshot wounds to the limbs, although the medical officer's journal mentioned that 10 sailors from Australia and two from the rifle companies were actually admitted as inpatients. 10
Four days later, the French cruiser Montcalm arrived in Rabaul and transferred 20 sailors suffering from gastroenteritis. These men remained on board as inpatients for 10 days, before returning to their ship. Grantala stayed at Rabaul for 3 weeks, and during that time a further 12 patients were admitted from accompanying ships. These included two surgical patients: one appendectomy, and a fractured leg. The boy seaman with the fractured leg was the lengthiest admission a period of 58 days before being able to return to his ship.
The duration of a patient's stay was not solely determined by the seriousness of the illness. Often the necessity for retaining a patient was dictated by the ability to return patients to their ships, which may have left the area, or the need to arrange evacuation back to Australia. Repatriation was possible using Fleet auxiliaries such as colliers and passenger ships, which at that time still maintained a limited service in the South Pacific.
SUVA
Following the land operations at Rabaul, the chief concern focused on the whereabouts of the German Pacific Fleet. Several times Australia and Montcalm sailed from Rabaul to investigate sightings in the area, before the Allied Fleet regrouped at Suva. Grantala accompanied the fleet to Suva, although her week-long passage was slower than the rest of the ships. She was buffeted by strong winds, making conditions on board very uncomfortable. The passage to Suva also marked the breakdown of the laundry that had been installed during the ship's conversion.
On arrival at Suva, Grantala admitted 13 patients from Australia with influenza, together with some other sailors with minor injuries. Another 10 patients were admitted from accompanying merchant colliers. The occupational hazards of sea service at the time included coaling, and a stoker from Montcalm was admitted with a dorsal dislocation of his left hip caused when a sack of coal fell on his back. The dislocation was reduced under ether anaesthesia.
Sister Kirkcaldie recalled that on certain days French medical officers from the Montcalm visited their sailors who were patients on board Grantala: On any mention of a return to their ship they managed to develop a new and strange but very acute pain which miraculously left them on the departure of the French doctors.
Presumably, recent news of the Melbourne Cup influenced an admission in late November of a 24-year-old sailor from Encounter with delusions that he was a racehorse. The clinical notes record: He, the horse Cicero, wished to run a mile and a quarter straight away. He could run the distance in 1 min 29 secs but with a feed of oats he could do it in 1 min 14˝ secs.
He refused normal food and drink and was subsequently discharged for passage to Sydney.
The Grantala remained at Suva for 9 weeks. During that time, Australian naval intelligence suggested that the German squadron was heading for South America. The Admiralty was less certain and ordered Australia to remain in Fijian waters in case the Germans returned to the western Pacific.
In anticipation of a naval action with the likelihood of many casualties, Horsfall spent the time in harbour practising casualty drills. The ship's lifeboats were used for transporting the wounded, and it was found that by spreading the boats' oars fore and aft, strapping them down and finally covering them with mattresses, a great number of patients could be moved. Grantala had seven such lifeboats, as well as two motorboats that had been purchased before leaving Australia.
A system of drills was practised regularly in harbour, with the Sick Berth staff, acting as patients and labelled as to the nature of their injury, pre-positioned on board one of the other ships in the harbour. On a signal, all the boats would be lowered and towed to the ship. The patient was then attended to and either manhandled down the gangway or, if his injury did not permit this, placed in a cot and lowered over the side by means of a block and tackle. On return to the Grantala, the boats dropped their tow ropes in turn and lay alongside the ship so that they could be receiving the wounded simultaneously. Drills were also practised so it would have been possible to go alongside a warship after action with three or four plank gangways placed directly across from one ship to the other. Two hundred patients could be transferred in such a manner, although it would have required fairly calm conditions
Grantala was then ordered to return to Sydney, arriving there with four patients on 22 December 1914. Navy personnel, surgeons, sisters and other civilian appointees were paid off, with the exception of one surgeon, Dr Trinca.
(Australian Defence Department)
Frederick was paid off 23rd of December 1914 and returned to his job as a Tram Driver but enlisted with the 9th Australian Field Ambulace on the 11th of July 1915 and embarked from Sydney on the HMAT A8 "Argyllshire" for England.
Frederick was transfered to the 35th Battalion AIF on the 18th March 1917 and promoted to Temporary Sergeant in the field on the 16th June 1917.
10th April 1918.
Informant; Sergeant: 12070 Frederick STURCH. B Company 35th Battalion. After the attack on MESSINES we were holding a rough line of trenches in fron of Warneton between 2 and 5 a.m on 12.6.17. A large explosive shell landed in the left bomping bay and killed five men including Private: 2079 Edmund Reid HELLYER. Informant was 7th Platoon Sergeant. 2nd Lieutenant: 256 Robert Donaldson PERRAU Officer in Command of the Platoon, was killed, so Informant took charge of the Platoon, examined the bodies including Hellyer's and took his personal belongings and sent them back to Battalion Headquarters. Hellyer was killed instantly and could not have felt anything. He was buried in or near Ploegstreet Wood. He was a good comrad, and a plucky soldier.
Sydney Bureau. Home address: "Natal" Roberts Street, Camperdown.
10th April 1918.
Informant: Sergeant:12070 Frederick STURCH. After the attack on Messines we were holding a line of rough trences in front of Warneton between 2:00 and 5:00 am on 12.6.17. A large explosive shell landed in left bombing bay and killed five men including Private:2176 James William LOWE (Informant was 7 Platoon Sergeant) 2nd Lieutenant: 526 Robert Donaldson PERRAU Officer in Command of the Platoon was killed, so Informant then took charge of the Platoon, examined the bodies including LOWE'S and took his belongings and sent them back to Battalion Headquarters. LOWE was killed instantly and could not have felt anything. He was buried in or near Ploegstreet Wood. He was a good comrade and a plucky soldier.
Sydney Bureau. Home address: "Natal" Roberts Street, Camperdown.
Frederick returned to Australia on the 21st December 1917.
Family Information
Frederick was a married 39year old Tram Driver from "Natal" Roberts Street, Camperdown, N.S.W upon enlistment. Frederick had served in the Royal Navy for 9 years in England and served in the Naval Brigade China 1900. His wife Annie Harrington was born at Glebe in 1879 Birth Cer:4872/1879 and died in 1958 at Newton via Sydney Death Cert:3339/1958.
Military Records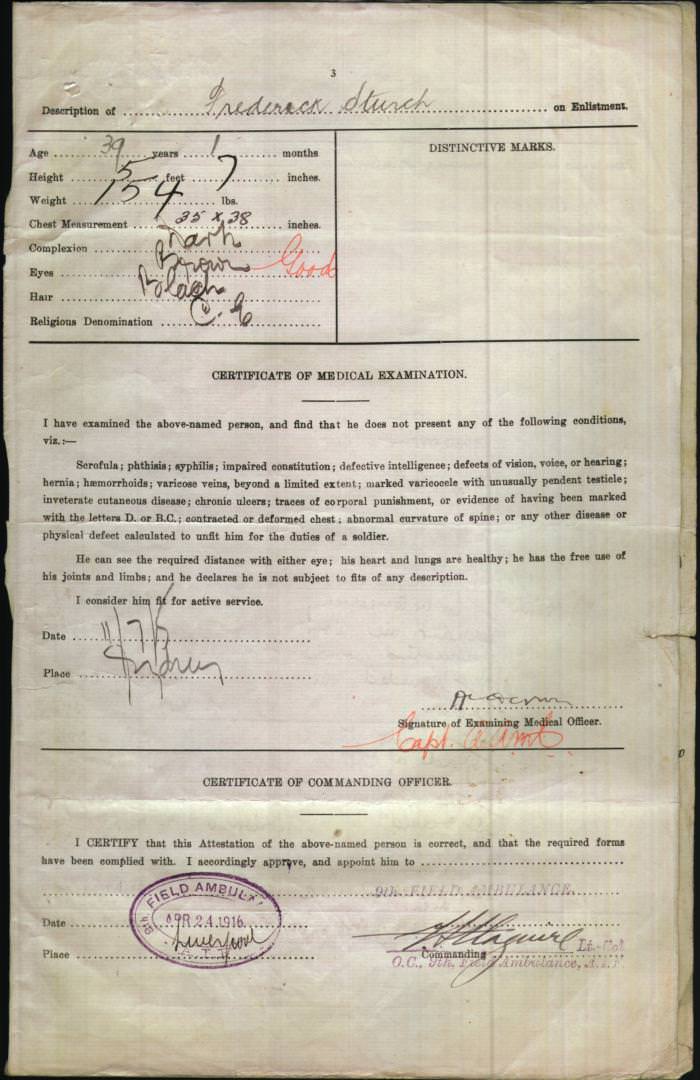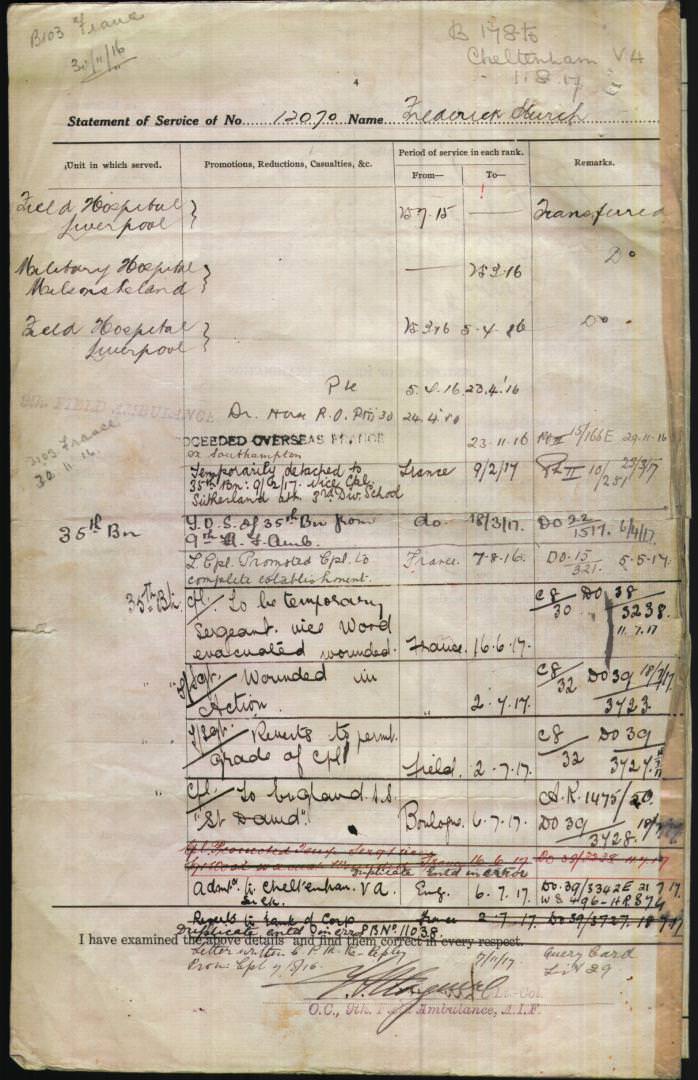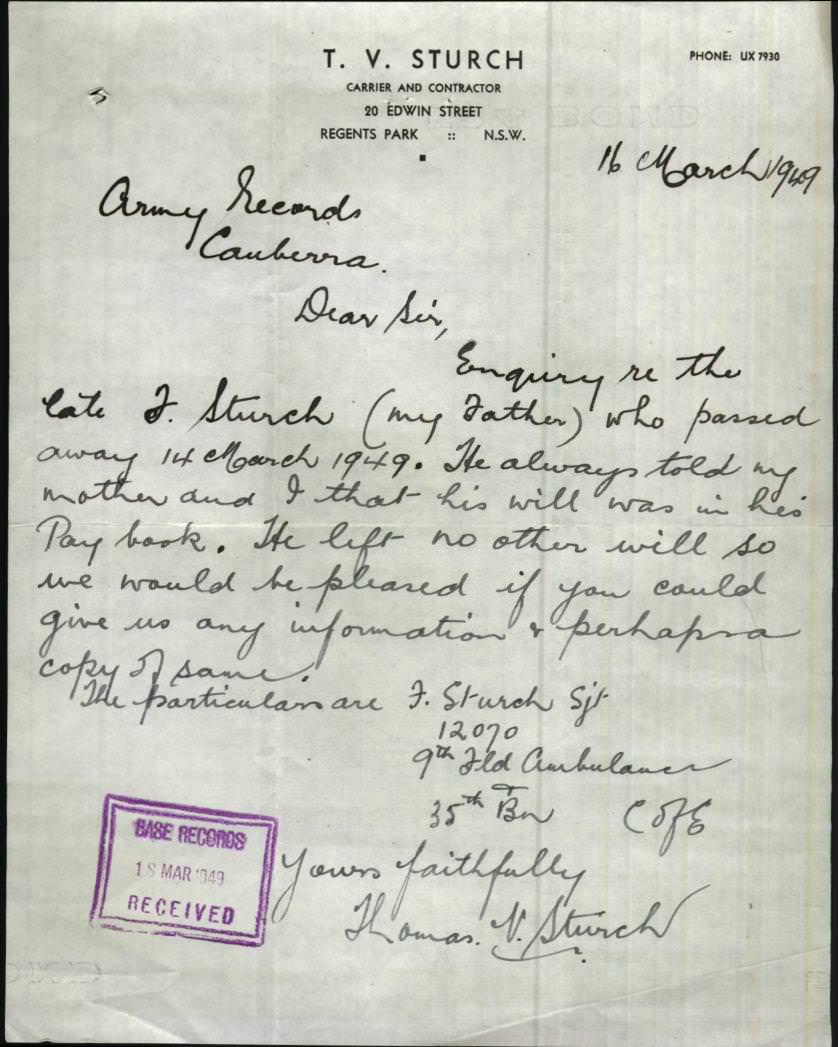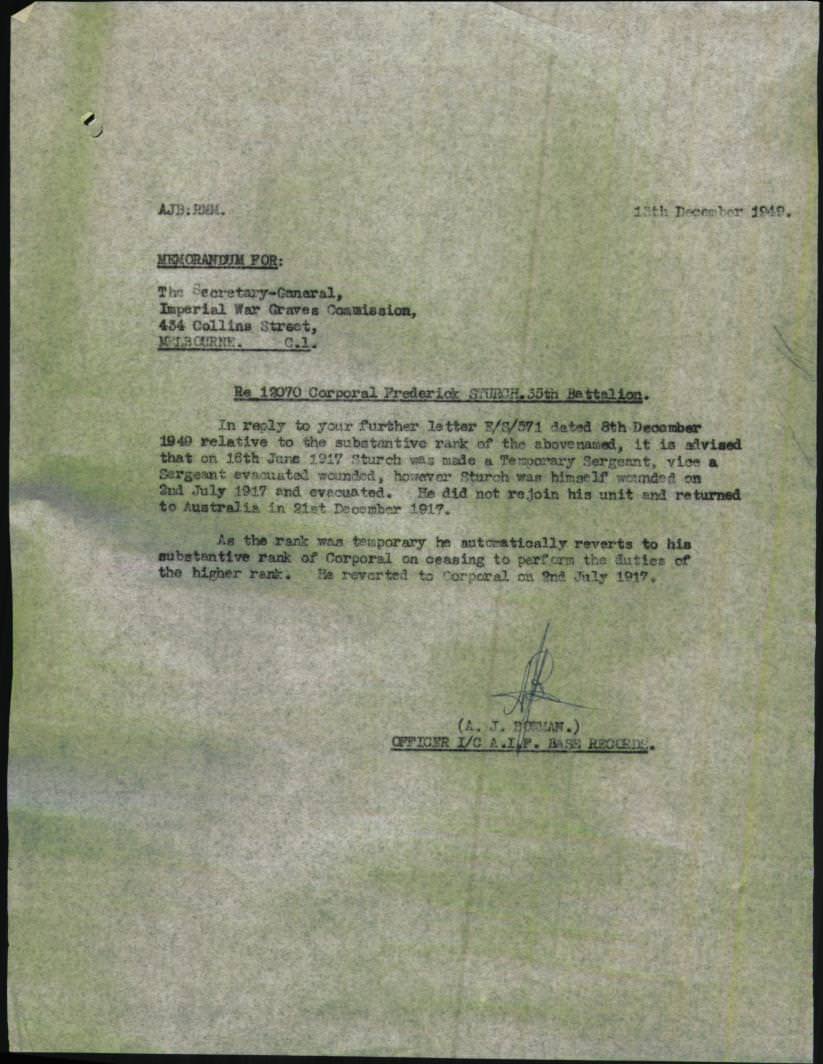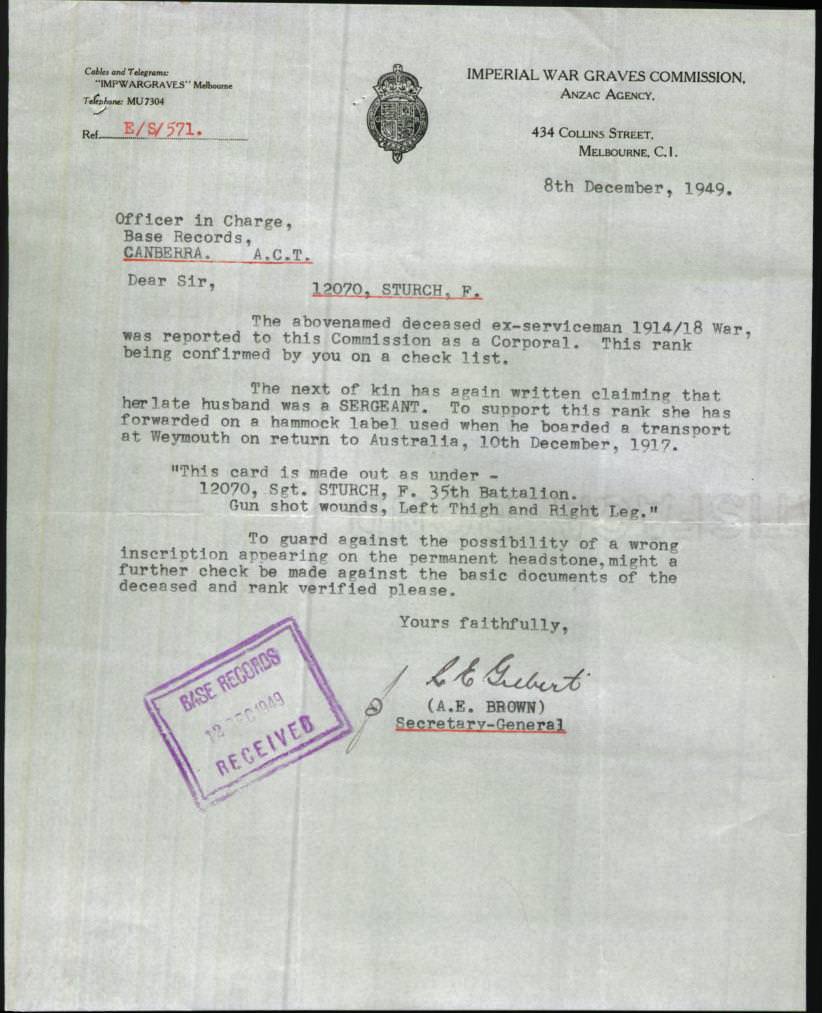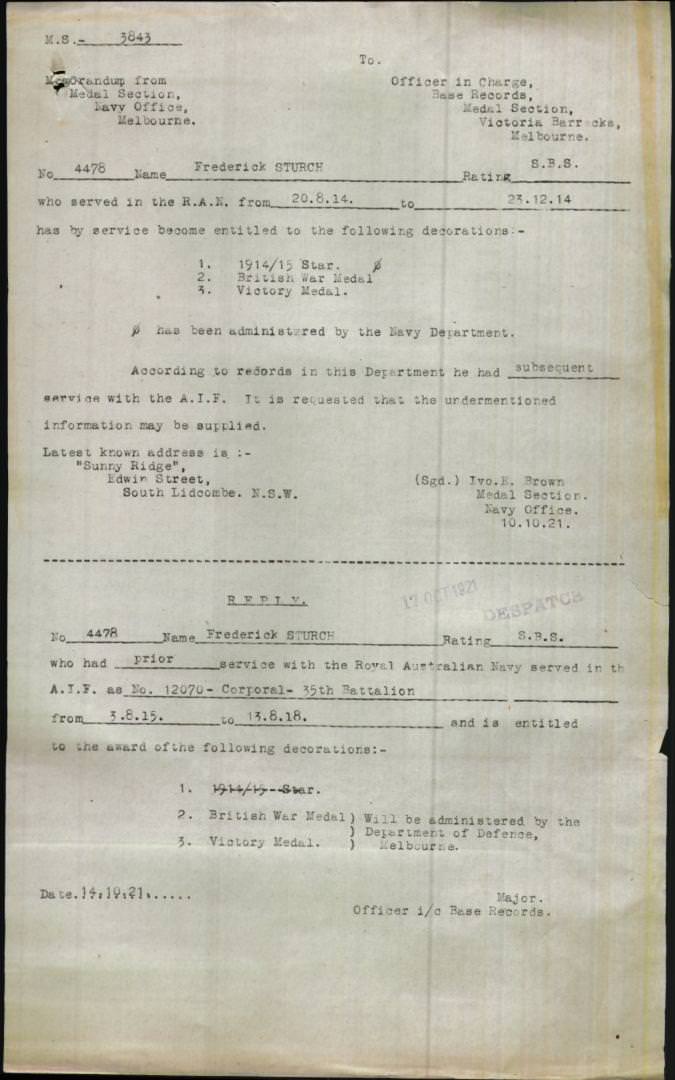 © Commonwealth of Australia (National Archives of Australia)
Under Construction; 14/05/2013-11/10/2014.
Web Counter
---