Simon Springer enlisted with the 20th reinforcements, 19th Battalion AIF on the 22nd of May 1917 and left Sydney on board HMAT A18 "Wiltshire" on the 7th of February 1918. Simon was transfered to reinforce the 35th Battalion and was Taken on Strength in France wad was Died of Wounds at Villers-Bretonneaux whilst being held by the Germans as a Prisoner of War and died on the 6th of April 1918.
29th May 1918.
Informant; Private: 6856 George William WALSH B Company No:8 Platoon. They were about 5 yards from me in a trench at VILLERS-BRETONNEUX at 7:00am, and were buried by practically a direct hit from a shell. It was a shallow front line trench and there were just the 5 of us in it. I was the only man who got out. Sergeant: 942 Richard Patrick CAHILL of B Company, No:8 Platoon, 35th Battalion came up after it happened and we could see some of the helmets, etc cut to pieces, lying in the dirt.
They were not dug up as we retired 5 minutes later. They were all B Company No:8 Platoon. Private: 3768 Samuel John MOORE tall, thin only Moore in Company, people live in England. Private: 6993 Charles William Morrice RICKS, short, black hair, curious walk. Private: 6618 Joseph "Jack" RYAN 5' 9", well built, original 2nd Battalion, and had been in Gallipoli and re-enlisted. Private: 6884 Simon SPRINGER 5' 8", fair, nuggety,about 28, came from 20th reinforcements of 19th Battalion, the only Springerin Company.
Confirmed by Private: 2596 Richard Percy GILBEY B Company, No:8. London, England.
28th June 1918
Died whilst Prisoner of War 06/04/1918. Result of fracture of right arm at Main Dressing Station at BLOIS d' HUSSART FARM, on the road which leads from ST QUINTIN to ARMIENS. Buried there in the soldiers Cemetery. Certified by German Death List 07/06/1918.
After being Wounded in Action on the 5th of April 1918, Simon was taken prisoner and Died of Wounds on the 6th of April 1918. Simon's religion was Hebrew so it can only be assumed that if he Germans were aware of this they would have let him die a painfull death whilst being held as a Prisoner of War.
Family Information
Simon was a single 34 year old Storeman from Sydney upon enlistment. His sister Kate Kilbey of Balfour Street, Kalgoolie, Western Australia was his next of kin. Simon was a Hebrew.
Military Records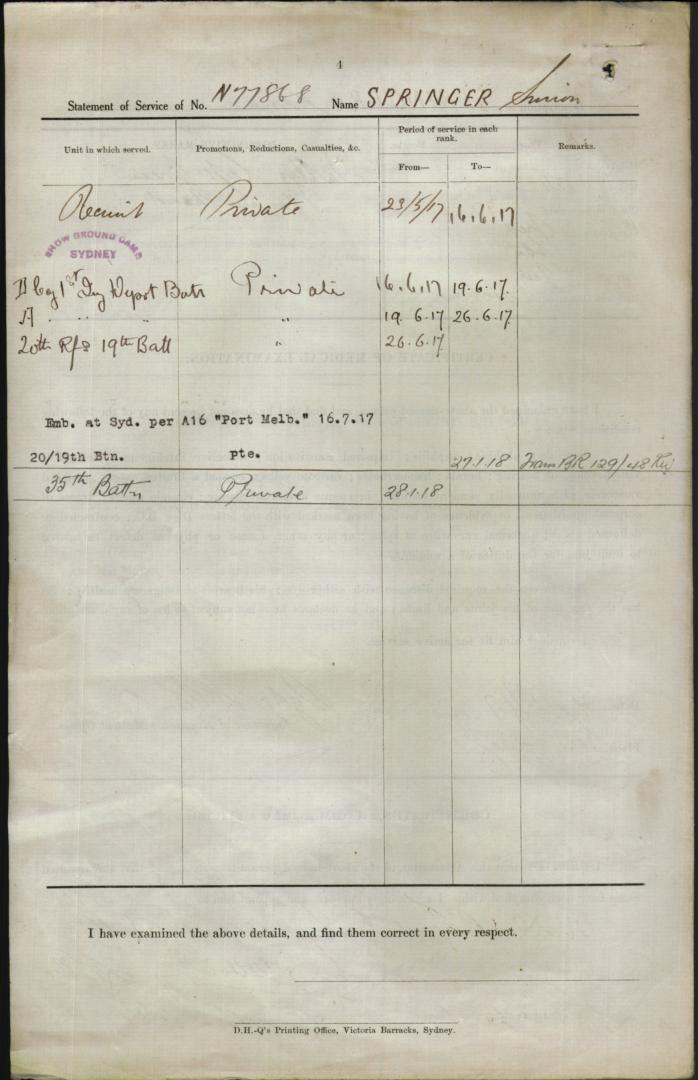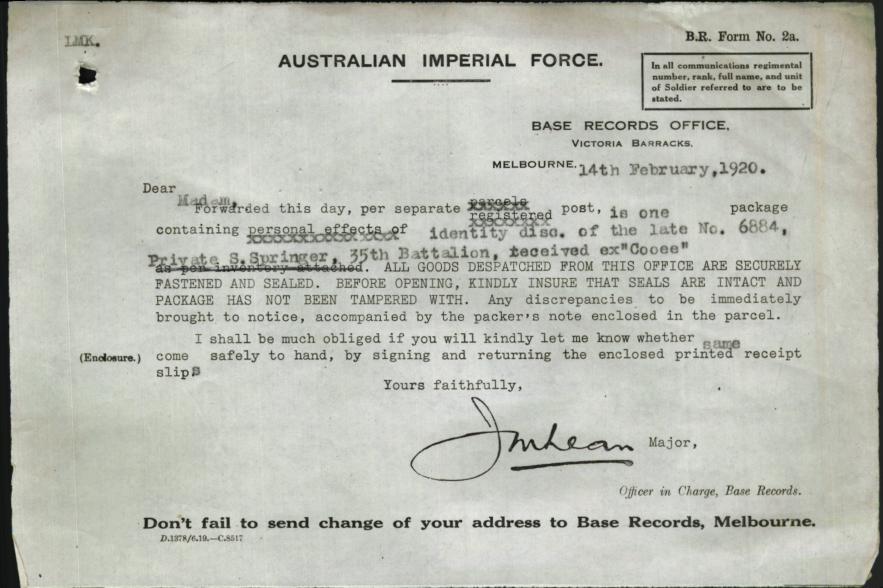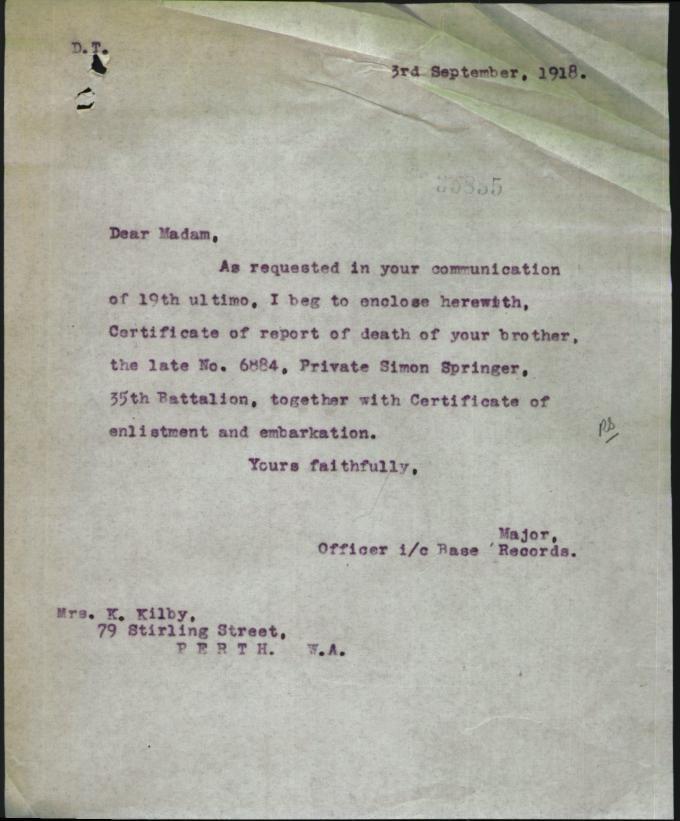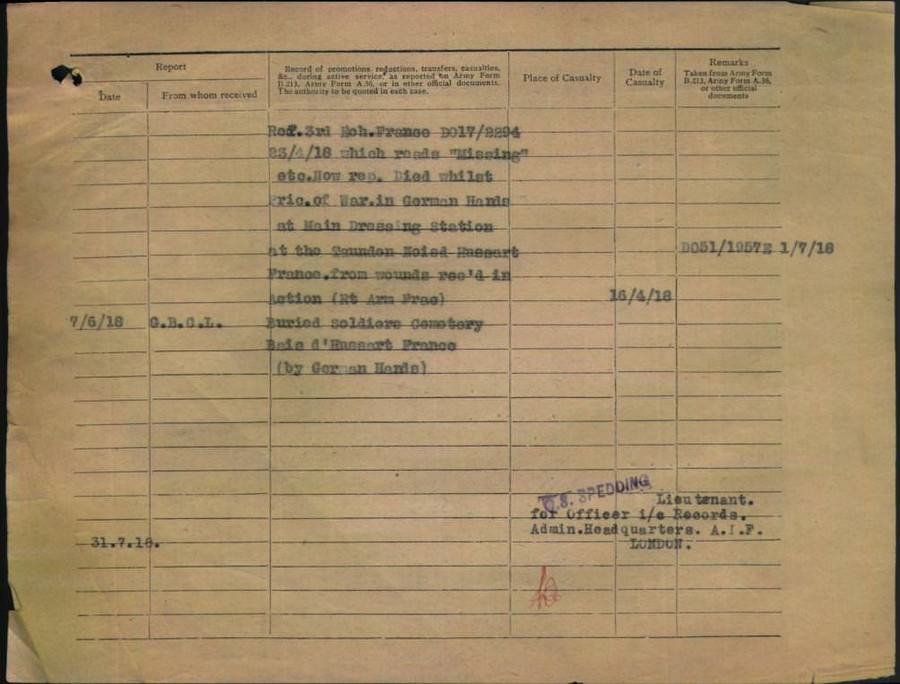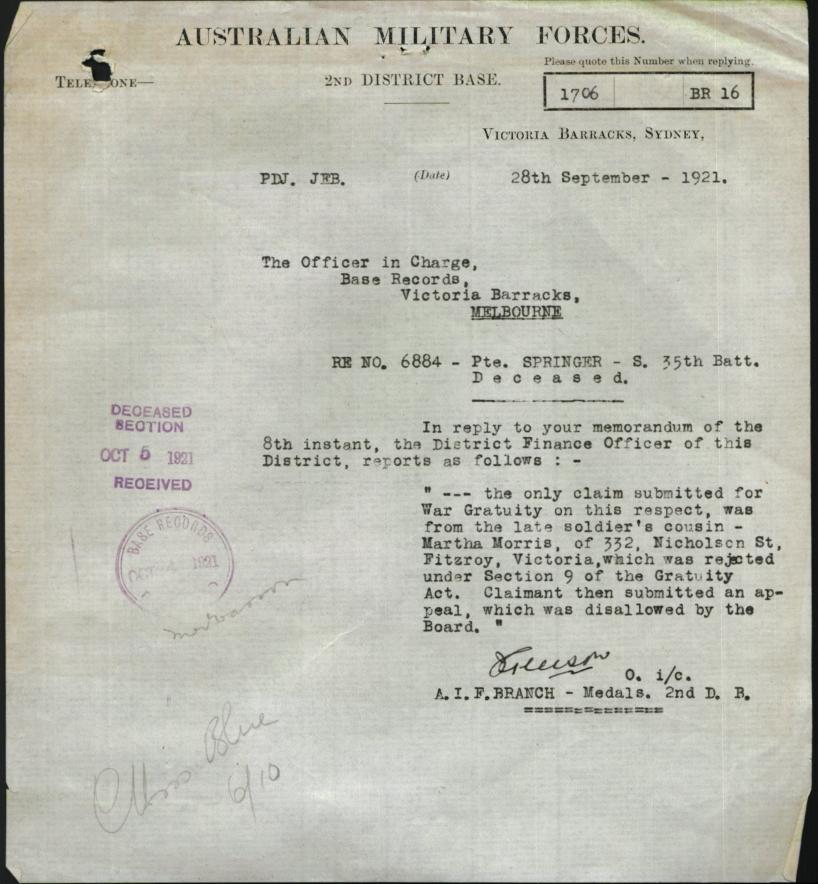 Under Construction; 31/08/2007-12/03/2015.
---
Web Counter
---