Return to home page Return to 35th Battalion page
---
35th BATTALION A.I.F.
Private: 1503 Edmund Young Edgar SLATER.
---
Born: 1893. Greta, New South Wales, Australia. Birth Cert:15821/1893.
Died: 1st March 1917. Killed in Action Armentieres, France.
---
Father: Abraham Slater
Mother: Catherine Slater. nee: Farnham. 2nd marriage.
---
INFORMATION
Edmund Slater enlisted with the Machine Gun Section, 35th Battalion AIF on the 16th of January 1916 and left Sydney on board HMAT A24 "Benalla" on the 1st of May 1916 and disembarked at Plymouth, England on the 9th of July 1916. Edmund was admitted to the 9th Brigade Hospital suffering from Bronchitis on the 8th of November 1916.

Edmund returned to the 35th on the 14th of November and proceeded overseas on the 21st from Southampton for France. He was taken on strength with the battalion and proceeded to the front line. He was Killed in Action on the 1st of March 1917 at Armentieres, France and is remembered with honour and is commemerated in perpetuity by the Commonweath War Graves Commission. Cite Bonjean Military Cemetery, Armentieres, France.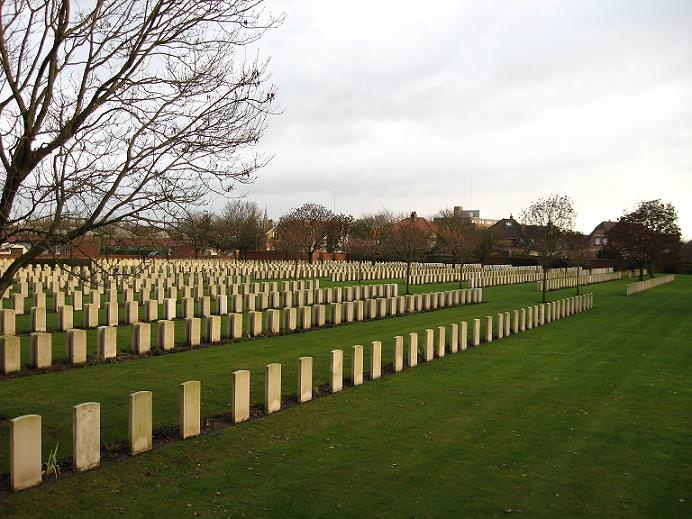 CITE BONJEAN MILITARY CEMETERY
Family Information
Edmund was a 23 year old Labourer from Tighe's Hill, Newcastle, New South Wales. He lived with his brother Abraham Parker Slater and his wife Winifred Slater at 54 Henry Street. His next of kin was listed as his mother Mrs C Farnham of Congwai Street, Aberdare, New South Wales.
Edmund's Victory Medal:43205 to PTE 1503 E Y E SLATER 35 Bn AIF was acquired with his brothers British War Medal in August 2005 and are now in the collection. His medals were first issued to his mother in 1922.
Edmond's older brother Private: 1238 Abraham Parker SLATER 36th BN AIF and he also served with his cousin Private: 2383 John SLATER 36th Bn AIF Killed in Action and Step brother Sergeant: 176 Gordon Charles FARNHAM D.C.M, M.M. 3rd Field Ambulance, B Squadron.
Family Information
Abraham and Catherine Slaterhad 5 children, 3 boys and 2 girls. Esther M Slater born 1881 at Lambton, N.S.W. Birth Cert:24780/1881. Robert Maudsley Slater born 1883 at Lambton, N.S.W. Birth Cert:28194/1883. Isabella J Slater born 1885 at Lambton, N.S.W. Birth Cert:30310/1885. Abraham Parker Slater born 1887 at Lambton, N.S.W. Birth Cert:32229 /1887. Edmond Young Edgar Slater born 1893 at Lambton, N.S.W. Birth Cert:15821/1893.
Military Record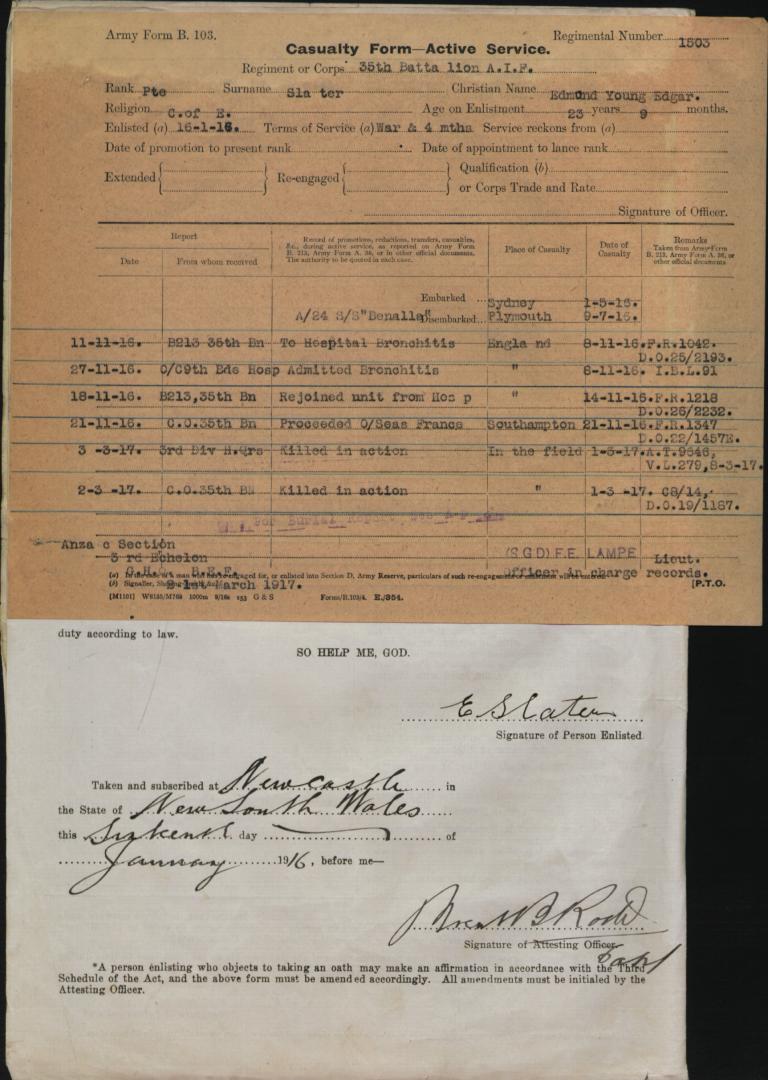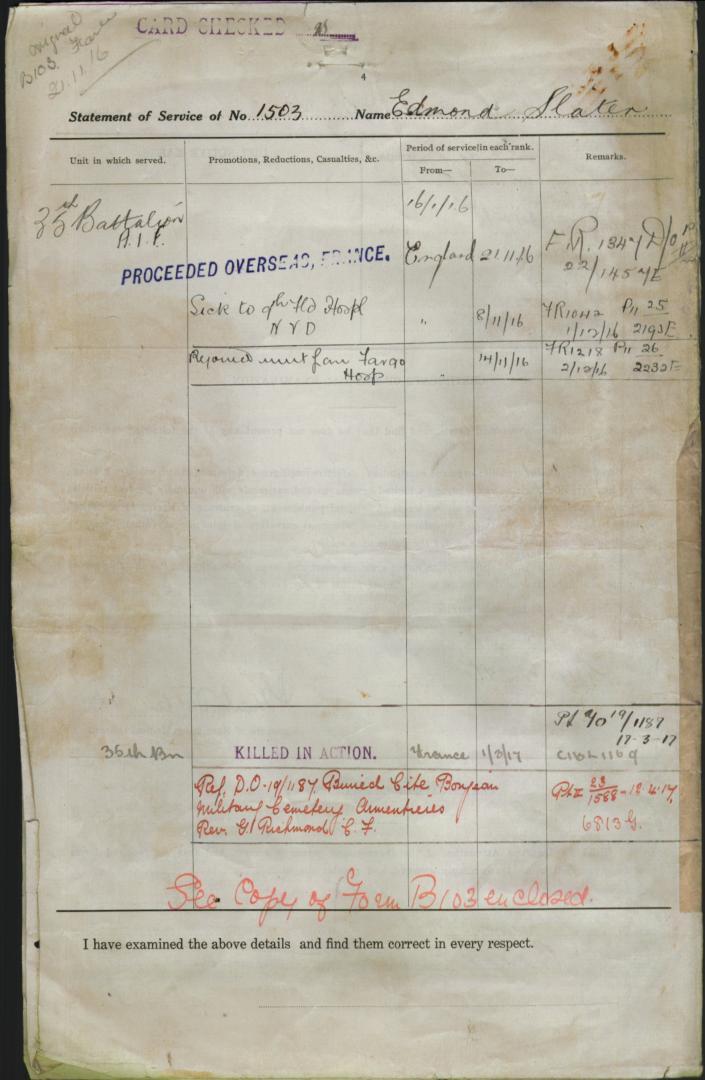 Under Construction; 25/02/2007-08/10/2014.
Web Counter
---