Dennis Fields @ Denis 'Denny' Sherry was born in Wauchope, Hastings River, New South Wales; 19 kilometers inland of Port Macquarie. Described by his friends as "tall, dark and well built", standing 5 foot 10 inches. He worked as a Labourer, and at the age of 26 enlisted in the Australian Imperial Forces on 22 January 1916 in Urunga, N.S.W. He was posted to 3rd Reinforcements, 36 Battalion, A.I.F. on the 22nd of January 1916. The 36th Battalion which became part of the 9th Brigade of the 3rd Australian Division.
The Battalion embarked from Sydney for the United Kingdom on 13 May 1916 and arrived in early July. The Battalion spent the next four months in training, during which time Private Sherry became ill and was sent to hospital on 20 October 1916. Private Sherry crossed to France, and moved into the muddy and punishing trenches of the Western Front in February 1917. Sherry was charged being absent without leave from 5 April until 8 April 1917 and forfeited 28 days pay. Less than a month later he was absent again from 9 May until 10 May 1917 and charged with disobeying a lawful command of a superior officer. His punishment was an additional forfeiture of 24 days pay.
On 2 June 1917 Private Sherry was charged with "failing to appear at a place of rendezvous appointed by his C.O. at Pont De Nieppe on 20 May 1917 when in billets at that place failed to appear at parade at 8:30pm he absented himself without leave from 8:30pm 20 May 1917 until 8:30pm 24 May 1917". He forfeited 33 days pay.
36 Battalion switched to the Ypres Sector of Belgium in mid-1917 where Private Sherry saw his opportunity to take abscond from the lines. As 36 Battalion took part in its first major battle; the battle of Messines, launched on 7 June and later the battle of Passchendaele, Private Sherry was no where to be seen. He was discovered some 19 days later and apprehended in Boulogne and charged with Desertion.
On 15 August 1917, a field court marshal was assembled and Private Sherry was charged with "Deserting His Majesty's Service" in that he at NIEPPE on 3 June 1917 when his company had been detailed for an important military operation absented himself from his Battalion until after the said operation had been completed and remained absent until apprehended by the M.P. at Boulogne on 22 July 1917 at 7:30pm". Private Sherry pleaded not guilty to the charges, but Colonel Stevens after hearing the evidence against Private Sherry found him guilty and pronounced a sentence "to suffer death by being shot 15/8/17".
A death sentence required the confirmation of the General Officer Commanding (G.O.C.) and the Governor General of Australia. The A/G.O.C. of 9th Infantry Brigade commuted the sentence to 10 years penal servitude and the G.O.C. of II Army remitted the sentence and posted Private Sherry back to the front.
Private Sherry was Wounded in Action in Belgium on 4 October 1917 suffering a Contusion to the Left Arm requiring hospitalisation. He marched out to rejoin his unit in December 1917. In February 1918 he was again absent without leave and apprehended by the M.P.s and charges with "conduct to the prejudice of good order and military discipline in that at Meteren was impersonating the rank of Cpl when not entitled to do so". He forfeited 16 days pay.
When the German Army launched its last great offensive in the spring of 1918, the battalion was part of the force deployed to defend the approaches to Amiens around Villers-Bretonneux. It took part in a counter-attack at Hangard Wood on 30 March, and helped to defeat a major drive on Villers- Bretonneux on 4 April France 1918.
Private Sherry was part of D Company on the 12th of April 1918, where he was Killed in Action. by a shell burst at Hangard Wood, and is commemerated in perpetuity by the Commonweath War Graves Commission on the Villers-Bretonneux Memorial, France.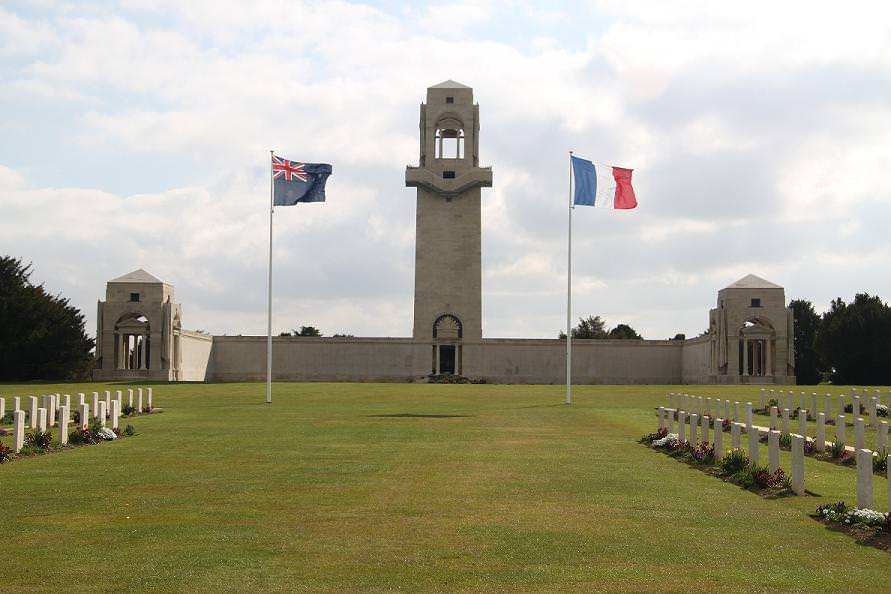 Villers-Bretonneux Memorial, France.

12th April 1918.
Just after dawn (at6:00am) the enemy opened a barrage along our front and to our right on ther French. The French S.O.S. went up immediatly and was answered by a heavy barrage. Very soon the whole of the forward areas and the immediate rear was screened by heavy moke from the enemy barrage which consisted principally of 5.9's and 4.2's. At about 7:00am the fire slackened and it was learnt that the French had been pushed back on our immediate right and partly out of HANGARD. Reinforcements for the French came along the slope of the hill on our right flank till almost level with our line and then went half right over the hill into HANGARD. Enemy Machine Gun's attampted enfilade fire on those troops from the BOIS de HANGARD, but "C" Company on the left stopped this by rifle and Lewis Gun fire.
The line was shelled heavily several times during the day. At 7:30pm the French, West Kents and Essex counter attacked on our right. The barrage was lighter than in the morning. Fire died away about 8:30pm and it was learnt that the line on the right had been re established and in some parts had gone further than the position lost in the morning. The Battalion was relieved by the 18th Battalion AIF commencing about 10:00pm and was completed at 1:30am, the Battalion then moved to billets in the BOIS de BLANGY where a hot meal awaited them.
At 1:09pm a 5.9 Howitzer Shell landed in Battalion Headquarters and killed Lieutenant Colonel: John Alexander MILNE. D.S.O., Captain: Thomas Rodger MacNEE, also the Adjutant of the 5th Essex Regiment and 6 other ranks; the same shell wounded Major: John Ambrose McDOWELL. and 3 other ranks.
(36th Battalion War Diary)
Private: 2179 Denis "Denny" SHERRY. 36th BN AIF. Killed in Action 12/04/1918. Villers-Bretonneaux, France.
Private: 1257 William Halkyn WESTWOOD. 36th BN AIF. Killed in Action 12/04/1918. Villers-Bretonneaux, France.
9th July 1918.
Informant: Corporal: 2126 James Percy RILEY I was well acquainted with Private: 2179 Denis "Denny" SHERRY he came from Manning River NSW. When we were at Hangard Wood in April we were holding the front line of defence in detached trenches. Sherry was in a small trench about 10 yards from me with 5 more Australians and three Frenchmen. The Germans had been shelling us for several hours when a very large shell landed right in the trench, Sherry, another Australian Private: 1257 William Halkyn WESTWOOD. and the three Frenchmen were killed. The 5 of them were completely buried up and nothing more was seen of them.
Estaples, France.
16th July 1918.
Informant: Corporal: 1280 Reuben Henry WALLBANK Private: 2179 Denis "Denny" SHERRY was in D Company. He was blown up by a shell a few yards from me on 12th April between Hangard Wood and Villers-Bretonneux at mid-day. He came from the north coast of New South Wales. Single, under 30, tall and dark.
Royal Victoria Hospital, Surgical Floor, Netley.
19th July 1918.
Informant; Private: 528 William ORR Private:2179 Denis "Denny" SHERRY was killed by a shell whilst we were in the front line at Hangard Wood. He was buried by a party from the Company near the sunken road at Hangard Wood. A temporary cross was erected all particulars. I knew him well in the Battalion. He came from Coffs Harbour, N.S.W. Age 28 Height 5-7 Complexion Dark Medium Build.
No: 4 Command Depot, Hurdcott.
26th July 1918.
Informant: Private: 1254 Robert Laban WALLBANK Private: 2179 Denis "Denny" SHERRY was of D Company. At Hangard Wood in the afternoon 4 o'clock of 12th April in the lines by heavy bombardment a Heavy Shell burst killed Sherry (Blown to Pieces), also Private: 1257 William Halkyn WESTWOOD and 3 French Soldiers. I was in burial party, buried in shell hole same night all in one grave. We didn't put mark up as we were relieved just after we buried them. His remains were buried. I was within 10 yards of him when shell burst. Christrian name Denny he came from Taree, N.S.W.
Harefield.
20th January 1919.
Informant: Lieutenant: George William Herbert PERKINS. Private: 2179 Denis "Denny" SHERRY was tall and dark and well built and was in D Company and had been in the Cook House but was in the line on the 12.04.1918. He was a real good soldier in the line. On the 12.04.1918 on the right of Hangard Wood we had a long bombardment lasting about eight hours. On this day I was Commanding Officer of C Company but I made enquiries the following day about the boys who were in D Company with me and I was told that Sherry had been killed by a shell. We held this position and he would probably be buried behind that sectior.
14 Castlereagh Street, Sydney.
25th April 1919.
Informant: Private: 1105 Clarence ELBOURNE. I know Private: 2179 Denis "Denny" SHERRY well, and knew him in private life in Wickham, Manning River. He was a fairsized chap, and dark; his name was "Dan", he was a 3rd Reinforcement and in D Company. He was killed outright bt a shell at Hangard Wood on 12/4/18. I rembember the date well, as we had a 12 hour bombardment. I saw him after he was killed, and was close enough to recognise him. He would be buried near Hangard Wood by the Pioneers. I'm quite sure that he was killed outright by the same shell a killed Private: 1257 William Halkyn WESTWOOD.
Victoria Barracks, Sydney NSW.
NOTE: Desertion and the Death Penalty in Australia during WWI
According to Section 98 of the Commonwealth Defence Act 1903, no member of the Defence Force shall be sentenced to death by any court martial except for four offences: mutiny; desertion to the enemy; or traitorously delivering up to the enemy any garrison, fortress, post, guard, or ship, vessel, or boat, or aircraft; or traitorous correspondence with the enemy. Significantly, this sentence could not be carried out until it was confirmed by the Governor-General. Whereas approximately 346 soldiers were executed by the British Army during the First World War, this sentence was not carried out by the Australian Army. Jullian Putkowski's book 'Shot at Dawn', 1989, refers: 'though liable to be executed for mutiny, desertion to the enemy or treachery, the 129 Australians (including 119 deserters) that were sentenced to death during the war (117 in France) were not shot. The 1903 Australian Defence Act stipulated that the Governor General of Australia had to confirm the sentences passed by courts martial, and he never did. Although Haig made strong representations for the power to inflict the extreme penalty upon Australian soldiers that sanction was continually denied him.' All 129 Australian soldiers that were sentenced to death were pardoned or their sentence's commuted to penal servitude. After the dreadful bombardments of Pozieres in 1916, absence without leave increased alarmingly. Growing concerns over this issue saw some senior Australian officers urge that Australian soldiers should face the same sanctions that applied in the British Army. However the general feeling, both in Australia and in the services, was steadily against the infliction of a death penalty on men who had volunteered to fight in a cause not primarily their own. Consequently, the AIF had to rely increasingly on the leadership and example of its officers and NCOs, the tone and esprit de corps of its men and the substitution of other penalties – including, ultimately, the publication of lists of offenders in the Australian newspapers.
Family Information
Denny was a single 26 year old Labourer from Gladstone, Macley River via Kempsey, N.S.W. His father was not recorded on his Birth Certificate. His parents were Denis Sherry and Susannah Fields, they were never married. Dennis Fields @ Denis Sherry born 1889 at Wauchope, N.S.W. Birth Cert: 23460/1889 and died 1918 in France during WW1. William Sherry born 1895 Port Macquarie Area. Birth Cert:35815/1895 and died 1951 at Kempsey, N.S.W. Death Cert:22236/1951. Ellen Lavinia Sherry born 1897 Port Macquarie Area. Birth Cert:34648/1897 and died 1951 at Kempsey District Hospital, N.S.W. Death Cert:5690/1919. Catherine Sherry born 1899 Port Macquarie Area. Birth Cert:24302/1899 and died 1901 Port Macquarie. Death Cert:10955/1901. John Fields Sherry born 1900 Port Macquarie Area. Birth Cert:25510/1900 and died 1959 at Taree, N.S.W. Death Cert:20296/1959. Susan Sherry born 1903 Port Macquarie Area. Birth Cert:33543/1903. Robert Sherry born 1905 Port Macquarie Area. Birth Cert:16716/1905. James Sherry born 1906 at Kempsey, N.S.W. Birth Cert:35273/1906.
Denny's grandmother was Mary MACQUARIE who was the house servant for Archibald Clunes INNES the Commander of the Port Macquarie Penal Settlement. Mary was Baptised, as an young lady, on 26th August 1849, St Thomas' Church of England, Port Macquarie. Mary Married John McKANNA 1859 and they had four children. When her husband died she married John FIELD and she had a further six children.
Archibald Clunes Innes. 1799-1857
Archibald Clunes Innes (1799–1857) was a soldier and pastoralist from Thrumster, Caithness, Scotland. When he arrived in Australia in 1822 he was a captain in the Third Regiment (Buffs), on the ship "Eliza", in charge of 170 convicts. Archibald Clunes Innes was a commandant at the Port Macquarie penal settlement from November 1826 to April 1827.
Military Records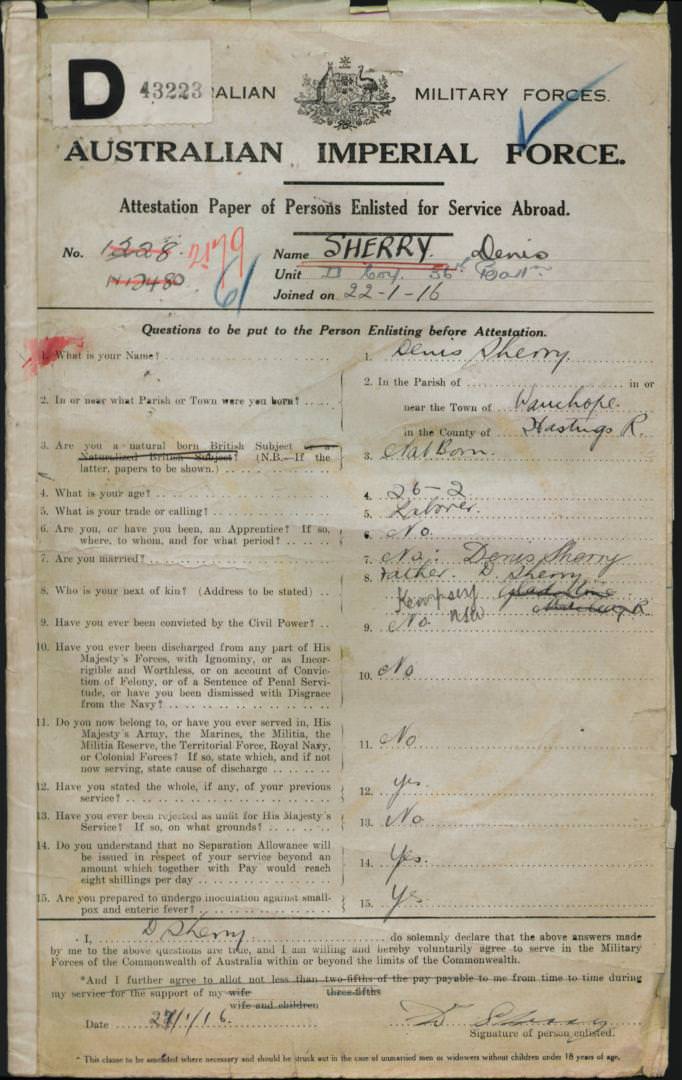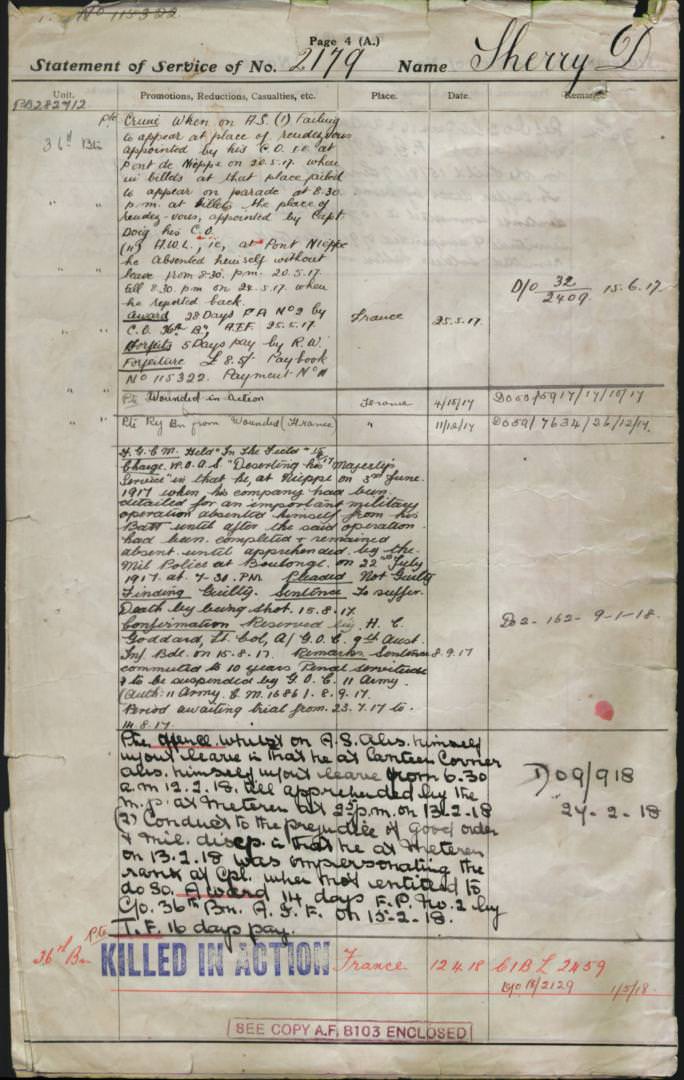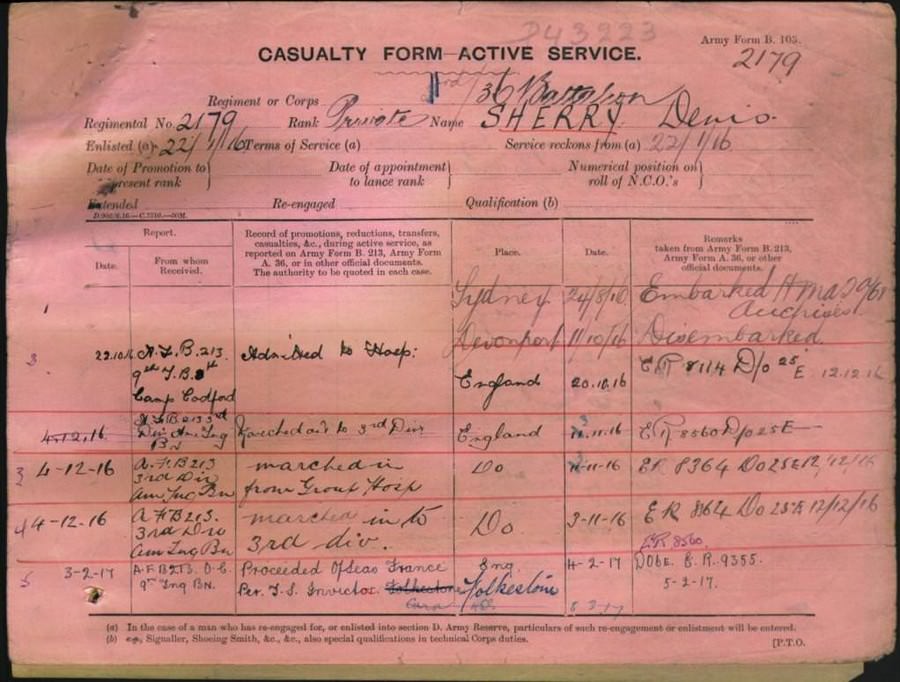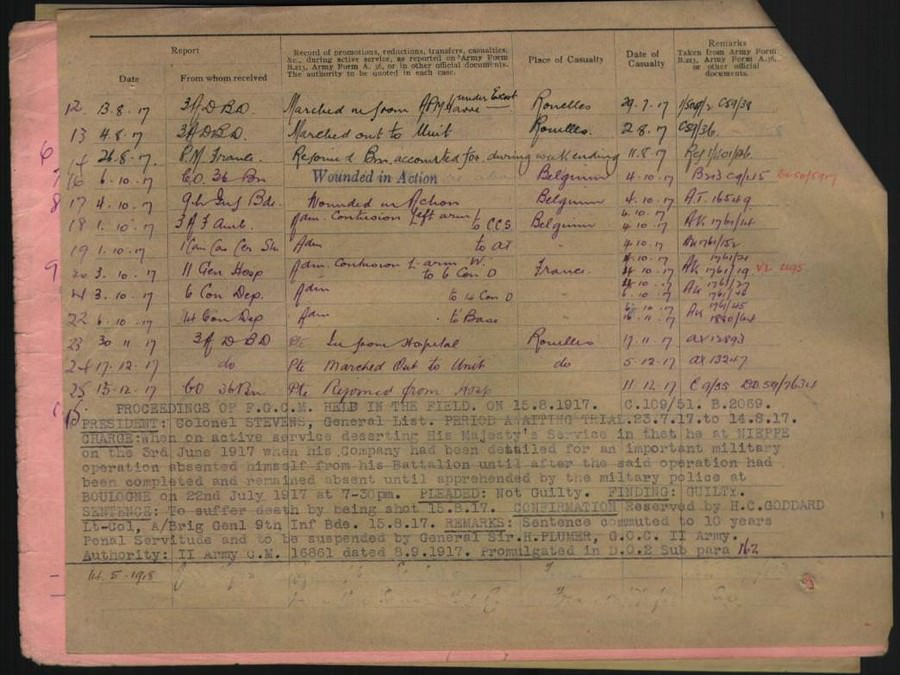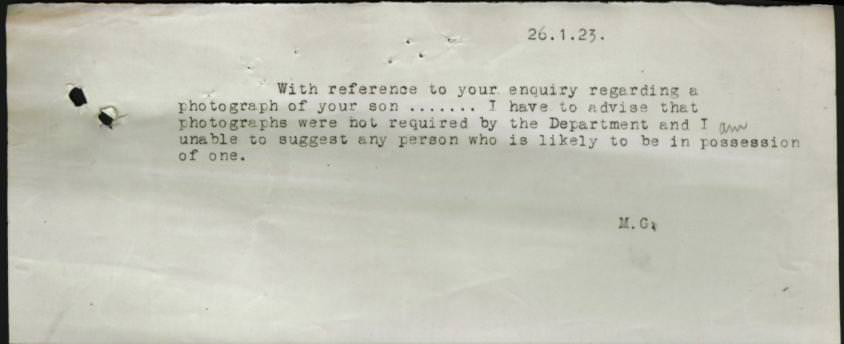 © Commonwealth of Australia (National Archives of Australia)
Under Construction; 29/08/2011-28/01/2017.
---
Web Counter
---