Francis James Sheedy enlisted with the AIF on the 27th November 1915 and was allocated to C Company 35th Battalion in January 1916 when the Battalion was foemed in Newcastle. Francis was an original member of the Battalion end embarked from Sydney onboard HMAT A24 "Benalla" on the 1st May 1916 and disembarked at Devonport England on the 9th July 1916. Francis was marched to the 9th Training Battalion at the Durrington Army Camp at Lark Hill where he was promoted to Corporal on the 16th August 1916 and then to Lance Sergeant on the 30th of August 1916. The Battalion proceeded overseas on the 21st November 1916 for France and he was taken on in Strength in the Field. Francis was again promoted to the rank of Temporary Company Quartermaster Sergeant on the 23rd of June 1917 when C.Q.M.S ARMOR was evacuated Wounded in Action.
On the 18th July 1917 Francis was Wounded in Action in the field and evacuated to England and was reverted back to Lance Sergeant. He embarked from France onboard the S.S."St David" on the 3rd August 1917 with a Gun Shot Wound to the Shoulder and was admitted to the General Hospital at Brighton the next day. Francis was discharged from Hospital and proceeded overseas for France on the 15th November 1917 and rejoined his unit on the 22nd of November. Francis was promoted from Lance Sergeant to Sergeant on the on the 24th of November and then to Company Quartermaster Sergeant.
Francis was Wounded in Action; 2nd Occassion on the 10th May 1918 and was evacuated to the Exeter War Hospital in England with a Gun Shot Wound to the Left Thight (Severe) and remained in Hospital until he was discharged and returned to Fance on the 30th October 1918 until the war ended on the 11th November 1918. Francis returned to England on the 26th of March 1919 and returned to Australia on the 11th May 1919.
Family Information
Francis was a single 27 year old Carter from Waratah Street Broadmeadow, N.S.W. prior to enlistment. His parents John and Mary Sheedy were married in 1887 at Raymond Terrace, N.S.W. Marriage Cert:4904/1887. and had 4 children. Francis James Sheedy born 1888 at Adamstown, N.S.W. Birth Cert:3217/1888. and died 1962 at Wyong, N.S.W. Death Cert:19982/1962. Norbert James Sheedy born 1890 at Adamstown, N.S.W. Birth Cert:3645/1890 and died 1918 at Sydney, N.S.W. Death Cert:4402/1918. Evlene M Sheedy born 1892 at Adamstown, N.S.W. Birth Cert:3484/1892. Dorris M Sheedy born 1895 at Adamstown, N.S.W. Birth Cert:796/1895.
Military Records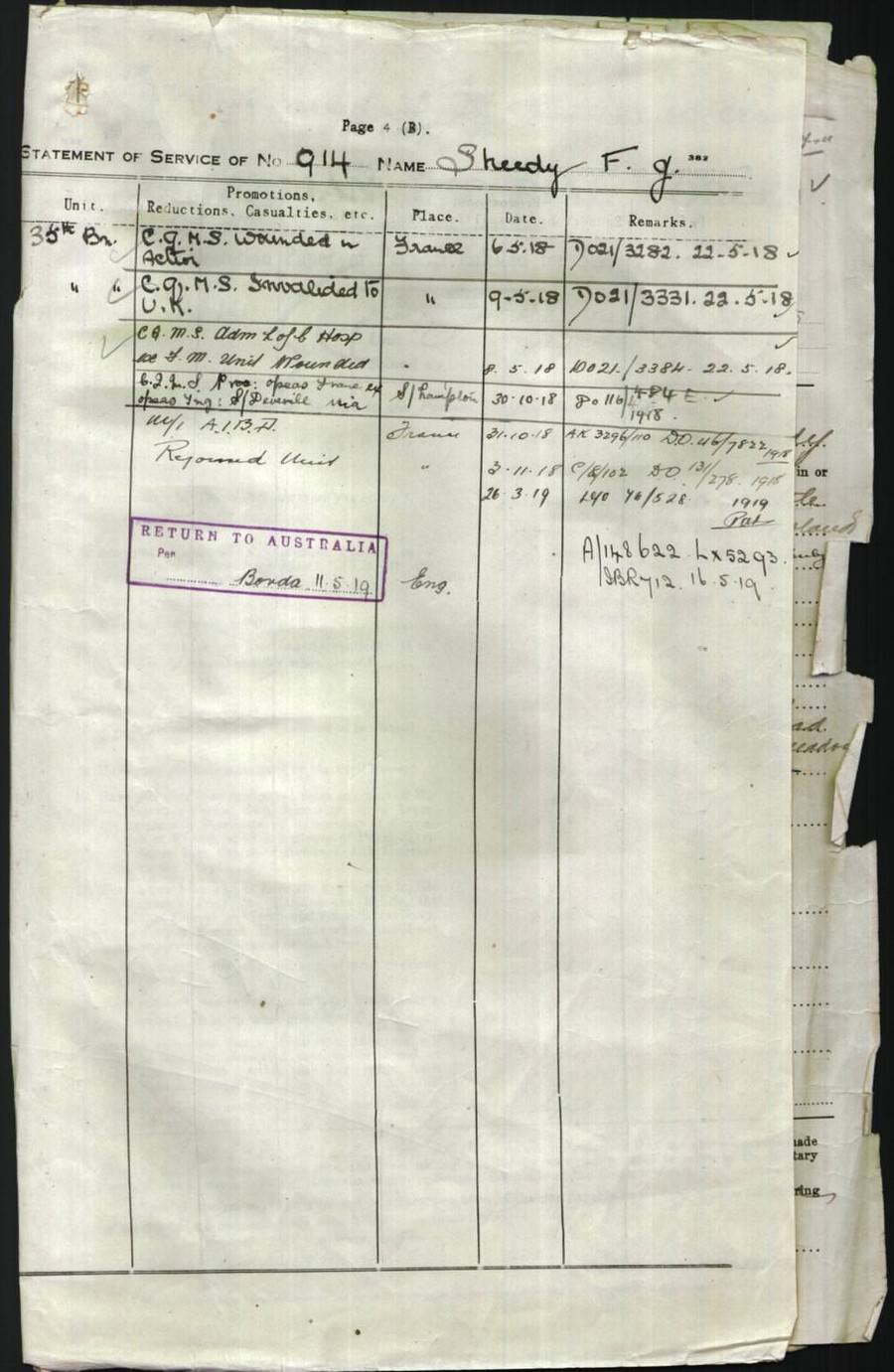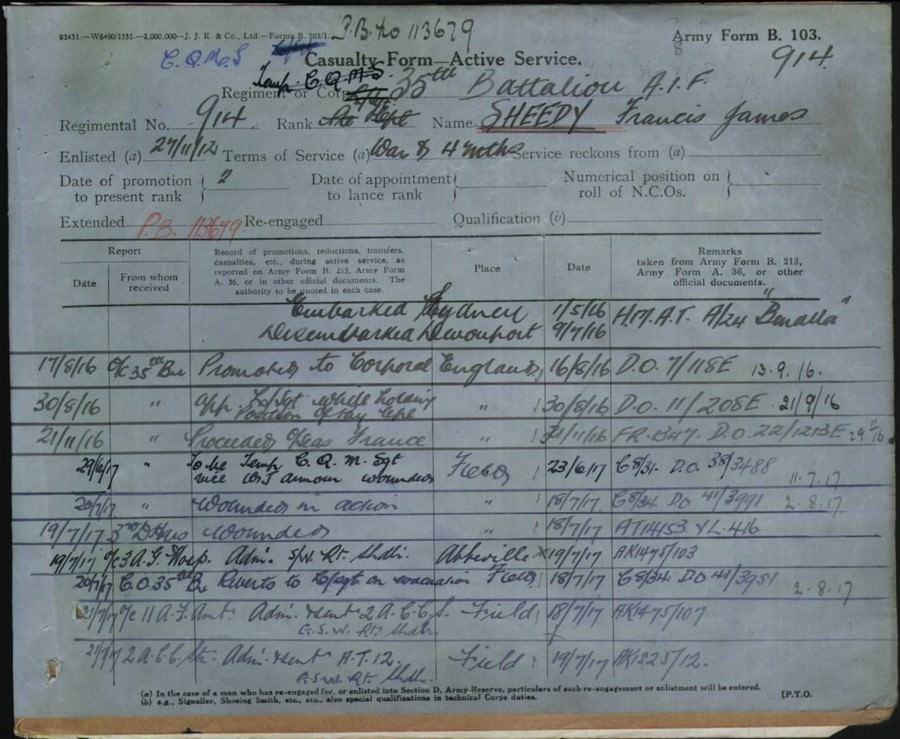 (Australian National Archives)
Under Construction; 22/04/2014.
Web Counter
---