MAIN MENU. 34th BATTALION PAGE.
---
34th BATTALION A.I.F.
Private: 7532 Bertrand "Jack" John SCOTT.
---
Born: 11th March 1901. Waterloo, New South Wales, Australia. Birth Cert: 17786/1901.
Married: 7th April 1923. St Peters Church, Surry Hills via Sydney, New South Wales, Australia. Marriage Cert:4580/1923.
Wife: Glady May Scott. nee: Small. (1898-13/07/1983)
Died: 30th May 1979. Botany, New South Wales, Australia. Death Cert:11810/1979.
Buried: 1st June 1979. Eastern Suburbs Memorial Park. New South Wales, Australia. R/C Lawn 35 Grave 869.
---
Father: Alfred Scott. (1868-1923) Died Sydney, N.S.W. Death Cert:15913/1923.
Mother: Frances Scott. nee: Barry. (18..-1908) Died Paddington, N.S.W. Death Cert:6663/1908.
---
INFORMATION
Bertrand John Scott enlisted with the 25th Reinforcements 13th Battalion AIF at the Royal Agricultural Show Ground in Sydney after his father Alfred signed the parents consent form as he was under 21 year of age. NOTE: Bertrand was born in 1901 and was only 16 years old at the time of his enlistment. Bertrand was entrained the the Liverpool Camp where strenuous training was carried out. The men were very keen and fit, whilst their comfort and health were made a special study. On the 9th of May the Reinforcemants were entrained back to Sydney to billet overnight at the Show Grounds and the next day embarked from Woolloomooloo Wharf on Sydney Harbour on board HMAT A74 "Marathon" on the 10th of May 1917.
H.M.A.T. A74 MARATHON
The Reinforcements disembarked at Devonport England on the 20th July 1917 and were marched in the the 4th Training Battalion at Codford Battalion where they settled down to hard training, which included Route Marching, Trench Digging, Bomb Practice, Musketry and General Camp Routine. Bertrand was transfered to the 12th training Battalion on the 6th of November and proceeded overseas for France via Southampton. on the 17th of November 1917 Bertrand was Taken n in Strength with the 34th Battalion AIF whilst they were in billets at BLEU waiting to take over PONT ROUCE sector.
3rd March 1918.
WARNETON 9:00am. Weather dull and very cold. Our Artillery fairly active throughout the day, Enemy Artillery quiet. 11:45am. 9th Infantry Brigade Raiding Party of 300 strong racked enemy trenches opposite 33rd Battalion Sector on our right. Raid very successful 1 Officer 11 other ranks being brought back prisoners. 34th Battalion casualties in the raid were 1 other ranks Killed 3 other ranks Wounded. There was no Artillery retaliation on our Sector.
Lance Corporal: 2597 John Henry JOHNSTON.
30th March 1918.
9:30am: weather wet, Battalion left CACHY and marched to BOIS LE ABBE, where they bivouaced in readiness to go forward as Counter attack troops. "B" Teams were sent to BLANGY-TRONVILLE. Battalion moved up as support Battalion to 33rd Battalion AIF who were attacking on north side of BOIS DE HANGARD and LANCERS WOOD. Battalion moved West and south of CACHY when approaching BOIS DE HANGARD advanced in Artillery formation. Battalion halted just north of BOIS DE HANGARD in position of rediness to support 33rd Battalion AIF.
6:00pm: About 6:00pm A Company 34th Battalion was detailed to go forward to report to Commanding Officer 33rd Battalion AIF who were on left flank of attack. In moving up A Company extended into 4 lines of skirmishes and laid down with cover fire from line near 33rd Battalion Headquarters. Officer Commanding A Company Captain: Telford Graham GILDER went forward to reconnoitre 33rd Battalion's line. B Company 33rd Battalion was found to have suffered heavy casulties and enermy were still holding the top of ridge. It was therfore decided to attack enermys position on ridge.
Shortly before 8:00pm A Company 34th Battalion moved forward in two waves each of two platoons. When 100 yardsin rear of 33rd Battalion Head Quarters the 2nd wave inclined to the left and came up on the left of the leading wave and the whole Company attacked the ridge in one line. The enermy were driving out of what apparently was there Picquet Line where two Machine Guns were captured. The line extended its advance and drove the enermy out of his continuous line at the point of a bayonet, and advanced a further 50 yards at this point 7 prisoners were captured, 4 of whom actually went ptisoners rage.
The number of enermy casulties was estimated at 60 killed and wounded. Machine Gun fire was very heavy from enermy lines on the left flank and was responsible for the death of 2nd Lieutenant: 1973 Reuben PARKES a very gallant officer and most of the casulties were suffered by this company. The enemy continuous trench systme was then occupied for about 2 hours. In the meantime patrols were sent out to the right flank to try to establish communication with the 33rd Battalion AIF. These patrols encountered enermy posts behind our own line on this flank. Touch was eventually gained through a patrol of the 33rd Battalion under Captain: Telford Graham GILDER. On informantion received from Lieutenant: 916 Robert Cecil KING That it was impossible for the 33rd Battalion to push forward on to the line which the 34th Battalion were holding, it was decided to move back to the line which the 33rd Battalion had then dug in on about 250 yards to our rear.
We then dug in our men filling a gap of about 650 yards in the 33rd Battalion line apparently the enemy did not discover our tactical withdrawal until sometime later at about 1:30 am, the enemy appeared on the sky lineadvancing in extended order. This apparent counter attack was completely broken up by our Machine Gun and Lewis Gun fire. About 3:00am "A" Company 34th Battalion were relieved by a Survey Regiment Company then moved to CACHY. "B" Company 34th Battalion also occupied a position in 33rd Battalion line but did no actual fighting and had no casulties.
34th Battalion War Diary
Bertrand was Wounded in Action on the 30th of March 1918 and suffered a Severe Head Wound and was evacuated to the No: 12 General Hospital at ROUEN and proceeded overseas back to England on the 19th of April where he was admitted to the Bath War Hospital on the 20th of April and upon dischared was marched in the the No: 2 Command Depot at Harefield. Bertrand embarked for Australia on th 17th July 1918 still suffering from Gun Shot Wounds and a Fractured Skull. He returned to Australia on the 31st of August 1918 and was discharged from the AIF on the 25th of March 1920.
Studio Portrait/Postcard of Bertrand "Jack" in uniform was acquired in August 2004 and is now in the Harrower Collection.
Wymouth. From one Head Case to another. 7532 Scott, Bertrand John. 34th Batt. B.J.Scott.8/7/18
Family Information
Bertrand was a 16 year old Bottle filler from 225 Palmer St East Sydney, New South Wales upon enlistment where he lived with his father. His parents Alfred and Frances Scott were married and had at least 4 children Alfred Scott born 1896 at Waterloo, N.S.W. Birth Cert:17529/1896. Ivy May Scott born 1898 at Waterloo, N.S.W. Bith Cert:35559/1898. Bertrand John Scott born 1901 at Waterloo, N.S.W. and died 1979 at Botany, N.S.W. Death Cert:11810/1979. David Scott born 1904 South Balmain, N.S.W. Birth Cert:1168/1904.
Military Records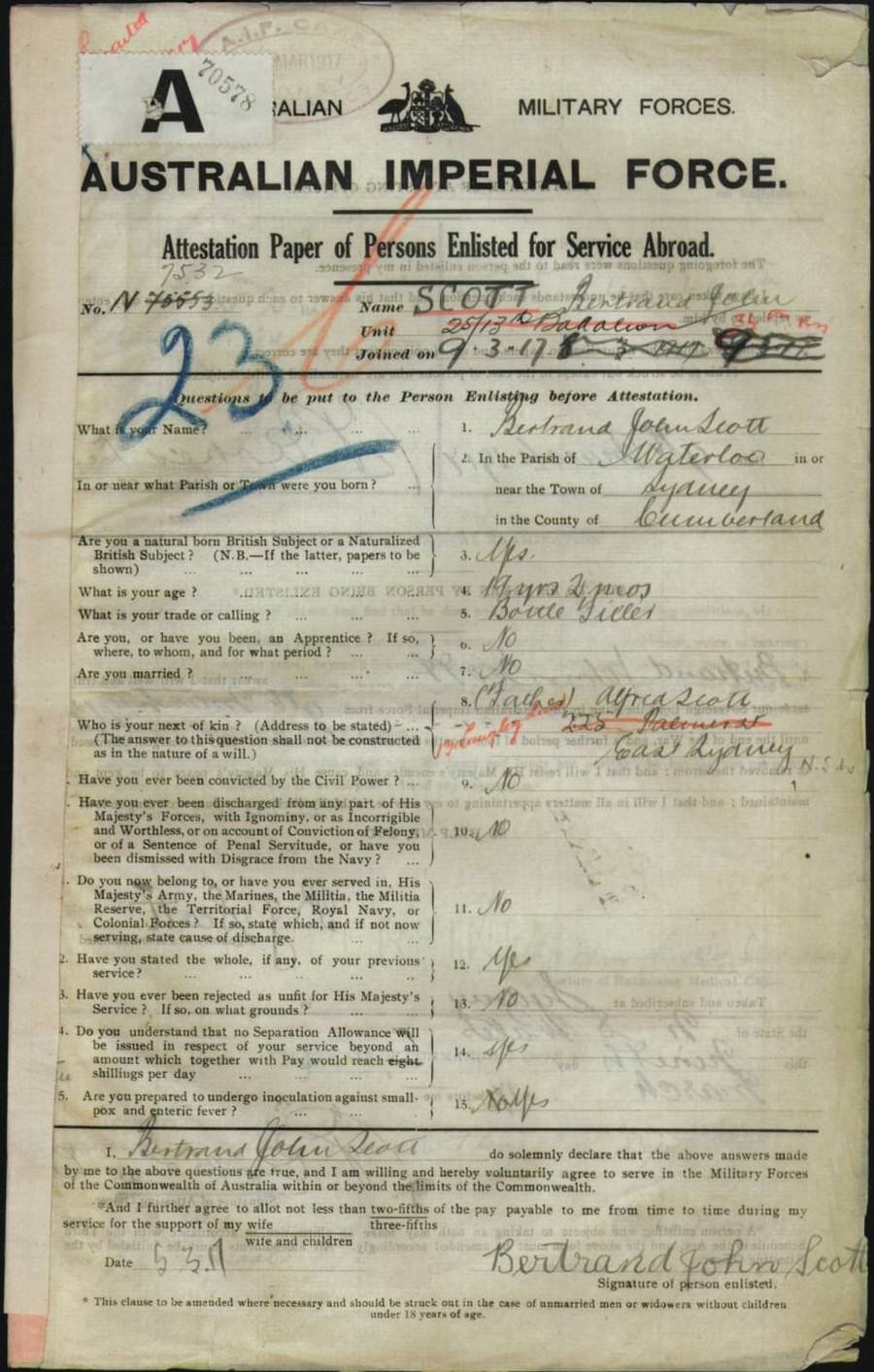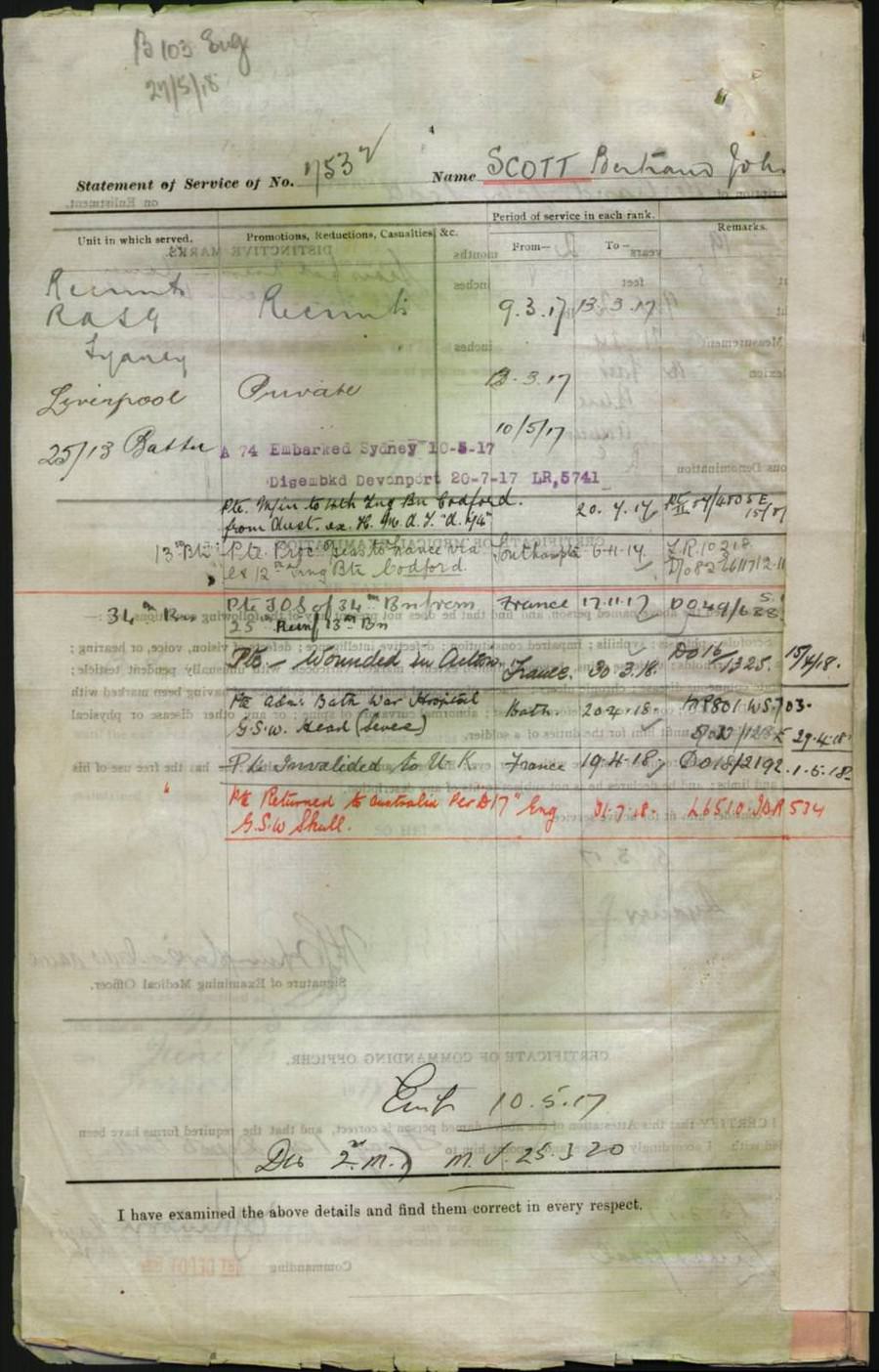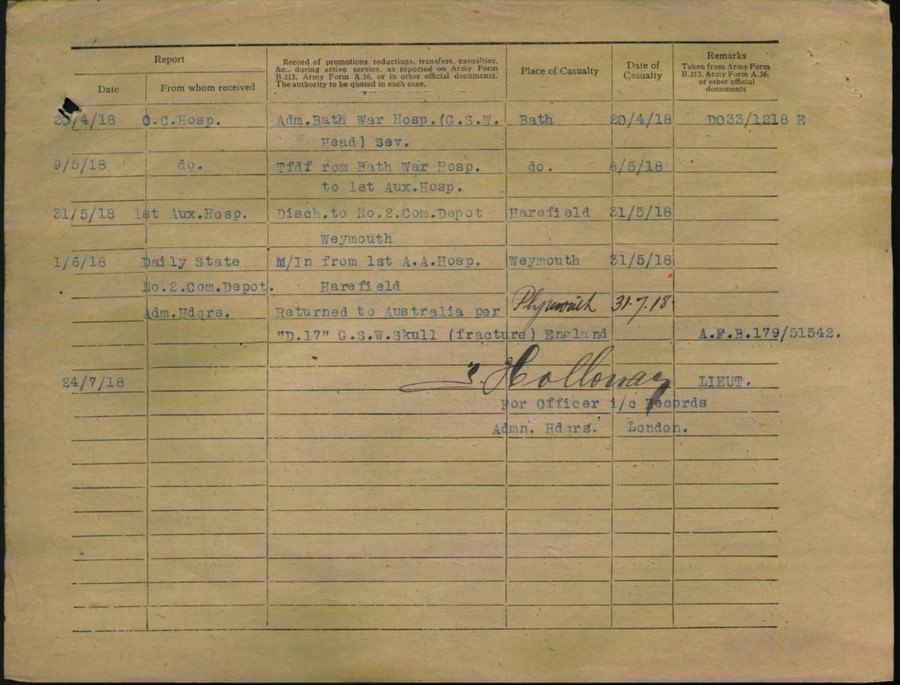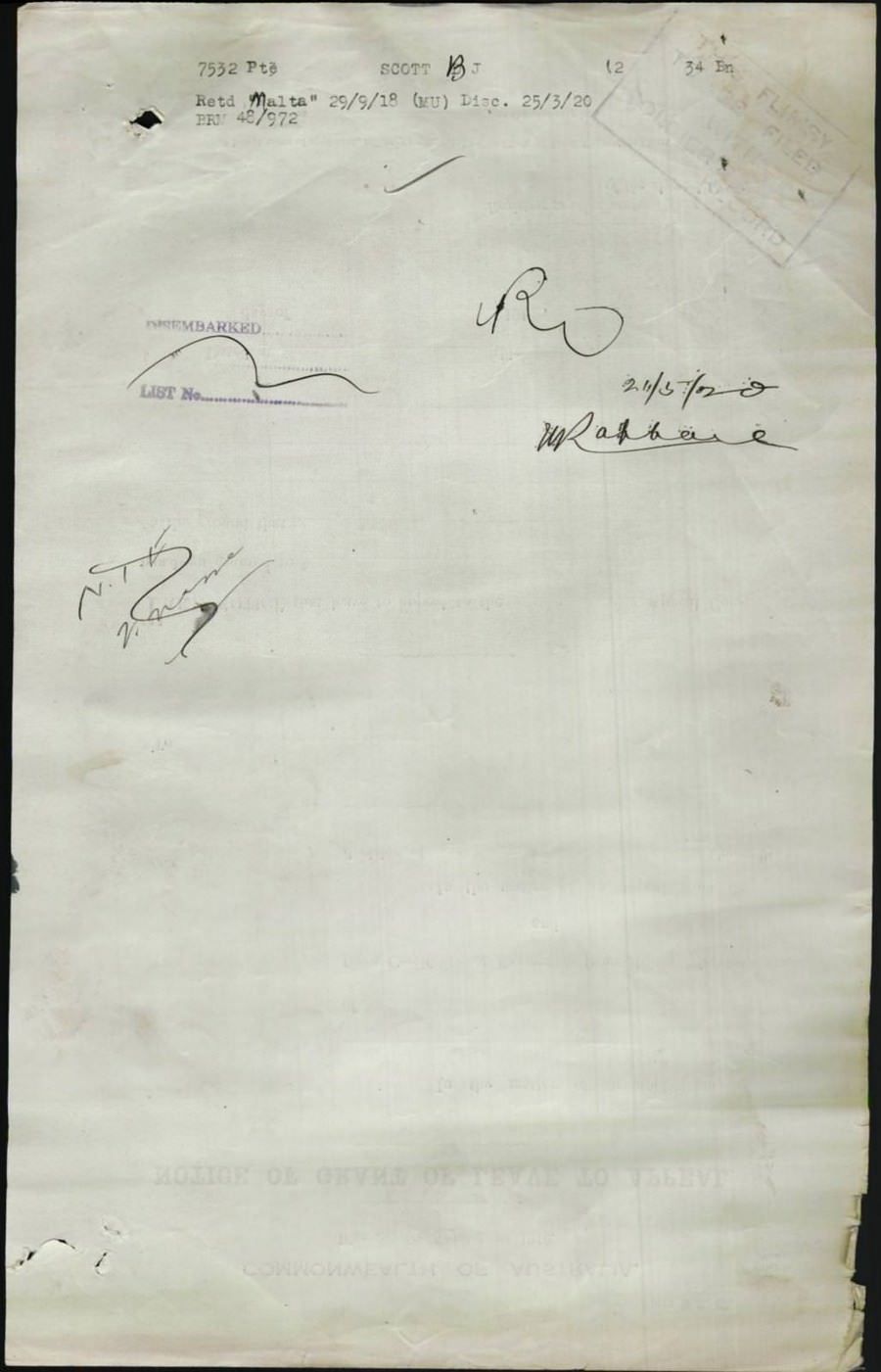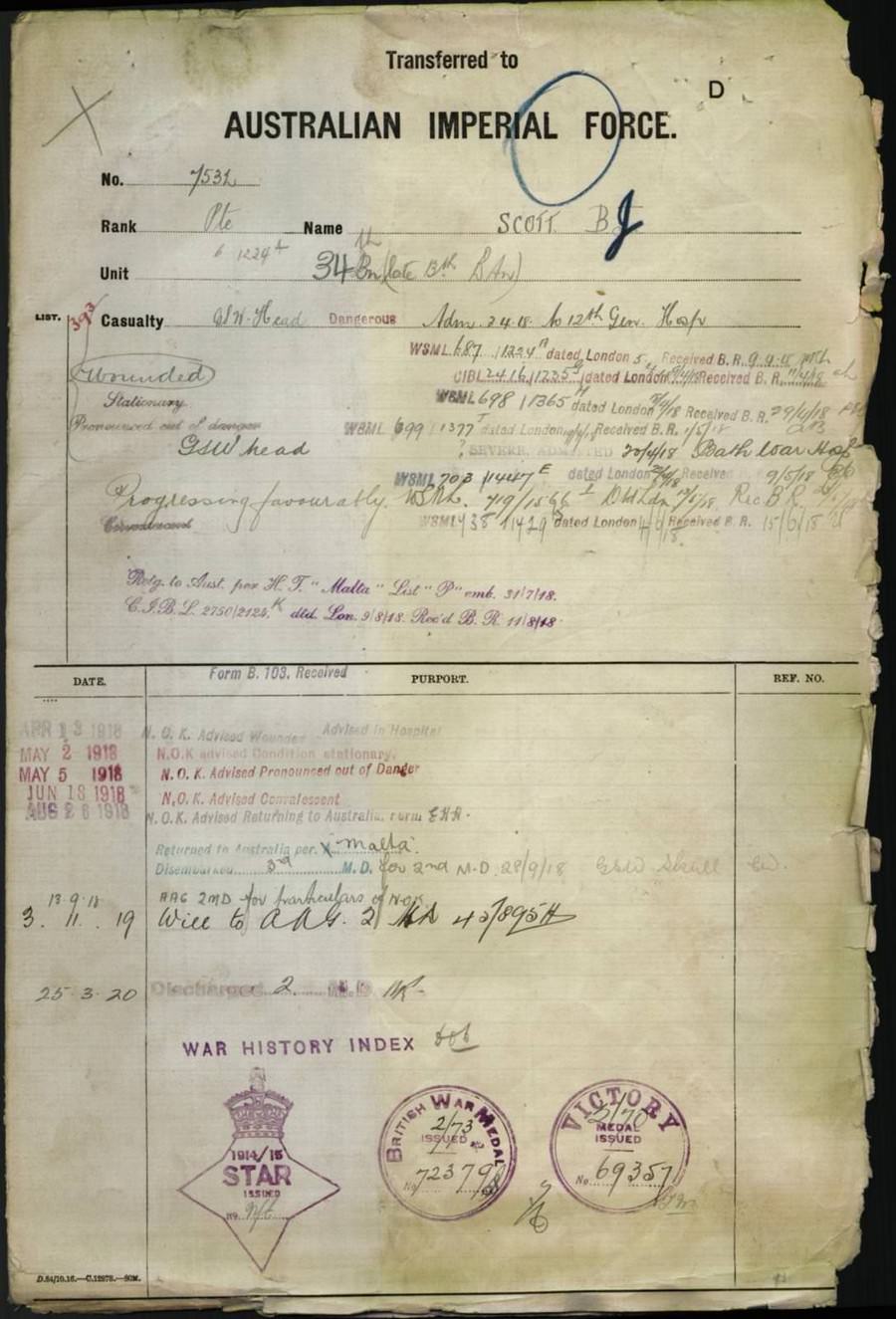 © Commonwealth of Australia (National Archives of Australia)
Under Construction; 07/2004-19/05/2016.
---
Web Counter
---