James Scope enlisted with the 20th Reinforcements 19th Battalion AIF on the 7th May 1917 and embarked from Sydney on the 16th June onboard HMAT A16 "Port Melbourne" and disembarked at Liverpool England on the 16th August 1917. He was marched in the the 5th Training Battaion on the 16th of September and proceeded overseas for France on the 23rd of January 1918 to Reinforce the 35th Battalion. James was Wounded in Action on the 6th of May 1918 where he was Gassed from a Gas Shell and evacuated to England.
29th August 1918
Informant: Private: 6880 James SCOPE B Company 35th Battalion. Private: 2421 Leslie CLOUTEN was in B Company; single. He was bit by a bullet at Villers-Bretonneux about 4:30pm but in the openduring a counter attack. He died the same night at the Regimantal Aid Post, and was buried in the Cemetery there.
HOSPITAL SHIP.
James was admitted to the Bath War Hospital on the 31st of August 1918 and after he was discharged he embarked for Australia on the 8th January 1919.
Family Information
James was a single 18 year old Blacksmith Striker from "Ponama" Eden Avenue, Enfield, N.S.W upon enlistment. James served with 39A Senior Cadets for 2 years prior to enlistment.
Military Records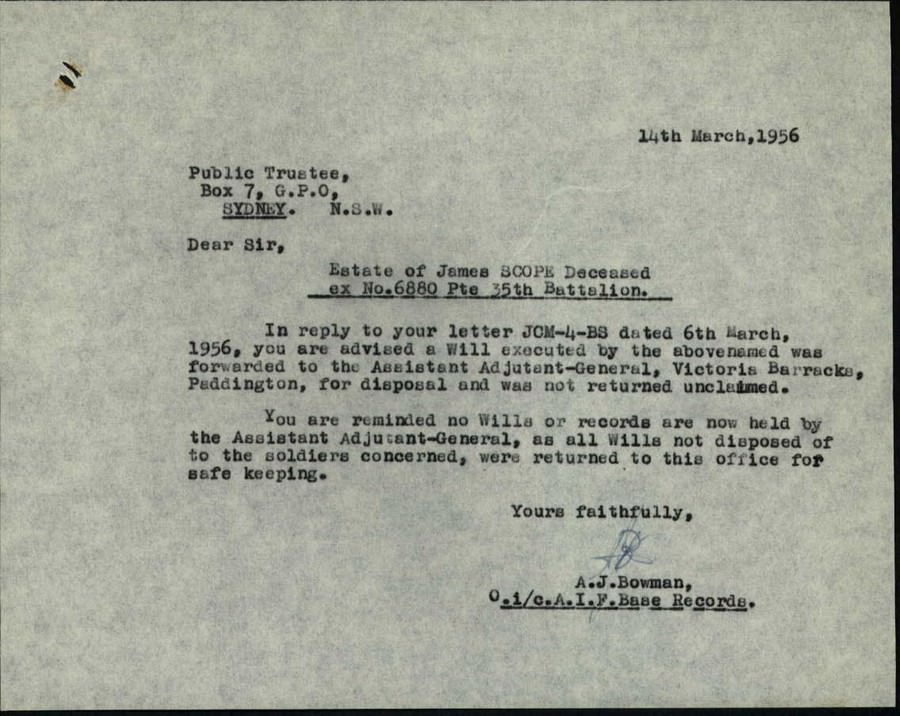 (Australian National Archives)
Under Construction; 29/07/2013-13/04/2014.
Web Counter
---