MAIN MENU. 33rd BATTALION PAGE.
---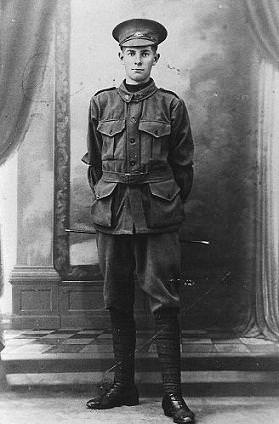 33rd BATTALION A.I.F.
Private: 173 Thomas John SCHAEFER.
---
Born: 18th August 1895. "Clifton" Aberfoyle, via Armidale, New South Wales, Australia. Birth Cert:29889/1895.
Died: 7th June 1917. Killed in Action. Messines Ridge, Belgium.
---
Father: Frederick Schaefer. (18..-1937) Died Armidale NSW. Death Cert: 19575/1937.

Mother: Margaret Schaefer. nee: Hamilton. (18..-1941) Died Armidale NSW. Death Cert: 23845/1941.
---
INFORMATION
Thomas John Schaefer enlisted in the 1st Australian Imperial Force at Armidale, on 18 November 1915 and was an original member of A Company 33rd Battalion, service number: 173. Note that his parents' consent signatures were signed by the same person and it is not the signatures of his parents. Thomas went into camp at Armidale where he commenced hs training.
Armidale Camp 1916.

Thomas embarked for England onboard HMAT A74 "Marathon" on the 4 May 1916.
Thomas disembarked at Devonport, England on the 9th of July 1916 and was marched to the 9th Training Battalion at the Durrington Army Camp, Lark Hill. Thomas continued his training but on the 20 Aug 1916 Thomas was admitted to Bulford Hospital and was discharged 21 Sep 1916 from Bulford Hospital before proceeding overseas for France via Folkestone on board M.S "Princess Clementine" on the 16 Jan 1917 and was taken to Etaples Medical hospital upon disembarking in France where he remained for the for the next 3 days before being discharged and taken on in strength with No 1 platoon A Company the 20th of January. Thomas was appointed No: 1 Platoon Quarter Master. Thomas was Killed in Action 7 Jun 1917. Thomas died on the first day of the battle.

THE BATTLE OF MESSINES

7th June 1917

The 3rd Australian Divisions first major offencive was at Messines Ridge on the 7th June 1917. The Australian 3rd Division was a part of the II Anzac Corps which was allotted to the first assault. The 25th New Zealand, 3rd Australian Division with the 4th Australian Division in reserve. The 4th Division were battle hardened troops who had fought many major battles.The 3rd Australian Division were having problems getting to the "jump off" point. The day before the 9th and 10th Infantry Brigades were bombarded by German Gas-Shells around Hill 63 and Plugstreet Wood. Many of the Aussies were not wearing gas masks, but dispite this they pressed on even though they received 500 casulties.

They made it to the "jump off" point but only just with some of the men from the 9th and 10th going straight over the top without stopping. The mines went up and the attack commenced behind a protective barrage. The II Anzac Corps were attacking on the right with their objective being the southern shoulder of the ridge which included Messines, the Dover and St Yves areas as far south to the east of Plugstreet Wood.

Major General Sir John MONASH's 3rd Division had to contend with a tricky 3 mile approach out of Plugstreet Wood and after the German gas attack, but they were not detered. The 9th Infantry Brigade under Brigadier General A JOBSON and the 10th Infantry Brigade under Brigadier General W R NICHOLL had just made the jumping off point but some of the men did not stop, going straight into the assault from the approach march.

Their objective lay between St Yves and the Douve. The mines at Trench 127 and Trench 12 at Factory Farm were laid to aid this task. The explosions erupted a few seconds before zero hour and created craters of 200 feet in diameter, completely obliterating the German defence line as the 9th and 10th Infantry Brigades went over the top. The mine crates forced the 9th and 10th Brigades to veer to the left and right which caused some confusion with the main assault. It is testimony to the quality of training that every man knew the ground, tasks and objectives so well.

Private: 1804 John CARROLL 33rd Battalion, rushed the enemy's trench and bayoneted four of the German occupants. He then noticed a comrade in difficulties and went to his assistance, killing another German. He then attacked single handed a German Machine Gun Team, killing all three of them and capturing the gun. He later rescued two of his comraded who had been buried alive by German Shell Fire, and in spite of heavy shelling and machine gun fire he dug them out alive and saved them from certain death. John was awarded the Victoria Cross.

The German foward zone was completely engulfed and taken by the main assault. The two supporting battalions of each brigade then passed the leading battalion to continue the advance. The men were constantly re-supplied and the ridge was taken. There were many German prisoners taken during the offencive. The 3rd Division was well ahead with the 9th Infantry Brigade pushing on beyond Grey Farm, and on the right the 10th Infantry Brigade were veering left towards Septieme Barn north of Douve.

The German resistance was heavy but was generally brushed aside by tanks and artillery before the infantry had to become too involved.The 4th Bavarian Divisions Artillery had made little impact, but as the day wore on the 3rd Division and later the 4th Australian Division received many casulties from German artillery. (70% of all casulties during WW1 were from artillery).

By 9:00am nearly 6 hours after the assault began the Germans were in dissaray, but there was a major problem as the Australians received less casulties as anticipated and when ordered to dig into the ridge they had so many men, that some could not find shelter. the 35th battalion were dug in around Seaforth Farm.

The second phase of the operation was to take the Oosttaverne Line. The 3rd Australian Division would now be in reserve with the 4th Division attacking. The 9th Infantry Brigade (33-34-35-36Bn) were near Thatched Cottage facing Warneton. The river Lys was to their right and the Plugstreet Wood was now behind them.

Once their objectives were taken the troops consolidated. A barrarge to stop and counter attack was shortnened and caught three battalions which had to retire. By 9:00pm this part of the Oosttaverne Line was abandonded. At 10:45pm General Godley ordered the 3rd and 4th Divisions to retake it. This they did by the early hours of the 8th of June.

The Battle for Messines Ridge during May-June 1917 saw 35 officers and 1,631 other ranks loose their lives.
9th Infanry Brigade Casulties.
| | | |
| --- | --- | --- |
| 33rd Battalion. AIF | 8 Officers | 382 Other ranks |
| 34th Battalion. AIF | 10 Officers | 378 Other ranks |
| 35th Battalion. AIF | 5 Officers | 431 Other ranks |
| 36th Battalion. AIF | 9 Officers | 421 Other ranks |
| 9th Machine Gun Company. AIF | 2 Officer | 17 Other ranks |
| 9th Light Trench Mortor Battery. | 1 Officer | 2 Other ranks |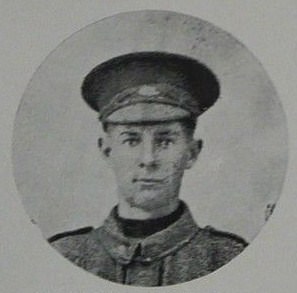 4th March 1918.
Informant. Sergeant: 134 Victor Percy MELVAINE. described Private: 173 Thomas John SCHAEFER as about 5 ft 10 inches high, rather thin, curly hair, aged about 20. He came from Enmore near Uralla. Informant states that on the morning of the big stunt against Messines both he and SCHAEFER were in Platoon No: 1 of "A" Company. The hop-over took place at 3:10am. Informant's Platoon was told to dig a new trench in "No Man's Land" and while so engaged SCHAEFER was hit by a shell at about 7:00am and killed instantly. He was the first man in the Platoon to be hit. Informant did not actually see him struck, but saw him a few minutes afterwards. Informant is sure that he was buried either at Dead Horse Corner or in a small graveyard on the edge of Ploegsteert Wood.
Informant stated that if necessary more information could be obtined from Lieutenant: Harlod Steinfeld SUSMAN now in charge of interned Germans at Trial Bay and who said he had written to the relatives, but perhaps his letter never reached them.
No: 4 Australian General Hospital, Randwick, N.S.W. Aust.
13th April 1918.
Informant. Sergeant: 2151 Thomas Clyde WILSON I saw Private: 173 Thomas John SCHAEFER killed at Messines. He was caught by a gass shell just was we were digging ourselves in, death being instantaneous. I knew him well, he came from Annandale, N.S.W. Casualty was on the 7.6.17 about 11:00am. He was taken away by Stretcher Bearers for burial which I think was in a new cemetery at Plogsteert Wood, but I cannot refer to anyone for details.
33rd Australian Army Hospital, Dartford, England.
25th April 1918.
Informant. Private: 2521 Percy Maurice BAILEY. I was beside Private: 173 Thomas John SCHAEFER he was my Platoon Quarter-Master, when he was hit by a gass shell and killed instantaneously during the attack at Messines on the morning of June 7th. We were only 20 yards from our old Front Line when he fell. I am sure he was buried at Ploegstreet, but I have not seen his grave. Our objective was taken and held.
Pickard-Cambridge, England.
29th April 1918.
Informant. Lance Sergeant: 471 William Albert LITTLE. Private: 173 Thomas John SCHAEFER was killed by a shell in the advance at Ploegsteert on June 7th 1917. I have seen his grave in Ploegsteert Wood.
Southwalk Military Hospital, England.
1st May 1918.
Informant. Captain: William Huggett DOUGLAS. At Messines on the 7th June 1917, at 3:10am we hopped over and Private: 173 Thomas John SCHAEFER was killed at one by a gass shell in in crossing No Man's Land. He was buried in Ploegsteert Cemetery. I was an eye-witness. He was a private in A Coy, 1st Platoon.
London General Hospital, Wandsworth, England.
Thomas is remembered with honour and is commemerated in perpetuity by the Commonweath War Graves Commission at the Toronto Avenue Cemetery Warneton, BELGIUM. Grave no. A 8.
Armidale Express, July 6, 1917.
The infinitely sad news came through on Saturday of the death of Pte Thomas Schaefer, son of Mr Fred Schaefer, a well known resident of Aberfoyle. The young soldier was only 21 years of age and was a member of the 33rd Battalion. He was unmarried. Many friends will deeply regret his death. Physically and morally no finer stamp of a young Australian could have been wished for.
Family Information
Thomas was a single 20 year old Grazier from Guyra upon enlistment. Parents Frederick and Margaret Schaefer had 10 children. Unnamed Child born 1884 at Armidale, N.S.W. Birth Cert:28764/1884 and died 1884 at Armidale, N.S.W. Death Cert:12435/1884. Mary Ann E Schaefer born 1885 at Armidale, N.S.W. Birth Cert:29621/1885. Ethel S Schaefer born 1888 at Armidale, N.S.W. Birth Cert:32232/1888. Margaret F Schaefer born 1889 at Armidale, N.S.W. Birth Cert:31131/1889. Joseph William Schaefer born 1891 at Armidale, N.S.W. Birth Cert:4269/1891 and died 1977 N.S.W. Death Cert:105954/1977. Robert F Schaefer born 1893 at Armidale, N.S.W. Birth Cert:4248/1893. Thomas John Scheafer born 18th August 1895 at his parents' property "Clifton" Aberfoyle, Armidale N.S.W. Birth Cert:29889/1895 and died 7th June 1917. Killed in Action. Messines Ridge, Belgium. Letty Schaefer born 1898 at Armidale, N.S.W. Birth Cert:893/1898. Albert E Schaefer born 1903 at Armidale, N.S.W. Birth Cert:18843/1903. Victoria M I Schaefer born 1906 at Armidale, N.S.W. Birth Cert:21203/1906.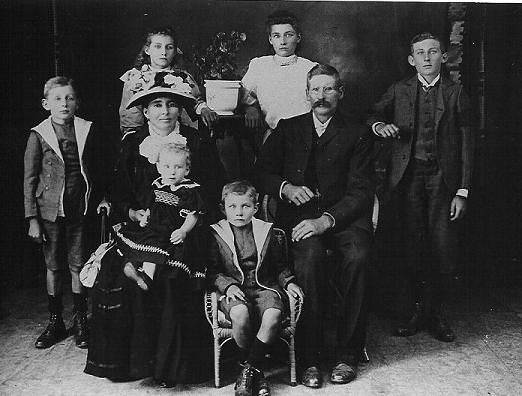 Charles and Margaret Schaefer Family. William Herbert Maxwell Schaefer is the boy standing on the right.
Cousin; Private: 7771 William Herbert Maxwell SCHAEFER 2nd Battalion AIF. Killed in Action 23rd August 1918.
(Studio Photos Courtisey of Jenny Ellis-Newman. July 2011)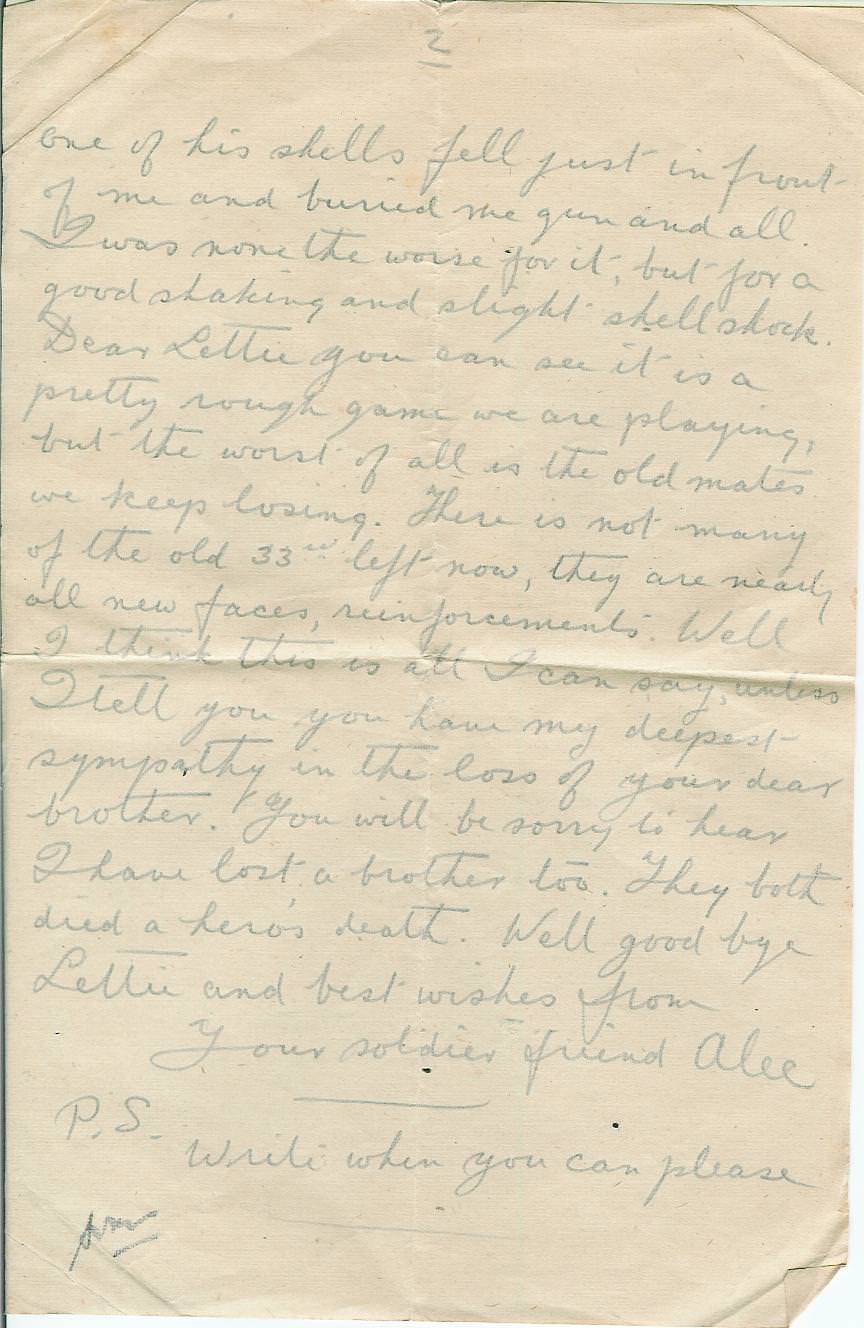 Lance Corporal: 1499 Alexander Leonard SOUTHGATE
(Letter to Thomas's sister Betty; Courtisey of Jenny Ellis-Newman. April 2012)
Military Records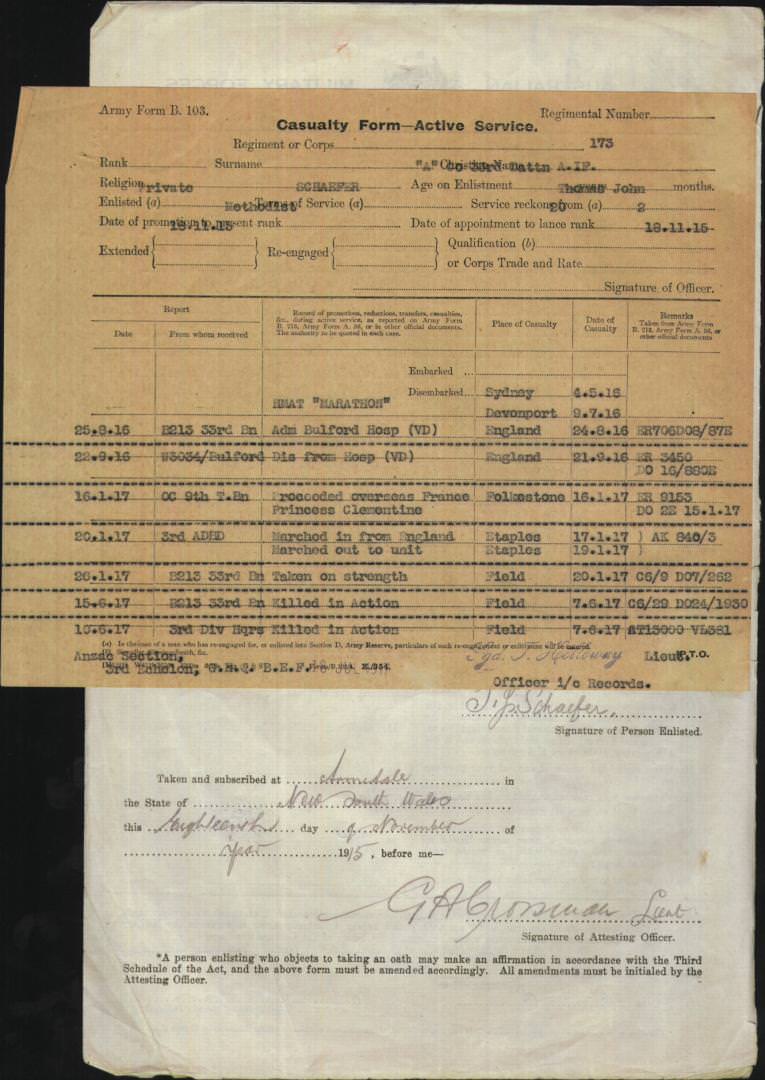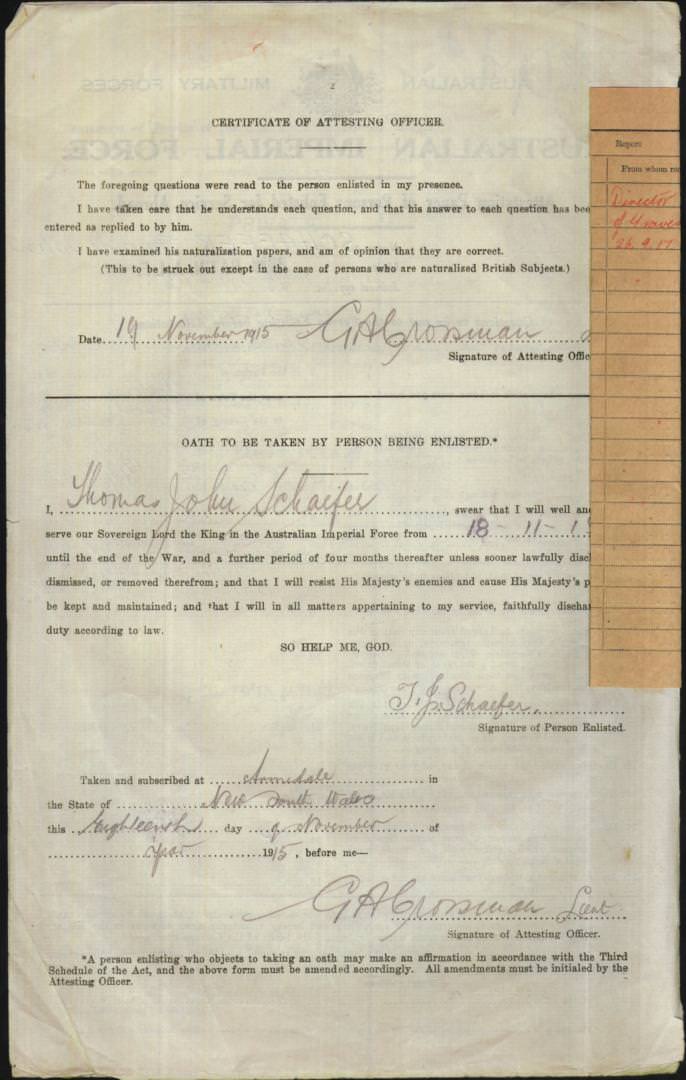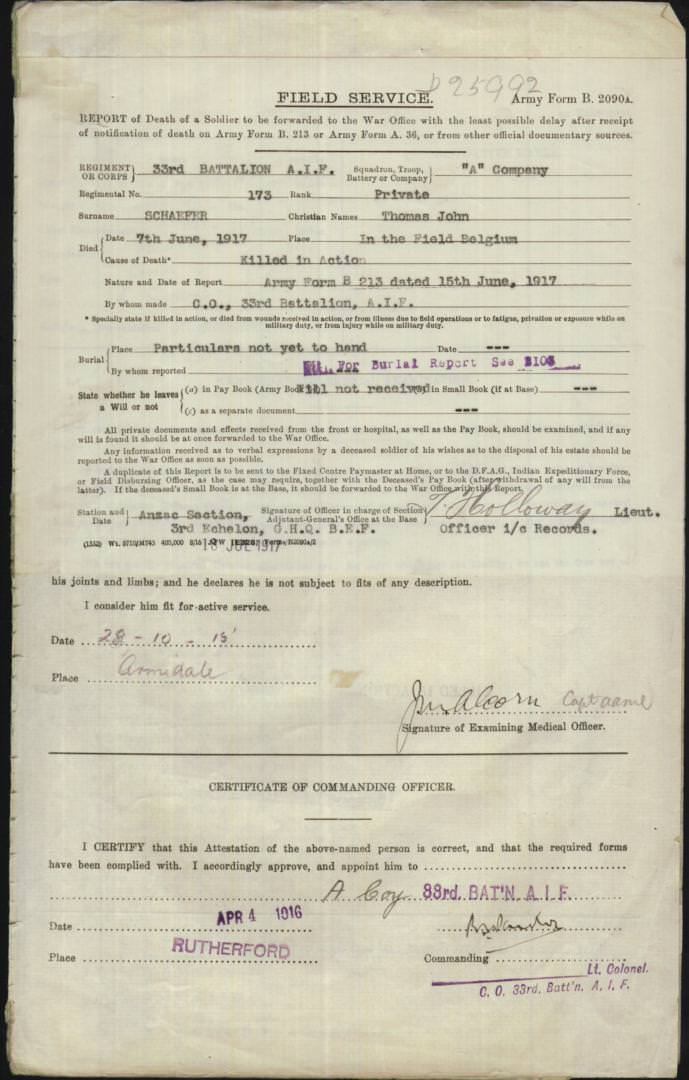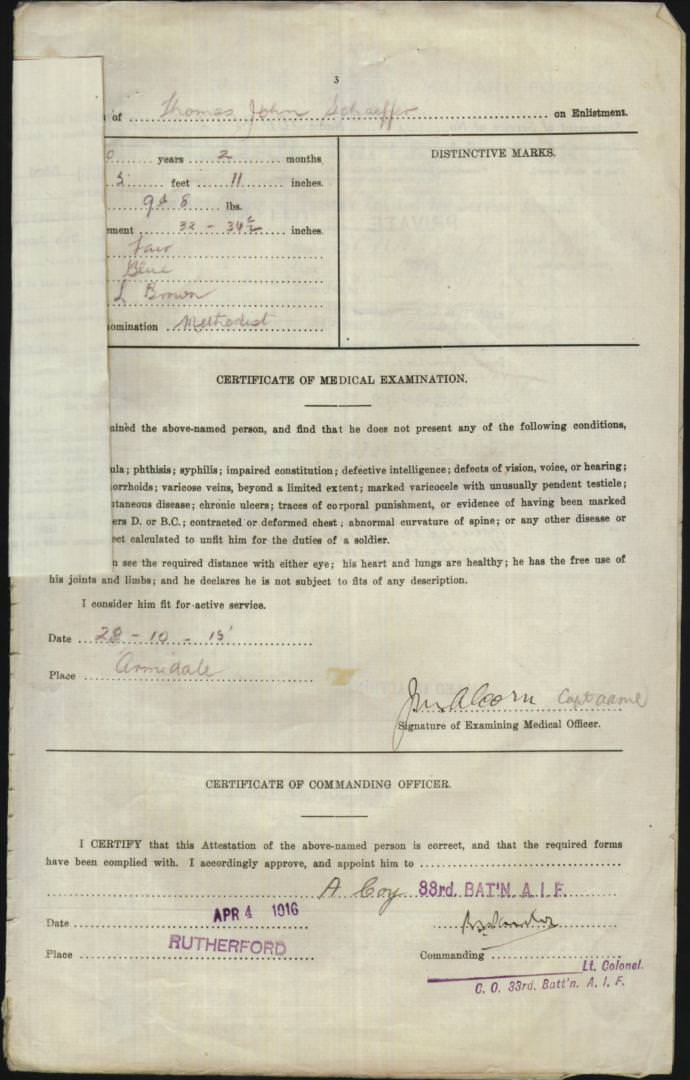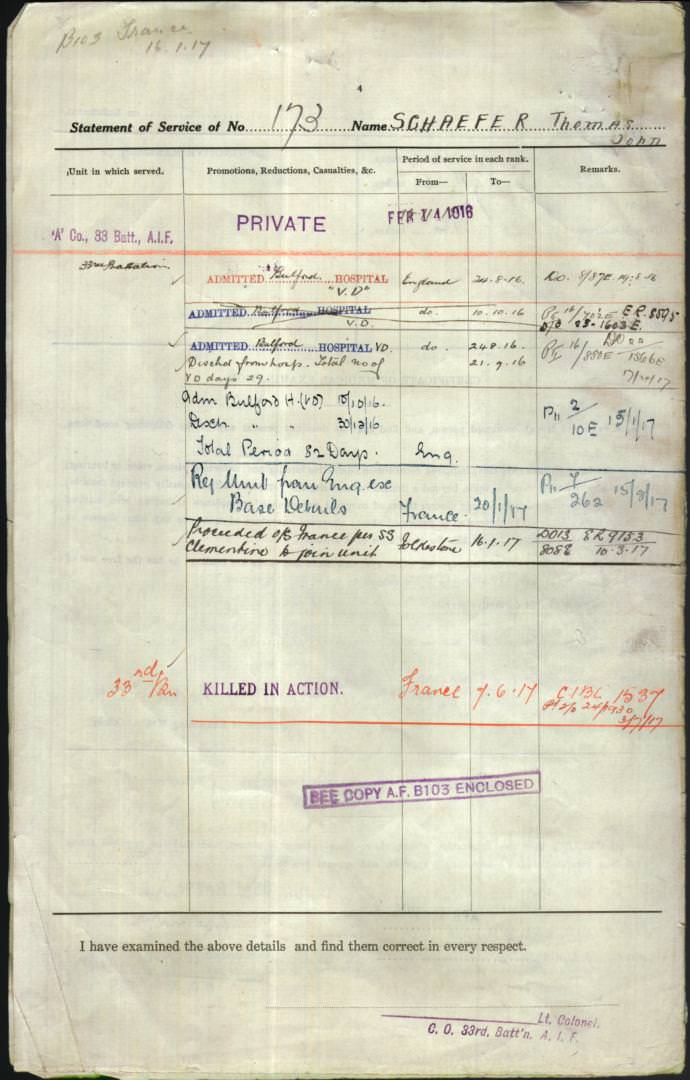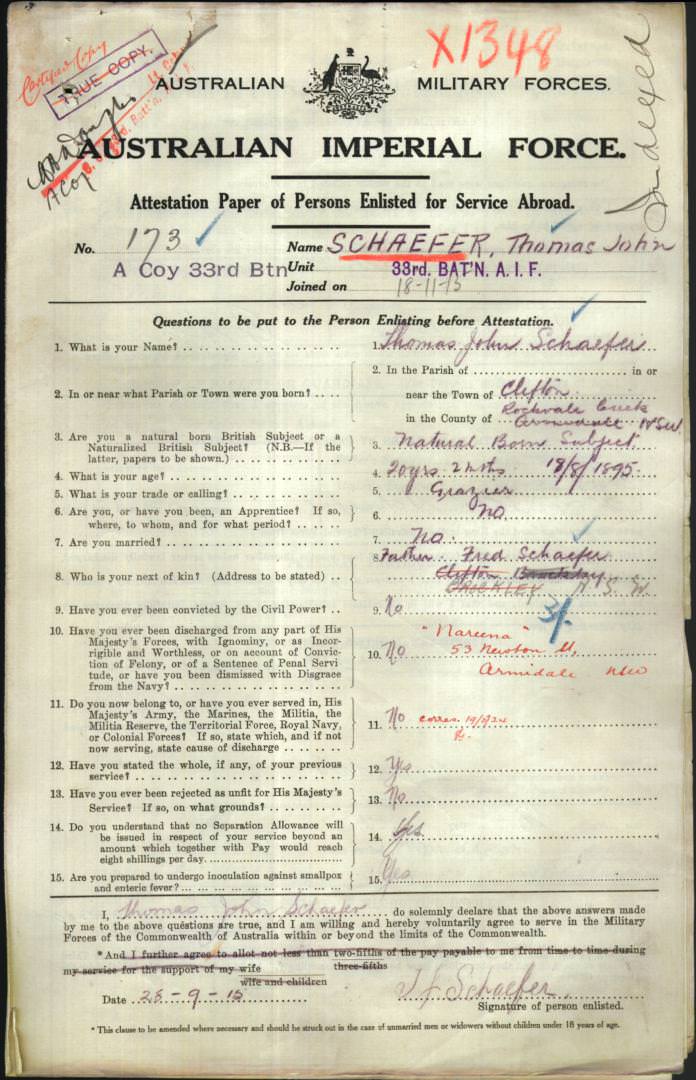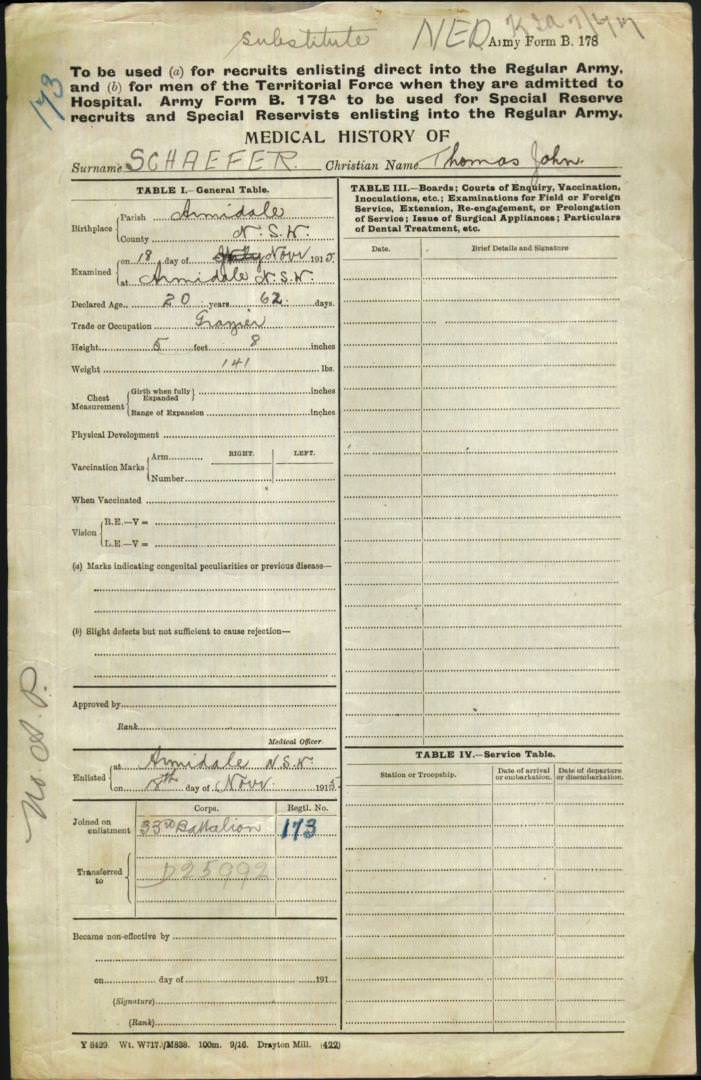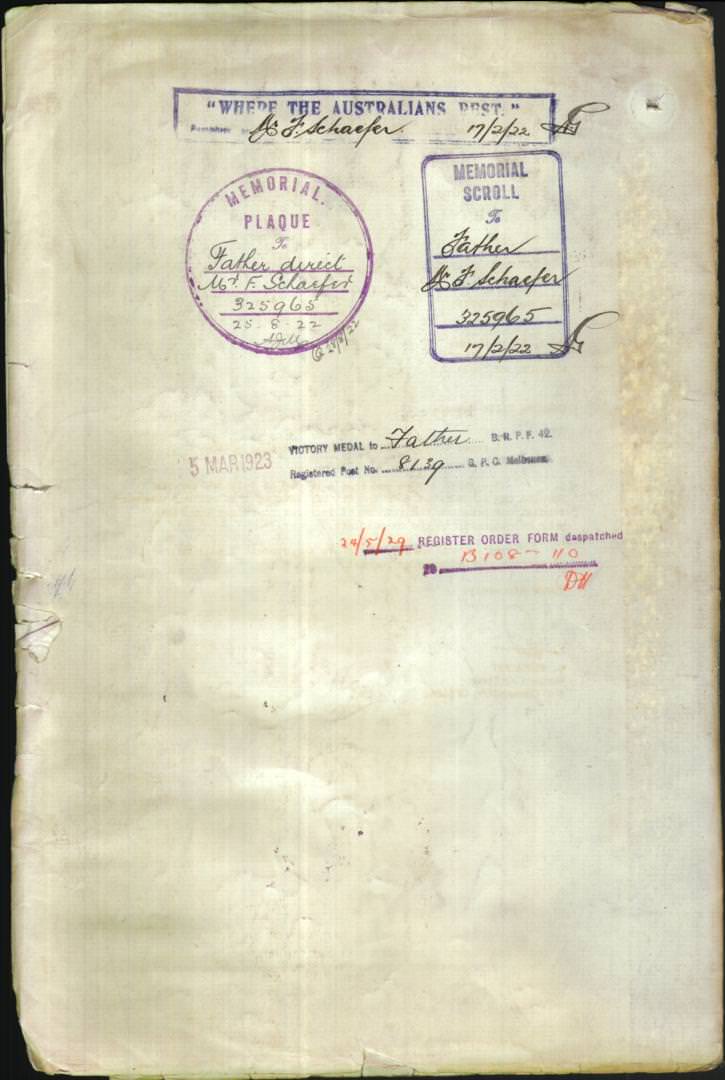 © Commonwealth of Australia (National Archives of Australia)
Under Construction: 23/07/2011-13/12/2016.
---
Web Counter
---