Henry Burleigh Saywell enlisted with the 8th reinforcements, 36th Battalion AIF on the 9th July 1917 and left Sydney on board HMAT A28 "Miltiades" and travelled via the newly constructed Panama Canal, passing through prior to the official opening of the canal and disembarked on the 2nd of August 1917 at Glasgow, Scotland. Henry was marched to the 9th Training Battalion and proceeded overseas for France via Folkstone on the 8th of August 1918.
He was Taken on in Strength with the 33rd Battalion AIF and marched in to Rouelles before being sent to the front line on the 10th of August.
2nd October 1918
"Dear Mother, Just a few lines to let you know how I am. It is just over 12 months since I landed in Scotland. We have had another look at the line since I last wrote and are out resting again. One of the runners was killed last trip and two wounded. The coins I told you about I forgot to put in the last letter but will put in this one."
3rd April 1919
Informant; Private: 3379 Henry Burleigh SAYWELL. I helped to bury Lieutenant: 1405 George Moffatt CARSON (don't know company) on the night of August 31st, after he had been killed, I believe instantly that morning during the hop over by machine gun bullets through the shoulder and mouth at BOUCHAVESNES, north of MONT ST-QUENTIN. I was a H/Qs runner at the time. We carried his body about 100 yards from where he fell to bury him. A cross was made for his grave. Private: 3132 Richard Stanley THOMPSON was buried in the same grave. I dont remember when he was shot.
33rd Bn Headquarters, Le Havre, France.
Codford, England. May 10th 1919.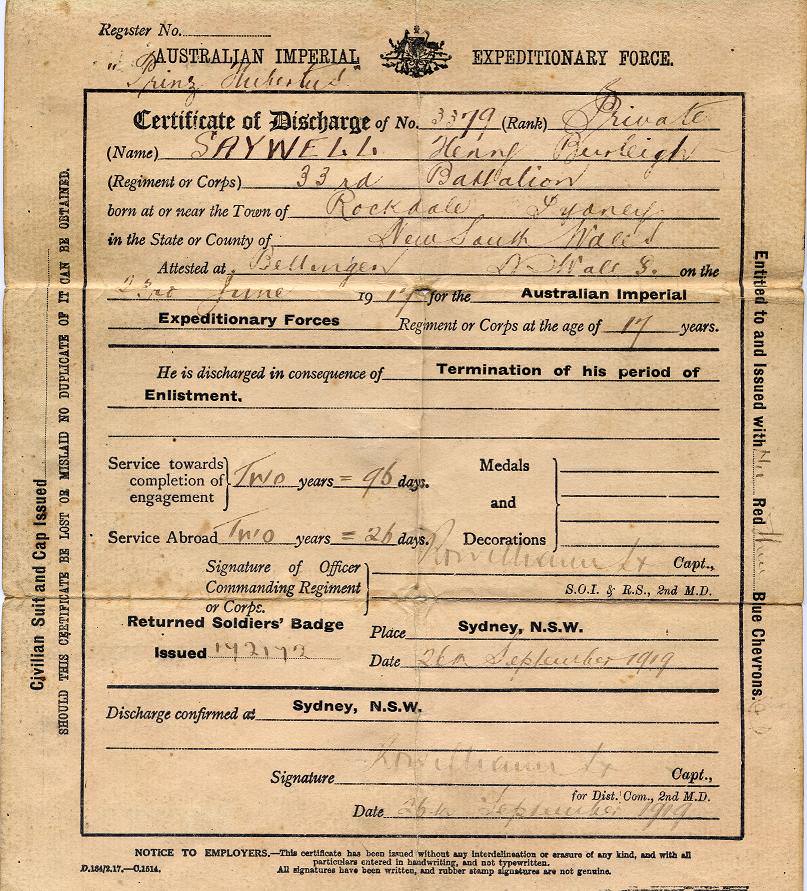 Discharge Centificate
(John Saywell OAM.)
Henry returned to Australia via Cape Town, South Africa on the 3rd of July 1919 on board the "Prinz Hubertus"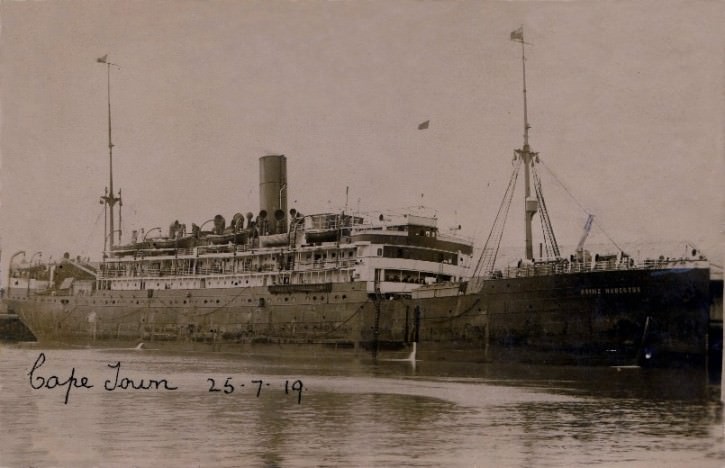 After returning to Australia Henry was discharged from the AIF on the 26th of September 1919.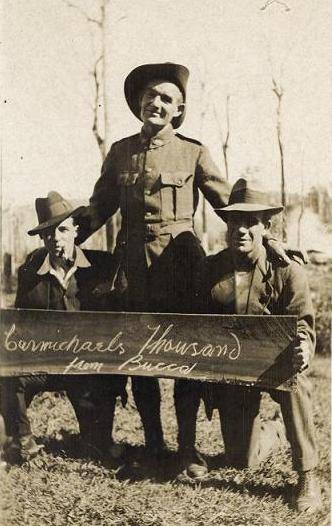 Bucca Creek Saw Mill 1921. Henry Burleigh Saywell far left smoking pipe.
Henry served prior to and during World War 2 with The Byron Regiment with the 41st Battalion as C Company Sergeant Major. During World War 2 Henry served in the Volunteer Defence Corps and also in the 2nd AIF with Service Numbers: NX68049 and finally in the Garrison Battalion as a Sergeant with Service Number N272361.
Family Information
Elias and Anna Saywell were married in 1896 at Emmaville, N.S.W. Marriage Cert:7300/1896 and had 7 children, 4 boys and 3 girls. Christina Ethel Saywell born 1899 at Rockdale, N.S.W. Birth Cert:15578/1899 and died 19/02/1952 at Grafton, N.S.W. Heinrich Burleigh Saywell born 1900 at Rockdale, N.S.W. Birth Cert:25903/1900 and died in 1958 at Grafton, N.S.W. Death Cert: 5077/1958. Phyllis Anna Saywell born 1901 at Rockdale, N.S.W. Birth Cert:35528/1901 and died 24/12/1901 at Rockdale, N.S.W. Death Cert:15250/1901. Lewis Herman Saywell (Herman to his mother & father & Lew to everyone else) born 1904 at Ashfield, N.S.W. Birth Cert:932/1904 and died 05/10/1942 Australian Military Hospital Tamworth, N.S.W. Death Cert:30339/1942. Elias Jasper (Jop) Saywell born 10/04/1906 at Ashfield, N.S.W. Birth Cert:10763/1906 and died 03/11/1985 at Coffs Harbour, N.S.W. Clement (Clem) Herbert Saywell born 25/10/1908 and at Ashfield, N.S.W. Birth Cert:32816/1908 and died 01/12/1985 in Lismore, N.S.W. Winnefride (Winnie) Lucille Saywell born 18/02/1920 in Coffs Harbour, N.S.W. Birth Cert:./1920 and died 12/04/1966 in Wauchope, N.S.W. Death Cert:./1966.
Heinrich's mother Anna Alvina Saywell died 19/02/1952 at Grafton, N.S.W. Death Cert:7257/1952 and his father Elias Jasper Saywell died 20/07/1953 at Lismore, N.S.W Death Cert:./1953.
25th June 2009
G'day David, I was delighted to have my attention drawn to The Harrower Collection & to visit the Web Site & thank you & your associates for your diligence, hard work & dedication in producing The Collection & Web Site which I'm sure will in the future bring much pleasure from descendants of the members of the 9th Infantry Brigade 1st AIF. To explain where I fit into the scheme of things - I am John Stephen Saywell, the eldest son of 3379 Private Heinrich (Henry/Harry) Burleigh Saywell of the 36th & 33 Battalions & was very pleased to see him listed on the site with the added information about him & our family.
(Jessica, known as Jessie), born 06 November 1906 at Coffs harbour NSW, was my Aunt & so my father's sister-in-law & she was married in 1927 in Coffs Harbour to my Uncle "Jop", one of Dad's brothers, who was identically named to his father as Elias Jasper Saywell i.e. Junior. "Jop" Saywell also named his youngest son, Elias Jasper Saywell i.e. the 3rd "EJ" who currently lives in the Coffs Harbour district. "Old EJ" (my Grandfather, known as Jasper) was born 26 September, 1873 in Surrey Hills, Sydney, NSW. My Grandmother, Anna Alvina Scherf was born 26 September 1876 in Waltershausen, Sax-Coburg-Gotha, the same Duchy from where Queen Victoria's Prince Consort Albert came from & were British Allies; her Great Grandfather was with the Cavalry under the Duke of Wellington at Waterloo in 1815 - he was decorated on that battlefield for distinguished bravery, which involved a display of fine swordsmanship.
Her family were from a distinguished military family who had participated in every British battle after George 1st became King of Great Britain. She was also a cousin of the WW2 airman hero, Squadron Leader Charles Curnow Scherf DSO DFC & Bar, RAAF, who from his mother's side was of lineal descent from the Admiral Sir Richard Grenville, the hero of the Revenge's fight with 53 Spanish ships in the reign of the first Queen Elizabeth. Anna arrived in Australia at the age of nine years.
Henry & Ena Saywell's children were: Phyllis Saywell born 07 March 1926 at Ringwood, Victoria and she died 10 February 1986 at Arrawarra, NSW; Daphne Beryl Saywell born 29 May 1927 at Kyogle, NSW and she died 21 June 1927 at Kyogle, NSW; John Stephen Saywell born 02 April 1929 at Kyogle, NSW; Dorothy Joan (Joan) Saywell born 09 February 1931 at Grafton, NSW; Henry Burleigh (Harry/Sid) Saywell born 09 December 1932 and died at RAAF Base, Williamtown, NSW on 02 December 1973; Dawn Lorraine Saywell born 11 November 1937 at Grafton, NSW; Elizabeth Alvena Hyde(Bette) Saywell born 18 January 1942 at Grafton, NSW; Ronald Leslie Arwon (Ron) Saywell born 07 September 1943 at Grafton, NSW - the Leslie used in Ron's name was in respect for Sir Leslie James Morshead who was at one time Commanding Officer of the 33 Battalion 1st AIF & a Lt General in WW2.
In WW2, as well as Henry serving in the Army his three brothers also served - Lew and Clem in the Army and Jop in the RAAF, whilst from Henry's children, Phyllis was an Aircraftwoman in the WAAAF & John had Eligible WW2 Service in the RAN, completing his service as a Chief Radio Electrician (Air) in the Fleet Air Arm. Another of Henry's sons, Henry Burleigh (Harry/Sid) Saywell saw service in Korea during the Korean war and was a Sergeant in the RAAF. I can also provide a photograph of Henry in full uniform when he was at Sutton Veny in England, standing alongside what looks like it could be a Drill Hall. I have his medals from WW1 & WW2, his bugle from WW1 & a number of his WW1 "souvenirs".He had told me that he was also a Despatch Rider in France - riding a Douglas motorcycle, the rear belt was made of leather & he carried a piece of wire & pliers in his pocket to "get him home if the leather belt broke!" An other anecdote about Henry was that he had put his age up one year to join up - he was only 17 years old at the time and when he fronted for his medical examination at Bellingen, the Doctor said to him, "Does your mother know that you are out?" Henry was still growing & gained four inches in height while he was overseas!
Henry was somewhat concerned about having his first name of Heinrich & so he did not use it for his Army papers as he reasoned that if he was taken as a Prisoner of War that he would be assured of a hard time with such a name!
Best regards,
(John Saywell OAM.)
Hi David, Thank you for your prompt response - much appreciated. I know how these things that start as a hobby can become more than a full time job! However, I am very pleased that you did start it & have stuck at it as I am sure it will be appreciated by many! There are a couple more matters that I will draw to your attention while I am focused on the 9th Infantry Brigade.
I note that my father's Regimental Number of 3379 is also identical with that applicable to 3379. Private: Charles Alexander SUMMERRELL. & it isn't an error as it is stamped into his Victory Medal pictured on your Web Site & the same number appears on my father's medals. This must have caused some confusion in the 33rd Battalion records with both men being in the sme Battalion with the same number. I can recall being at the Canberra War Memorial/Museum some years ago & the staff there did a search for my Dad's records using his number of 3379 & came up with someone else! Do you have any understanding as to how this could have happened?
Honour Rolls on which I have found the appearance of my father's name are located in; 1) the Coramba Community Hall, Dorrigo Street, Coramba , NSW; 2) the Upper Orara Hall, Upper Orara Road, Upper Orara, NSW 2450 & 3) in the Anglican Church next door to the Upper Orara Hall - however, I believe that the church building is no longer used as a church. Additionally, alongside the Coffs Harbour Services Club is a fairly new memorial wall & monument with the names of district personnel who have served in the various wars - unfortunately, my father's name is incorrectly cast as H B Sayell instead of H B Saywell due to the Coffs Harbour RSL people having taken the names from what is described as the District Scroll, held by the Coffs Harbour Museum in which his name is incorrectly recorded. I then paid for an individual brass name plaque to be erected on the memorial wall & you wouldn't believe it, when it was erected & I viewed it some time later on it WW1 was shown as being from 1911 to 1918 - however his name was correct! There will be other 9th Brigade personnel recorded on those Honour Rolls.
Last point - after WW1 Henry Saywell worked in the Central Bucca Saw Mill which was located reasonably close to his father's farm at Upper Bucca (his father had a farm in the Karangie/Upper Orara District when Henry enlisted). Amongst the family photographs I have inherited there was one in particular that intrigued me & that was of three sawmill workers holding up a large piece of a sawn off-cut on which was chalked "Carnichael's Thousand", one man was in army uniform. Quite some years ago I had asked my mother (my father was then deceased) what was the significance of the inscription on the timber piece & she said she thought it was due to a big Lottery win that some of the sawmill workers had shared in & believed that the win was one thousand pounds! The penny dropped to me many years later when I was trawling through Charles Bean's volumes on the Official History of WW1 & came across the tale of Carmichael recruiting his thousand men for the formation of the 36th Battalion, becoming known as Carmichael's Thousand. I then mused about why was one man in the photo wearing his uniform & was it a special day, e.g. Anzac Day or Armistice Day? I will never learn the true answer to that question! The Central Bucca Sawmill has long since disappeared - there was a thriving community there in those days which is not so evident now!
(John Saywell. O.A.M)
(Photo; Larkshill. John Saywell O.A.M)
Grafton Cemetery
Military Records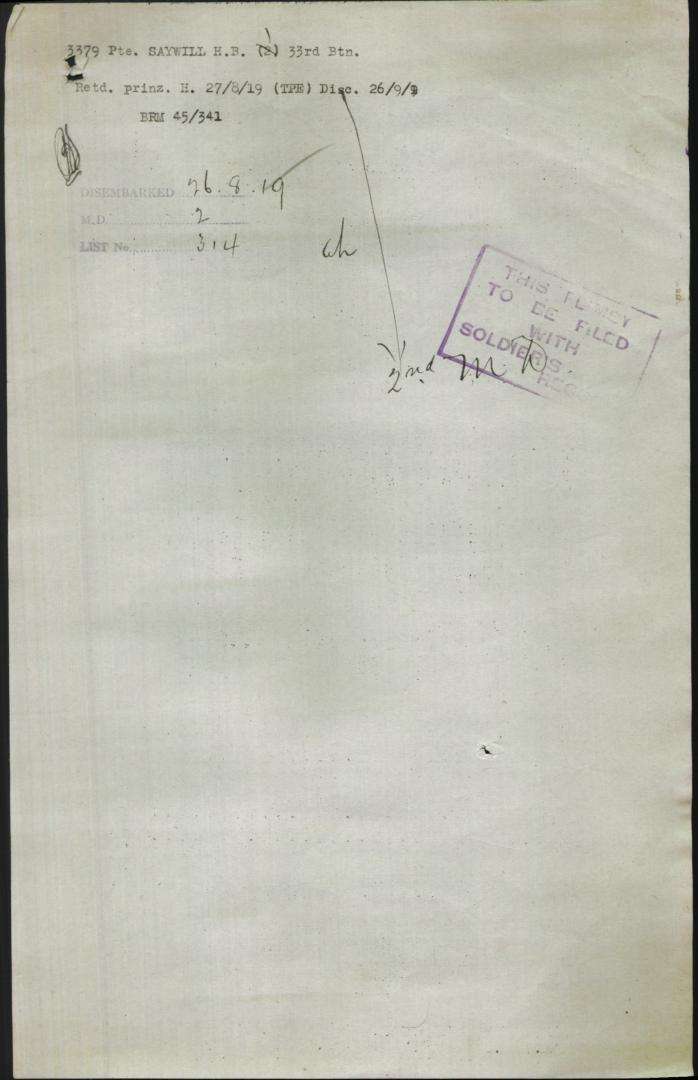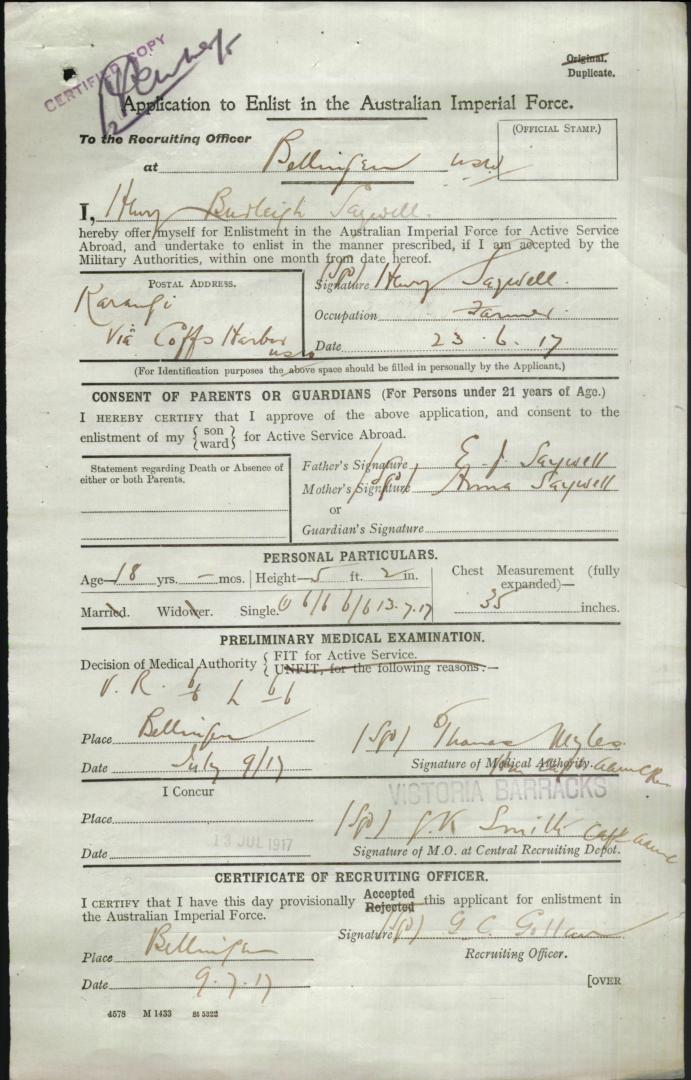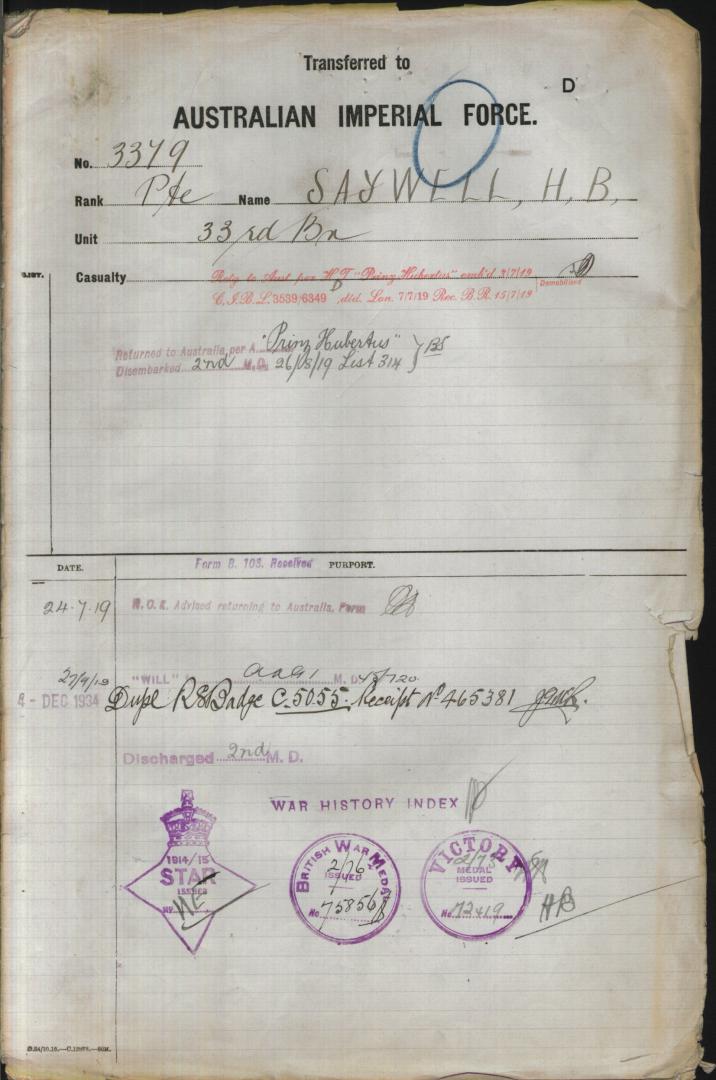 © Commonwealth of Australia (National Archives of Australia)
Under Construction; 22/11/2007-18/11/2015.
---
Web Counter
---