Brent Burnell Rodd enlisted with D Company 35th Battalion AIF on the 7th of March 1916 and was an original member of the Battalion and left Sydney on board HMAT A24 "Benalla" on the 1st of May 1916.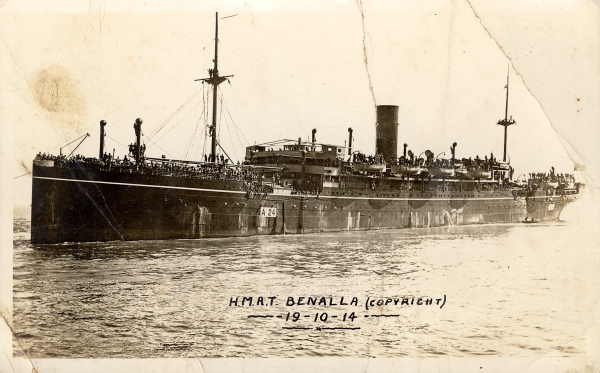 HMAT A24 "Benalla"
4th April 1918.
A heavy burst of shelling occured at CACHY and on some 6" Howitzer Batteries situated under cover of the S.E. corner of the BOIS D'AQUENSE, at about 3.30am. At 5.30am the fire thickened to heavy and general shelling, counter battle work and harassing fire suggestive of preparations for an attack. Just before 6.00am shells fell in the wood near our bivouacs. The troops were hastily got out into the open. The shelling continued to be very heavy for about two hours, in the course of which two men were killed, and Lieutenant: J LANG and 8 other ranks were wounded.
At 9:00am orders were received to "Stand To" as it was expected the enemy would attack.At 11.45am orders were received to proceed to position of readiness at U.5. centrel (South of VILLERS-BRETONNEUX) for defence of the villiage. Moved at 11.55am and arrived at position of readiness without casualty despite general shelling of the area crossed. Lieutenant: NEWELL (Scout Officer) reported direct to C.O. 35th Battalion, who was defending the line in part of the attack area. As the position of readiness the Battalion took up a position on the reverse slope of the hill on the east side of the VILLERS-BRETONNEUX - HANGARD RAOD, with "A" and "B" Companies just below the crest, "C" Company in close support, and "D" Company in reserve.
At 1.45pm the C.O. and Adjant reported to the C.O. 35th Battalion, at VILLERS-BRETONNEUX the villiage was being heavily bomparded. At 2.30pm the Adjutant returned with the preliminary instructions to the 2nd in Command and the C.O. awaiting develpoments. At 4.45pm the C.O returned with information that the Bosch had broken through the English line and was advancing on the villiage. While he was speaking heavy bursts of Machine Gun fire sprayed over the hill. English troops had been retiring for half an hour through our line but efforts to stop them were in vain.
The C.O ordered "A" Company and "B" Companies to immediately counter-attack. They did so with great spirit and in fine style sweeping along the southern end of the RAILWAY LINE. A party of English troops were seen to be reforming on our right. The Adjutant was sent with an invitation to their C.O to join in a Counter-Attack. Brigadier General: WOOD of the 55th Brigade was found to be Commanding in person and he immediately agreed, and went forward on the right flank of our "C" Company. In the advance great progress was made by "A" Company on the left under Captain: John Edward Wallace BUSHELLE who imbued them with wonderful Spirit and Confidence by his gallant leadership.
Owing however to organized opposition from special M.G. strong points in an orchard and two hay stacks "B" and "C" Companies were not able to keep up to the line of "A" Company's adcance and wide gaps were left between all the Company frontages by reason of the extended front on which it was necessary to deliver our Counter Attack. The Reserve Company was however sent up to reinforce the centre, link up the Companies, and, as far as possible, straighten out the line. Two small Companies of the 6th London Regiment who appeared at the time were also sent into the gap between "A" and "B" Companies and our gain was consolidated. Tools and ammunition were hastenend forward by a small party from Headquarters - signallers, batman, police and gas personnel, - and this party brought back wounded on the return trip, doing excellent work.
36th Battalion War Diary
Officers, 36th Battalion. Meteren, France. 24th January 1918.
Major: Brent Burnell RODD, Front Row, 2nd from left. Lieutenant: 1 Harold James COLE. (Middle Row, 5th from left.)
Returned to Australia on the 31st of July 1919.
Family Information
Brent was a married 37 year old Insurance Manager from 8 Terrace Street, Newcastle, N.S.W upon enlistment. Brent's parents, Clements and Sarah Rodd were married in 1874 at Newcastle, N.S.W. Marriage Cert:3376/1874. They had at least 6 children. Tremayne Robertson Rodd born 1875 North Sydney, N.S.W. Birth Cert:6049/1875. Brisbane Clements Foxton Rodd born 1877 at North Sydney, N.S.W. Birth Cert:6610/1877 and died in 1944. Brent Burnell Rodd born 1879 at North Sydney, N.S.W. Birth Cert:7644/1879 and died in 1976, N.S.W. Death Cert:103162/1976 and was Buried at the Beresfield Crematotium, N.S.W. Barnstaple Walter Drummoyne Rodd was born in 1884 at Canterbury, N.S.W. Birth Cert:5623/1884. Clements Rodd born 1889 at Fiv Dock, N.S.W. Bith Cert:6151/1889. Ella Janet Rodd died in 1967, N.S.W. Death Cert:22150/1967. (No Birth Record?)
Military Records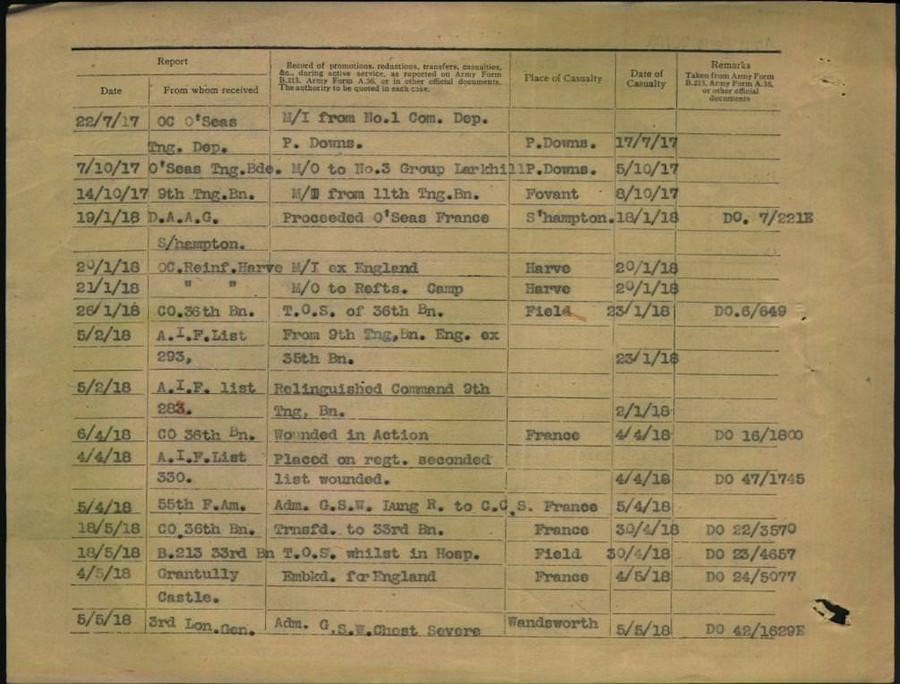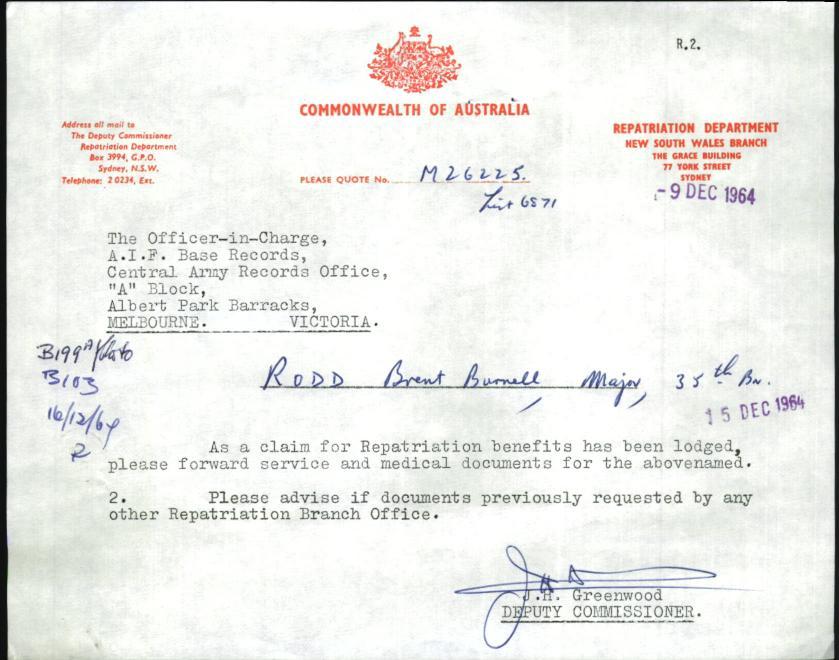 © Commonwealth of Australia (National Archives of Australia)
Under Construction; 16/12/2007-07/05/2017.
---
Web Counter
---