Albert Raymond Reckenberg enlisted with the AIF on the 20th December 1915 and was allocated to the 35th Battalion when they were formed in January 1916. The 35th Battalion embarked from Sydney onboard HMAT A24 "Benalla" on the 1st May 1916 and disembarked at Plymouth England on the 9th July 1917. The Battalion was marched in to the Durrington Army Camp at Lark Hill and commenced training with the 9th Training Battalion before Albert was transfered to the 14th Training Battalion where he was transfered to the 56th Battalion AIF on the 9th September 1917. Albert proceeded overseas for Estaples, France on the 25th of September and joined the Battalion in the Field on the 8th October.
Albert was Wounded in Action on the 23rd October in France where he received a Gun Shot Wound to his Right Hand and was evacuated to Camiers where he was treated by the 11th General Hospital before being transfered to Harve where he was evacuated to England onboard the Hospital Ship "Aslurias" on the 28th of October. Albert was admitted to the King George Hospital in London. On the 25th of May 1917 Albert was discharged and granted furlo from the King George Hospital from the 25th May until the 9th June 1917. Returning from furlo Albert was Classified B1a at Perham Downs and proceeded overseas again fro France via Southampton on the 9th July and was marched in at Harve France the next day.
Albert rejoined the 56th Battalion on the 14th August but was treated by the 43th Australian Field Ambulance for Myalgia but was returned to duty 2 days later. Albert remain with his Battalion until the 3rd of September 1918 where he was granted leave in Paris and rejoined his Battalion on the 21st of September. Albert was in France for the Armistace at the end of the war and was marched out on the 16th of April from Harve and disembarked at Southampton the next day. Albert embarked from Devonport, England onboard HMAT A24 "Benalla" on the 2nd June 1919 and disembarked in Australia on the 20th July and was discharged from the AIF on the 4th September 1919.
Family Information
Albert was a single 20 year old Bushman from Elizabeth Street, Abermain prior to enlistment. He was still serving with the 14th Infanrty Battalion. His parents Ernest and Jane Reckenberg were married in Victoria and had atleat 7 children, with 4 being born in NSW. Ernest William Reckenberg born 1890 Wallsend, N.S.W. Birth Cert:35395/1890 and died 1971 at Cessnock, N.S.W. Death Cert:55164/1971. Hannah B Reckenberg born 1906 at Wallsend, N.S.W. Birth Cert:40085/1906 and died 1906 at Wallsend, N.S.W. Death Cert:14608/1906. Walter Reckenberg born 1908 at West Maitland, N.S.W. Birth Cert:15672/1908 and died 1974 N.S.W. Death Cert:80805/1974. Jessie Reckenberg born 1910 at Kurri Kurri, N.S.W. Birth Cert: 27736/1910. Albert Raymond Reckenberg born 1895? Wallsend, N.S.W (No Birth Record) died 1956 at Newcastle, N.S.W. Death Cert:5224/1956. William Alfred Reckenberg born 1889 Wallsend, N.S.W. (No Birth Record) died 1962 at Kurri Kurri, N.S.W. Death Cert:16764/1962. Percy George Reckenberg died 1965 at Hamilton, N.S.W. 13383/1965. James Henry Reckenberg died 1965 at Newcastle, N.S.W. Death Cert:30680/1965.
Sergeant: 877 William Alfred RECKENBERG. 34th Battalion A.I.F.
Corporal: 878 Ernest Walter RECKENBERG. 34th Battalion A.I.F.
Private: James Henry Reckenberg. 4th Field Butchery A.I.F.
Military Records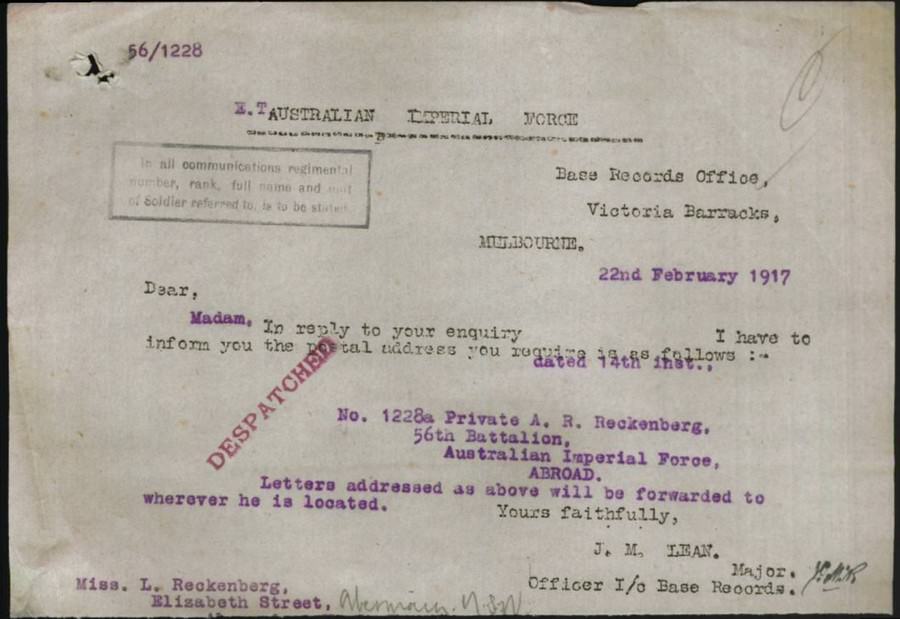 (Australian National Archives)
Under Construction; 26/12/2013-12/03/2015.
Web Counter
---