John Pyne enlisted with D Company, 35th Battalion on the 11th of December 1915 and was an original member of the Battalion but was discharged on the 23rd of April 1916 at his Wifes Request as per BRIGADIERES MEMO date 18th April 1916. However John re-enlisted on the 27th of April and left Sydney on board HMAT A24 "Benalla" on the 1st of may 1916. His wife and children moved to 31 Rose Street, Darlington whilst John was overseas. During the journey John was charged with being Absent Without Leave whilst at CAPETOWN, South Africa on the 11th of June 1916 and he disembarked at Plymouth England on the 9th of July.
The 35th Battalion was formed in December 1915 in Newcastle, NSW. The bulk of the battalion's recruits were drawn from the Newcastle region and thus it was dubbed "Newcastle's Own". Reflecting the demographics of the area, there were a high proportion of miners among the battalion's original members.
The 35th Battalion became part of the 9th Brigade of the 3rd Australian Division. It left Sydney, bound for the United Kingdom in May 1916, arriving there in early July, where it spent the next four months training. It crossed to France in late November, and moved into the trenches of the Western Front for the first time on 26 November, just in time for the The battalion had to wait until the emphasis switched to the Ypres Sector of Belgium in mid-1917 to take part in its first major battle; this was the battle of Messines, launched on 7 June and lasting seven days.
The battle was the successful British assault on the Messines-Wytschaete Ridge, a strongly held strategic position on the Western Front, which had been held by the Germans since late 1914. The initial assault was preceded by the detonation of 19 mines under the German front line which caused an estimated 10,000 German casualties. British, Australian and New Zealand infantry advanced behind a carefully co-ordinated artillery bombardment and took all their objectives within the first hours of the battle. German counter attacks the following day failed, and although German resistance continued until 14 June, possession was retained of the captured areas. ***
While it would appear that Pyne survived the Battle of Messines, it was not without some negative effect. On 3.7.17, some three weeks after the battle and whilst still in the line, Pyne suffered a Gunshot wound to the right foot, necessitating his hospitalisation. The wound was classified as Wounded in Action and gazetted in Casualty List No 94 to 18.8.17).
In his absence while hospitalised, Pyne was subjected to Field General Court Martial on 16.7.17, charged with 'Conduct to prejudice of good order and military discipline for "carelessly wounding himself in the right foot through negligently handling a rifle". He was found guilty and sentenced to forfeit 42 days pay.
Upon his release from hospital in mid-November 1917, Pyne was back in the line by the end of the month. He remained there until early 1918, when the wound in his foot and the bitter winter weather necessitated Pyne being hospitalised again, resulting in processes being commenced for his eventual return to Australia on 12.5.18. He was discharged from the AIF on 1.10.18.
*** Extract from the AWM site - Australians at War – Australian Military Units.
John Pyne, a 35 year old married Coal Miner from Charlton Street, Cessnock, New South Wales upon enlistment.


CESSNOCK WAR MEMORIAL
John's British War Medal:40950 to PTE 1213 J PYNE 35 BN AIF was acquired in January 2008 from Canberra, ACT and is now in the Harrower Collection.
Family Information
John and Nancy Pyne were married in 1903 at Sydney, New South Wales, Australia. Marriage Cert:540/1903 and had 5 children, 3 boys and 2 girls. Nellie E Pyne born 1904 at Gosford, N.S.W. Birth Cert:12231/1904. Reginald George Pyne born 1906 at Bellingan, N.S.W. Birth Cert:21850/1906 and died in 1965 at Boolaroo, N.S.W. Death Cert:41712/1965. Thelma Pyne died in 1909 at Cessnock, N.S.W. Death Cert:12926/1909. Kenneth T Pyne died in 1916 at Cessnock, N.S.W. Death Cert:4375/1916. John D Pyne died in 1917 at Wagga Wagga, N.S.W. Death Cert:10941/1917.
Military Records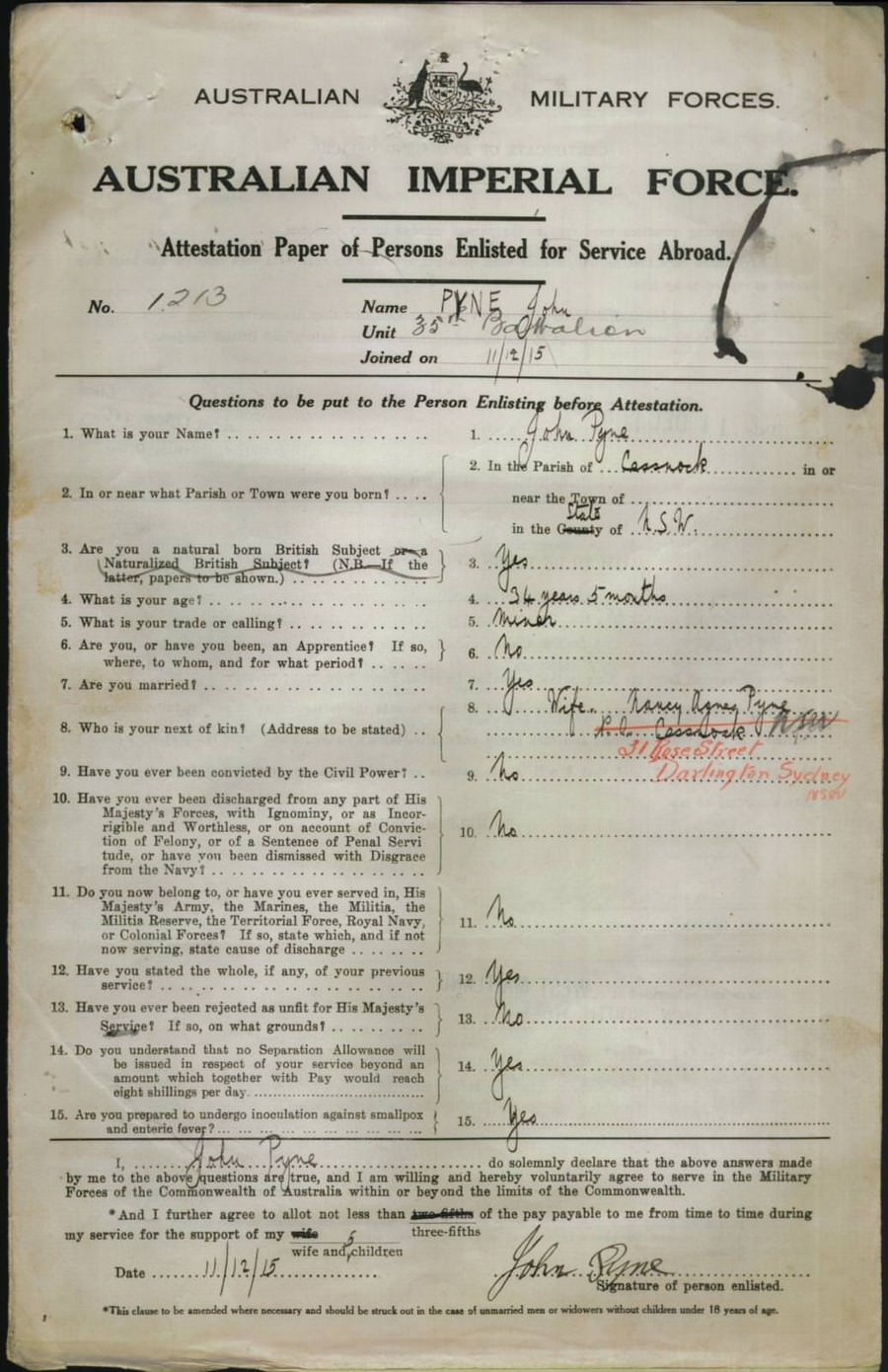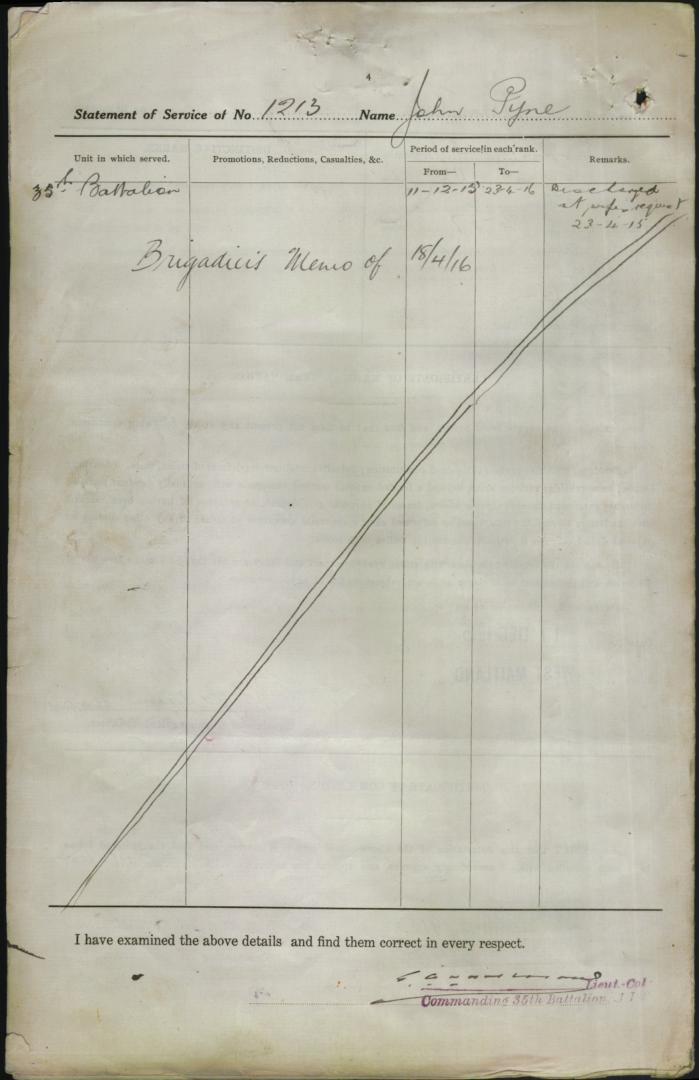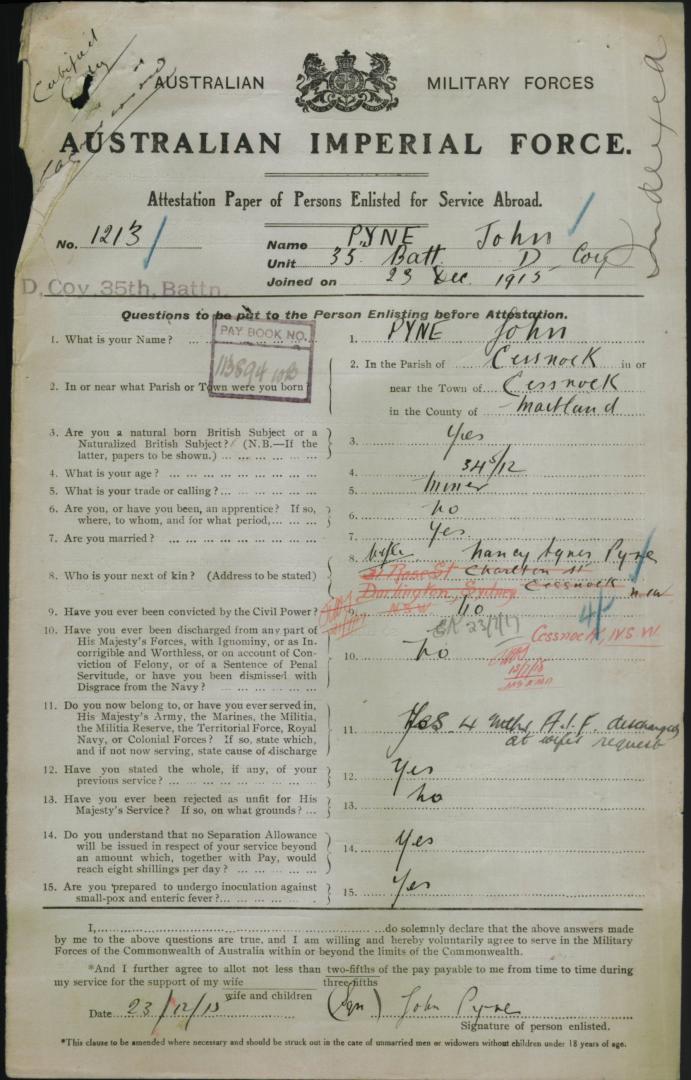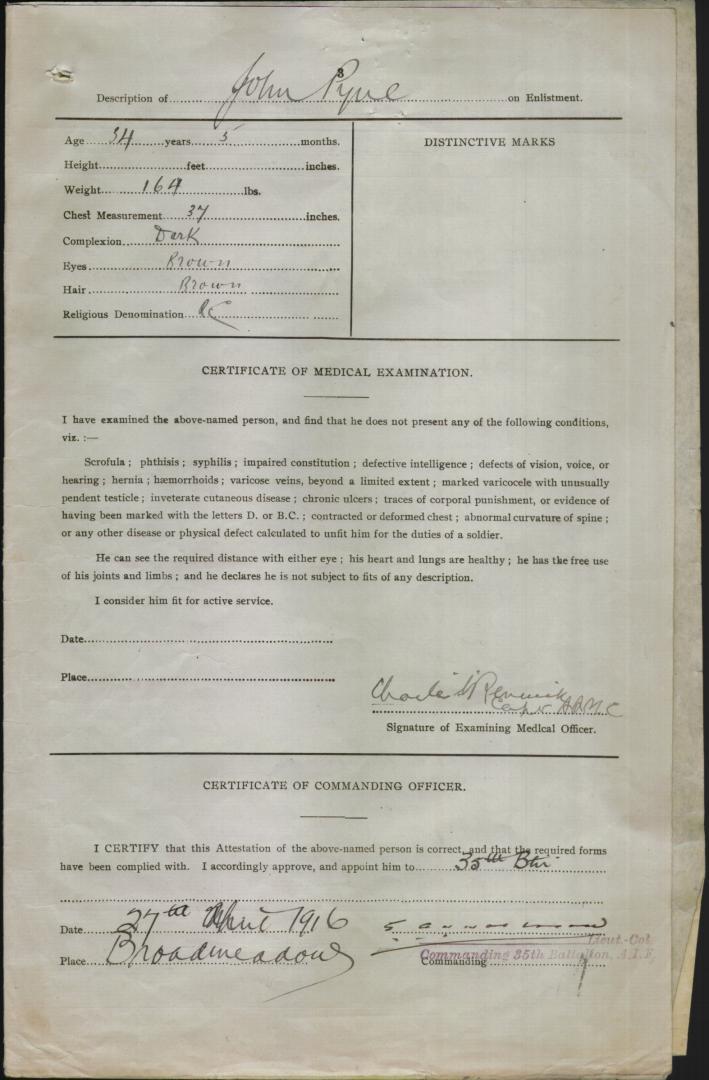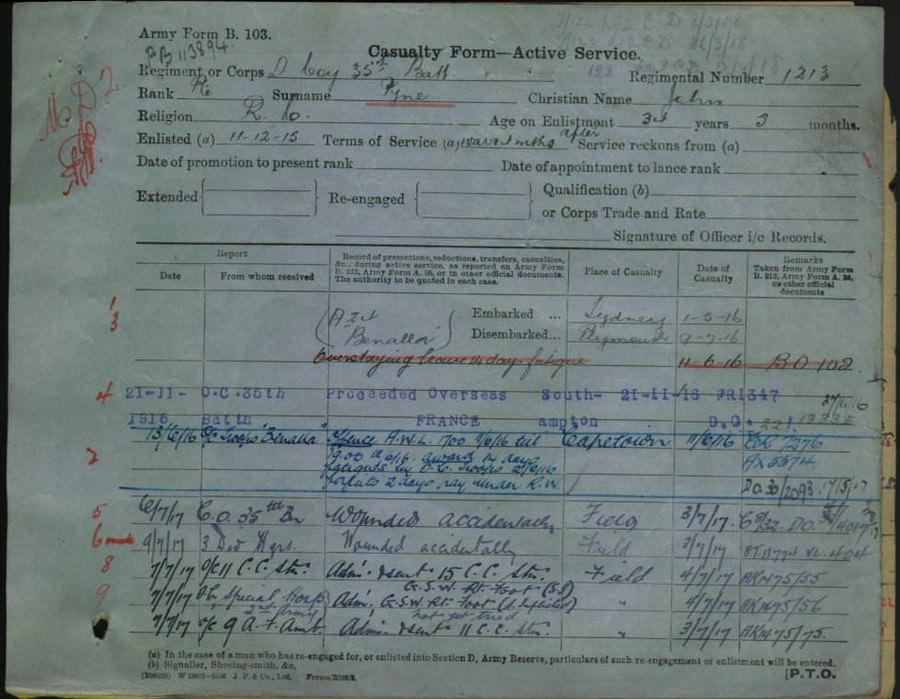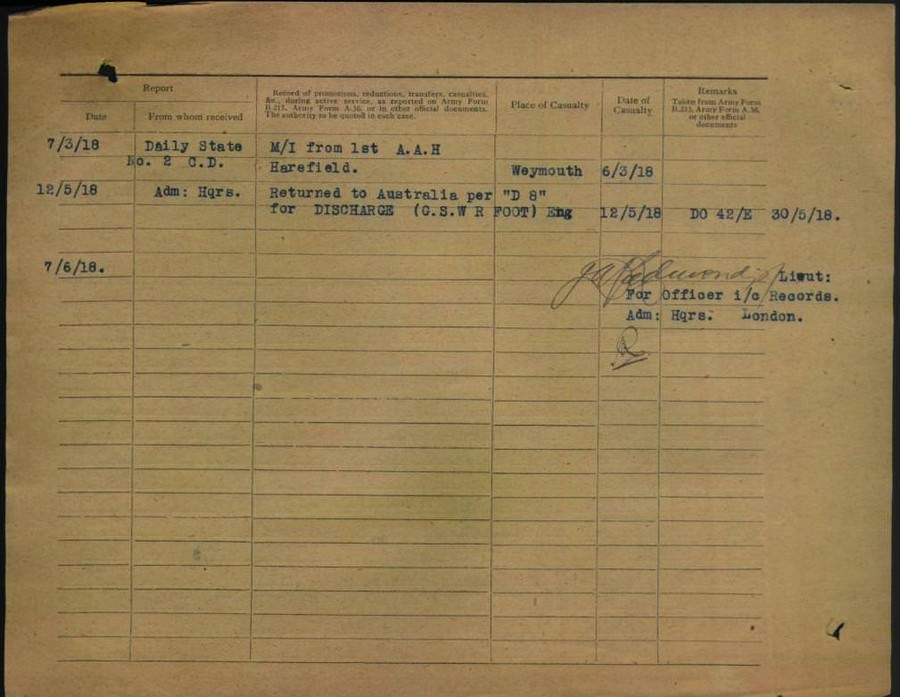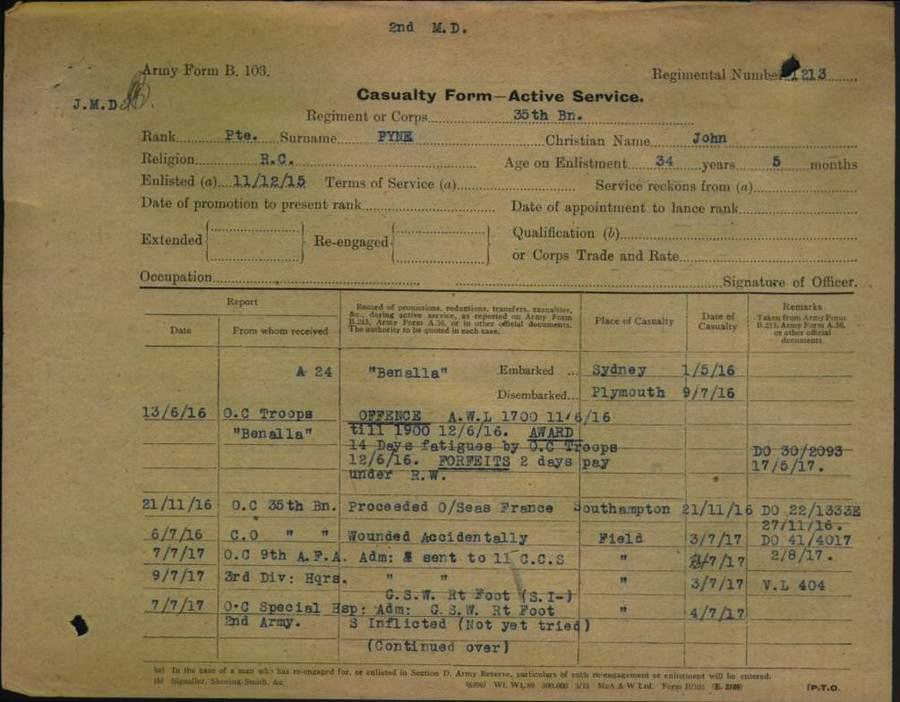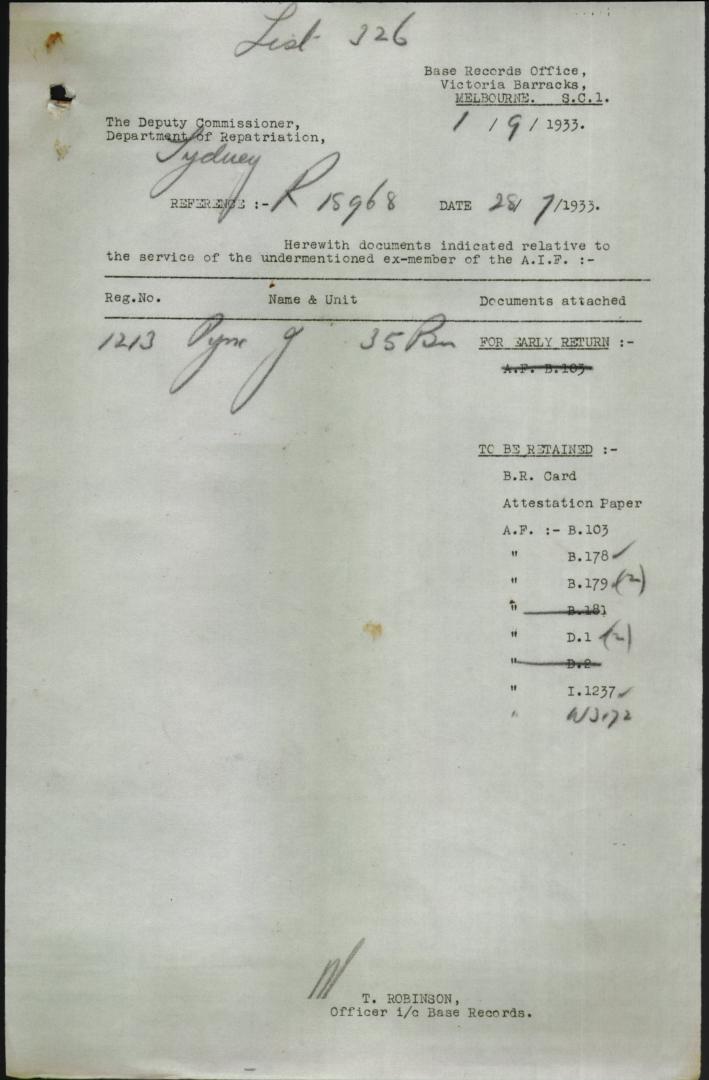 Cr Clarence's Inaugural Mayoral Speech - September 1999
It is an honour to be elected as Mayor of the City of Cessnock.
This is the beginning of a new era, new Council, new Council Administration premises, a feature of our City, with a dedicated team focussing on customer service, and a new millennium. I am excited about the prospect of our future and in particular the Year 2000, the Year of the Olympics, which will touch us in a real way, with the Torch Relay going through our City in August 2000.
This elected Council will work as a team to achieve a new focus for Council, which will act as a stimulus to deliver confidence in our economy, creating employment opportunities for our residents. It is going to be hard work, however I look forward to the challenges of the next four (4) years and sincerely believe that the City will prosper as we move towards and beyond 2000. This will only occur through the mutual co-operation of the Council, the community and the Government and I will be working hard to achieve this.
I take this opportunity to thank MERV PYNE and all the other candidates for the way the campaign was conducted. I believe it was conducted in an open and honest manner and I commend all candidates. I would also like to thank all those people who both supported and directly assisted me with my campaign. I would especially like to thank my wife, Lynn and daughter, Danielle, for their support and encouragement.
I look forward to serving and working with the community and Councillors to address the many challenges that face our City.
UNDER CONSTRUCTION 24/01/2008-19/04/2015.
---
Web Counter
---