MAIN MENU. 35th BATTALION PAGE.
---
35th BATTALION A.I.F.
Lieutenant: 530 James Adam PURCELL. M.C.
---
Born: 1896. Carrington, New South Wales, Australia. Birth Cert:17847/1896.
Married: 1928. Lismore, New South Wales, Australia. Marriage Cert:3820/1928.
Wife: Heather E Purcell. nee: Green.
Died: 1955. Casino, New South Wales, Australia. Death Cert:31859/1955.
---
Father: Adam Young Purcell.
Mother: Margaret Purcell. nee: Schwebel.
---
INFORMATION
James Adam Purcell enlisted with B Company 35th Battalion AIF on the 31st of December 1915 and was an original member of the Battalion and left Sydney on board HMAT A24 "Benalla" on the 1st May 1916 and disembarked in Plymouth, England on the 9th of July 1916. James was marched to the 9th Training Battalion at the Durrington Army Camp at Larks Hill where he continued his training and was appointed Lance Corporal on the 7th of September before proceeding overseas for France on the 21st of November 1916.
35th Battalion in camp at West Maitland 1916.

(Photo supplied by Joe Purcell. Jan 2009)

After arriving at ROUELLES James was marched in and Taken on in Strength and after nearly 12 months of active service in France he was again promoted, to the rank of Corporal on the 16th of June 1917 after Corporal: 495 Alfred MOORE 35th Battalion was Killed in Action and less than 2 months later James was promoted to Temporary Sergeant when Sergeant: 580 William WOOD was Wounded in Action on the 9th of August 1917 and then to 2nl Lieutenant on the 19th of December 1917.
35th Battalion Officers, 12th January 1918 Meteren France. Lt James Purcell MC, front row far right.

(photo AWM)

4th April 1918.

North of the railway cutting Sayers company of the 35th Battalion advanced with equal success. The Germans immediatly ahead of it numbered not more than 100. As the company approached some of them ran. Lieutenant Thomas Edward THOMPSON was wounded by a German at fifteen yards range.

(BEAN; History of World War 1 Vol V page 345)



The First VILLERS-BRETONNEUX

4th-5th April 1918

The Strength of the 9th Infantry Brigade was about 2,250 but their casulties during the 2 days of fighting numbered 30 Officers and 635 men either killed in action or missing.

9th Infanry Brigade Casulties.4th-5th April 1918
| | | |
| --- | --- | --- |
| 33rd Battalion. AIF | 3 Officers | 82 Other ranks |
| 34th Battalion. AIF | 5 Officers | 120 Other ranks |
| 35th Battalion. AIF | 9 Officers | 282 Other ranks (including 44 missing) |
| 36th Battalion. AIF | 12 Officers | 133 Other ranks (including 1 missing) |
| 9th Machine Gun Company. AIF | 1 Officer | 18 Other ranks (including 4 missing) |
'On the 16th April, the rumours of a new German Offensive against Amiens seemed to be definitely confirmed. A German prisoner, taken by the French, volunteered the that Villers Bretonneux was to be attacked the next day. The 5th Australian Division, which had come line on the night of the 6th/7th April, and held the sector from Villers Bretonneux (inclusive) to the Somme canal was warned to be ready to retake the town, if captured by attack from the north ; and other preparations and counter-preparations were made. About 4 A.M. on the 17th, Villers Bretonneux, Bois d'Aquenne, to the west of it and the village of Cachy, to the south, were heavily drenched for three hours with phosgene, mustard and irritant gasses. But no assault followed. As soon as possible the local garrison, consisting of the 6/London(58 Dvn) and the 33rd Australian Battalion, was got out of the shelters in the town into the trenches around it. The gas shelling was repeated in the evening from 4 to 7 P.M., next morning and on the following days, being increased so as to include Bois I'Abbe, but with greatly reduced results. Nevertheless it was impossible for anyone to move that area without feeling some ill-effects from the mustard gas, and there were, in all, 1,074 gas casualties.'
'The gassing of Villers Bretonneux seemed to point to the probability of its not being attacked, but by this time air photographs had revealed the signs of imminent operations; an increase in the number of enemy batteries had also been noticed, while the roads were being registered by German artillery. There were, however, also indications that the Albert sector might be the objective of an attack which might extend to Arras and Vimy Ridge. On the 21st there was much air fighting near the Somme, and the famous airman Richthofen was brought down.1. That night a man of the 4th Guard Division, captured by the 8th Dvn , disclosed the fact that his formation had just relieved the 9th Bavarian Reserve Division in front of Marcelcave , and would attack Villers Bretonneux at 3 A.M. on the 23rd. Counter-preparations were continued, and the German railway centres were bombed, particularly Chaulnes .2 'No infantry assault materialized on the 23rd, two deserters came in from the 77th Reserve Division, just arrived from Russia, which had entered the line on 20th, south of the 4th Guard Division, opposite Cachy, and the French captured a gunner of the Guard Ersatz Division opposite Hangard. All these men said that the relief of the line divisions by " storm " divisions had been completed :1. the infantry were ready to advance; the bombardment would begin early on the 24th and. last two and-a -quarter hours: and the attack would be assisted by new German tanks, which were already in position near the front line. 2 It is from the fact that tanks were used to punch a hole in the British line on either side of Villers Bretonneux, and that, in consequence, the Germans gained possession of the town and ground on either side for a short time, that the fighting on the 24th derives its interest.'
James was again promoted on the 7th of April 1918 to the rank of Lieutenant and led his company into action at MORLONCOURT where he was awarded the Military Cross.
14th May 1918.
MILITARY CROSS
Lieutenant James Adam PURCELL, 35th Battalion AIF. During an attack on enemy position near MORLANCOURT near ALBERT on the night of 5/6th May, 1918, this Officer showed marked courage and leadership in bringing his platoon to the final objective. Though greatly outnumbered his platoon captured an enemy strong point, together with two light trench mortars, a machine gun and 35 prisoners. He was an inspiration to his men, and his fine courage and leadership was an important factor in the success of the attack.
London Gazette 16 September 1918, page 11051, position 12
Commonwealth of Australia Gazette 4 February 1919, page 136, position 7
Family Information
Adam Young and Heather Purcell were married in 1891 at Hamilton, N.S.W. Marriage Cert:4375/1891 and had 5 children. George Percy Purcell born 1891 at Newcastle, N.S.W. Birth Cert:24875/1891 and died in 1962 at Cessnock, N.S.W. Death Cert:19605/1962. Robert Bruce Purcell born 1894 at Adamstown, N.S.W. Birth Cert:3283/1894 and died in 1850 at Cessnock, N.S.W. Death Cert:12247/1950. Adam James Purcell born 1896 Carrington, N.S.W. Birth Cert:17847/1896 and died in 1955 at Casino, N.S.W. Death Cert:31859/1955. John William Purcell born 1899 at Charlestown, N.S.W. Birth Cert:2354/1899 and died 1916 in France. Wilfred Horace Purcell born 1903 at Carrington, N.S.W. Birth Cert:8447/1903 and died in 1967 at Belmont, N.S.W. Death Cert:23562/1967.
James Adam Purcell. "He signed up at West Maitland, 31st Dec 1915, and was originally from Neath NSW. After the war he moved to Casino in Northern NSW some time before 1928 and became a builder. He married Heather Green around this time and later had two children (Lloyd and Pamela). As far as I am aware he did not live in Richmond but it is possible between 1920 and 1928. I will let you know as soon as I have more. Thank You".
Regards
Joe Purcell (Grandson) 20/01/2009.
Military Records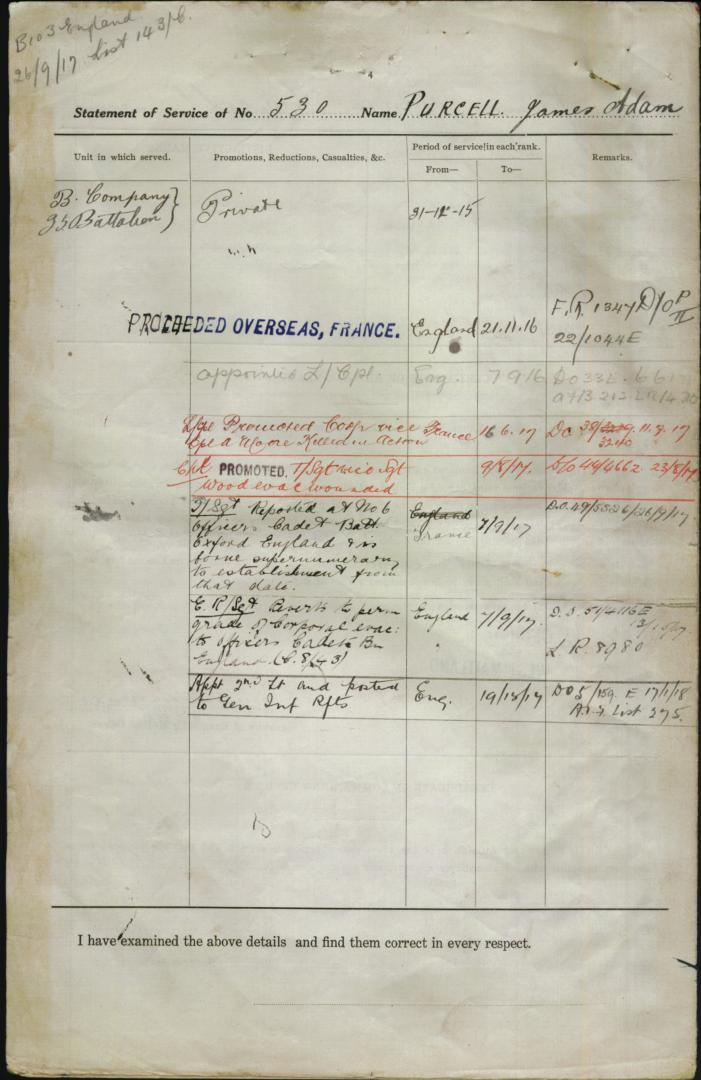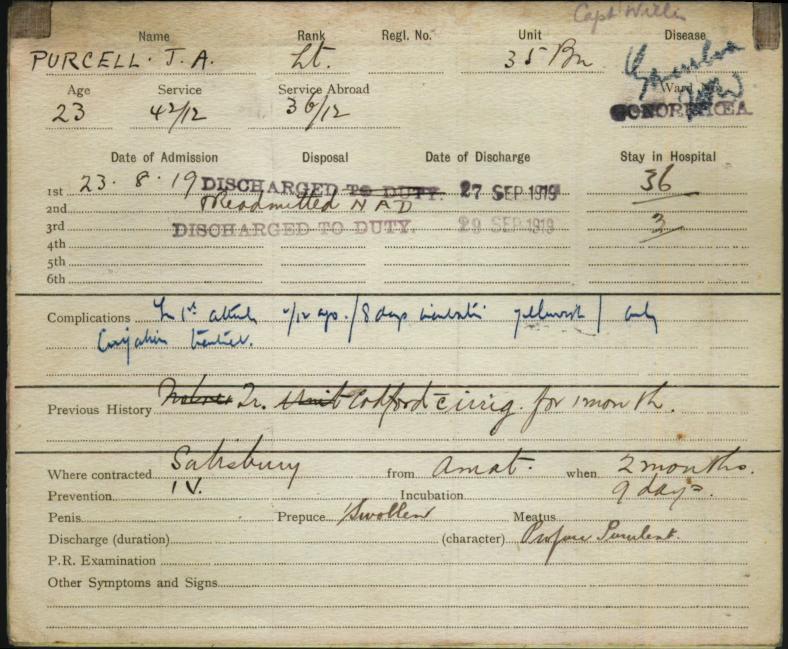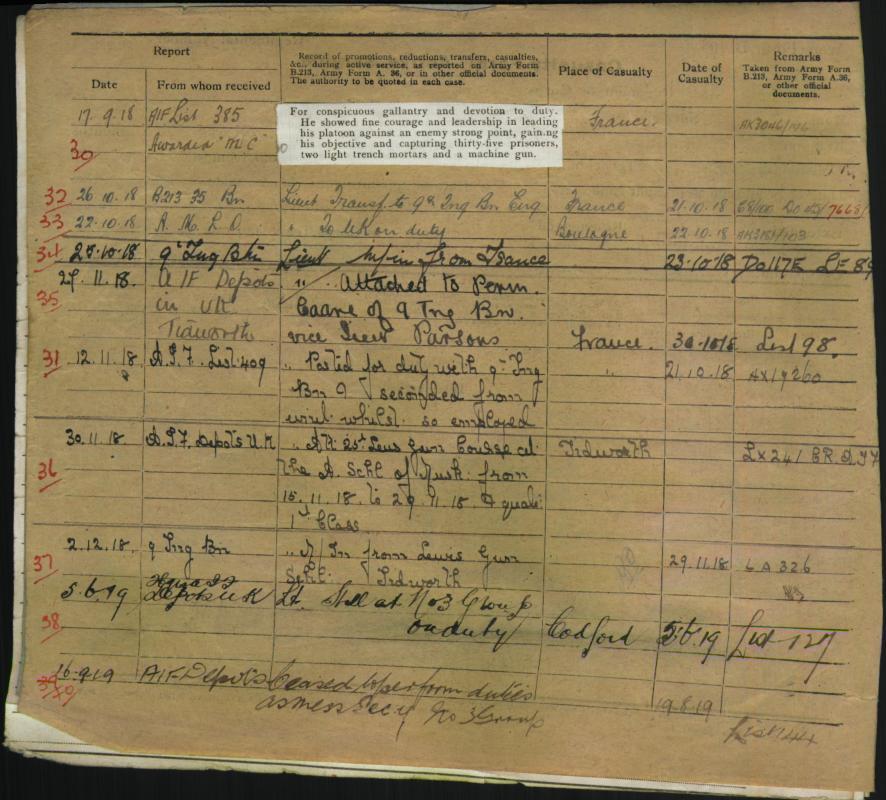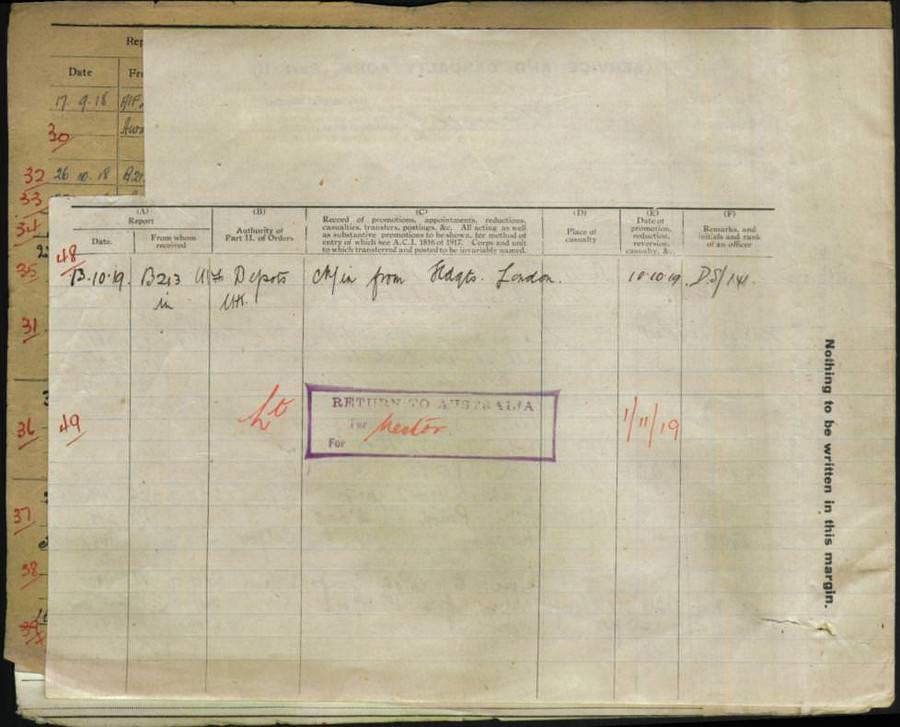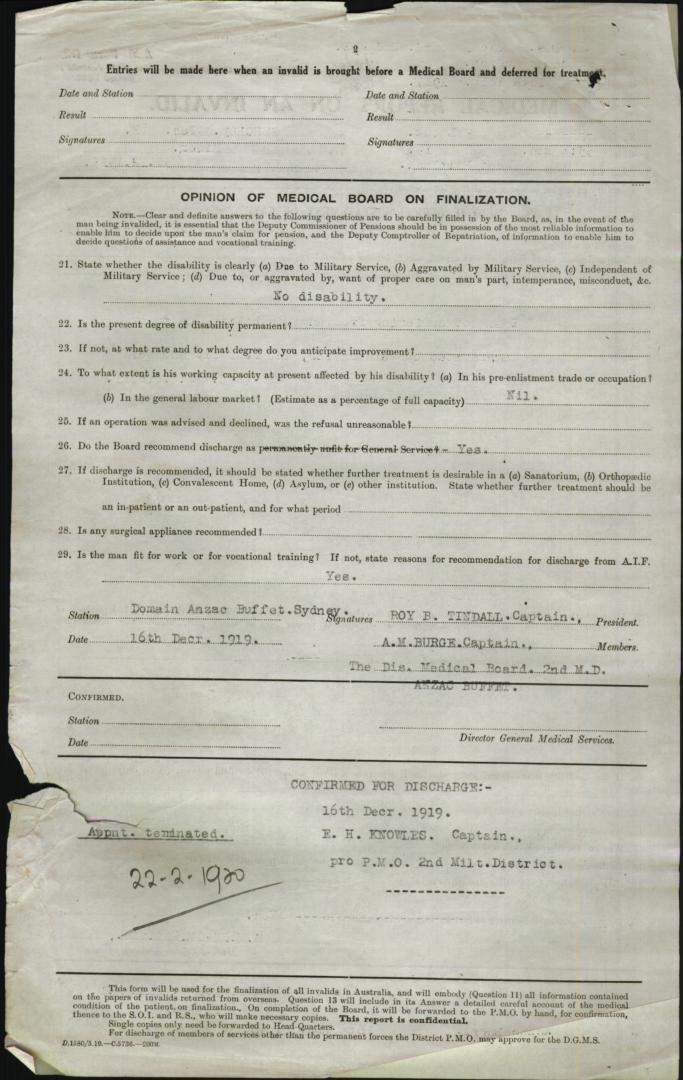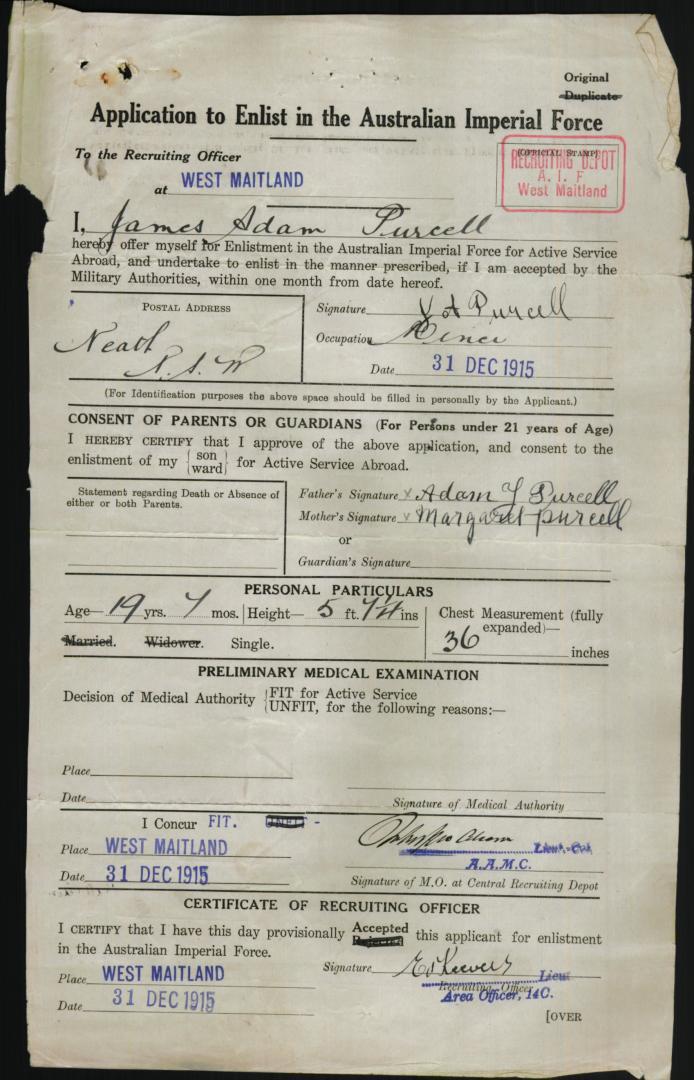 © Commonwealth of Australia (National Archives of Australia)
Under Construction; 20/01/2009-01/08/2015.
---
Web Counter
---