Patrick Alfred Owen Porter enlisted with the 20th reinforcements, 19th Battalion AIF on the 17th of April 1917 at Narrabri, N.S.W. and left Sydney on board HMAT A16 "Port Melbourne" on the 16th of July 1917, whilst at sea Patrick committed at Crime 1/ Insolence to an Officer. 2/ Refusing to obey the order od an N.C.O Award Forfiets 7 Days Pay, by Lieutenat Colonel: B Watray.
Patrick disembarked at liverpool, England on the 16th of September and was marched to the 5th Training Battalion. He remained in England until the 23rd of January 1918 when he proceeded overseas via Southampton for France and was marched in to ROUELLES with the 9th Training Battalion and Taken on in Strength with the 35th Battalion on the 28th of January 1918. Patrick was re allocated a new Regimental Number: 6860A after being transfered to the 35th Battalion.
Patrick was Wounded in Action at Abeville, France on the 17th of April 1918 when he was Gassed during an enemy bombardment and was treated by the 55th Field Ambulance before being transfered to the 41st Casualty Clearing Station the next day. The day after Patrick was admitted to the 9th General Hospital before being evacuated to England on board the "Carlisbrook Castle" on the 27th of April 1918.
After arriving in England Patrick was admitted to the 1st Southern General Hospital at BIRMINGHAM on the 28th of April where he remained until he was discharged on the 22nd of May 1918 and transfered to the no: 3 Command Depot at HURDCOTT. On the 27th of June he was admitted to the Fouvant Military Hospital suffering from a Swollen Knee and after he was discharged Patrick was sent to the Overseas Trainig Battalion.
Patrick was on another Charge whilst at SANDHILL. 1/ Neglect ot Obey H.Q Orders, being outside the camp area at 23:00hrs. and was ordered to forfiet 1 Days Pay on the 6th of October and 3 weeks later he was admitted to Hospital suffering from Influenza. After being discharged Patrick returned to the 9th Training Battalion but was again in trouble and he received another Charge, This time with Being Absent Without Leave from 23:00hrs 1/12/1918 until 06:25hrs 3/12/1918. He was ordered to forfiet 6 Days Pay. Patrick left England on board the "City of York" and returned to Australia on the 14th of January 1919.
Family Information
Patrick stated that he was a single 18 year old Saw Mill Labourer from Gunnadah upon enlistment, but he was only 17 years old. After the war Paticks last known address was 7 Blair Street, Teralba, N.S.W. 2284 in 1958 when he lodged a claim for his medals, which were issued in 1923.
Patrick and Edith Porter had 6 children, Dulie Porter, Allan Porter, Betty Porter, Neil Porter, Keven Porter and Brian Porter.
Military Records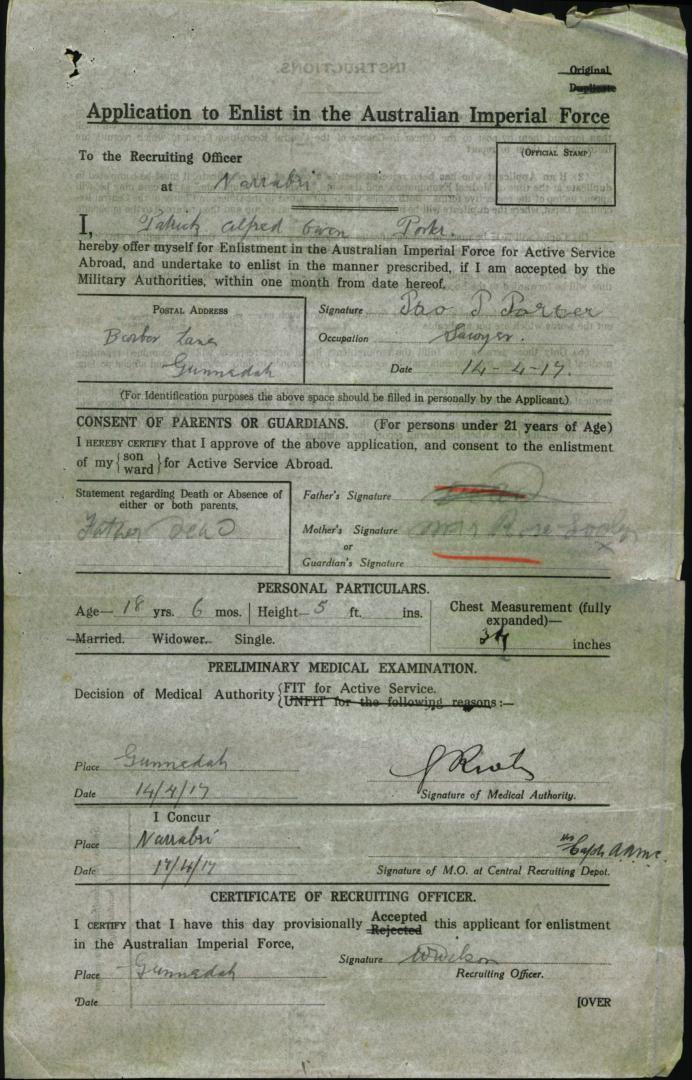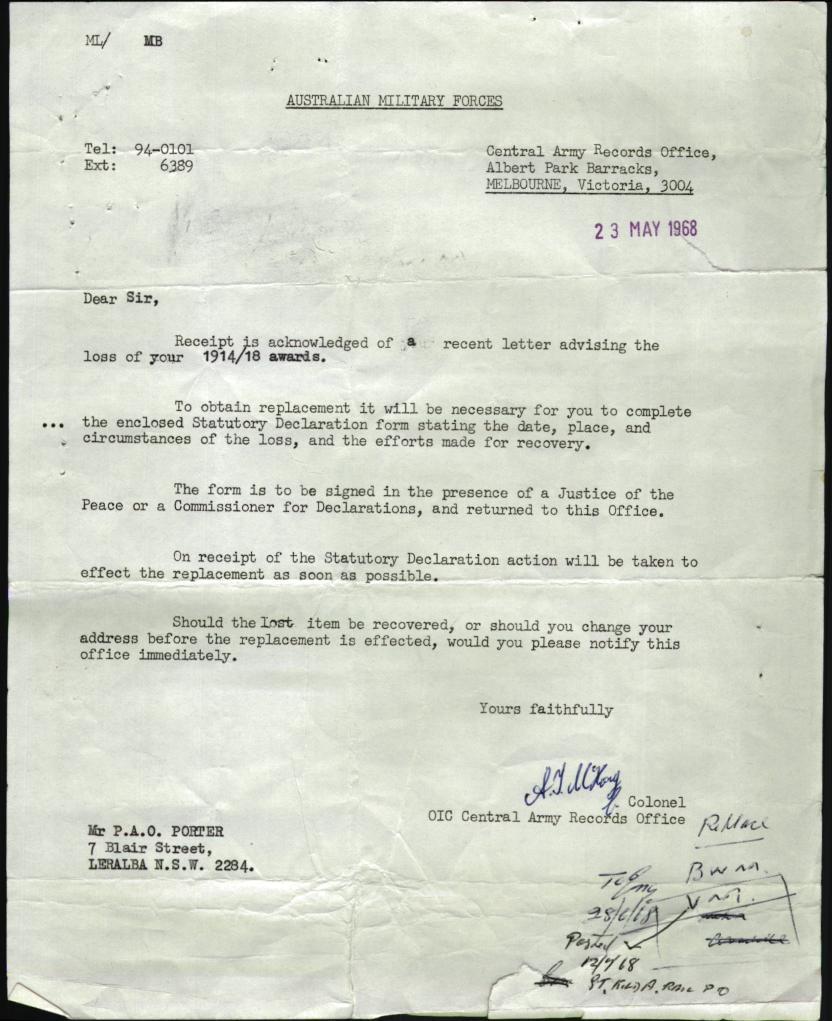 © Commonwealth of Australia (National Archives of Australia)
Under Construction; 30/12/2007-29/03/2017.
---
Web Counter
---