William Arthur Ernest Patterson enlisted at Liverpool, NSW on the 9th of September 1915, and stated that he was 21 yrs old. He was not accepted due to his age being only 16 years of age. He again tried to enlisted this time with the C Company 33rd Battalion at Inverell on the 14th of February 1916, service number 851. He stated this time that he was 19 year old. He was infact only 17 years old but had a concent form written by his father stating that William was 19 years of age.
William was an original "Kurragong" when he enlisted with the 33rd Battalion in 1916 and was issued an Inverell Recruitment Medal, which I believe is the brass medal which was presented to him by the Citizens of Inverell.
He was accepted into the AIF and was marched to Rutherford Camp and on the 5th of April after re-enlisting with the 2nd Reinforcements 35th Battalion AIF. William left Sydney on board HMAT A15 "Port Sydney" on the 4th of September 1916 and disembarked at Plymouth on the 29th of October 1916. After only a couple of months William proceeded overseas to France on the 20th of December. He was taken on strength with the 35th Battalion but was sent to Hospital on the 27th of January 1917 suffering from Scabies which was rampent in the trenches.
William rejoined the Battalion on the 7th of February and remained in action until the 23rd of December 1917, for an unknown reason?. He was discharged to duty on the 4th of January 1918 and remained in the Line until he was Wounded in Action on the 4th of April 1918 receiving a Severe Gun-Shot Wound to the Left Hand, and was treated at the 9th Australian Field Ambulance.
The next day William was transfered to the 12th General Hospital in Rouen where he had his 1st and 2nd Fingers on his Left Hand Amputated. on the 10th of April. He was evacuated to England and transfered to the 1st Southern General Hospital at Edgbaton. He remained there before being sent to St David's Hospital and on the 11th of June 1918 he was sent to rest and recover at the 3rd Auxillary Military Hospital at Dartford.
After 2 weeks William was granted Furlo from the 24th of June to the 8th of July 1918 and then directed to report the Wymouth. William was to report to London and was returned to Australia on the 21st of September 1918 on board the "Boowah" and discharged Medically Unfit on the 26th of November 1918.
4th-5th April 1918
The Strength of the 9th Infantry Brigade was about 2,250 but their casulties during the 2 days of fighting numbered 30 Officers and 635 men either killed in action or missing.

114 Men known as the Kurrajong's lined up against the Drill Hall in Inverell prior to marching to the railway station on the 12th of January 1916. The men all wore a white panama hat and were issued a pair of hand knitted sox and the Inverell Recruitment Medal.
Presented to Pte W.A.E. Patterson by Citizens of Inverell, N.S.W. 10.1.16
Family Information
William was a single 17 year old Farmer/Labourer from Inverell, NSW where he lived with his parents at Capeton via Inverell. His parents, William John and Ada Patterson were married in 1897 at Warialda, N.S.W. Marriage Cert:4285/1897 and had 4 children. Gladys I Patterson born 1898 at Warialda, N.S.W. Birth Cert:8089/1898. William Arthur Ernest Patterson born 1899 at Inverell, N.S.W. Birth Cert:12722/1899 and died in 1969 at Kurri Kurri, N.S.W. Death Cert:10124/1969. Ada J J Patterson born 1901 at Warialda, N.S.W. Birth Cert: 27466/1901. Cecil S R Maidens born 1894 at Warialda, N.S.W. Birth Cert:35251/1894 and died under Cecil S R Patterson in 1915 at Tingara, N.S.W. Death Cert:2107/1915. (note no father was recorded, so Cecil was recorded under his mother's maiden name)
His British War:52159 and Victory Medal:50808 PTE 1935 W.A.E. PATTERSON 35BN AIF, and Brass Inverell Recruitment Medal. from the citizens of Inverell, were acquired in October 2001 and are now in the collection.
This medal group was the first acquired which commenced the collection. They were acquired from Ross Sargant of Cessnock, New South Wales.
Military Records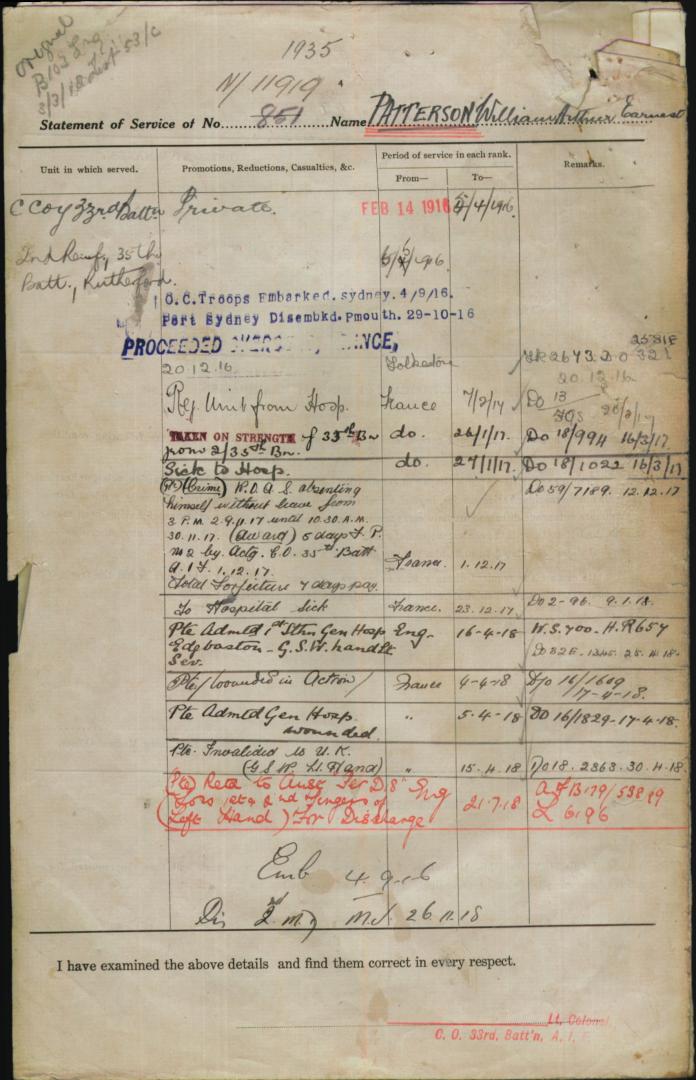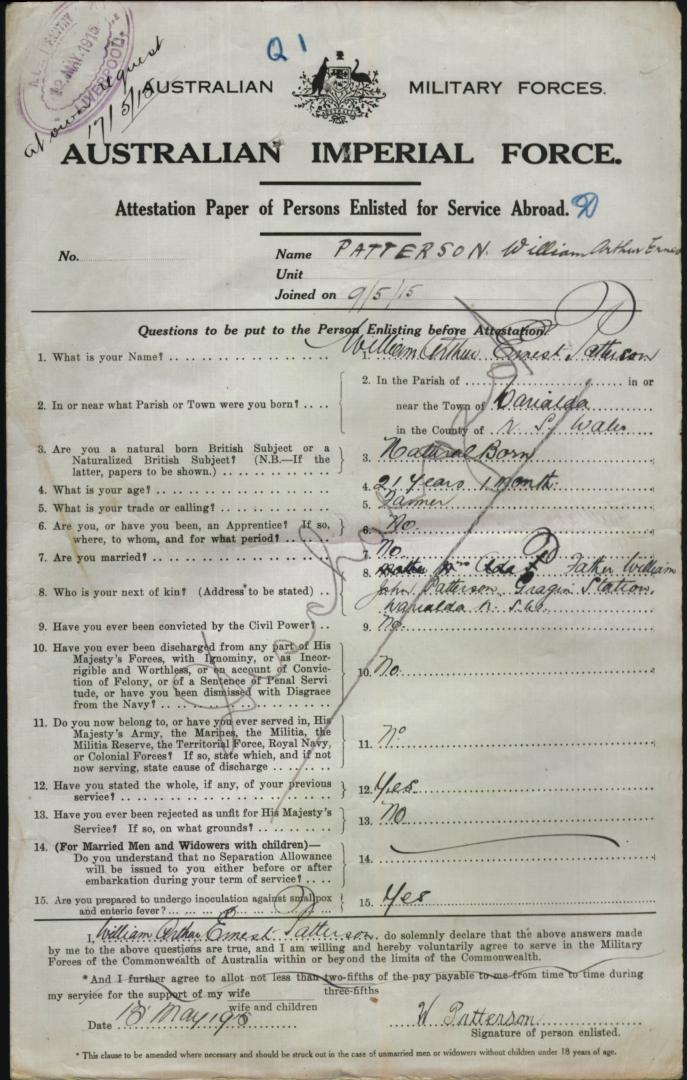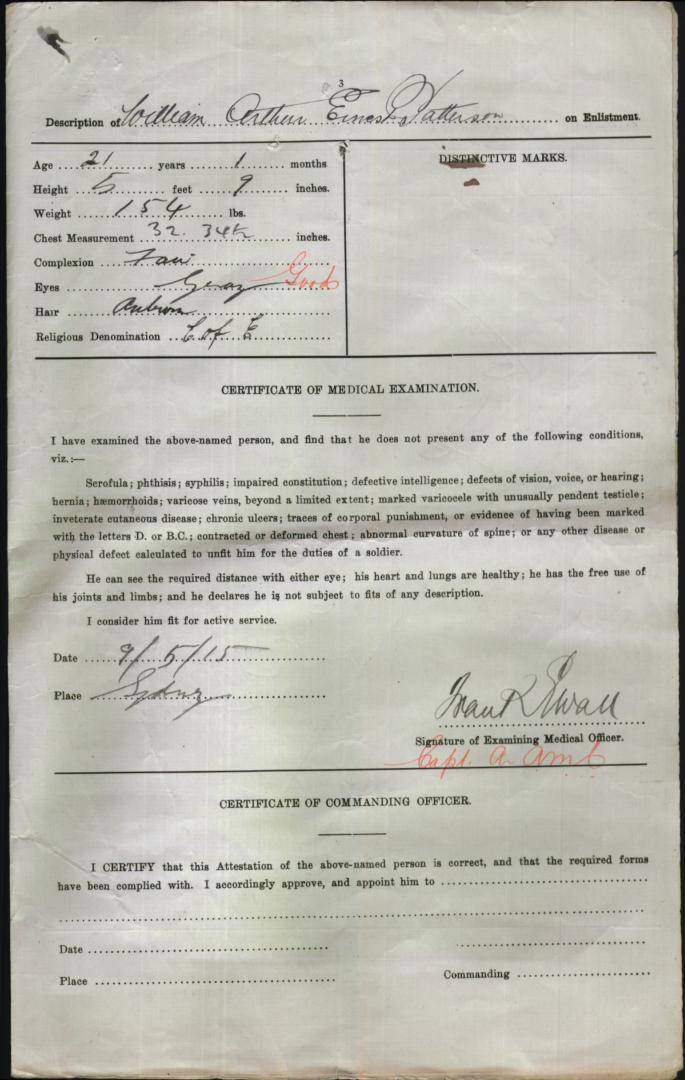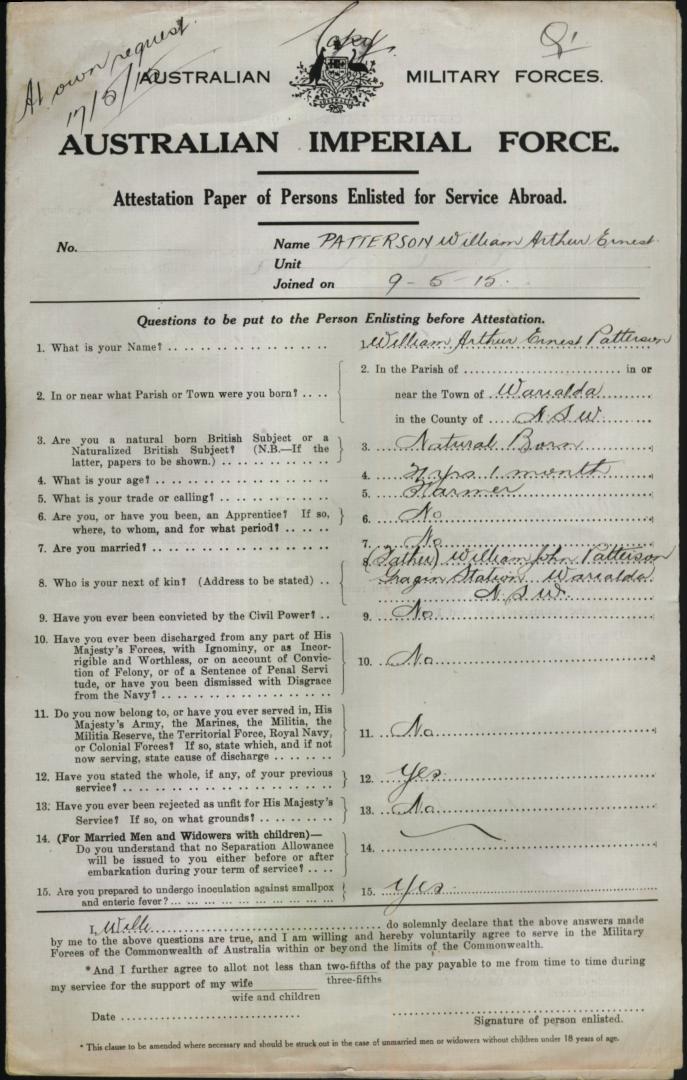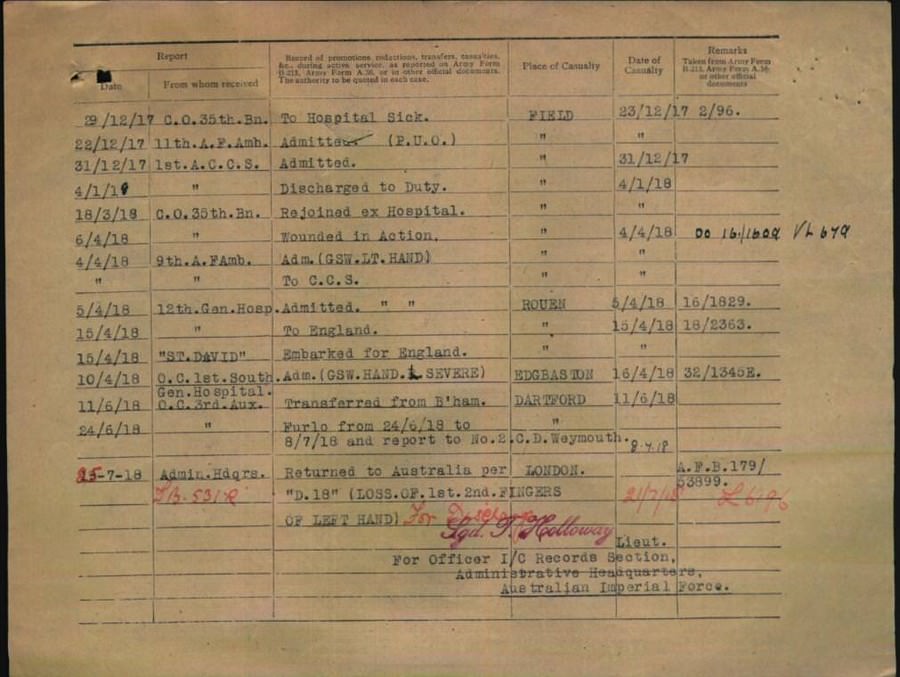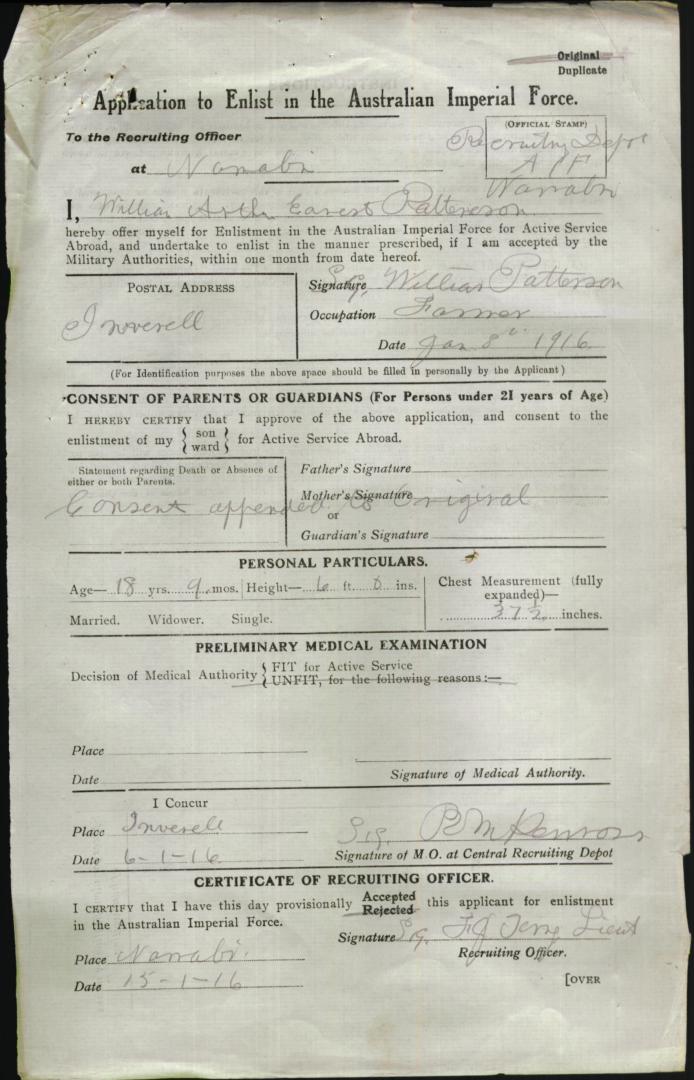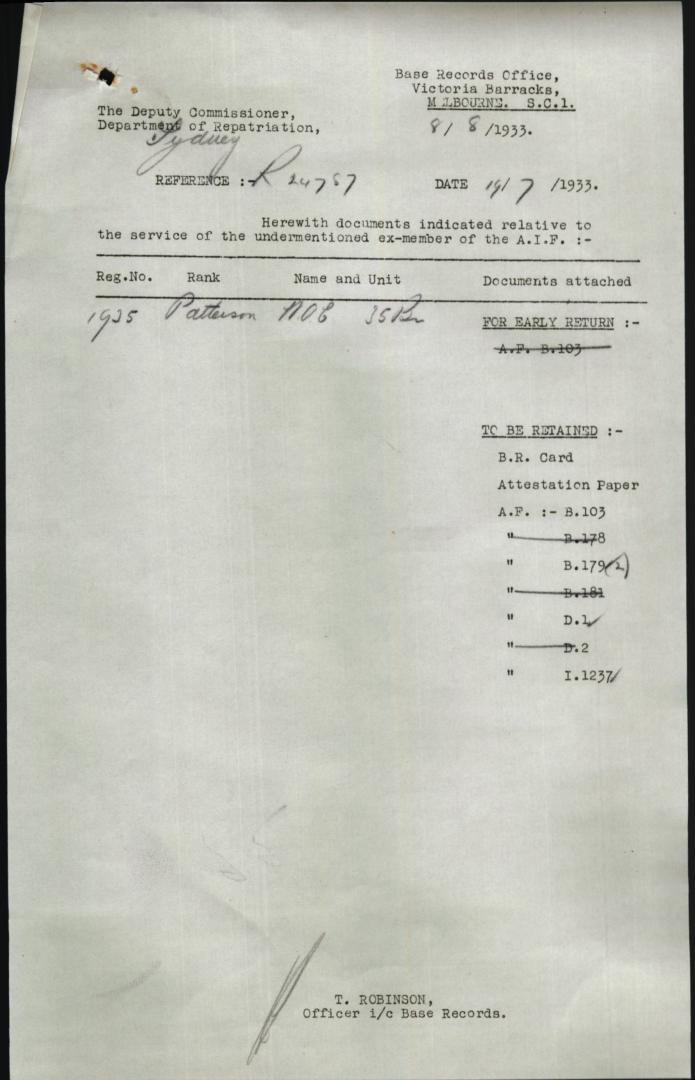 © Commonwealth of Australia (National Archives of Australia)
Under construction; 17/01/2009-09/07/2015.
---
Web Counter
---