Percy John Parkinson enlisted with D Company, 35th Battalion AIF on the 10th of January 1916 and was an original member of the Battalion, he left Sydney on board HMAT 24 "Benalla" on the 1st of May 1916 and after 3 weeking into the voyage Percy was charged with being Absent Without Leave from 14:00hrs until 22:00hrs on the 23rd of May 1916 and was ordered to carry out 14 days of Fatigue Duty and forfeit 1 days pay by the Officer Commanding the Troop Ship "Benalla". Percy disembarked at Plymouth, England on the 9th of July and was marched to the Durrington Army at Larks Hill to commence training with the 9th Training Battalion.
Percy was admitted to the Fargo Army Hospital on the 9th of September for a short stay and proceeded overseas for France via Southampton on the 21st of November 1916 but was soon back in Hospital after he was treated by the 9th Australian Field Ambulance on the 13th of December when he was suffering from Scabies which he contracted from the trenches in France and after being treated he was discharged to duty on the 19th of December.
After 2 months action in France, Percy was again treated bt the 9th Australian Field Ambulance and was evacuated to the 2nd Australian Casualty Clearing Station suffering from Chronis Appendicitis on the 24th of February 1917 and returned to England on board the "Cambria" on the 4th of March and after his recovery he was granted a Furlo from the 8th of May until the 23rd of May but failed to return on time and was again charged with being Absent Without Leave.
Percy was in trouble again 2 days later but this time he received a District Court Martial on the 25th May 1917 at the Chelsea Barracks. President Major T.H.H. Bradford-Atkinson, Grenadine Guards. Charge Such an offence of a fraudulent nature as is mentioned in Sub Section 5 Section 18 of the Army Act in that he in London on 11.5.17 presented to Corporal Matthews, his pay book , in which the entry of the amount which he was entitled to draw, on the said date had been improperly altered from 10/- to 5 Pounds- 10/- as he well knew, thereby attampted to obtain pay to which he was not entitled, with the intent to defraud. Pleaded "Not Guilty". Finding "Guilty". Sentence to undergo Detention for 56 Days 25.5.17. Convened by Lieutenant General Francis Lloyd. In Custody awaiting trial 14 days, to forfiet 70 Days Pay, 17 Pounds-10/-
Percy was marched in from Durrington Army Camp on the 15th of July and re-classified and transfered to the No: 2 Comand Depot at Tidworth on the 18th of August and returned to Australia on board the HMAT A38 on the 10th of September 1917 and discharged on the 15th of December 1917.
Family Information
Percy was a single 22 year old Hooker On at the Cranes on Bullock Island with the New South Wales, Depatment of Railways and Trams from Dunbar Street, Stockton upon enlistment.
John and Mary Parkinson were married in 1892 at Glebe, N.S.W. Marriage Cert:3643/1892 and had 2 sons Henry William Parkinson born 1893 at Leichardt, N.S.W. Birth Cert:19546/1893 and Percy John Parkinson born 1895 at Leichardt, N.S.W. Birth Cert:23584/1895.
Bombardier: 19125 Henry William PARKINSON 107th Battery, 7th Field Artillery Brigade.
---
AUSTRALIAN ARMY PROVOST CORPS
Lance Sergeant: N67701 Percy John PARKINSON.
---
Percy John Parkinson enlisted during World War 2 with the A A Provost Corps on the 13th of October 1939 at Newcastle and was posted to Jemond, N.S.W. and was discharged on the 24th of May 1941.
---
32 BATTALION VOLUNTEER DEFENCE CORPS
Lieutenant: N414052 Percy John PARKINSON.
---
Percy John Parkinson re-enlisted with the 32nd Battalion Volunteer Defence Corps on the 31st of May 1942 at Lambton and was posted again to Jesmond where he received his Commission as a Lieutenant and was discharged on the 30th of September 1943.
(Australian National Archives)
World War 1 Military Records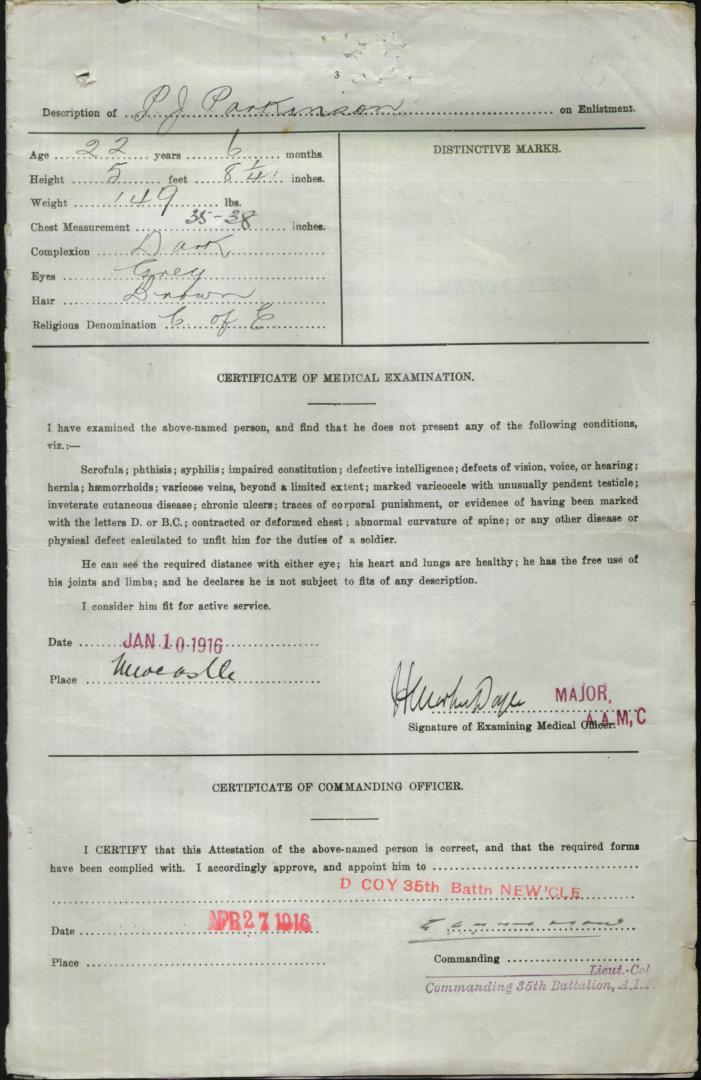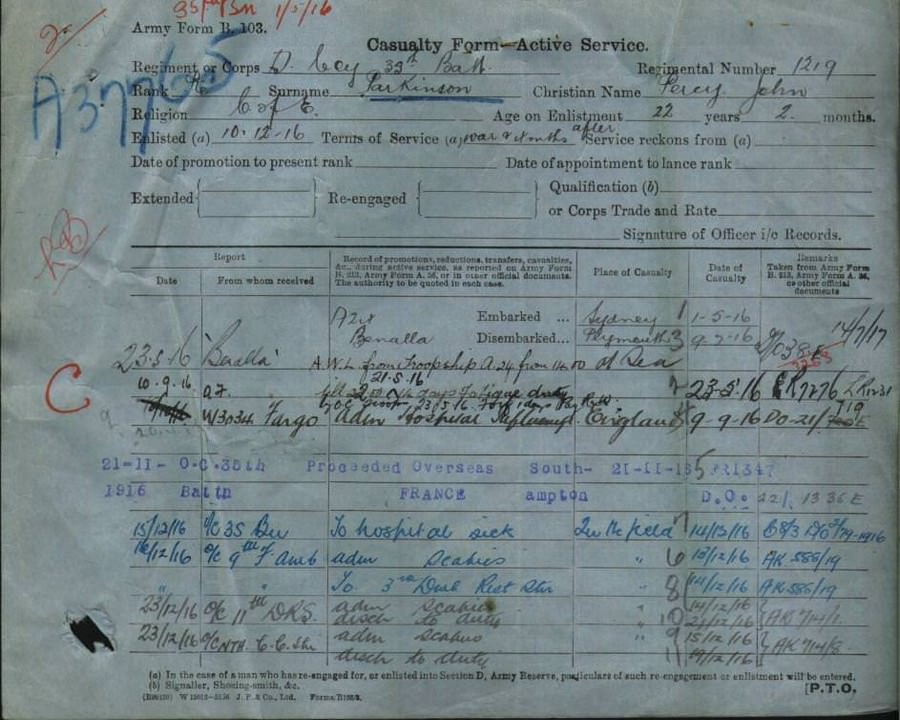 Under Construction; 04/06/2008-22/04/2014.
---
Web Counter
---