Michael Neylon enlisted with D Company 34th Battalion AIF on the 23rd of February 1916 with the rank of Corporal. On the 10th March the Battalion marched to the newly pitched camp at Rutherford and was completed with the exception of the Transport. These joined later and came from the Army Service Corps Camp near Sydney. Here strenuous training was carried out. The men were very keen and fit, whilst their comfort and health were made a special study. Food was good and ample and sports and recreation were not overlooked.
On 1st May 1916, the Battalion left by Train from Farley Station for the Showground in Sydney, equipped with kit bags and neccessary clothing, and was reviewed in Moore Park by General RAMACCOTTI. On the following morninng, 2nd May 1916 the men embarked on the transport HMAT A20 "HORORATA" and sailed at 4:00pm".
H.M.A.T. A20 "HORORATA"
Devonport was reached on the 23rd June, the Battalion disembarked at Plymouth at 1:00pm and entrained during the afternoon for Amesbury, arriving at midnight and marching to hutments at No: 1 Camp, Larkhill. Here the Battalion settled down to hard training, which included Route Marching, Trench Digging, Bomb Practice, Musketry and general Camp Routine. Later the Battalion moved to the No: 25 Camp and finished off their training, which included six days' battle practice and field work at the Bustard Trenches.
The 34th Battalion left Larkhill on the 21st November and entrained at Amesbury for Southampton, embarking on the S.S "Arundel". The transport section left by S.S. "Princess Victoria". The Battalion arrived at Le Harve, France on the 22nd November 1916. Disembarkation commenced at 8:00am and the Battalion marched to No;1 camp on the Hill, arriving at 2:00pm. The men carried heavy loads, in some cases amounting to miniature Q.M.' Stores. The march over cobblestones was very tiring, notwithstanding the many route marches which had been carried out at Larkhill. However, after bathing their feet and receiving treatment, as well partaking of a good meal, some spent a comfortable night.
The following morning the Battalion moved to Le Harve Railway Station, leaving D Company behind. On arrival at the Station entraining commenced at 8:00am and the train left at 11:15am. The journey was slow and occupied until 4:30pm on the 24th. On arrival at Bailleul the men detrained and marched to Outtersteene. D Company arrived at 4:00pm the following day. The Battalion rested here in billets for two days previous to taking over garrison duties in the Line at Armenties. The Commanding Officer Lieutenant Colonel. Malcolm St John LAMB. with the Adjutant, Company Commanders, N.C.O's and Specialists went into the Line to inspect Trenches, Stores, Plans and to arrange for the taking over this Section of the line on the following day.
The specialists and N.C.O's remained in the Line. On 27th November the Battalion went into the Line in the L'Epinette Sector. The men were taken up by motor lorries as far as the Square near Houplines Station, and marched via Butterne Avenue and Willow Walk to the Line, carrying their packs and blankets into the trenches. Lewis Gun ammunition was taken into the Line with the tin cases. The going was difficult owing to the conditions of the Trenches and the heavy and bulky loads. Later the blankets were dumped near Tussage Dump, from which most of them disappeared. This was the main incident of our relief in the Line.
Michael was treated by the 11th Australian Field Ambulance on the 9th March 1917 suffering from Shell Shock ande was admitted to the 3rd Divisional Rest Station until the 4th of April when he rejoined his unit in the field. Micheal was Wounded in Action on the 17th May 1917 and was again treated by the the 11th Australian Field Ambulance suffering from a Geun Shot wound to his Leg and Shell Shock. He was evacuated to Base Hospital and was replaced by Corporal: 1170 Percy Harold LAMBLEY who was promoted to Temporay Sergeant, and upon Michaels discharge rejoined his unit on the 16th June 1917.
On the 20th June 1917, Michael was promoted to Temporary Sergeant in the field but reverted back to Corporal on his own request on the 13th July where he was transfered to the 9th Training Battalion and embarked for England to attend the School of Inmstruction at Tidworth. Again Michael was promoted, this time to Extra Regimantal Sergeant but reverted back to Corporal before embarking for France on the 30th January 1918 via Southampton. Rejoining his unit from the 9th Training Battalion on the 7th February 1918.
Michael was promoted to Temporary Sergeant on the on the 11th March 1918 when Sergeant: 1223 William Ronald ROSS was Wounded in Action and struck off strength and evacuated fron the Line. He reverted back to the rank of corporal on the 18th of April 1918.
Michael was promoted to Temporary Sergeant on the 1st July 1918 when Sergeant: 929 Alexander ANDERSON. was Wounded in Action and struck off strength and evacuated fron the Line.
Attached to the 129 American Regiment 20th July to the 27th July 1918 and was Wounded in Action 2nd Occassion on the 31st of August and Died of Wounds on the 1st of September 1918 and is remembered with honour and is commemerated in perpetuity by the Commonweath War Graves Commission and is buried at the Daours Communal Cemetery Extension, France.
10th December 1918.
Sergeant: 1286 Michael NEYLON 34th Battalion AIF was admitted to this Casualty Clearing Station on the 1st September 1918 suffering from Shell Wounds. He received every care and attantion here, but his condition was so grave that he died during the same day. His burial took place the following day at the local Military Cemetery.
Officer Commanding; 61 Casualty Clearing Station.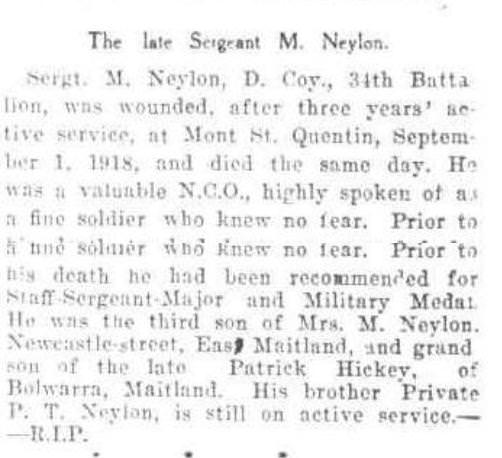 Source: The Catholic Press (Sydney, NSW : 1895 - 1942), Thursday 3 July 1919, page 22, 23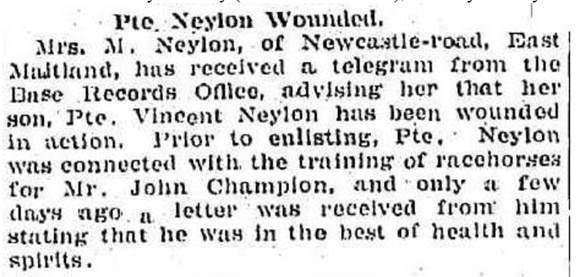 Source: The Maitland Daily Mercury (NSW : 1894 - 1939), Tuesday 22 May 1917, page 4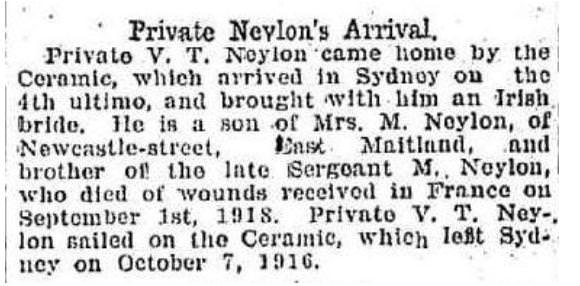 Source: The Maitland Daily Mercury (NSW : 1894 - 1939), Friday 10 October 1919, page 4
Source: The Maitland Daily Mercury (NSW : 1894 - 1939), Friday 21 March 1919, page 4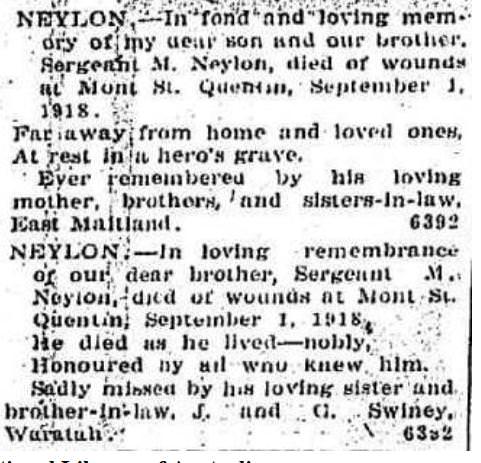 Source: The Maitland Daily Mercury (NSW : 1894 - 1939), Wednesday 1 September 1920, page 8
Michael Neylon. 34th Battalion AIF.
Daurs Communal Cemetery Extension, France.

Family Information
Michael was a single 23 year old Labourer from East Maitland prior to enlistment. He served with the 14th Infantry Militia. Michael's parent's Thomas and Margaret Neylon were married in 1881 at East Maitland, N.S.W. Marriage Cert:4607/1881 and had at least 7 children. Julia A Neylon born 1882 at East Maitland, N.S.W. Birth Cert:20589/1882. Bridget Neylon born 1884 at East Maitland, N.S.W. Birth Cert:23902/1884 and died 1884 at East Maitland, N.S.W. Death Cert:10513/1884. Patrick Neylon born 1885 at East Maitland, N.S.W. Birth Cert:24728/1885. Thomas Vincent Neylon born 1887 at East Maitland, N.S.W. Birth Cert:26249/2887 and died 1959 at Maitland, N.S.W. Death Cert:2859/1959. Mary C Neylon born 1889 at East Maitland, N.S.W. Birth Cert:25751/1889 and died 1889 at East Maitland, N.S.W. Death Cert:11018/1889. John F Neylon born 1890 at East Maitland, N.S.W. Birth Cert:20425/1890. Raymond B Neylon born 1901 at East Maitland, N.S.W. Birth Cert:14058/1901 and died 1901 at Wickham, N.S.W. Death Cert:11862/1901.
Michael's brother Private: 5847 Vincent Thomas NEYLON. 18th Battalion AIF.
Michael Neylon's Birth Certificate.
Margaret Neylon's Death Certificate.
(Studio Photo, Certificates. Alisa Patterson. 11/04/2011)
Hi David
Iíve been searching through Trove and found a few articles on Michael Neylon (1286 Ė 34th battalion) and his brother Vincent Neylon (5847 Ė 18th battalion) that I thought you might be interested in. One of the articles also has a copy of the photo that I sent you earlier of Michael Neylon (we have the original hanging at my Mumís house, Michael was my mumís fatherís (Denis Leo Neylan/Neylon) brother). One of the articles refers to his brother ĎP. T. Neyloní as serving in the war but this should be ĎV. T. Neyloní Ė Vincent Thomas Neylon. They did have a brother Patrick who tried to enlist (a number of times Iím told) but he was rejected I think it was because he was a farmer and needed in Australia.
J. & G. Swiney mentioned are George Swiney and Julia Alice Swiney (nee Neylon). Julia was Michael and Vincentís sister. Iím hoping to track down descendants one day, weíre not sure where Michael or Vincentís war medals are and hoping they might be with the descendants of George and Julia. It would be good to know.
From Alisa. (January 2015)
Military Records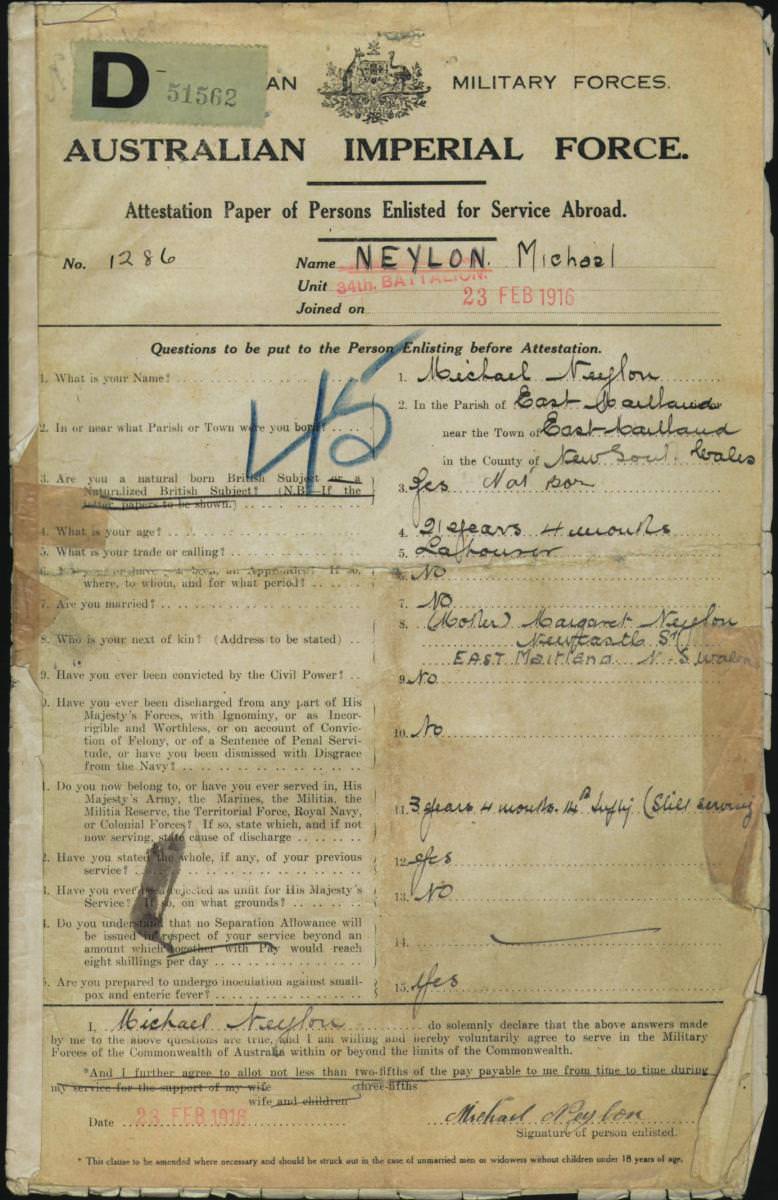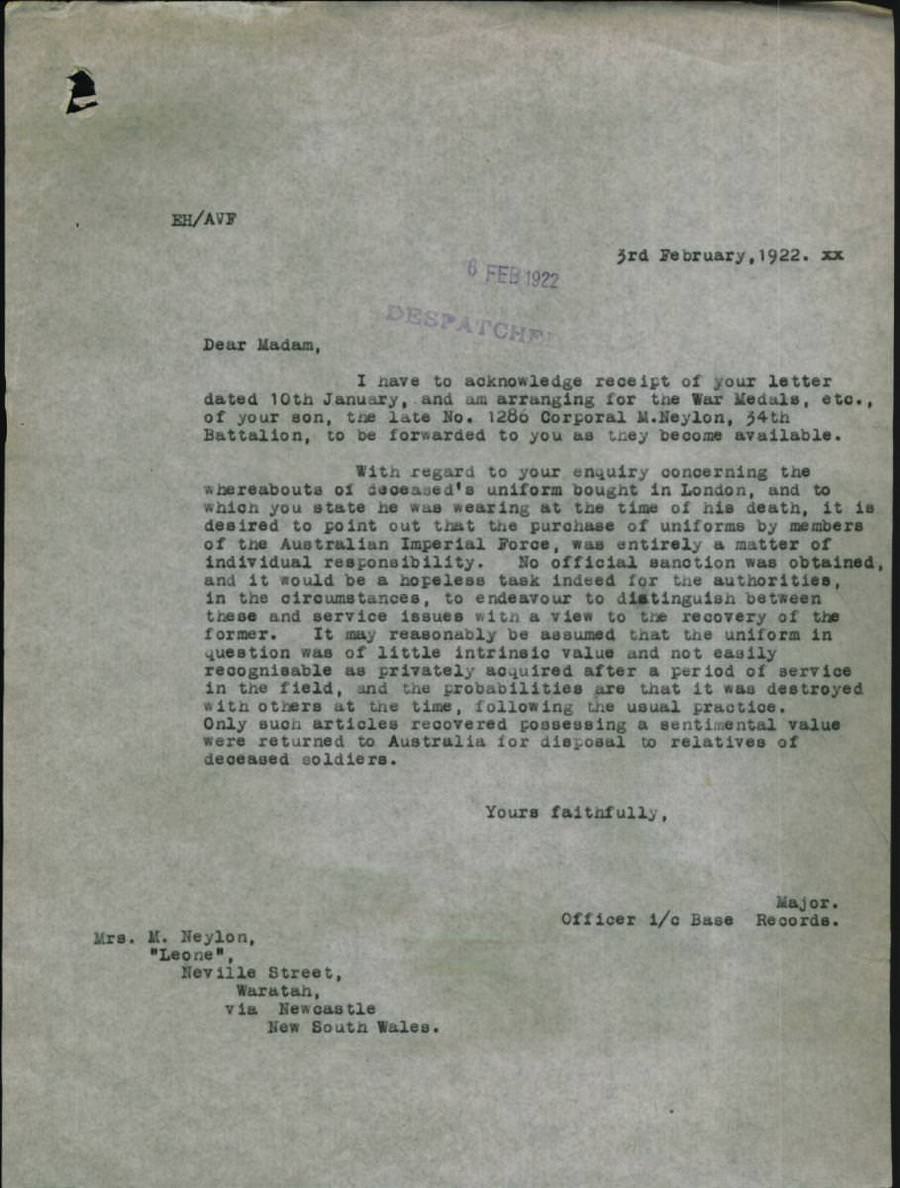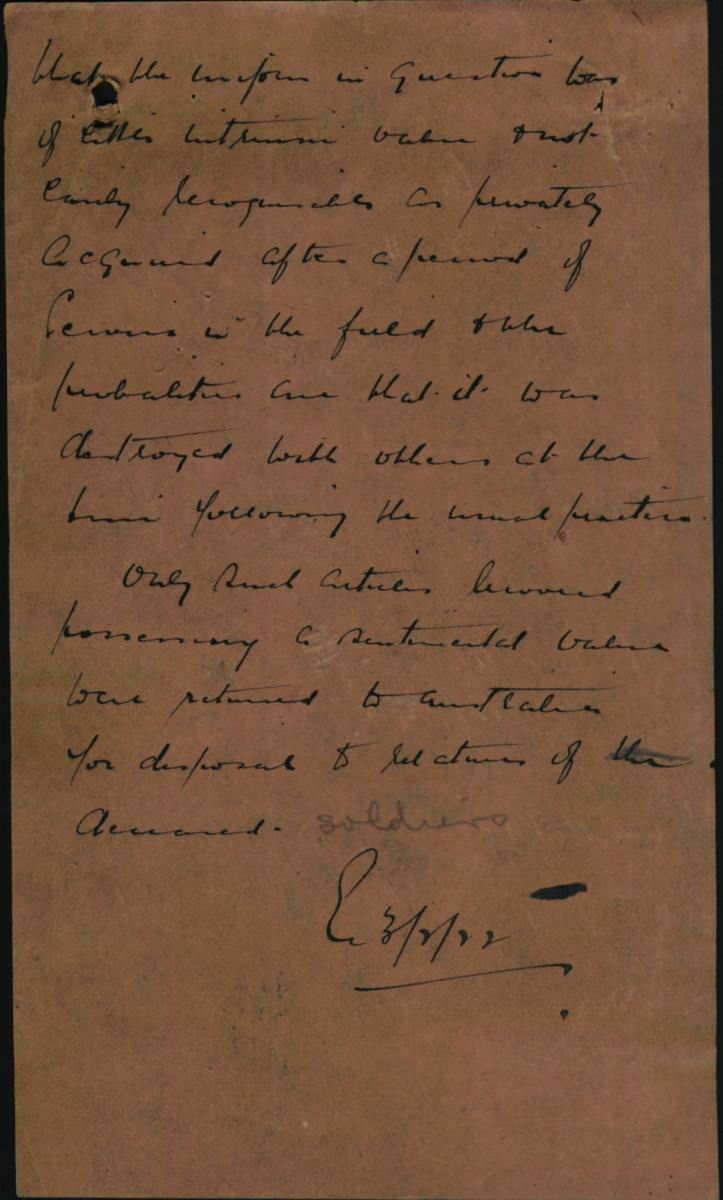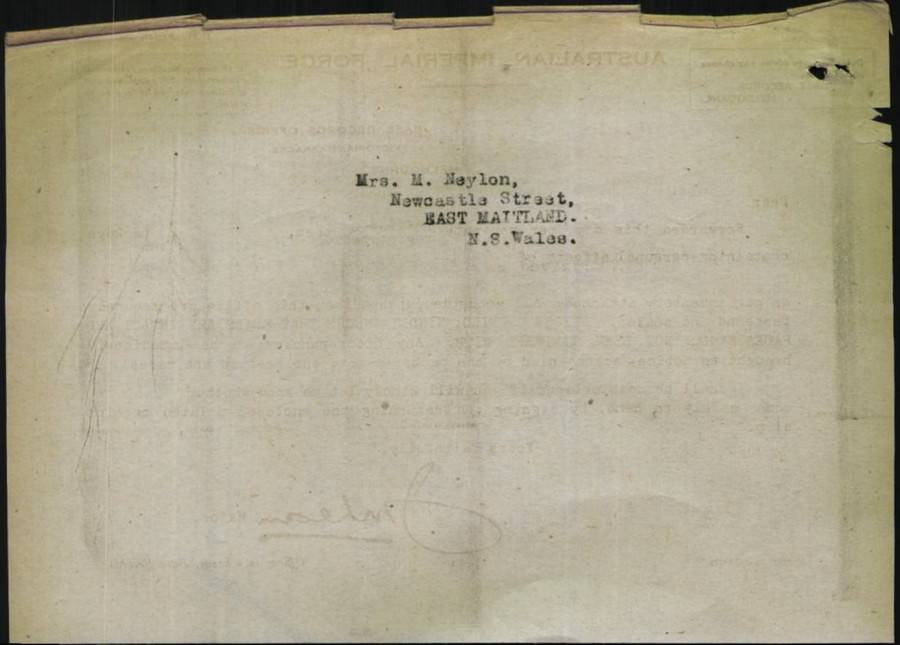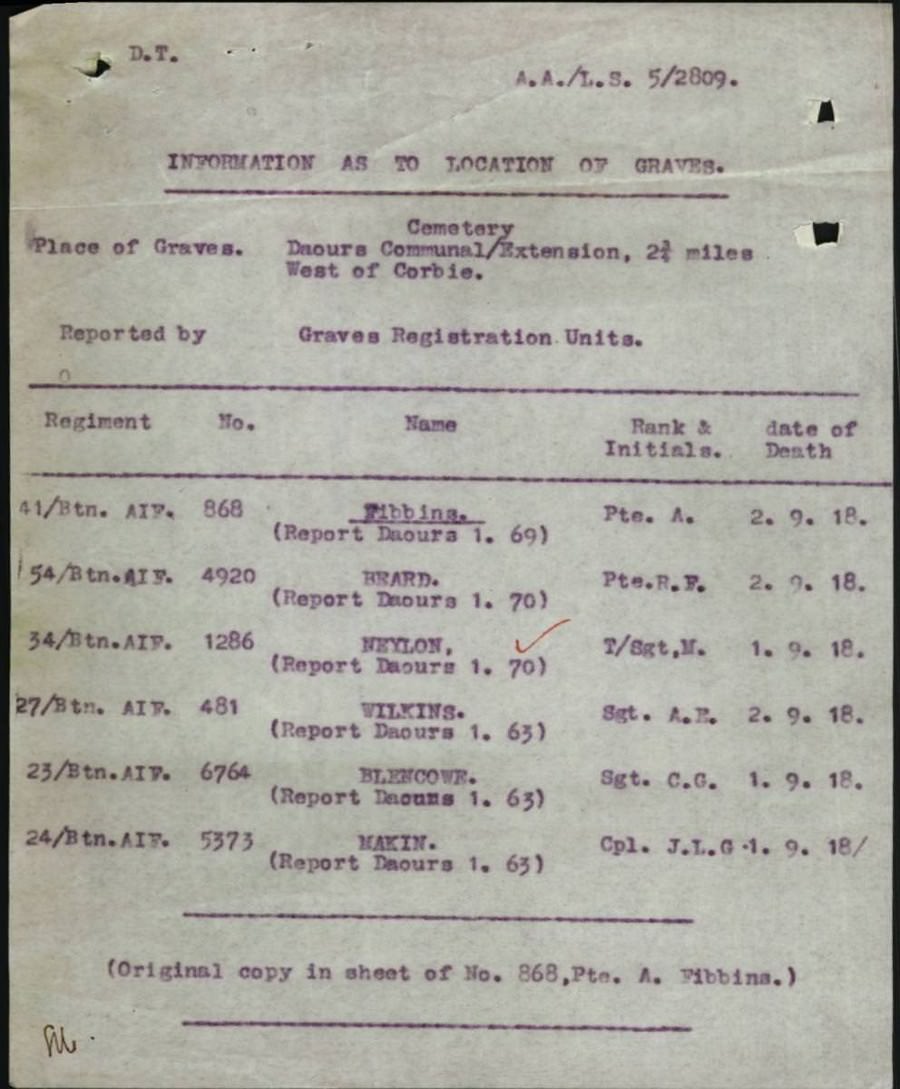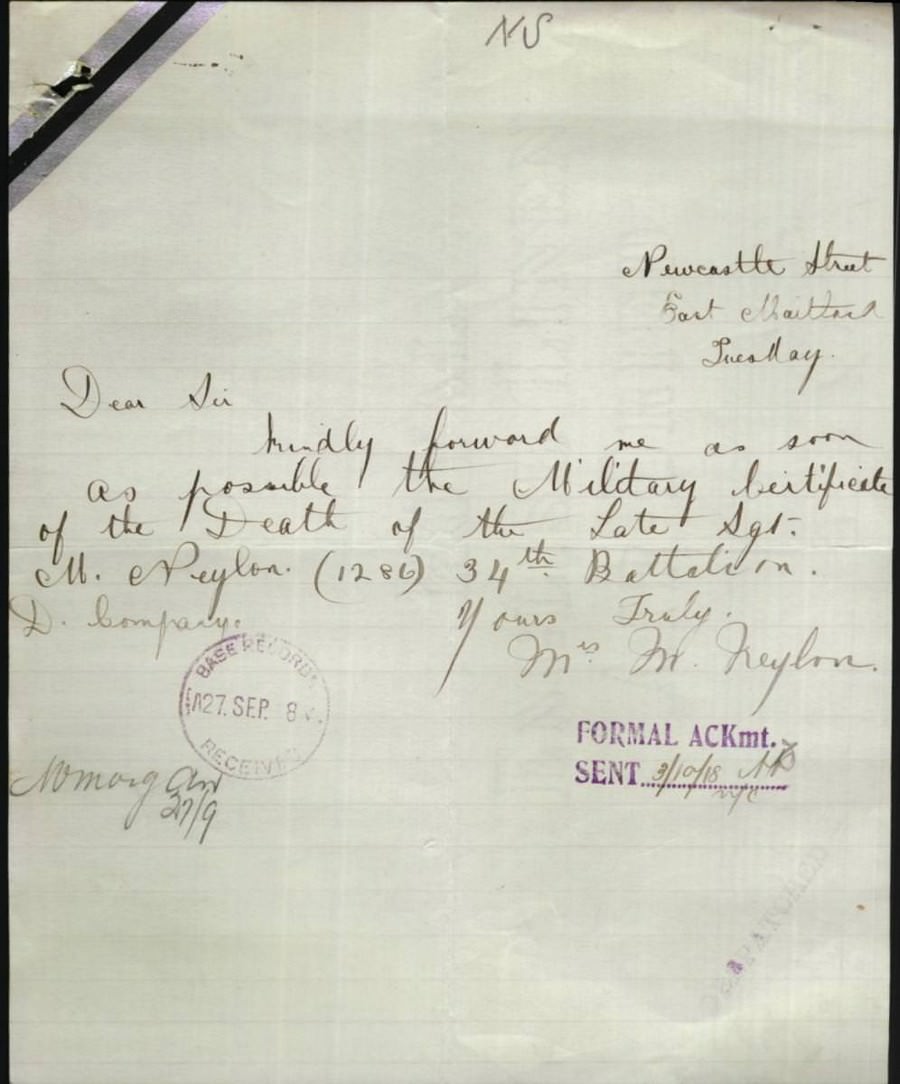 © Commonwealth of Australia (National Archives of Australia)
Under Construction; 07/04/2007-09/02/2016.
---
Web Counter
---