---
MAIN MENU.
35th BATTALION PAGE.
---
35th BATTALION A.I.F.
Private: 3094 Eric Sydney A MOSS.
---
Born: 1895. Katoomba, New South Wales, Australia. Birth Cert:23345/1895.
Died: 6th April 1918. Died of Wounds Villers-Brettonnuex, France.
---
Father: Sydney A Moss.
Mother: Amelia Jean Moss. nee: Hall.
---
INFORMATION
Eric Moss enlisted at Narromine 3rd July 1916 and posted to Moore Park Signals Training Depot and was transfered to the 7th Reinforcements, 35th Battalion AIF and left Sydney on board HMAT A68 "Anchises" on 24th January 1917, and disembarked at Devonport 27th March 1917. Eric was marched to the Durrington Army Camp at Larkshill and commenced training with the 9th Training Battalion.

Eric was Charged with beingAbsent Without Leave from 25th May to 1st June 1917 and given 14 days Field Punishment number two and forfeiture 21 days pay by Major: Archibald Leeson PRINCE. He wa later sick from 16th June to 14th August 1917, but continued service at Durrington until 18th January 1918, where he was in Cooking School until 18th February. Eric proceeded overseas for France via southampton and was Taken on in Strength and began operations in France and Flanders from 24th March 1918.

The First VILLERS-BRETONNEUX

4th-5th April 1918

The Strength of the 9th Infantry Brigade was about 2,250 but their casulties during the 2 days of fighting numbered 30 Officers and 635 men either killed in action or missing.

9th Infanry Brigade Casulties.4th-5th April 1918
| | | |
| --- | --- | --- |
| 33rd Battalion. AIF | 3 Officers | 82 Other ranks |
| 34th Battalion. AIF | 5 Officers | 120 Other ranks |
| 35th Battalion. AIF | 9 Officers | 282 Other ranks (including 44 missing) |
| 36th Battalion. AIF | 12 Officers | 133 Other ranks (including 1 missing) |
| 9th Machine Gun Company. AIF | 1 Officer | 18 Other ranks (including 4 missing) |
Eric Was badly Wounded in Action where he recieved Shrapnel to his Abdomen on 5th April 1918 near Villers Bretonneux and was treated by the australian firld Ambulance befor being carried by Stretcher Bearers to the 5th Casualty Clearing Station and Died of Wounds the next day on the 6th of April 1918.
19th June 1918.
Private: 3094 Eric MOSS. was admitted on the 5th April 1918 and died 6th April 1918. He was severely wounded in the abdomen and there was little hope of recovery when he was admitted. He was buried in a British Cemetery at Picquiney- Plot 1 Row E Grave 6.He was buried on the 7th April 1918. It may comfort his parents to know that he did not suffer much pain, and had every care and attention and everything was done for his comfort.
The Matron. 5th Casualty Clearing Station. British Expeditionary Forces.
Eric's British War Medal:55751 to PTE 3094 E.S.A MOSS 35 BN AIF was acquired in July 2009 and is now in the Harrower Collection.
Family Information
Eris was a single 21 year old Electrician from Petersham, N.S.W. prior to enlistment. Eric Moss had served for 4 years previously in the 39th Fortress Company and 8 months home service with the Australian Army Medical Corps at Randwick Base Hospital. His parents Sydney and Amelia Moss were married in 1894 at Canterbury, N.S.W. Marriage Cert:3050/1894 and had 2 children. Eric Sydney A Moss born 1895 at Katoomba, N.S.W. Birth Cert:23345/1895 and died in 1918 at Villers-Brettoneux, France. Marjorie I E Moss born 1901 at Granville, N.S.W. Birth Cert :3050/1894.
Military Records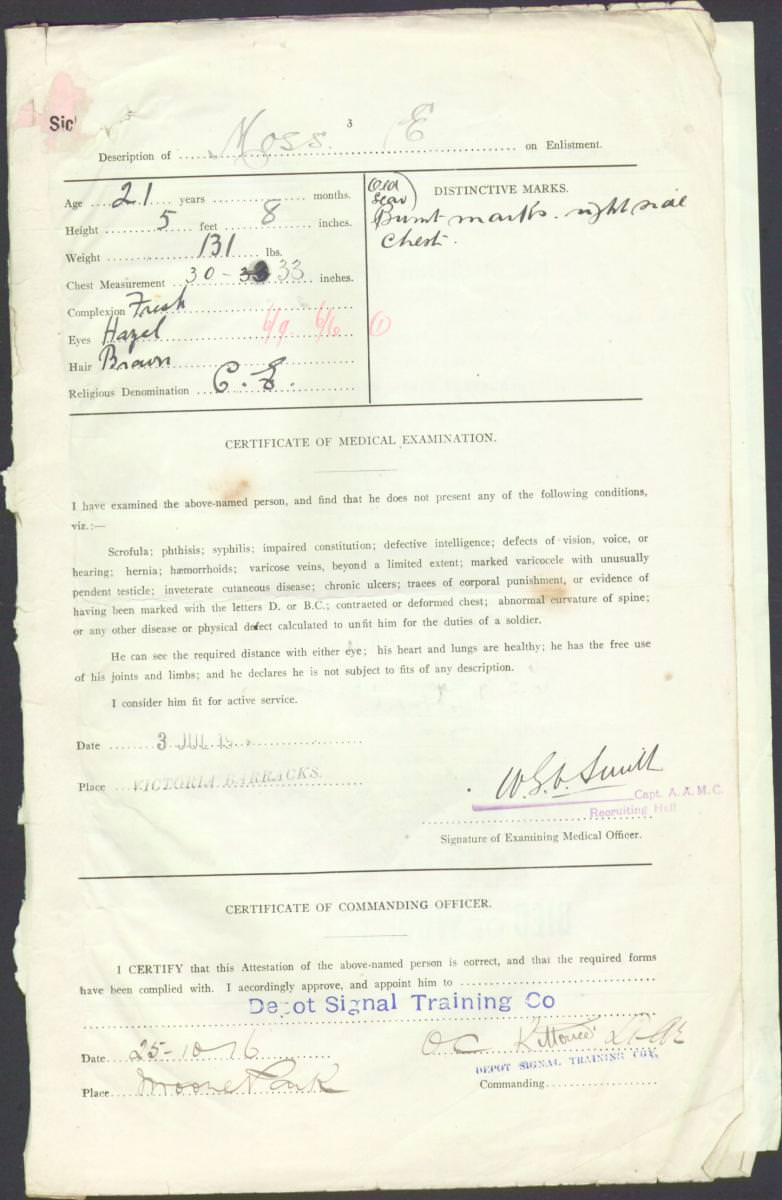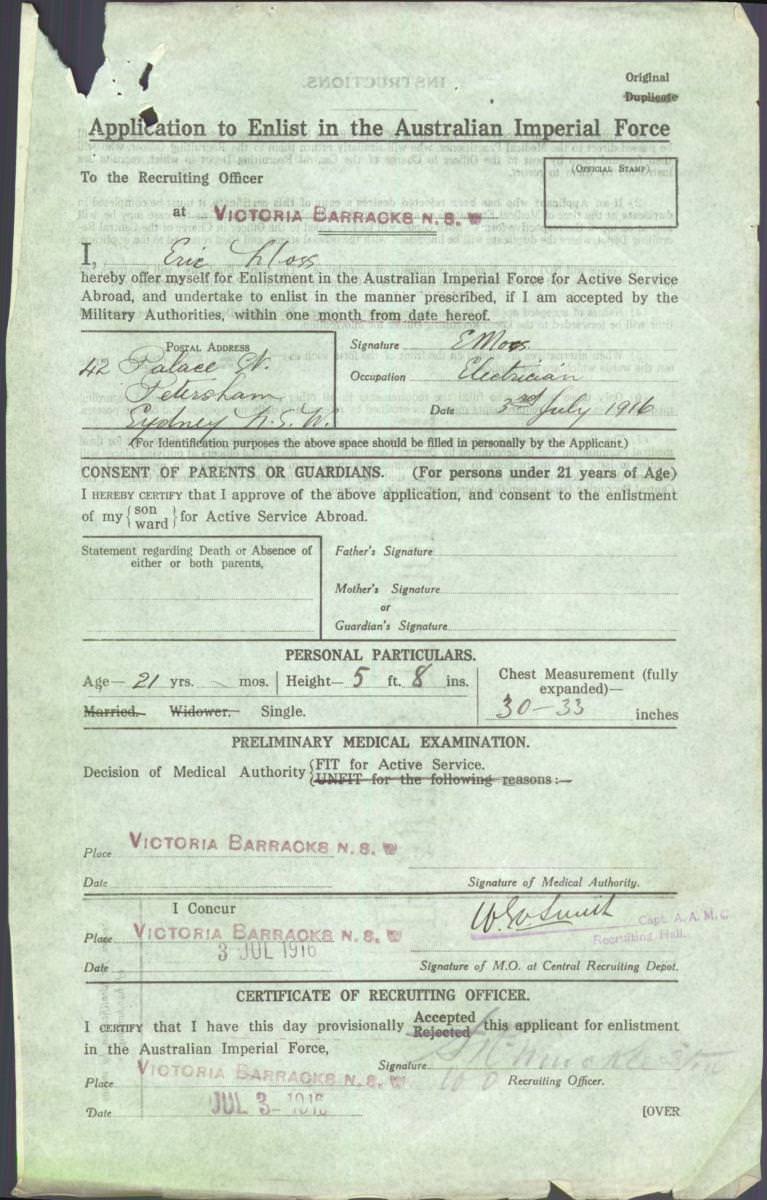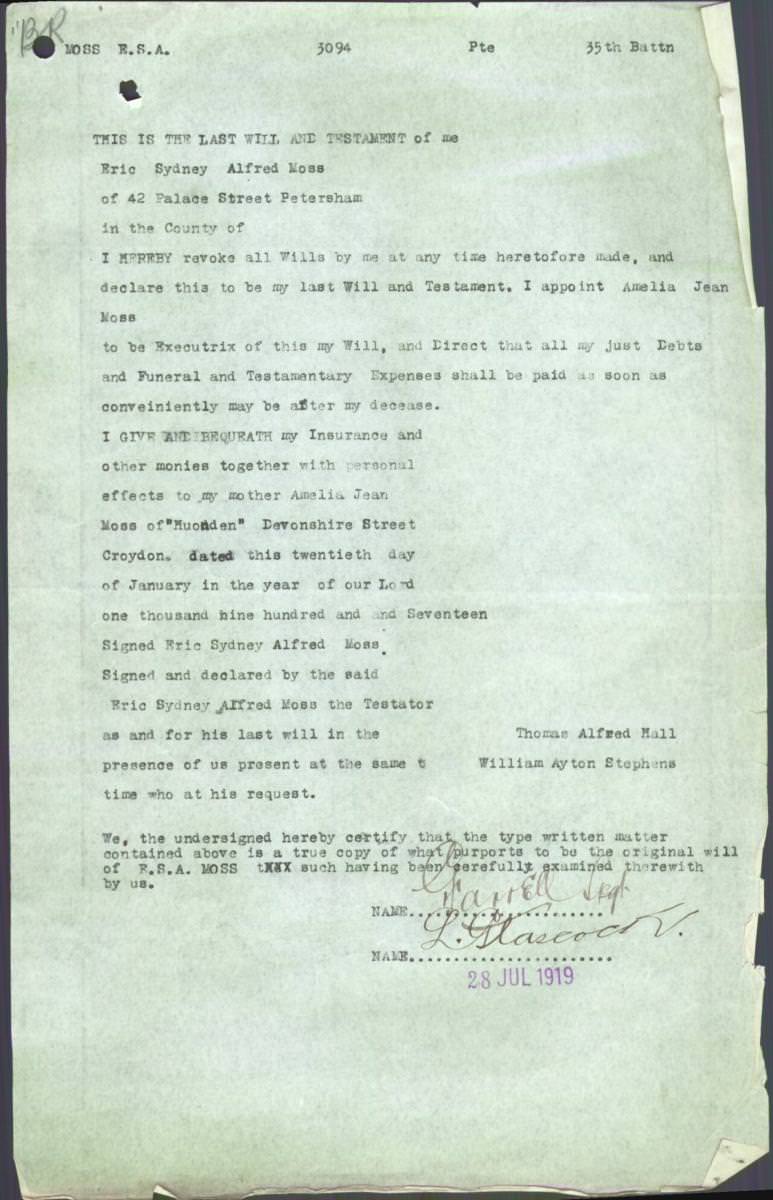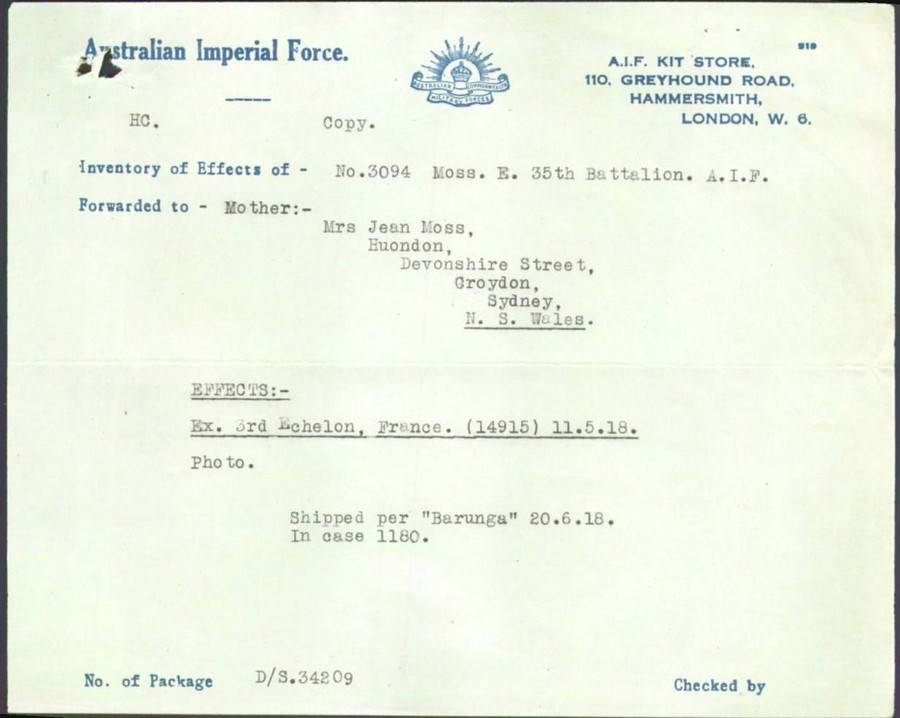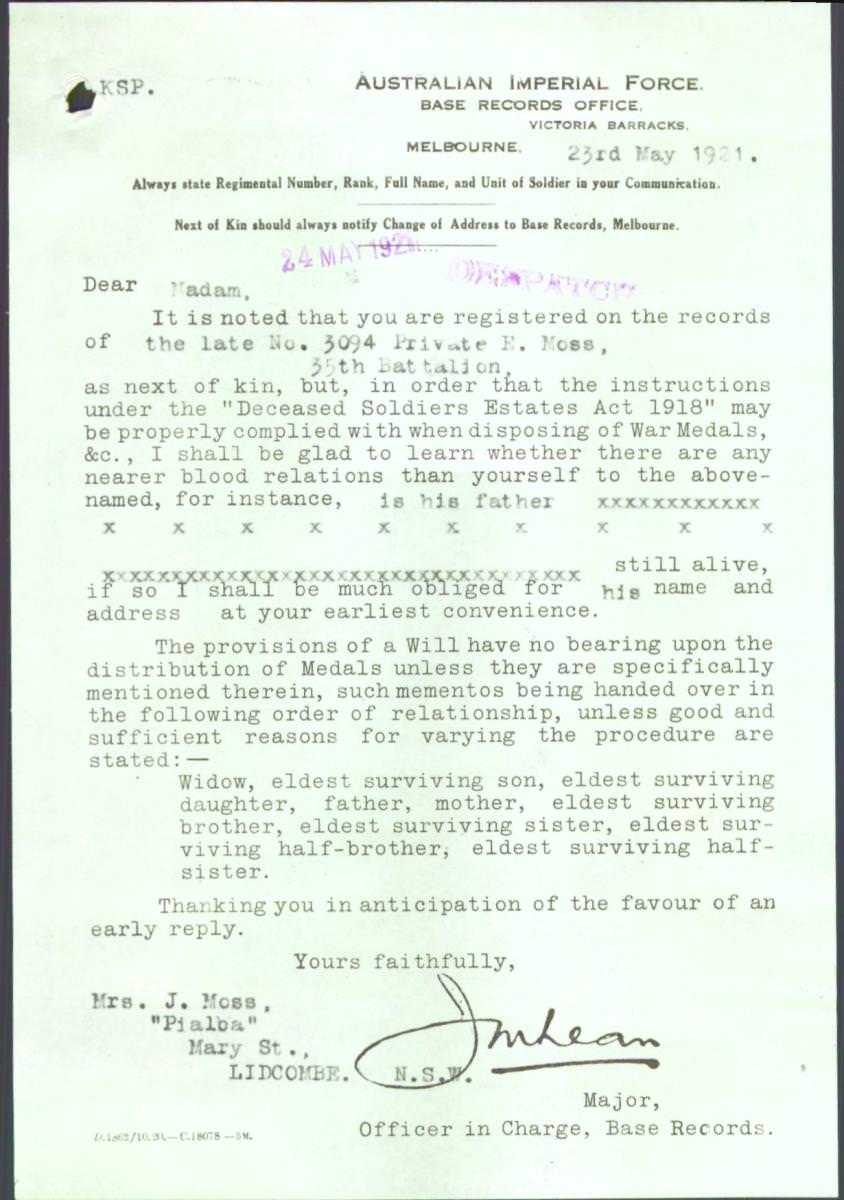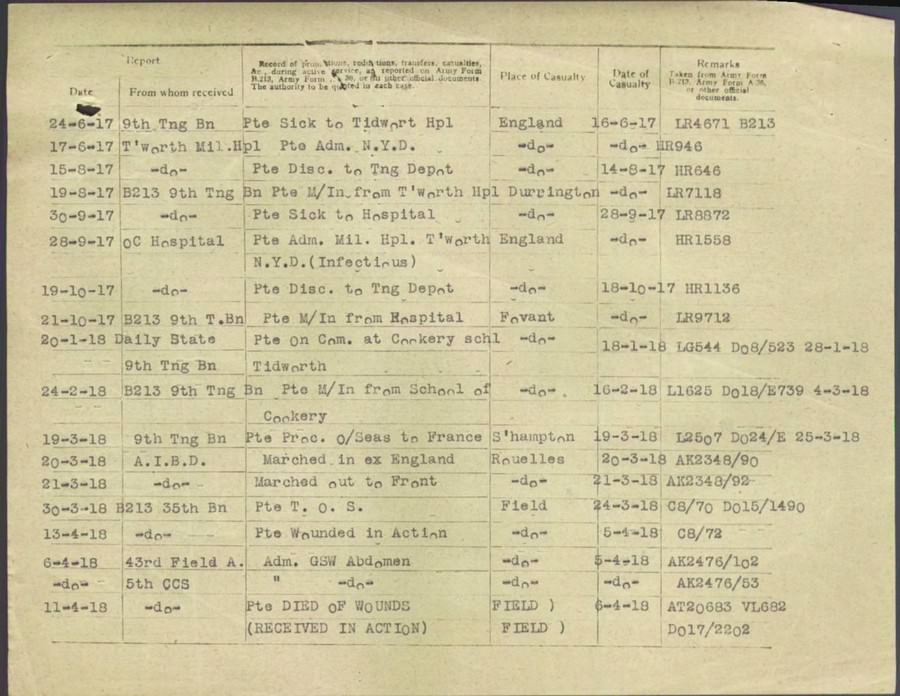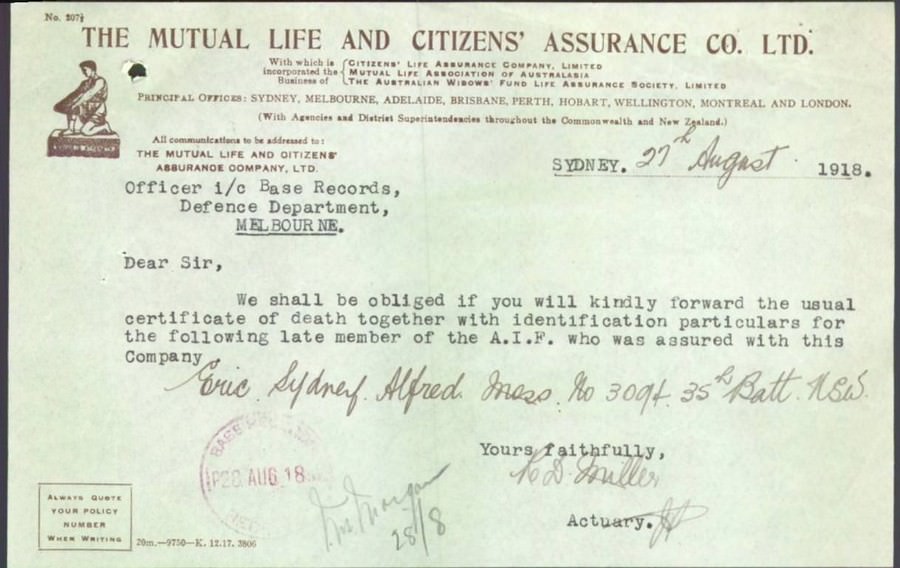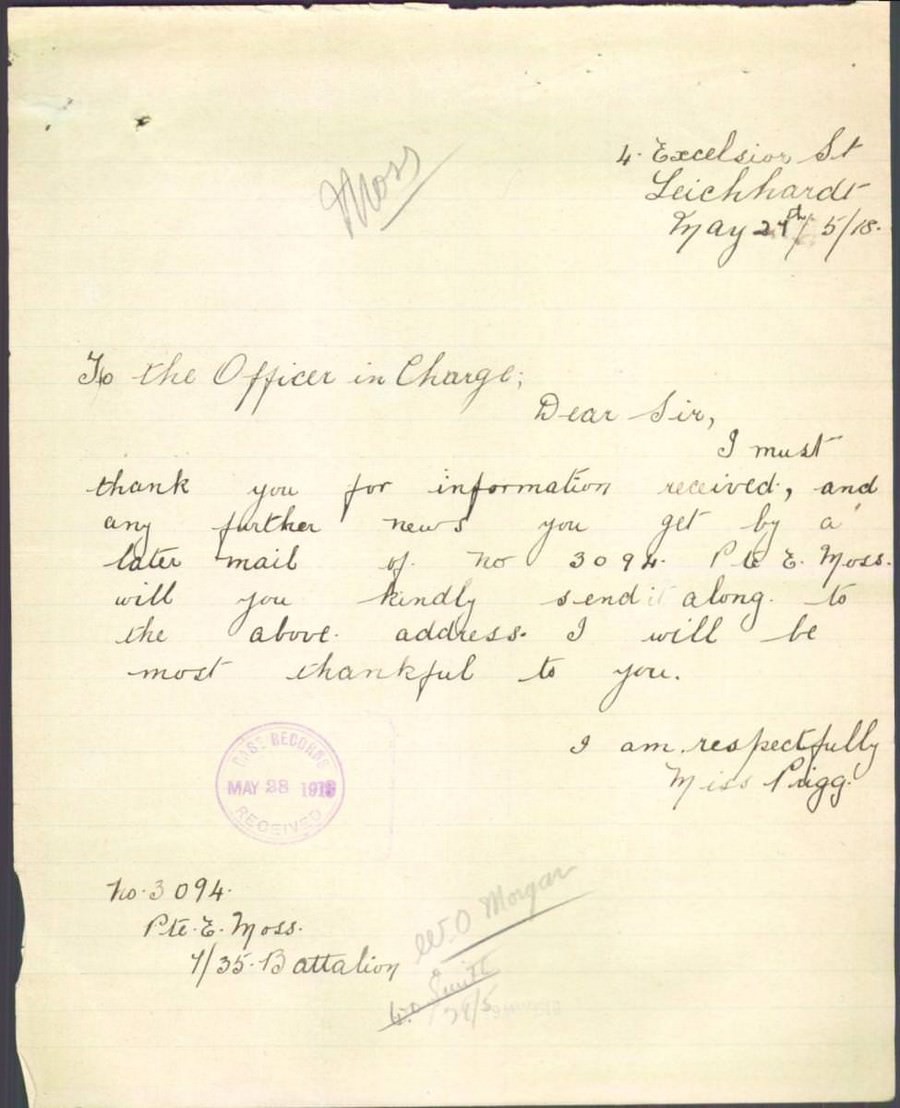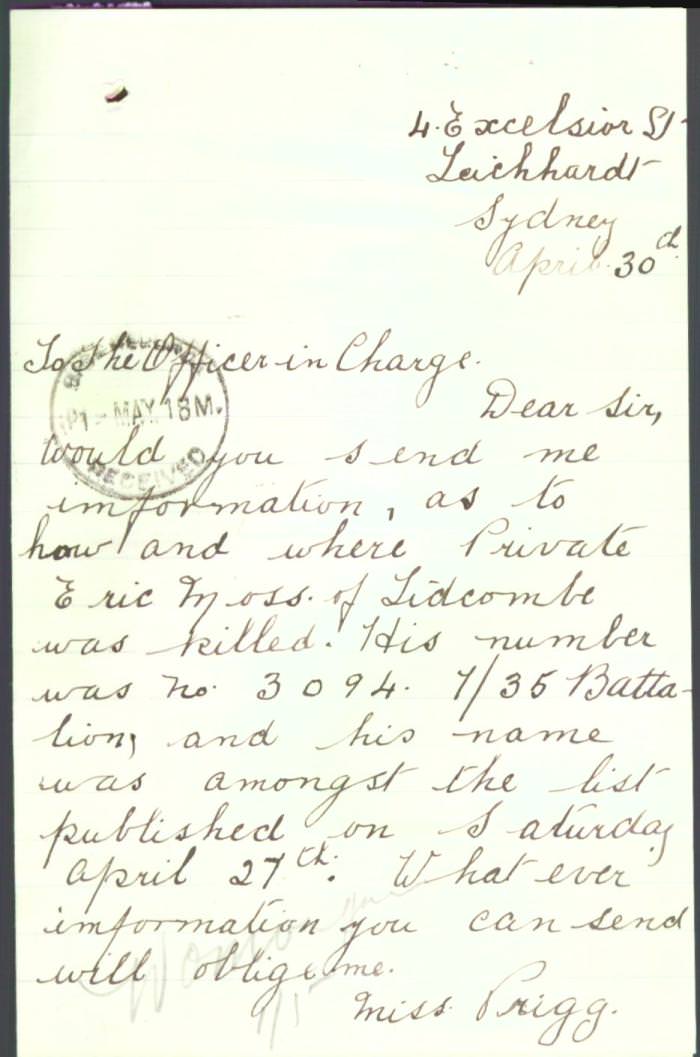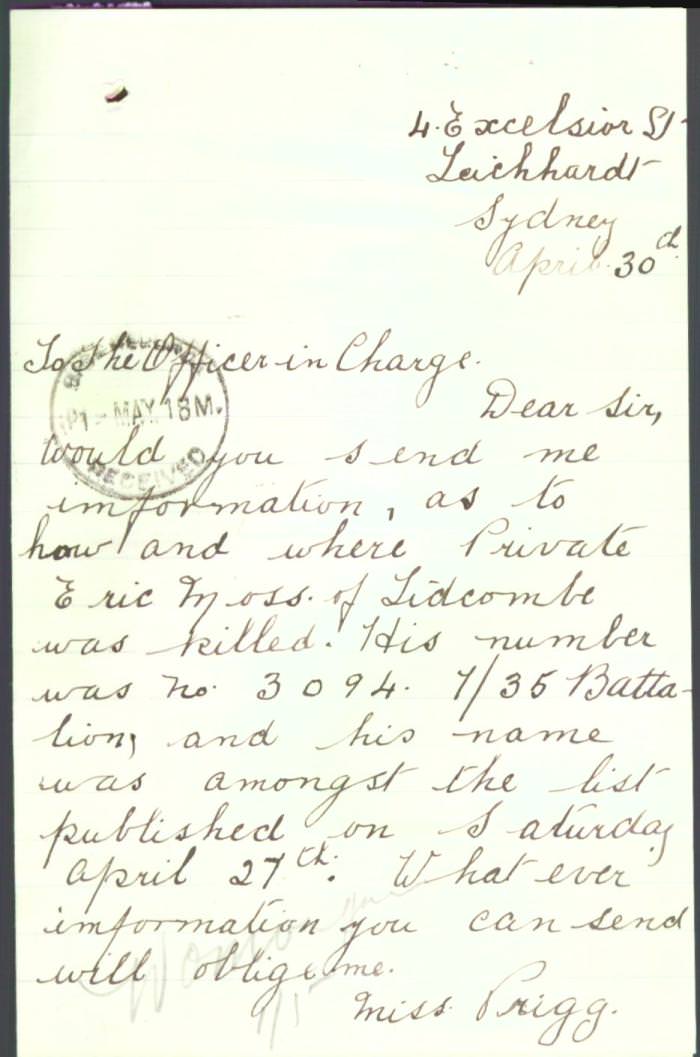 Under Construction. 26/07/2009-10/04/2015.
Web Counter
---