Ernest Sturley Morieson enlisted with D Company, 13th Battalion on the 6th of August 1915 and was later tranfered A Company 36th Battalion on the 6th of January 1916 with the service number 134. Ernest remained at Rutherford Army Camp and Broadmeadow Camp and was charged on the 27th of March 1916 with being Absent Without Leave from 6:00am 18/03/16 until 11:00pm 26/03/16 from Broadmeadow Army for 9 Days. He received 4 Days Detention and Forfeits 9 Days Pay. Witness Sergeant Piggott.
Ernest was discharged from the army on the 1st of June 1916 as being UNLIKELY TO BECOME AN EFFECIENT SOLDIER. Ernest was in Sydney whilst he was absent and his wife had written to his Commanding Officer reporting that Ernest was sick and unable to report for duty.
Ernest Sturley Morieson enlisted with the 25th Reinforcements, 3rd Battalion AIF at Cootamundra on the 12th of April 1917 and left Melbourne on board HMAT A71 "Nestor" on the 28th of February 1918 and disembarked at Liverpool, England on the 20th of April. Ernest was marched to the 1st Training Battalion and addmitted to hospital on the 6th of June 1918 suffering from Mumps. Ernest was transfered to the 35th Battalion on the 1st of July at Fovant.
He proceeded overseas from Folkstone, England and marched in to Rouelles, France on the 9th of September. Ernest was Taken on Strength with the 35th Battalion on the 14th of September in France and went into the front line until the end of the war. He was promoted to Extra Regimental Corporal on the 15th of February 1919 on Educational duties in France.
Remaining in France for the next couple of months he proceeded to England on the 21st of April and disembarked at Southampton the next day. He retained his rank of Extra Regimantal Corporal an an Instructor at the School of Instruction, Tidworth, England and promoted to Temporay Sergeant on the 15th of May 1919 and returned to Australia on the 12th of June 1919 on board the "Themislocles".
Ernest was a married 25 year old Plumber from "Continental House" Liverpool, N.S.W upon enlistment.
Military Records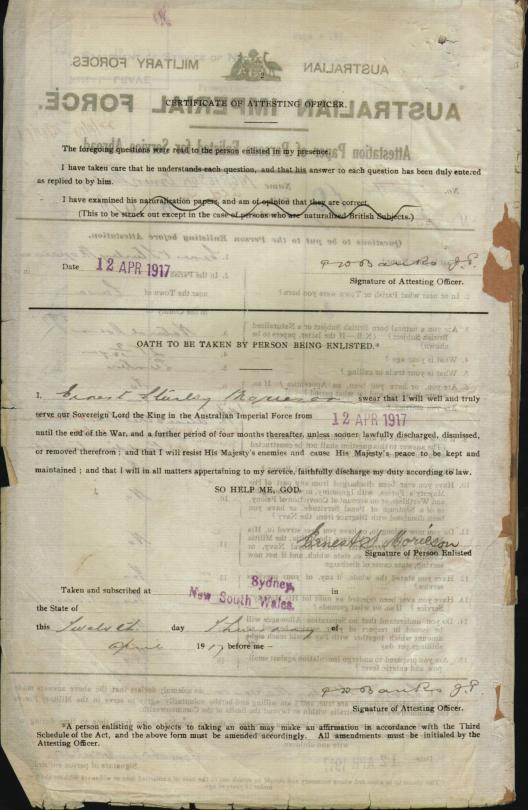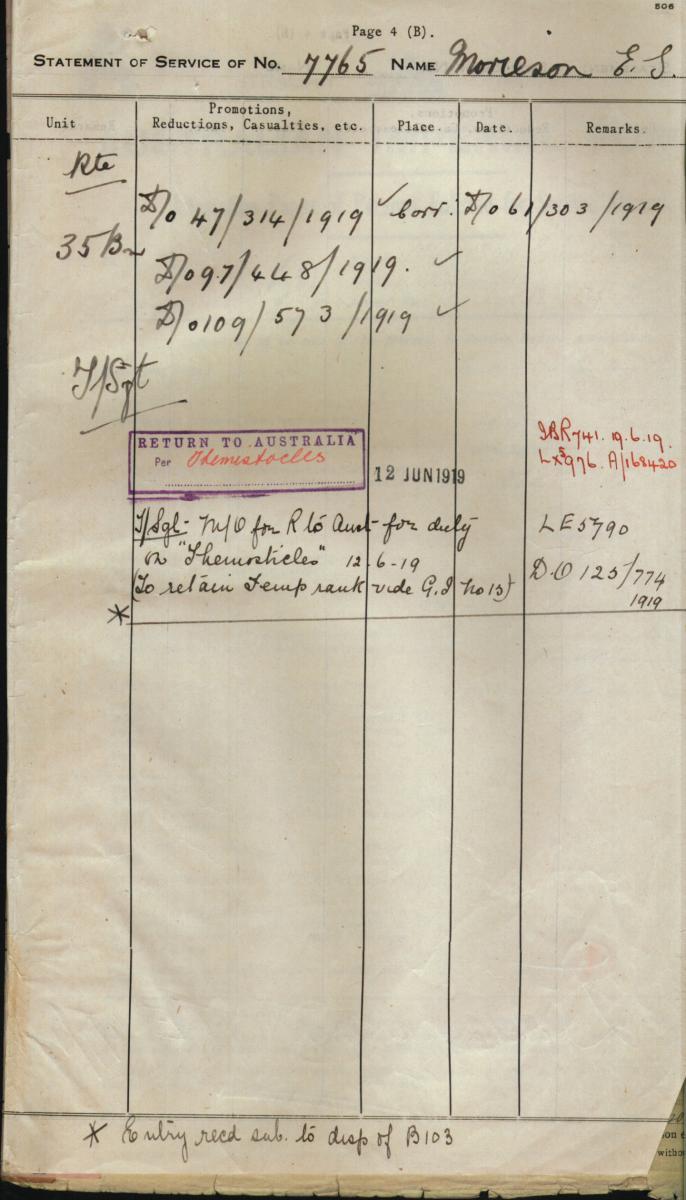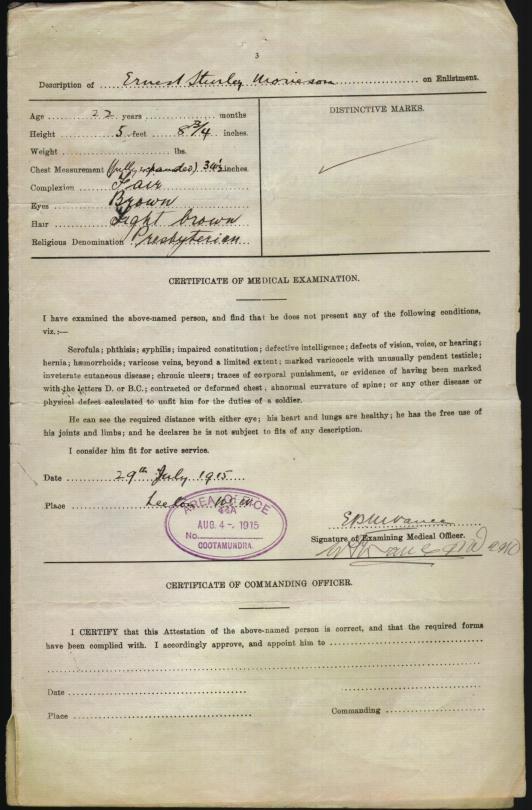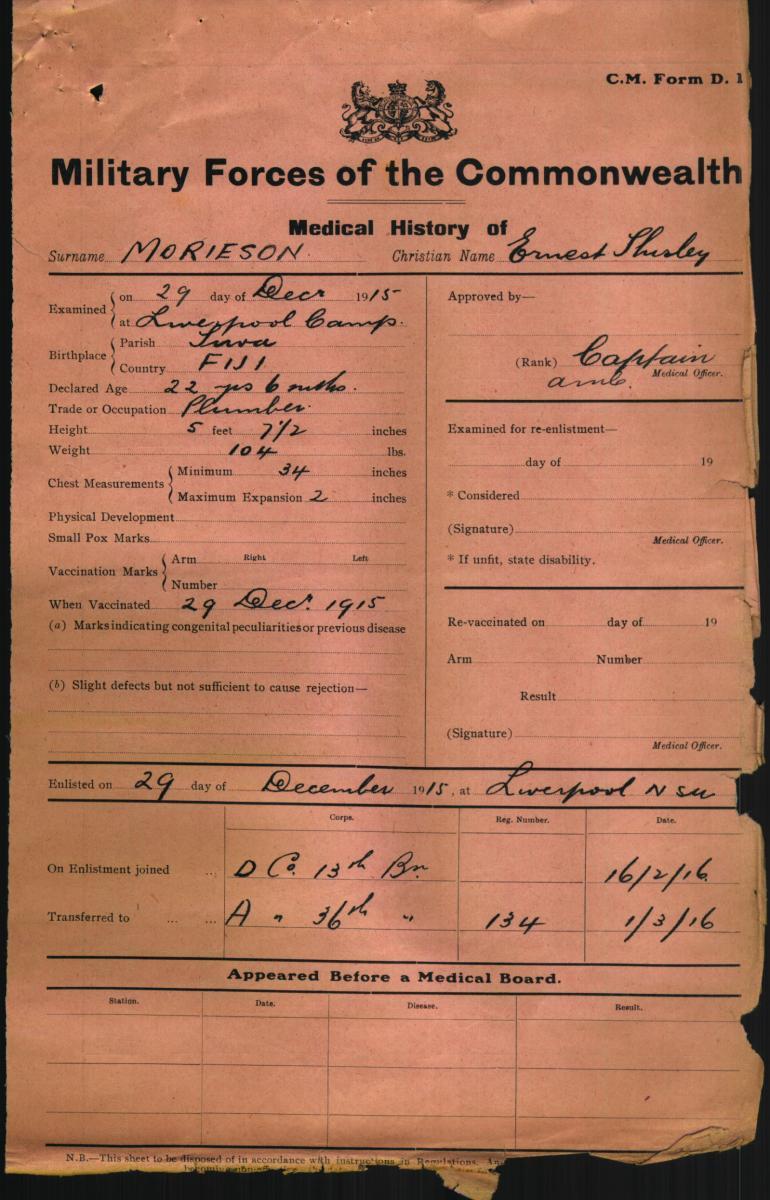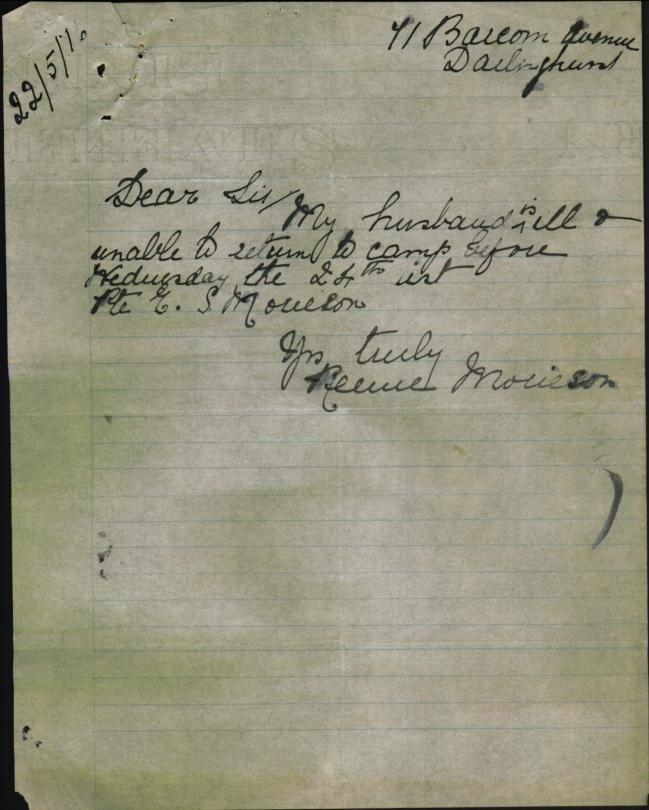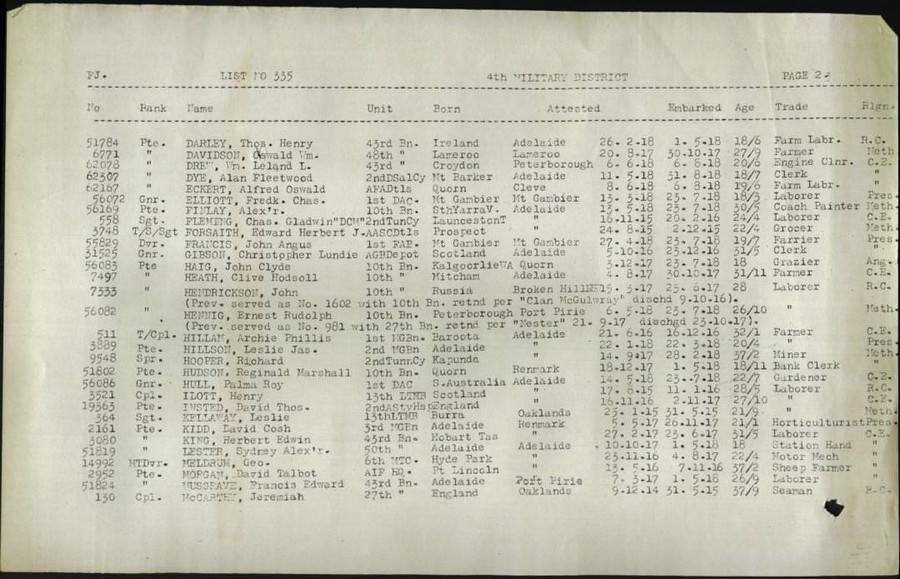 (Australian National Archives)
UNDER CONSTRUCTION 26/07/2007.
---
Web Counter
---