Samuel John Moore enlisted with the 10th Reinforcements 53rd Battalion AIF on the 26th of June 1917 and left Sydney on board HMAT A28 "Miltiades" on the 2nd of August 1917. Samuel was admitted to the Ships Hospital whilst at sea suffering from Influenza on the 23rd of August and was discharged 3 days later. Whilst onboard Samuel was Charged for being A.W.O.L from 2:15pm on the 20th of September till 9:45pm and Forfeited 1 Days Pay by the O/C of Troopship A28. Totl Forfeiture, 2 Days Pay.
Samuel disembarked in Glasgow, Scotland on the 21st of September and was marched in the HURDCOTT, England on the 3rd of October 1917. Samuel was Charged again with NEGLECT TO OBEY in that he was in WILTON at 10:30am without a pass. Award, 7 Days Forfeit Pay by Major Holland.
On the 16th of November, Samuel was again Charged with being ABSENT at CODFORD from C.O Parade at 12:30pm and giving A WRONG NAME and was Forfeited 28 Days Pay by Major P Eckersery. Only a few days later Samuel was again Charged as being at ABSENT at CODFORD from the 8:15am Parade and forfeited another 2 Days Pay by Major P Eckersery. His forfeiture incurred wholly concurrent with forfeiture set out in D091/4828 to 3rd December in Award of 17th November. Total Extra Forfeiture Nil.
Samuel proceeded overseas for France on the 12th of February 1918 from CODFORD to reinforce the 35th Battalion and was marched into ROUELLES the next day. Samuel was marched to the Front Line on the 14th of February and Taken on Strength in the field with the 35th Battalion whilst in France. Samuel was reported Missing in Action on the 4th of April, but was later confirmed as Killed in Action whilst at Villers-Bretonneux, France and is remembered with honour and is commemerated in perpetuity by the Commonweath War Graves Commission.
29th May 1918.
Informant; Private: 6856 George William WALSH B Company No:8 Platoon. They were about 5 yards from me in a trench at VILLERS-BRETONNEUX at 7:00am, and were buried by practically a direct hit from a shell. It was a shallow front line trench and there were just the 5 of us in it. I was the only man who got out. Sergeant: 942 Richard Patrick CAHILL of B Company, No:8 Platoon, 35th Battalion came up after it happened and we could see some of the helmets, etc cut to pieces, lying in the dirt.
They were not dug up as we retired 5 minutes later. They were all B Company No:8 Platoon. Private: 3768 Samuel John MOORE tall, thin only Moore in Company, people live in England. Private: 6993 Charles William Morrice RICKS, short, black hair, curious walk. Private: 6618 Joseph "Jack" RYAN 5' 9", well built, original 2nd Battalion, and had been in Gallipoli and re-enlisted. Private: 6884 Simon SPRINGER 5' 8", fair, nuggety,about 28, came from 20th reinforcements of 19th Battalion, the only Springerin Company.
Confirmed by Private: 2596 Richard Percy GILBEY B Company, No:8. London, England.
11th June 1918
Informant; Private: 6856 George William WALSH B Company No:8 Platoon. At VILLERS-BRETONNEUX in front line, about 6 o'closk in the morning a 5.9 shell landed in the bay of trench, burying the 3 and another, Private: 6618 Joseph "Jack" RYAN of same Company. I was in the same bay, but about 5 yards away and was myself buried with exception of head, shoulders and one arm.
I dug myself out with shovel that was lying near. The top of the heads of the 4 men were just visible with helmets lying about. No effort made to get them out. They showed no sign of being alive, and in witness's opinion they were undoubtedly dead. Had to retire from frony line almost immediatlely after the shell fell. Private: A P REECE, 35th Battalion, B Company No:8 Platoon, still in France was the only other witness of what occured. Bodies were left where they were. was not him myself.
WEYMOUTH, England.
14th August 1918
Informant; Private: 4995 Walter Roy CASTLE B Company No:6 Platoon. "While in the line at VILLERS-BRETONNEUX in June. Private: C R ROSS. B Company No:5 Platoon, showed me a letter he had just received from L/Cpl S I MOORE, B Company No:8 Platoon, written from hospital in England saying that he was recovering. I last saw Private ROSS on July 25th in France.
5th Southern General Hostital. Milton Section, Portsmouth, England.
26th September 1918
H.J. DALE. Allow me to thank you on behalf of Mr Moore and myself for your enquiries concerning Private: 3768 Samuel John MOORE. 53rd Battalion. The description in some particulars appear to fit Pte Moore whom I knew personally. He was always known as "Jack" (although his first name was Sam) was tall and thin and was subject to fits; but he had no relatives in England. His last letters to his father and brother gave his Reg, No: and Battalion as above, and to have been attached to the 35th. Moore sailed with the 10th Reinforcements to his battalion. As far as his relatives know he has never served in any other unit.
Nana Glen Public School.
Samuel was a single 26 year old Labourer from Gloucester, N.S.W upon emlistment. He was in the care of A.J. Hazelwood. His father John lived at "Nana Glen" via Grafton, N.S.W.
Samuel's British War Medal:58223 to PTE 3768 S.J.MOORE 35 BN AIF acquired in September 2007 from a Military Auction House in Victoria and is now in the collection.
Family Information
John and Elizabeth Moore were married in 1890 at Stroad, N.S.W. Marriage Cert:6913/1890. They had 8 children, 5 girls and 3 boys. Samuel John Moore born 1891 at Stroad, N.S.W. Birth Cert:33359/1891 and died in 1918 at Villers-Bretonneux, France. Maude Elizabeth Moore born 1891 at Stroad, N.S.W. Birth Cert:33918/1892. Eva A Moore born 1894 at Sydney, N.S.W. Birth Cert:2079/1894. Alicher Moore born 1897 at Sydney, N.S.W. Birth Cert:169/1897 and died in 1897 at Sydney, N.S.W. Death Cert:107/1897. Arthur H H Moore born 1897 at Stroad, N.S.W. Birth Cert:73344/1897. Norma M Moore born 1900 at Sydney, N.S.W. Birth Cert:9443/1900 and died in 1900 at Sydney, N.S.W. Death Cert:4318/1900. Albert E Moore born 1902 at Sydney, N.S.W. Birth Cert:28664/1902. Daisy K Moore born 1906 at Sydney, N.S.W. Birth Cert:10317/1906.
Military Records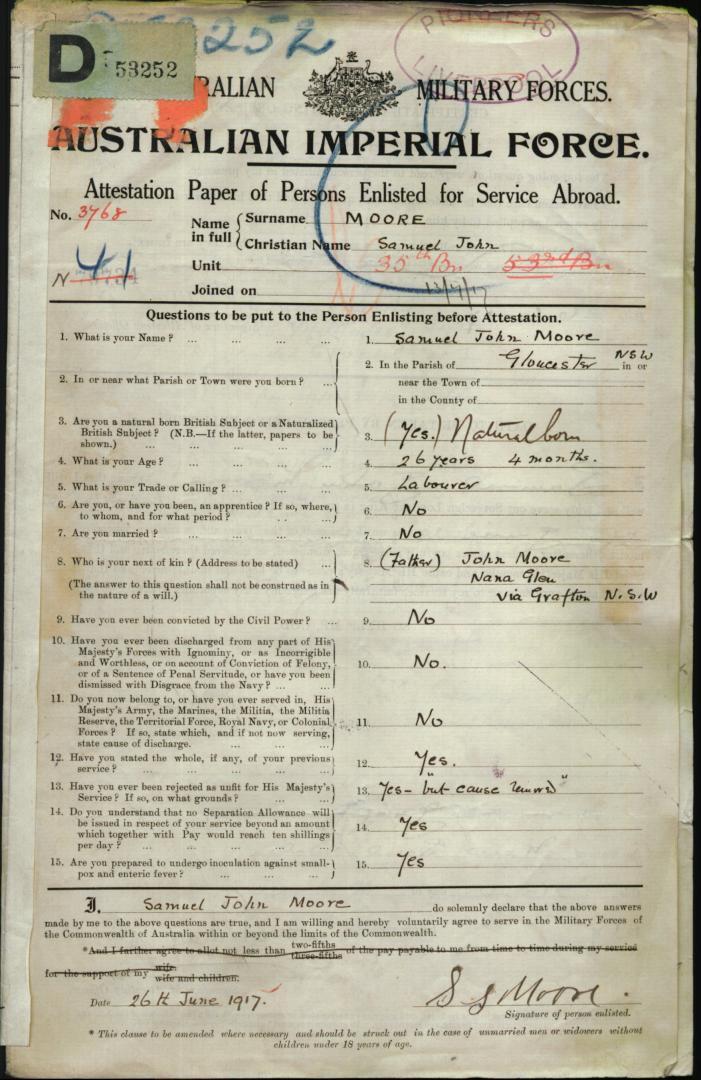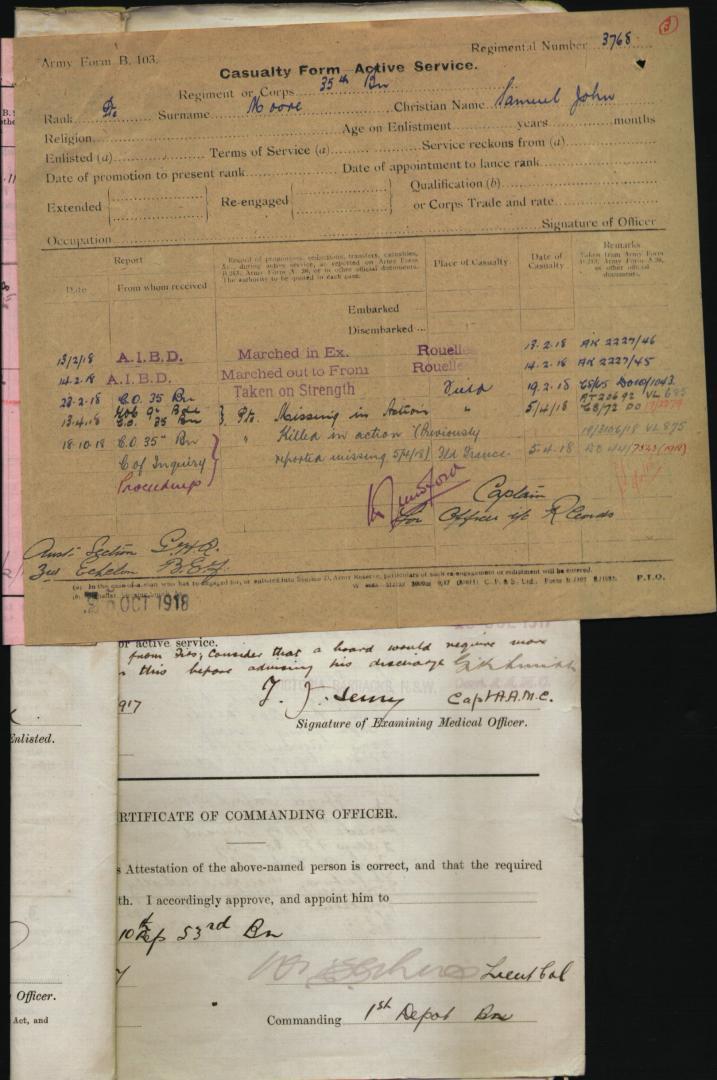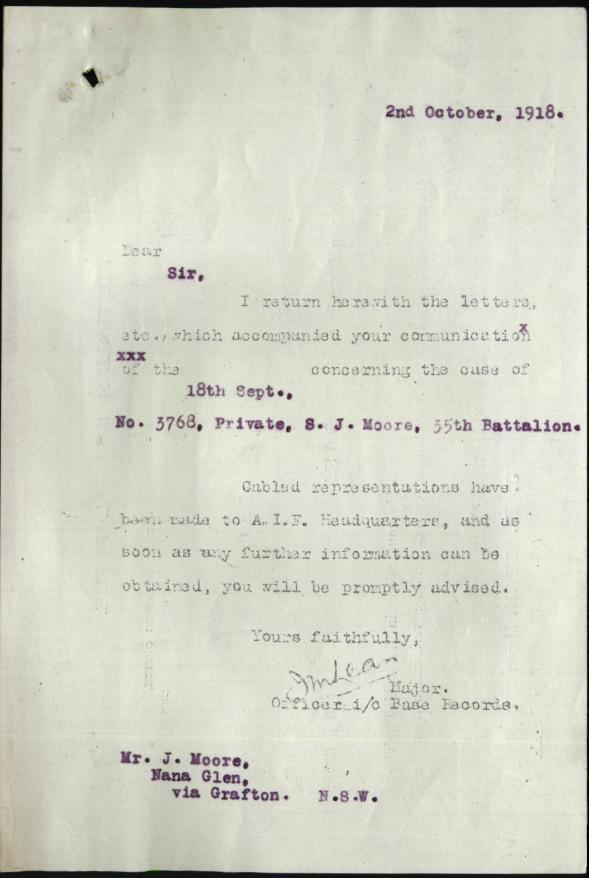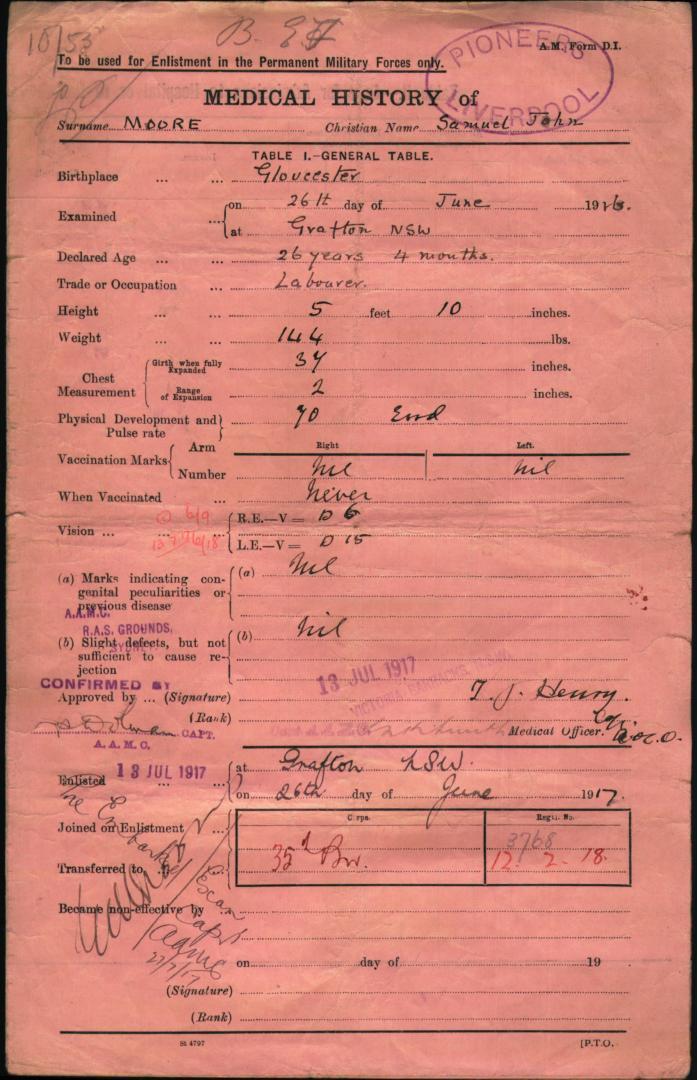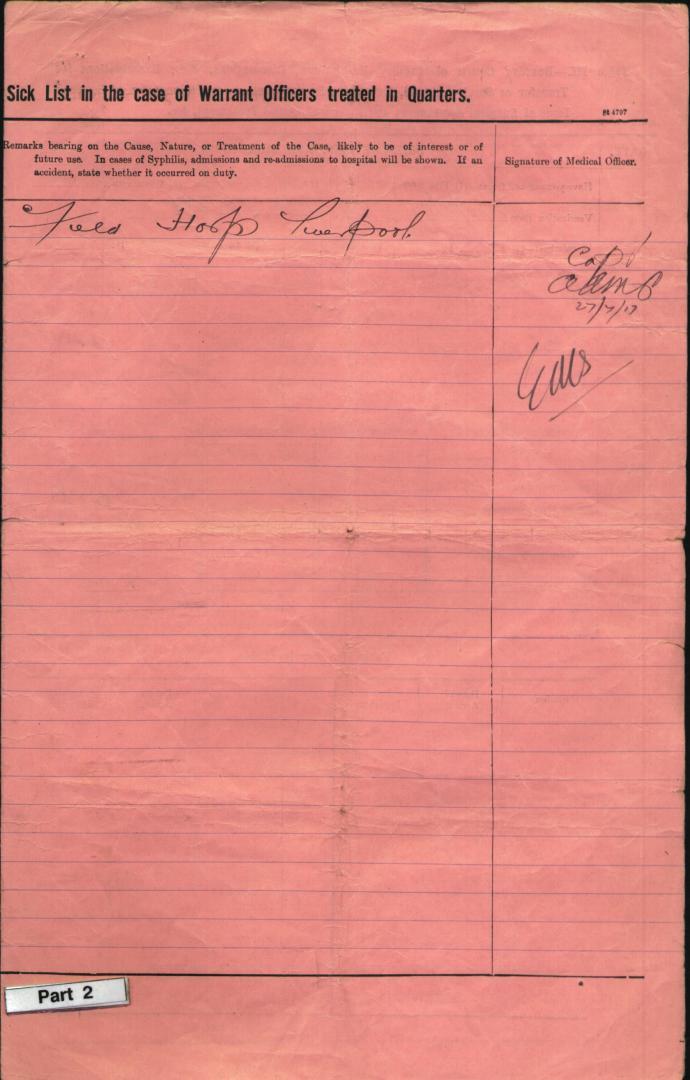 © Commonwealth of Australia (National Archives of Australia)
Under Construction; 30/08/2007-14/07/2016.
---
Web Counter
---