John Roderick Larkin, enlisted with the New South Wales Reinforcements on the 1st of March 1918 and left Sydney on board RMS "Osterley" on the 8th of May 1918 and disembarked at Liverpool England on the 10th July 1918. john was marched into the 5th Training Battalion the next day where he was allocated to the 19th Battalion Reinforcements but was transfered to the 35th Battalion AIF on the 25th of July 1918 and Taken on in Strength the next day.
John continued his traing with the 9th Training Battalion at Fovant and was Declared Illegal Absentee at Fovant on the 15th October 1918. John was marched in the Lewes Detention Barracks and was released on the 1st February 1919 and embarked for Australia on the 19th of February onboard the "Orca" and disembarked in Melbourne on the 31st March 1919.
The AIF DETENTION BARRACKS
The agreed date for the AIF to take over HMP Lewes and establish the AIF Detention Barrack was 1 November 1917. Prior to that date, a fair amount of work still had to be done. On 18 October, the War Office set the arrangement firmly in place with a letter to AIF Administrative HQ confirming that HM Prison Lewes was to be taken over by the AIF on 1 November 1917. The letter went on to direct the AIF to issue instructions that all Australian soldiers sentenced to detention after that date to be committed thereto." Members of the AIF who were currently under detention and whose sentences expired after 1 December 1917 were to be transferred to Lewes as soon as possible. Although it is not stated in the letter, presumably, AIF prisoners currently undergoing detention in British Army Detention Barracks, and whose sentences expired before 1 December 1917, were to remain in place to complete their sentences. The letter also stated that industrial work for men under sentence would be supplied by the Prison Commissioners. Appended to the letter was list of requirements for the prison to comply with in order to abide by British Army regulations dealing with detention barracks.
Family information
John was a married 33 year old Labourer from Harden, New South Wales upon enlistment. His wife lived at Meeniyan, Victoria. His parents Michael and Catherine Larkin were married in 1883 in Victoria and had at least 14 children. John Roderick Larkin born 1884 Box Hill, Victoria and died 1939 at Wellington, N.S.W. Death Cert:9976/1939. Roderick John Larkin born 1887 at Numurkah, Victoria and died 1913 in Sydney, N.S.W. Death Cert:.... Elizabeth Mary Larkin born 1887 at Box Hill, Victoria and died 1952 in Sydney, N.S.W. Death Cert:....Michael Edward Larkin born 1888 at Mitcham, Victoria and died Lone Pine, Gallipolli, Turkey. William Larkin born 1890, Mitcham, Victoria and died 1901 Numurkah, Victoria. Margaret Cecelia Larkin born 1891 and died 1892 at Numurkah, Victoria. Andrew Richard Larkin born 1892 at Numurkah, Victoria and died 1917 Belgium. Ellen Letitia Larkin born 1894 at Numurkah, Victoria. Mary Ann "Mary" Larkin born 1896 at Numurkah, Victoria. Vincent Joseph Larkin born 1898 at Mitcham, Victoria and died 1976 in Melbourne, Victoria. Kathleen Rose Larkin born 1900 at Mitcham, Victoria. James Bernard Larkin born 1902 at Numurkah, Victoria and died 1974 Melbourne, Victoria. Martin William Larkin born 1907 at Numurkah, Victoria and died 1971 Melbourne, Victoria. Veronica Proscilla Larkin born 1906 and died 1938, Melbourne, Victoria.
Trooper: 762 Michael Edward LARKIN. 8th Light Horse Regiment A.I.F.
Gunner: 3867 Andrew Richard Larkin. 1st Brigade, Australian Field Artillery, A.I.F.
Private: 2609 Vincent Joseph Larkin. 4th Light HorseMachine Gun Squadron, A.I.F.
(Studio Photo; The Australian War Memorial)
Military Records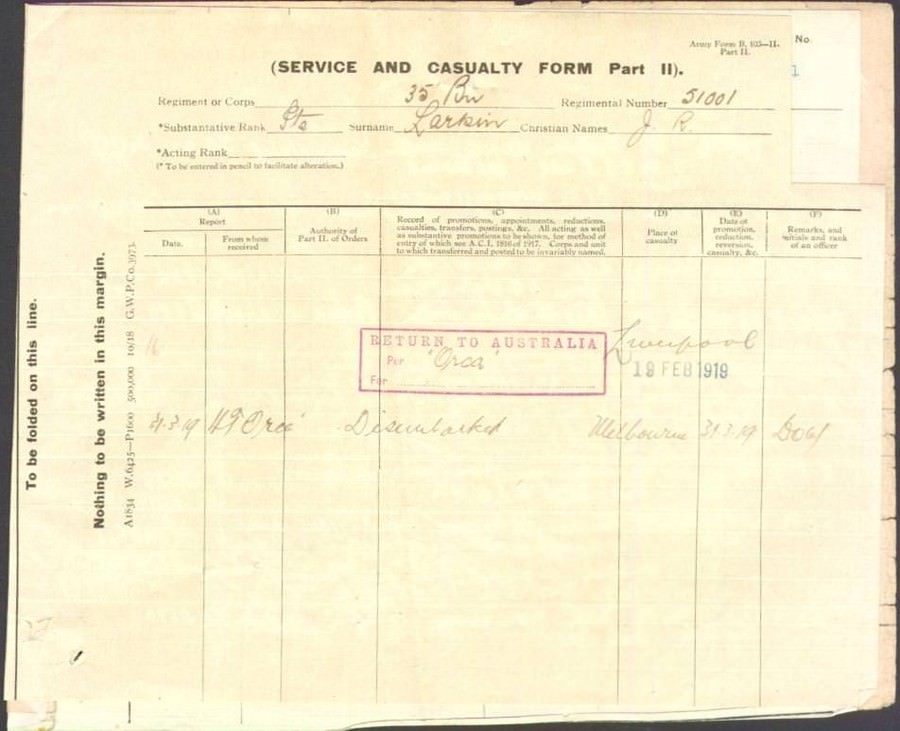 © Commonwealth of Australia (National Archives of Australia)
Under Construction; 20/07/2005-17/10/2015.
---
Web Counter
---