Reuben Herbert King enlisted with B Company 33rd Battalion AIF on the 28th of January 1916 and was an original member of the Battalion. He left Sydney on board HMAT A74 "Marathon" with his two brothers on the 4th of May 1916.
He disembarked with the battalion at Plymoth, England on the 9th of July 1916. Reuben was admitted to hospital (sick) on the 1st of November 1916 and taken on strength to the 13th Training Battalion. He proceeded overseas to France on the 15th of February 1917 and on the 17th marched in the 3rd A.D.B.D Etaples. On the 18th of April he rejoined his battalion.
Reuben was again admitted to the 9th field ambulance, suffering from (Debility) on the 8th of July 1917 and rejoined the 33rd battalion on the 20th of July. On the 20th of August he was admitted to the 11th field ambulance suffering (Debility) and was transfered on the 23rd to the 58th General Hospital at St Omer (Sick), and transfered to the 13th Convelesent Hospital at Trouville on the 6th of September 1917.
He was discharged from Hospital on the 2nd of November 1917 to Base as Trouville, and marched to the 3rd A.D.B.D at Rouselles and embarked for England, classified P, Base and was marched into No:2 Com, Depot ex France. Reuben left England on board "Balmoral Castle" on the 1st of February 1918 and disembarked in Sydney on the 28th of March 1918. Reuben was discharged Medically Unfit on the 1st of May 1918 ( Chronic Rheumatism).
His British War Medal:44401 and Victory Medal:43406 PTE 466 R H KING 33 BN AIF and Gold Tribute Fob were acquired from Bristol in England in August 2005 and are now in the collection.
Gold Tribute Fob was presented by Residents of Bingara to A Bingara Soldier of the Great War "HIS COUNRTY CALLED HE ANSWERED"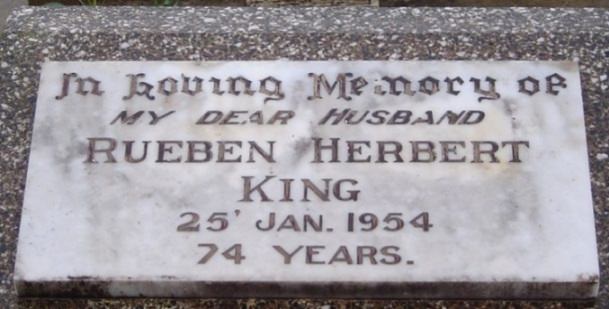 Reuben Herbert King's Grave. Bingara Central Cemetery.
FAMILY INFORMATION
Reuben was a single 36 year old Farmer from Bobby Whitlow, Bingara, New South Wales upon enlistment. Reuben enlisted with his 2 brothers. Private: 465 William King. 33rd Battalion AIF and Private: 467 George Thomas King. 33rd Battalion AIF who was Killed in Action
John and Catherine King had 10 children, 7 boys and 3 girls. John Ernest King born 1875 at Tamworth N.S.W. Birth Cert:19975/1875 and died in 1915 at Bingara, N.S.W. Death Cert:11978/1905. James Alfred "Alf" King born 1876 at Tamworth, N.S.W. Birth Cert:7049/1876. George Thomas King born 1878 at Armidale, N.S.W. Birth Cert:7738/1878 and died in 1917 at Messines, Belgium. Reuben Herbert King born 1880 at Armidale, N.S.W. Birth Cert:8954/1880 and died 1954 at Bingara, N.S.W. Death Cert:6626/1954. Arthur Edgar King born 1882 at Bundarra, N.S.W. Birth Cert:25375/1882 and died in 1960 at Inverell, N.S.W. Death Cert:11809/1960.
Military Records
© Commonwealth of Australia (National Archives of Australia)
Under Construction; 18/11/2006-7/11/2016.
---
---
Web Counter
---