Return to home page Return to 33rd Battalion page
---
33rd BATTALION A.I.F.
Private: 467 George Thomas KING.
---
Born: 1878. Armidale, New South Wales, Australia. Birth Cert: 7738/1878
Died: 27th July 1917. Killed in Action Messines, Belgium.
---
Father: John Alfred King
---
INFORMATION
George Thomas King enlisted with B Company 33rd Battalion AIF on the 28th of January 1916 and was an original member of the battalion. He left Sydney on board HMAT A74 "Marathon" with his two brothers on the 4th of May 1916.
THE BATTLE OF MESSINES

7th June 1917

The 3rd Australian Divisions first major offencive was at Messines Ridge on the 7th June 1917. The Australian 3rd Division was a part of the II Anzac Corps which was allotted to the first assault. The 25th New Zealand, 3rd Australian Division with the 4th Australian Division in reserve. The 4th Division were battle hardened troops who had fought many major battles.The 3rd Australian Division were having problems getting to the "jump off" point. The day before the 9th and 10th Infantry Brigades were bombarded by German Gas-Shells around Hill 63 and Plugstreet Wood. Many of the Aussies were not wearing gas masks, but dispite this they pressed on even though they received 500 casulties.

They made it to the "jump off" point but only just with some of the men from the 9th and 10th going straight over the top without stopping. The mines went up and the attack commenced behind a protective barrage. The II Anzac Corps were attacking on the right with their objective being the southern shoulder of the ridge which included Messines, the Dover and St Yves areas as far south to the east of Plugstreet Wood.

Major General Sir John MONASH's 3rd Division had to contend with a tricky 3 mile approach out of Plugstreet Wood and after the German gas attack, but they were not detered. The 9th Infantry Brigade under Brigadier General A JOBSON and the 10th Infantry Brigade under Brigadier General W R NICHOLL had just made the jumping off point but some of the men did not stop, going straight into the assault from the approach march.

Their objective lay between St Yves and the Douve. The mines at Trench 127 and Trench 12 at Factory Farm were laid to aid this task. The explosions erupted a few seconds before zero hour and created craters of 200 feet in diameter, completely obliterating the German defence line as the 9th and 10th Infantry Brigades went over the top. The mine crates forced the 9th and 10th Brigades to veer to the left and right which caused some confusion with the main assault. It is testimony to the quality of training that every man knew the ground, tasks and objectives so well.

Private: 1804 John CARROLL 33rd Battalion, rushed the enemy's trench and bayoneted four of the German occupants. He then noticed a comrade in difficulties and went to his assistance, killing another German. He then attacked single handed a German Machine Gun Team, killing all three of them and capturing the gun. He later rescued two of his comraded who had been buried alive by German Shell Fire, and in spite of heavy shelling and machine gun fire he dug them out alive and saved them from certain death. John was awarded the Victoria Cross.

The German foward zone was completely engulfed and taken by the main assault. The two supporting battalions of each brigade then passed the leading battalion to continue the advance. The men were constantly re-supplied and the ridge was taken. There were many German prisoners taken during the offencive. The 3rd Division was well ahead with the 9th Infantry Brigade pushing on beyond Grey Farm, and on the right the 10th Infantry Brigade were veering left towards Septieme Barn north of Douve.

The German resistance was heavy but was generally brushed aside by tanks and artillery before the infantry had to become too involved.The 4th Bavarian Divisions Artillery had mede little impact, but as the day wore on the 3rd Division and later the 4th Australian Division received many casulties from German artillery. (70% of all casulties during WW1 were from artillery).

By 9:00am nearly 6 hours after the assault began the Germans were in dissaray, but there was a major problem as the Australians received less casulties as anticipated and when ordered to dig into the ridge they had so many men, that some could not find shelter. the 35th battalion were dug in around Seaforth Farm.

The second phase of the operation was to take the Oosttaverne Line. The 3rd Australian Division would now be in reserve with the 4th Division attacking. The 9th Infantry Brigade (33-34-35-36Bn) were near Thatched Cottage facing Warneton. The river Lys was to their right and the Plugstreet Wood was now behind them.

Once their objectives were taken the troops consolidated. A barrarge to stop and counter attack was shortnened and caught three battalions which had to retire. By 9:00pm this part of the Oosttaverne Line was abandonded. At 10:45pm General Godley ordered the 3rd and 4th Divisions to retake it. This they did by the early hours of the 8th of June.

The Battle for Messines Ridge during May-June 1917 saw 35 officers and 1,631 other ranks loose their lives.

9th Infanry Brigade Casulties.
| | | |
| --- | --- | --- |
| 33rd Battalion. AIF | 8 Officers | 382 Other ranks |
| 34th Battalion. AIF | 10 Officers | 378 Other ranks |
| 35th Battalion. AIF | 5 Officers | 431 Other ranks |
| 36th Battalion. AIF | 9 Officers | 421 Other ranks |
| 9th Machine Gun Company. AIF | 2 Officer | 17 Other ranks |
| 9th Light Trench Mortor Battery. | 1 Officer | 2 Other ranks |
26th July 1917
MESSINES Relieved 33rd BN in front line, Captain: Hugh John CONNELL was buried by a shell in the front line 28/07/17 and evacuated. On night of 28/07/17 enemy placed a heavy barrage on the 35th Bn front line (Douve River to Steicnvast Farm) and finally attempted to raid our Right Company "A Coy" on the River Douve. They were successfully repulsed with considerable loss to themselves. Our counter barrage, both Machine-Gun and Artillery being excellent. Captain: Henry Charles Dight CADELL was in command of A Coy. Our trenches were badly damaged but no entrance was affected, our men though very tired and worn fought splendidly.
35th Bn AIF was relieved by 41st Bn (Brigade Relief) 35th moved back to Douve River Camp. Casulties during 27-30/07/17, 41 including 13 killed. This month was the most strenuous in the history of the Battalion (not including the big offensive of June) as the new ground in front of Messines was in a very wet and muddy state, and hastily constructed trenches combined with long tours in the line and the natural desire of the enemy to prevent us settling down made conditions very trying for all ranks.
(35th Battalion War Diary)
George was Killed in Action on the 27th of July 1917 and is remembered with honour and is commemerated in perpetuity by the Commonweath War Graves Commission at the Bethleham Farm West Cemetery, Messines, Belgium.
15th October 1917
Informant; Private: 376 Edgar Auston BROOKS I knew a man called Private: 467 George Thomas KING. who was in B Company and I think No:8 Platoon. His number was a low one something like 467 and he was one of the original men. He was cook in B Company. Before joining up he was a shearer from Bingara, N.S.W. He was a man about 40 with a dark complexion and dark moustache and about 5 ft 10. He was killed by a shell falling on the cook-house on the 27th of July at Messines. I saw his body afterwards buried close to where he was killed and a cross was put up over his grave with his name, number and regiment.
No 2 Station Hospital, Boulogne.
12th November 1917
Informant; Private: 469 Walter KIRWIN Private: 467 George Thomas KING was an original 33rd Battalion man. He came from Bingara. I saw him killed by concussion about half a mile behind Warneton in July. There was no wound on him. He died at once. He was buried alone to where he was killed. I saw him buried. I did not see anything put on the gravr to mark it. There was several graves near with crosses on them. The grave is about half a mile from Messines in a sunken road near two or three cookhouses. He was on cookink at the time. The shell landed in a Trench Mortor Dump and blew it up.
Australian Camp; Rouelles.
16th November 1917
Informant; Private: 432 Henry Herman HARTOG. Killed near Messines. I saw Private: 467 George Thomas KING killed and buried close to Messines in the 9th Brigade Cemetery. I saw his grave and a cross up. I knew him well, came from Australia with me.
Harefield, England. Ward: 3
16th November 1919.
Informant; Private: 2599 Isaac MAHAFFEY. I saw Private: 467 George Thomas KING'S. grave with a cross and his name over it at Messines Hill. I was a runner in Headquarters and knew him well. He came from New South wales. A real gool sort.
Harefield, England. Ward:42
11th February 1918
Informant; Lieutenant: 981 Irving Cadell DIGHT I knew Private: 467 George Thomas KING he was in B Company and was Company Cook in July 1917; he came from New England. He was tall, alight with grey moustache and about 45 years of age. He was killed in front of Messines Hill about 11:00pm on about 27/7/17. I remember the date as it was two days before we came out of the line on 29th or 30th July 1917. He was lying in a shelter near the cookhouse when an enemy shell exploded a large trench mortar dump nearby, and the concussion killed him instantly. I subsequently examined his body but could find no wound and therfore concluded that concussion alone killed him. He was buried in the Regimental Cemetery just below Messines Hill the morning after his death. I was present at the burial and Captain: Robert Furnifull CRAIGIE the Company Commander read the service.
No:4 Australian General Hospital, Randwick, N.S.W.
FAMILY INFORMATION
George was a single 38 year old labourer from Bobby Whitlow, Bingara, New South Wales upon enlistment.
John and Catherine King had 10 children, 7 boys and 3 girls. John Ernest King born 1875 at Tamworth N.S.W. Birth Cert:19975/1875 and died in 1915 at Bingara, N.S.W. Death Cert:11978/1905. James Alfred "Alf" King born 1876 at Tamworth, N.S.W. Birth Cert:7049/1876. George Thomas King born 1878 at Armidale, N.S.W. Birth Cert:7738/1878 and died in 1917 at Messines, Belgium. Reuben Herbert King born 1880 at Armidale, N.S.W. Birth Cert:8954/1880 and died 1954 at Bingara, N.S.W. Death Cert:6626/1954. Arthur Edgar King born 1882 at Bundarra, N.S.W. Birth Cert:25375/1882 and died in 1960 at Inverell, N.S.W. Death Cert:11809/1960.
Private: 466 Reuben Herbert King. 33rd Battalion AIF.
Private: 465 William Edwin King. 33rd Battalion AIF.
Military records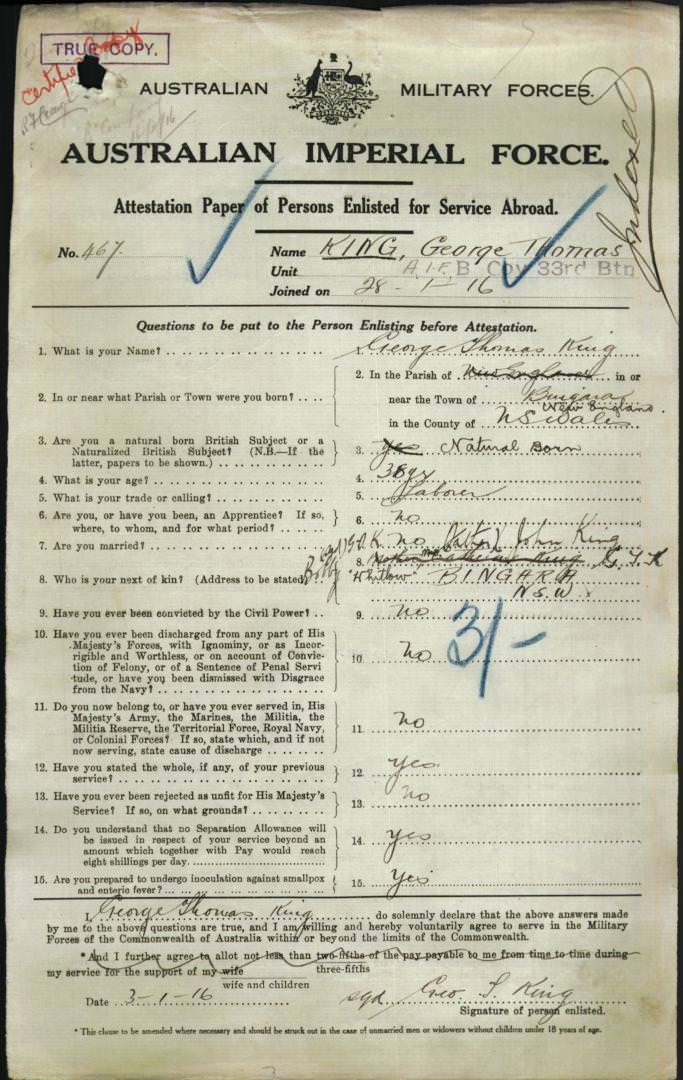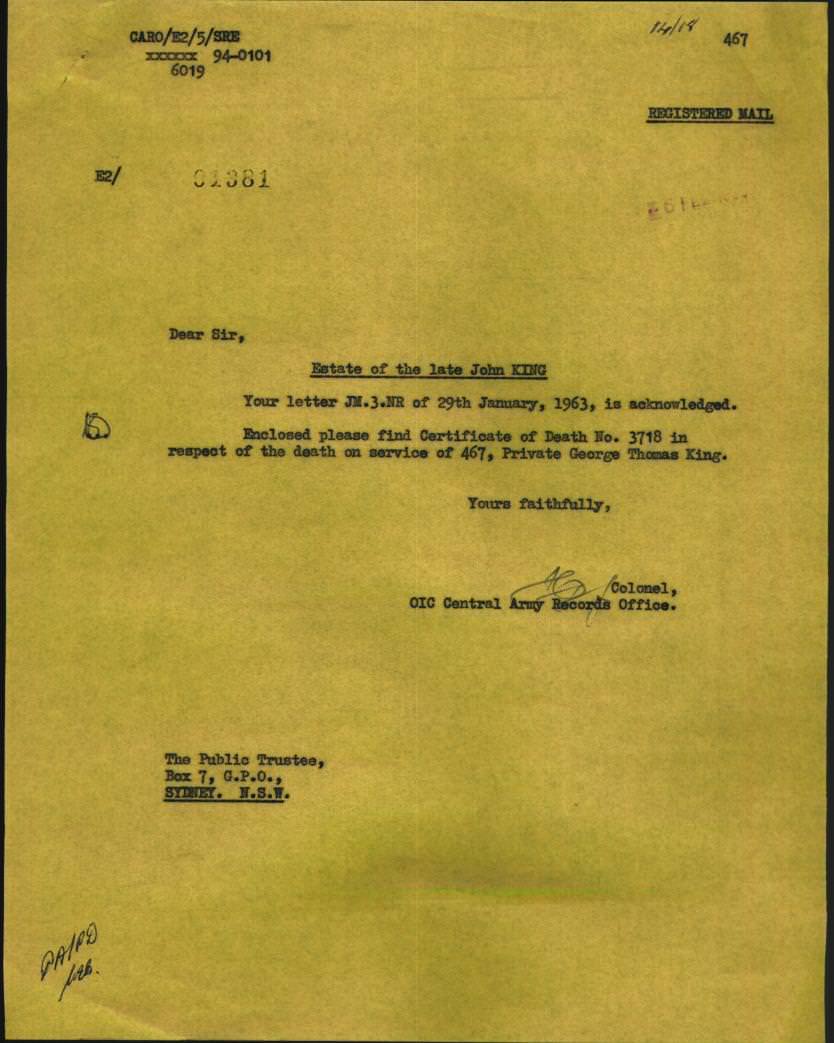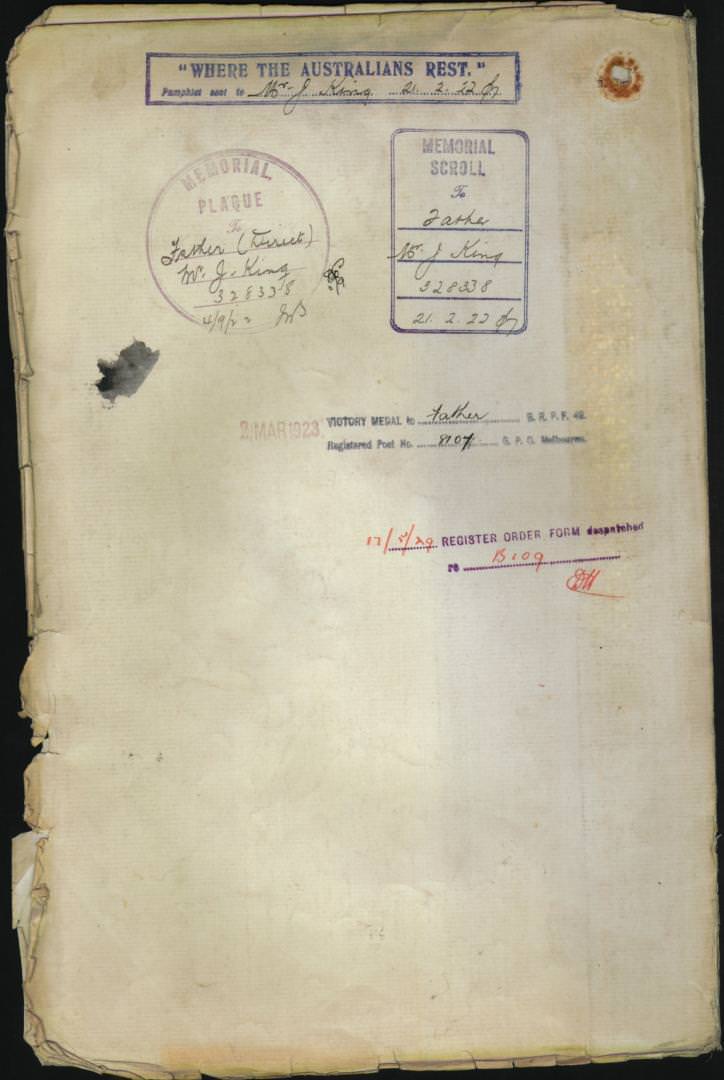 Undated 18/11/2006-15/02/2014.
---
Web Counter
---