Christopher Thomas Kahler enlisted with the 1st General Reinforcements on the 21st November 1917 and left Sydney on board RMS "Osterly" in Sydney on the 8th of May 1918 and disembarked at Liverpool England on the 10th of July. Christopher was Marched to the 9th Training Battalion and Taken on in Strength with the 35th Battalion on the 26th of July 1918. He proceeded overseas on the 17th of October for France via Southampton.
Christopher had requested to be transfered to the ..Pioneer Battalion so he could be with his cousin Private: J C Rollings. He returned to England on the 14th of May 1919 and left England on board "MAIN" on the 23rd of July and returned to Australia on the 15th of October and discharged on the 7th of November 1919, pay book 510948.
Family Information
Christopher was a single 19 year old Motor Driver and Mechanic from Riddle Street, Bingara, N.S.W. He was apprenticed to Jones Garage at Bingara and his mother Emily Turner lived at "Linton Vale" Whitlow, Bingara. His parents Christopher and Emily Kahler were married in 1894 at Bingara, N.S.W. Marriage Cert:2531/1894 and had 5 children, 4 boys and 1 girl. Edith M M Kahler born 1895 at Bingara, N.S.W. Birth Cert:11128/1895. Christopher Thomas Kahler born 1898 at Bingara, N.S.W. Birth Cert:10497/1898 Arthur A Kahler born 1900 at Bingara, N.S.W. Birth Cert:10814/1900. Edward James Kahler born 1902 at Bingara, N.S.W. Birth Cert:10434/1902 and died in 1951 at Newtown, N.S.W. Death Cert:27012/1951. Garnet Roy Kahler born 1904 at Bingara, N.S.W. Birth Cert:30455/1904 and died in 1969 at Penrith, N.S.W. Death Cert:16680/1969.
Warrant Officer Class 2: NX167267 Garnet Roy KAHLER
Military Records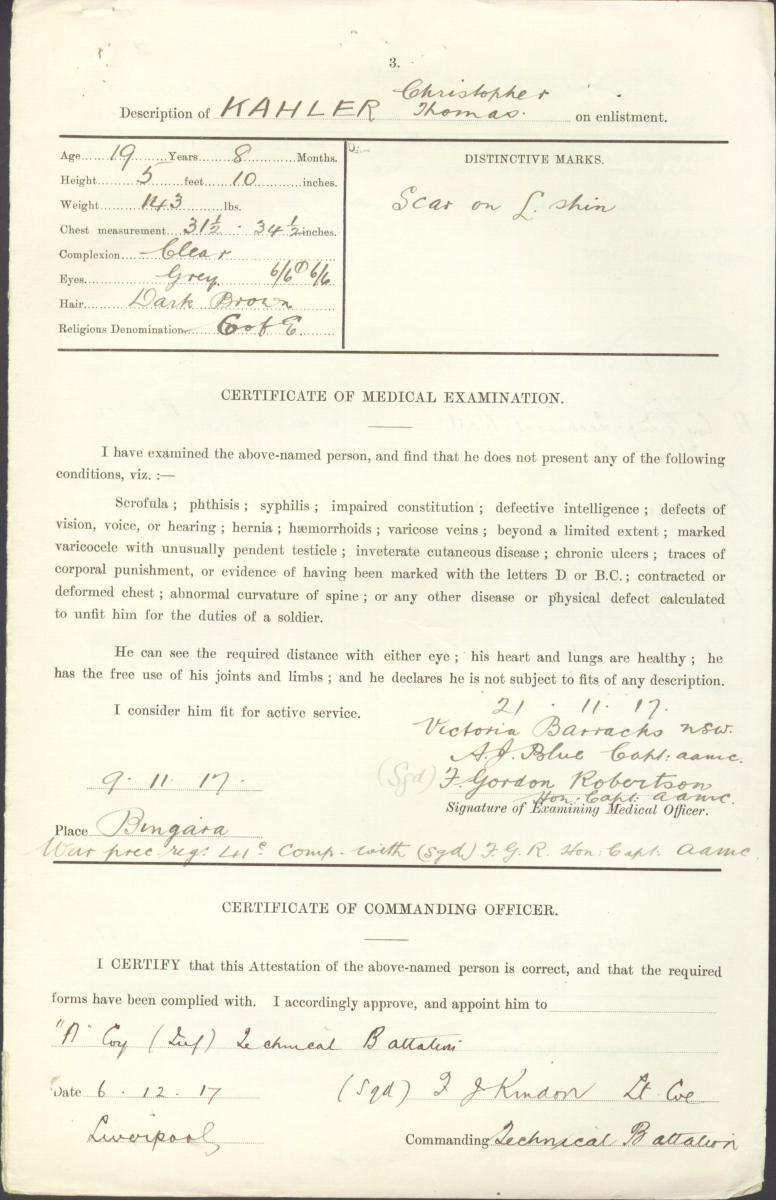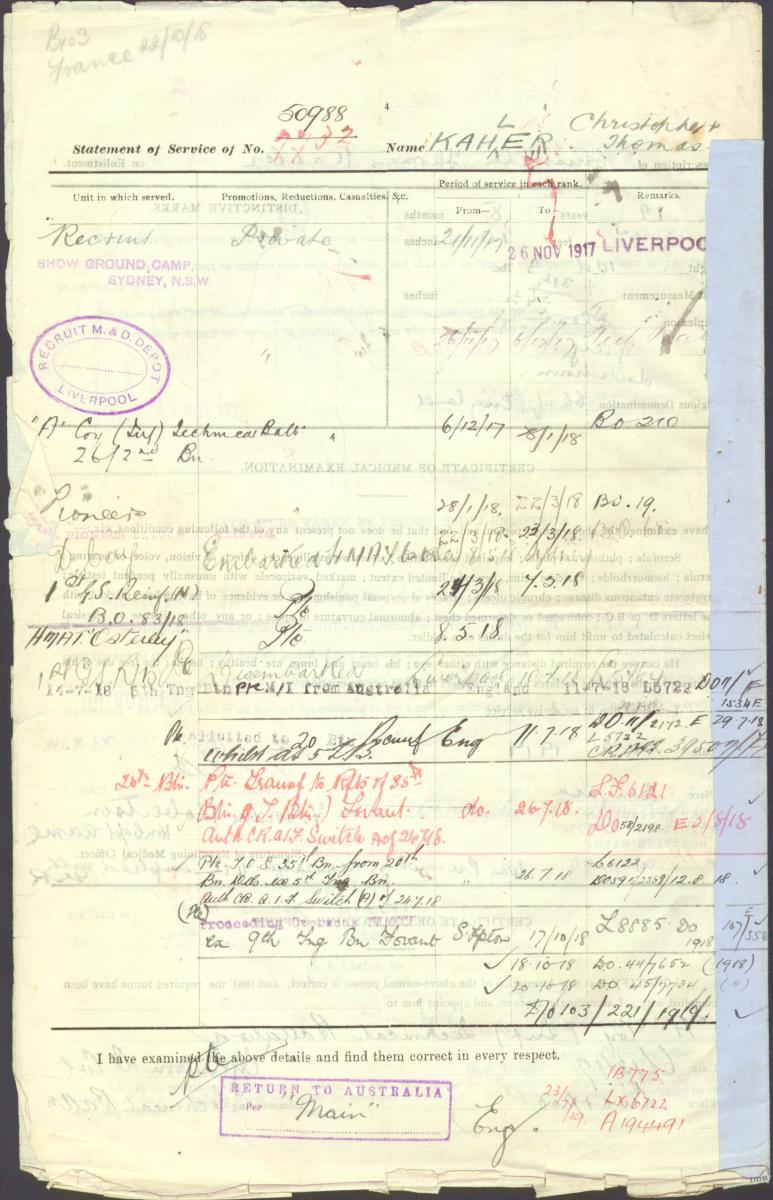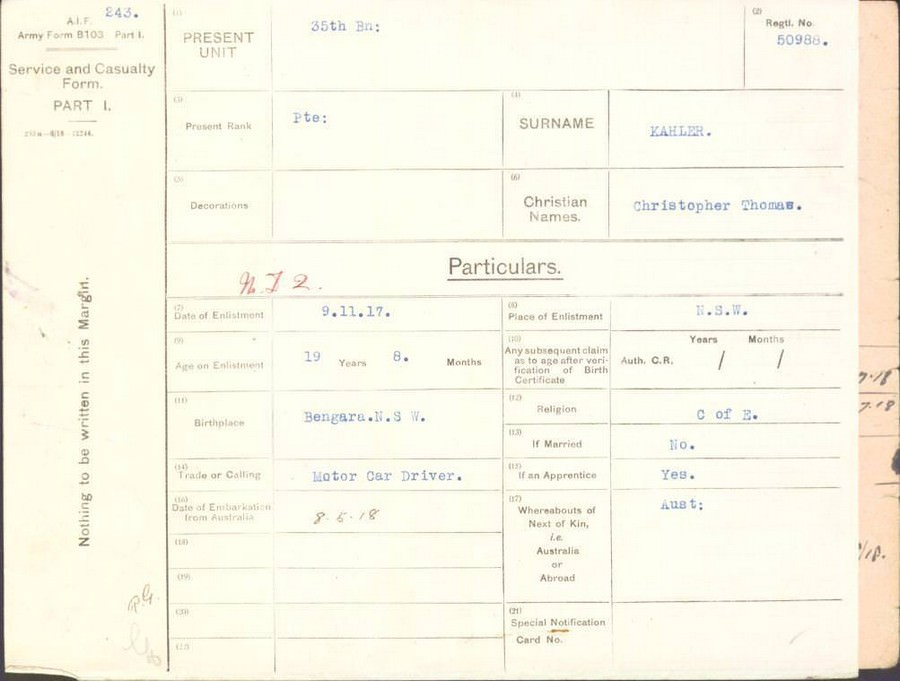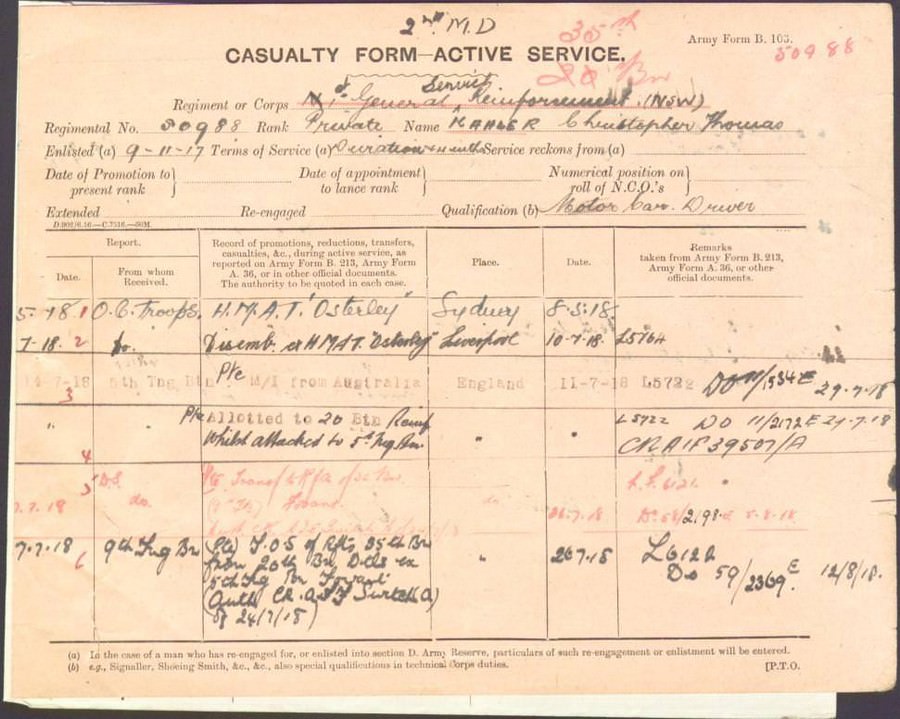 (Australian National Archives)
Under Construction. 24/02/2009.
---
Web Counter
---