James Martin Judd served with the Gordon Club Cadets at Goulburn and the N.S.W. Irish Rifles before he enlisted with the AIF at Casula, N.S.W. and was allocated to duty as a German Consentration Camp Guard at Holsworthy, N.S.W for 14 months.
The largest internment camp in Australia during World War One was at Holsworthy, near Liverpool on the outskirts of Sydney. The camp held between 4,000 and 5,000 internees, most were either from the Austro-Hungarian empire, staff of German companies temporarily living in Australia, crews of vessels caught in Australian ports and naturalised and native born Australians of German descent. Prisoners were interned without trial, often without knowing their "crime", and without the knowledge of their families.
James Martin Judd re enlisted with D Company 36th Battalion AIF at the Rutherford Army Camp in March 1916.
MAITLAND CAMP RUTHERFORD N.S.W. 1916.
24 June 1917.
MILITARY MEDAL
Sergeant: 1142 James Martin JUDD. 36th Battalion AIF. 'The Brigade Commander has much pleasure in placing on record the name of this N.C.O. who was conspicuous for his bravery and gallantry in recent offensive action' 18 June 1917.
Commonwealth of Australia Gazette: 20 December 1917. Page 3377, position 103
London Gazette: 16 August 1917. Page 8427, position 104
Family Information
Tom and May Judd were married in 1892 at Goulburn, N.S.W. Marriage Cert:3770/1882 and had 5 children. Eric L Judd born 1893 at Goulburn, N.S.W. Birth Cert:14637/1893. James Martin Judd born 1895 at Goulburn, N.S.W. Birth Cert:3449/1895 and died 1918 in Belgium during World War 1. Dulcie E Judd born 1898 at Goulburn, N.S.W. Birth Cert:30708/1898. Beatrice A Judd born 1906 at Newtown, N.S.W. Birth Cert: 16367/1906. Ellen A Judd born 1907 at Newtown, N.S.W. Birth Cert:27082/1907 and died 1923 at Marrickville, N.S.W. Death Cert:17854/1923. Grace F Judd born 1909 at Marrickville, N.S.W. Birth Cert:38608/1909.
Cousin: 477 Pte Albert Selwyn JUDD, 36th Bn, killed in action, 7 June 1917.
Military Records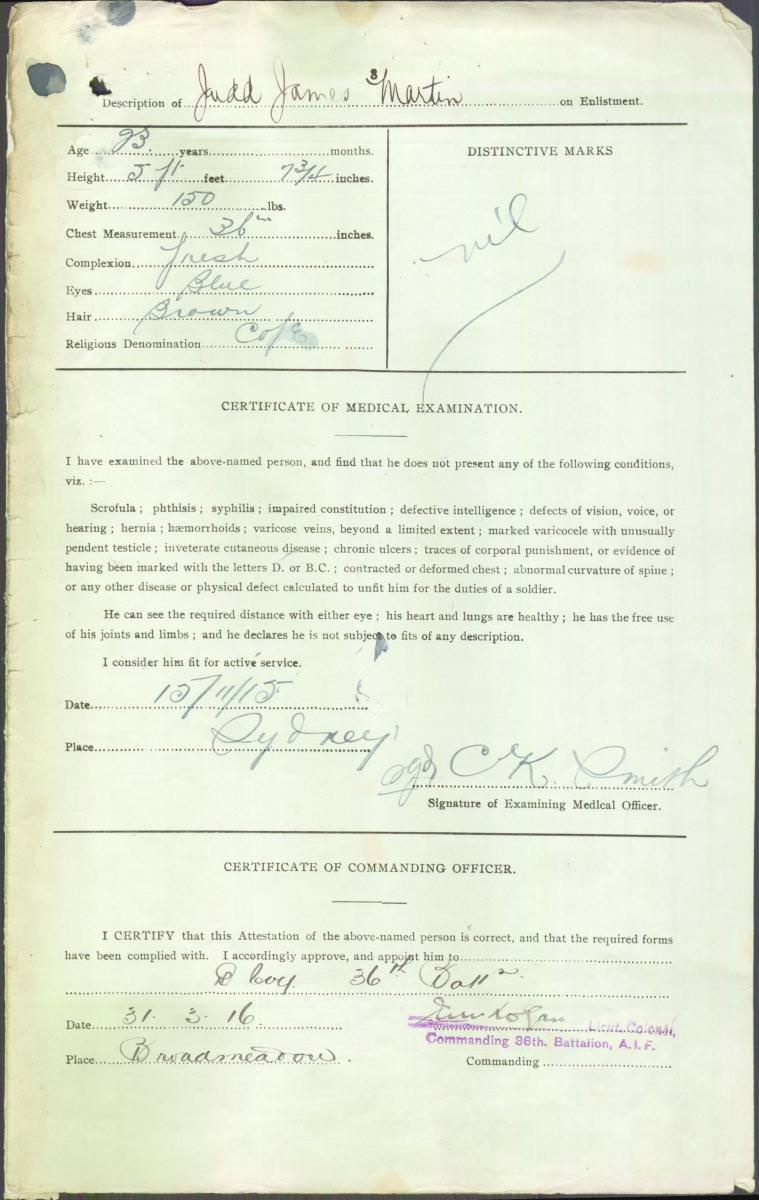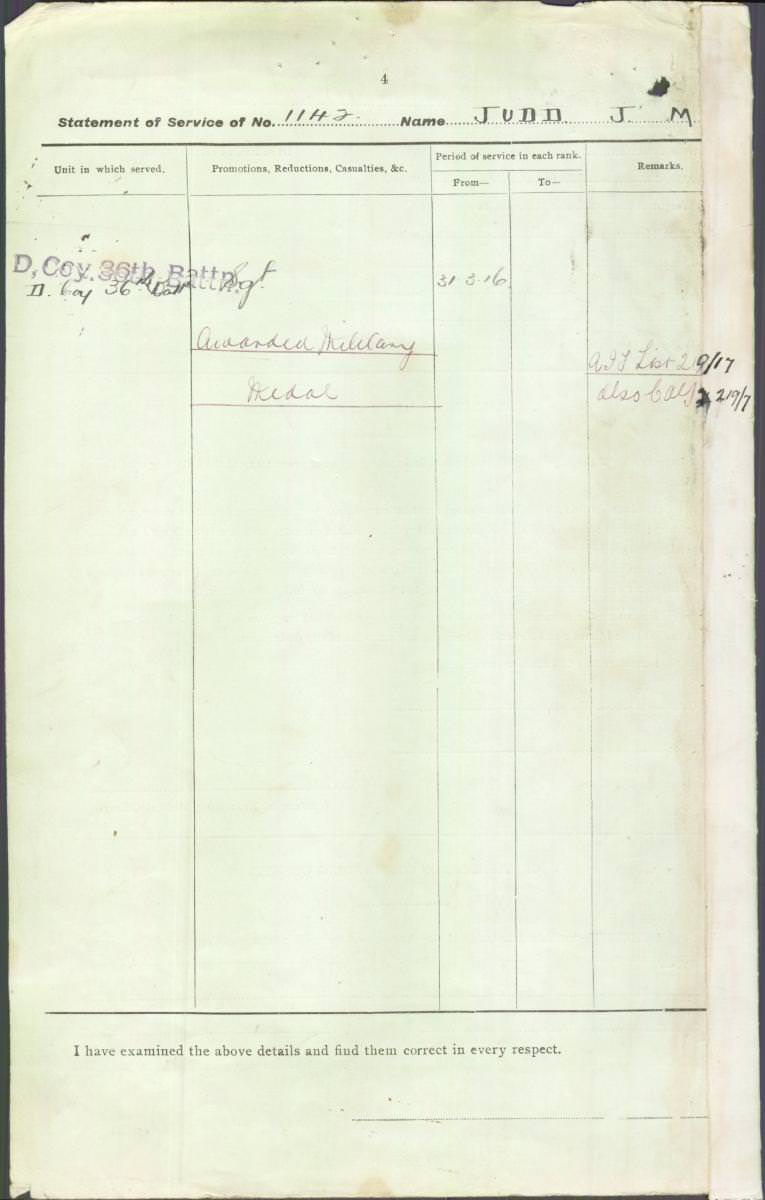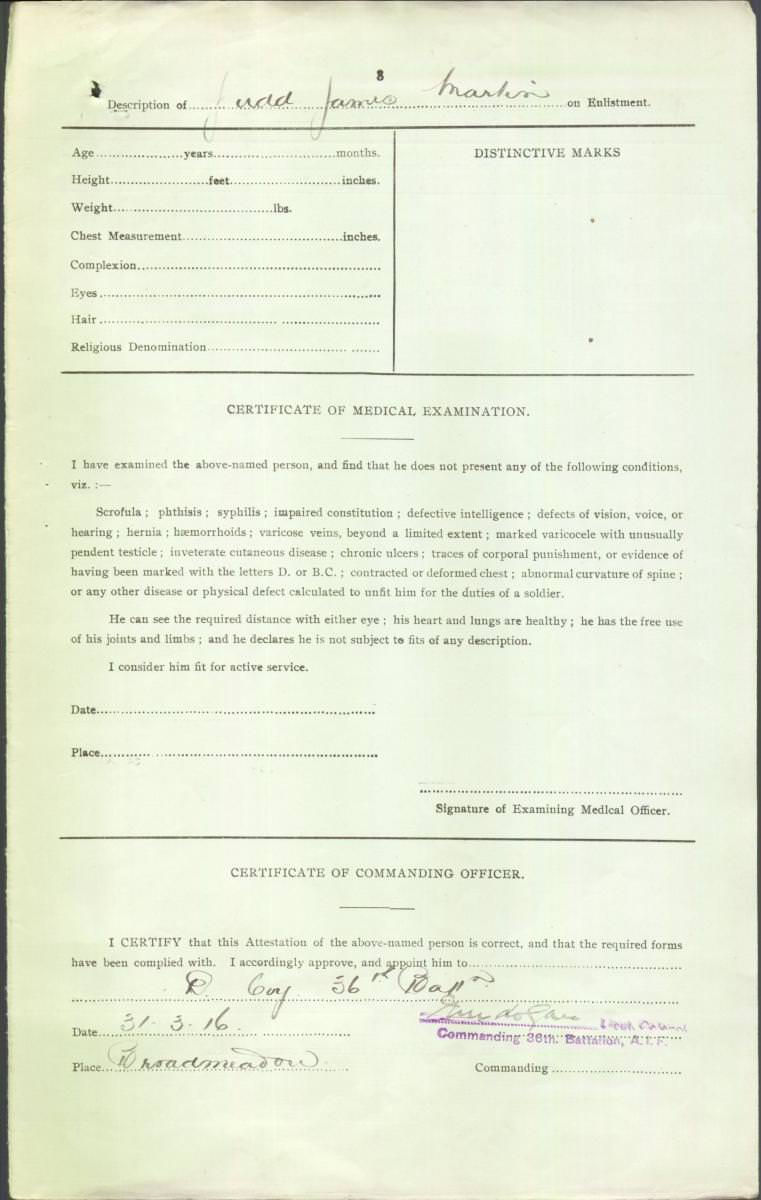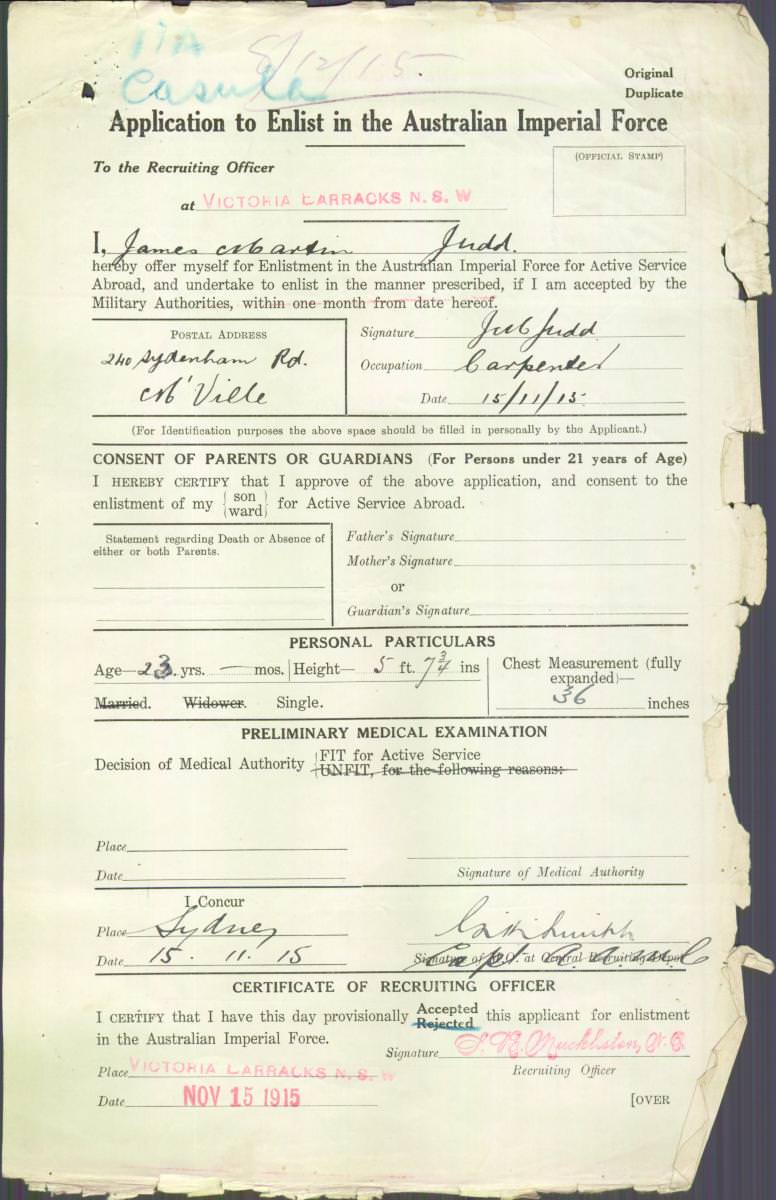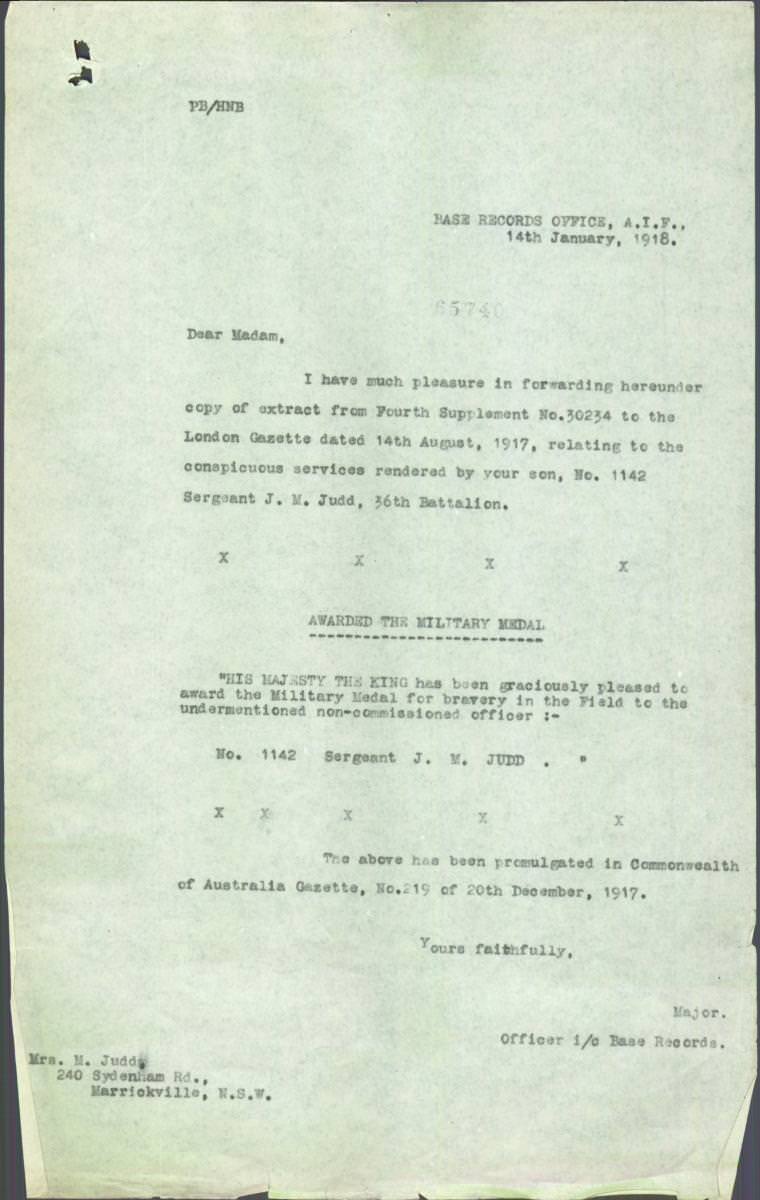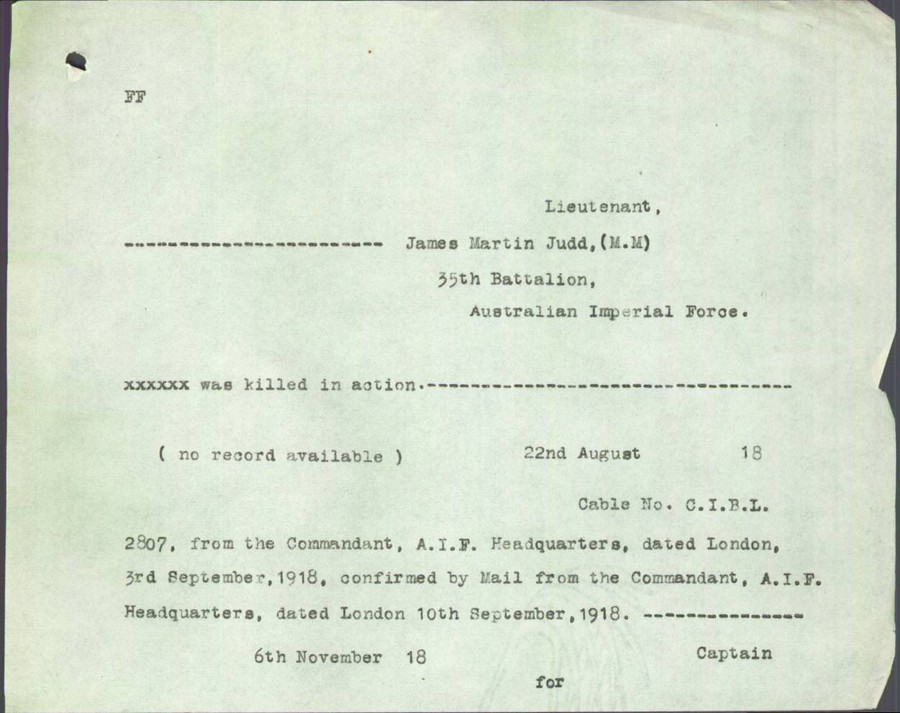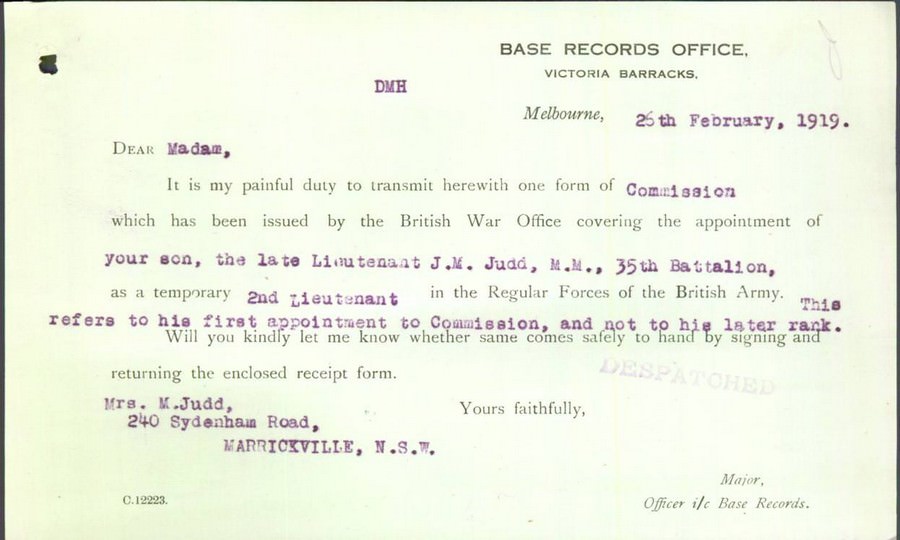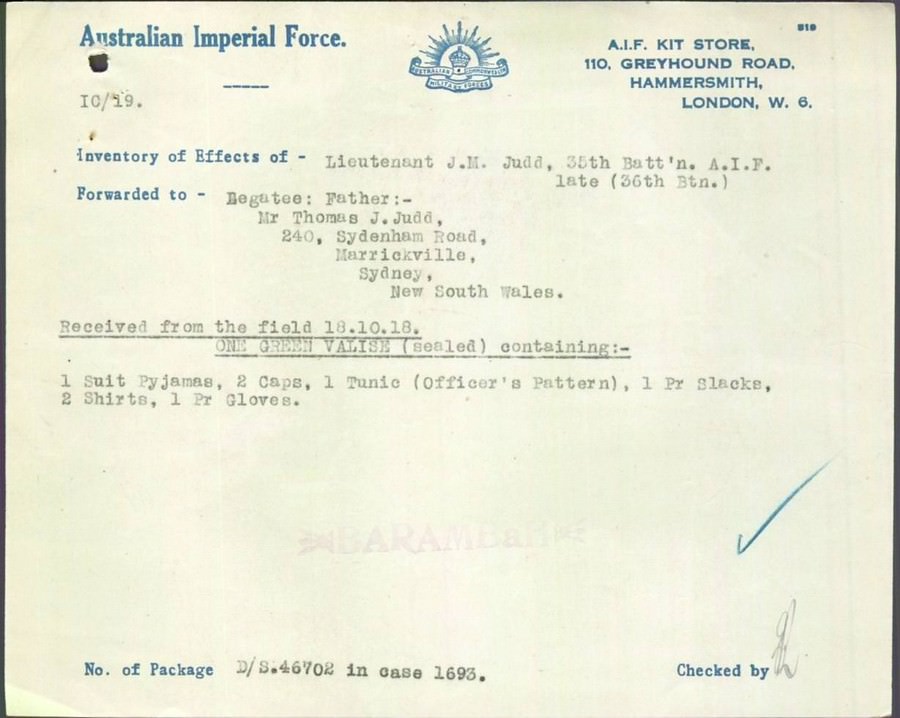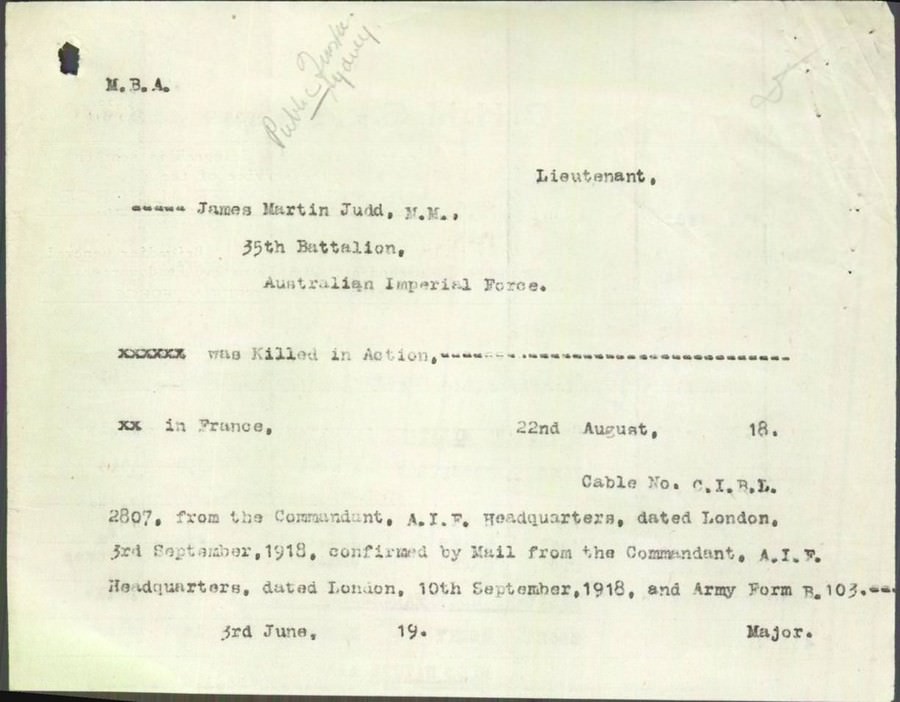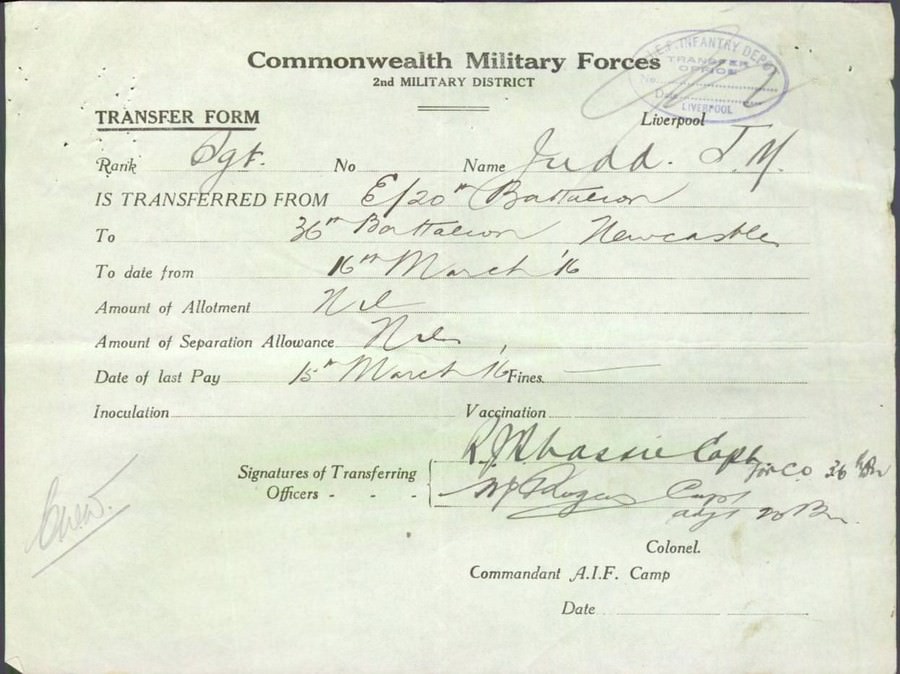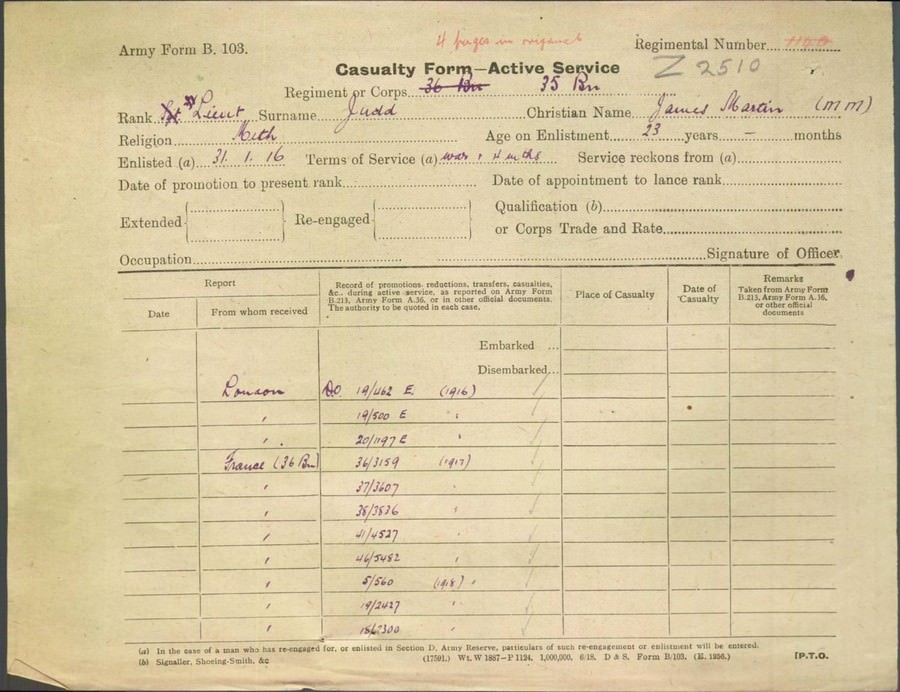 © Commonwealth of Australia (National Archives of Australia)
Under Construction; 04/04/2016.
---
Web Counter
---