Albert Jones enlisted with Headquarter Company, 35th Battalion AIF on the 12th December 1915 and was Charged with being Absent With Out Leave from the 9:00am and 2:00pm Parade at the Broadmeadow Army Camy. Witness- Sergeant: 1167 Richard Valentine LATHLEAN and he was fined 2/6 and forfeited 1 Days Pay.
Albert left Sydney on board HMAT A24 "Benalla" on the 1st of May 1916 and was again Charged with Overstaying Leave from 18:30 hrs on the 11th of June, whilst at CAPETOWN, Witness was Sergeant: 386 John Alexander CAMPBELL 35th Battalion. He was awarded 14 Days Fatigue Duty whilst on board HMAT A24" Benalla".
Albert disembarked at Plymouth, England on the 9th of July 1916 and was marched to the 9th Training Battalion at Durrington Army Camp at Larks Hill. Albert proceeded overseas for France on the 21st of November 1916 from Southampton. Albert was Taken on in Strength whilst in France and was granted leave leave after nealy 2 years of active service back to England from the 1st of February till the 15th of February 1918.
Albert was Charged with being Absent Without Leave from 8:00am 16th February till 8:30 am 17th February 1917 and was awarded 4 Day Pay by Lieutenant Colonel: Henry Arthur GODDARD the Commanding Officer of the 35th Battalion. Albert was Killed in Action at Villers-Bretonneux, France on the 4th of April 1918 and is remembered with honour and is commemerated in perpetuity by the Commonweath War Graves Commission at the Villers-Bretonneux Memorial.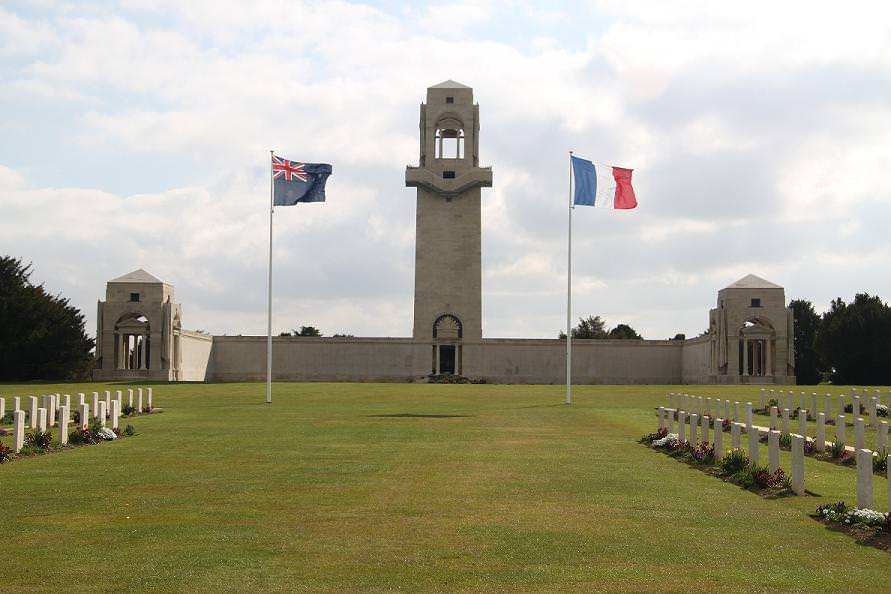 VILLERS-BRETONNEUX WAR MEMORIAL
Albets original number was 1154 but changed when he was allocated Headquarter Company and he was then allocated the service number: 1430. All Alberts personal effects were sent back to Australia on board the S.S "Barunga" which was sunk by an Enemy Action at sea and all cargo was lost.
Friday 19 July 1918.
The Argus (Melbourne, Victoria)
LONDON, July 17.
S.S. BARUNGA SUNK. ON WAY TO AUSTRALIA. Passengers and Crew Saved.
The steamer Barunga has been sunk while on a voyage to Australia. Only one casualty has been reported. Former German Steamer the Navy Office announced yesterday that the Barunga was torpedoed in English waters on July 16. The passengers and crew, it was added, have been landed, so far as could be ascertained, without casualties. The Barunga was formerly the Sumatra, a well known unit of the German Australian Line. She was launched in June 1913, at Flensburg, Germany, and was one of a group of steamers which at that time were regarded as being unsurpassed in the world as cargo carriers, each of them having a capacity for 12,000 tons of general freight, and possessing engines capable of developing a speed of over 13 knots. When the war broke out the Sumatra was discharging at Sydney, and was seized by the Commonwealth authorities. She was renamed the Barunga, and since has been employed continuously as a transport and a cargo carrier.
Albert's Memorial Plaque: 342922 was issued to his wife on the 27th of October 1922 but she requested an Plaque and Scroll again on the 3rd of September 1929, but the Government would not issue a replacement. His Plaque was acquired form a collector in England in October 2007 and is now in the collection.
Family Information
Albert was a married 41 year old Carpenter from Thorn Street, Newcastle, New South Wales upon enlistment, his wife Catherine lived at Gardeners Road, Mascot. After the war Catherine received a War Service Home Loan on the 1st of November 1920 moved to "Villers-Bret", 24 Dougherty Steet, Mascot New South Wales in March 1922.
Catherine Jones receives a war pension of 2 pounds per fortnight from the 18th of June 1918 and her 2 children Catherine Mary received 20 pence and Alexander Matthew received 15 pence per fortnight from the 20th of June 1918. Catherine completed a Memorial Form A which she stated Albert Jones was his full name and the name in which he served but his full name was Albert Andrew Jones.
Matthew Andrew and Susannah Jones were married in 1869 at Windsor, N.S.W. Marriage Cert: 3722/1869, and had 7 children. 4 boys and 3 girls. Emily A Jones born 1870 at Muswellbrook, N.S.W. Birth Cert:13480/1870. Edith Mary Jones born 1873 at Jerry's Plains, N.S.W. Birth Cert:16864/1873. Albert Andrew Jones born 1875 at Jerry's Plains, N.S.W. Birth Cert:17770/ 1875 and died in 1918 in France. Catherine Blanche Jones born 1880 at Parramatta, N.S.W. Birth Cert:21835/1880. John E Jones born 1884 at Balmain, N.S.W. Birth Cert:4281 and died in 1914 at Paddington, N.S.W. Death Cert:8425/1914. Robert Matthew Jones born 1886 at Lismore, N.S.W. Birth Cert:33183/1886 and died in 1928 at Penrith, N.S.W. Death Cert:10295/1928. Lawrence F Jones "No Birth Record" but died in 1889 at Balmain, N.S.W. Death Cert:2169/ 1889.
Alberts father Matthew Jones died in 1911 at Peterham, N.S.W. Death Cert:11754/1911. His wife Catherine Jones died on the 21st of April 1956 in Sydney, N.S.W. Death Cert:8122/1956.
Military Records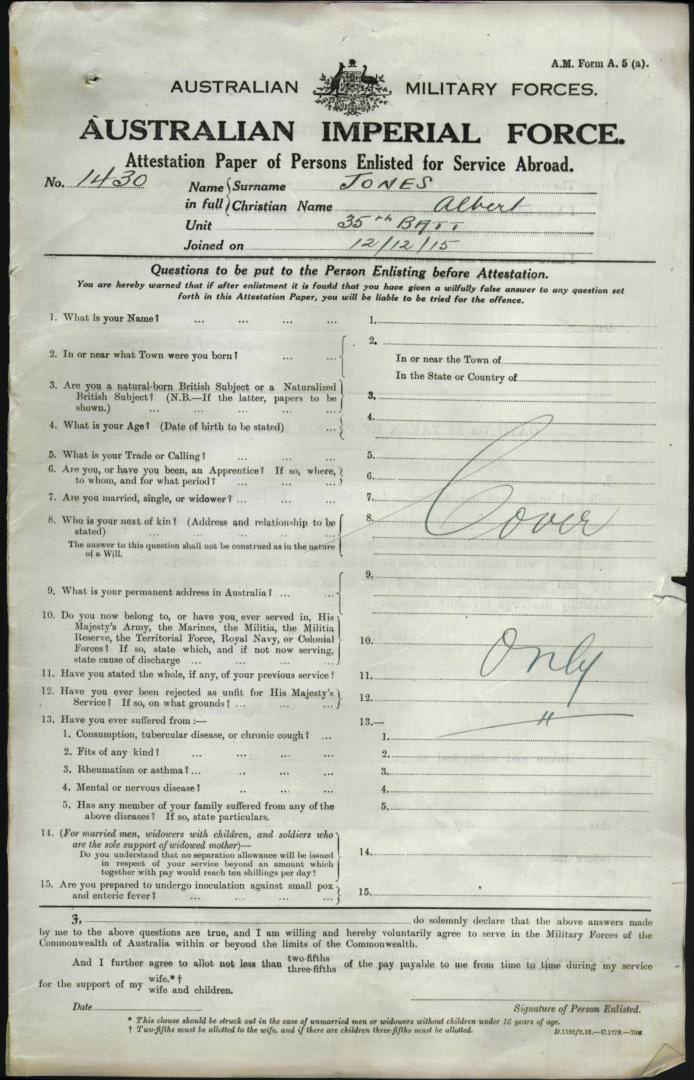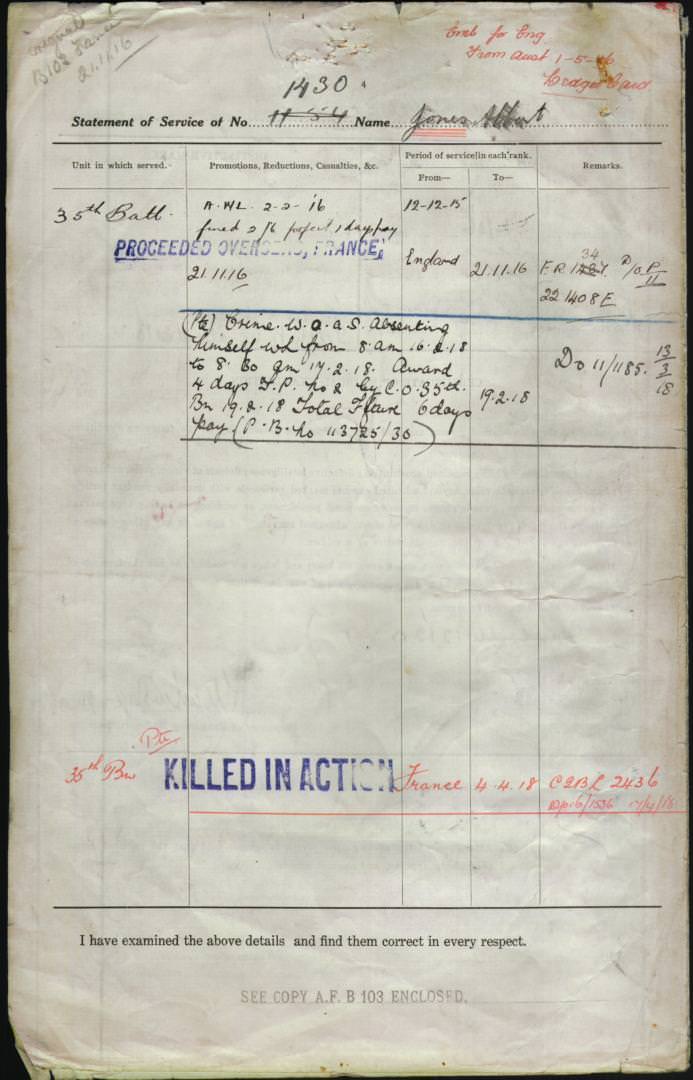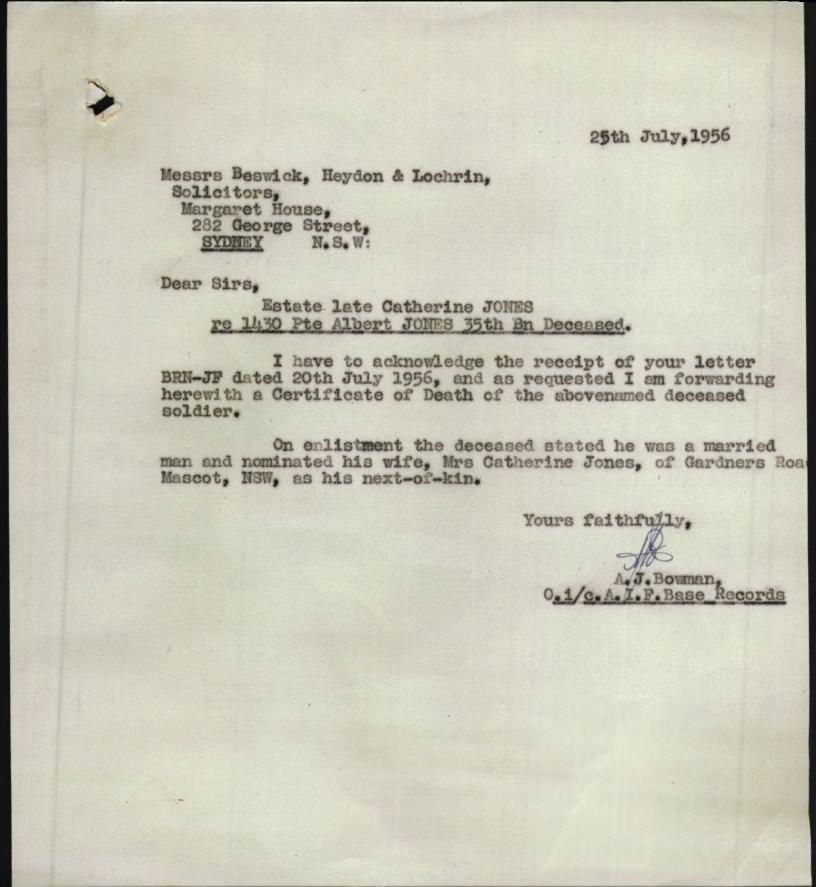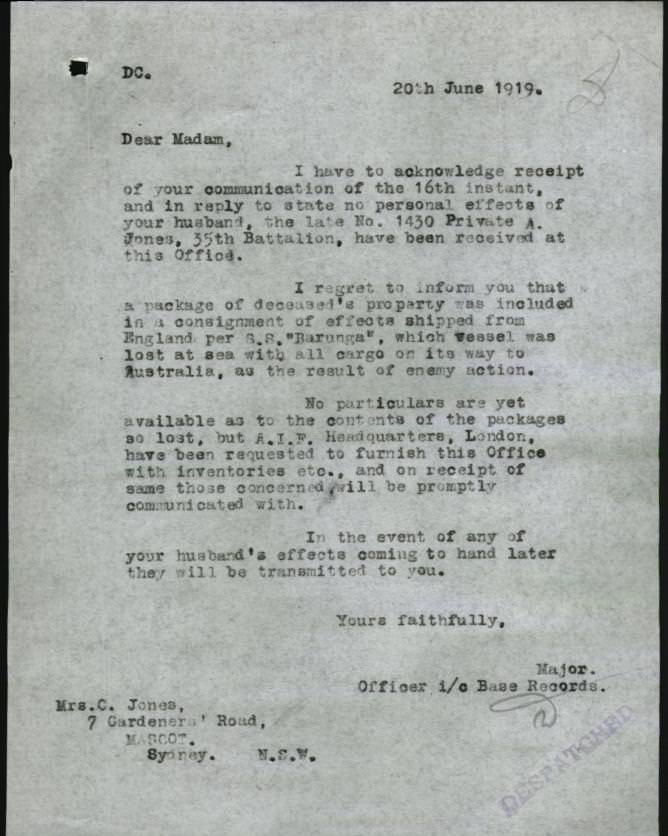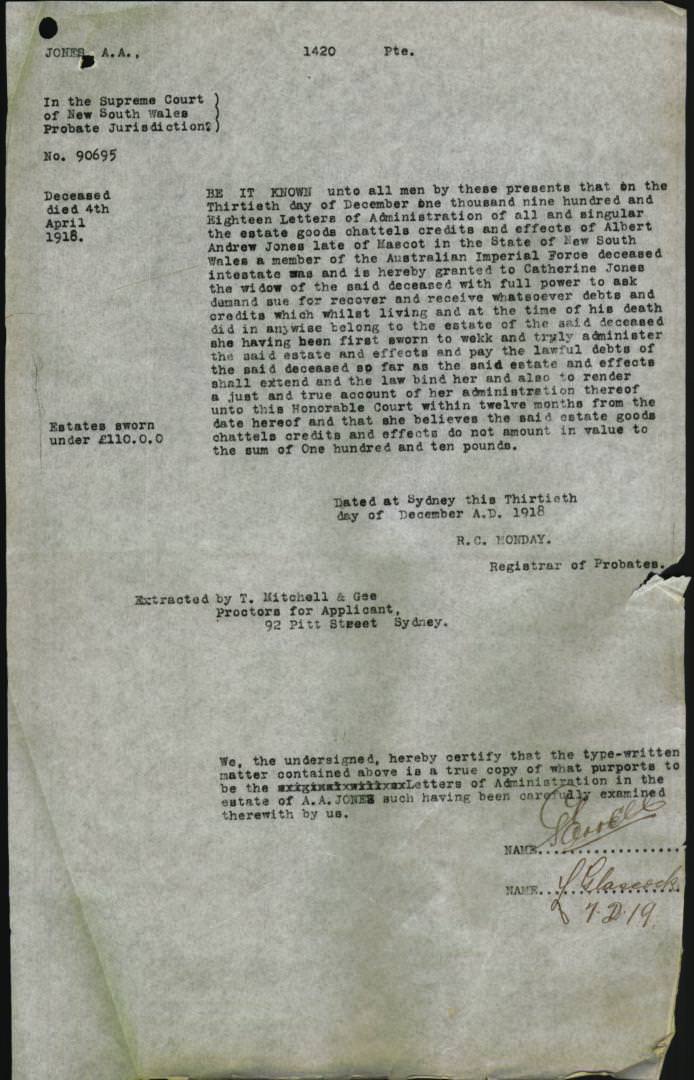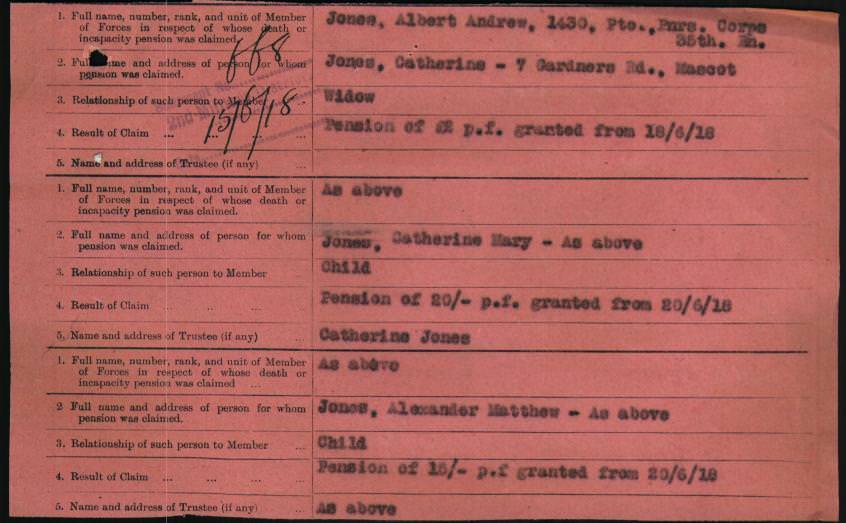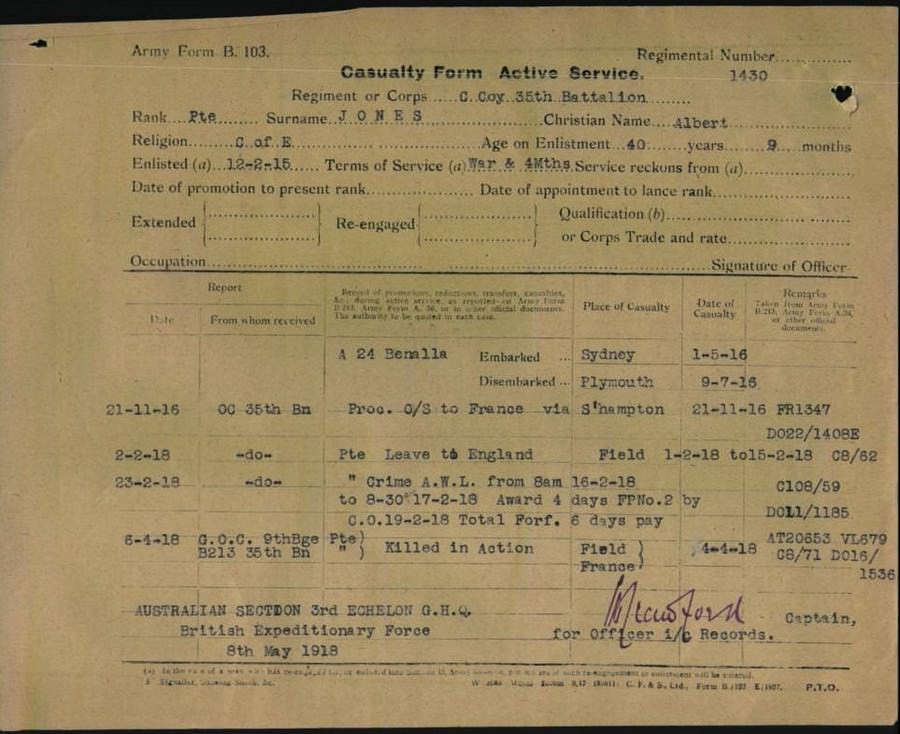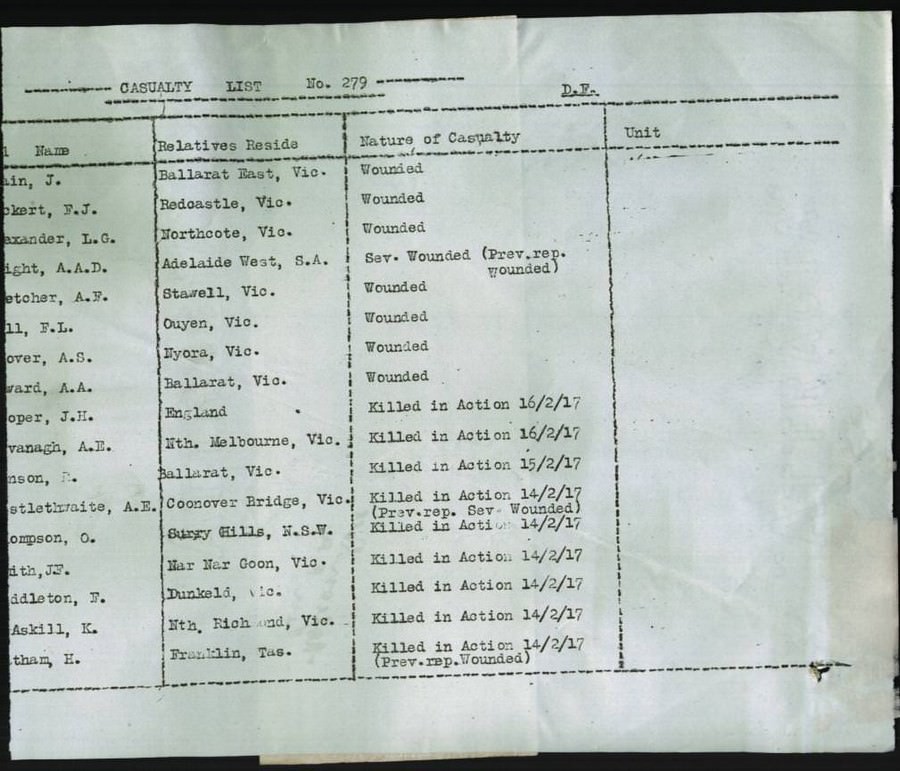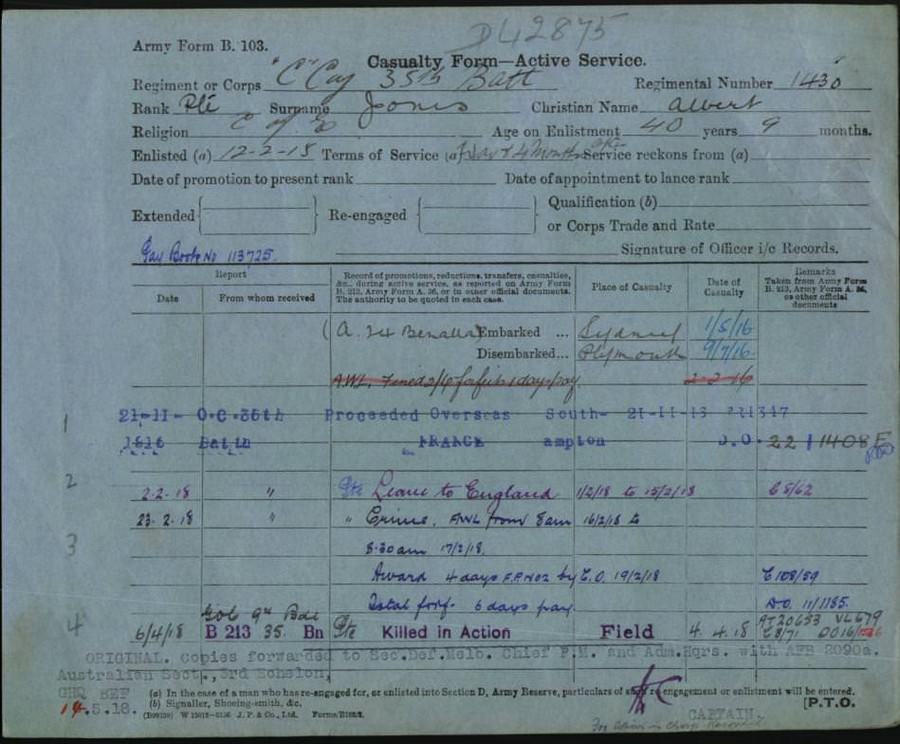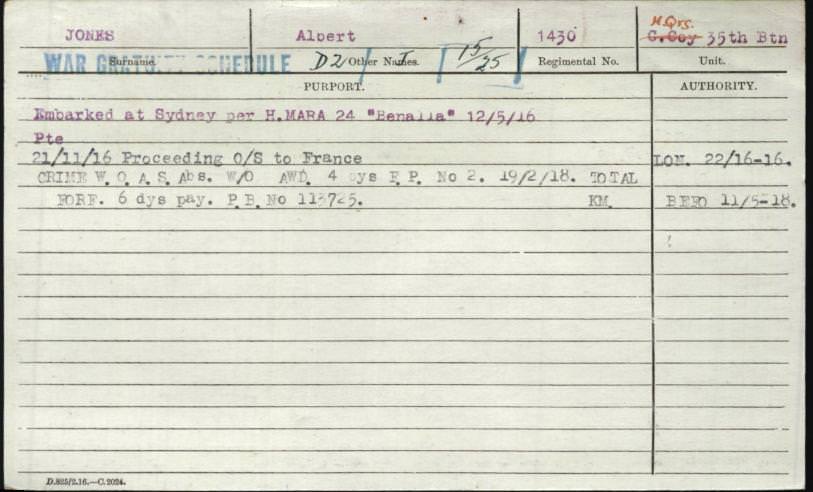 © Commonwealth of Australia (National Archives of Australia)
Under construction: 14/10/2007-29/10/2016.
---
Web Counter
---