---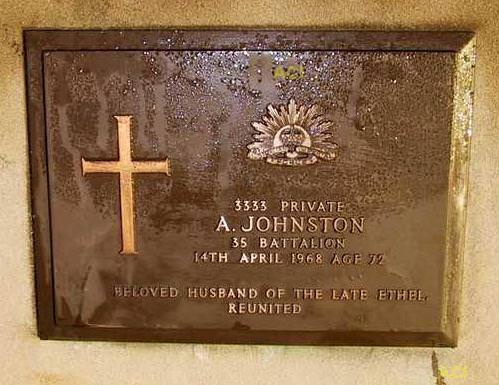 35th BATTALION A.I.F.
Private: 3333 Archibald JOHNSTON.
---
Born: 1896. Bulahdelah, New South Wales, Australia.
Wife: Ethel Johnston. nee:. (1897-1964)
Died: 14th April 1968. Stockton, New South Wales, Australia.
---
Father:
Mother: Rebecca Johnston. nee:
---
INFORMATION
Archibald Johnston enlisted with the 8th Reinforcements, 35th Battalion AIF on the 20th June 1916 and embarked from Sydney onboard HMAT A28 "Miltiades" and disembarked at Glasgow Scotland on the 2nd August 1917. Archibald was entrained to the Durrington Army Camp before being admitted to the Parkhouse Hospital suffering from the Mumps on the 9th of October 1917.

Archiblad proceeded overseas for France on the 12th February 1918 and was marched in at Rouelles the next day when he went into billets for the night before being marched out to the lines on the 14th of February and was Taken on in Strenght with the 35th on the 19th of February 1918. Archiblad went into action at Villers-Brettonneux on the 4th of April 1918 where he was 1 of the 44 men from the 35th Battalion who was reported Missing in Action

4th-5th April 1918.

The First VILLERS-BRETONNEUX

The Strength of the 9th Infantry Brigade was about 2,250 but their casulties during the 2 days of fighting numbered 30 Officers and 635 men either killed in action or missing.

9th Infantry Brigade Casulties.4th-5th April 1918
| | | |
| --- | --- | --- |
| 33rd Battalion. AIF | 3 Officers | 82 Other ranks |
| 34th Battalion. AIF | 5 Officers | 120 Other ranks |
| 35th Battalion. AIF | 9 Officers | 282 Other ranks (including 44 missing) |
| 36th Battalion. AIF | 12 Officers | 133 Other ranks (including 1 missing) |
| 9th Machine Gun Company. AIF | 1 Officer | 18 Other ranks (including 4 missing) |
Archibald was reported as Prisoner of War in Germany War Office List 29. He was repatriated to France afer the Armistace on the 15th December 1918 where he was admitted to the 3rd Canadian General Hospital as Dangerously Ill suffering from Bronchitis Archibald embarked for England onboard the Hospital Ship "Jan Brayden" on the 15th January 1919.

Hospital Ship "Jan Breydel"
Archibald was admitted to the Fulham Hospital at Hammersmith and then to the 3rd Auxillery Hospital at Dartford on the 12th of Ferbruary before he embarked for Australia on the 31st March 1919 onboard the "Wandilla" and disembarked at Sydney on the 15th May and was discharged from the AIF on the 2nd August 1919.
Family Information
Archibald was a single 21 year old Drain Digger from Boolambayte via Bulladellah, N.S.W.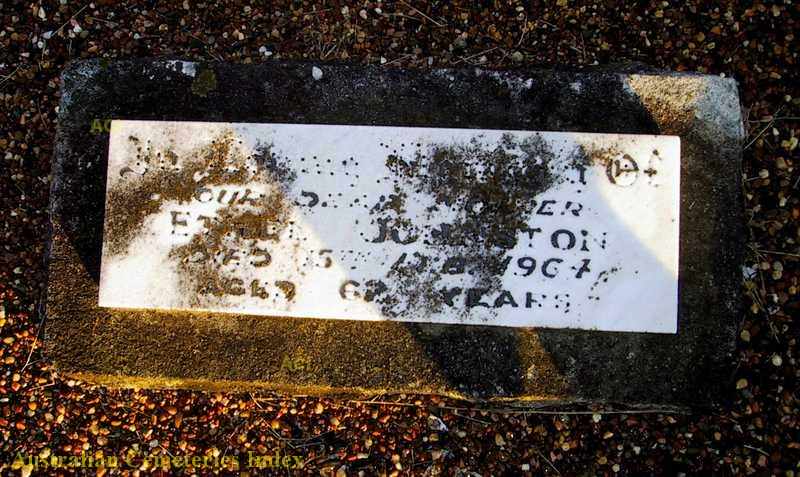 Ethel Johnston; Stockton Cemetery.
Military Records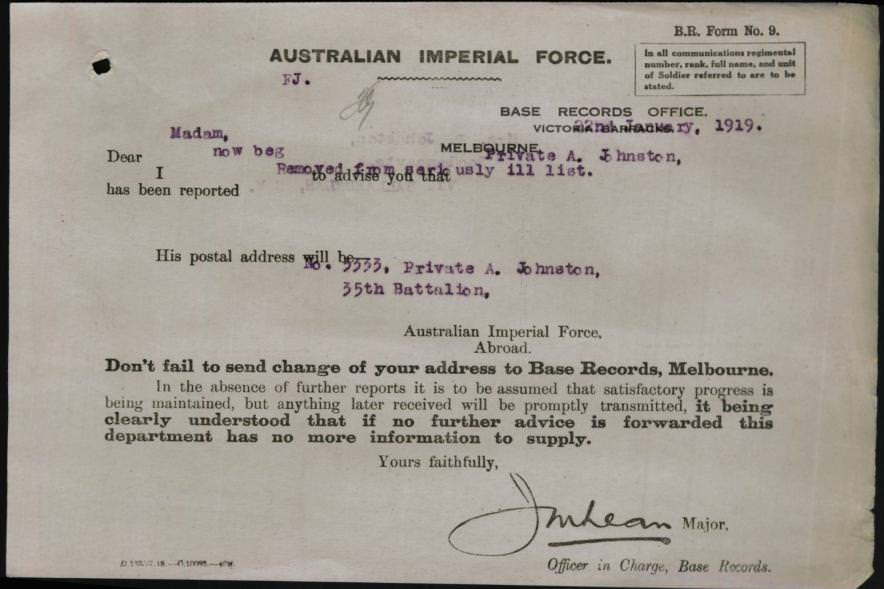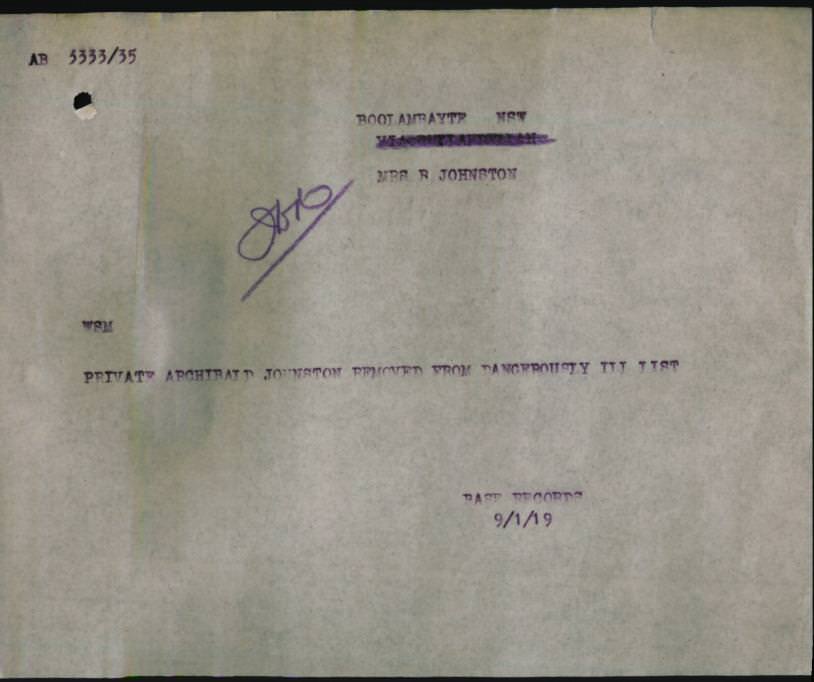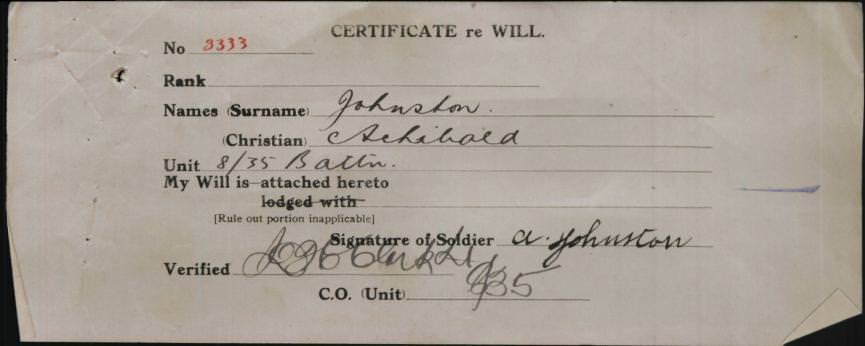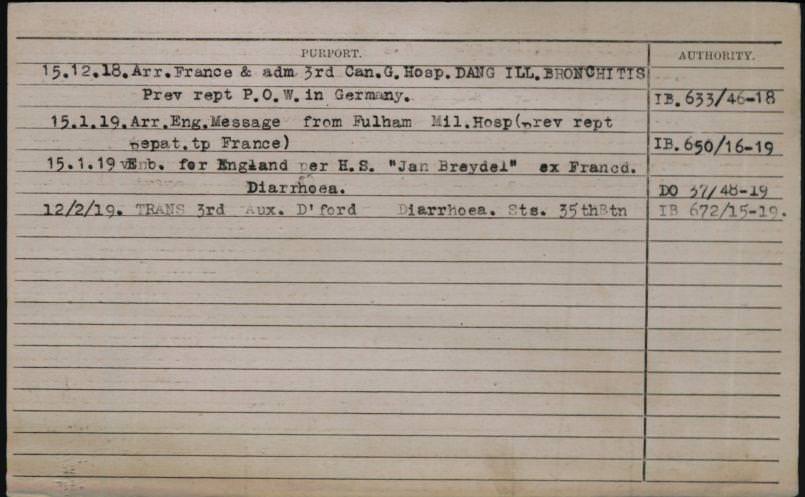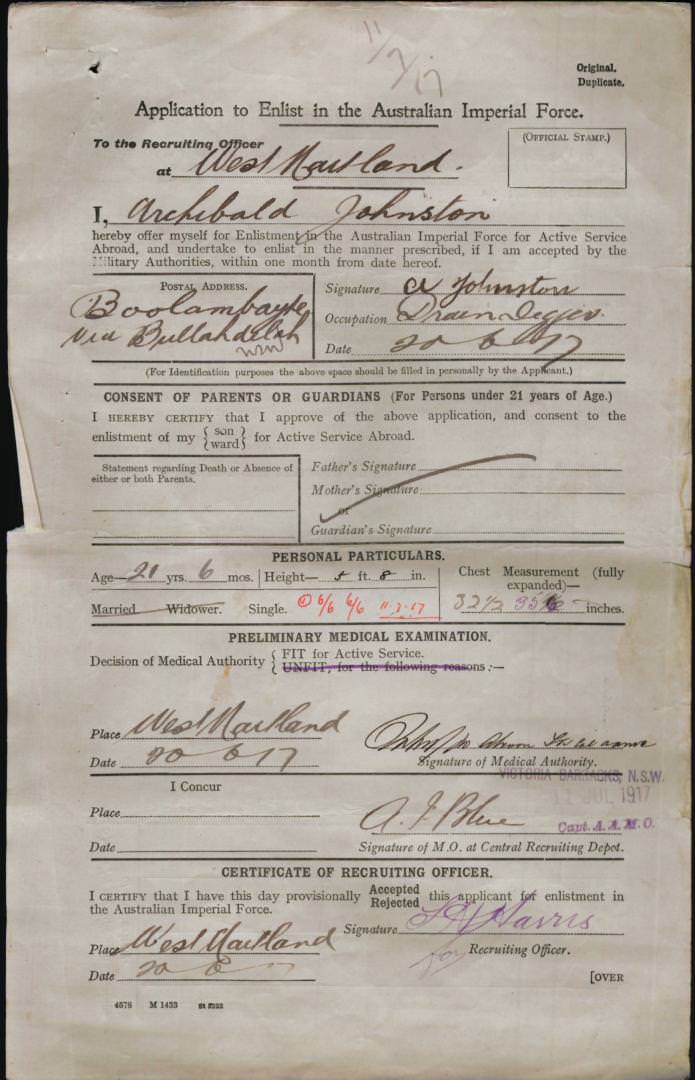 (Australian National Archives)
Under Construction; 19/07/2014-06/12/2014.
Web Counter
---