MAIN MENU. 35th BATTALION PAGE.
---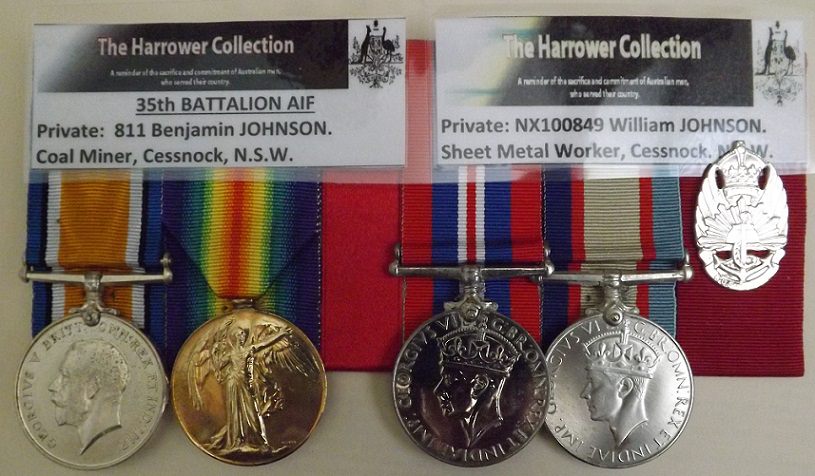 35th BATTALION A.I.F.
Private: 811 Benjamin JOHNSON.
---
Born: 1893. Tighs Hill via Newcastle, New South Wales, Australia. Birth Cert:25402/1893.
Married: 1914. Cessnock, New South Wales, Australia. Marriage Cert:12351/1914.
Wife: Jessie Johnson. nee: Cherry.
Died: 1923. Cessnock, New South Wales, Australia. Death Cert:14526/1923.
---
Father: Robert Johnson.
Mother: Elizabeth A Johnson. nee:
---
INFORMATION
Benjamin Johnson enlisted with the AIF at Liverpool, N.S.W. on the 31st July 1915 with the 6th Reinforcements 19th Battalion but was later discharged Medically Unfit from the Liverpool Camp on the 1st October 1915.
Whilst at the Holsworthy Camp after oly 21 days of service, Ben was Charged with "Insubordination" (A) Obusive Language (B) Threatening Lanuage to a N.C.O. and Fined 1 Pound by Lieutenant Colonel: R.C. SIMPSON.
Ben re enlisted at Newcastle on the 13th January 1916 with C Company 35th Battalion and stated had he was discharged on his wife's request, but not conscents. Benjamin was marched in the the Broadmeadow Camp at Newcastle and entrained for Sydney where the 35th Battalion embarked onboard HMAT A24 "Benalla" for England on the 1st May 1916 and whilst at Capetown on the 14th June he was Charged (1) Breaking Ship. (2) Absent Without Leave from 18:30 11.6.16 till 17:00 13.6.16 Award 14 Day Detention by O/C Troops "Benalla" 14.6.16. Total Forfiet 17 Days Pay. Benjamin disembarked with the Battalion on the 9th of July at Plymouth and was marched to Durrington Army Camp at Larkhill where he settled down to hard training, which included Route Marching, Trench Digging, Bomb Practice, Musketry and General Camp Routine.
Benjamin was Charged on the 6th November 1916. Offence A.W.L Midnight 20/10/16 until 1pm 4/11/16. Award 28 Days Forfiet Pay. No:2 Total Forfitude 43 Days Pay. Ben was admitted to the 9th Brigade Hospital at Larkhill on the 8th November, rejoining his unit 2 days later on the 11th November 1916. Ben was marched in the the 3rd Divisional Details from the Durrington Camp on the 12th December before proceeded overseas for France onboard the "Princess Clementine" on the 16th January 1917 via Folkstone.
Princess Clementine
After being marched in to France and going into Billets Ben was marched out to join his unit in the lines and was treated by the 10th Australian Field Ambulance suffering from a Venereal Disease and was admitted to the 51st General Hospital where he was treated for the next 89 Days. After he was discharged from Hospital he proceeded overseas to England where he was marched into the No: 2 Command Depot at Weymouth.
Whilst in England, Ben was again Charged Offence; Monte Video, overstaying leave from 3pm 27.6.17 till 3pm 29.7.17. Award 3 Day Confined to Barracks by Lieutenant: WILD
Benjamin was returned to Australia on the 22nd July suffering from Neurasthenia and was discharged from the AIF on the 23rd October 1917.


CESSNOCK WAR MEMORIAL
Benjamin's World War 1 Medals and his son William's World War 2 Medals and Badge were acquired from a Newcastle Dealer in February 2017 and are now in the Harrower Collection. In 1951 his daughter W Johnson applied for his fathers medals. His return from Acive Service Badge No:13134, Silver Wound Badge No:A56545 were in her possession. Benjamin's medals were first issued to his wife Jessie Johnson who lived at 19 Young Street, Redfern, N.S.W. on the 6th August 1951.
Family Information
Benjamin was a 22 year old Coal Miner at the Abermain Pit and lived at Maitland Street, Cessnock, N.S.W upon enlistment. He and his Wife Jessie previously lived at Railway Street, Cessnock.
Military Records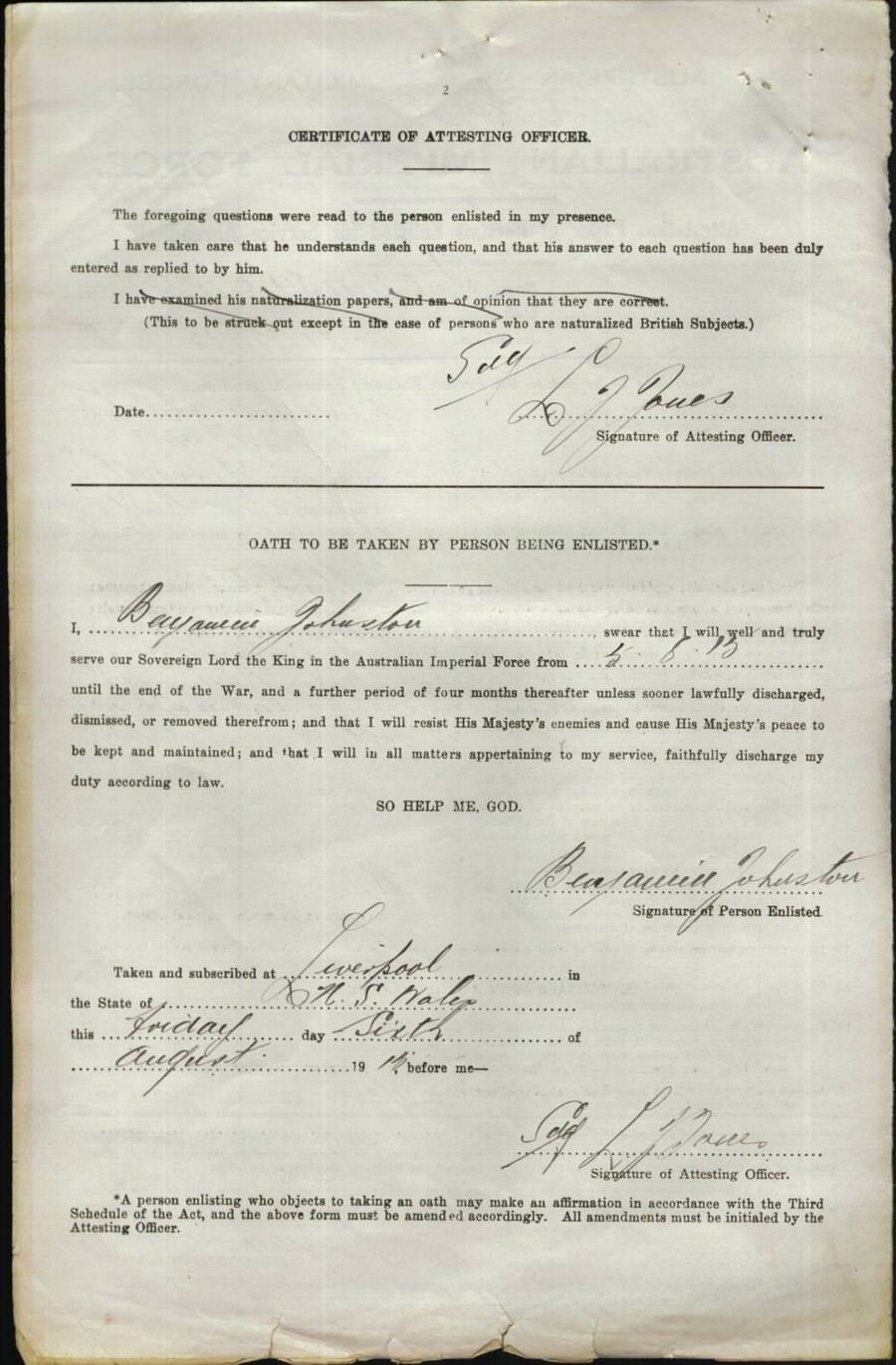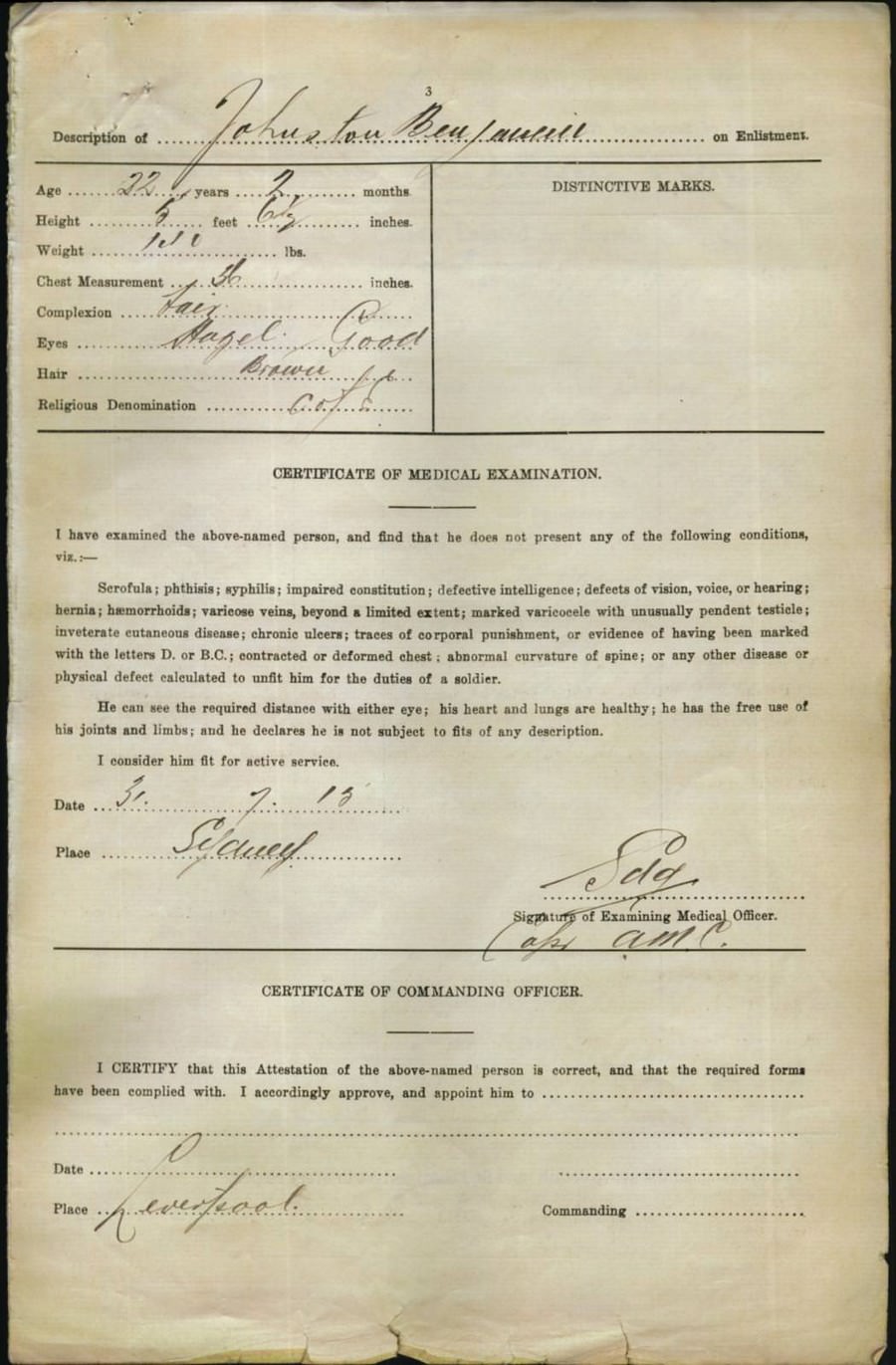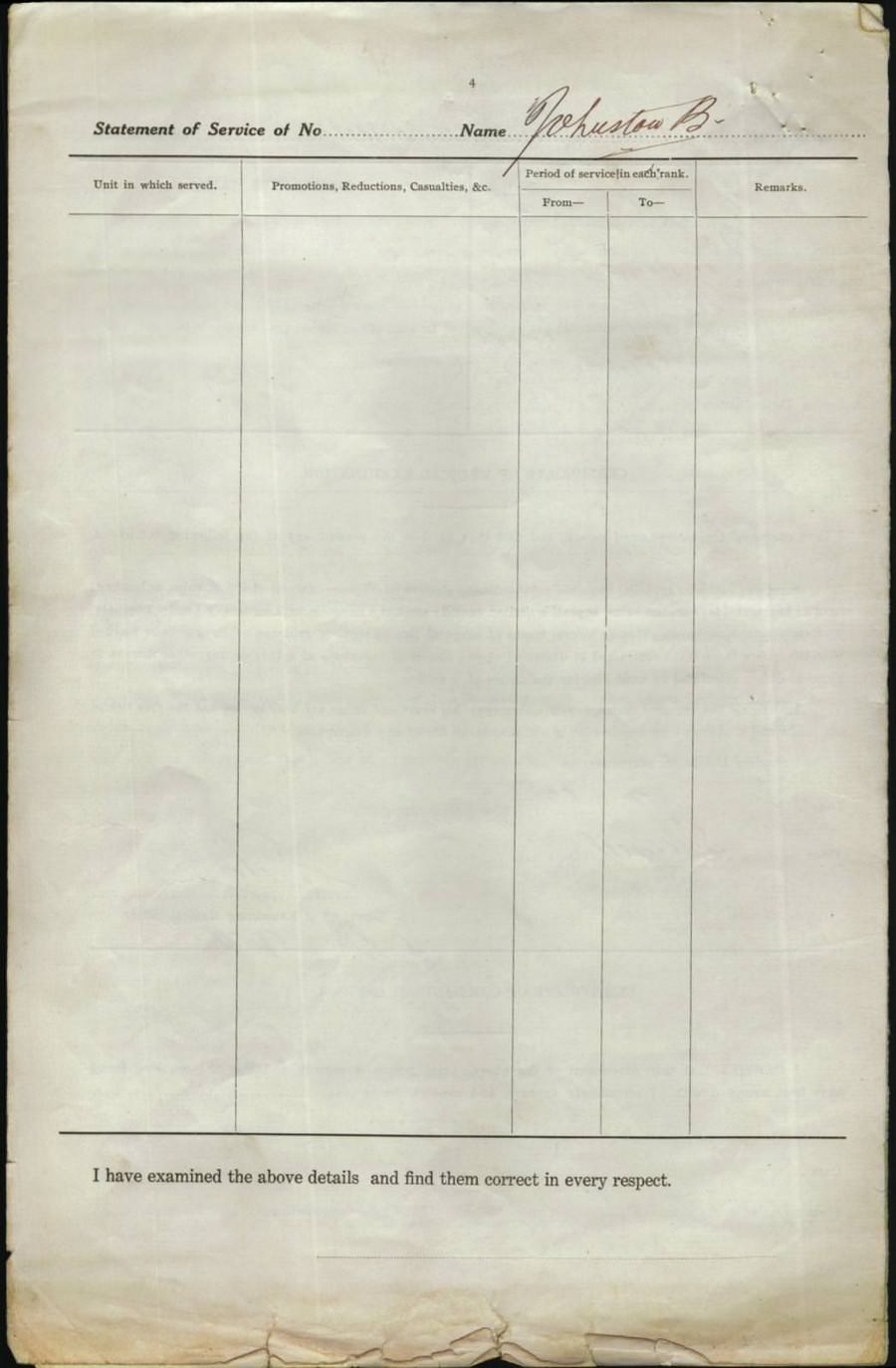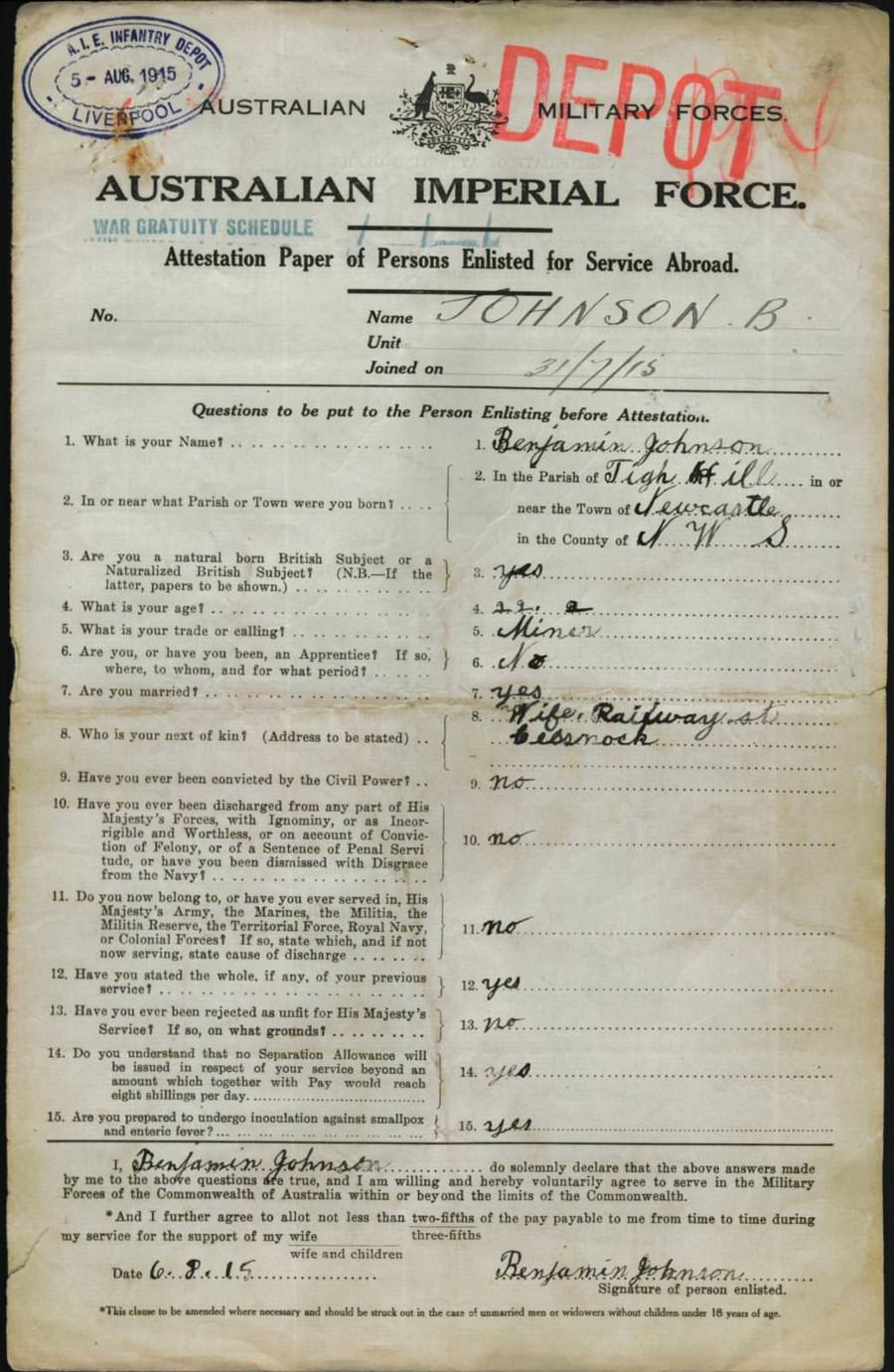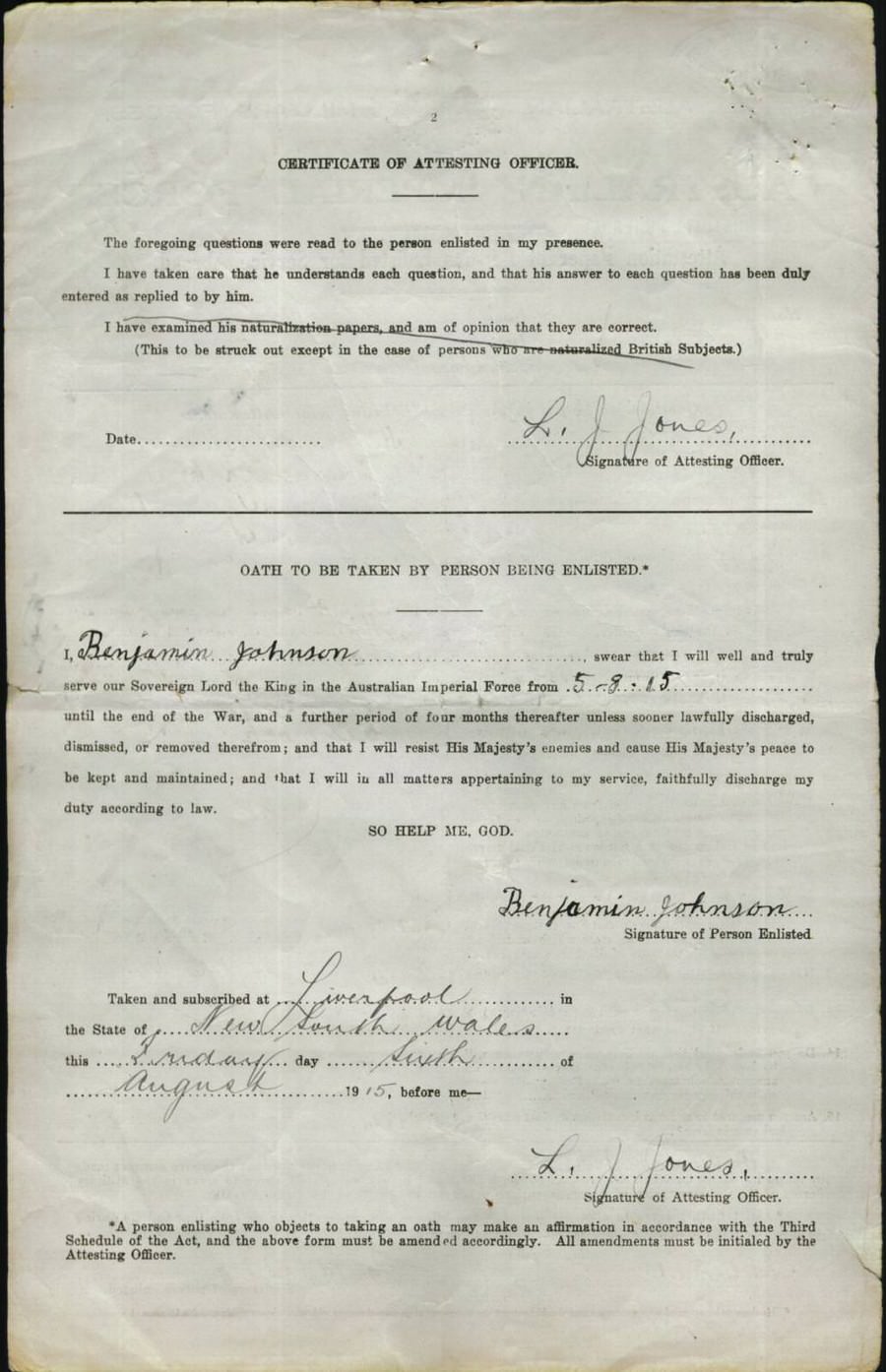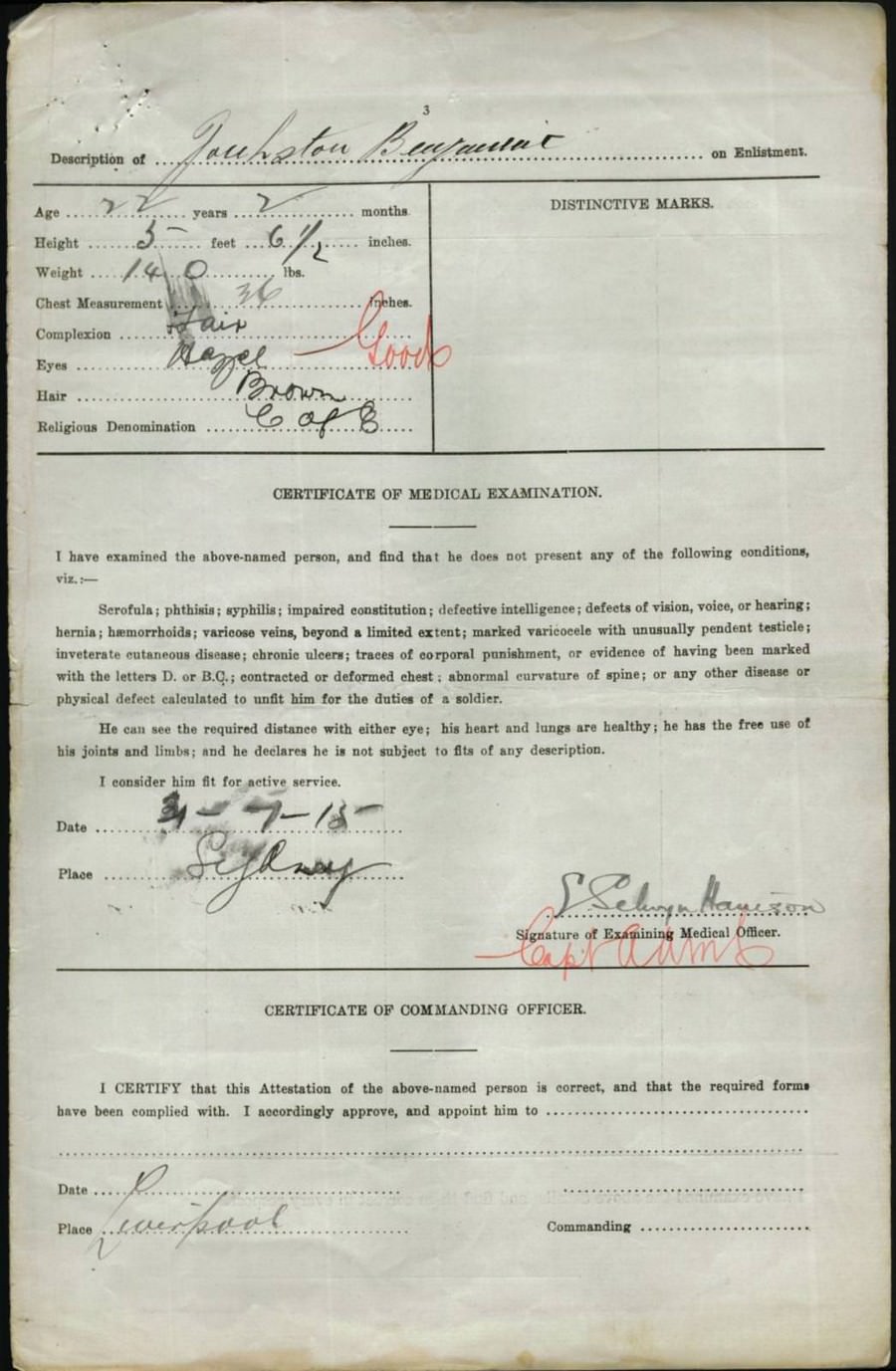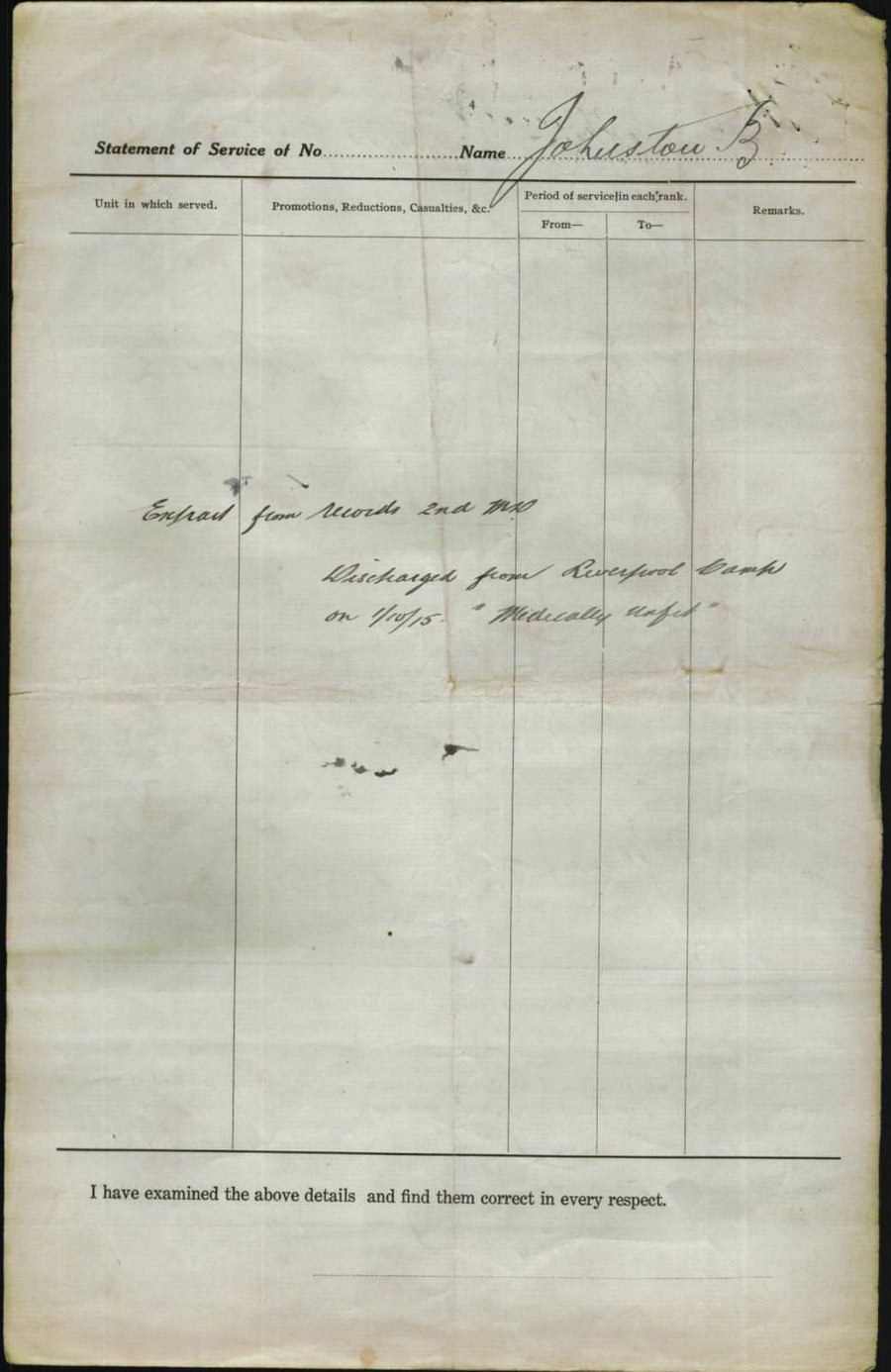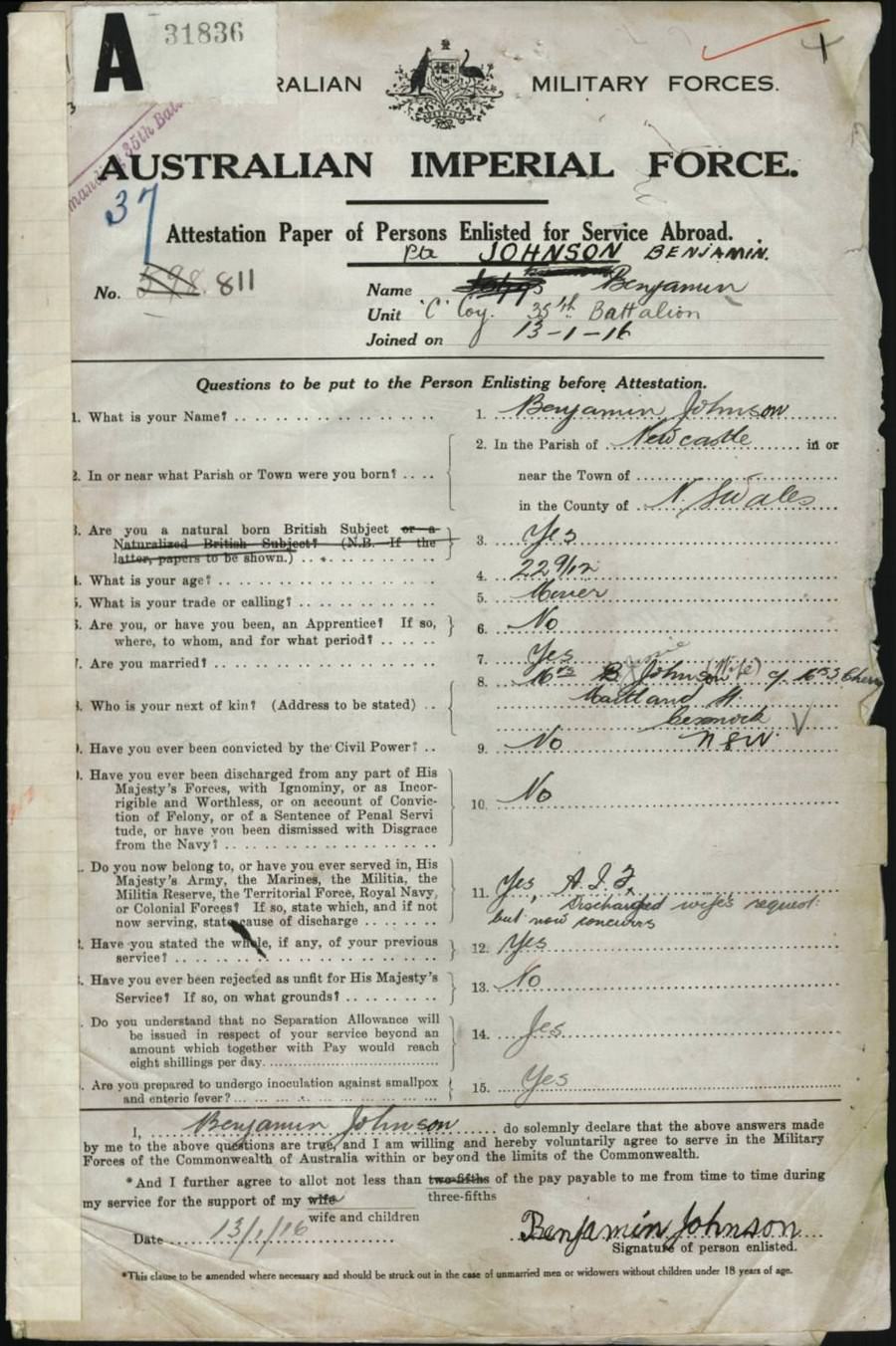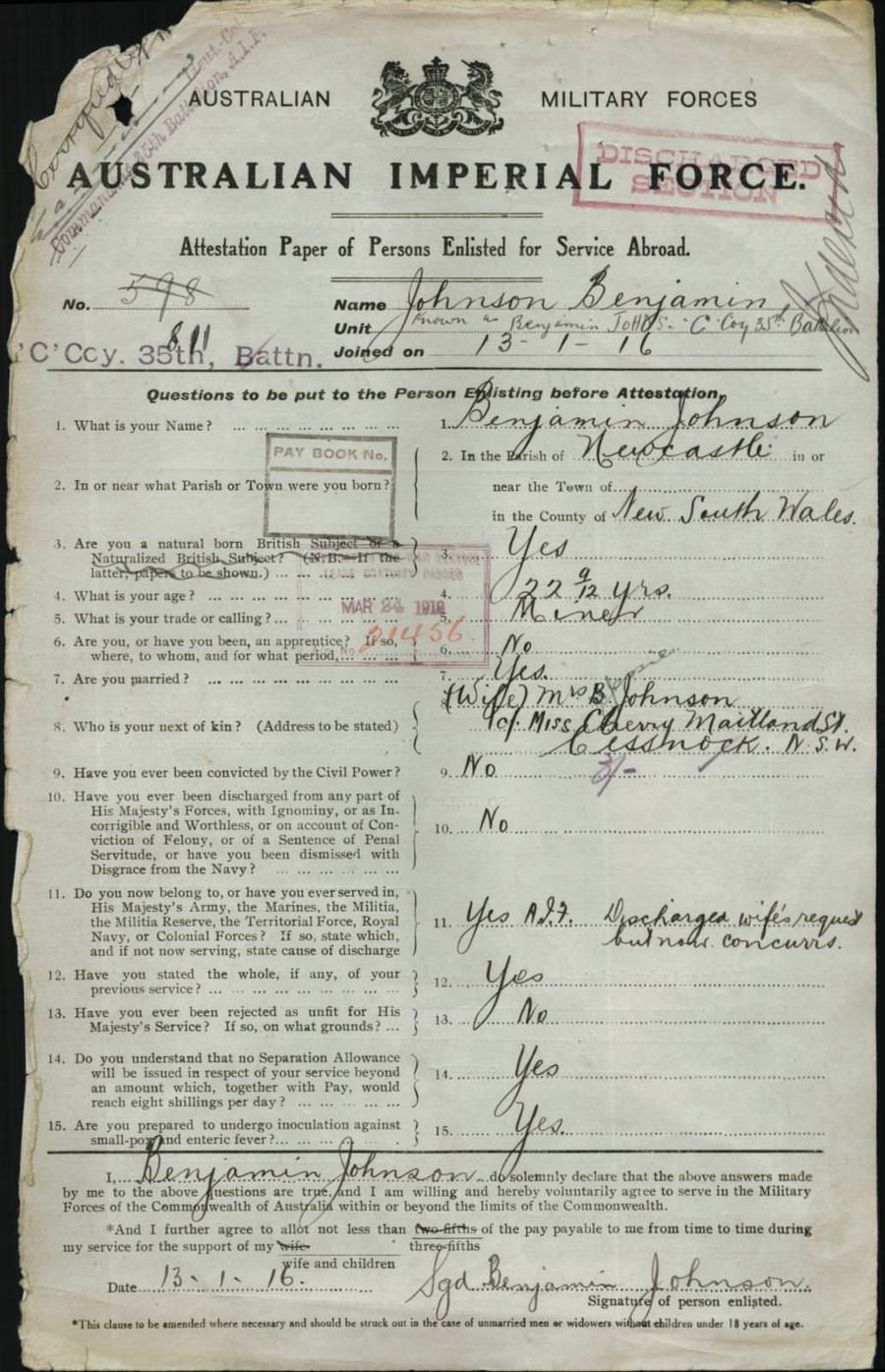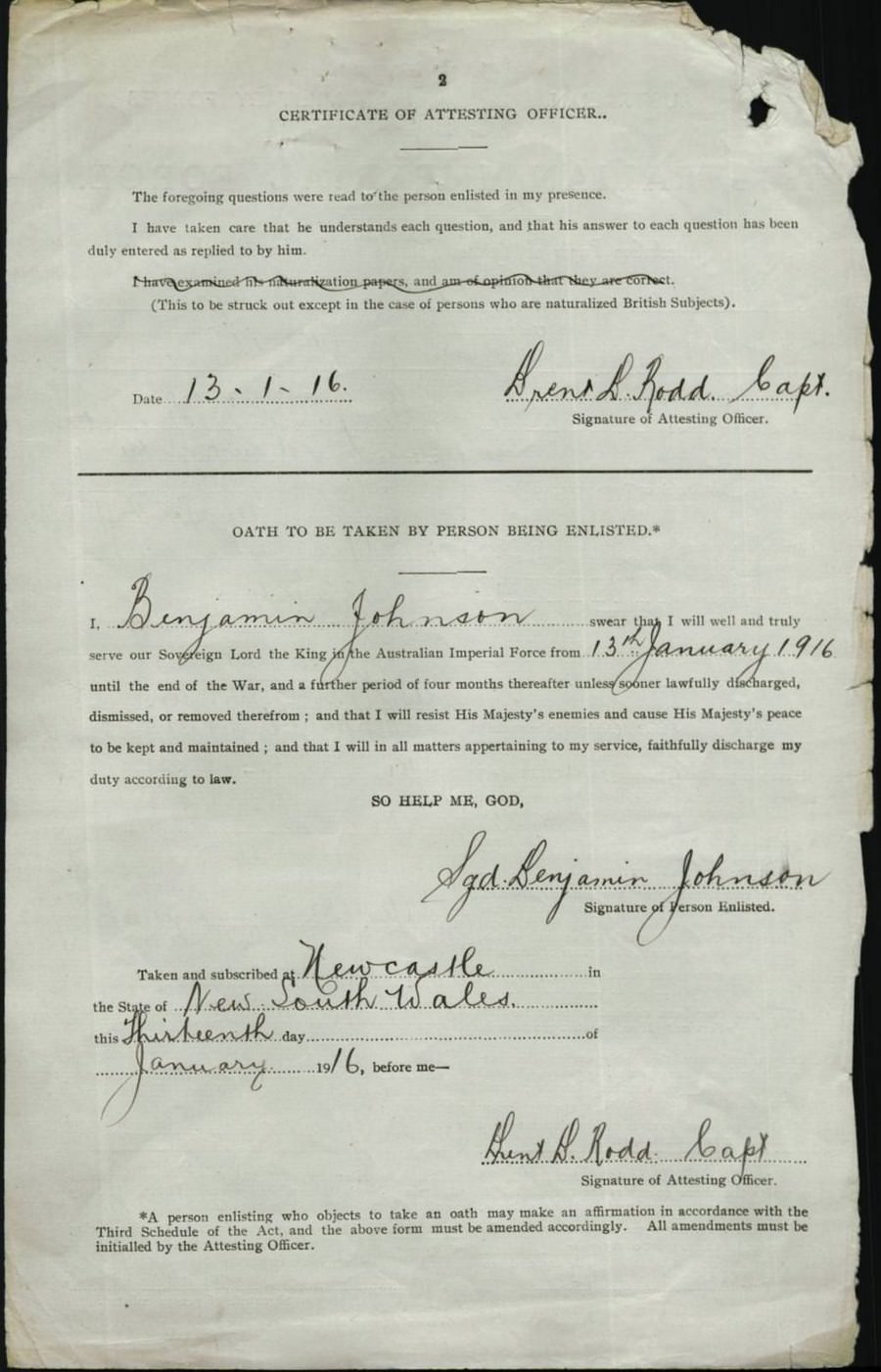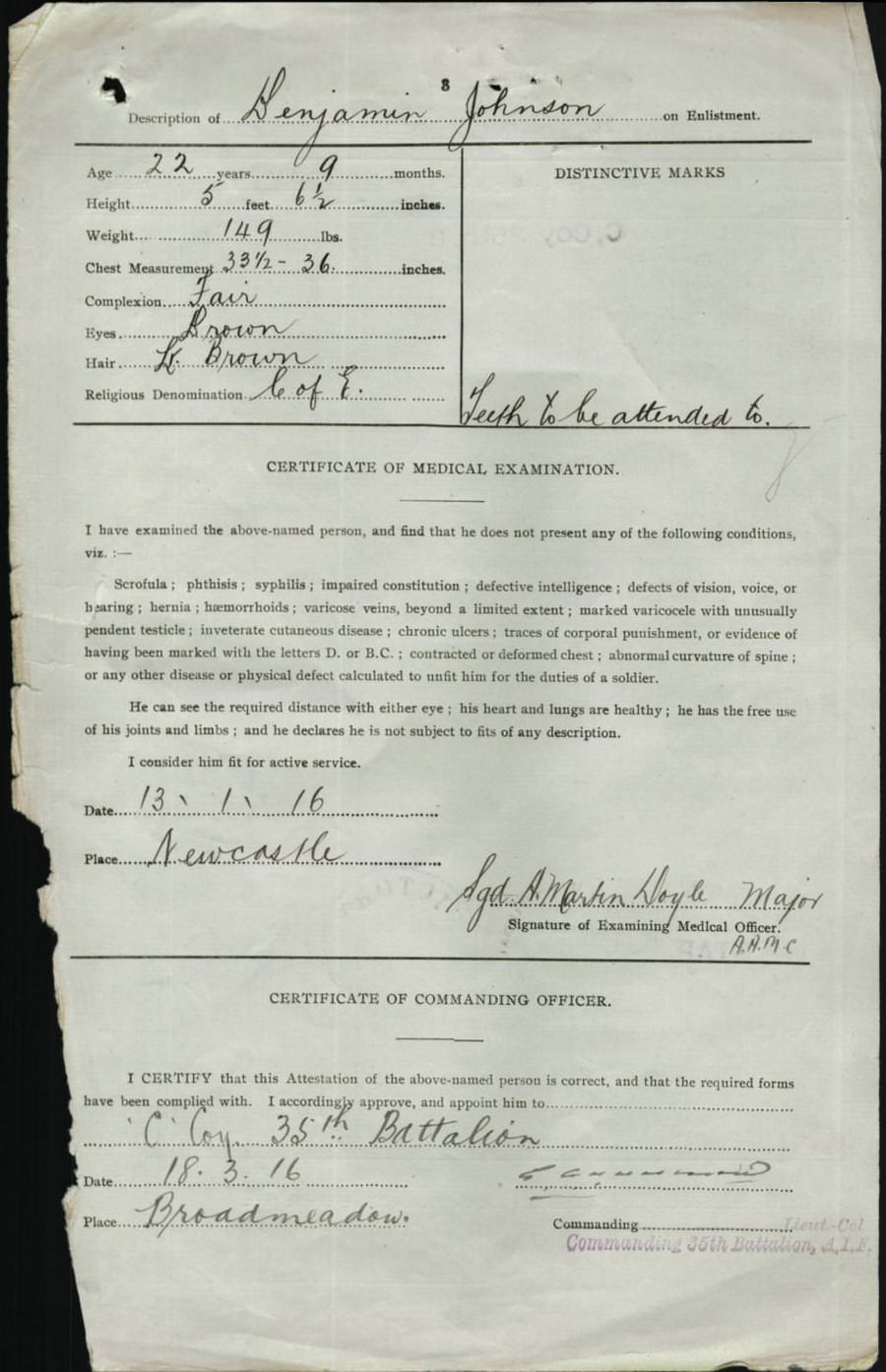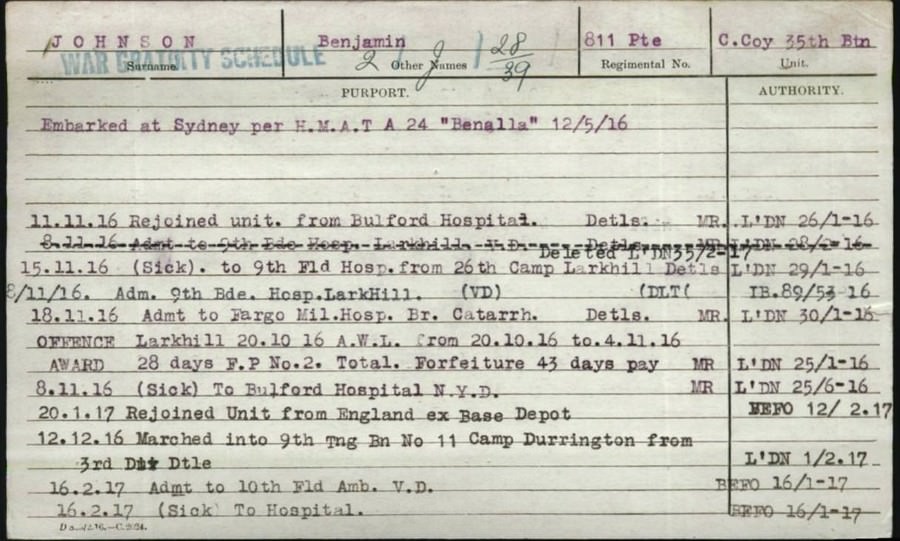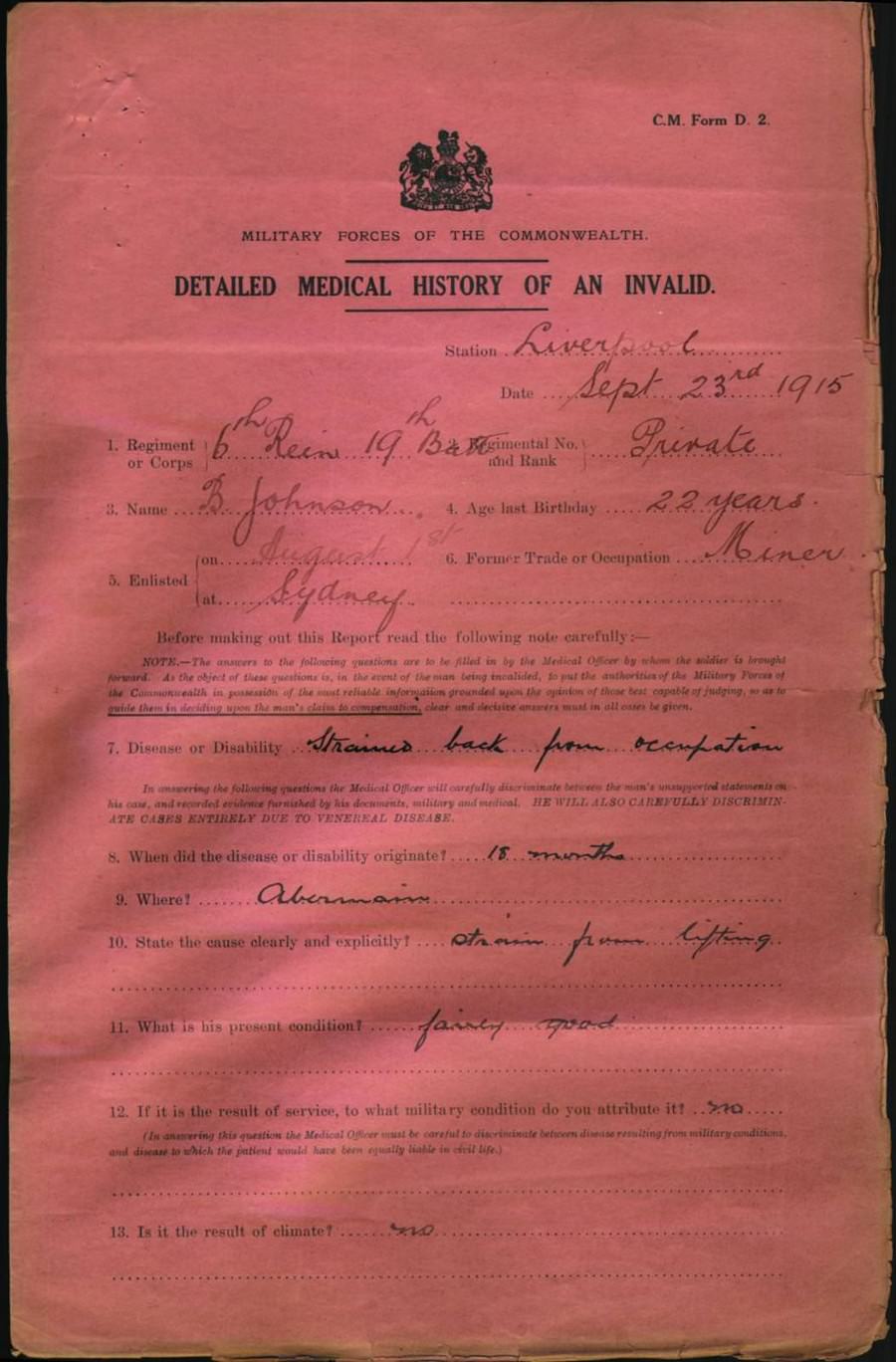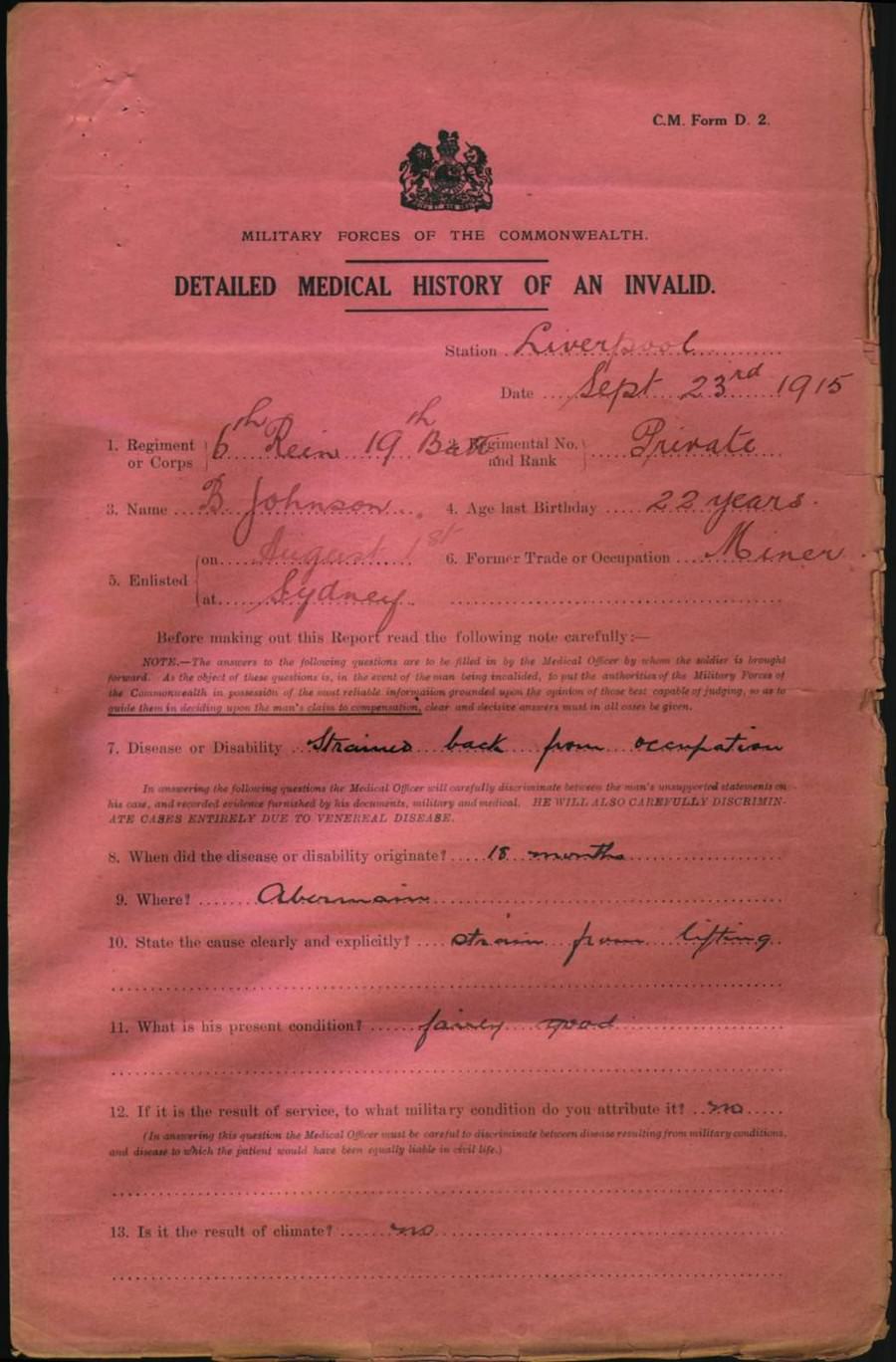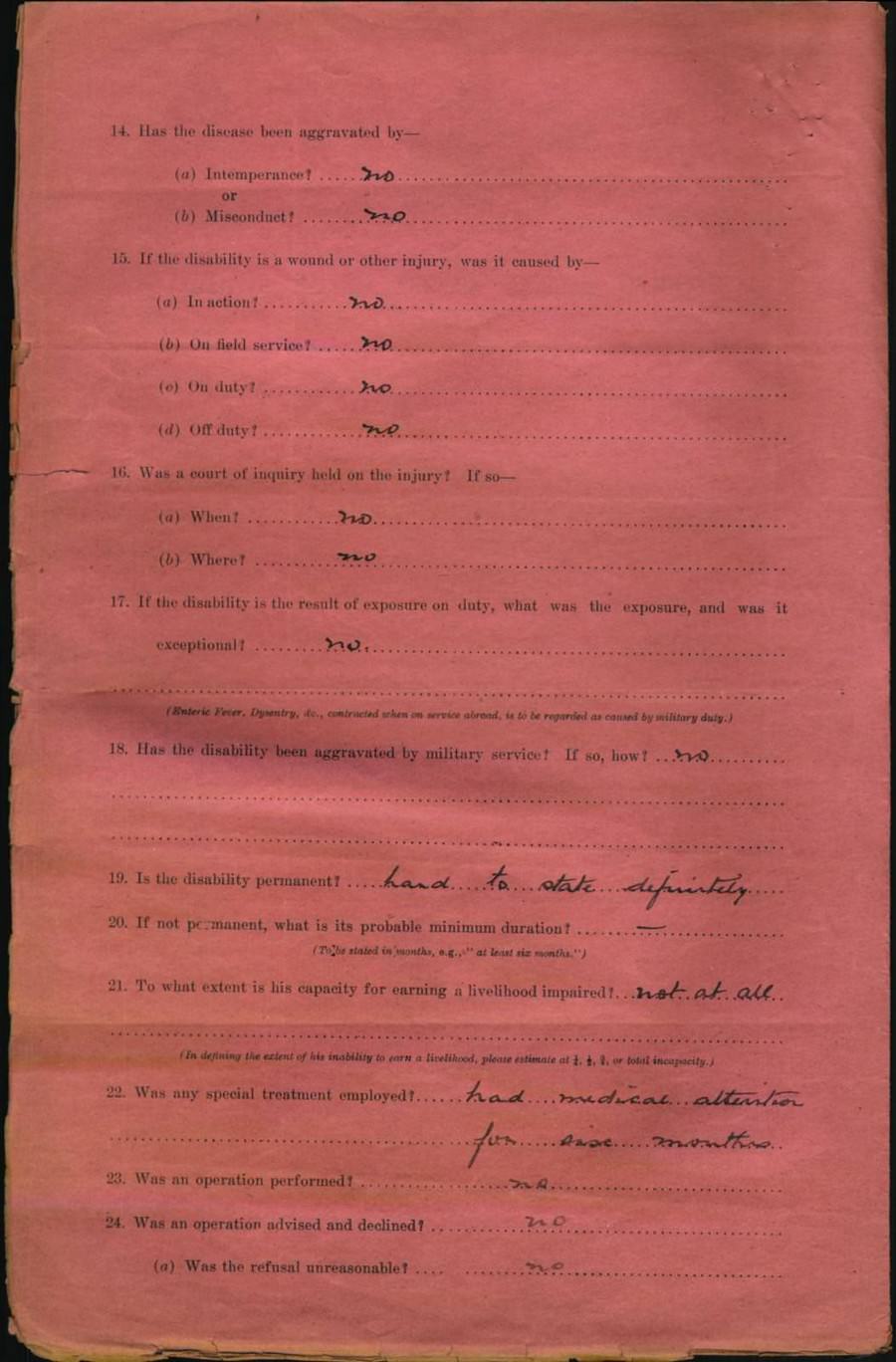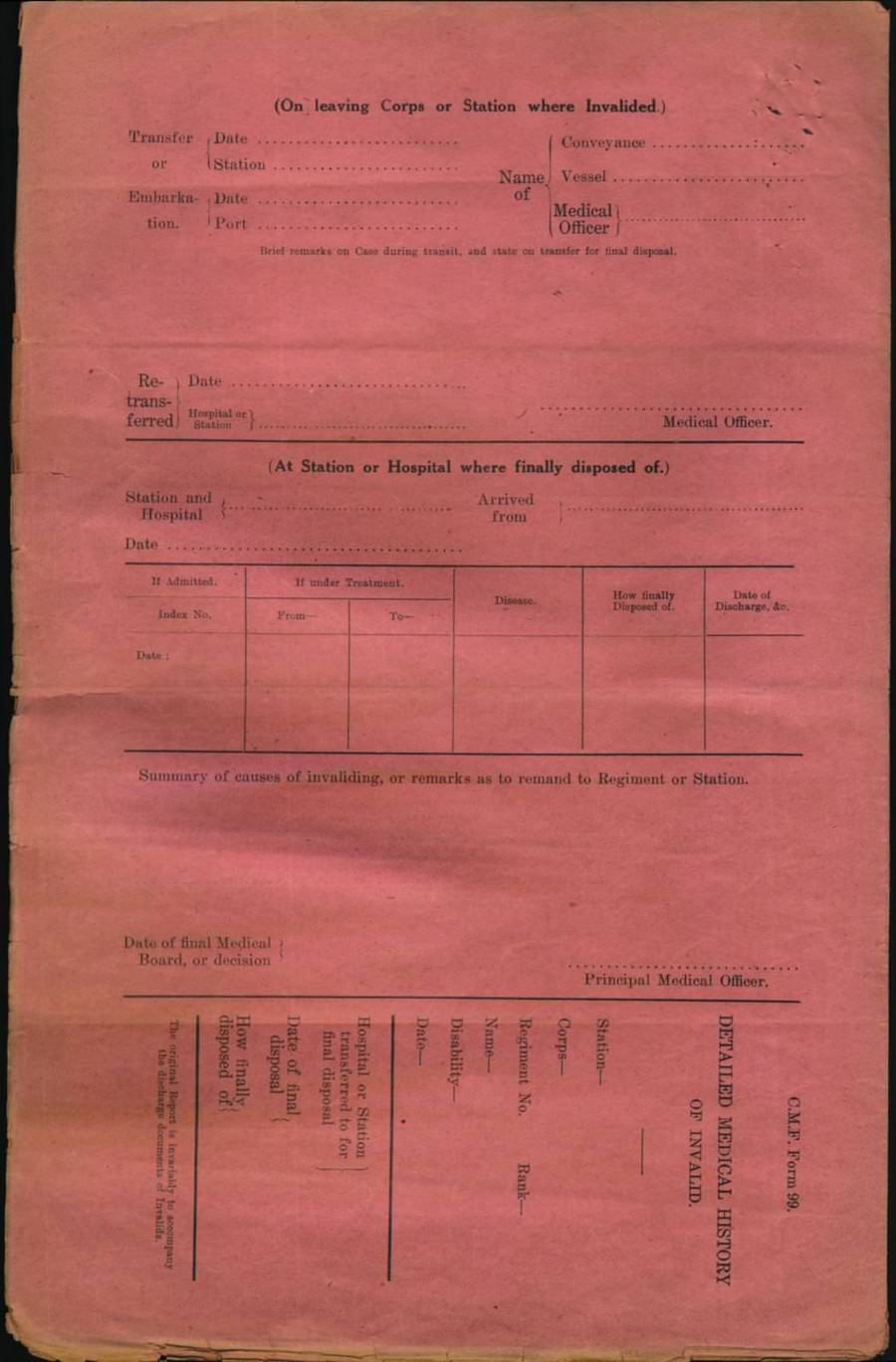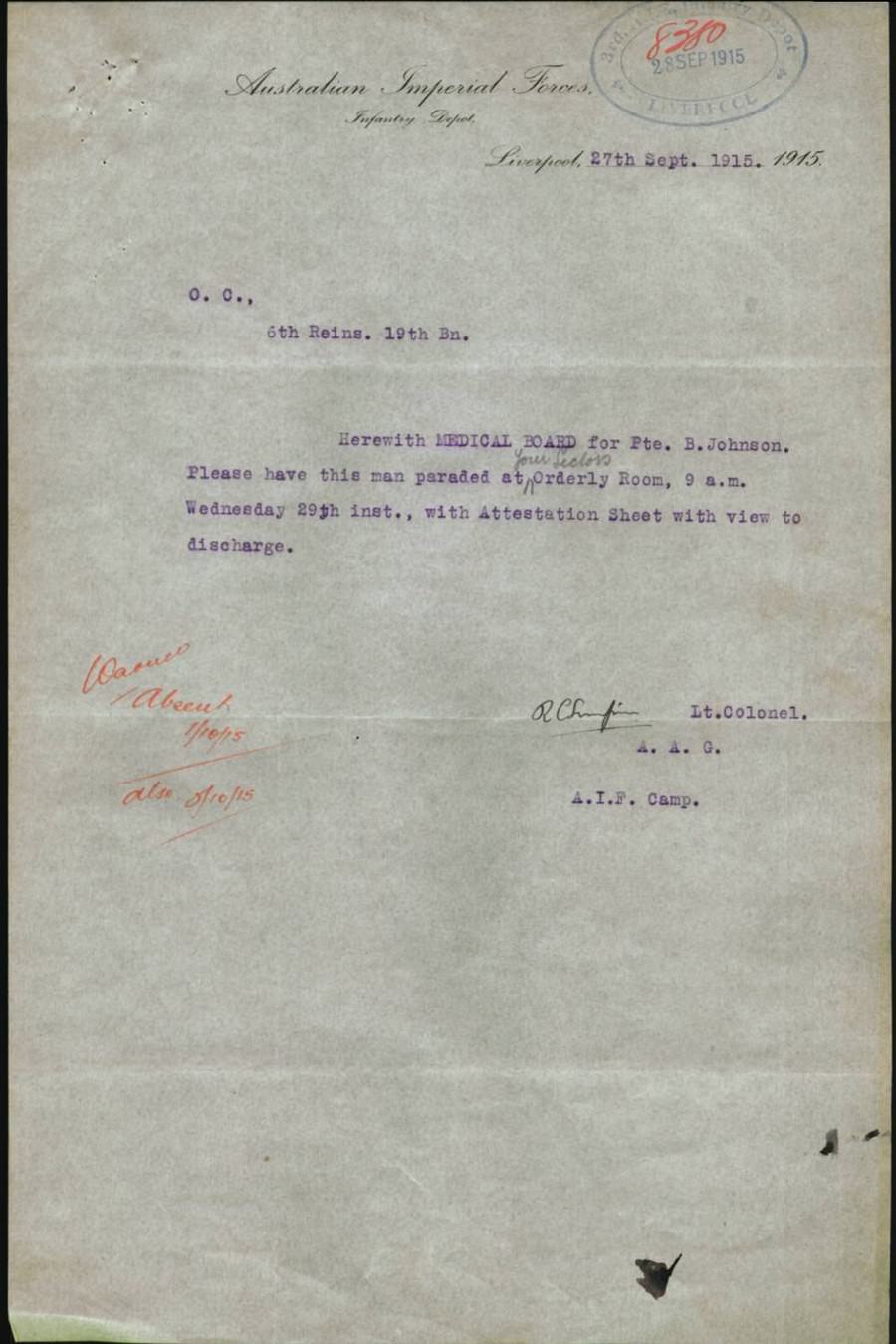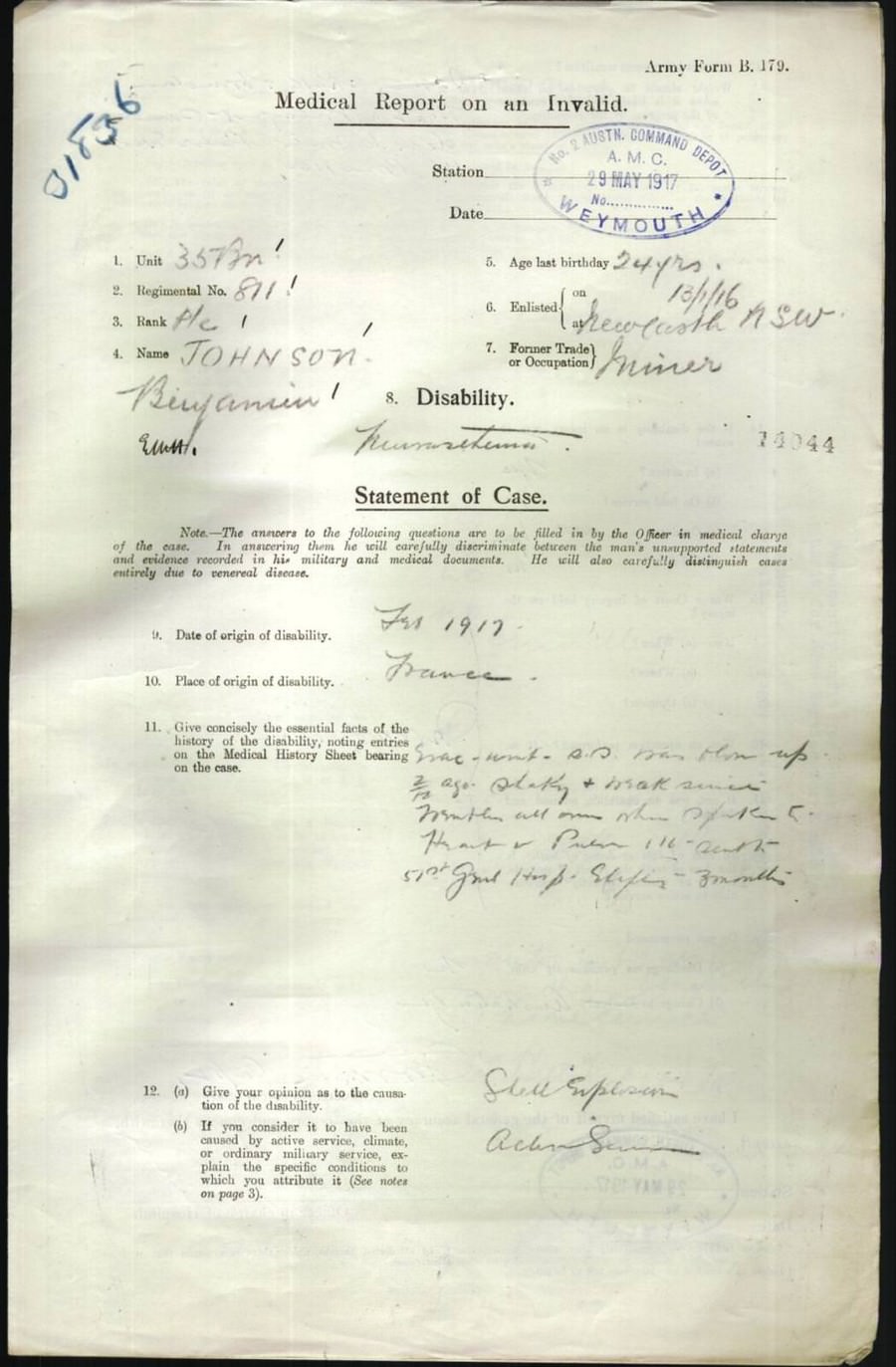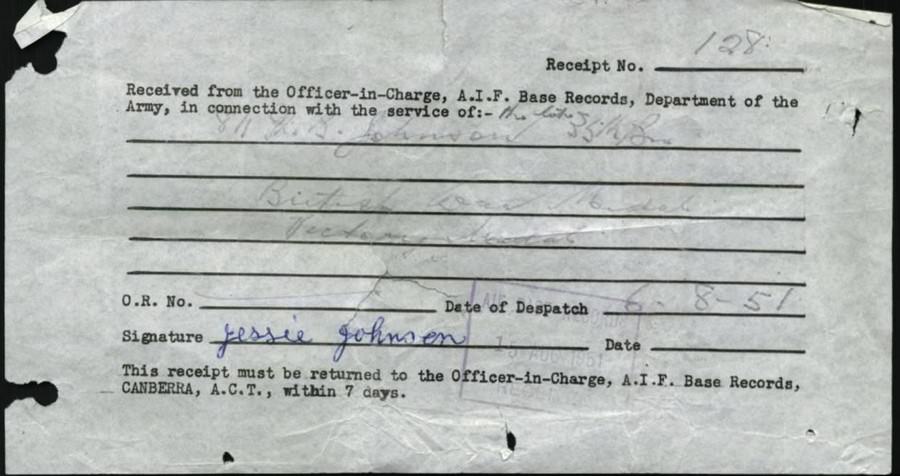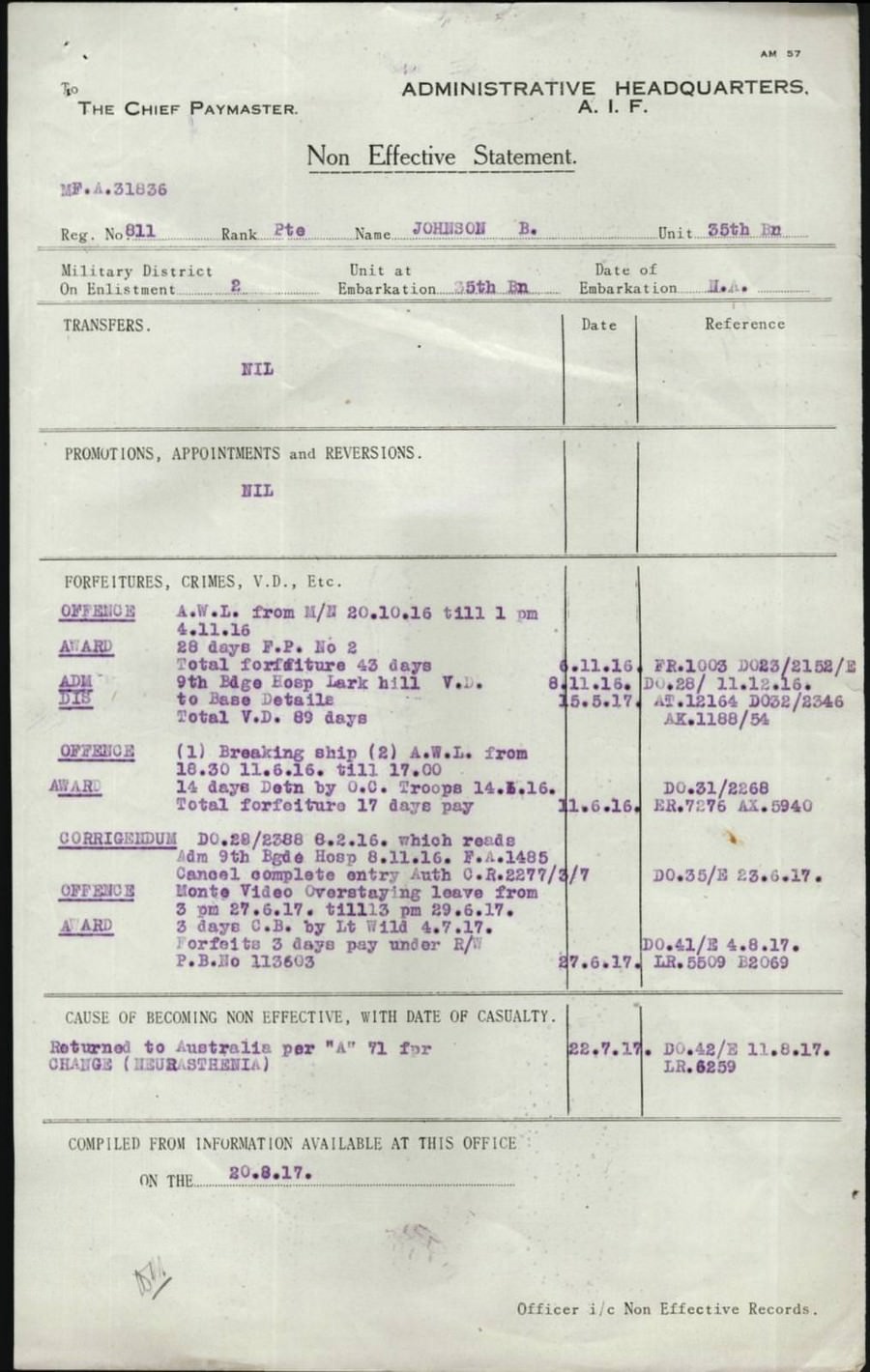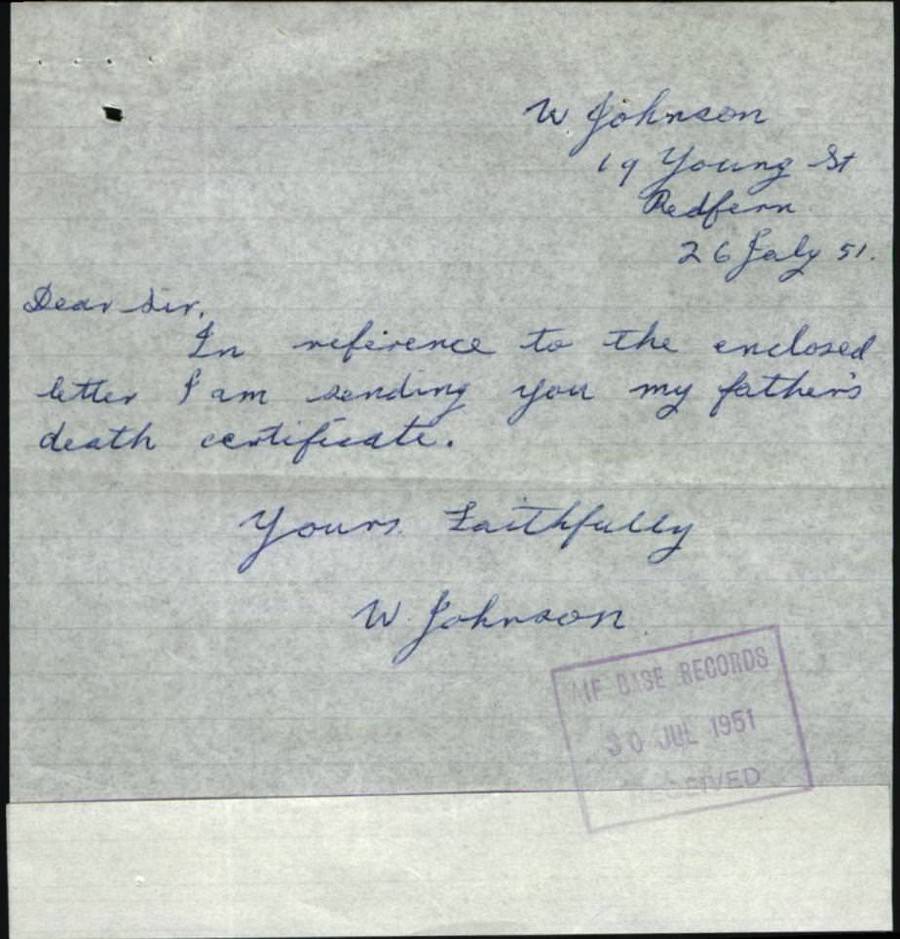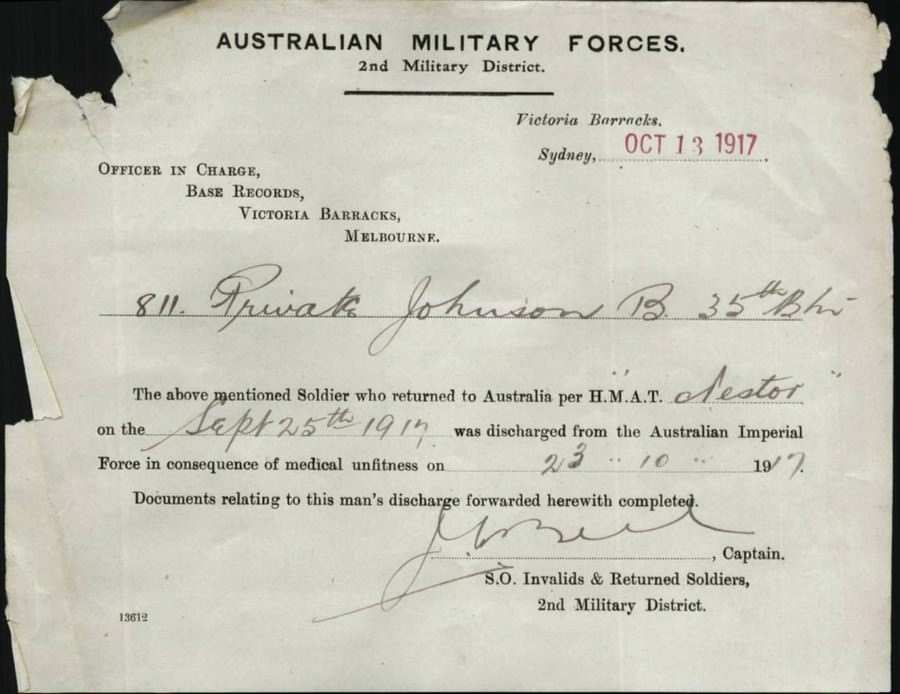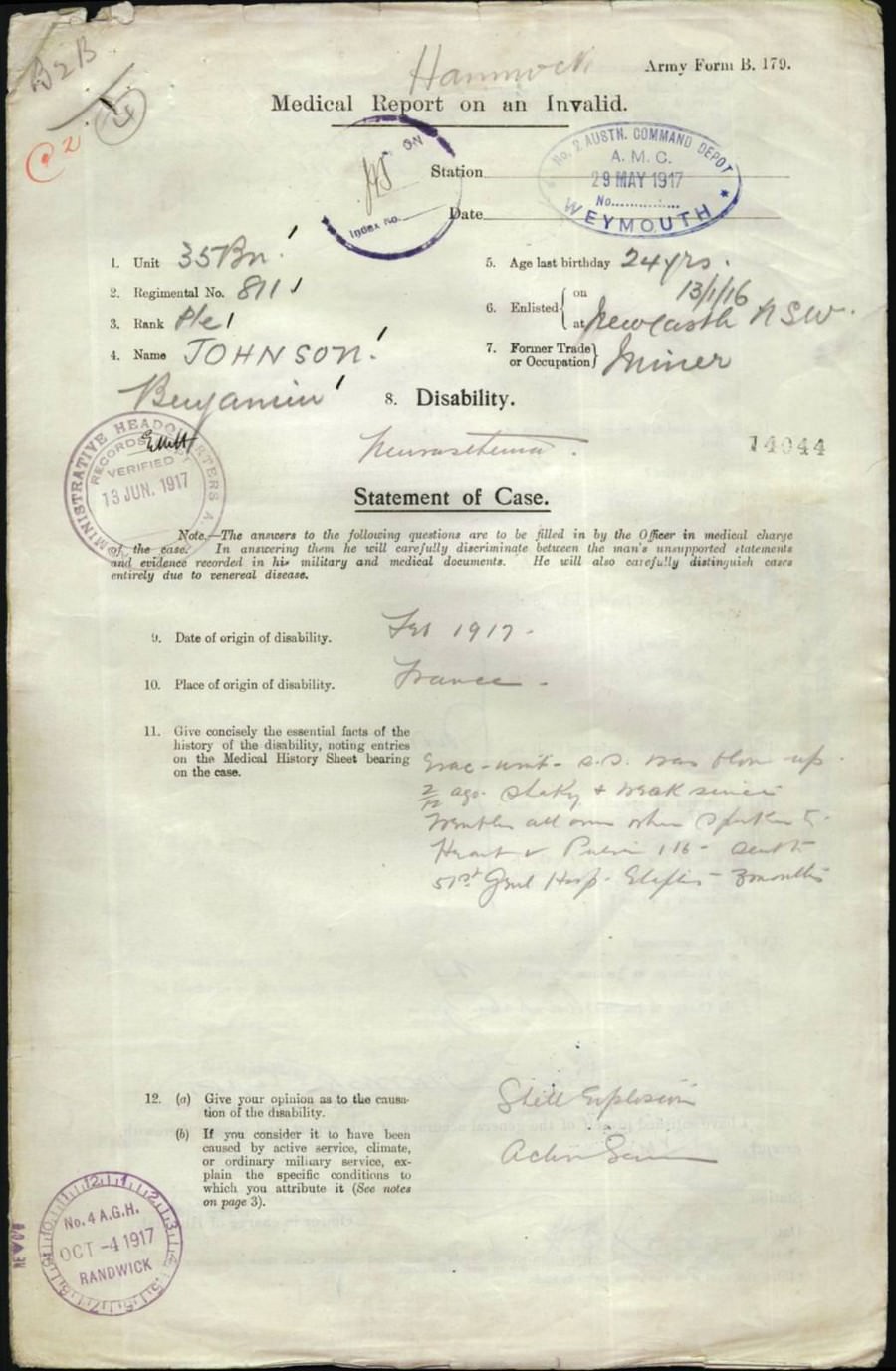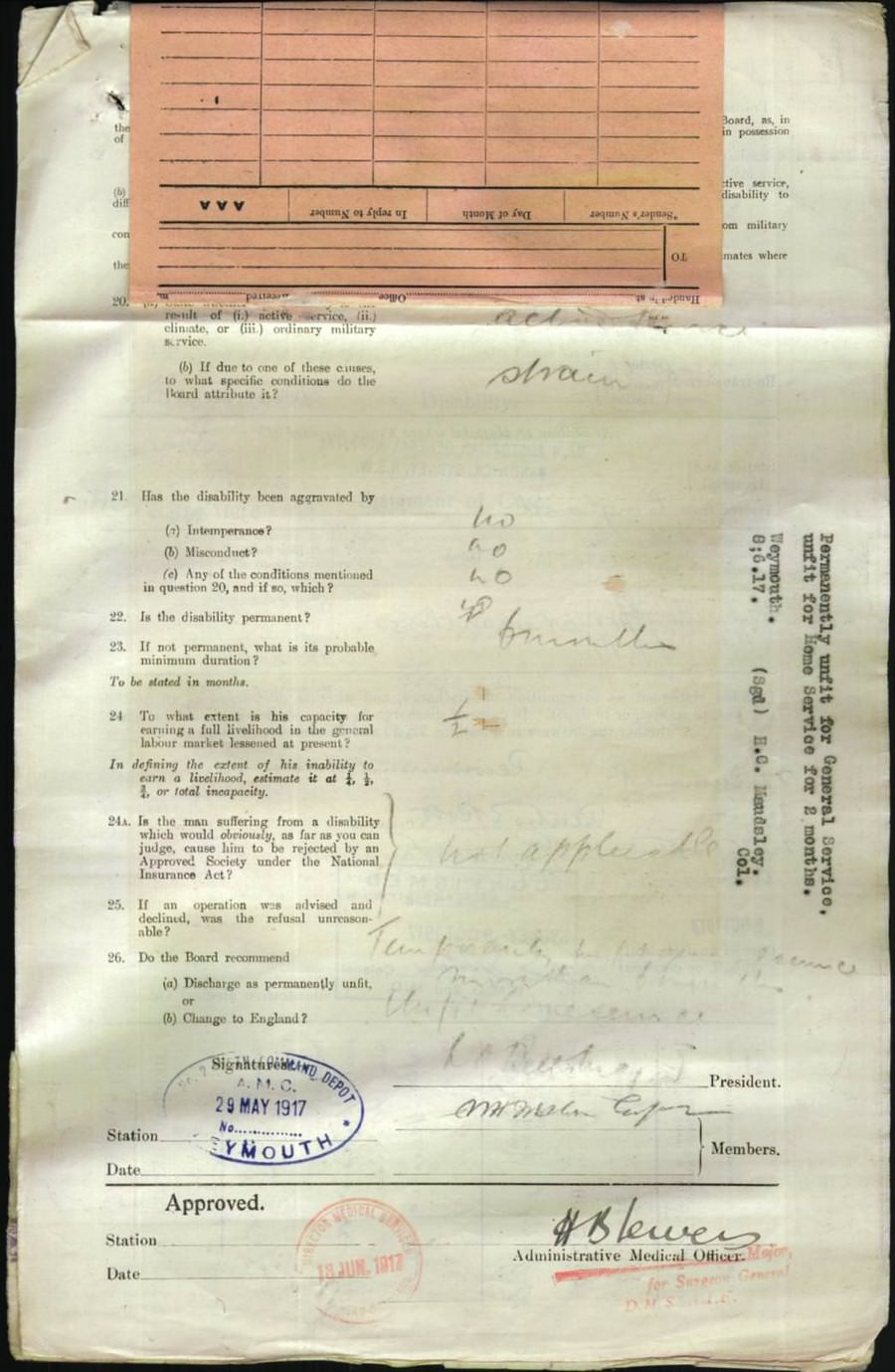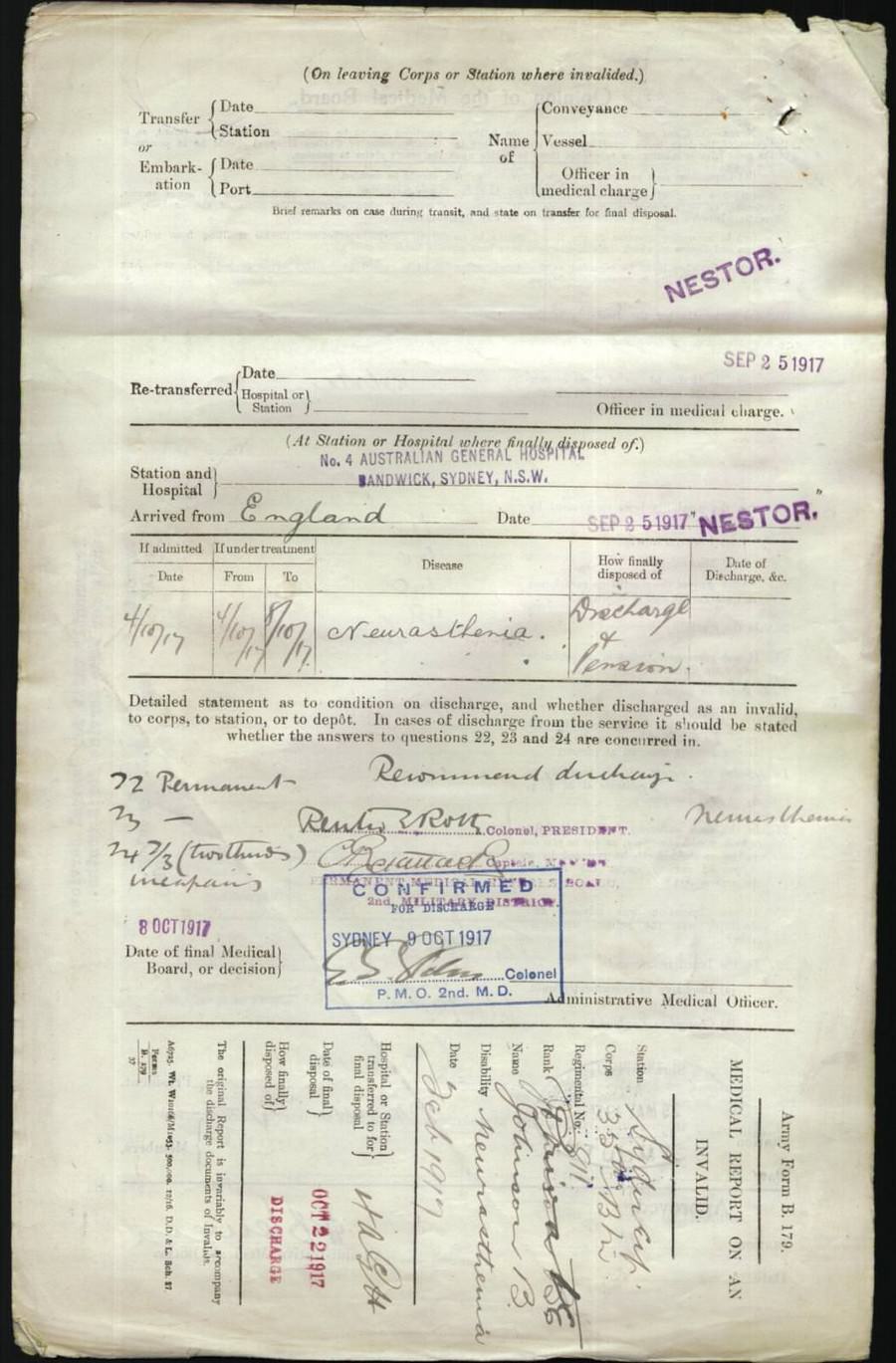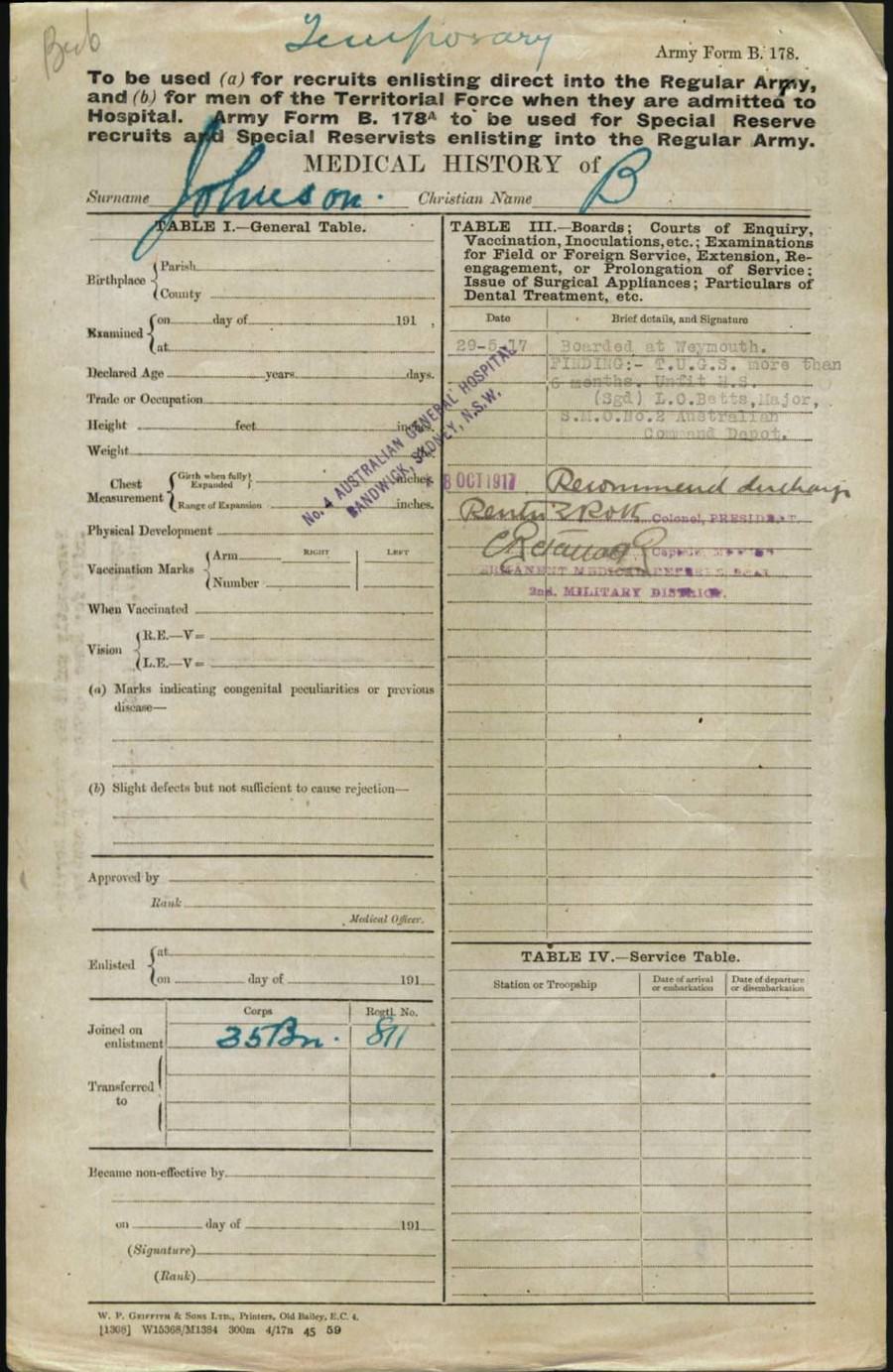 ---
---
77th DENTAL UNIT A.I.F.
Private: NX100849 William JOHNSON.
---
Born: 26th August 1922. Cessnock, New South Wales, Australia. Birth Cert:/1922.
Married: 1944. Cessnock, New South Wales, Australia. Marriage Cert:/1944.
Wife: Mavis Olive Johnson. nee:.
---
Father: Benjamin Johnson. (1893-1923)

Mother: Jessie Johnson. nee: Cherry.
---
INFORMATION
William Johnson enlisted with the AIF and was marched in at Bardia Barracks, Inglburn, N.S.W. on the 29th December 1941.
Family Information
William was a 19 year old fitter from Redfern, N.S.W. upon enlistment. He married Mavis Olive who lived at 47 View Street, Cessnock, N.S.W. when they were married in 1944.
WORLD WAR 2 RECORDS; Private: NX:100849 William JOHNSON. 77th Dental Unit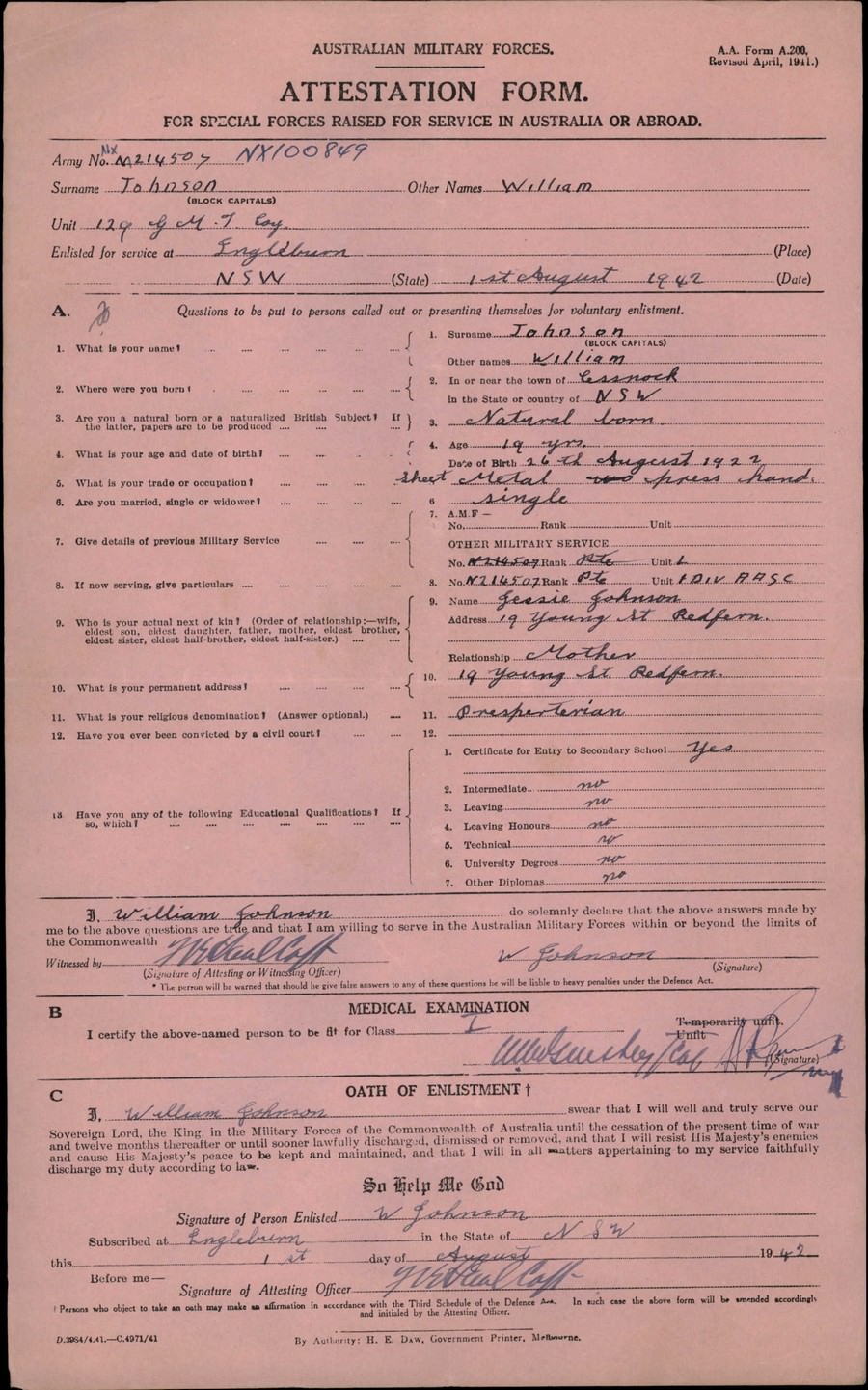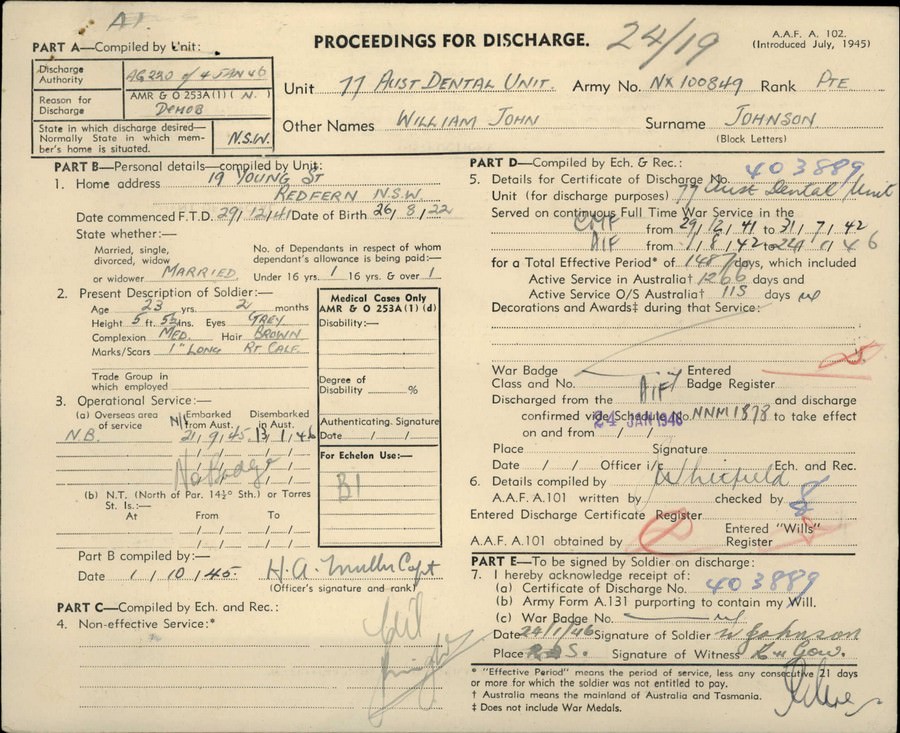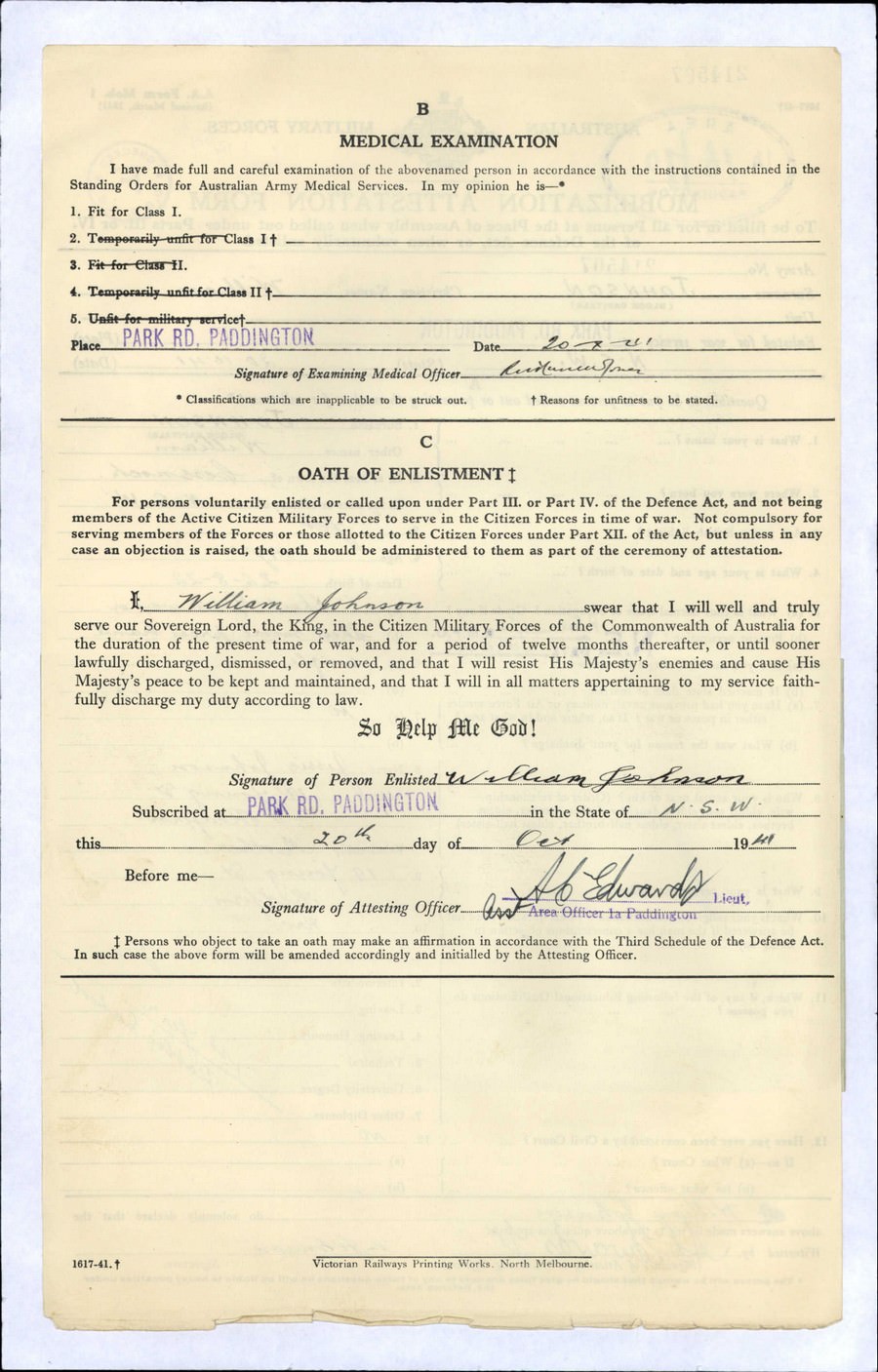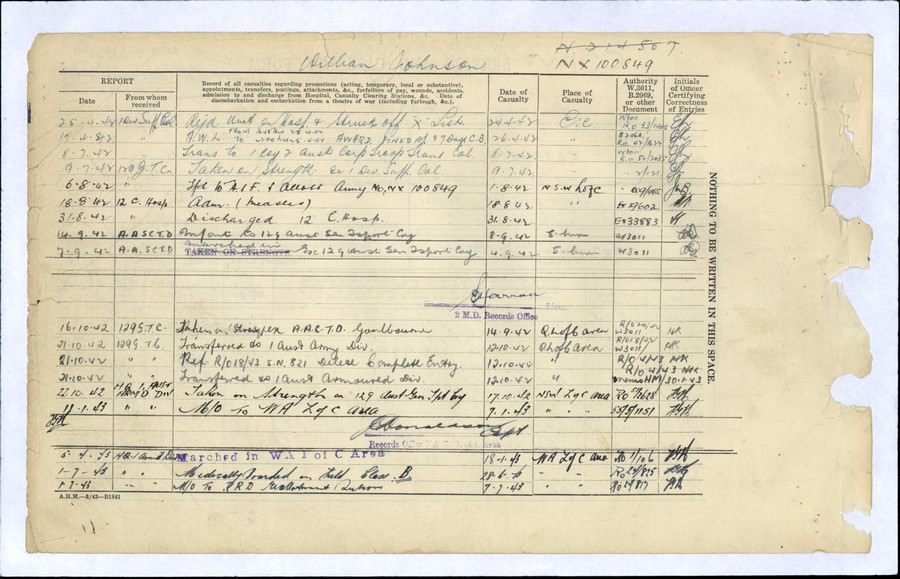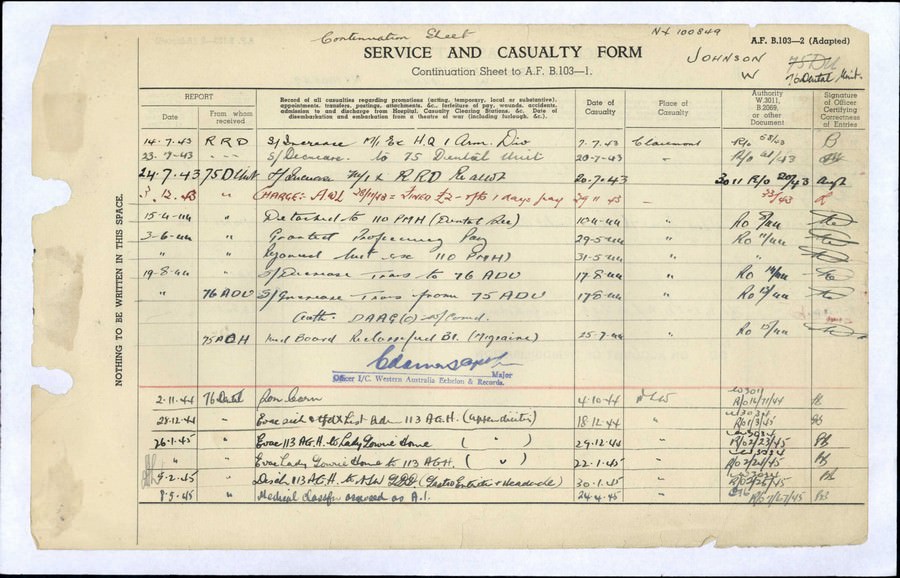 © Commonwealth of Australia (National Archives of Australia)
Under Construction; 16/02/2017-22/02/2017.
Web Counter
---