Return to home page Return to 35th Battalion page
---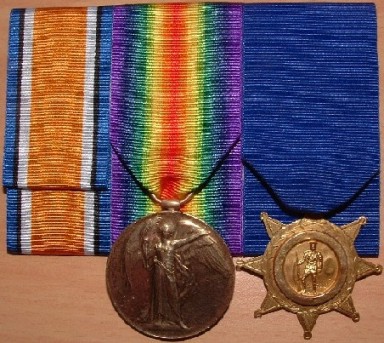 35th BATTALION A.I.F.
Private: 1157 Percy JARVIS.
---
Born: 1892. Lambton, New South Wales, Australia. Birth Cert:18736/1892.
Married: 1913. New Lambton, New South Wales, Australia. Marriage Cert:13594/1913.
Wife: Ada Jarvis. nee: Broadhead.
---
Father: George Jarvis.
Mother: Phoebe Hannah Jarvis. nee: ?
---
INFORMATION
Percy Jarvis enlisted on the 19th of January 1916 with D Company 35th Battalion AIF. Percy was an original member of the 35th and left Australia from Sydney on the 1st of May 1916 onboard HMAT A24 "Benalla" and dsembarked at plymouth, England on the 9th of July and was marched to the Durrington Army Camp at Larks Hill to commence further training with the 9th Training Battalion. Percy was admitted to the Fargo Hospital on the 1st of October with a Fractured Humerus

Percy didn't proceed overseas for France until the 23rd of August 1917 when he was marched in to Rouen and Taken on in Strength to reinforce the 35th Battalion. He went into action and was later Wounded in Action on the 4th of April 1918 during the first battle of Villers-Bretonnuex where he received a Gun Shot wound to the Chest and was treated by the 9th Australian Field Ambulance.

4th April 1918.

North of the railway cutting Sayers company of the 35th Battalion advanced with equal success. The Germans immediatly ahead of it numbered not more than 100. As the company approached some of them ran. Lieutenant Thomas Edward Thompson was wounded by a German at fifteen yards range.

(BEAN; History of World War 1 Vol V page 345)

The First VILLERS-BRETONNEUX

4th-5th April 1918

The Strength of the 9th Infantry Brigade was about 2,250 but their casulties during the 2 days of fighting numbered 30 Officers and 635 men either killed in action or missing.

9th Infanry Brigade Casulties.4th-5th April 1918
| | | |
| --- | --- | --- |
| 33rd Battalion. AIF | 3 Officers | 82 Other ranks |
| 34th Battalion. AIF | 5 Officers | 120 Other ranks |
| 35th Battalion. AIF | 9 Officers | 282 Other ranks (including 44 missing) |
| 36th Battalion. AIF | 12 Officers | 133 Other ranks (including 1 missing) |
| 9th Machine Gun Company. AIF | 1 Officer | 18 Other ranks (including 4 missing) |
Percy was transfered the the Australian Casualty Clearing Station for treatment before being taken to the 6th General Hospital at Rouen where he was evacuated to England on board the "Guildford Castle" where he was admitted to the Bath War Horpital on the 10th of April.
After Percy recovered from his injuries he was granted a Furlo whist in England and after returning to duty he proceeded overseas for France via Southampton again on the 17th of October 1918. Percy remained in France for the next 6 months and after returning to England, Percy returned to Australia on board HMAT A30 "Borda" on the 11th of May 1919.
Family Information
Percy was a married 24 year old Coal Miner from Young Street, Lambton, N.S.W upon enlistment. His parents George and Phoebe Jarvis were married before arriving in N.S.W. and had at least 6 children. William Jarvis born 1884 at Lambton, N.S.W. Birth Cert:29163/1884 and died in 1884 at Lambton, N.S.W. Death Cert:12571/1884. James Jarvis born 1885 at Lambton, N.S.W. Birth Cert:29979/1885 and died in 1959 at Lambton, N.S.W. Death Cert:26775/1959. Samuel Jarvis born 1887 at Lambton, N.S.W. Birth Cert:31969/1887 and died in 1888 at Lambton, N.S.W. Death Cert: 12629/1888. Richard Jarvis born 1888 at Lambton, N.S.W. Birth Cert:33186/1888 and died in 1965 at Newcastle, N.S.W. Death Cert:30514/1965. Percy Jarvis born 1892 at Lambton, N.S.W. Birth Cert:18736/1892. George Henry Jarvis Died in 1955 at Lambton, N.S.W. Death Cert:4471/1955.
Percy's Victory Medal: 40943 to PTE P JARVIS 35BN AIF and Gold Fob presented to P JARVIS from the citizens of Lambton, on the 12/07/1919 were acquired from Nobles Numismatics Melbourne in June 2004 and are now in the collection.
Military Records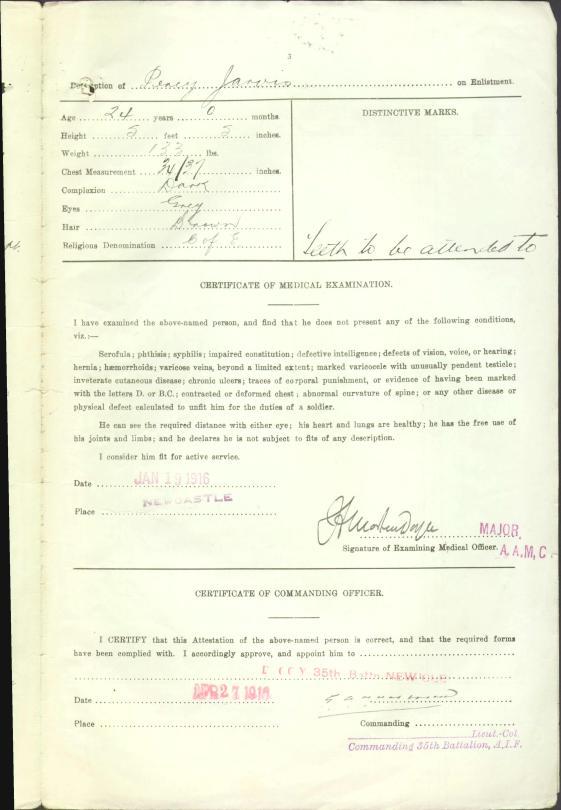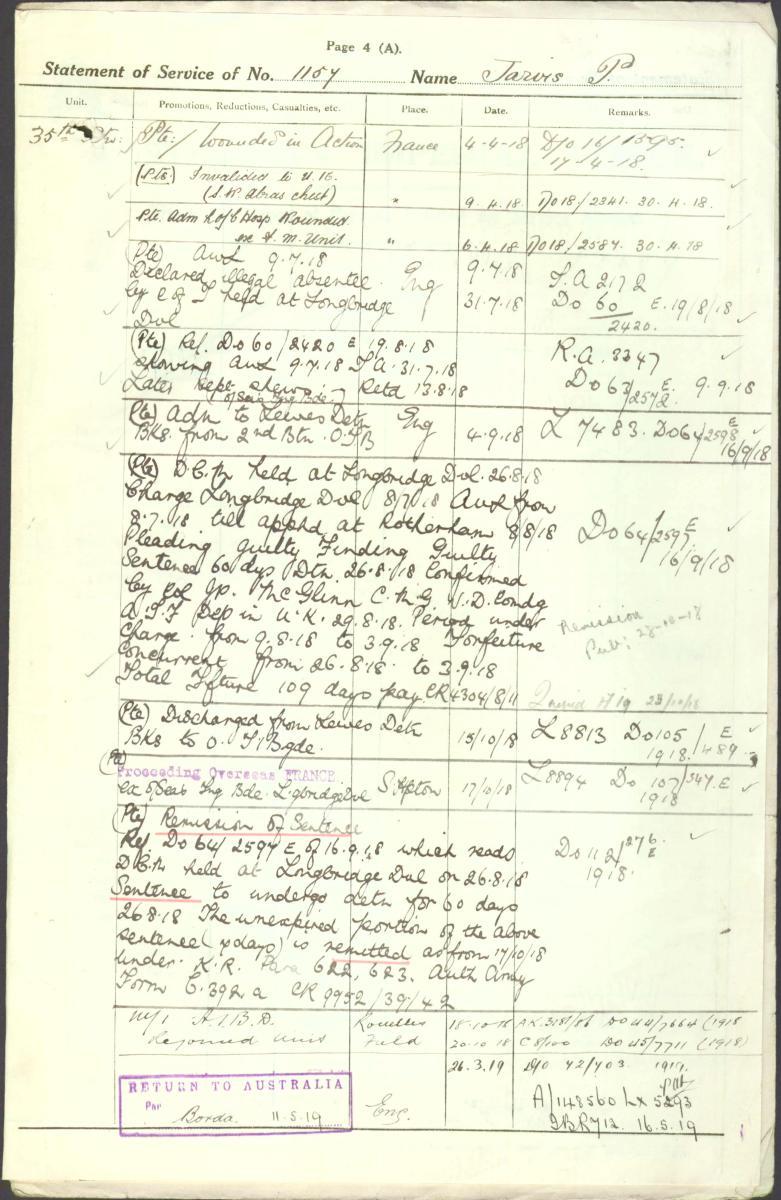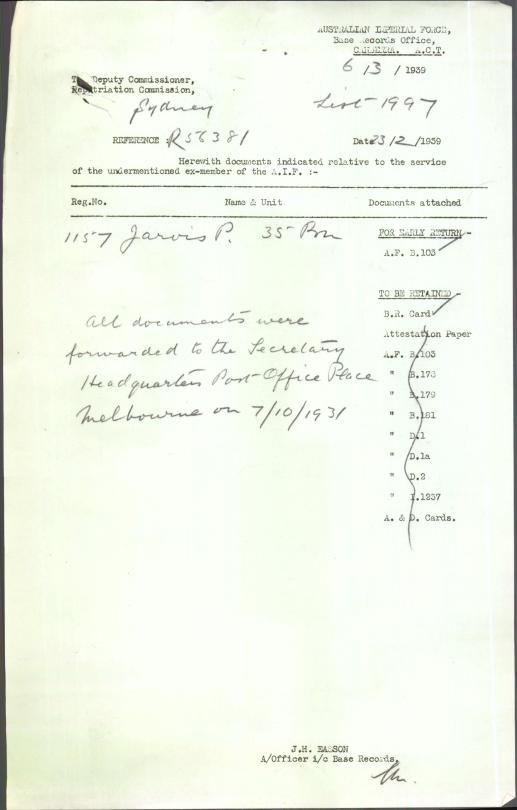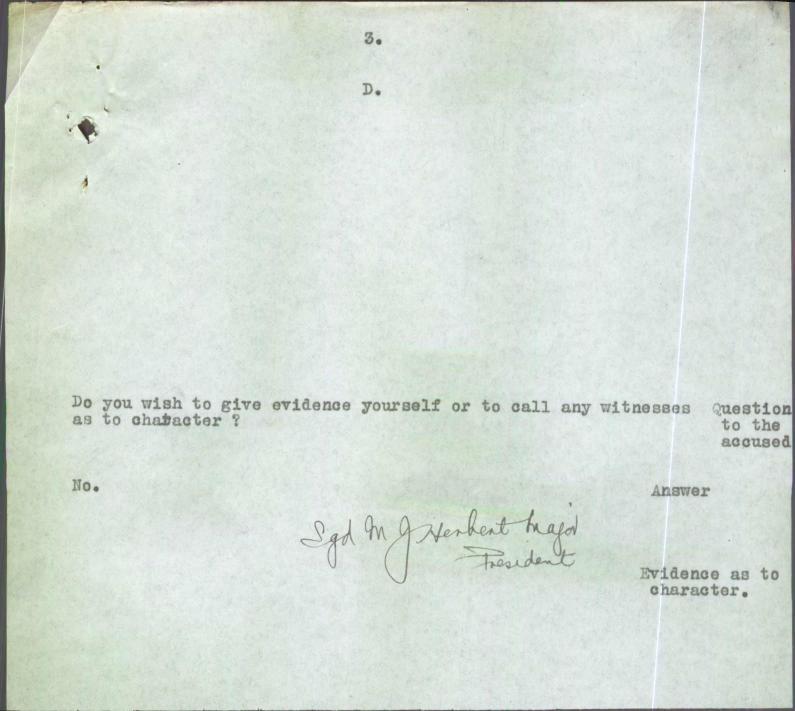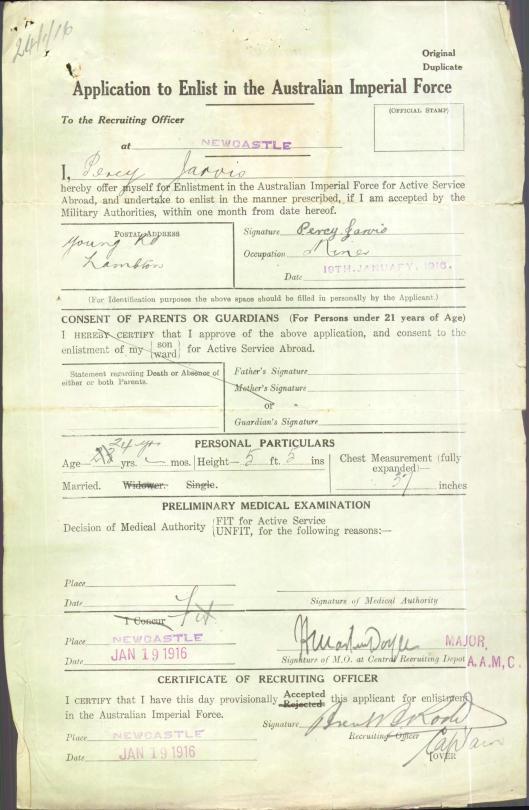 (Australian National Archives)
Under Construction. 20/05/2006
---
Web Counter
---