Herbert Thomas Jarrett enlisted with the AIF on the 7th May 1917 to the 20th Reinforcements 19th Battalion and embarked from Sydney on the 16th September and disembarked at Liverpool, England on the 16th of September. He was marched to the 5th Training Battalion at Rollestone and proceeded overseas for France on the 23rd January 1918 to reinforce the 35th Battalion and was Taken on in Strength with B Company no:5 Platoon 35th Battalion AIF on the 28th of January. Herbert was Wounded in Action on the 28th August 1918 where he received a Gun Shot Wound to his hand and thigh and was evacuated to England. Herb was admitted to the Southern General Hospital for treatment.
19th September 1918.
Informant: Private: 6882 Herbert Thomas JARRETT 35th Battalion B Company, 5th Platoon late 7th Platoon. "I saw Private:2421 Leslie CLOUTEN (35th Battalion B Company, 7th Platoon) after he had been Killed by a shell on April 4th at Villers-Bretonneux, while we were making a counter attack on April 3rd. He was supposed to go out, but would not go and joined in the counter attack. He was lying on the ground when he was hit. He was buried in the Cemetery at Villers-Bretonneux the Perde told us. The ground was held.
3rd Southern General Hospital, Durham Building OXFORD.
Herbert was returned to Australia on the 16th of March 1919.
Family Information
Hertbert was a single 18 year old Plumbers Improver from Campsie, N.S.W upon enlistment, he served with the Senior Cadets for 4 years Sector 39B.
Military Records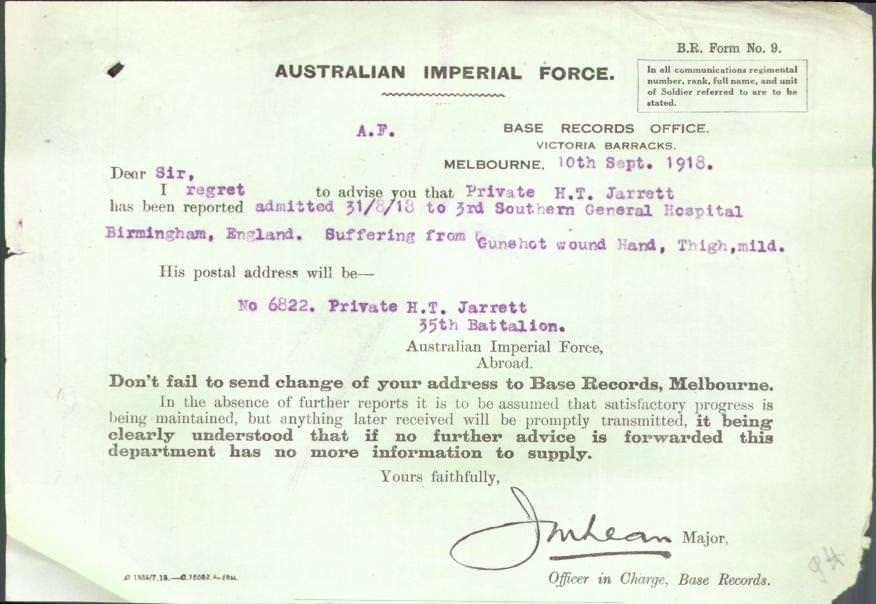 (Australian National Archives)
Under Construction; 14/04/2014.
Web Counter
---