William Horn (not Horne) enlisted with A Company 35th Battalion AIF on the 11th of December 1915 and was an original member of the Battalion and left Sydney on board HMAT A24 "BENALLA" on the 1st of May 1916. Whilst AT SEA on the 23rd of May he was Charged for being Absent Without Leave from 14:00 to 22:30 and was Awarded 14 days Fatigue duty and 1 days pay. Willaim dismebarked AT Plymouth, England on the 9th of July. William was marched to the 9th Training Battalion but 2 month later transfered to the 17th Battalion and proceeded overseas for France on the 30th of September 1916.
After arriving in Astaples, William joined the 54th Battalion AIF on the 12th of October but found himself in trouble again on the 18th of November 1916 and was again Charged with being Absent From Billets, from 07:30 17/11/1916 to 16:00 18/11/1916. Admonished by Lieutenant C. E. SHAW Forfiets 2 Days Pay.
A couple of days late William was sent to the Australian Field Ambulance on the 22nd but rejoined his unit again that afternoon but was sent back to hospital on the 30th of November. A week later William was transfered to the Australian Casualty Clearing Station suffering from Mental Deficiency and on the 26th of January he was transfered to the 8th General Hospital at Rouen as being Mental
William was evacuated back to England on the 3rd of March 1917 and admitted to the Royal Victoria Hospital at Netley and remained there of nearly a week before again being transfered to the Dykebar Hospital at Paisley as a Mental Patient.
DYKEBAR HOSPITAL
William travelled by train from Glenfield Station on the east branch from Paisley East station to Dykebar Station where he was transported to Dykebar Hospital.
He remained at Dykebar until the 29th of August and was transfered to the Lord Derby Hospital at Warrington. After a history of disorderly conduct and in and out of Mental Hospitals, William was returned to Australia on board HMAT A72 "Beltana" on the 18th of October 1917 for discharge due to 'DELUSIONAL INSANITY' and disembarked at Sydney, Australia on the 13th of December and was discharged as Medically Unfit on the 23rd of January 1918.
William's British War Medal:41778 and Victory Medal:40923 to PTE W.HORNE 54TH BN AIF were acquired with his Returned from Active Service Bagdge/RSL Badge and mothers broach in June 2009 from a dealer in Victoria, Australia and are now in the Harrower Collection.
Family Information
William was a 26 year old labourer from Broadway Street, Killingwoth, N.S.W. upon enlistment. His parnets John and Grace Horn were married in 1882 at Wallsend, N.S.W. and had 7 children. Alexander Horn born 1882 at Wallsend, N.S.W. Birth Cert:26012/1882. John Horn born 1885 at Wallsend, N.S.W. Birth Cert:30417/1885. William Horn born 1889 at Wallsend, N.S.W. Birth Cert:32248/1889 and died in 1956 at Balmain, N.S.W. Death Cert:18340/1956. James Horn born 1891 at Newcastle, N.S.W. Birth Cert:24624/1891. David Horn born 1893 at Wallsend, N.S.W. Birth Cert:36433/1893. Grace Horn born 1895 at Adamstown, N.S.W. Birth Cert:29590/1895. Clarence Horn born 1898 at Adamstown, N.S.W. Birth Cert:9601/1898.
CALLEN PARK MENTAL HOSPITAL
Military Records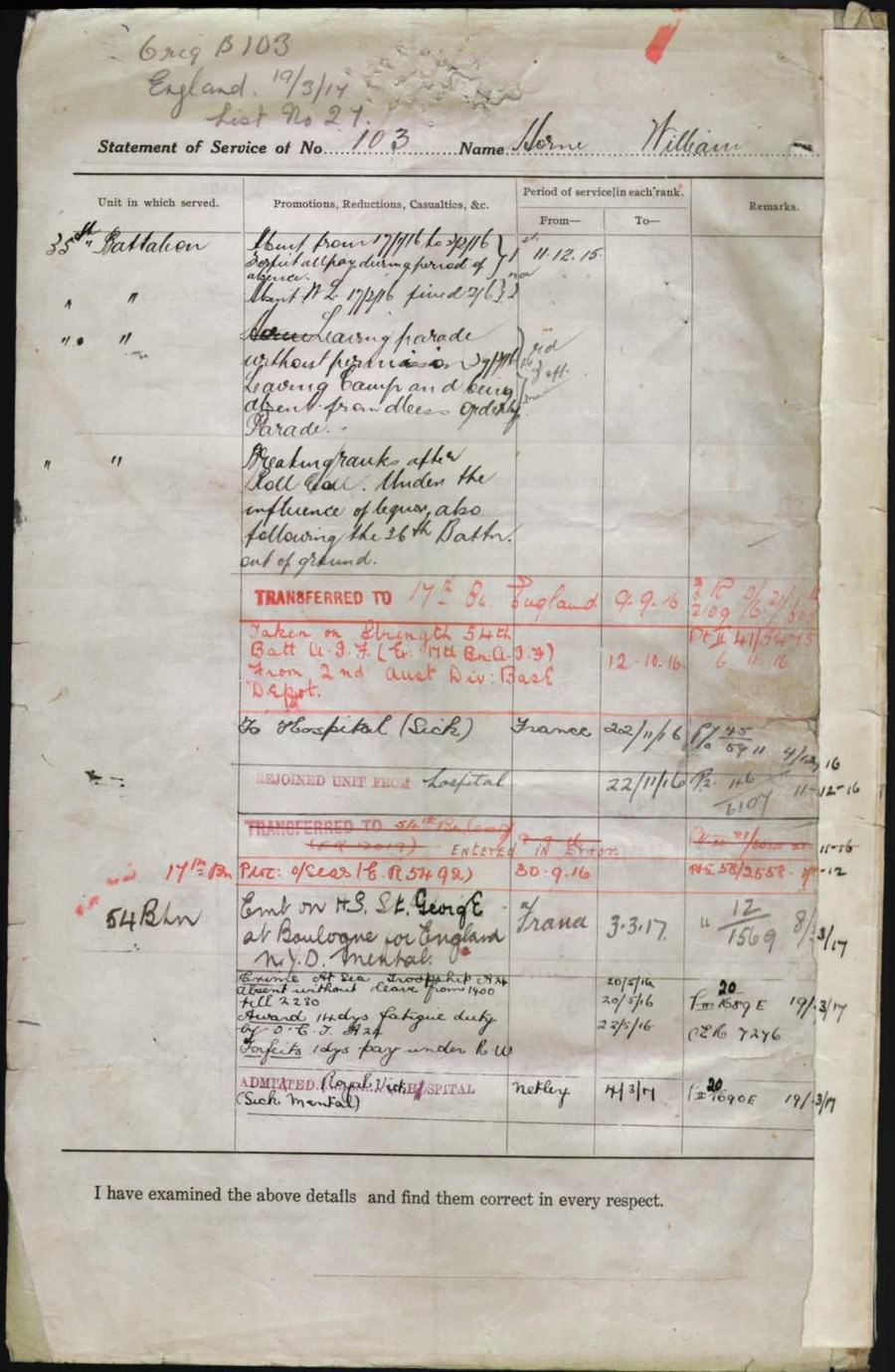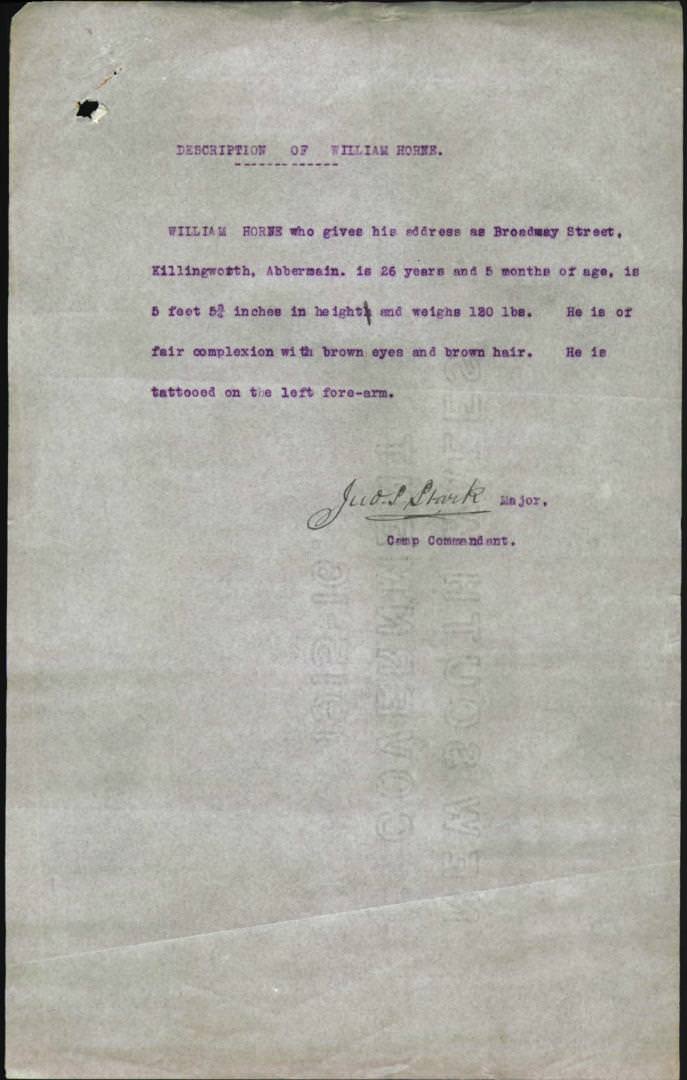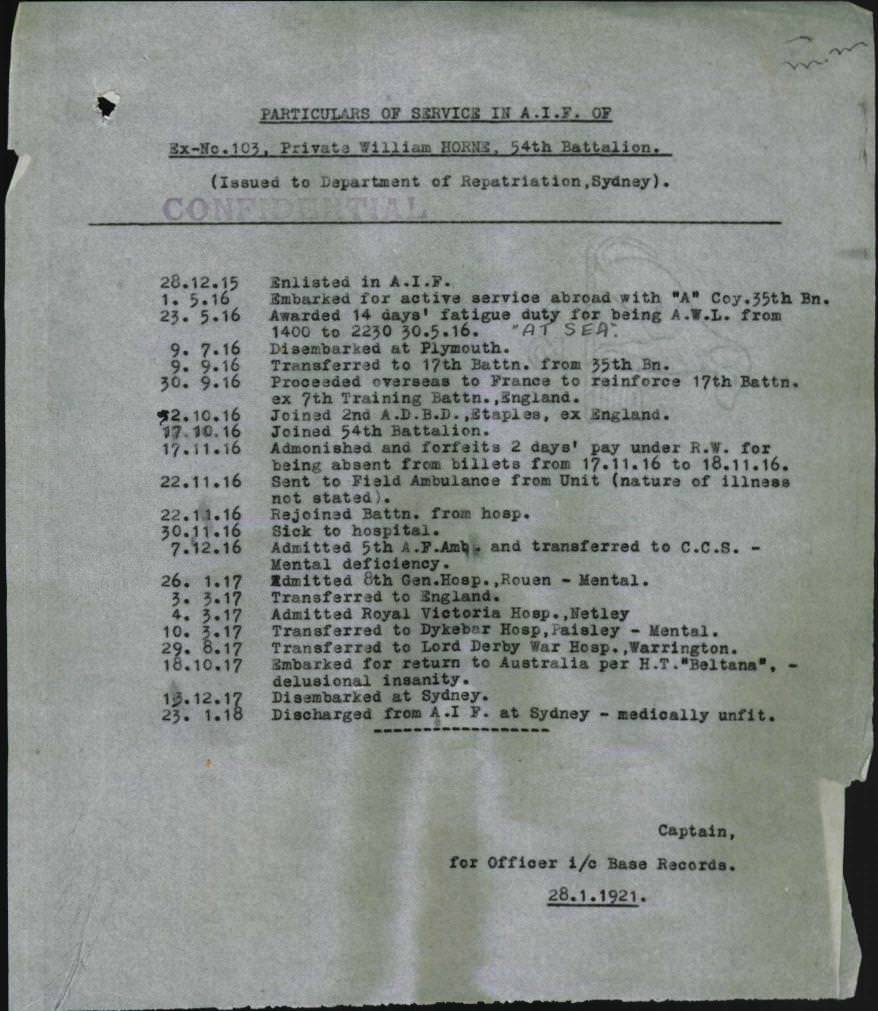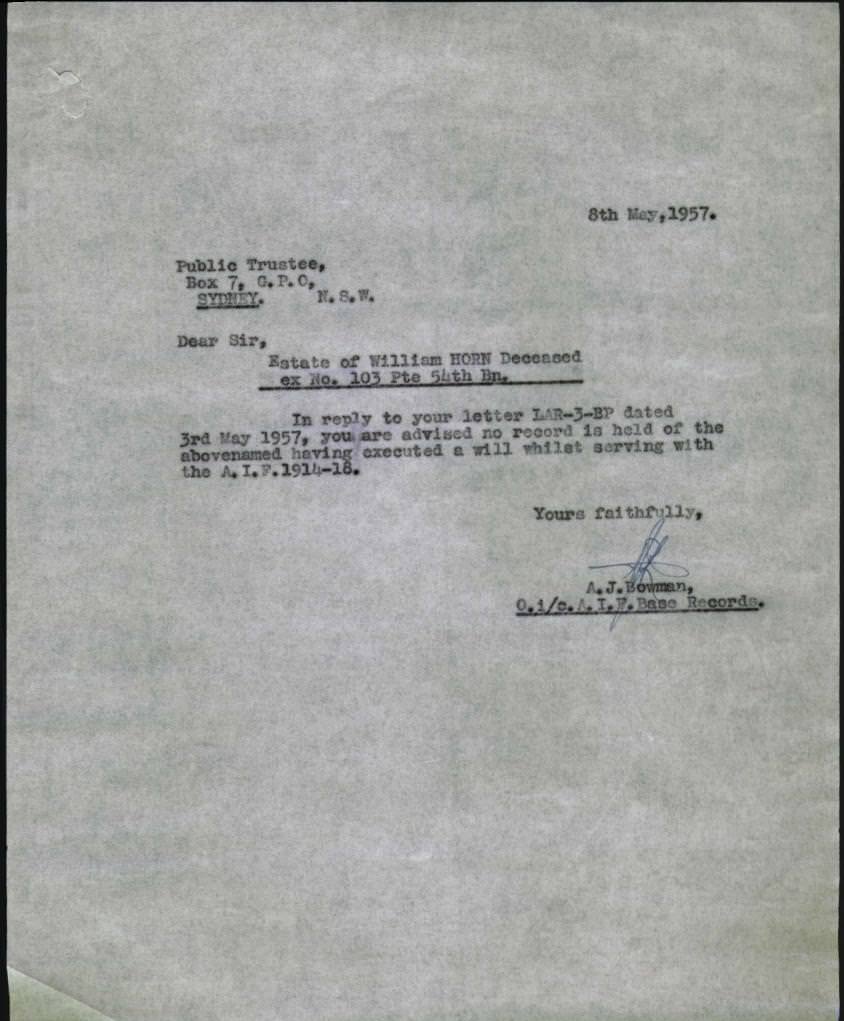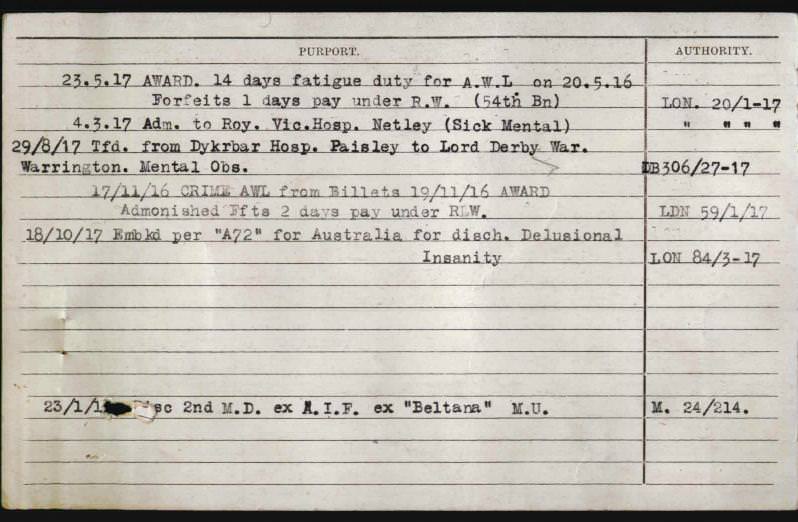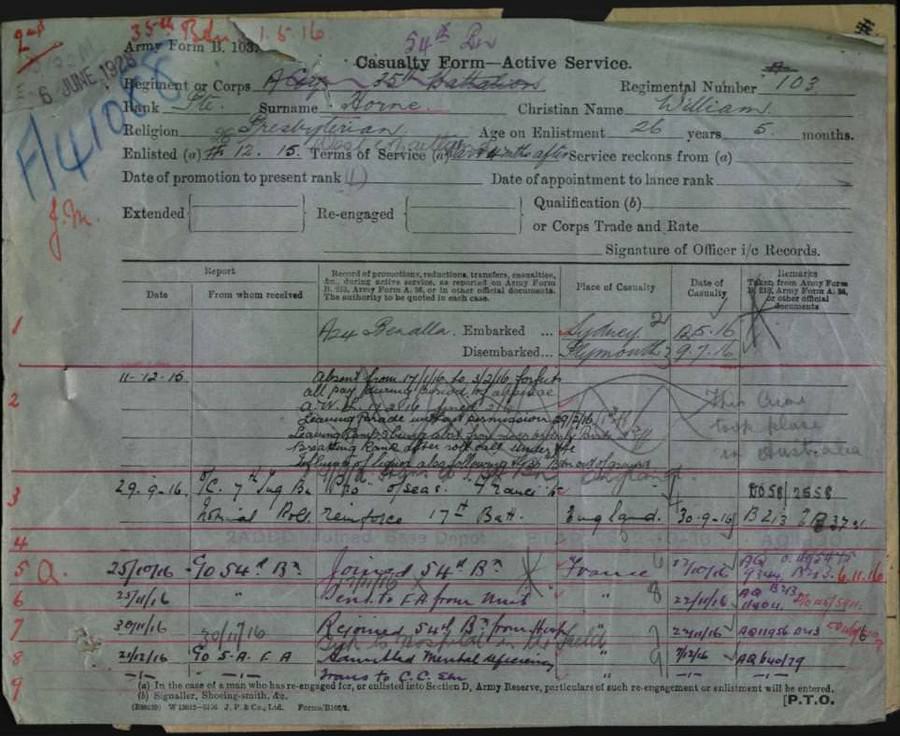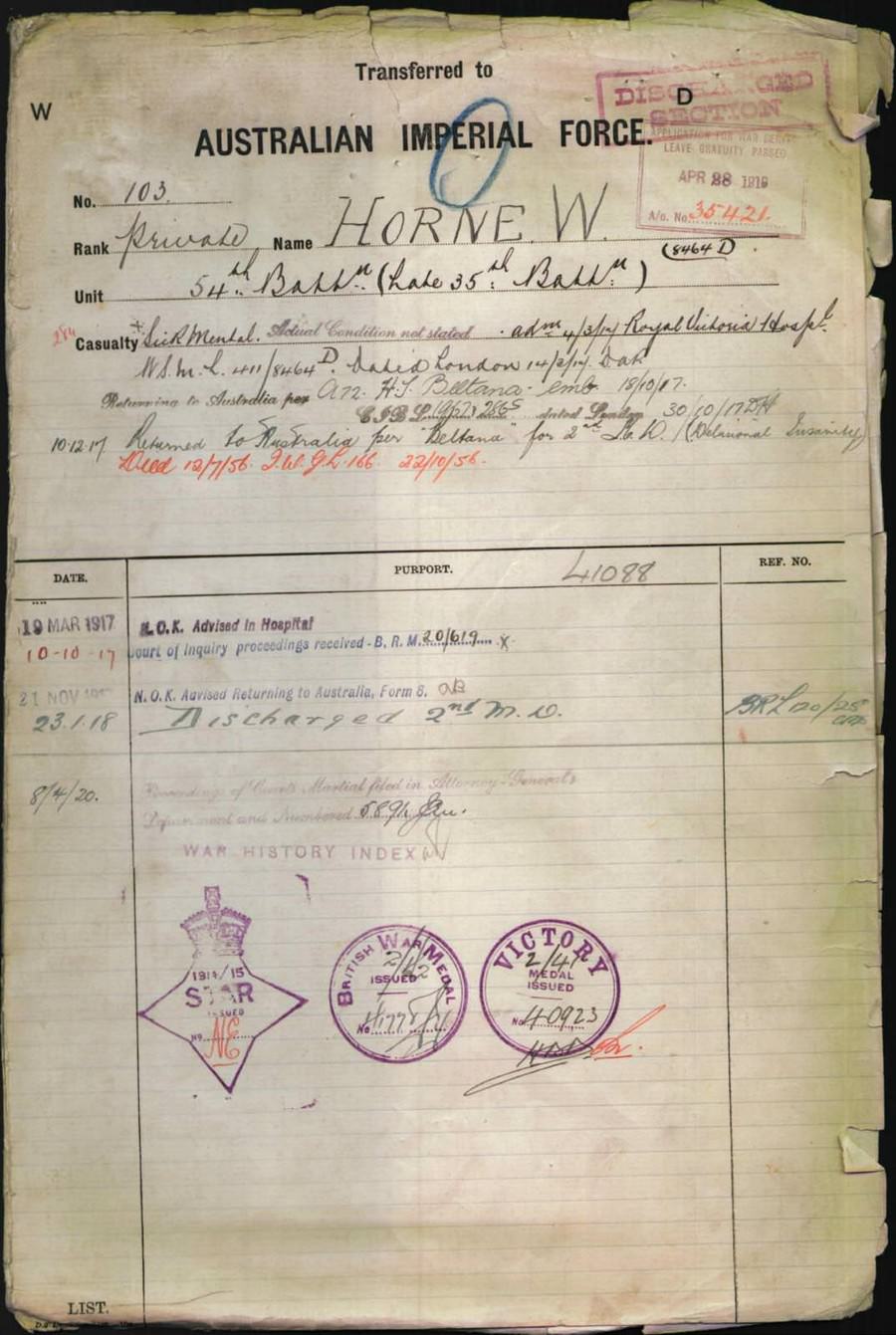 Under Construction; 30/05/2009-11/07/2014.
Web Counter
---