John Horn enlisted with the A Company 35th Battalion on the 17th January 1916 as an original member of the Battalion. John left Sydney on board HMAT A24 "Benalla" on the 1st of May 1916 and disembarked at Plymouth, England on the 9th of September 1916. John was marched to the 9th Training Battalion at Larks Hill before proceeding overseas from Southampton for France on the 21st of November 1916.

John was Taken on Strength with the 35th Battalion in the field where he remained in and out of action until he was admitted to the 9th Australian Field Ambulance on the 7th of June 1917 when he was Wounded in Action as he was suffering from Shell Shock and was treated and transfered to the Divisional Rest Station.

John remained at the rest station for the next 2 weeks but was ordered back to the front line on the 16th of June, but only remained there for 4 days as he was admitted to the 3rd New Zealand Field Ambulance suffering from a Deblilty he was completely exhausted and was transfered to the 4th Stationary Hospital in ARQUES on the 4th of July and then the No:5 Convalescent Depot at ARQUES on the 27th of July suffering from Neurasthenia.

John returned to duty on the 13th of August 1917 and was sent again to the front line and after just over a month of action he was again admitted to the 10th Stationary Hospital at ST-OMER on the 24th of September and was later transfered to the 7th Convalescent Depot at BOULOGNE suffering from a Scalp Wound (Accidental). John was onlt there for a couple of days before being transfered again to the 1oth Convalescent Depot at ECOULT.

He was discharged back to duty in the field on the 17th of October and marched to PASSCHENDAELE and remained in action with the 35th Battalion until he was admitted to the 43rd Field Ambulance and the next day he was transfered to the 1st South African general Hospital at ABBERVILLE. John was evacuated to England on the 10th of April where he was admitted to the Coome Lodge Hospital, Great Warley, COLCHESTER, England suffering from Nervous Debility.

After spending the next 2 weeks at the Coome Lodge he was transfered to the 3rd Auxillary Hospital at DARTFORD. His stay was only 2 days before being sent to the No:2 Command Depot at WEYMOUTH to prepare for his return to Australia on the 31st of July 1918 on board the Hospital Transport "Barambah" to be discharged Medially Unfit suffering from a Shell Concussion.

John was a wheeler at the Teralba Coal Mine upon enlistment and returned to work at the Teralba Mine. John quallified for his NSW Ambulance Medal in 1923 whilst working at the Teralba Mine. John was also a member of the NSW Volunteer Fire Brigade. John was a volunteer at the Teralba Brigade and received the Brigades Long Service Medal in 1943.

John's British War Medal:41776 and Victory Medal:40921 to PTE 118 J HORN 35BN AIF and his N.S.W. Volunteer Firebrigade Medal with his N.S.W. Ambulance Medal were acquired in April 2002 and are now in the Harrower Collection.

FAMILY INFORMATION

John's parents John and Agnes Horn were married in 1891 at Newcastle, N.S.W. Marriage Cert:5666/1891. John Horn married Edie and had 2 daughters, both died quite young.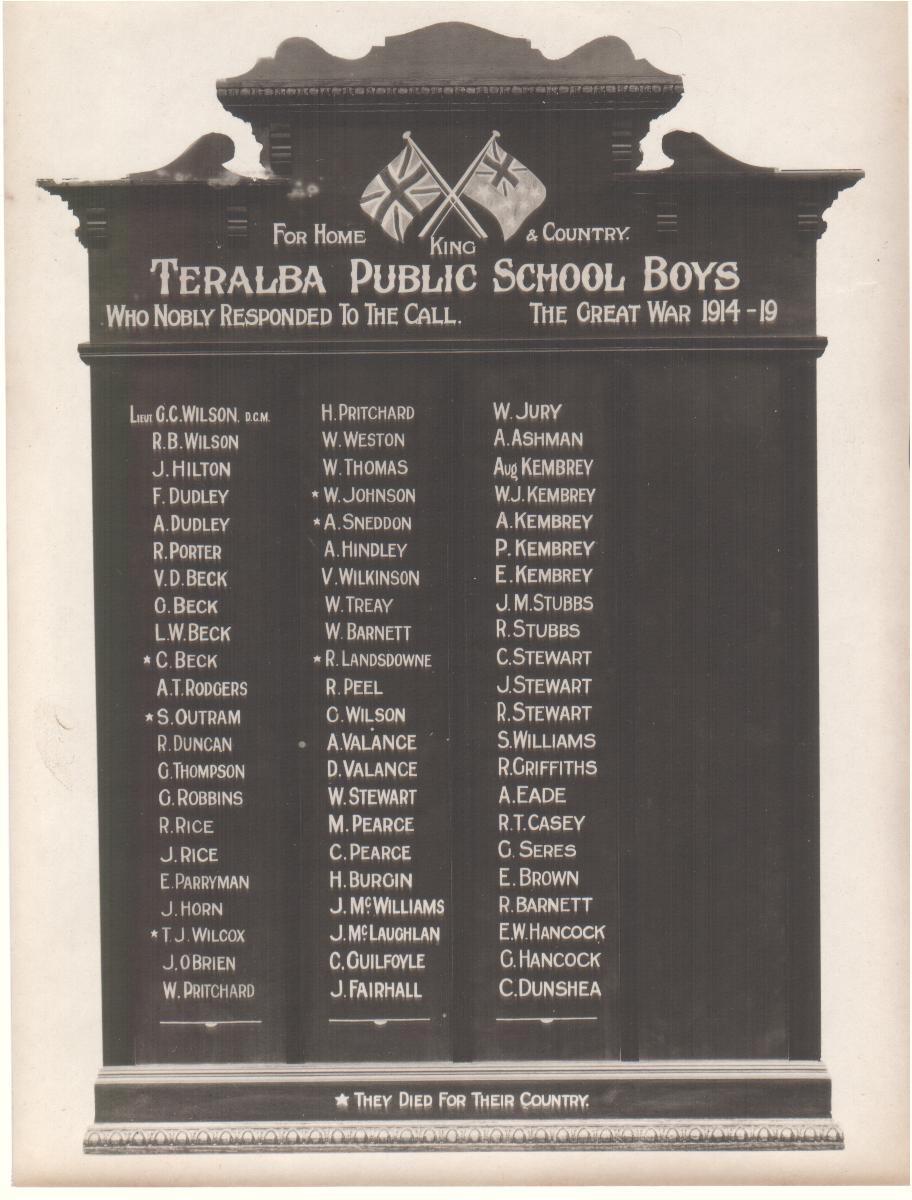 TERALBA BOYS PUBLIC SCHOOL
Sergeant: 166 John Patrick O'BRIEN. (A Company) 35th Battalion AIF. Coal Miner, Teralaba, N.S.W.
Private: 220 William Arthur TREAY. (A Company) 35th Battalion AIF. Labourer, Teralba. N.S.W.
Corporal: 1434 Vincent Brown WILKINSON. M.M. 34th Battalion AIF. Electrician, Teralba, N.S.W.
Military Records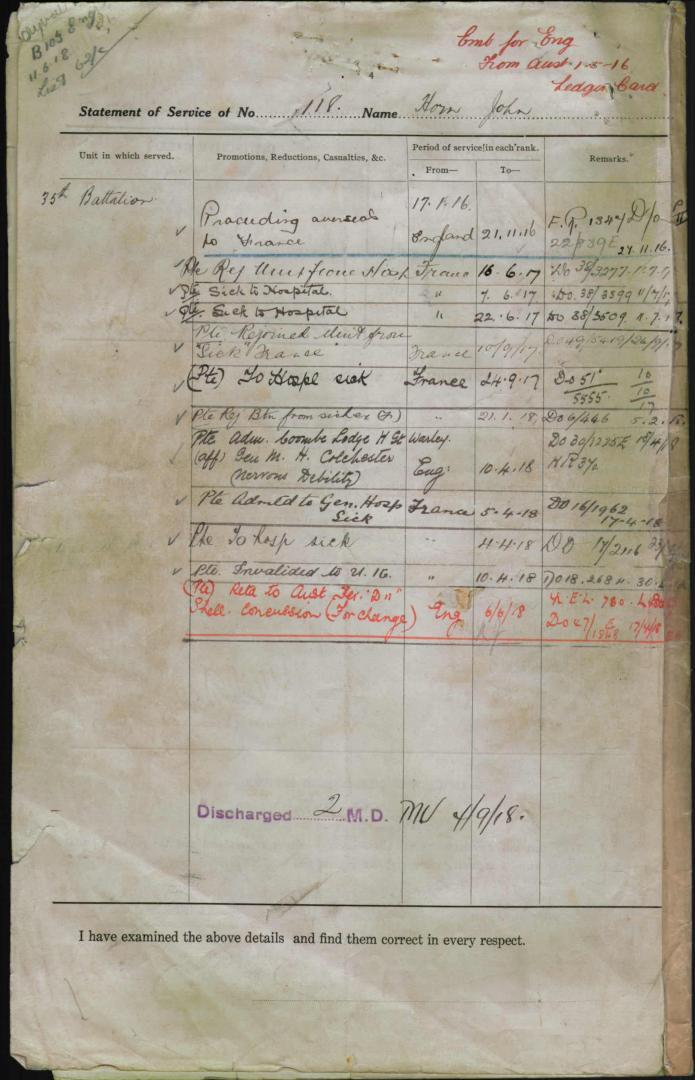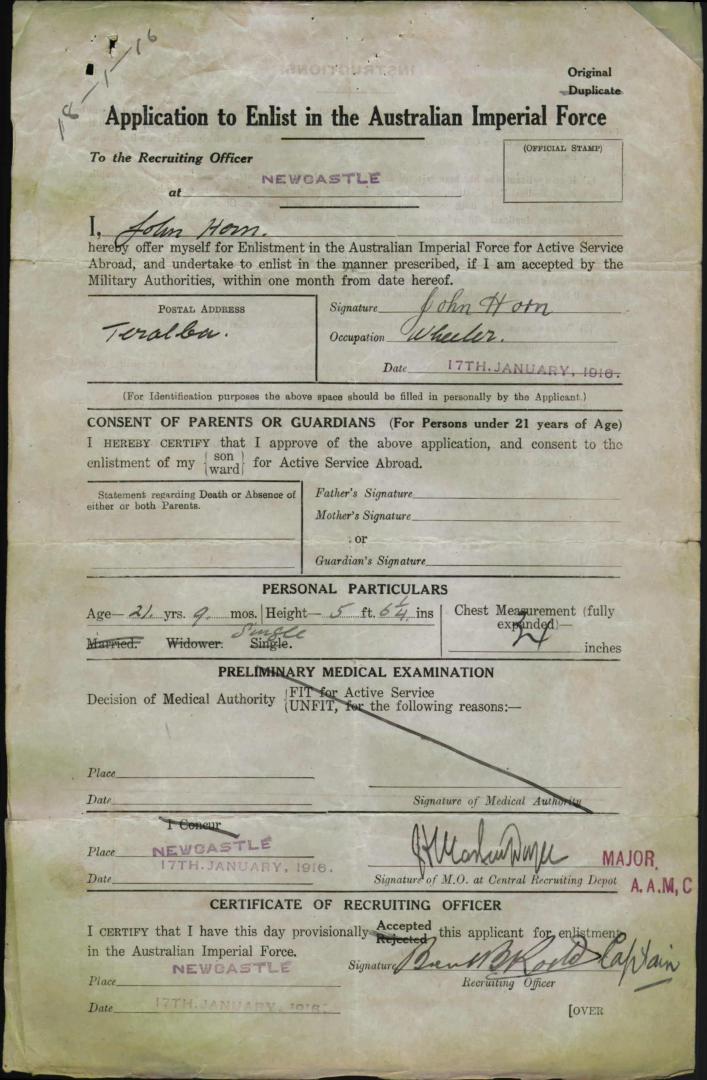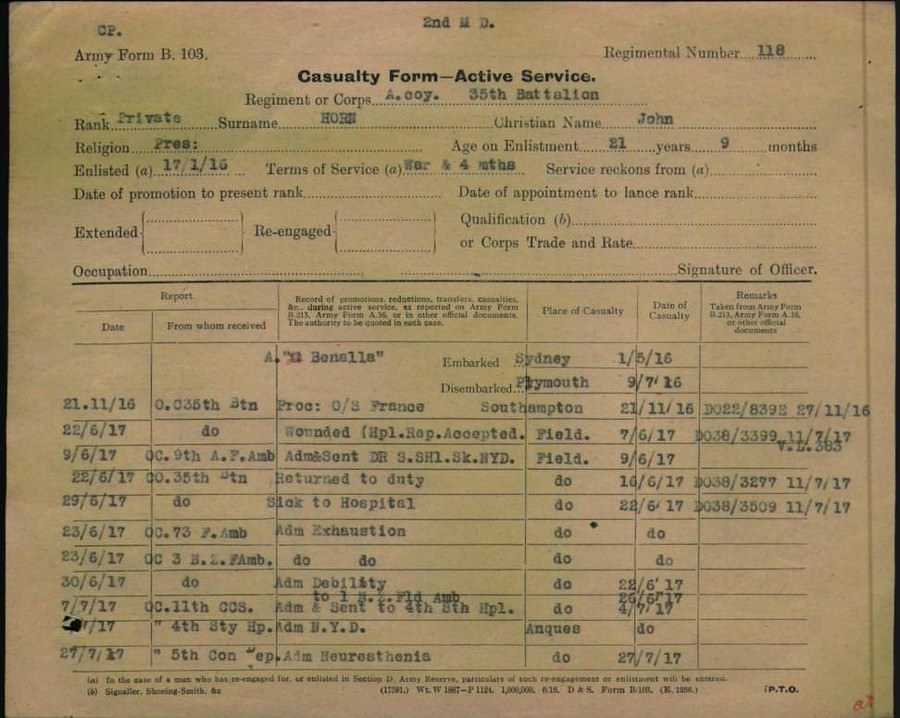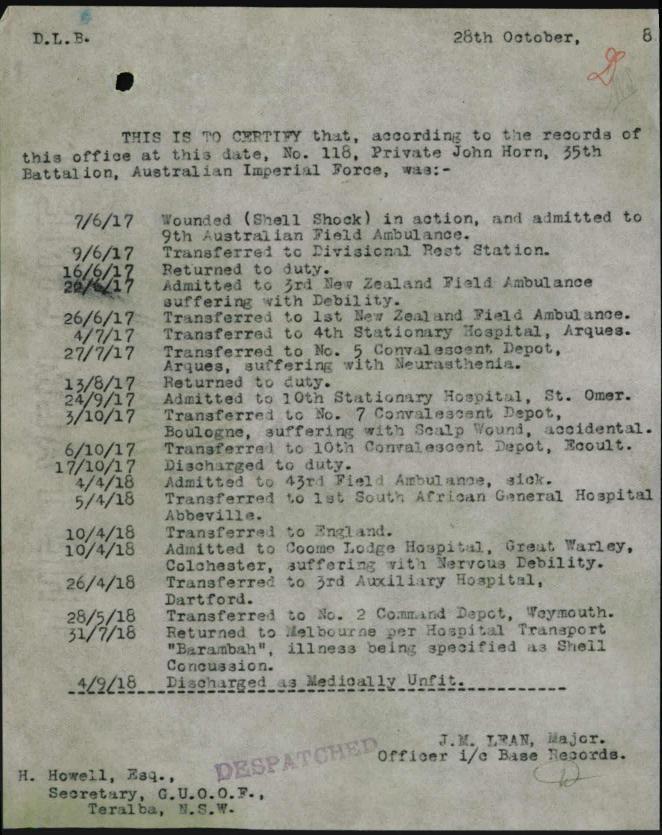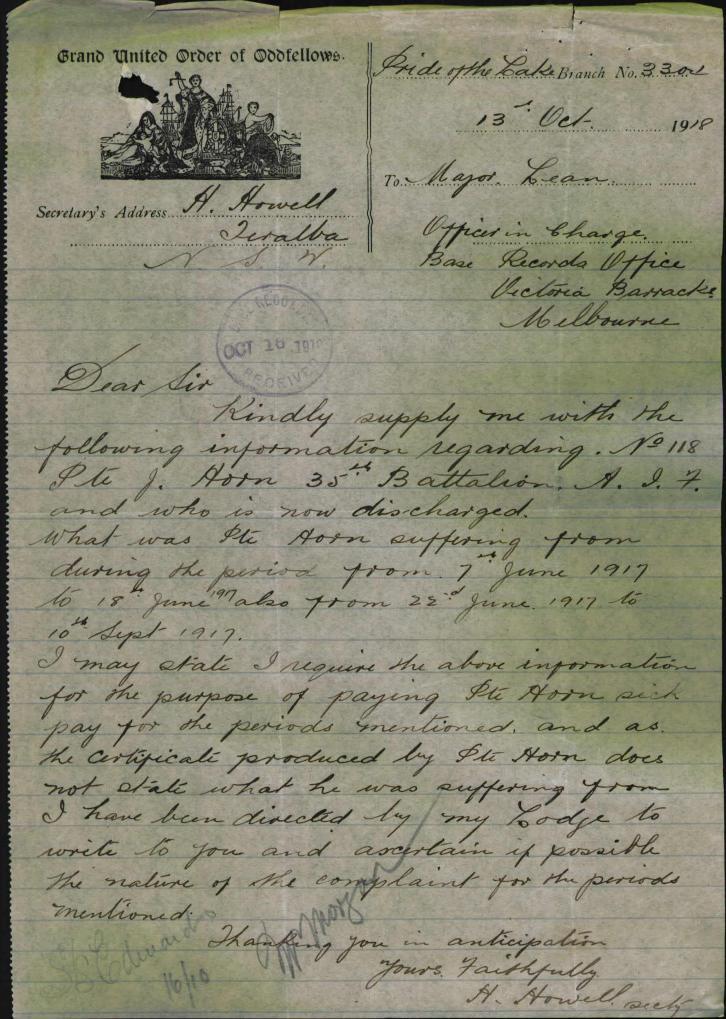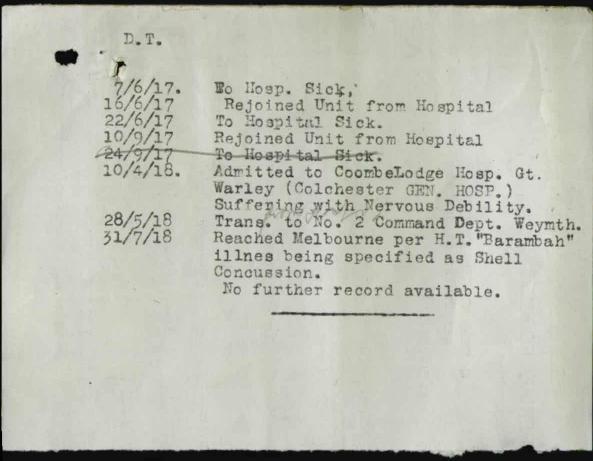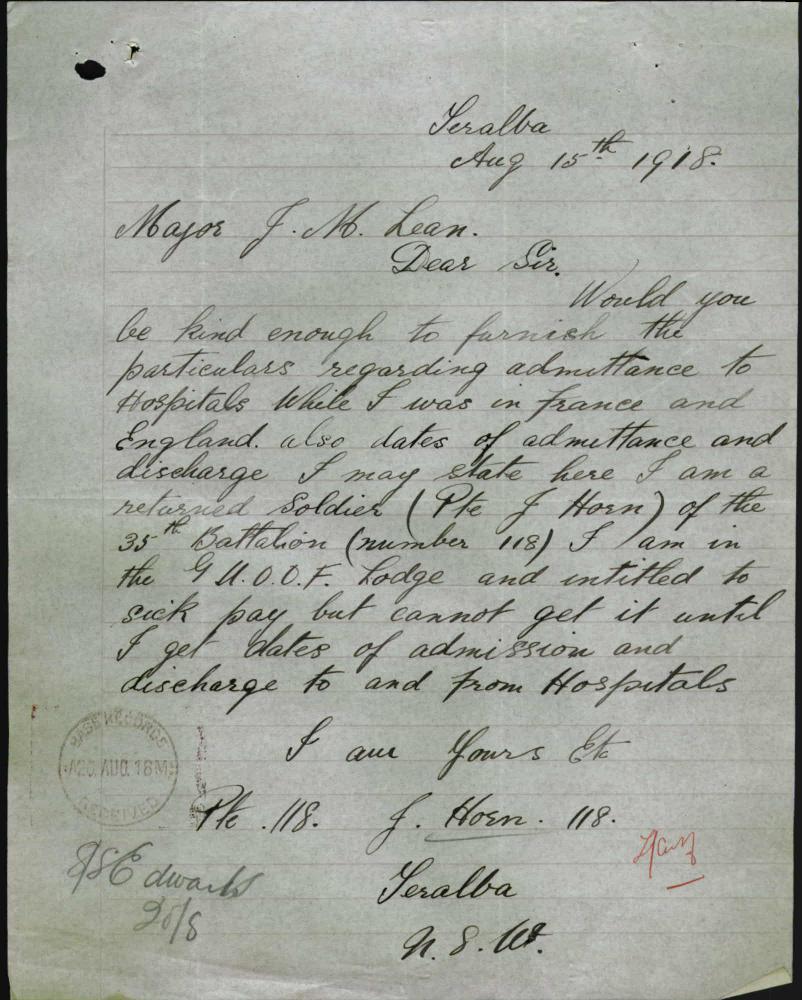 © Commonwealth of Australia (National Archives of Australia)
Under Construction; 01/08/2007-31/08/2016.
---
Web Counter
---