Alfred enlised with the 6th Reinforcements, 35th Battalion AIF on the 13th November 1916 and left Sydney on board HMAT A72 "Beltana" on the 25th of November and disembarked at Devonport, England on the 29th of january 1917. Alfred was marched to the 9th Training Battalion at Durrington Army Camp before proceeding overseas from Southampton for France on the 14th of June 1917. He was Taken on Strength in the field with the 35th Battalion on the 7th of July. Albert remained with his Battalion until he was granted leave overseas to England in March 1918 where he was addmitted to the War Hospital in Carlisle sufferering from Bronhitis.
He remained in England before returning to France on the 6th of September 1918. Alfred remained in France until the end of hostilities and retuned to England in January 1919 and left England for Australia on the 16th of January and was Discharged on the 5th of April 1919.
Alfred's British War Medal:6579 and Victory Medal:63410 to PTE. 2816 A. HINDE. 35 BN AIF were to be Auctioned in July 2007 in Queensland and purchased by a private collector.
Family Information
Alfred was a single 32 year old Engineer, from 18 Queen's Street, Ashfield, N.S.W upon enlistment. His father was his next of kin and lived at 33 Eldred Street, Carlisle, England.
Military Records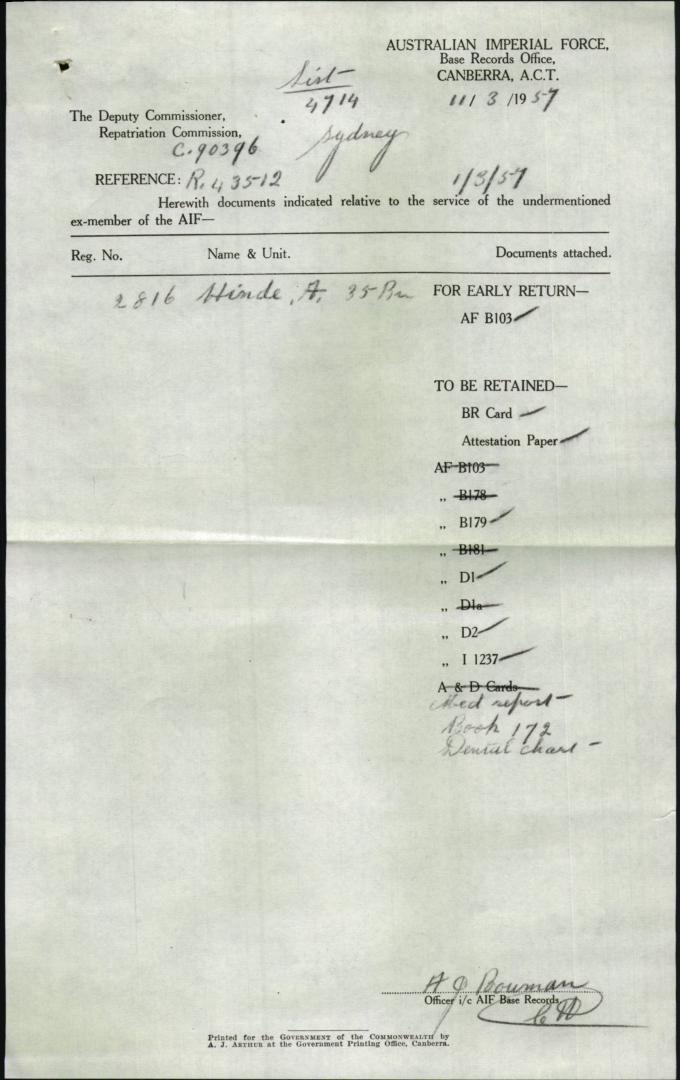 © Commonwealth of Australia (National Archives of Australia)
Under Construction; 02/07/2007-11/12/2016.
---
Web Counter
---