William Wilfred Hillier enlisted on the 18th of September 1915 and was an original member of A Company 35th Battalion AIF and left Sydney on board HMAT A24 "Benalla" on the 1st of May 1916. William was promoted to Warrant Officer II on the 1st of May 1916 and appointed Company Sergeant Major and disembarked at Plymouth England on the 9th of July an entrained to Larkhill to commence training 9th Training Battion at the Durrington Army Camp Battalion and spent the next four months. The Battalion crossed into France on the 21st of November, and moved into the trenches of the Western Front for the first time on the 26th of November, just in time for the onset of the terrible winter.
William was Killed in Action on the Xmas Eve on the 24th of December 1916 at Armentieres, France.
23rd March 1917.
Informant: Sergeant: 2101 William MARSHALL. "I was with Sergeant Major: 92 William Wilfred HILLIER when he was killed at Square Farm, Fleurbaix on 24th December. A minenwerfar blew him up in the left line trench. He was killed outright. I saw his body taken away for burial. He was C.S.M. of A Company. I have seen his grave in the Cemetery at Armentieres. There is a cross on it with his name.
Staples, France.
23rd March 1917.
Informant: Private: 10537 J FERGUSON.I knew Sergeant Major: 92 William Wilfred HILLIER. We were at Square Farm, Armentieres. He was standing in our support lines near a dug out, when a shell came over and killed him and wounded Major: William SNEDDON. I was standing close by. He was buried at Armentieres Cemetery near the Erquingham Road. I have seen his grave.
No:2 Canadian Station. Outreau. BOULOGNE.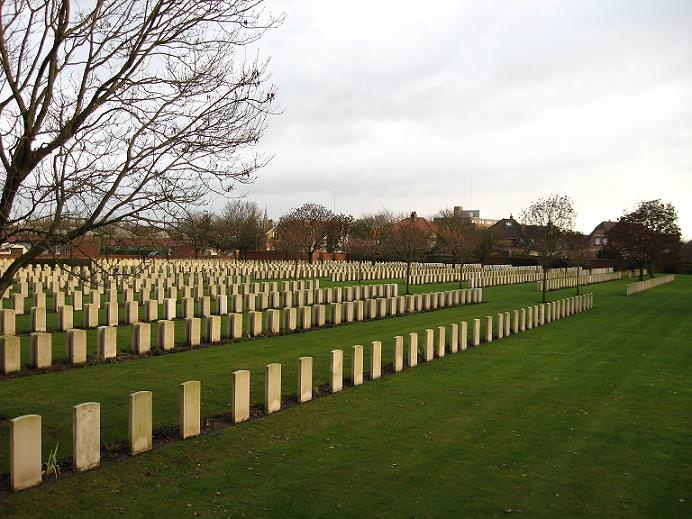 CITE BONJEAN MILITARY CEMETERY
William and is remembered with honour and is commemerated in perpetuity by the Commonweath War Graves Commission at Cite Bonjean Military Cemetery, Armentieres, France .

Newcastle War Memorial. Sgt Maj W.W. Hillier.
Family Information
William was a single 22 year old Ironmonger from Cook's Hill, Newcastle ,NSW upon enlistment. William parents lived at "Belle-Vere" Union Street, Newcastle.
Military Records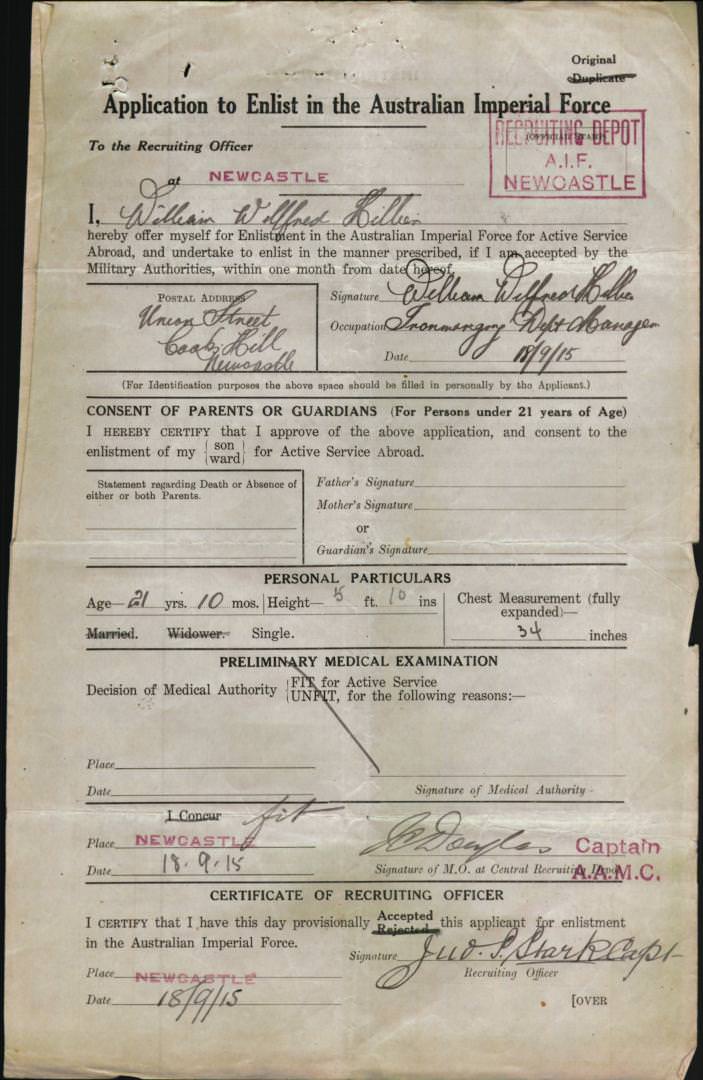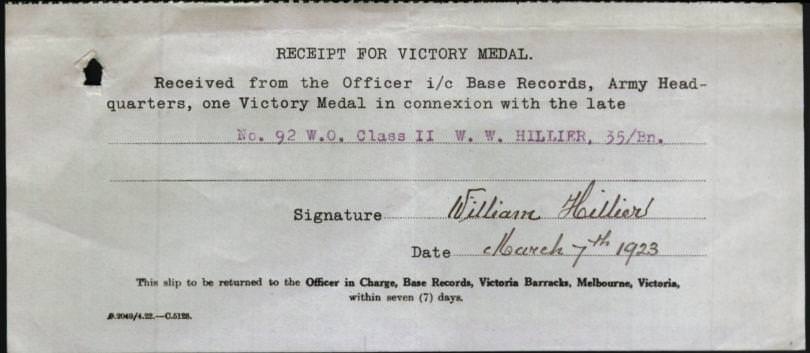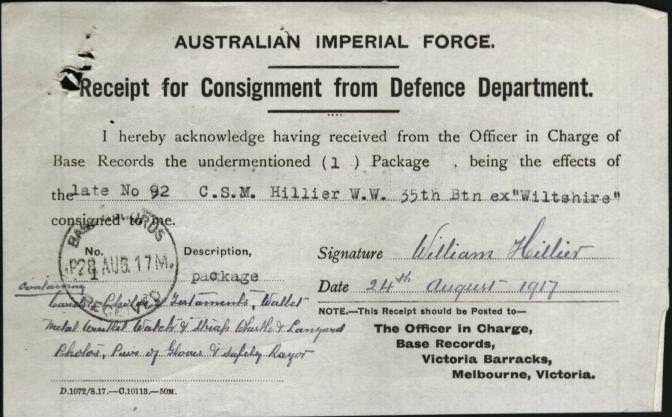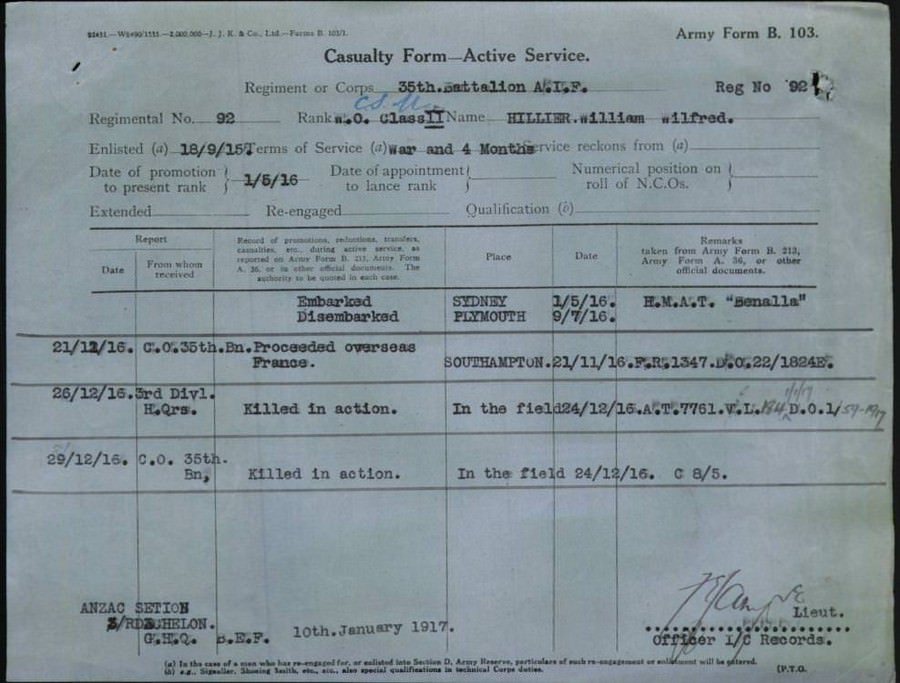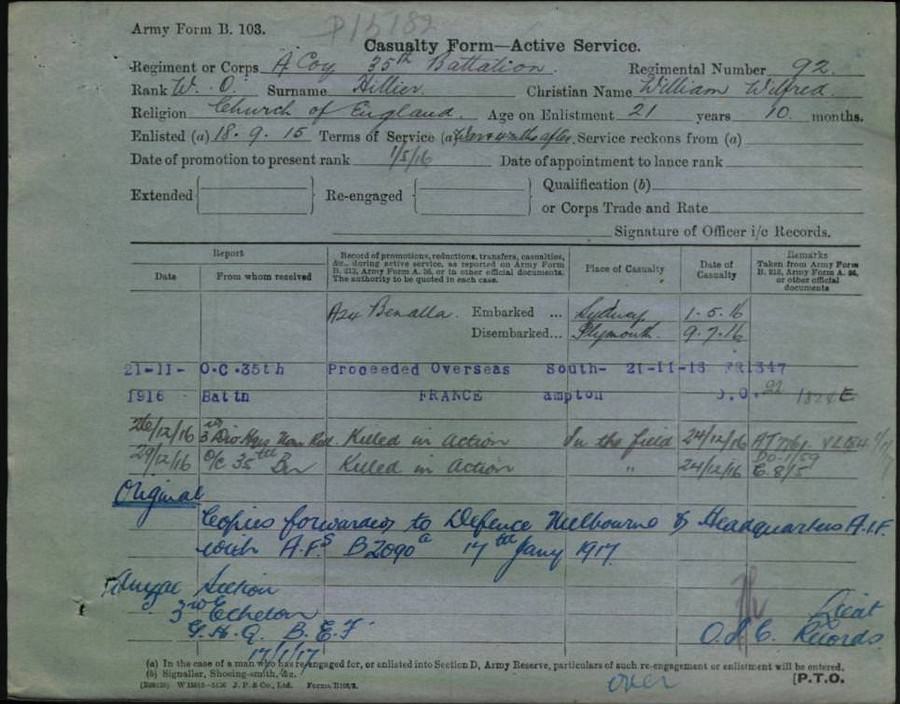 Under Construction; 10/05/2006-09/11/2014.
---
Web Counter
---