Richard Herbert enlisted with B Company 35th Battalion AIF on the 1st of December 1915 and was an original member of the Battalion and left Sydney on board HMAT A24 "Benalla" on the 1st of May 1916 and disembarked at Plymouth, England on the 8th of July 1916 and marched into the 9th training Battalion. Richard was Charged with being Absent Without Leave from midday 8th October until the 16th October 1916. He was ordered to fortiet 17 days pay.
Richard proceeded overseas for France via Southampton on the 23rd of November 1916 and was treated by the 9th Australian Field Ambulance for Tonsilitis on the 20th of December and discharged to duty 9 days later. Richard was back beinf treated by the 9th Australian Field Ambulance on the 6th of January 1917 this time he was suffering from Scabies which was rampant in the trenches, and after treatment rejoined his unit on the 19th of January.
Richard was Wounded in Action; 1st occassion at Messines Ridge, Belgium receiving a Gun-Shot Wound to the Left Leg on the 30th of June 1917 and was treated again with the 9th Australian Field Ambulance before being granted leave and upon return admitted to the 2nd Australian Casulty Clearing Station on the 13th of July suffering from Gonorrhoea, before being transfered to the 39th General Hospital.
Richard rejoined the 35th Battalion on the 3rd of November and was granted leave in England from the 5th of February until the 19th of February and returned to France and was arched to the front line and whilst in action at Villers-Brettonnuex he wasWounded in Action; 2nd occassion and reported Missing in Action on the 5th of April 1918. Richard was later reported as a Prisoner of War in German Hands on the German Red Cross List dated 7th June 1918.
Richard was repatriated to England after the war on the 11th of January 1919, and granted leave from the 13th of January until the 14th of February 1919. Richard didnt report for duty and was Charged with being Absent without Leave from midday 14th February until 10:am 3rd March 1919 and was ordered to forfiet 34 days pay. Richard returned to Australia on board the "Shropshire" and disembarked in Melbourne, Australia on the 16th of May 1919 and was discharged Medically Unfit on the 2nd of July 1919.
Richards personal effects were sent to Australia when he was a Prisoner of War on board the "Barunga" which was lost at sea.
Richard's British War Medal: 41760 to PTE R HERBERT. 35BN AIF was acquired from R Debenham of Mittagong, N.S.W. at auction in December 2007 and is now in the collection. Richard's medal is the first to a soldier who was Prisoner of War in German Hands to be acquired.

Family Information
Richard was a single 19 year old Labourer from Wallsend, N.S.W upon enlistment. His parents Charles and Jane Herbert were married in 1893 at Hamilton, N.S.W. Marriage Cert:3869/1893 and had 3 children, all boys. William Charles Herbert born 1893 at Wickham, N.S.W. Birth Cert:38798/1893 and married Mabel B Ralph in 1924 at Marrickville, N.S.W. Marriage Cert:15405/1925 and died in 1953 at Wallsend, N.S.W. Death Cert:12441/1953. Richard Herbert born 1896 at Wickham, N.S.W. Birth Cert:8745/1896. John Thomas Herbert born 1898 at Wickham, N.S.W. and married doris E Hope in 1921 at Wallsend, N.S.W. Marriage Cert:11745/1921 and died in 1966 at Belmont, N.S.W. Death Cert:25368/1966.
Military Records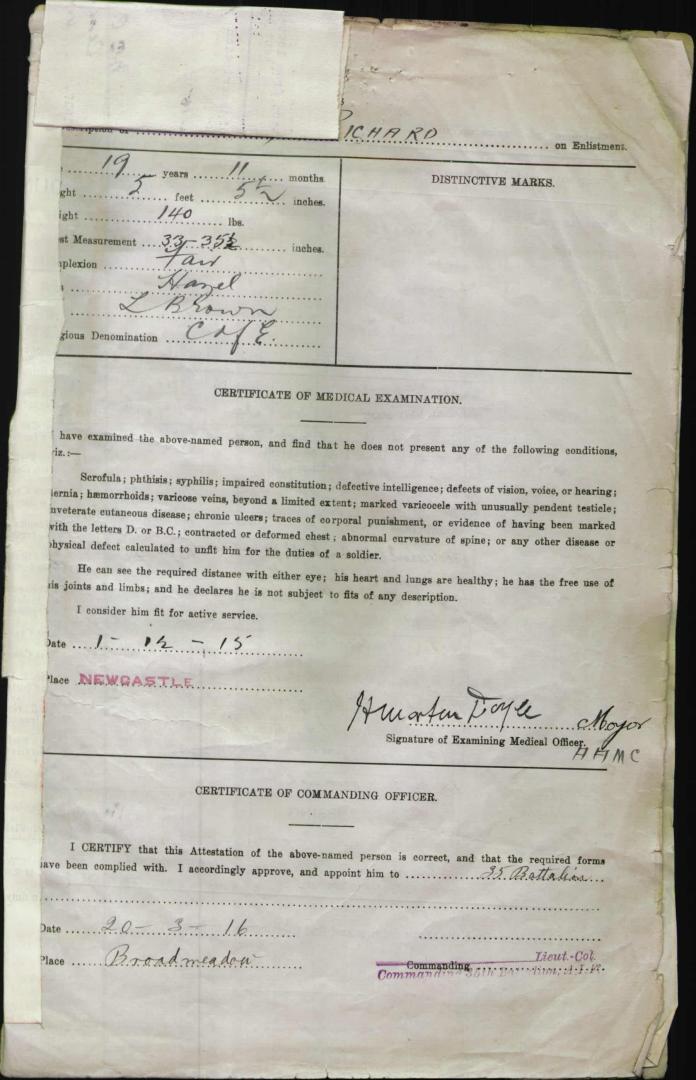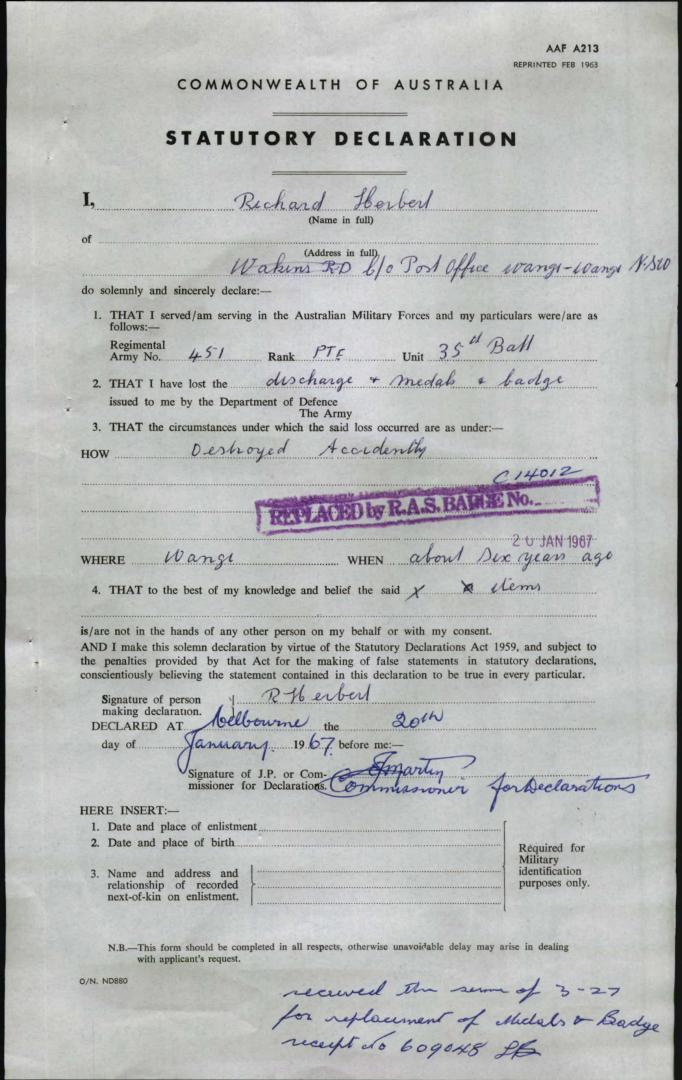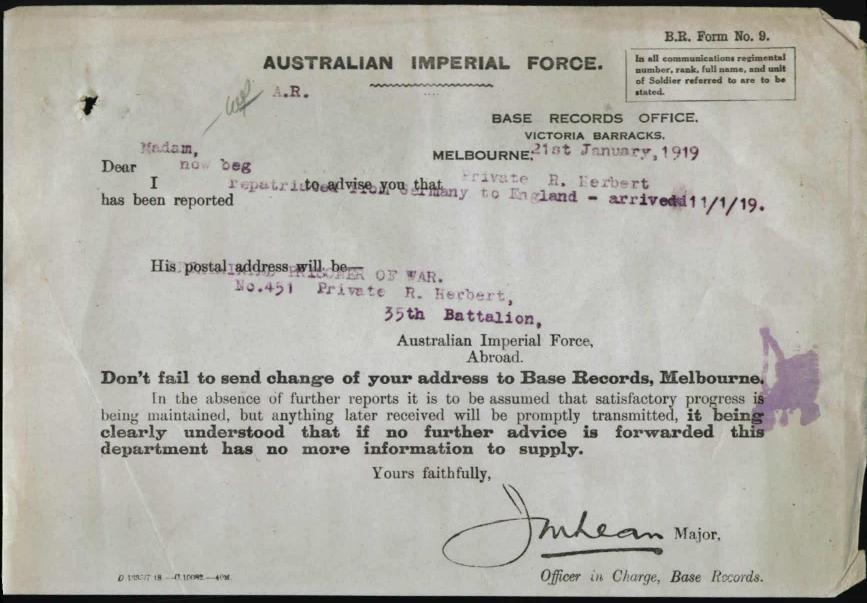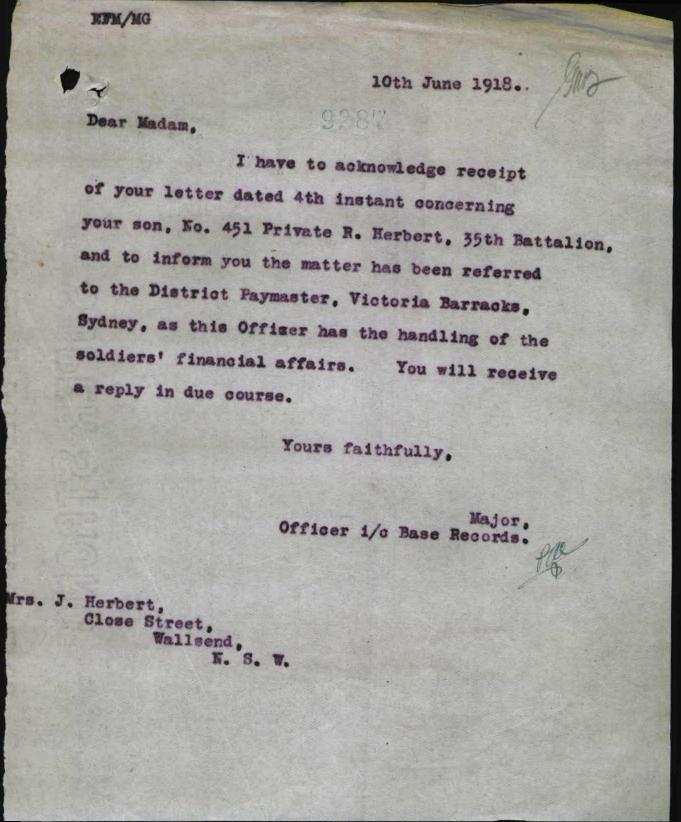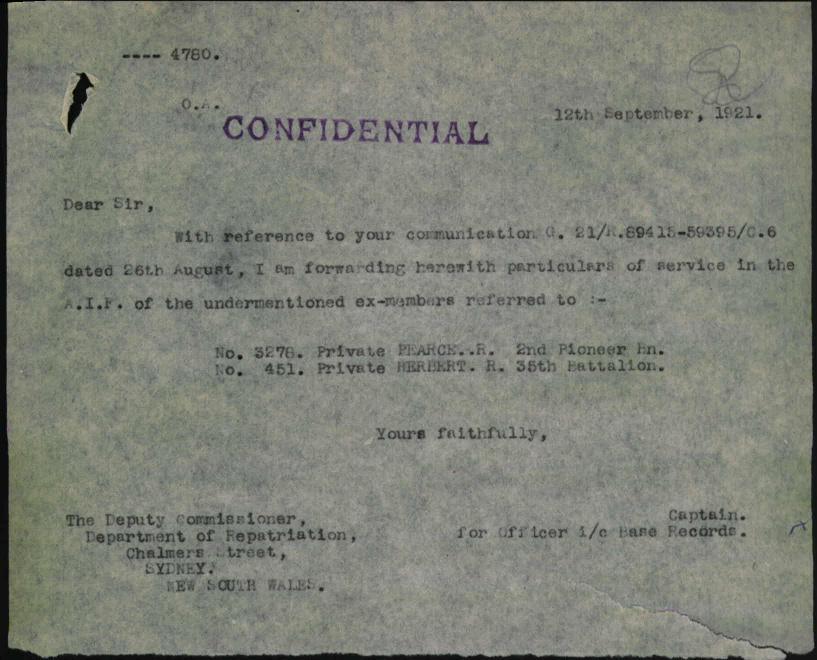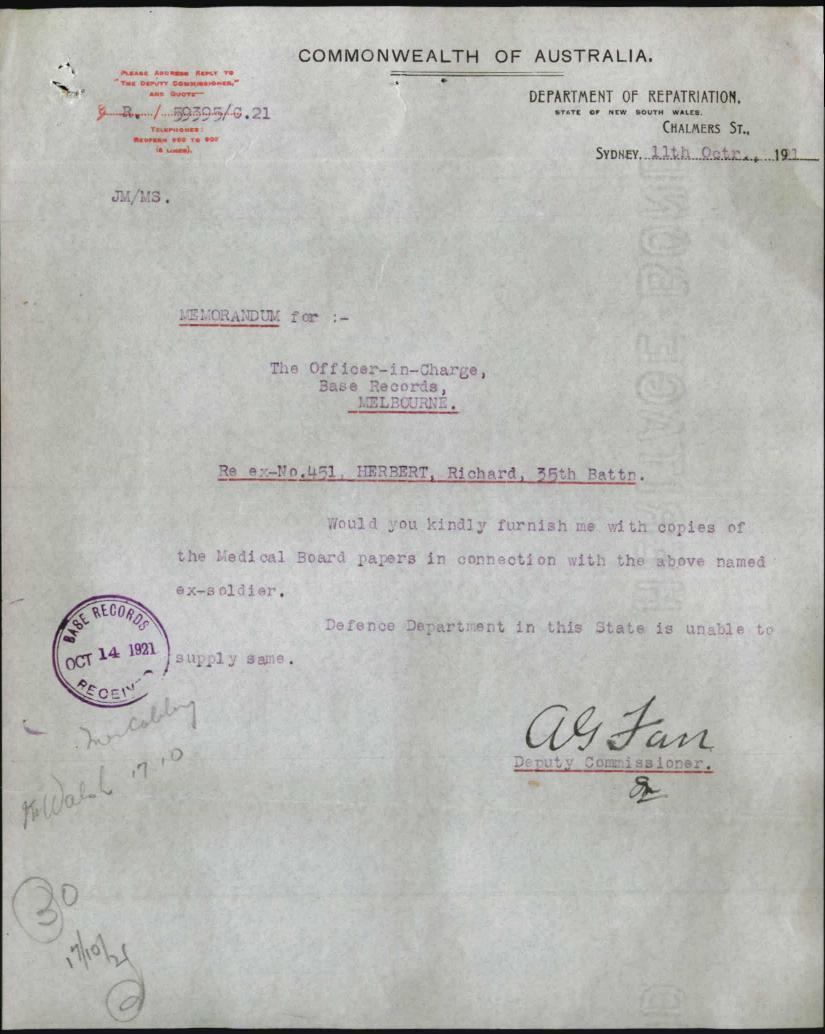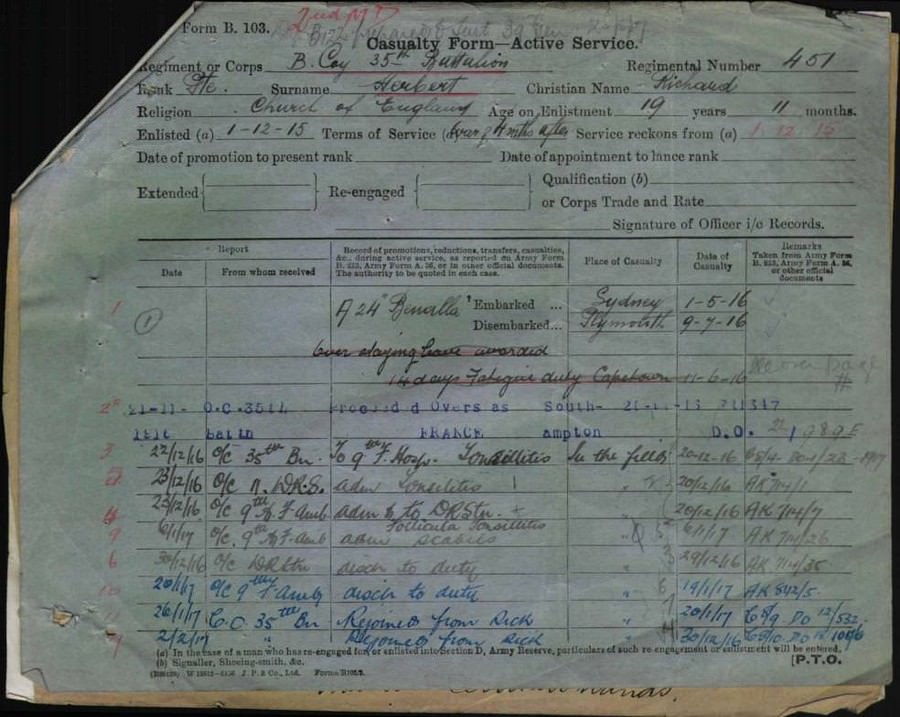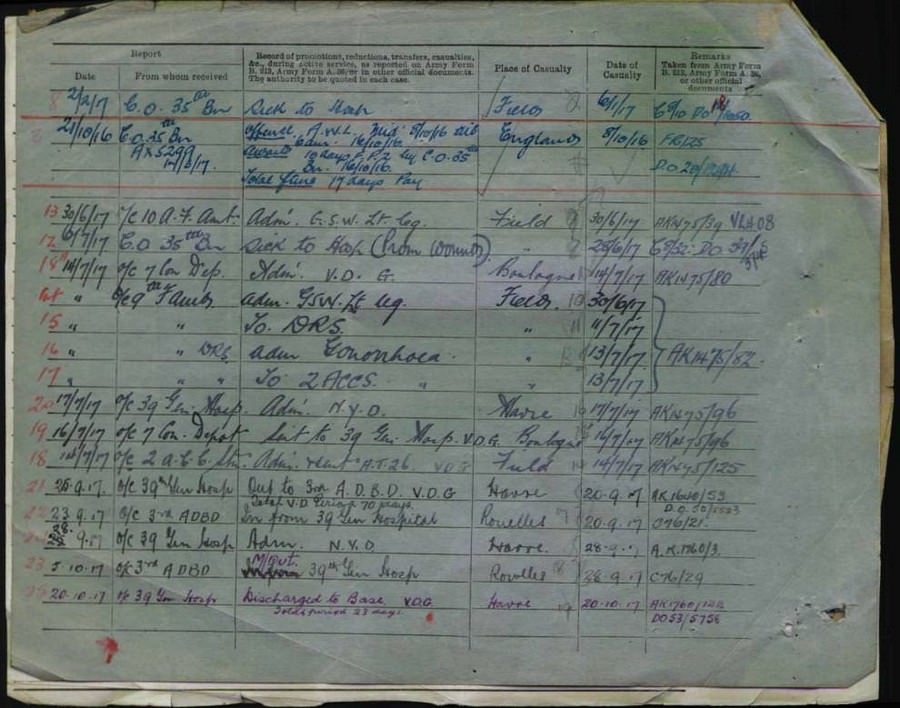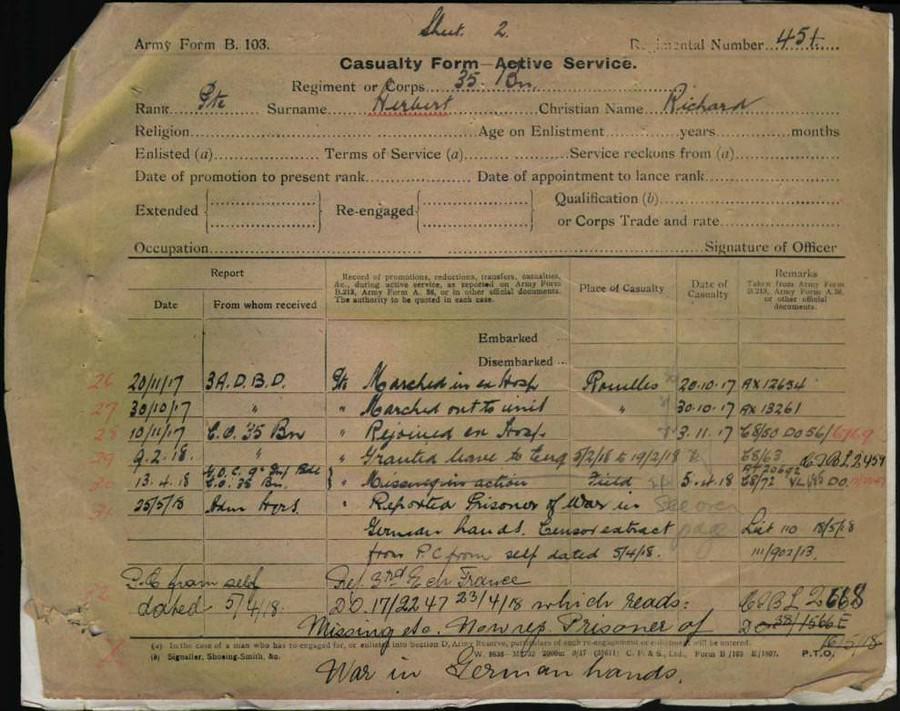 (Australian National Archives),/small>
UNDER CONSTRUCTION 07/12/2007
---
Web Counter
---