James Hassett enlisted with C Company 35th Battalion on the 26th of November 1915 at West Maitland and was an original member of the Battalion. He left Sydney on board HMAT A24 "Benalla" on the 1st of May 1916 and disembarked with the Battalion on the 9th of July at Plymouth and was marched to Durrington Army Camp. He proceeded overseas, not with the 35th Battalion but as a reinforcement for the 18th Battalion on the 30th of September 1916.
James was marched in Etaples, France on the 2nd of October but Taken on Strength with the 53rd Battalion on the 13th of October 1916. He served in action with the 53rd before being sent to the Brigade Dump at Burne on the 3rd of January 1917. James rejoined the Battalion on the 12th of January and was Detatched to Duty with the Divisional Salvage Company on the 27th for 2 days before returning to the 53rd Battalion on the 29th of January 1917.
James remained in action for the next 3 months before being admitted to the 15th Australian Field Hospital suffering from PLEURISY. He was treated there for a week and transfered to the 18th General Hospital at Camiers suffering from a chronic case of PLEURISY and remained there for the next 11 days when he was transfered to the 5th Convalescent Depot at Cayeux.
He remained there for nearly a month before returning to Harve and didn't rejoin his Battaion until the 1st of August 1917. His time with the Battalion only lasted 2 days as he was again admitted to the 14th Australian Field Ambulance but this time suffering from CHRONIC RHEUMATISM and was transfered to the 7th Canadian Stationary Hospital in Harve. James was there for a week and was transfered to the Convalescent Depot at Trouville.
His Chronic Rheumatism was the reason James disembarked from France to Weymouth, England to return him to Australia on the 5th of September 1917. He left England on board HMAT A30 "Borda" on the 26th of September 1917 and disembarked in Melbourne on the 21st of November 1917. James was discharged Medically Unfit on the 29th of December 1917.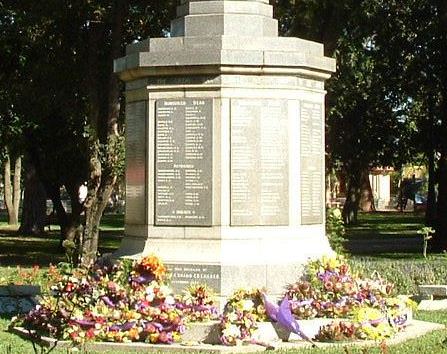 SINGLETON WAR MEMORIAL
James's British War Medal:41749 to PTE J.HASSET 53 BN AIF was acquired from the Phil Murphy Collection Queensland in January 2007 and is now in the Harrower Collection.
Family Information
James was a single 39 year old Carter from Park Street, Singleton, N.S.W. upon enlistment. His parents John and Catherine Hassett has 7 children, 4 boys and 3 girls. John Hassett born in 1862 at Reedy's Creek, via Singleton, N.S.W. Birth Cert:12137/1862. Michael Hassett born in 1864 at Reedy's Creek, via Singleton, N.S.W. Birth Cert:13046/1864. Catherine Hassett born in 1866 at Reedy's Creek, via Singleton, N.S.W. Birth Cert:13207/1866. Bridget Hassett born in 1868 at Reedy's Creek, via Singleton, N.S.W. Birth Cert:14775/1868. Eliza Hassett born in 1870 at Reedy's Creek, via Singleton, N.S.W. Birth Cert:15425/1870. Patrick Hassett born in 1872 at Reedy's Creek, via Singleton, N.S.W. Birth Cert:16029/1872 and James Hassett born in 1876 at Reedy's Creek, via Singleton, N.S.W. Birth Cert:18550/1876 and died 1925 at Hamilton, N.S.W. Death Cert:9123/1925. All the Birth's were registered at Patrick's Plain's.
Military Information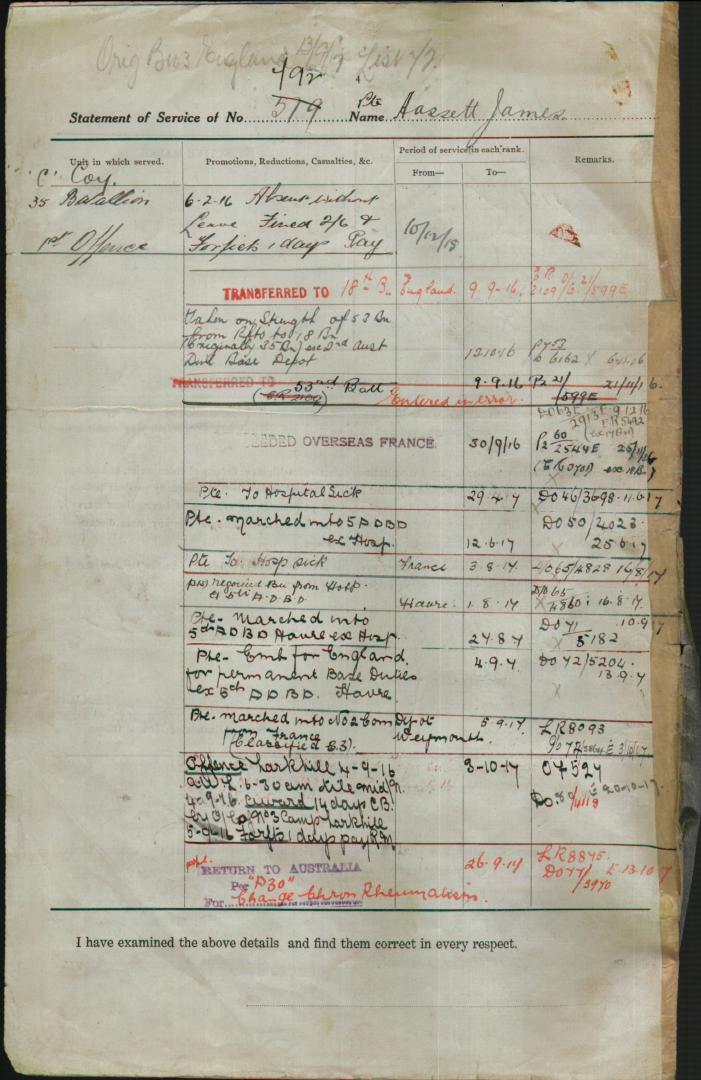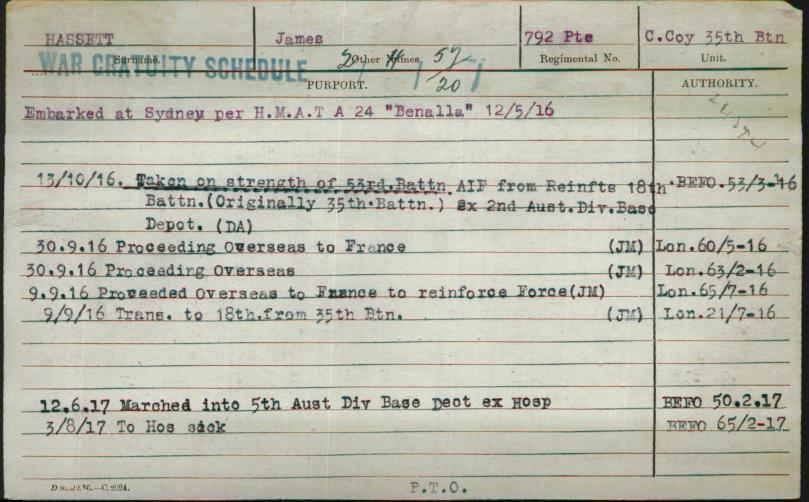 © Commonwealth of Australia (National Archives of Australia)
Under Construction; 07/01/2007-09/05/2017.
---
Web Counter
---