Peter Harrower enlisted with the 3rd Reinforcements, 2nd Battalion AIF on the 3rd of December 1914. Peter was a 22 year old Coal Miner from Minmi upon enlistment. He landed on the "Gallipoli Peninsula" on the 7th of May 1915. Peter was Wounded in Action; 1st occassion on the 14th of May and was evacuated to the 19th General Hospital in Cairo via Malta on board "B W Fringer". Whist in Alexandria Peter was received a "Court Martial" and was charged with 1/ Creating a disturbance in Alexandria on the 11th of August 1915. 2/ Threw a Bomb at a shopkeeper. 3/ Absent without leave in Alexandria until apprehended by Military Police.
His punnishment was "6 months Hard Labour". His sentence was commuted to 5 days by Brigadier General C McGregor. On the 16th of October 1915, Peter preparing for overseas service at Mustapha where he was confind to the Base Compound when he faced another "Court Martial" and was charged with; 1/ Absent Without Leave from base 10:00pm-11:20pm. 2/Drunk in Town, 23/10/1915. His punnishment was 7 days confined to the base compound and 5 shillings.
On the 6th of November Peter was admitted to the Mustapha General Hospital with a Sprained Ankle and then he was transfered to the 19th General Hospital. Peter was discharged for Mustapha on the 17th of December where he again suffered a Sprained Ankle and was treated for Gonoroea. Peter was again in trouble the next days later and on the 20th of December he was charged with being drunk in Alexandria about 8:55pm on the 18th of December 1915. His punnishment was deprived 1 days pay.
Peter was again admitted to Hospital, this time it was the 17th Generla Hospital suffering from Venereal Sore's & Gonorhoea. He was discharged to duty on the 16th of February and transfered to the 42nd Divisional Base Depot at Mustapha on the 24th. But the next day Peter received a General Field court Martial at Mustapha, Alexandria. He was sentenced to 2 months Hard Labour which was confirmed by Lieutenant Colonel R Fowler Butler.
1/ When on Active Service, Drunkeness in that he at Alexandria at about 6:40 pm was drunk. 2/ Absenting himself without leave in that he at Alexandria at about 6:40pm was found without a pass and without leave when apprehended by Military Police. 3/ Resisting an escort whose duty it waso apprehend him, in that he at Alexandria at about 6:40pmpm. Violently resisted arrest by the Military Police by kicking and fighting. 4/ Committing a civil offence, that is to say, maliciously injuring property at Alexandria, in that he when being conveyed in a cab to the main guard, maliciously damaged the lamp. splash board and railing of the cab.
Peter was again admitted to the 17th General Hospital suffering from Gonorhoea & Venereal sore and was treated again before returning to the 42nd Divisional Base Depot at Mustapha on the 4th of March 1916. He was again charged with being A.W.O.L but the charged were squashed but on the 11th of June he was charged with being A.W.O.L. from 06:30 to 12:00 on the 11th of June 1916. He was fined 5 days Detention and 2 pounds 6 pence.
Peter was in trouble 2 weeks later on the 29th of June when he was again charged with 1/ Drunk in Ludgershall. 2/ Resisting Escort. 3/ Using Obscure and Threatning Language to an Officer. He was fined 5 Days Detention and 2 pounds 6 pence. A week later Peter found himself preparing for overseas and proceeding to the Training Battalion but was once again charged with being A.W.O.L. from 6:30 on the 26th of August till 16:00 on the 7th of September. He found himself proceeding overseas for France on the 16th of September 1916.
Peter joined the 2nd Battalion in the field Belgium on the 29th of September and was sent to Command Divisional School in France on the 5th of February 1917. He was charged again on the 31st of March with 1/ Leaving Camp withou permission. 2/ Absent from 9:00pm until 9:40pm on the 30th March 1917. Peter was fined 7 Days Pay. A few months went buy but Peter was again charged with being A.W.O.L. on the 12th of April 1917. He was charged with being out of camp and remaining absent util he was apprehended by Camp police about 10:00pm on the 11th of April. Peter was awarded 14 days Camp Confinement and deprived 14 Days pay.
Peter rejoined his Battalion in the field on the 4th of May 1917 in France and remained in Action and out of trouble until he was Wounded in Action; 2nd occassion on the 22nd of September when he received a Gun Shot Wound to the Chest and was treated at the Australian Field Ambulance before being transfrered to the 17th Casualty Clearing Station and the 53rd General Hospital at Boulogne, France.
Peter was evacuated to England on the "Hospital Ship St Denis" on the 15th October 1917. Peter was treated at the 1st Auxillary Hospital and returned to Australia and was Discharged on the 26th of March 1918.
Family Information
Peter Married Eva Maud Wallbridge, on the 14th of October 1922 in Newcastle, New South Wales, Australia. Peter was entombed in a mine disaster on the 21st of June 1938, at the Aberdare Central Colliery. Peter survived but his brother James died as a result of the cave in. Peter showed great fortitude throughout his ordeal, even though buried beneath 50 tons of coal. A remarkable feature of his miraculous escape was that he came through without serious injury. No bones were broken, but he suffered severe bruising to both legs, and an abrasion to the scalp, and natrurally shock. Peter chanted to his rescuers, and at times directed them to their work. His escape was nothing short of a miraculous. He owed his life to the fact that the fall knocked skeleton timber onto a skip adjacent to where he was working, thus forming a protective cover over him. Peter was caught by the fall, knocked sideways against the skip, with his legs being pinned by two large slabs of timber,which later delayed his rescue for some time.
Peter Harrower was brought from the mine at about 9:40pm and the body of his brother James extricated about 11:00pm. The body of James Harrower was lying on his face when found, his position suggested that he had received a warning of the fall and started to run through the cut-through. When comfortably placed in bed at the Cessnock Hospital, Peter Harrower was reminded of the old song "Old Soldiers Never Die" to which he wimsically replied "No, we are tough, ain't we?". Peter Harrower was indeed an old soldier. He had been a miner at Minmi two decades earlier when he enlisted in the A.I.F., and fought in the Great War, serving in the famous 2nd Battalion,who fought at Gallilpoli, France and Belgium.
Peter, who had been buried once during the war, remarked to one of his rescuers "I wasn't nearly as afraid as when I was buried at the war. When I was buried then, I thought about my childhood and many other things, but this time, I was confident you'd get me out. That's all I thought about. From his hospital bed Peter also said " I've been in some tight corners, but this one was the toughest. "when I was hedged in, and could hear all of the falls of coal, I thought to my self, it's all up this time". When the men first got to Peter they were amazed at his calmness and lack of panic. He said he had always been confident of being rescued, and didn't have the slightest fear about it. Peter told rescuers that he knew his brother James was gone from the start. Peter said "There was nothing on his side of the skip to protect him". Doctor T.R. Steel and bearers of the Cessnock Ambulance, who went down the mine earliy in the afternoon attended Peter when he was released. I was a long way to the pit top. Peter was carried a mile and a half by S. Williams, J. Legge, H. Sanderson, A. Hitchcock, A. Bullen and T. Brennan, who worked in relays of about half a mile each.
The many hundreds of people who gathered at the pit top serged towards the shaft staging when it was announced that Peter Harrower was being carried out. As he was carried through the crowd, there were cheers and calls to him. Covered in coal dust, with a cigarette in his mouth he happily answered to his friends. From pit-top he was taken to the colliery Ambulance Room, and then transported to Cessnock Hospital by Cessnock Ambulance. The crowd followed the stretcher-bearers to the ambulance and then the rush was on, to catch a glimpse of Peter through either the vehicle's windows or the doorways. The first thing Peter asked for was a fresh piece of chewing gum, which was supplied by a young friend. "Make sure my tobacco and matches are under the blankets" he instructed an ambulance man, indicating he still had a good presence of mind. Peter died on the 24th May 1952, in Cessnock, New South Wales, Australia.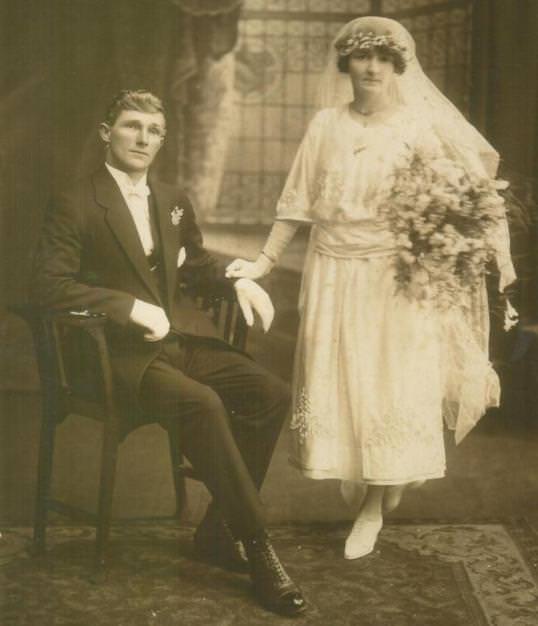 Peter and Maude on their Wedding Day 1922
Andrew and Charlotte Harrower had 7 children. Alexander Harrower born 1889 at Wollongong, N.S.W. Birth Cert:24320/1889 and died in 1967 at Newcastle. Death Cert:32592/1967. Andrew Harrower born 1892 at Minmi, N.S.W. Birth Cert: 22667/1892 and died at Cessnock in 1952. Death Cert:14647/1952 "records show name as Peter" but no record of a Peter being born to Andrew and Charlotte. James Harrower born 1894 at Minmi, N.S.W. Birth Cert:21172/1894 and died in a "Mine Accident" at "Aberdare Central Colliery" in 1938. Death Cert:19170/1938. Janet Sharp Harrower born 1897 at Minmi, N.S.W. Birth Cert:14052/1897 and died in 1971 at Cessnock. Death Cert:14052/1897. Douglas Harrower born 1899 at Minmi, N.S.W. Birth Cert: 32251/1899 and died in 1970 at Cessnock. Death Cert:35482/1970. Alma Harrower born 1902 at Minmi, N.S.W. Birth Cert:14040/1902and died in 1902 at Minmi, N.S.W. Death Cert:10023/1902. Stanley Harrower born 1904 at Minmi, N.S.W. Birth Cert:34205/1904 and died in 1969 at Cessnock. Death Cert:33196/1969.
There is recorded a Andrew Harrower who was the son of Andrew and Charlotte Harrower who died in 1938 at Mayfield, N.S.W. Death Cert:22809/1938. "Peter Harrower" was born in 1892 but no record of a birth under that name is registered but there is an Andrew Harrower both being the son's of Andrew and Charlotte
Military Records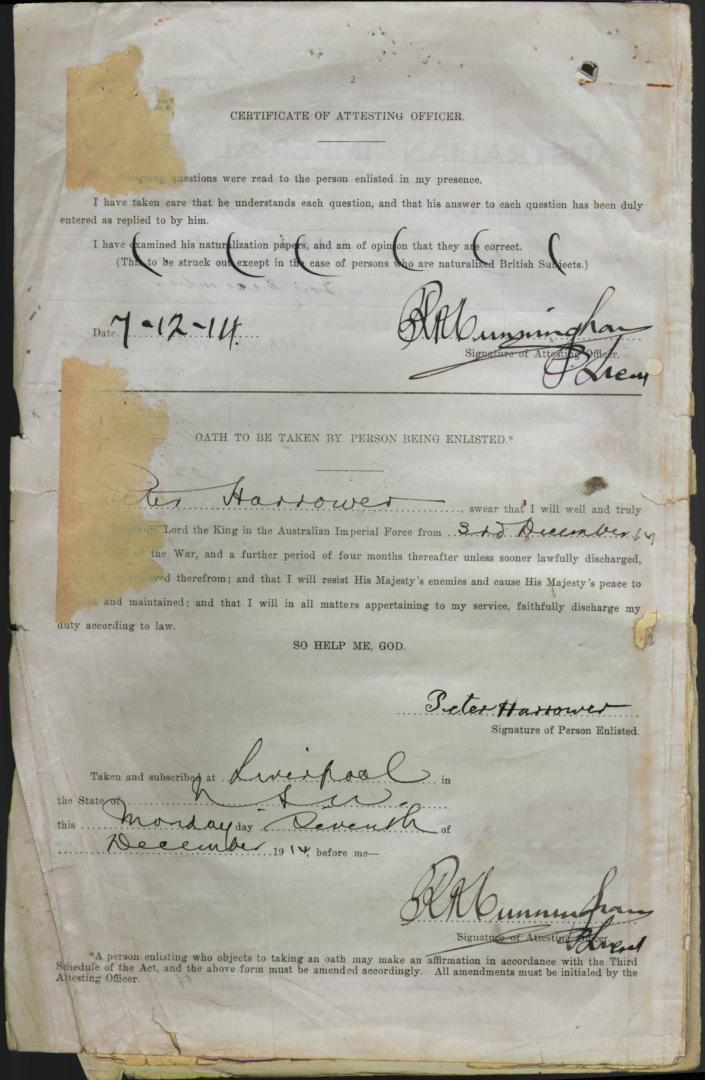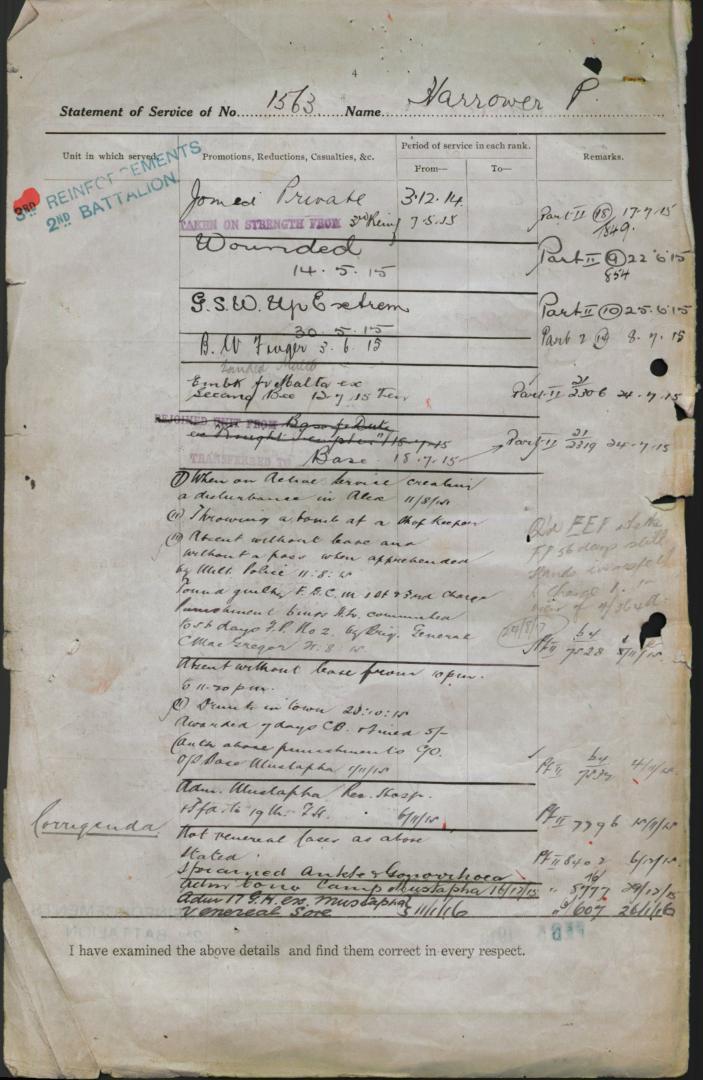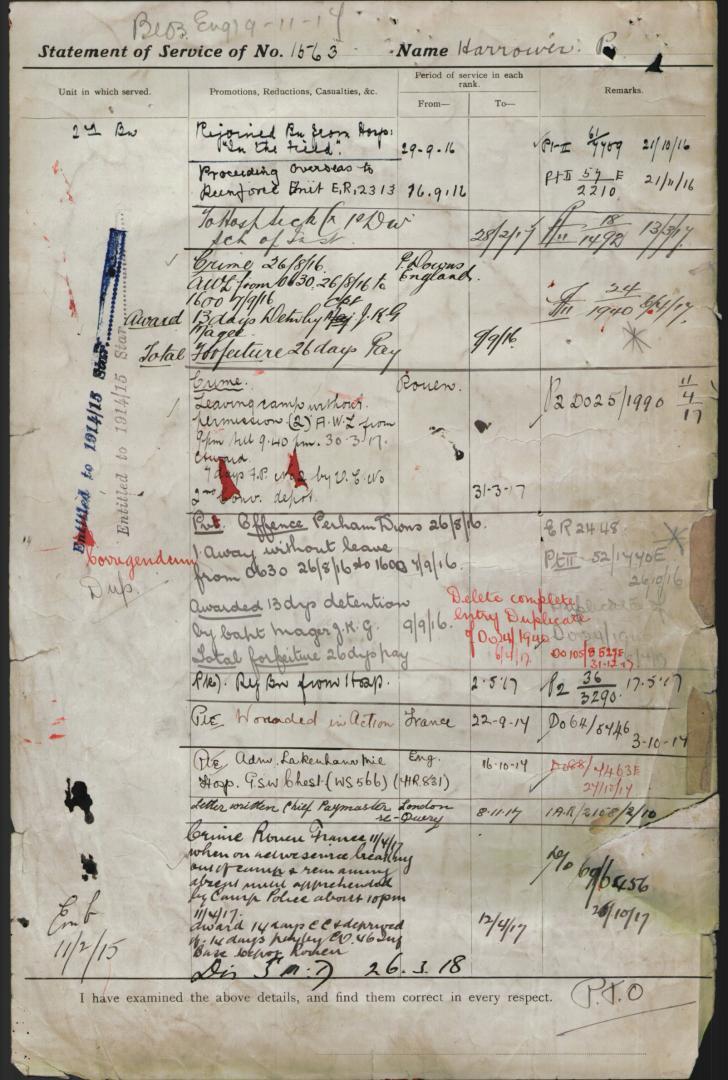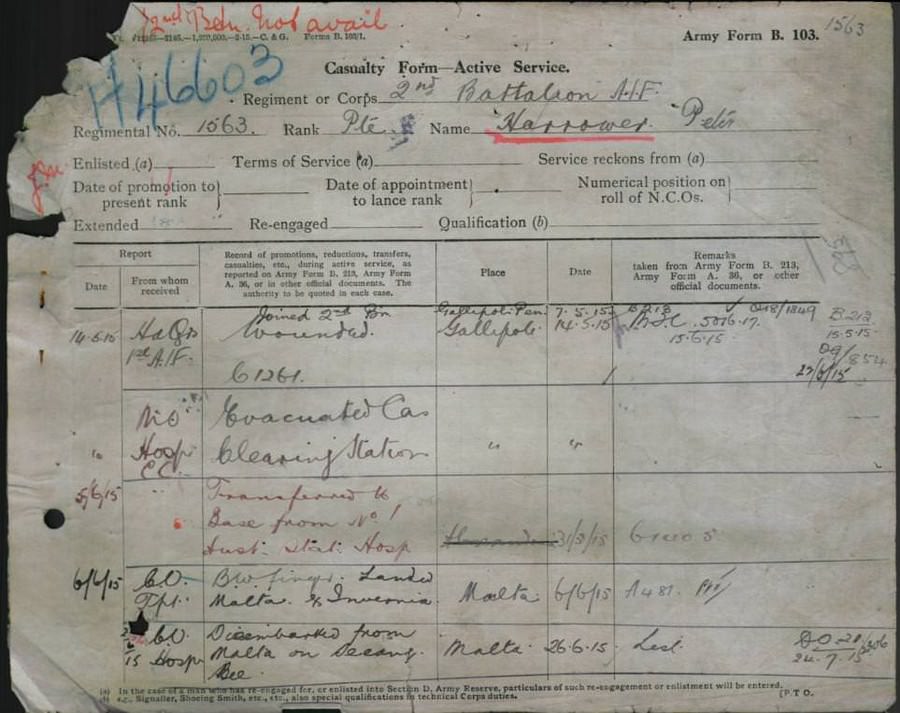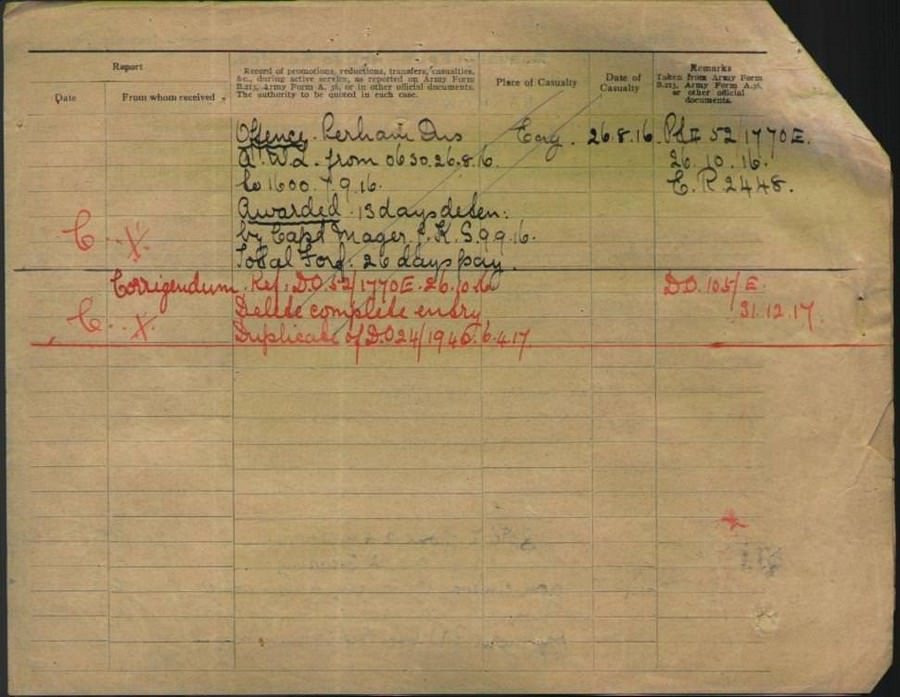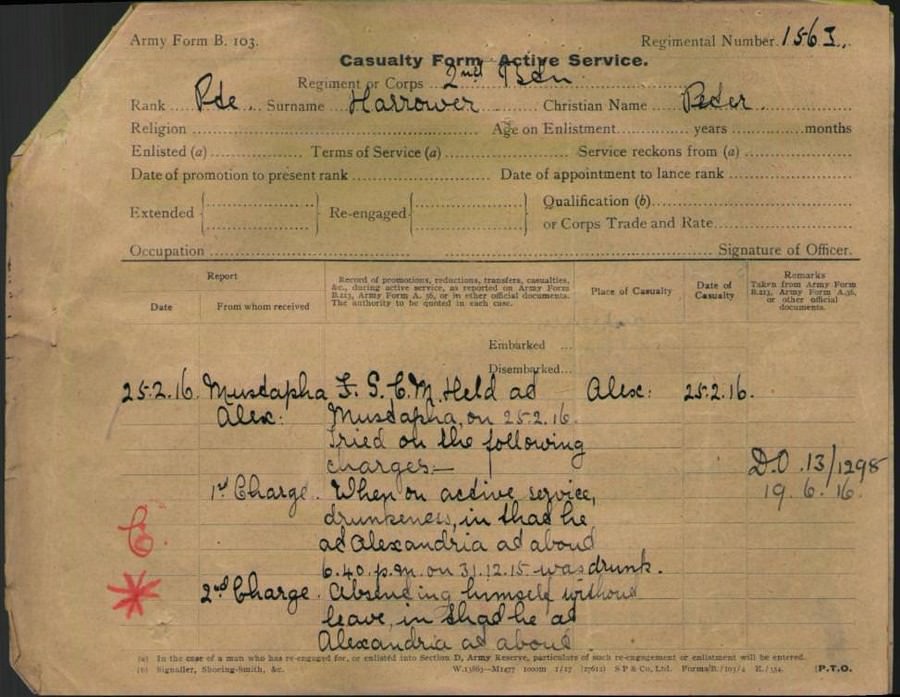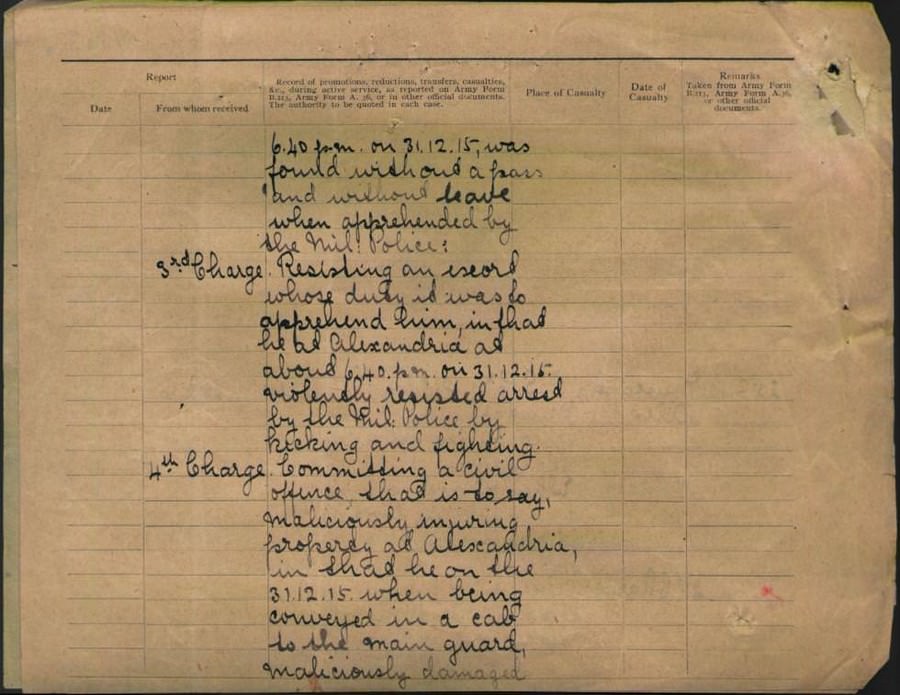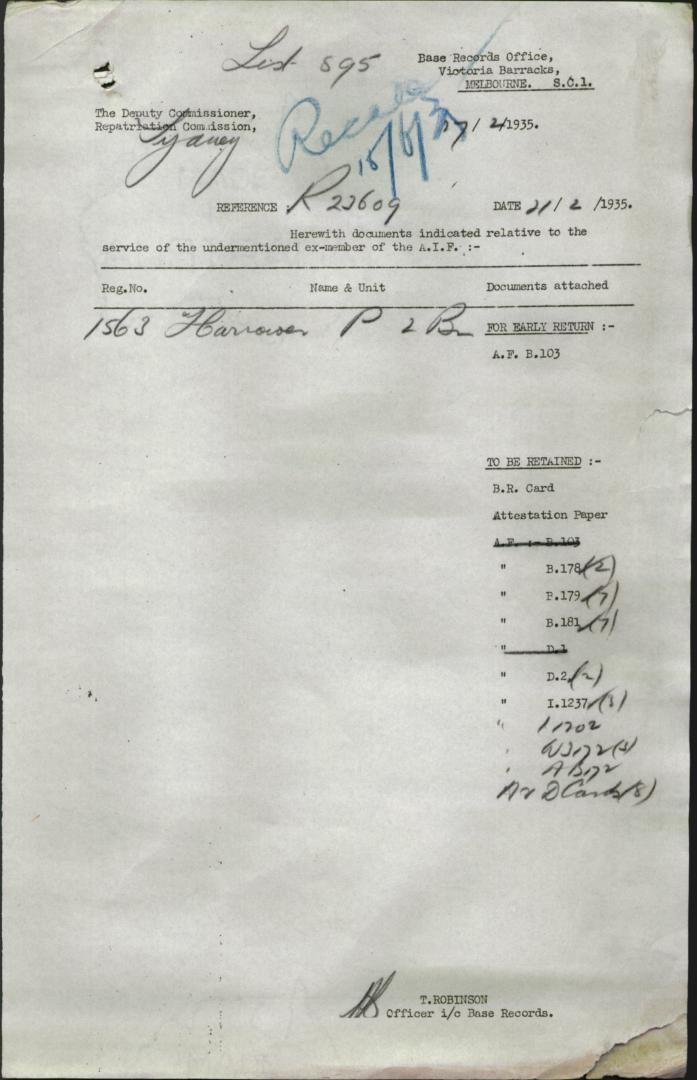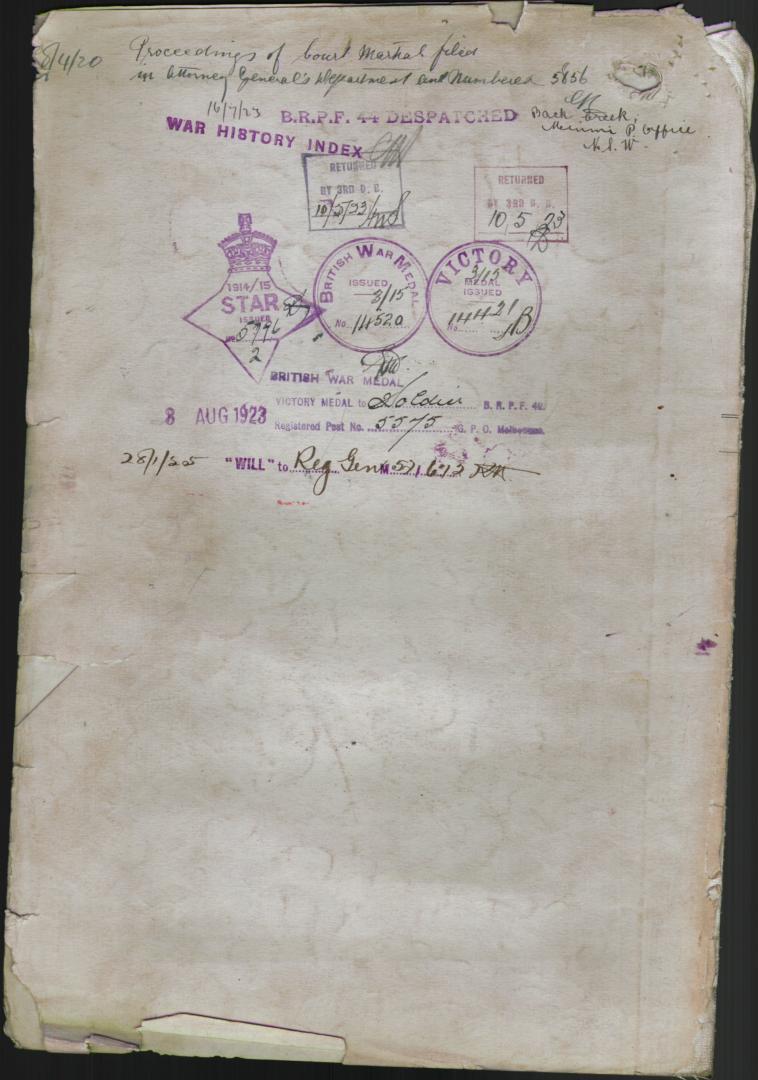 Under Construction 31/05/2007
---
Web Counter
---