George Harrower enlisted with the 8th Stores Depot, Royal Australian Air Force in 1940 and was discharged on the 30th of November 1945.
Officers School of Instruction 1940
George Harrower; Senior Cadets, Bathurst NSW 1917.
43rd Infantry Regiment (Werriwa)
Flight Officer: George Harrower with transport staff in front of a DE HAVILLAND DH-84 Dragon Rapide Biplane. 1944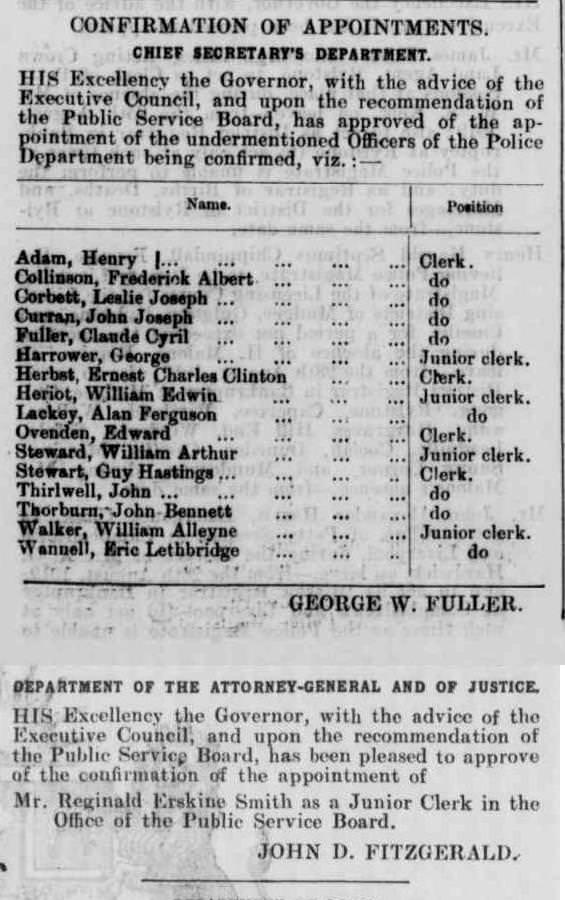 Friday 5th September 1919. N.S.W. Government Gazette: 220 Supplement Page 5038.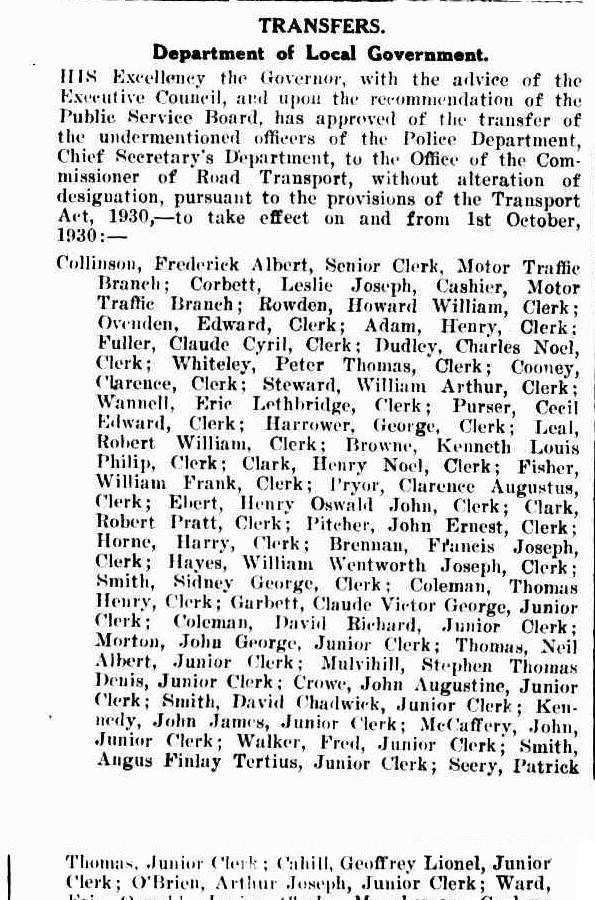 Friday 17th October 1930. N.S.W. Government Gazette: 158 Supplement Page 4370.

Funeral Notice. Manly Daily.
George was the second child of eight to Francis Sharp and Mary Borland Harrower. George was born at Back Creek, Minmi. N.S.W. Australia on the 15th March 1901, the year of Federation of Australia. George was educated at Bathurst High School, were he came second in his final year and was awarded a gold leaf red leather bound copy of the complete works of Roby Burns, the famous Scotish Poet. George married Florance Ethel Downton on the 26th of September 1925 at Parramatta, N.S.W. Australia. George was a Presbyterian and Florance was a Baptist, therfore the parents from both families did not approve and the only family to attend was Agnus Harrower, George's younger sister and Reginald Downton who was Florance's older brother. George became a public servent, working under the N.S.W. Police Department who were in charge of all registrations of motor vehicles, trams and busses. George was also an S.P. bookie, and made more money on the punt as he did at his day job. I was told a story of the friday George was closing the gates to the registary car park when a car drove up and a young man got out and said to George " excuse me mister I need to re-new my licence as I need to drive to Newcastle tomorror". George replyed "give me your paperwork and money and I'll get it fixed up for you". George returned a short time later and handed the young man his new drivers licence. The man thanked George and said " by the way mister do you have a punt on the horses". George was never one to refuse a tip on a horse. He said " I've been known to have the odd bet from time to time". with that the young man said " well then I'm riding in Newcastle tomorrow and and this horse I'm on is'nt all that flash but the rest of the field is no better, it would'nt do you any harm to put a couple of quid each way ". George did more than that he put 10 pound on the nose to win, plus got a commission on the bet. Well the horse won and paid the odds of 100/1. George always stated that he made more money in the depression years than at any other time. His first car was a 1927 Daimler registration number GH-000, which was paid for from money he made on the races at Randwick races one weekend.
George said the names just came to him, he would wake up in the morning and a name or something would be in his head and he would study the form guide and there it was?, so he had a bet. Before the second world war George worked as the purchasing officer in charge stores and clerical staff for the Police and Transport Departments in head office Sydney, from 1927 until 1941. George enlisted into the R.A.A.F on the 14th of April 1941 as a Pilot Officer, Promoted on the 14th of January 1942 to Flying Officer and was commissioned to the rank of Flight Lieutenant, in the Royal Australian Air force on the 1st of August 1943. Between 1941-45, George was posted at 2 Aircraft Depot, Richmond, N.S.W., 2 Stores Depot, Waterloo, N.S.W., 7 Stores Depot, Townsville, Thursday Island Queensland and 2 Transport Depot, Cootamundra, N.S.W. His servise number was 262844. George was Discharged from the R.A.A.F. on the 30th of November 1945. George was the first Treasurer at the Blacktown R.S.L., where he spent many a hour having a drink and taking bet's on the races for the patrons of the club. George purchased property at Blacktown and along the Parramatta River. He received some insider information when the N.S.W. Government was concidering putting in a railway line along the North Shore to Palm Beach, and so he purchased land in the path of the proposed lines. But after a number of years the Government decided not to go ahead with the proposal, so George sold the land and bought about 5 acres of land at south Creek Road, Dee Why, and a block at 56 Howard Avenue. this he would later give to his son as a wedding present. After his son Ken moved to Dee Why, so to did George and Florence, they sold there home "Kenilworth" at 18 Patrick Street, Blacktown, N.S.W. and they bulit thier home on the 5 acres from Pacific Parade to South Creek Road. It was a single story duble brick home with large sandstone foundations, the garage and work shop was underneath the house. there were three large bedrooms, seperated lounge, dinning and sitting rooms, and the kitchen and laundry was at the rear of the house. There was a creek running through the property and as a child I would play there and always get in trouble. In 1970 George and Florence moved to 5/26 Richmond Avenue, Dee Why, N.S.W. 2099. They lived there for nearly 20 years together until Florence passed away on the 14th May 1989. George lived alone for nearly three years before moving into the War Veterans Retirement Village at Colloroy Plateau, Tobruk 57, in 1993.
George died on the 18th of February 1996, at Mona Vale Hospital. He said to his son Ken that he would have liked to have made it to his 95 birthday which would have been on the 15th of March that year. George was cremated at the Western Chapel, Northern Suburbs Cremetorium at Lane Cove, N.S.W. His ashes wearn't scattered until the 20th of August 1996 at the Minmi Cemetery at Back Creek, Minmi, N.S.W. were George was born in 1901. His ashes were scattered by his son Kenneth George Harrower and Grandson David John Harrower.
Military Records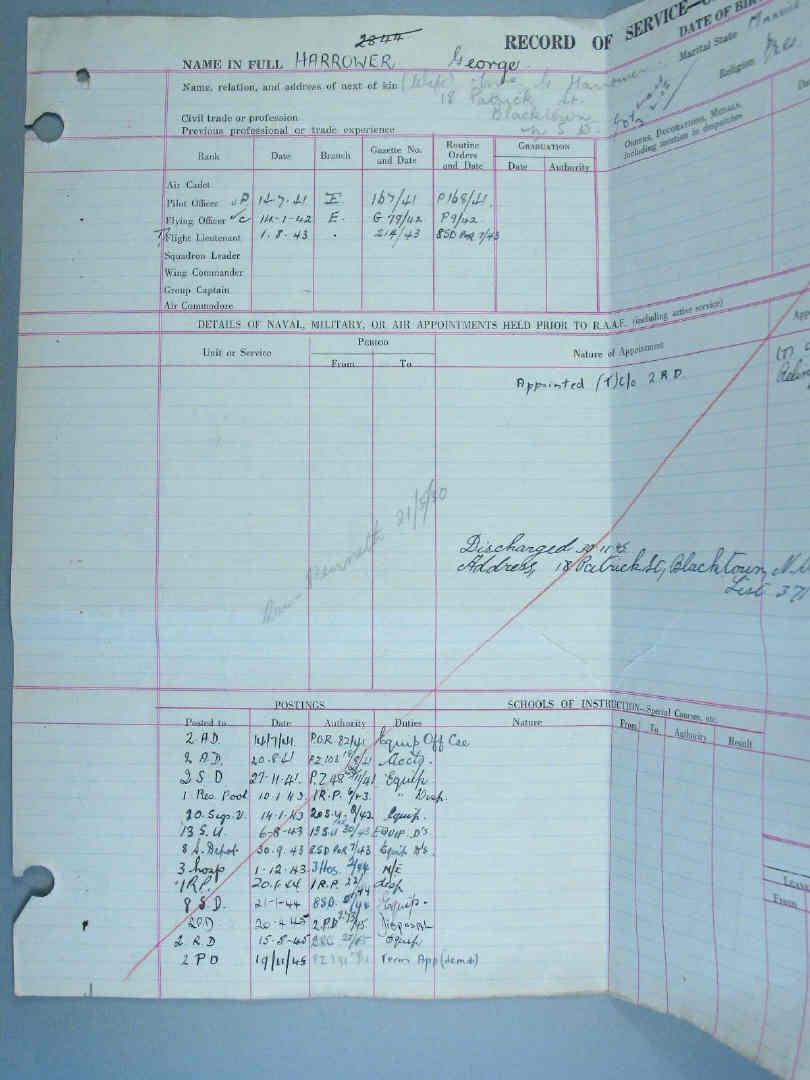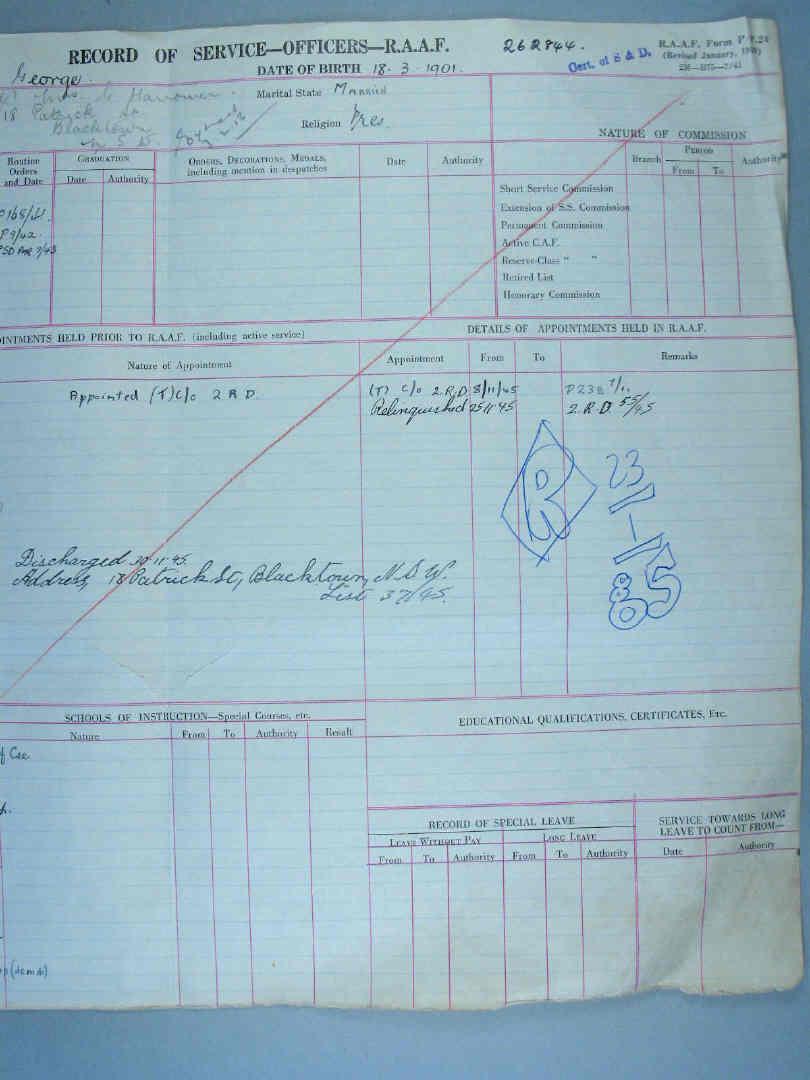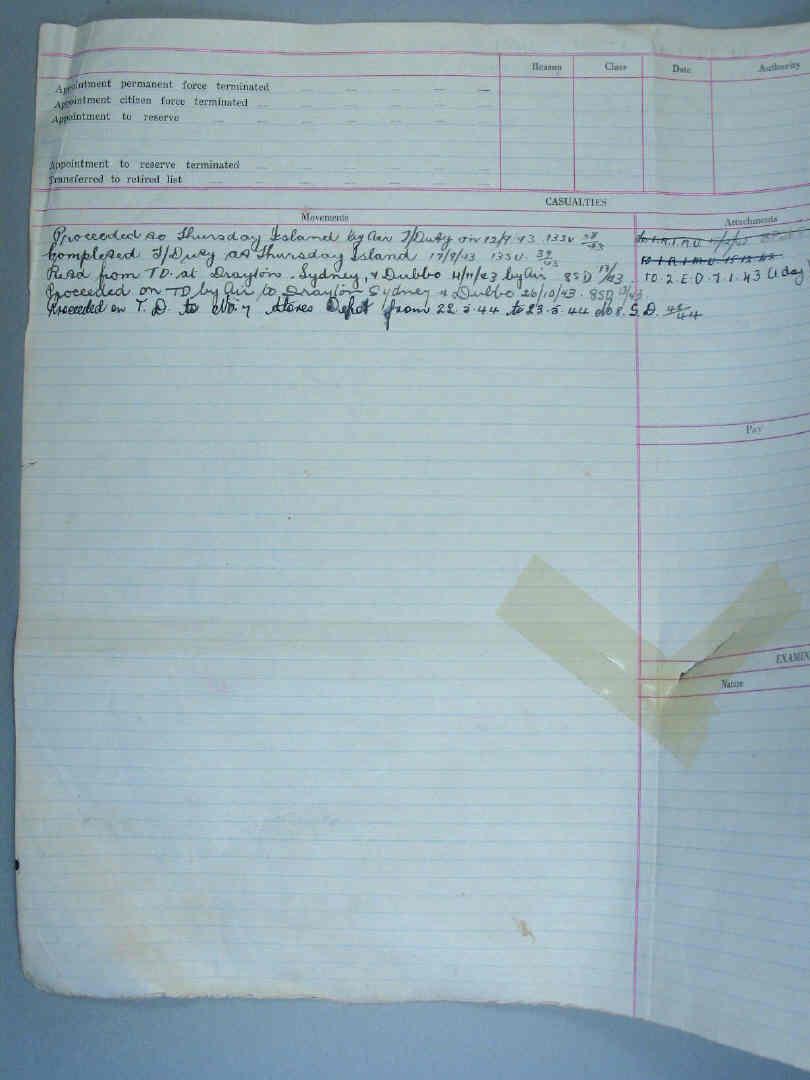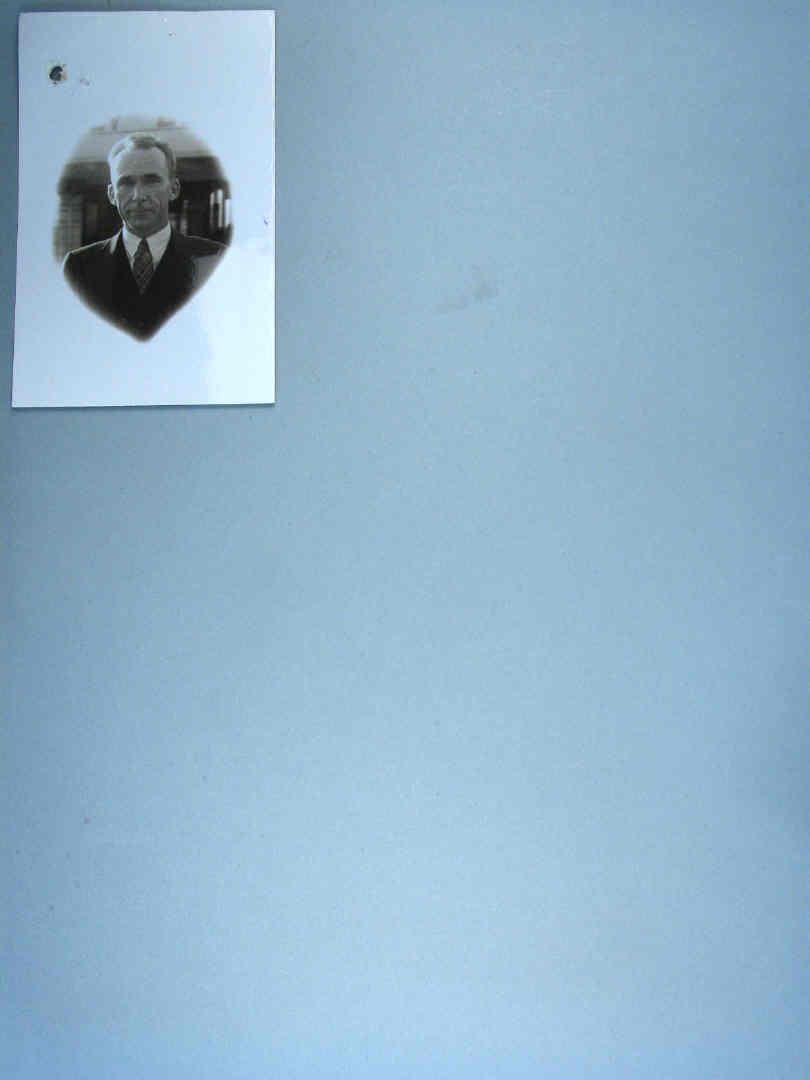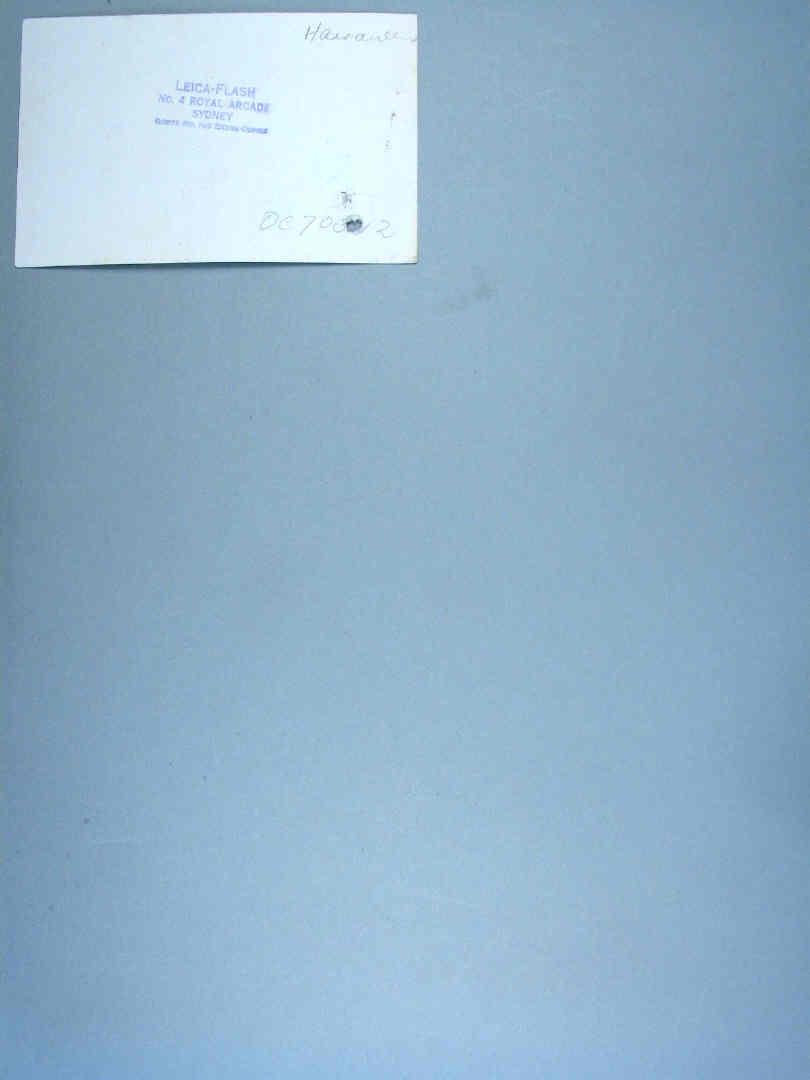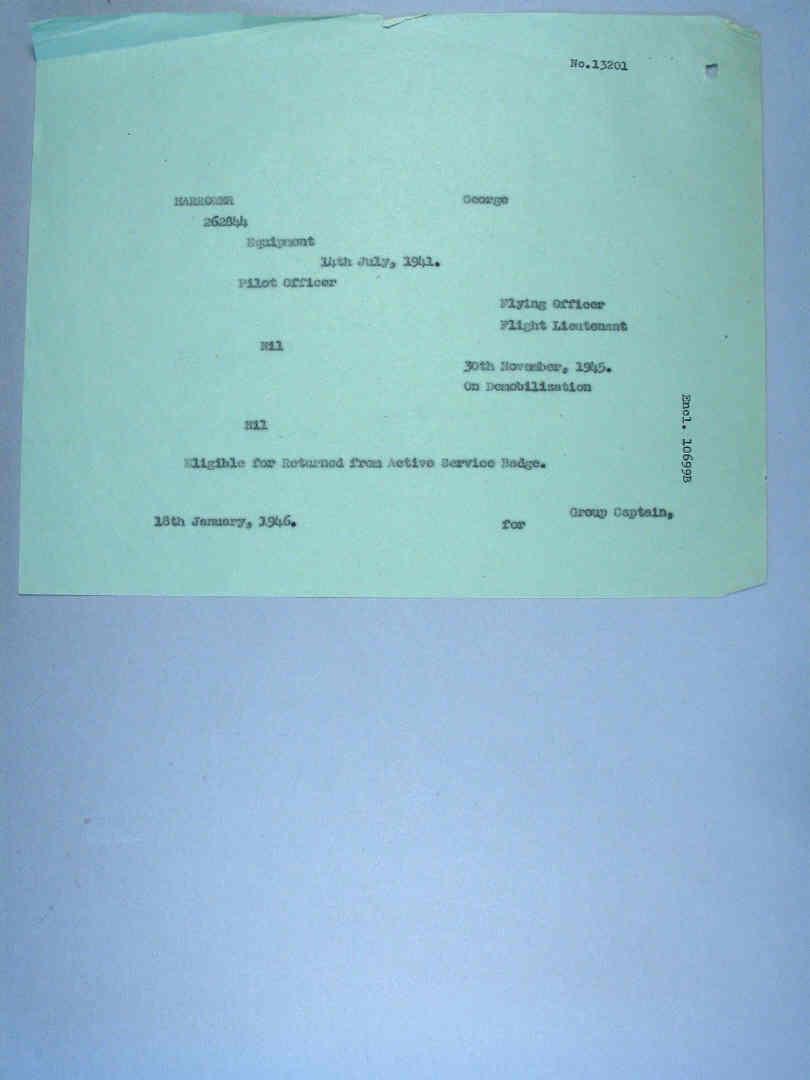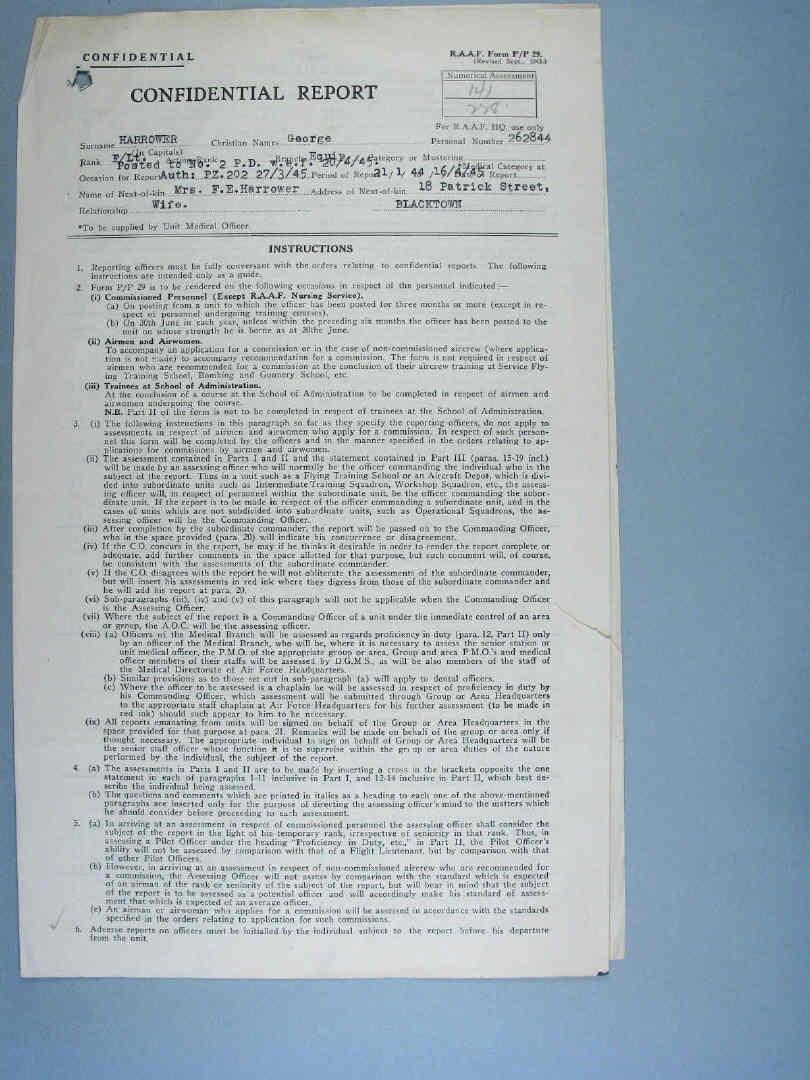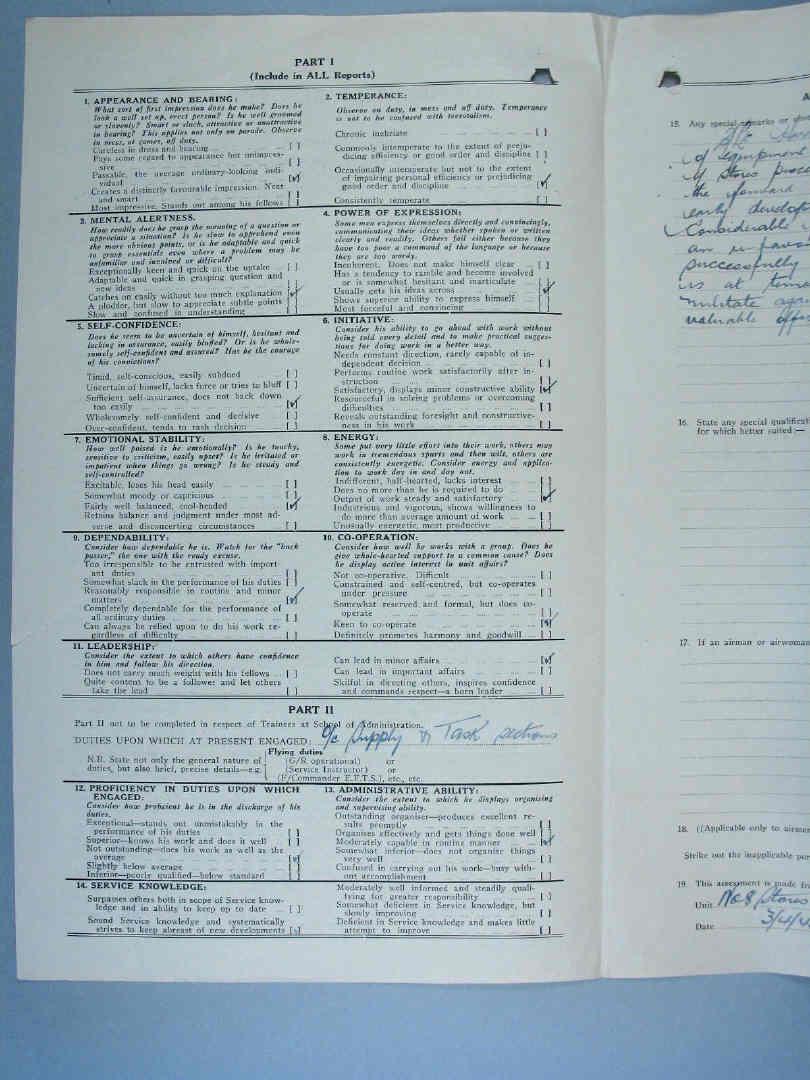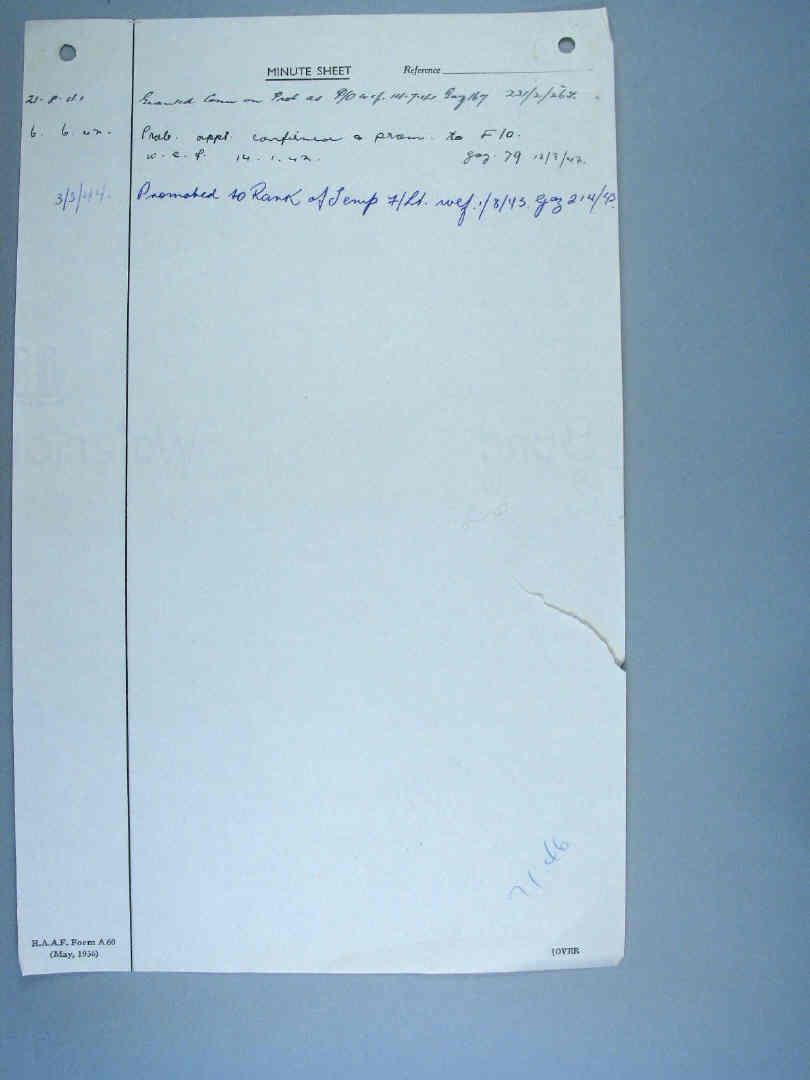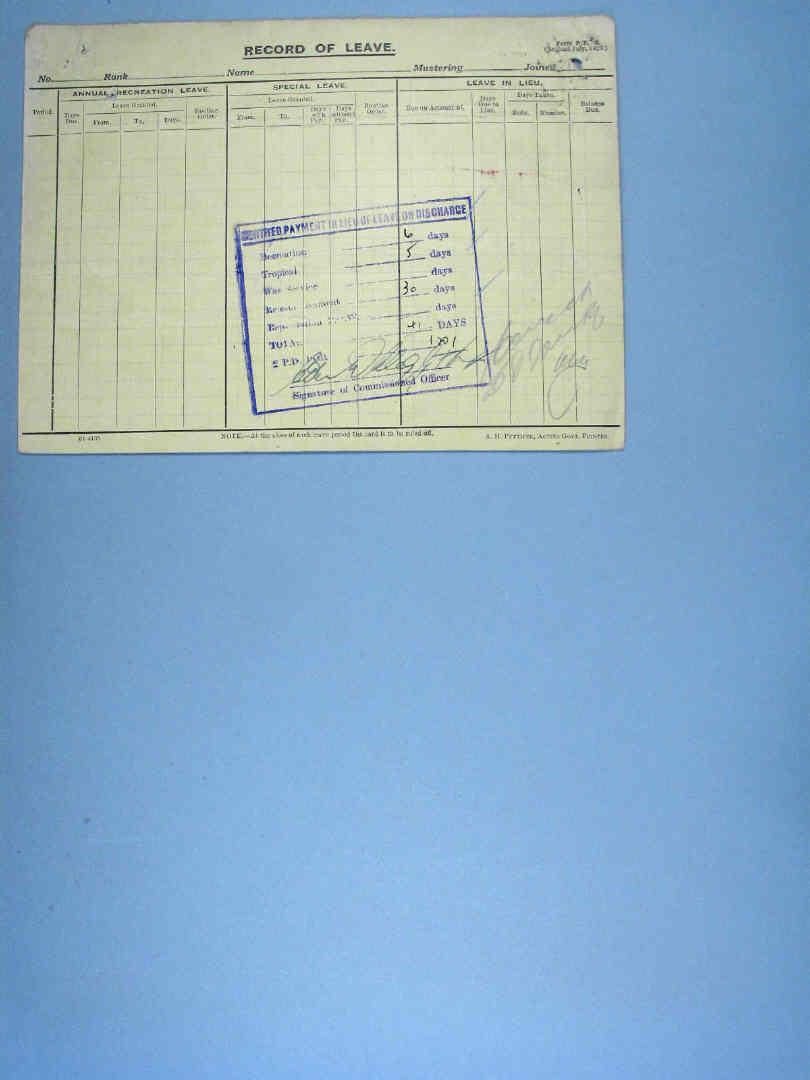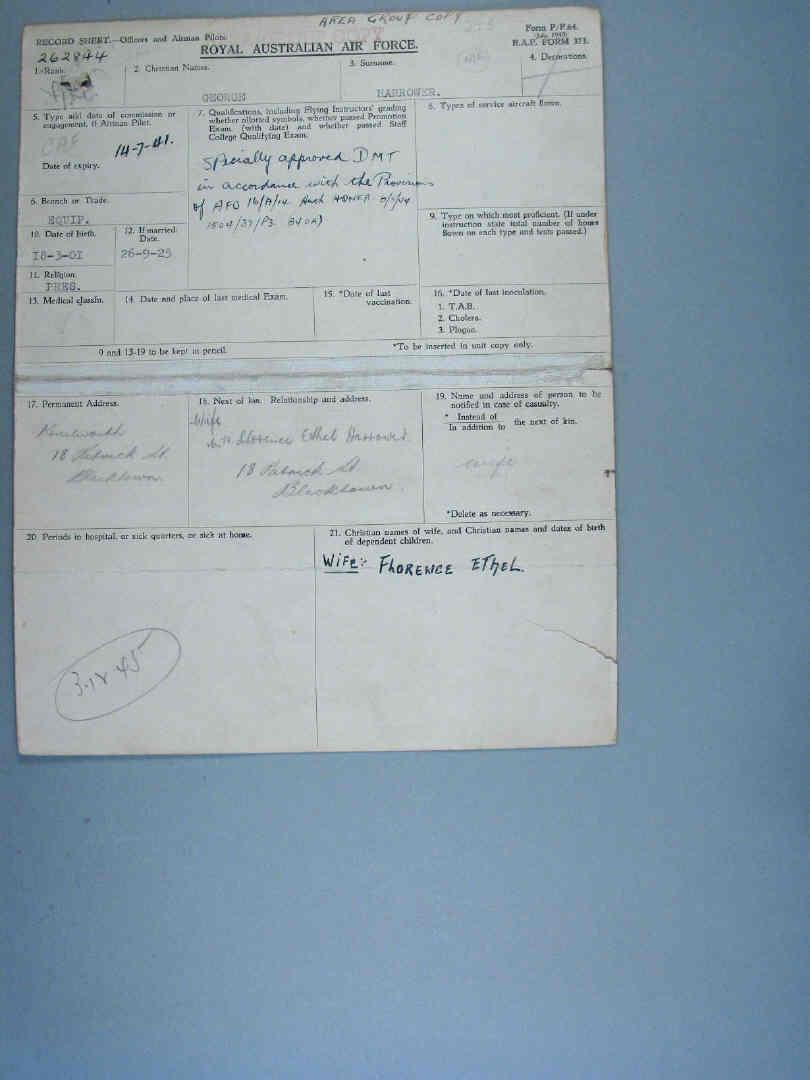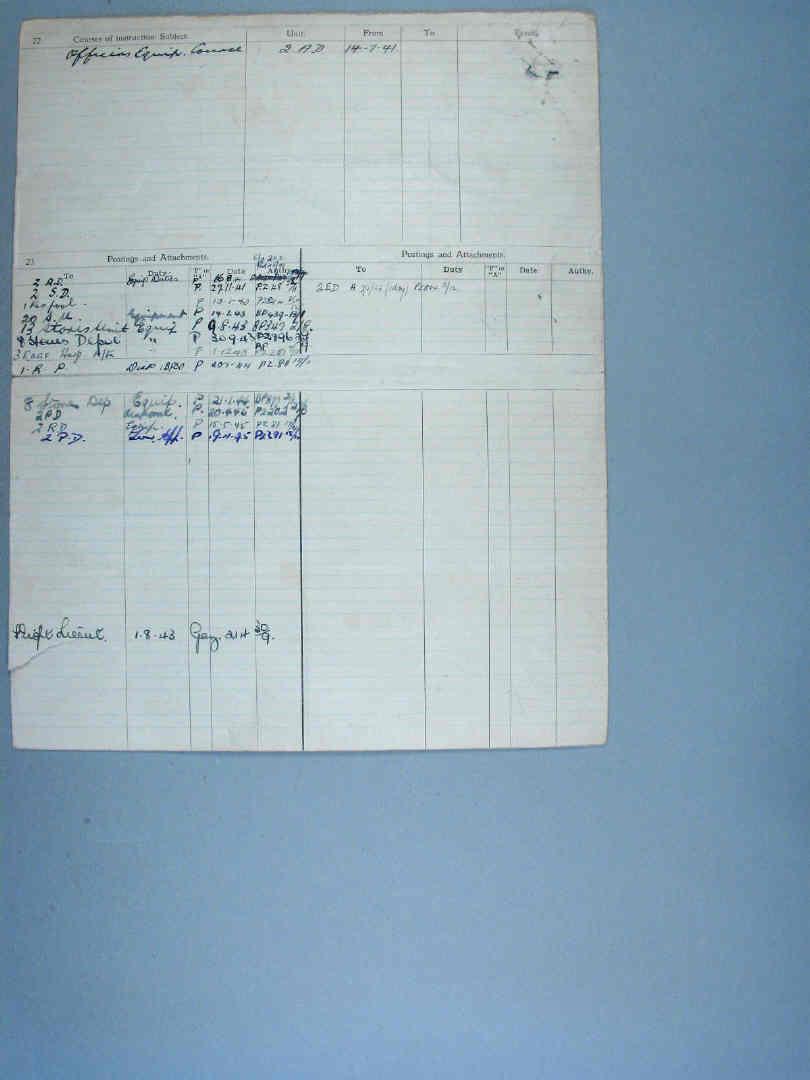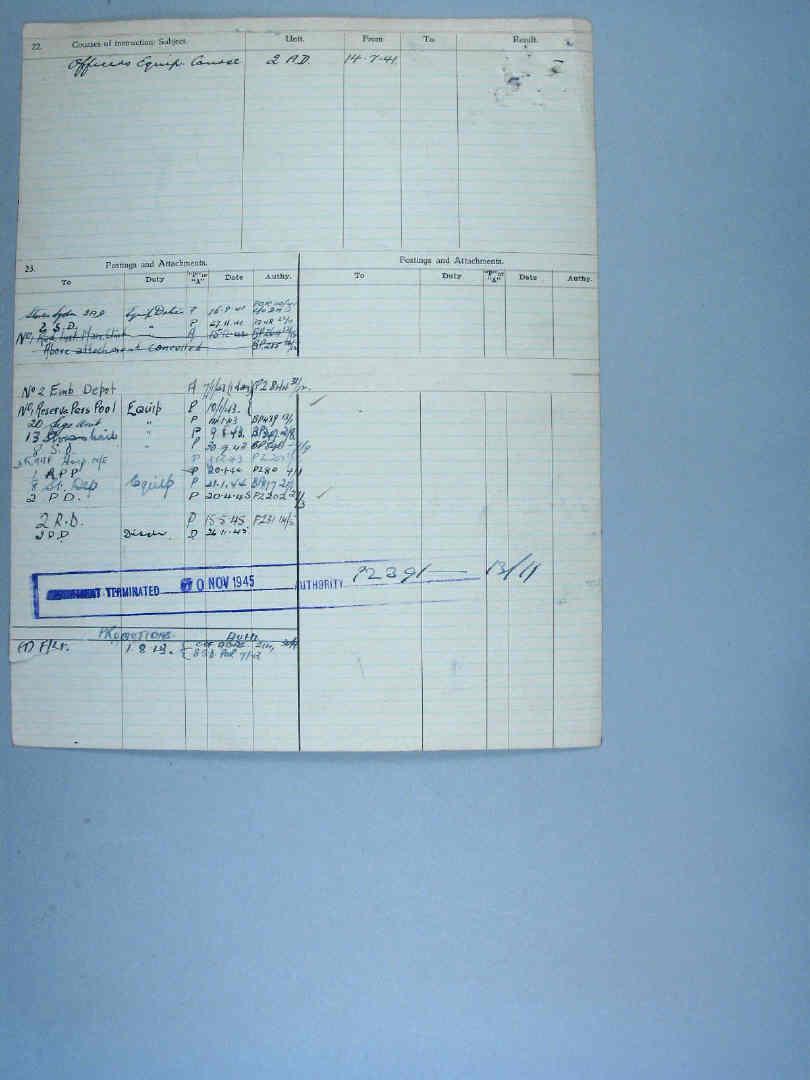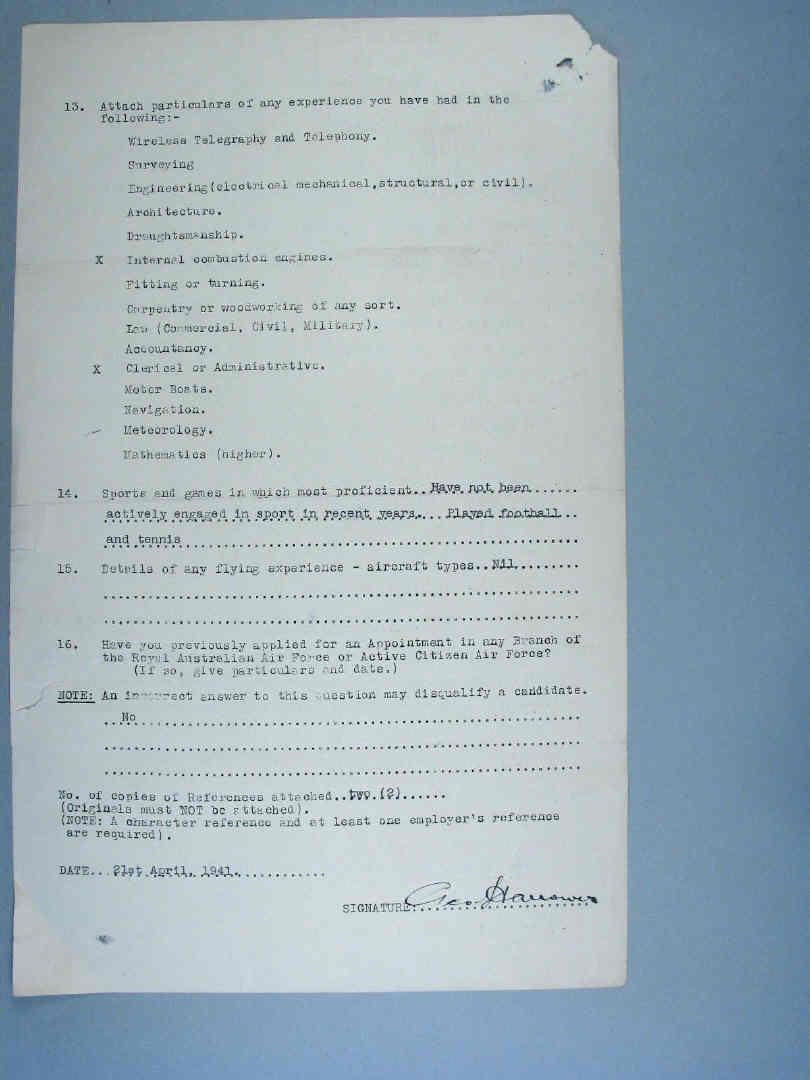 © Commonwealth of Australia (National Archives of Australia)
Under Construction; 04/06/2007-8/11/2016.
---
Web Counter
---