Arthur Charles Hall enlisted with the 6th Reinforcements, 54th Battalion AIF on the 3rd of April 1916 and left Sydney on board HMAT A40 "Ceramic" on the 7th of October 1916 and disembarked at Plymouth, England on the 21st November 1916.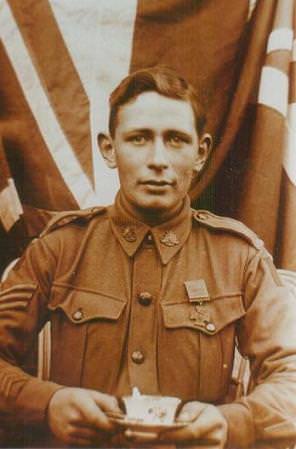 Arthur Hall V.C. after he was presented his Victoria Cross form King George V
(Photo courtesy Dennis Hall, Arthur's Son.)
11/09/1918.
Arthur Hall VC Way Dedication.
VICTORIA CROSS
54th Battalion AIF. Corporal: 2631 Arthur Charles HALL. For most conspicouous, brilliant leadership and devotion to duty during the operations at PERONNE on the 1st and 2nd September 1916. A machine gun post in the enemy front line was holding up the advance, alone this N.C.O. rushed the position, shot 4 of the occupants as he advanced and captured 9 others and 2 machine guns. then crossing the objective with a small party he reconnoitred then approached to the town covering the infiltration of the remainder of the Company. During the mopping up he continously, in advance of the main party located the enemy posts of resistance and then personally led parties to the assault. In this way he captured many small parties of prisoners and machine guns.
On the morning of the 2nd September, during a heavy barrage on the newly consolidated position a man of his platoon was severely wounded. Seeing that only immediate medical attention could save him. Corporal HALL volunteered and carried the man out of the barrage, handed him to a stretcher bearer and immediatley returned to his post. This company was heavily engaged throughout the day, only one Officer remained unwounded. The energy and personal courage of this N.C.O. undoubtedly contributed largely to the success of the operations. Throughout the operations he showed utter disregard for danger, and under trying conditions behaved in a most gallant and skilful manner. His daring, coolness and self-sacrificing devotion to duty compelled the admiration and confidence os all associated with him.
Brigadier General: Edwin TIVEY. C.B.-D.S.O.-V.D.-C.M.G. Commanding Officer 5th Australian Division.
London Gazette 14th February 1918. Page 14778 Position 1.
Commonwealth of Australia Gazette 23rd of May 1919. Page 886 Position 4.
Returned to Australia on the 8th of May 1919.
NYNGAN WAR MEMORIAL
Family Information
Arthur was a single 19 year old Station Hand from"GLENELG STATION" South of Brewarrina, N.S.W. upon enlistment. His father owned the "GLENELG STATION" where Arthur was raised and worked. He served for 2 years with the Senior Cadets. After he returned to Australia from World war 1, Arthur returned to his father's property and worked an an overseer for a number of years before he bought the "GUNDOOE STATION" at Coolabah South of his fathers property. He married Catherine Jessie Hemington Harris and served during World War 2 with the rank of Lieutenant with the 7th Garrison Battalion Australian Militay Forces N387101. Arthur was president of the Nyngan Picnic Race Club for 20 years. He was a member of the Coolabah District Rifle Club and was a successful grazier. Arthur died on the 25th of February 1978 leaving behind his wife Catherine , his daughter Helen and 3 son's, George, Dennis and Charles. Arthur is buried at the Hall Family Cemetery at the St Matthew's Church at West Bogan on Coolabah Road Coolabah, N.S.W. He rest's with his parents and family members.
Charles and Emma Jane Hall were married in 1894 at Granville, N.S.W. Marriage Cert:3907/1894 and had at least 5 children Mary Emma Hall born 1895 at Granville, N.S.W. Birth Cert:12994/1895 and died in 1976, N.S.W. Death Cert:15541/1976. Arthur Charles Hall born 1896 at Granville, N.S.W. Birth Cert:21837/1896 and died in 1978, N.S.W. Death Cert:5658/1978. Emma Caroline Hall born 1898 at Granville, N.S.W. Birth Cert:21539/1898 and died in 1987, N.S.W. Death Cert:.../1987. Henry B Hall born 1907 at Cooma, N.S.W. Birth cert:23301/1907. Florence Mildred Hall died in 1961 at Ashfield, N.S.W. Death Cert:19557/1961.
Private: 3320 Arthur James HALL. 34th Battalion AIF. Driller, Warren, N.S.W.

GLENELG STATION
GLENELG STATION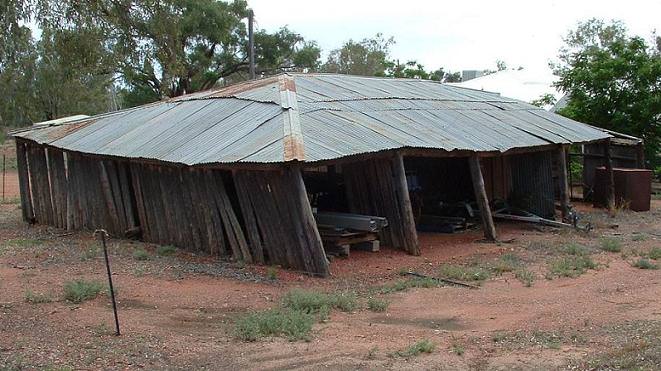 GLENELG STATION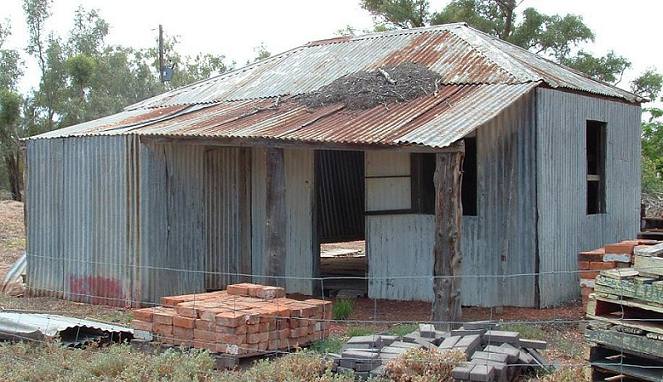 GLENELG STATION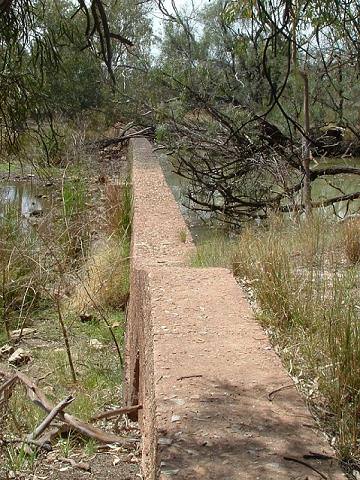 Weir built on the Bogan River cica 1882 by Chinees Labourer's. Glenelg Station
(Photo's D Harrower; 2009)
ID Number: P02939.039 Physical description: Black & white Summary: Portrait of Corporal (Cpl) Arthur Charles Hall VC, 54th Battalion. Cpl Hall was awarded the Victoria Cross for "most conspicuous bravery, brilliant leadership and devotion to duty" on 1 - 2 September 1918 at Peronne, France. On 1 September 1918, Cpl Hall single handedly rushed an enemy position, killing four and capturing nine prisoners and two machine guns. During the rest of the attack he led small assault parties, capturing more prisoners and guns. The next day he carried a wounded fellow soldier to safety under heavy machine gun fire, then immediately returned to his post. He returned to Australia and was discharged on 3 August 1919. He later served as a lieutenant in the Second World War. (Donor R. Arman) Copyright: Copyright expired - public domain
Arthur Charles Hall VC (1896-1978)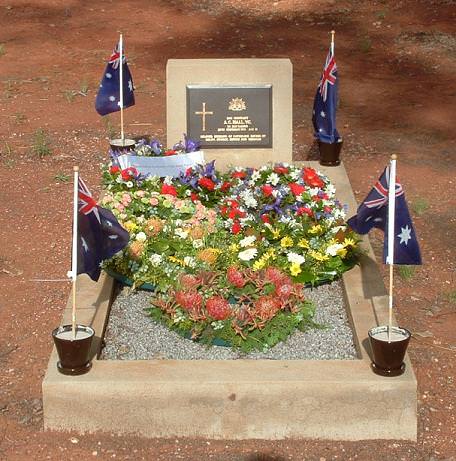 Arthur Charles Hall VC (1896-1978) St Mathews Church, Coolabah N.S.W.
Catherine Jessie Hemington Hall (1904-1986)
Family was killed when there car crashed into a bridge. Hall family.
Ella Caroline Hall (1898-1987)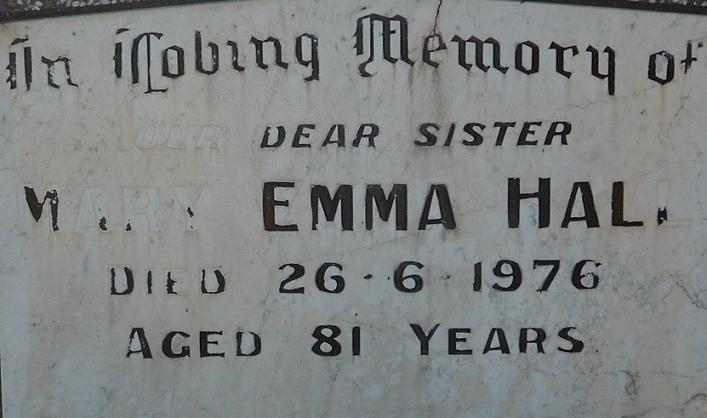 Mary Emma Hall (1895-1976)
Charles Hall (1866-1959)
Emma Jane Hall (1868-1951)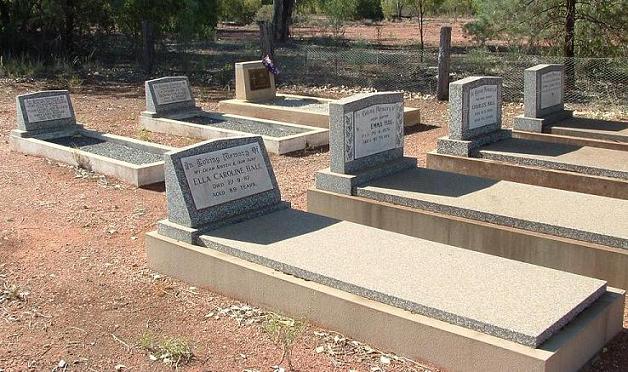 Hall Private Cemetery, St Matthews Church West Bogan, N.S.W.
(D. Harrower Nov 2009)
St Matthews Anglican Church West Bogan. Built in 1939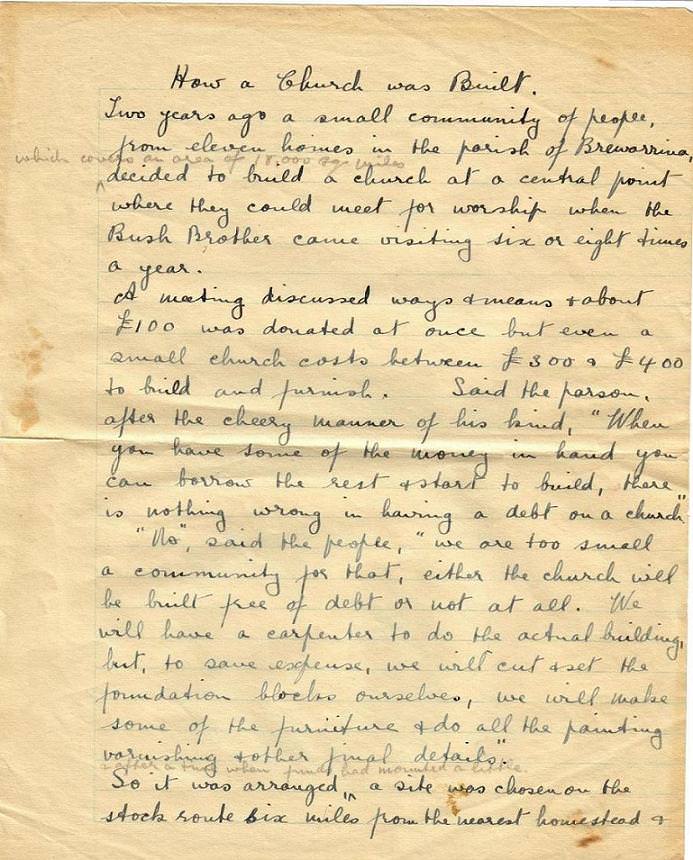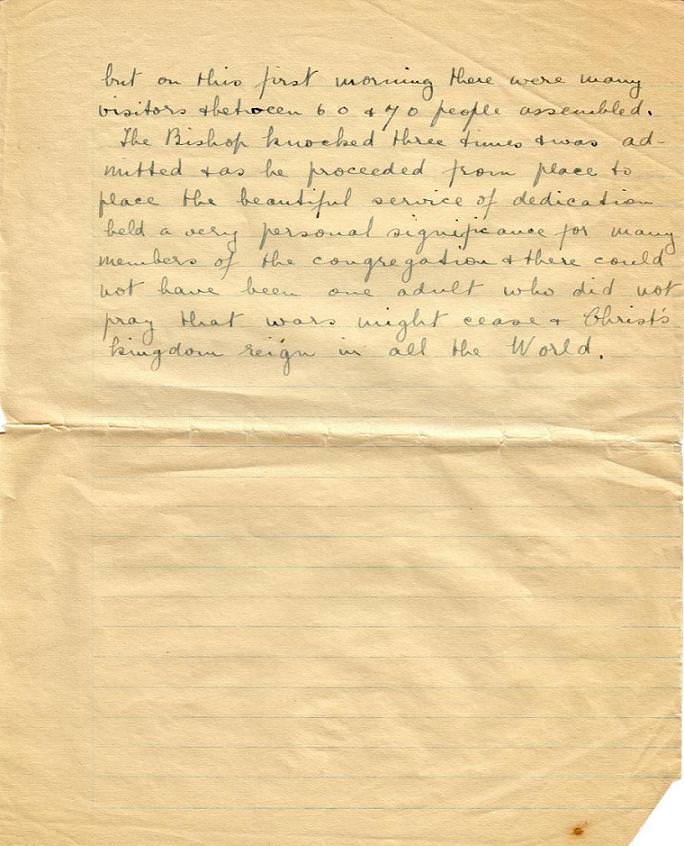 Construction of the West Bogan Church and Dedication.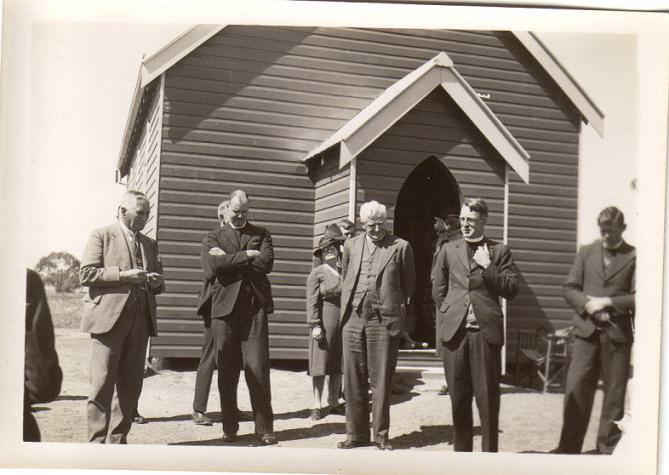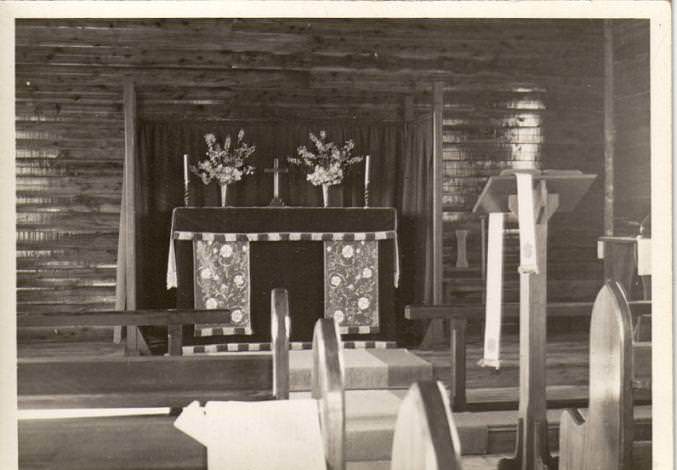 (Letter and photos courtesy by Trish and Stuart McAlpine, Bogan Downs;2011)
Military Records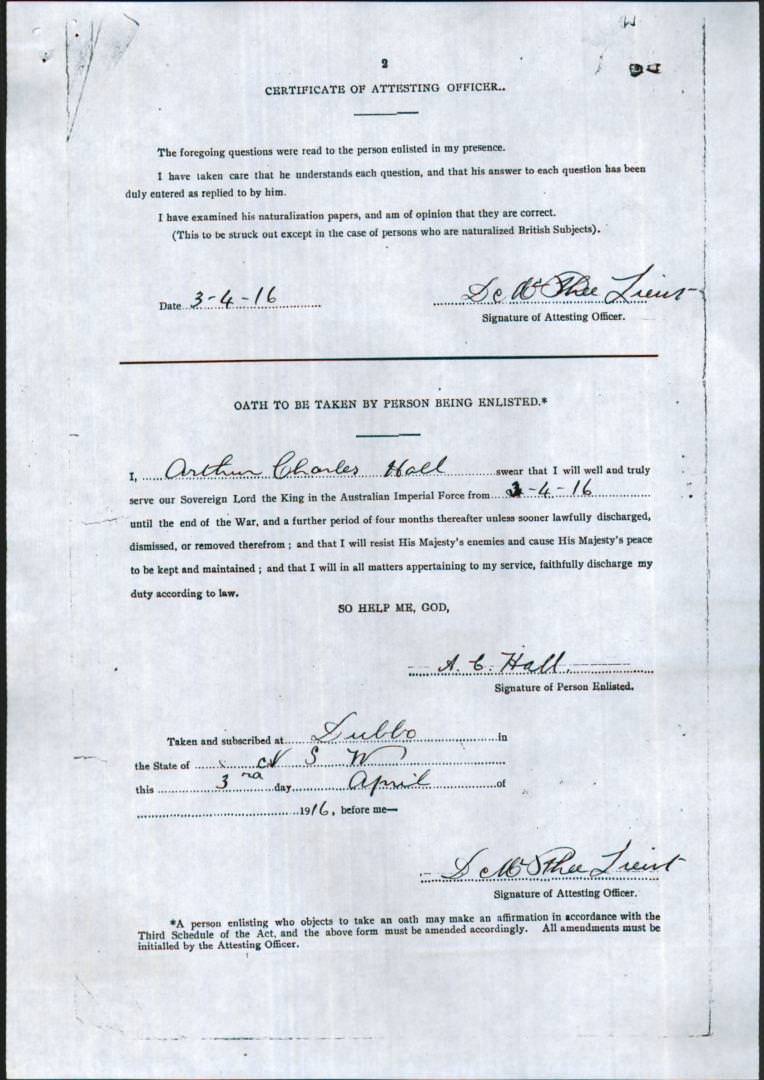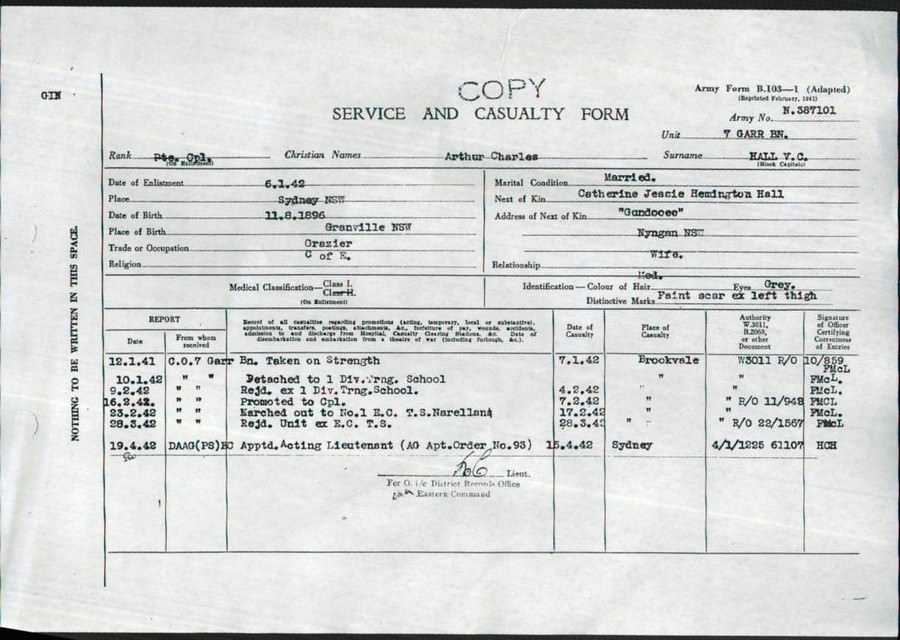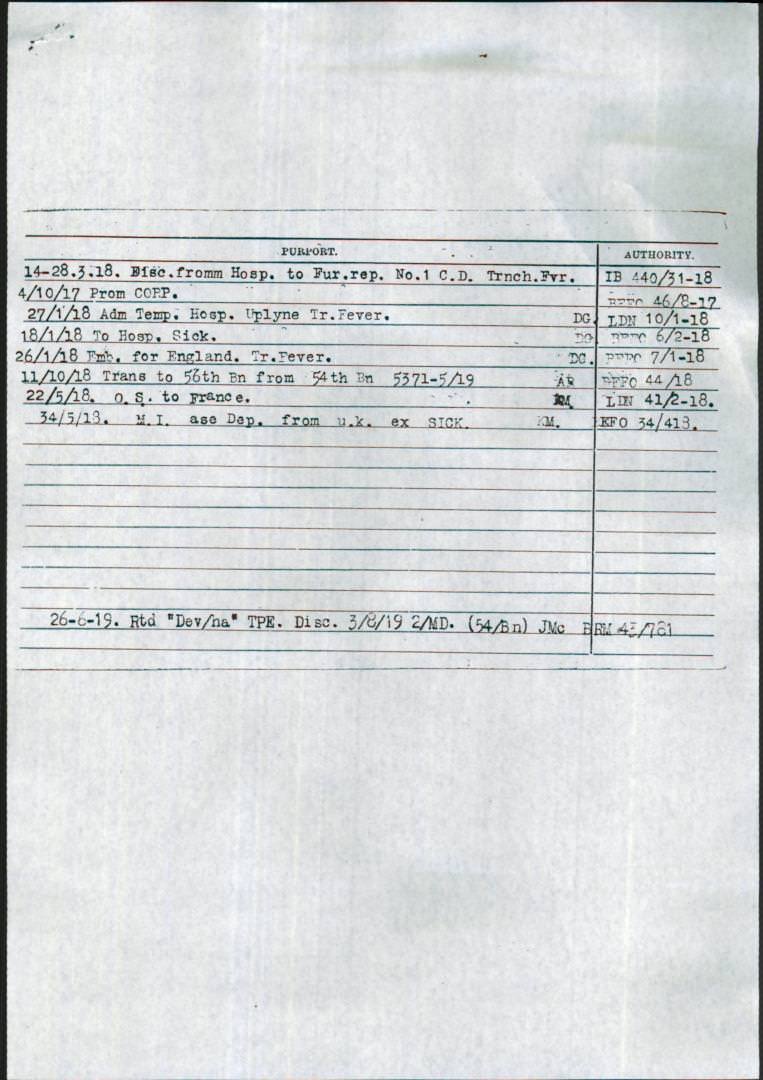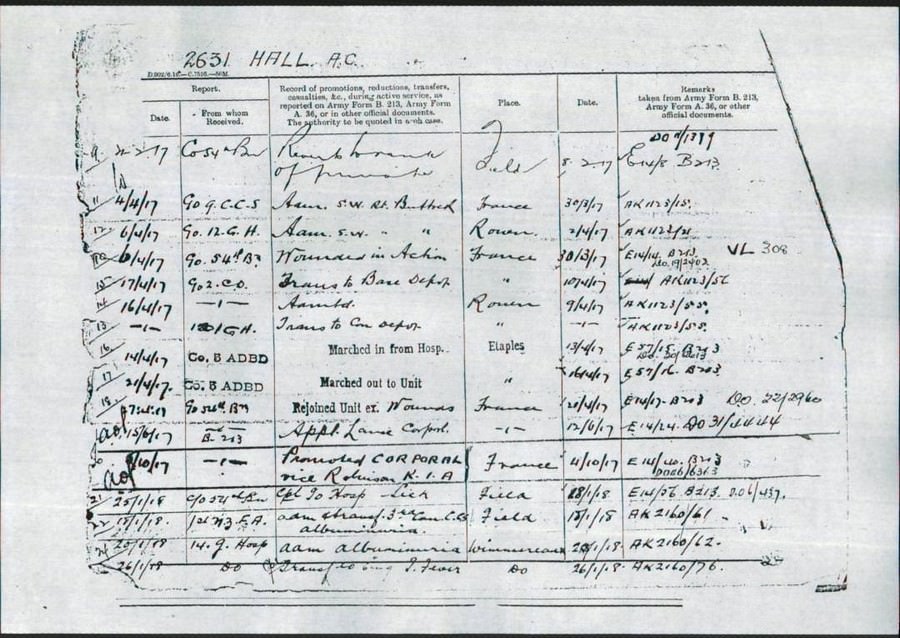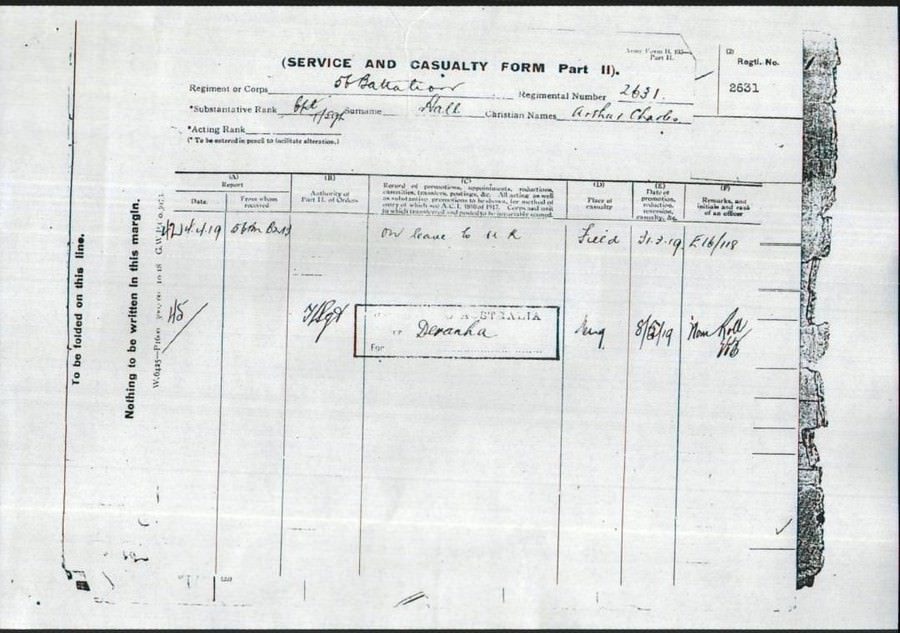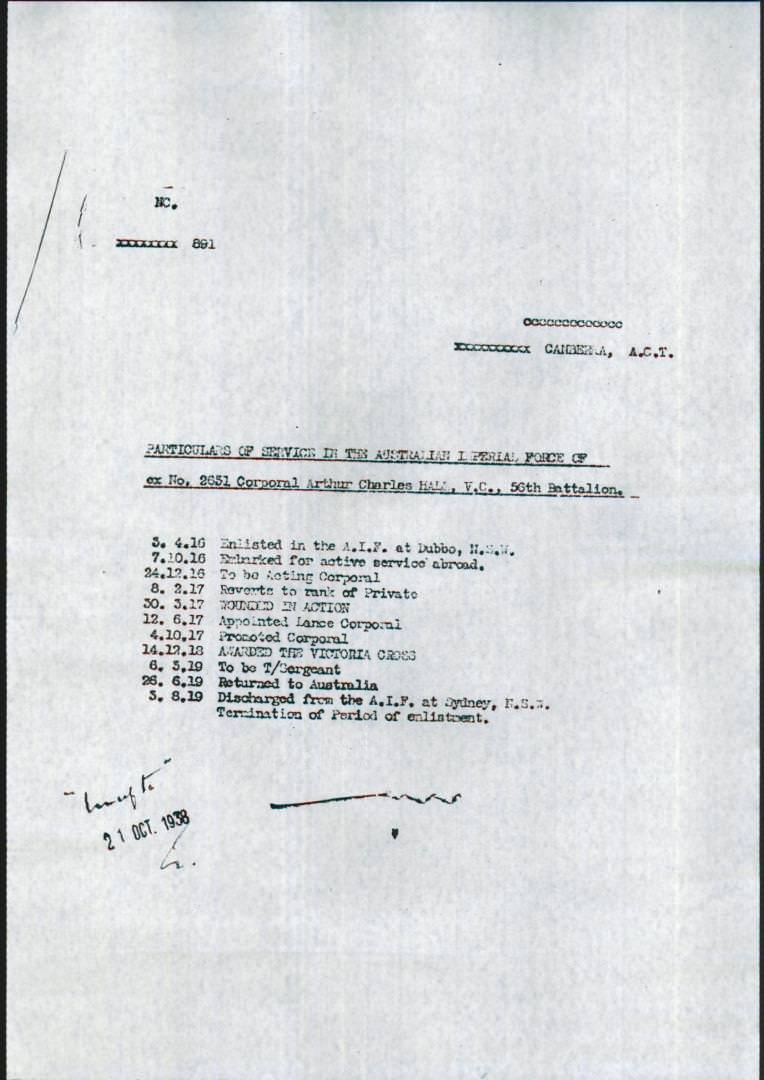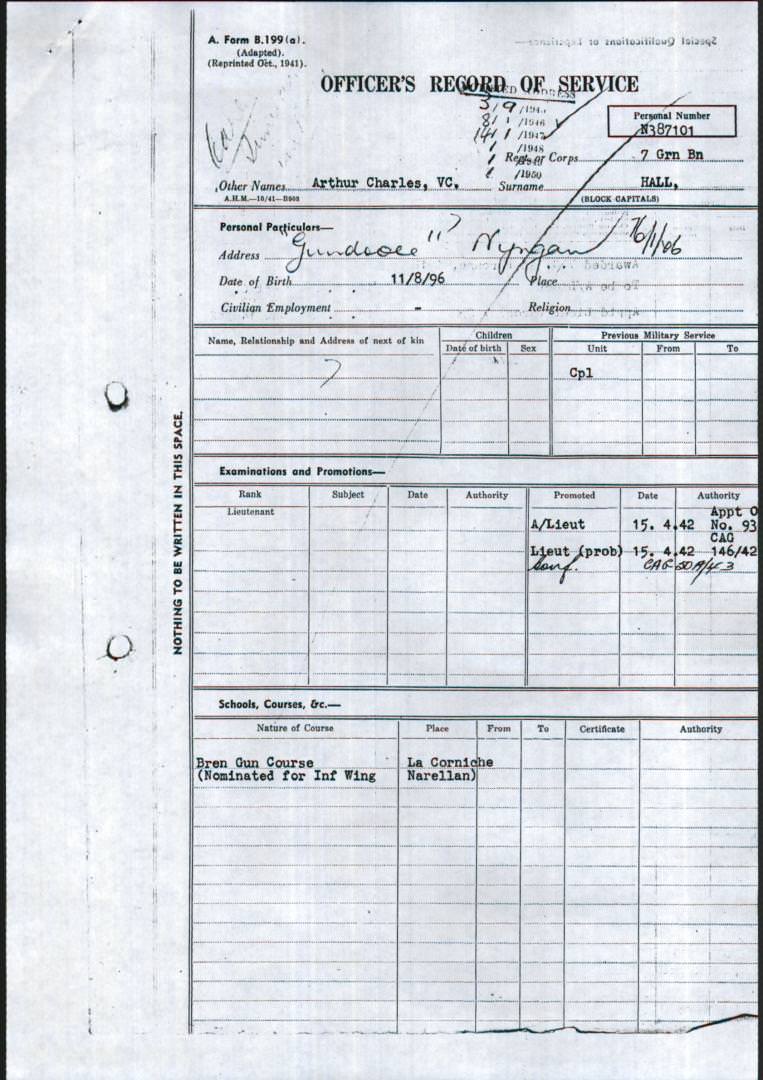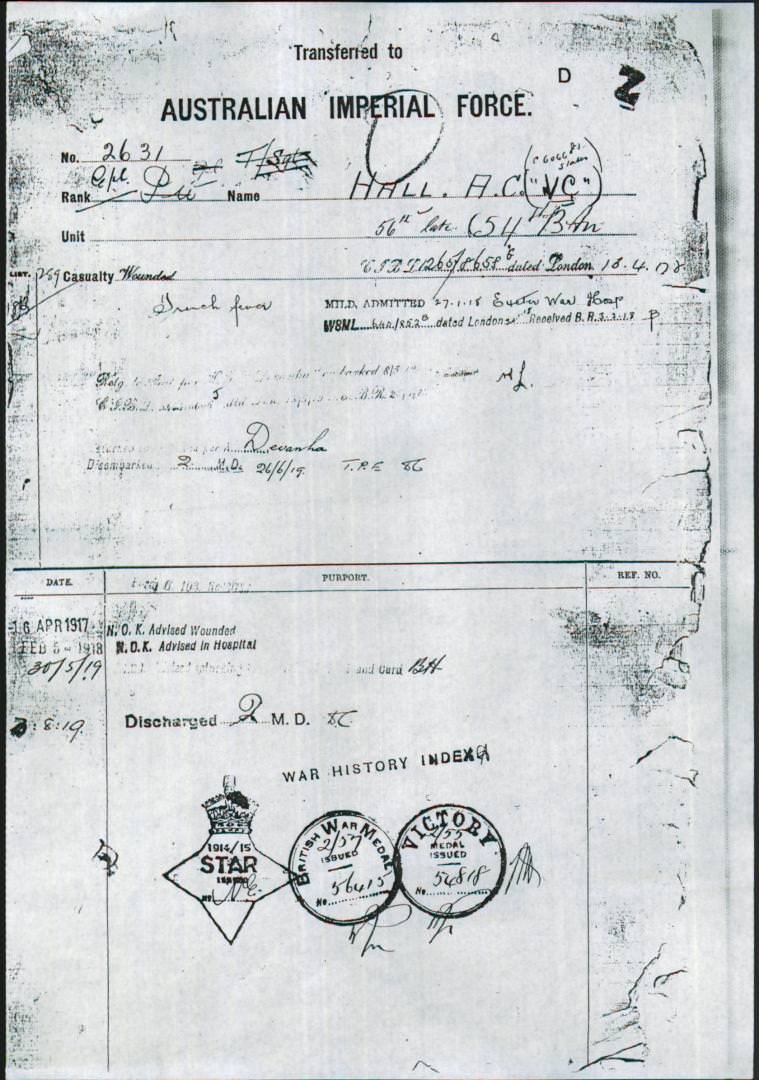 © Commonwealth of Australia (National Archives of Australia)
Under Construction; 7/11/2009-19/02/2016.
---
Web Counter
---