William Heny Glossop enlisted with D Company, 35th Battalion AIF on the 4th of January 1916 and was an original member of the Battalion. William was promoted to Lance Corporal on the day of his enlistment. William embarked from Sydney on board HMAT A24 "Benalla" on the 1st of May 1916 and disembarked at Plymouth England on the 9th July 1916. William was marched into the 9th Training Battalion at the Durrington Army Camp, Lark Hill. On the 30th of July William was admitted to the Fargo Military Hospital suffering from Rheumatism where he remained until the 3rd of October before rejoining his unit.
William was to be bedited 4d for the loss of a Hankerchief whist at Fargo Hospital on the 7th of October. He was promoted to Corporal on the 20th of November and proceeded overseas for France the next day on the 21st via Southampton. William was treated by the 9th Australian Field Ambulance on the 23rd of December suffering from Chronic Sinus of the Left Shoulder and was taken to the 3rd Casualty Clearing Station in the Field befor being transported to the 3rd General Hospital in Bologne, France. William was evacuated to England with Osleomyilitis Scapula on the 28th of December and admitted to the Norfolk War Hospital on the 30th of December. William was transfered to the 3rd Auxillery Hospital on the 5th March 1917 and granted Furlo from the 9th ot the 24th of March at Perham Downs. William proceeded overseas for France again on the 25th of April via Folkstone and was marched into Estaples on the 26th. He rejoined his unit with the 35th Battalion on the 1st of May 1917 and was promoted to Tempory Sergeant on the 7th of July when Sergeant: 1165 Carl KNUDSEN was struck off strength afer being evacuated when he was Wounded in Action William reverted back to Corporal when Sergeant: 1165 Carl KNUDSEN returned to duty on the 8th of September.
William was marched into the Central Training School at Rouelles on the 8th of September for operational training and rejoined his unit on the 29th of September. William was promoted to Sergeant on the 26th of October when Sergeant: 1714 Francis BORROWS received his Commission and was promoted to 2nd Lieutenant. He was awarded the Military Medal on the 8th November 1917 and promoted to the rank of 2nd Lieutenant on the 13th of November 1917.
MILITARY MEDAL
London Gazette. Page 1618 Position 50.
Commonwealth of Australia Gazette. Page 1392 Position 167.
5th-6th May 1918.
MORLANCOURT
A considerable success had been won-except on the two edges of the plateau, both lines of enemy trench had been captured on a front of three-quarters of a mile, and 153 prisoners (including 3 officers), 10 machine-guns, and 3 trench-mortars had been taken at the cost of only some 100 casualties, mostly minor ones.
The 35th lost 5 officers and 47 of other ranks, the 34th 2 officers and 32 other ranks. Lt: W. H. GLOSSOP (Aberdare. N.S.W.) of the 35th was killed just after crossing the first trench.
Captain: Charles Edwin Woodrow BEAN Volume VI page 82.
William was C Company Platoon Officer leading an advance when he was Killed in Action on the 6th May 1918 at Mourlincourt when shot by a German Officer and was buried by Captain Chaplain: John Edward Norman OSBORN and is remembered with honour and is commemerated in perpetuity by the Commonweath War Graves Commission at the Heilly Station Cemetery, Mercourt-L'Abbe.

2nd Lieutenant: 1124 William Henry GLOSSOP M.M.
HEILLY STATION CEMETERY - WAR MEMORIAL. Mourlancourt, Villlers-Brettoneux France.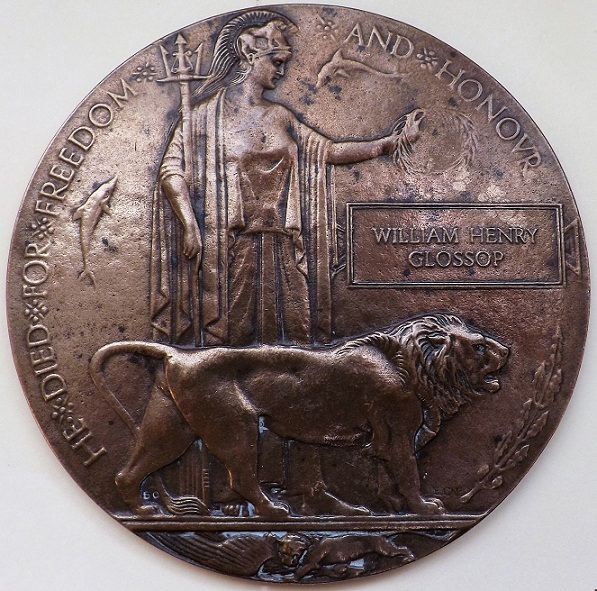 William Henry GLOSSOP Memorial Plaque
24th June 1918.
Informant: Sergent: 768 Robert Stevenson DICK. "Lieutenant: 1124 William Henry GLOSSOP. M.M. was my Platoon Officer. He was Killed by our own shells which were falling short during a raid. The raid itself was successful as we held the ground and captured 200 men. Lieutenant: 1124 William Henry GLOSSOP'S body was brought back and buried at Mourlincourt to the left of Corbie."
Horton (County of London) War Hospital, Epson England.
20th July 1918.
Newcastle Morning Herald and Miners' Advocate
THE LATE LIEUTENANT GLOSSOP, M.C. Mr. and Mrs. Glossop, of Rawson-street, Aberdare, have received several letters from France, relative to the death of their son, Lieutenant H. Glossop. Lieutenant Colonel, Henry Arthur GODDARD.C.M.G. D.S.O. C.O. 35th Battalion, writes : "Will you please let this convey my deep sympathy with you in the great loss you have suffered by the death in action of your gallant son. Lieutenant W. H. Glossop, M.M. The battalion was attacking an enemy position, and your son was leading his platoon, which gained their objective in a brilliant manner. Lieutenant Glossop had arrived at the enemy's trench, and was directing his men, when he was killed instantly by a bullet passing through his heart. His body was brought back and buried in the military cemetery at Heilly, the regimental chaplain conducting the service. I have hesitated at paining you with these details, but feel you would wish to know them. All in the regiment mourn with you in their loss of a brave and loved comrade. He had been such a fine soldier, possessed of a courage that had earned him the admiration of all. He was decorated with the Military Medal for conspicuous bravery, and I recommended him for his commission for his courage and fine service."
Captain-Chaplain: Keith Dixon NORMAN of the 35th Battalion, writes:- "I feel his loss personally as I know him well, and I trust and pray that God will give you comfort and strength to bear your loss. You have at least the satisfaction of knowing that he did his duty nobly, and that he fell leading his platoon, in fact he was leaping over a German trench, when he was shot by a Hun officer, and must have died instantly."
Family Information
William was a single 23 year old Locomotive Engine Driver from Rawson Street, Aberdare, N.S.W. upon enlistment. He was educated at the Minmi Public School and served with the 14th Infantry prior to enlistment. His parents William and Ada Glossop had at least 3 children. William Henry Glossop born 1895 at Minmi, N.S.W. Birth Cert:5096/1895 and died 6 may 1918 Mercourt-L'Abbe, France WW1. Arthur Slagg Glossop born 1899 at Minmi, N.S.W. Birth Cert:32257/1899 and died 1975 N.S.W. Death Cert:336/1975. Herbert Robert Glossop born 1901 at Minmi, N.S.W. Birth Cert:33428/1901 and died 1960 at Bulli, N.S.W. Death Cert:27371/1960.
Minmi Public School
Military Medal correctly impressed to 1124 SJT:W.H.GLOSSOP 35/AUST:INF: Offered to me in March 2014 from the Michael Fisher Collection. In August 2015 Williams Memorial Plaque was acquired from the Richard Johnston Collection in Western Australia and are now in the Harrower Collection.
Military Records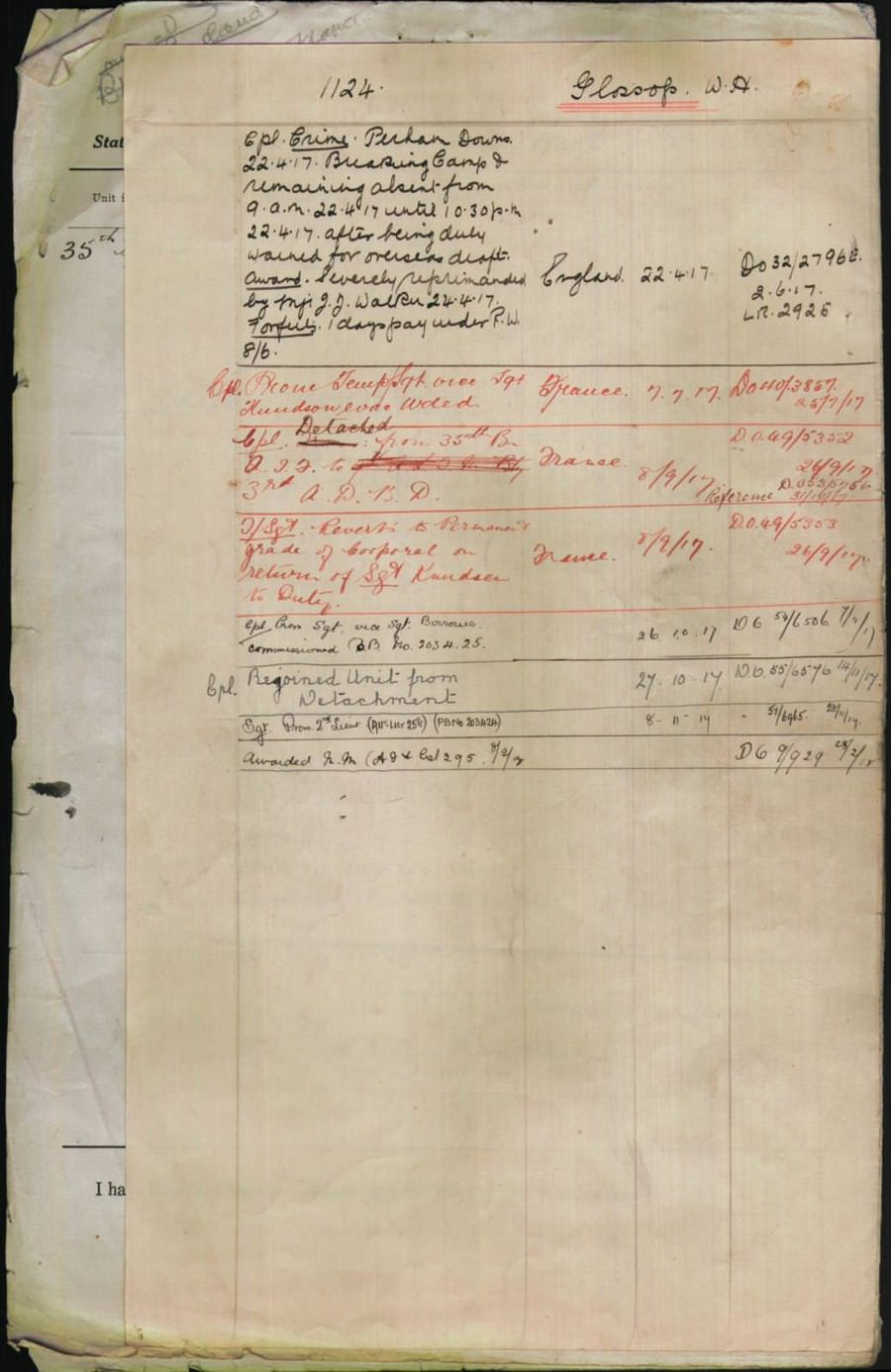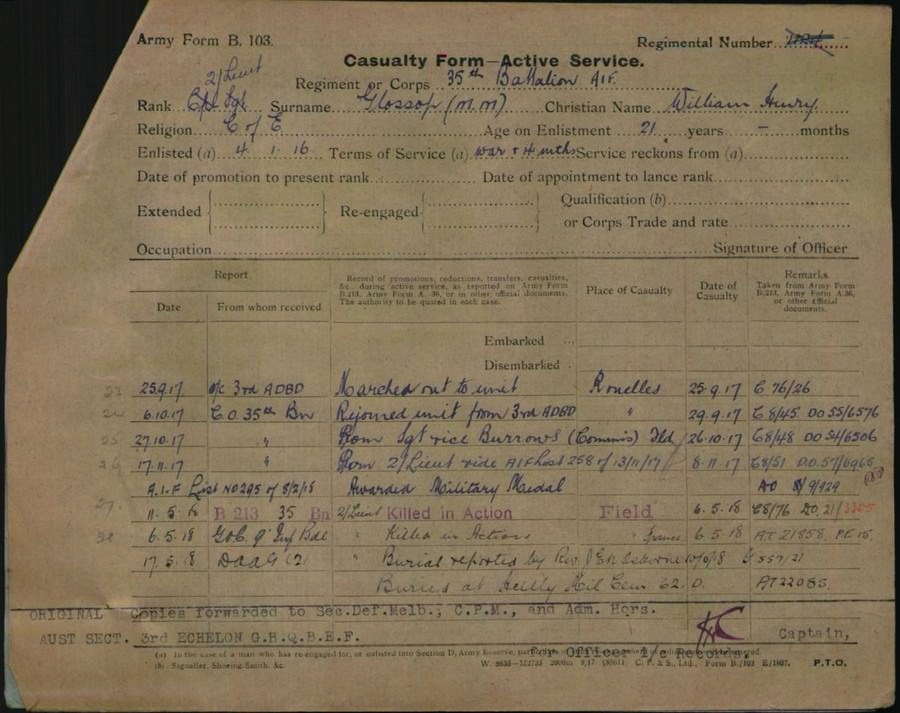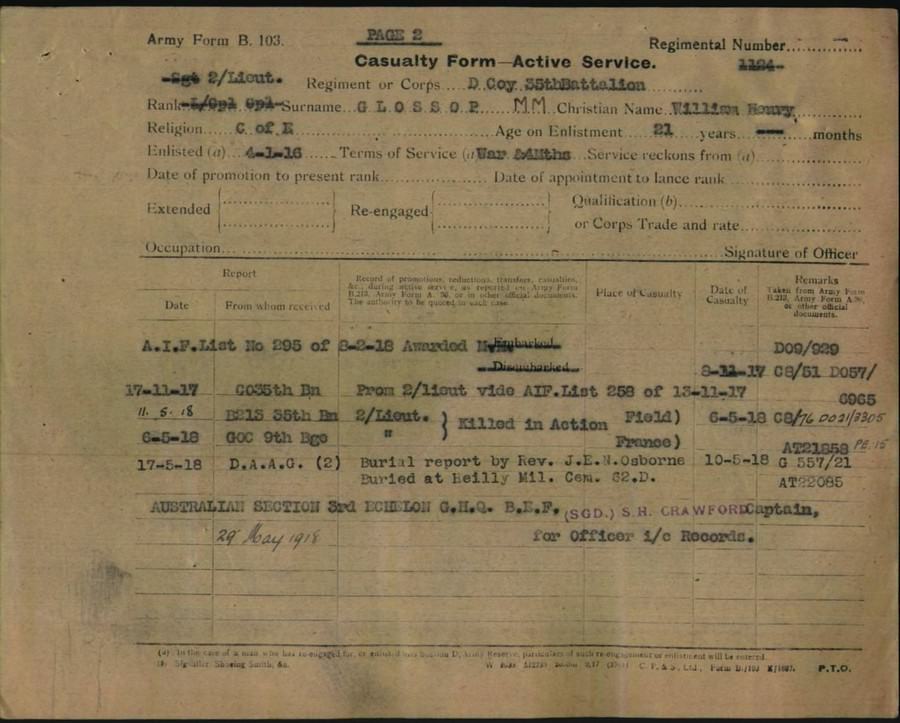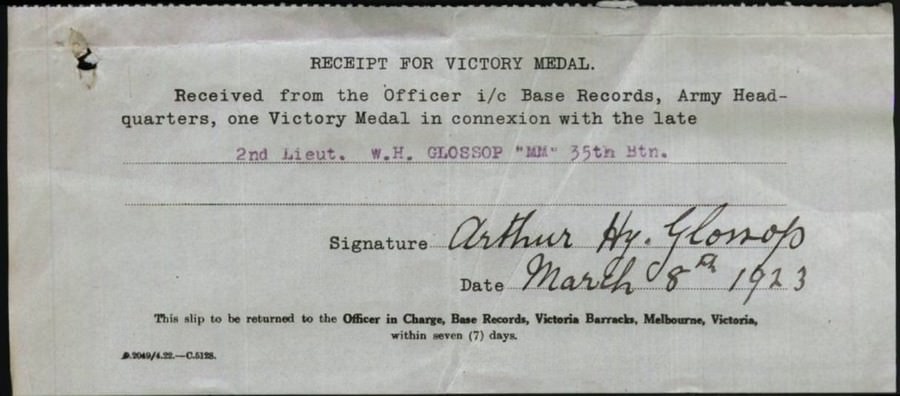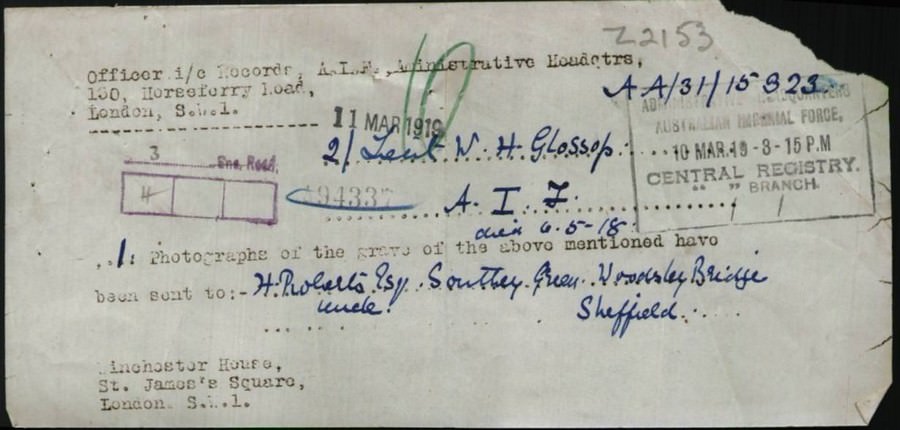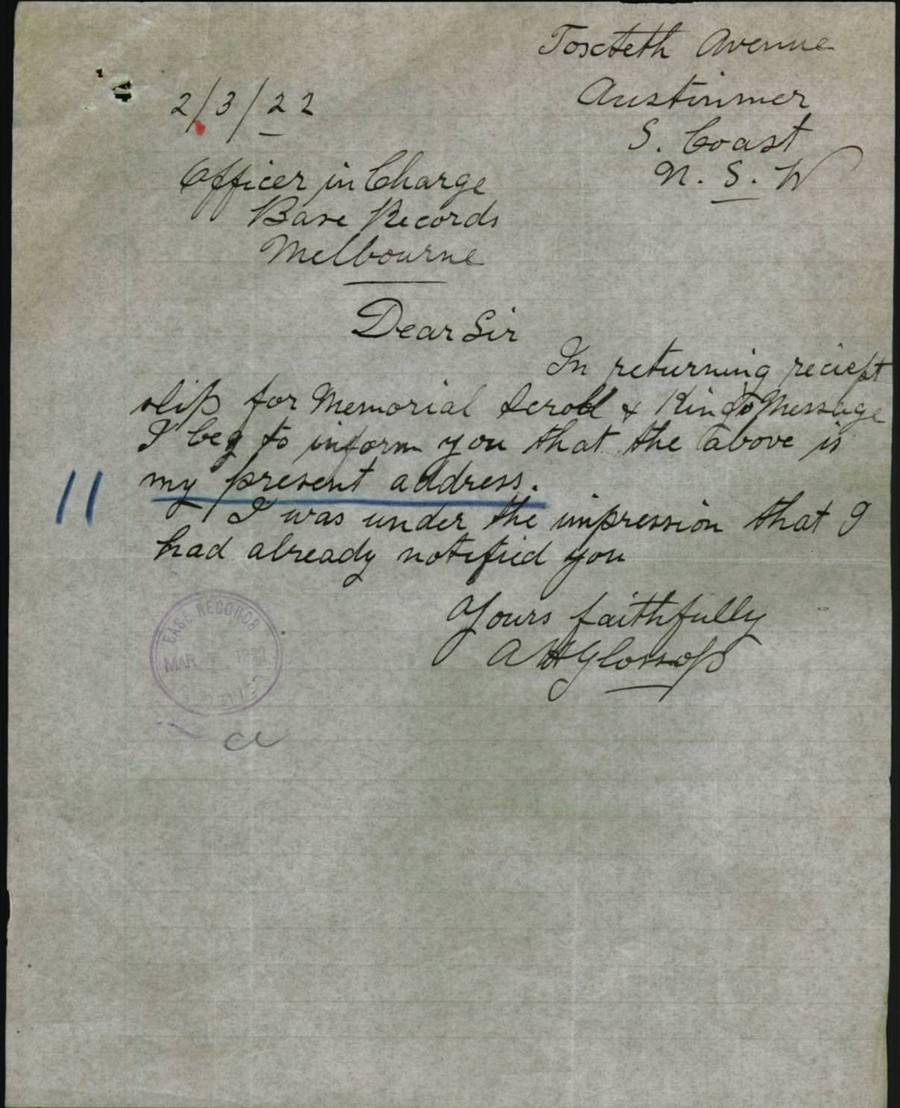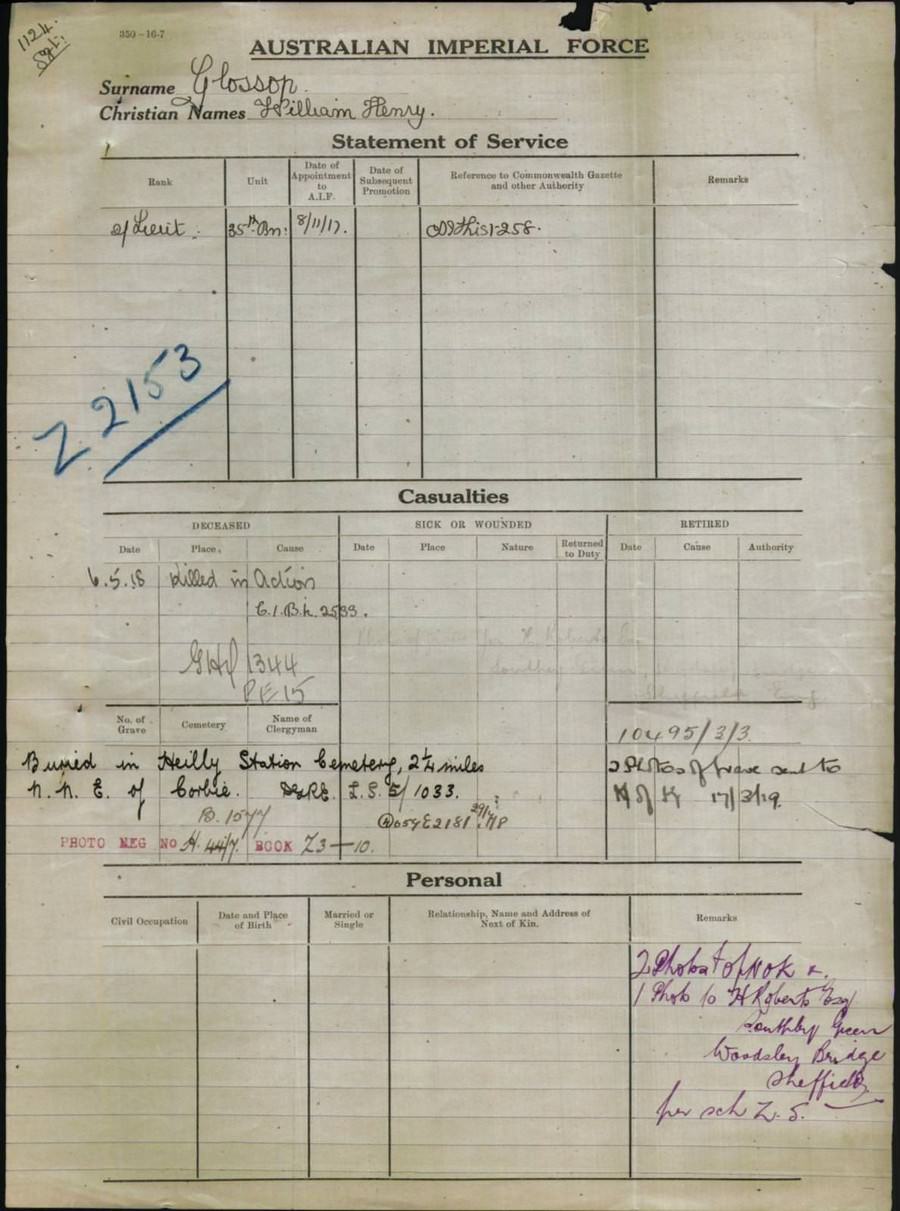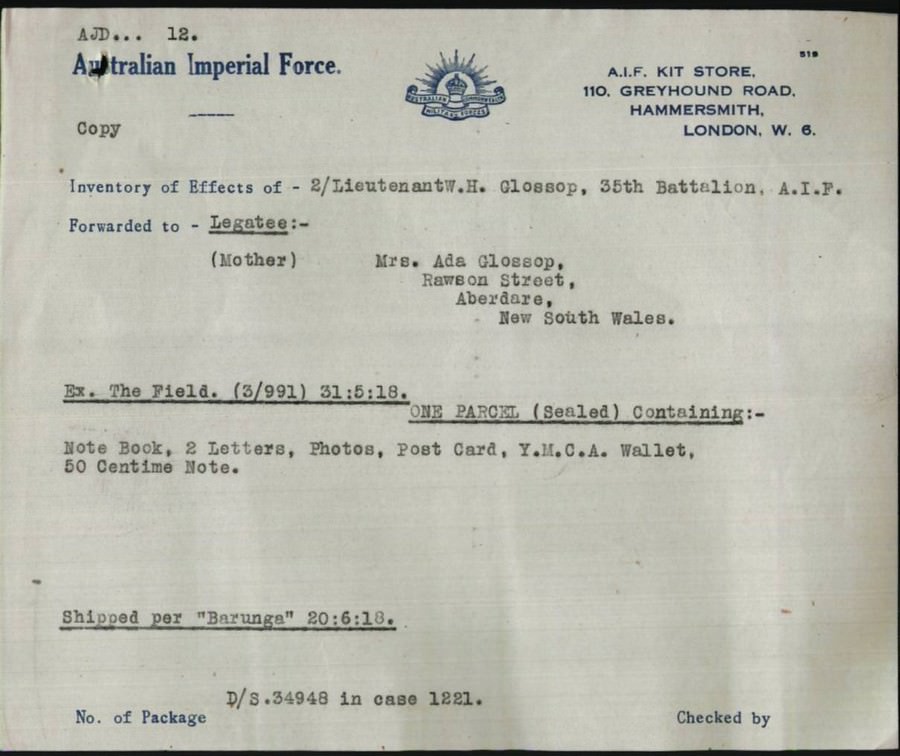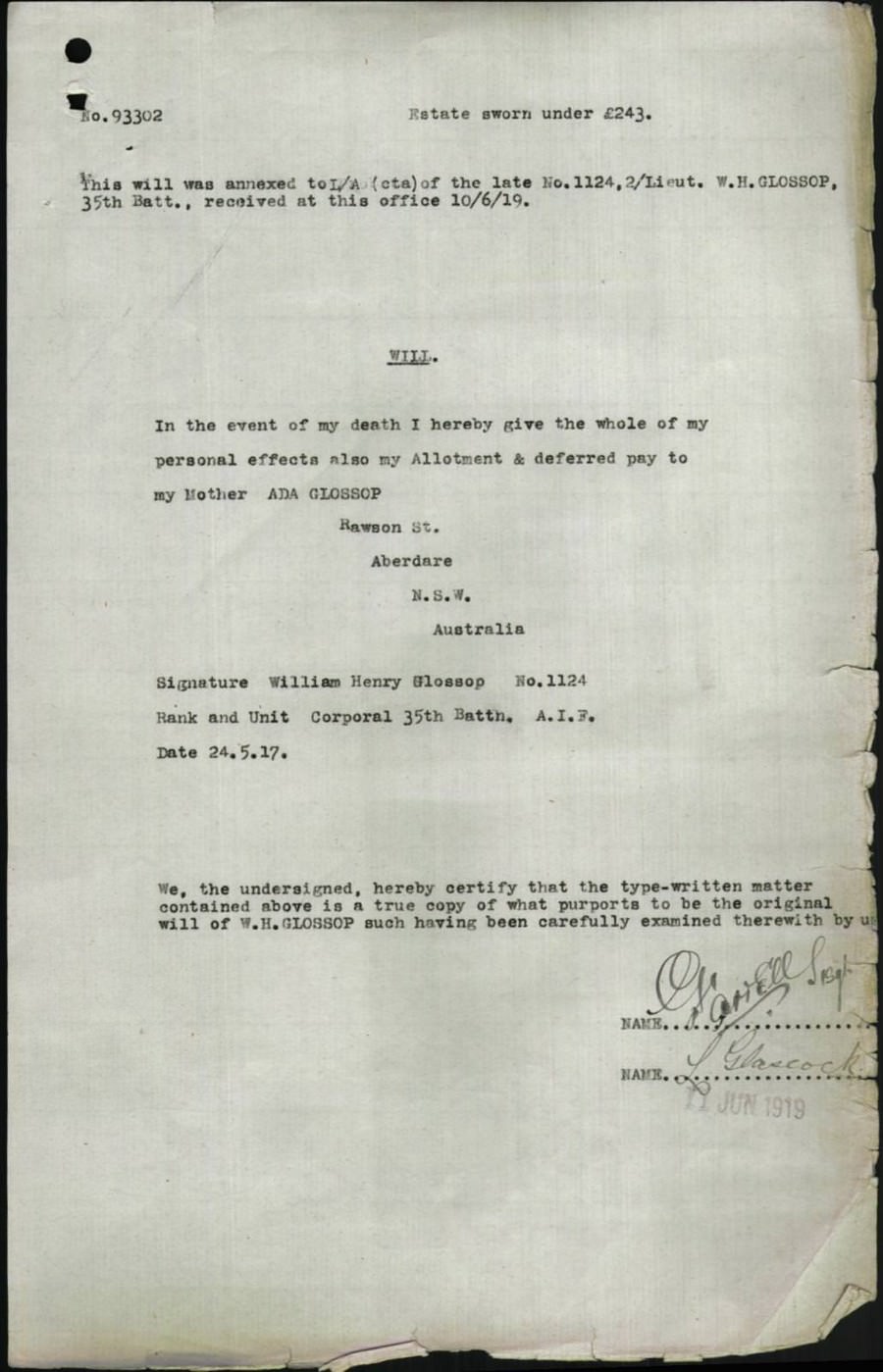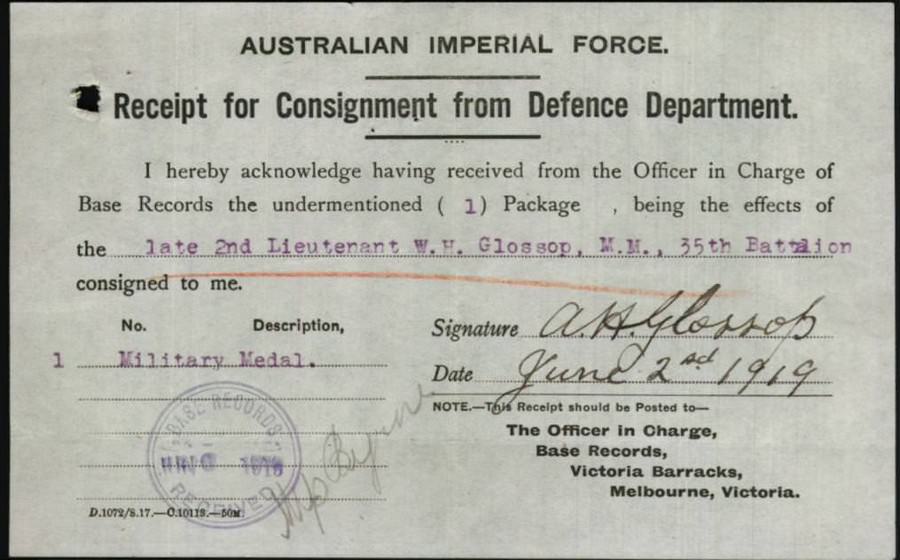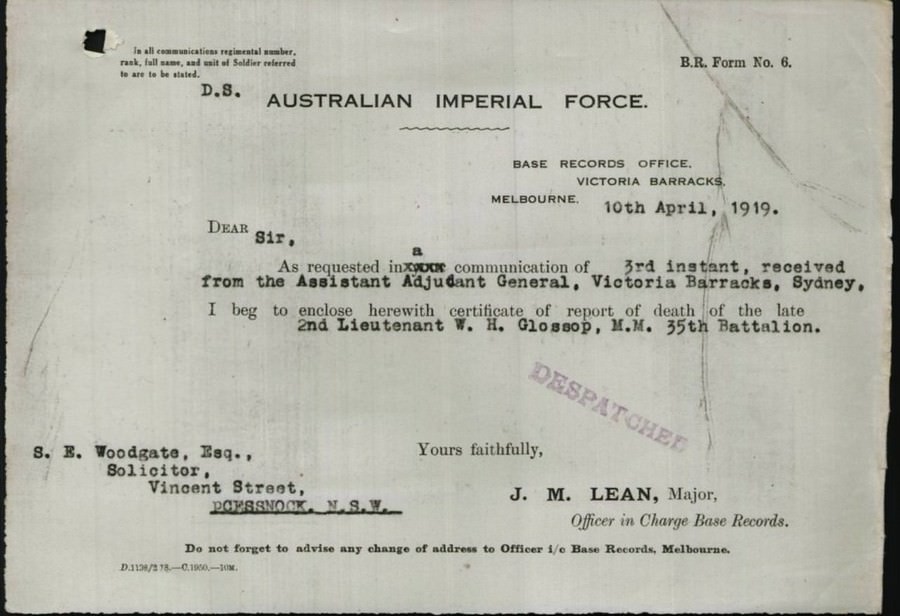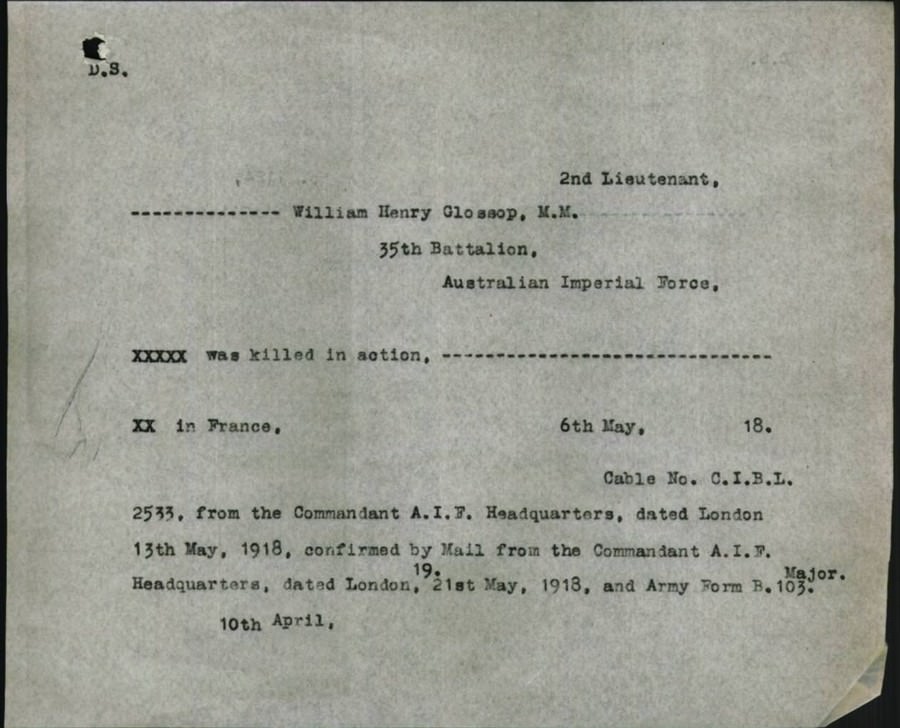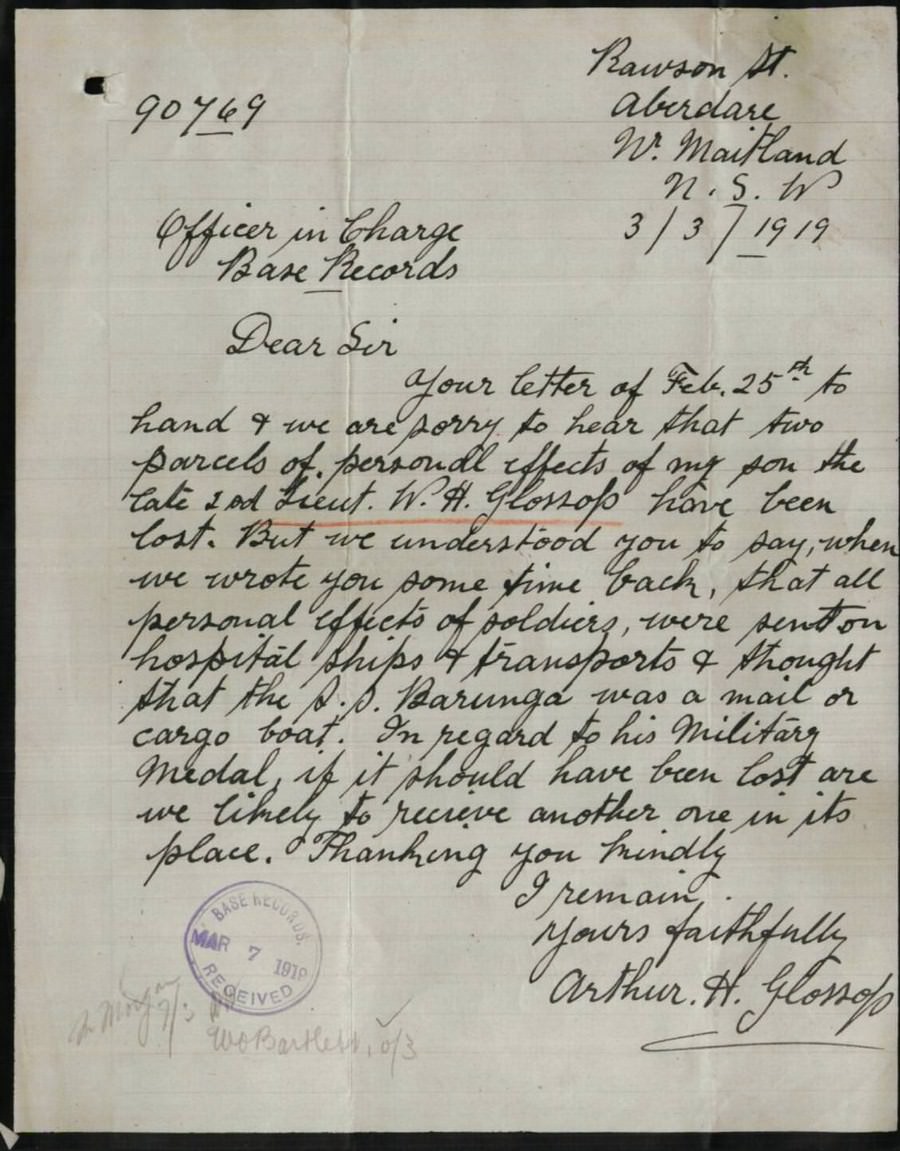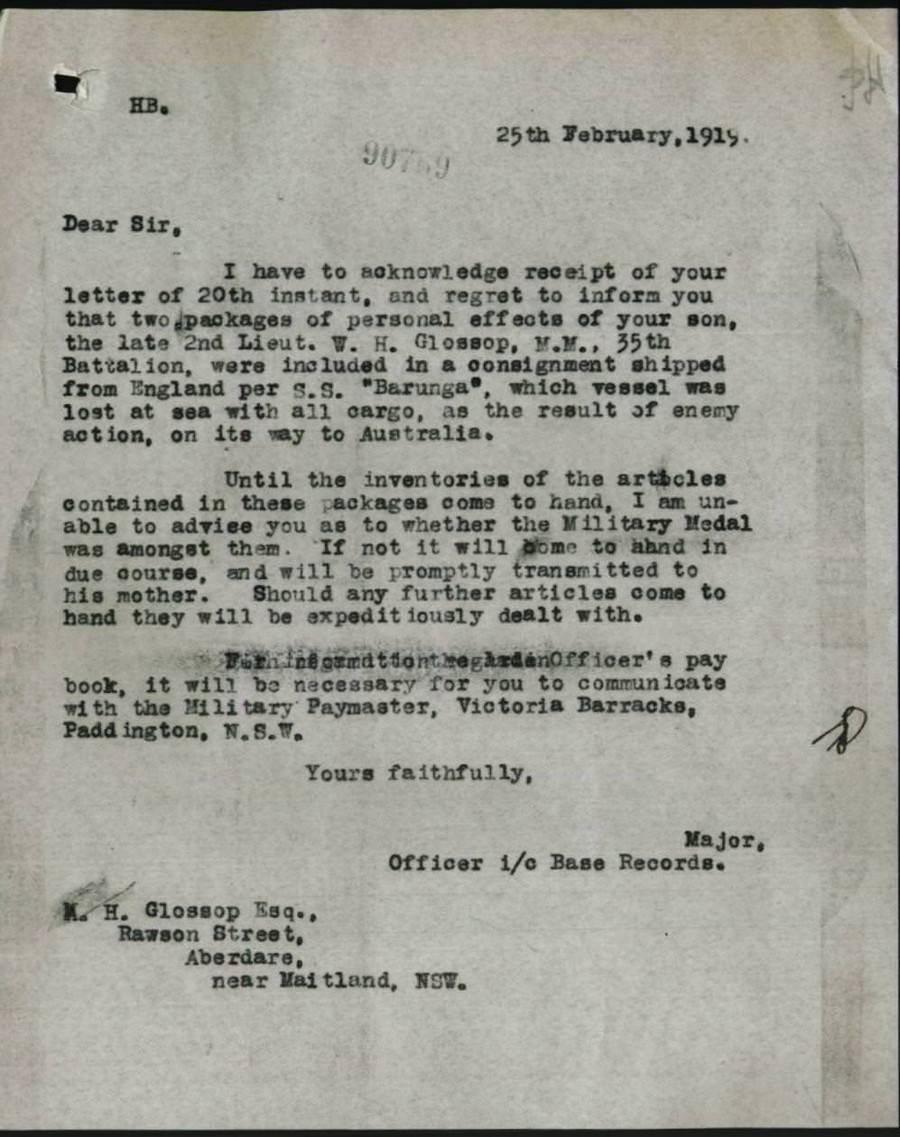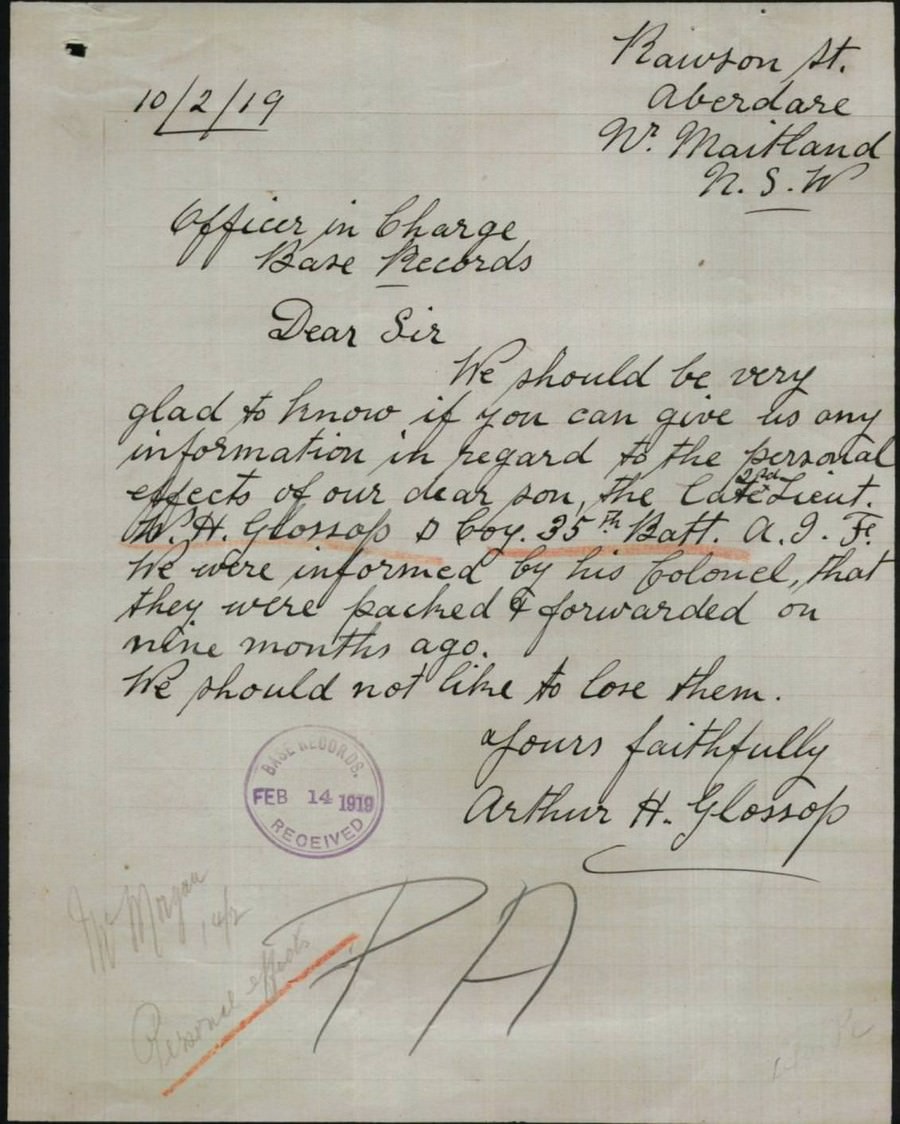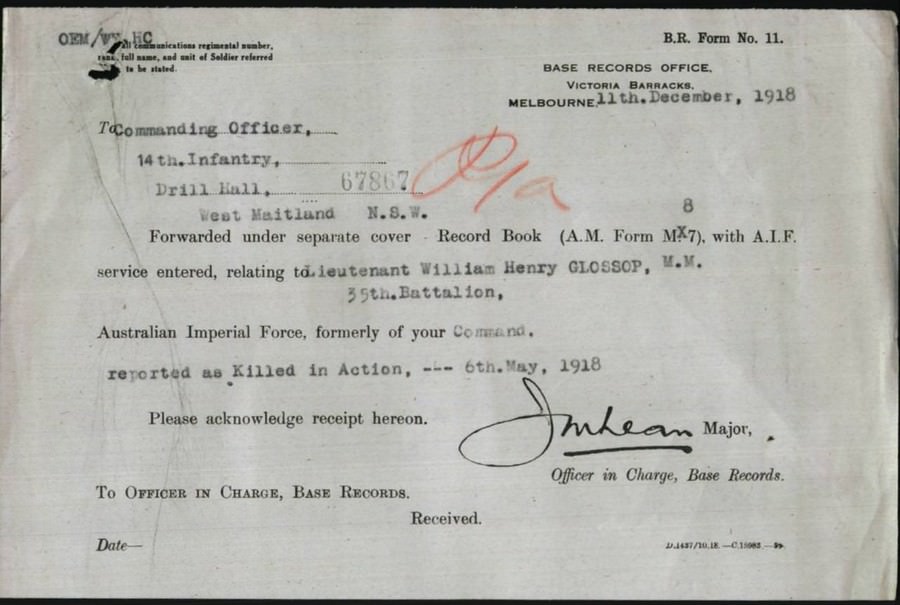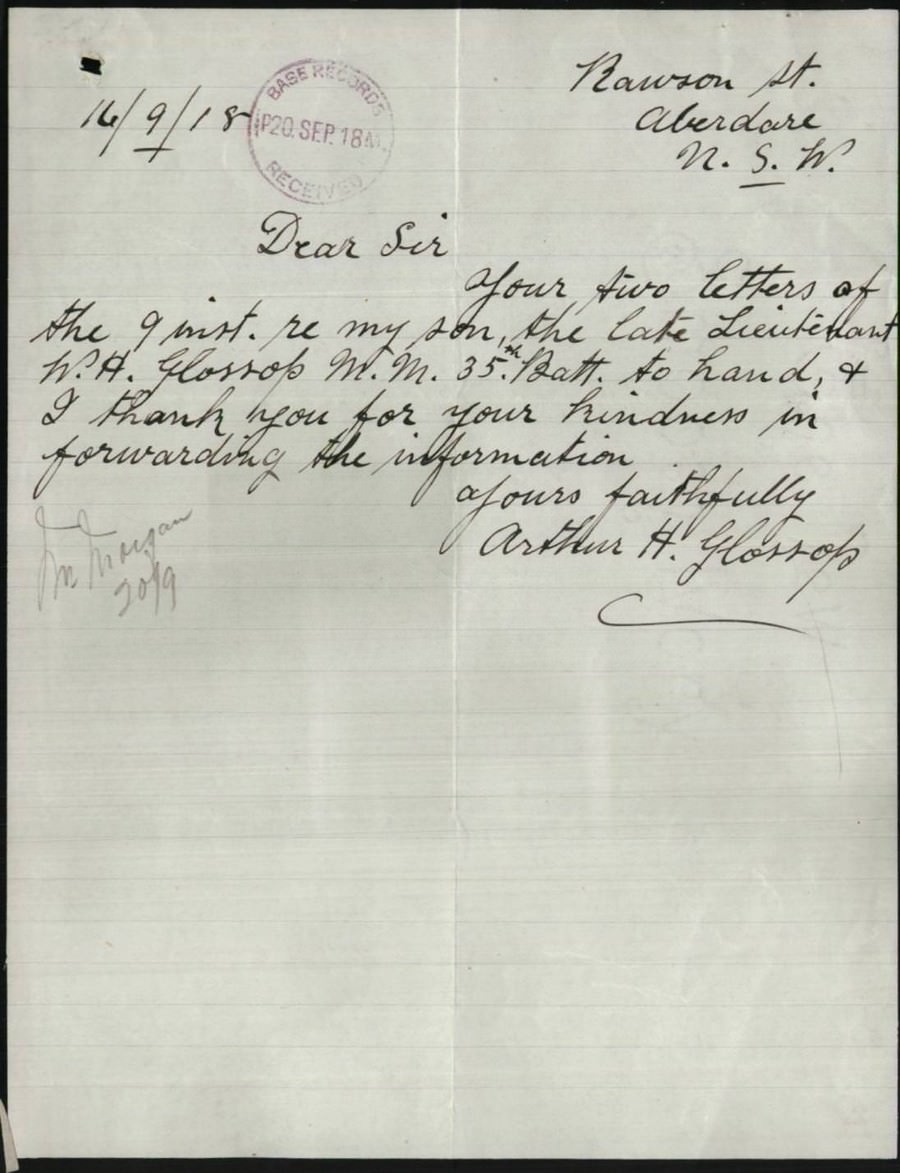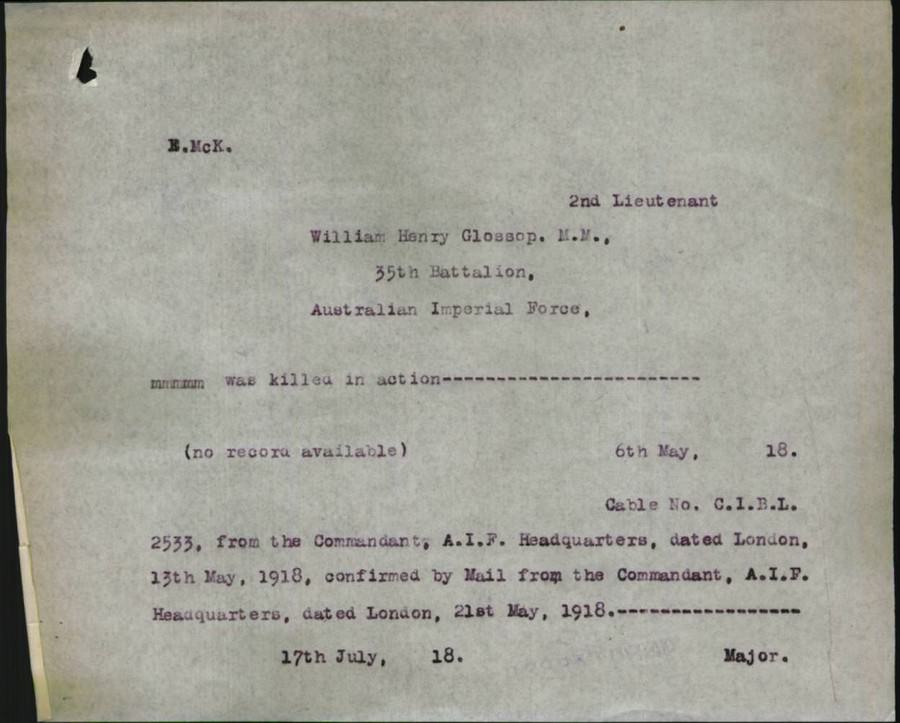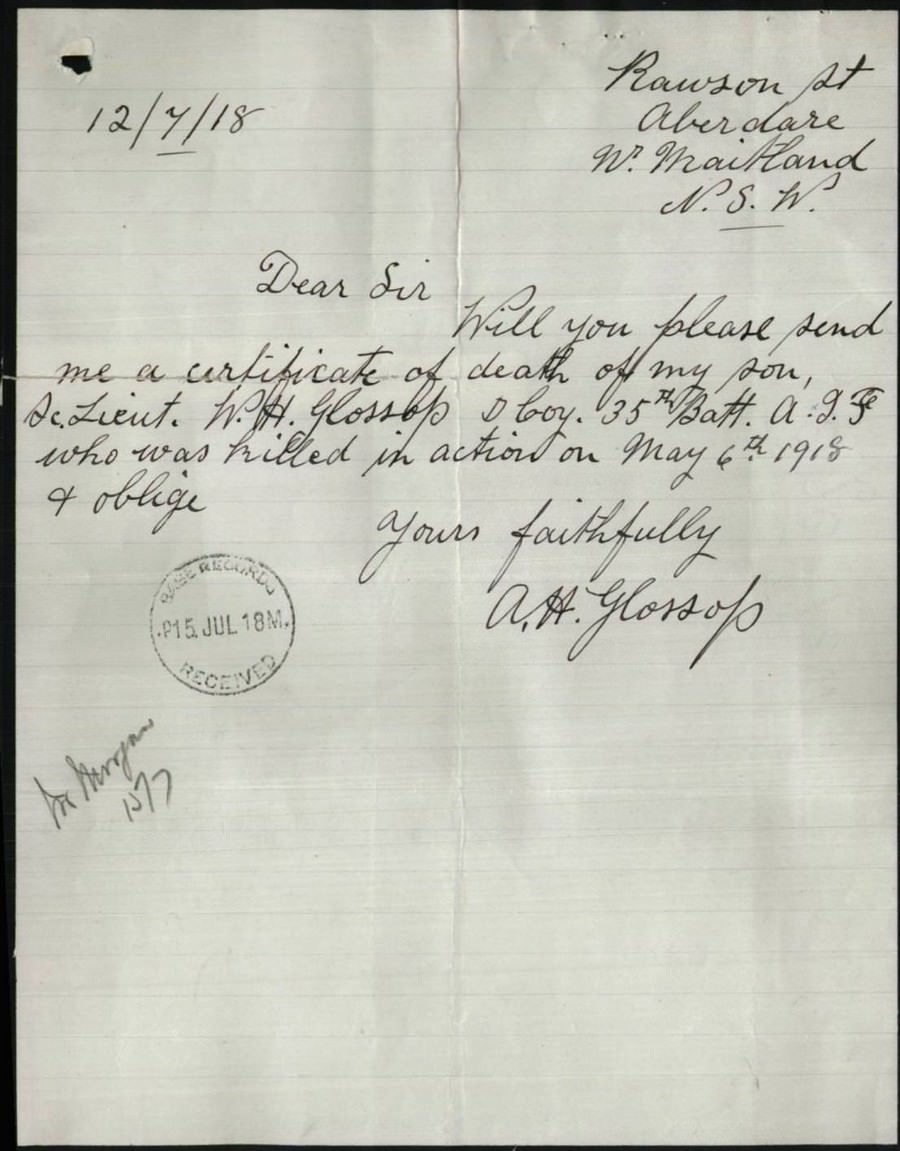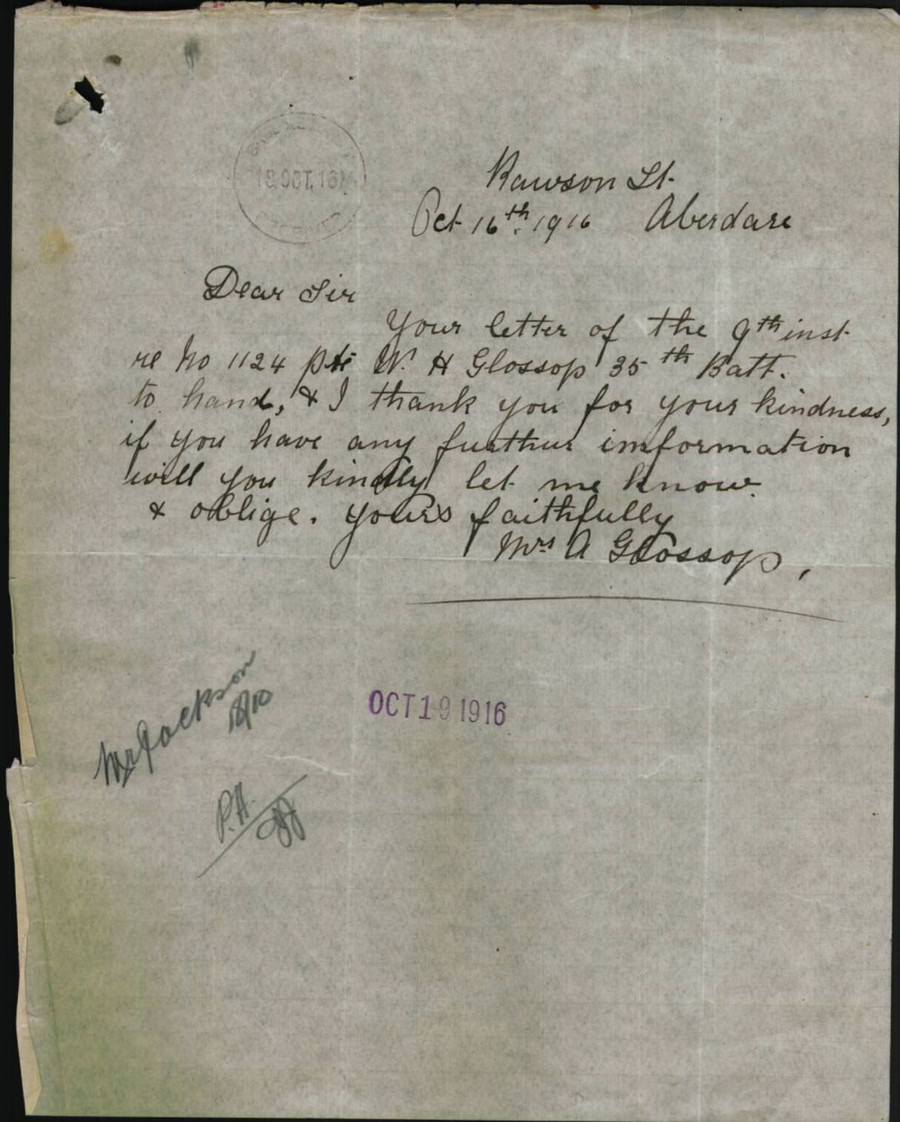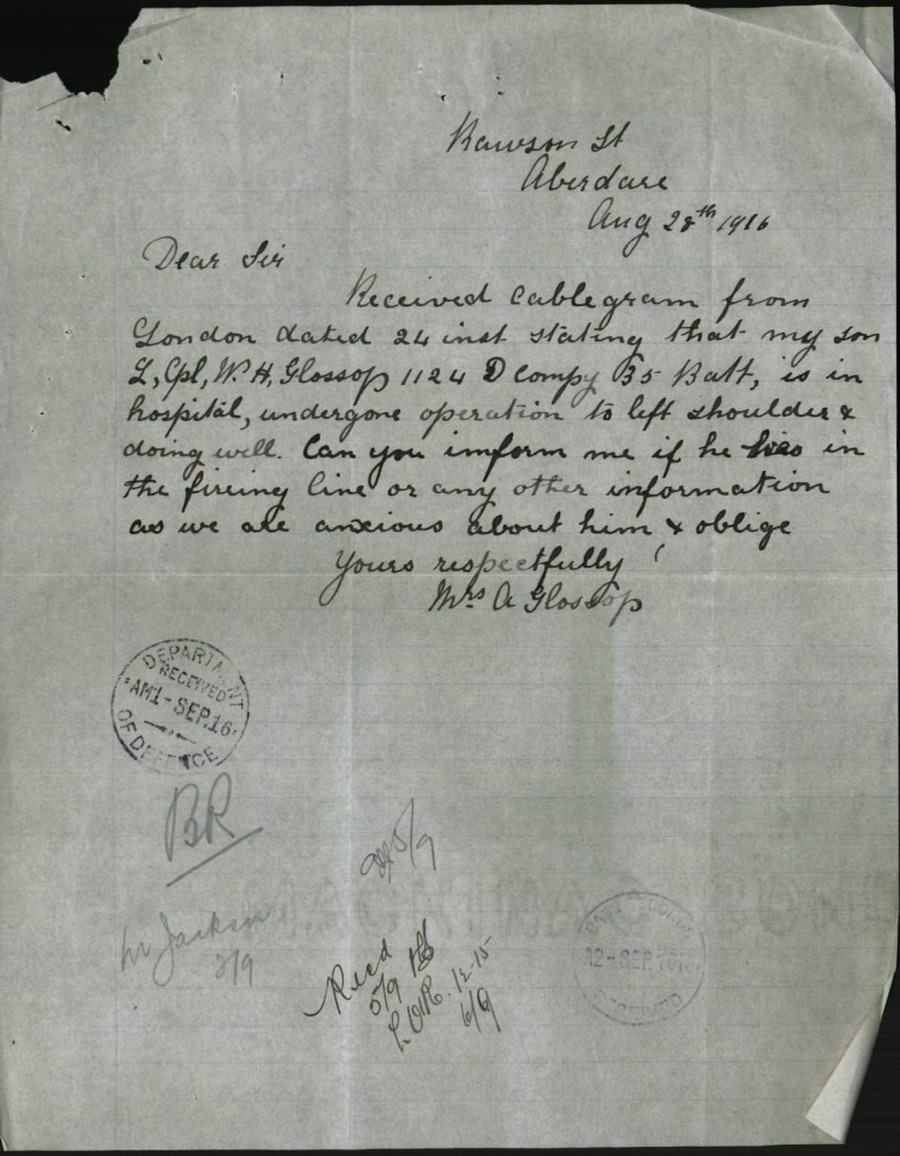 © Commonwealth of Australia (National Archives of Australia)
Under Construction; 26/07/2006-27/11/2015.
---
Web Counter
---